Raspberry Cheesecake Brownies
Happy end-of-football-season everyone! I hope you guys had a fun super bowl- here in Denver we sure did!
Today we're talking about one of the treats I made for the game, and guys- these are not for the faint of heart, or the full tummy. These are really thick, super dense, and pretty amazing all together brownies.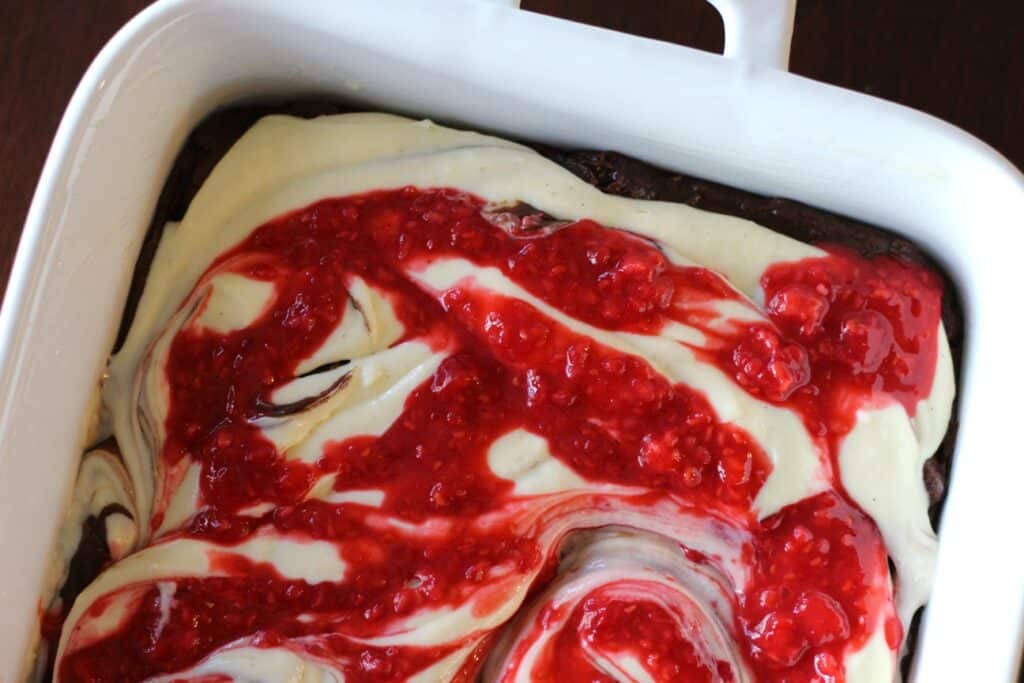 I'll be honest, it wasn't my idea. I occasionally just can't make a decision on what to bake, but I know that I need to bake for the blog. I had that moment this weekend, so naturally I made my husband stand in front of the pantry and help me. I suggested brownies, and he suggested we go over the top with raspberry cheesecake brownies.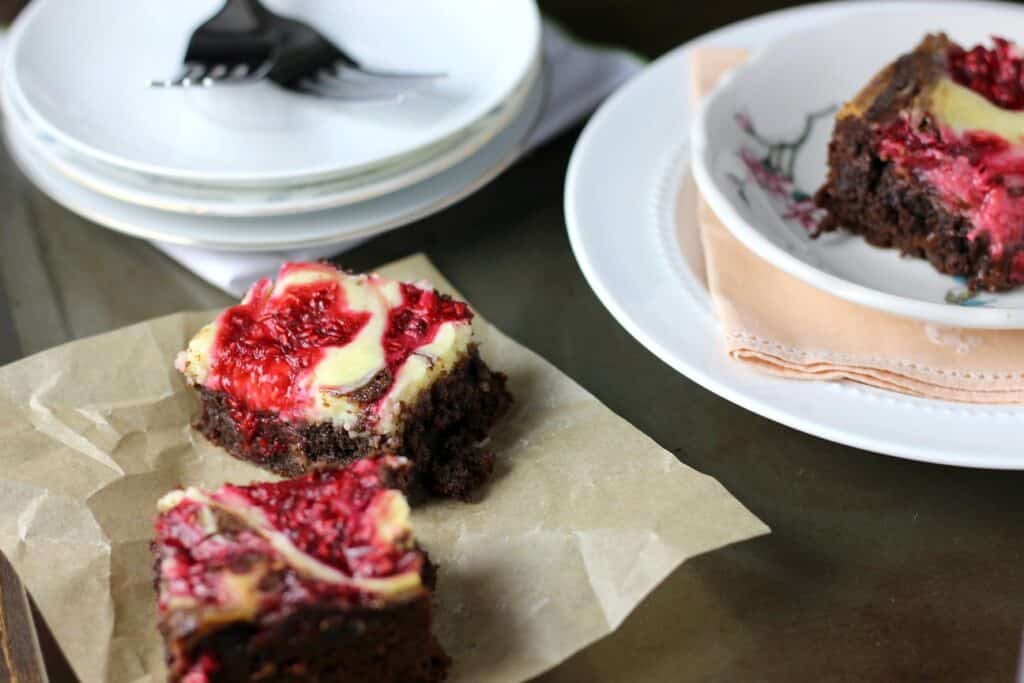 These are so good you guys, it's totally worth the calories and junk. Basically, I already love cheesecake brownies (so do you), but adding the raspberry adds a kind of wonderful depth of flavor. The raspberries cut through the sweetness with a burst of tart, and it's perfect.
I took some fresh raspberries and cooked them down with a little bit of sugar and cornstarch, but you can even just make these with some store-bought raspberry jam and get the same effect.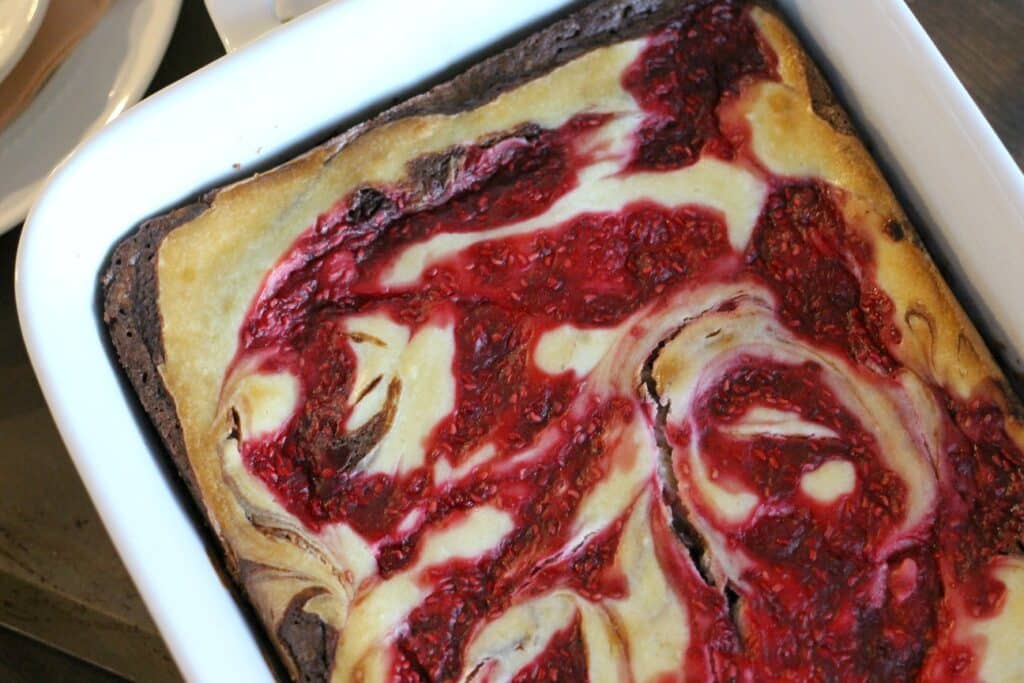 Plus, this is my favorite brownie recipe. I used with peanut butter to make these beauties too, and it's really pretty great. For this recipe, I doubled it to make a huge batch for our party, but you can half everything if you want!
If you do cut it in half, the only tough part is the cheesecake filling, so I suggest just making a full batch, and refrigerating what you don't use for another time.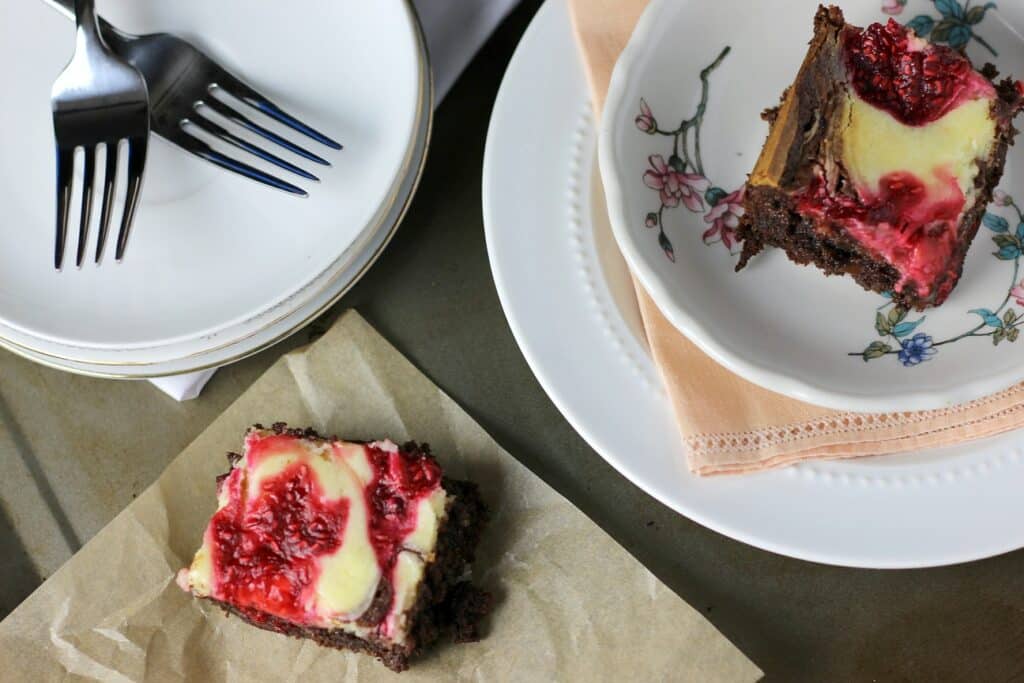 These are a crowd pleaser, seriously. Make them, eat them, love them!
Raspberry Cheesecake Brownies
Ingredients
For the raspberries:
1 pint fresh raspberries
2 tbs. sugar
2 tbs. cornstarch
For the brownies:
2 sticks butter
4 oz. unsweetened chocolate
1 tbs. cocoa powder
2 cups sugar
4 eggs
1 tbs. vanilla extract
3/4 cup flour
1 tsp. salt
For the cheesecake:
1 8 oz. block cream cheese
1/4 cup sour cream
1/2 cup sugar
1 egg
1 tsp. vanilla extract
2 tbs. flour
Instructions
For the raspberries:
In a small saucepan, cook the raspberries, sugar, and cornstarch for about 10 minutes over low-medium heat, until soft and sauce-like. Cool completely.
For the brownies:
Preheat the oven to 325 degrees. Grease and line a 9x13 inch pan.
In a medium saucepan, melt together the butter, chocolate, and cocoa powder until smooth. Let the mixture cool completely in the pan.
Once the chocolate mixture is cooled, stir in the sugar. Then stir in the eggs one at a time, and the vanilla extract.
Finally, stir in the flour and salt until combined. Spread evenly in the bottom of your pan.
For the cheesecake:
Beat together your softened cream cheese and sour cream. Add in the sugar, and beat until combined.
Add in the egg, vanilla, and flour. Mixture should be very smooth.
Dollop the cheesecake mixture all over the top of your brownie batter, and swirl with a butter knife.
Then, drizzle the raspberry mixture over the top, and swirl again.
Bake at 325 degrees for 40-45 minutes, or until completely set.
Cool completely before cutting and eating!
https://www.dougheyed.com/raspberry-cheesecake-brownies/
Comments