Hey guys! So if you follow me on Instagram, you already saw a reel earlier this week about these brownies. I've been trying to work out this recipe for years now, and it's finally perfect!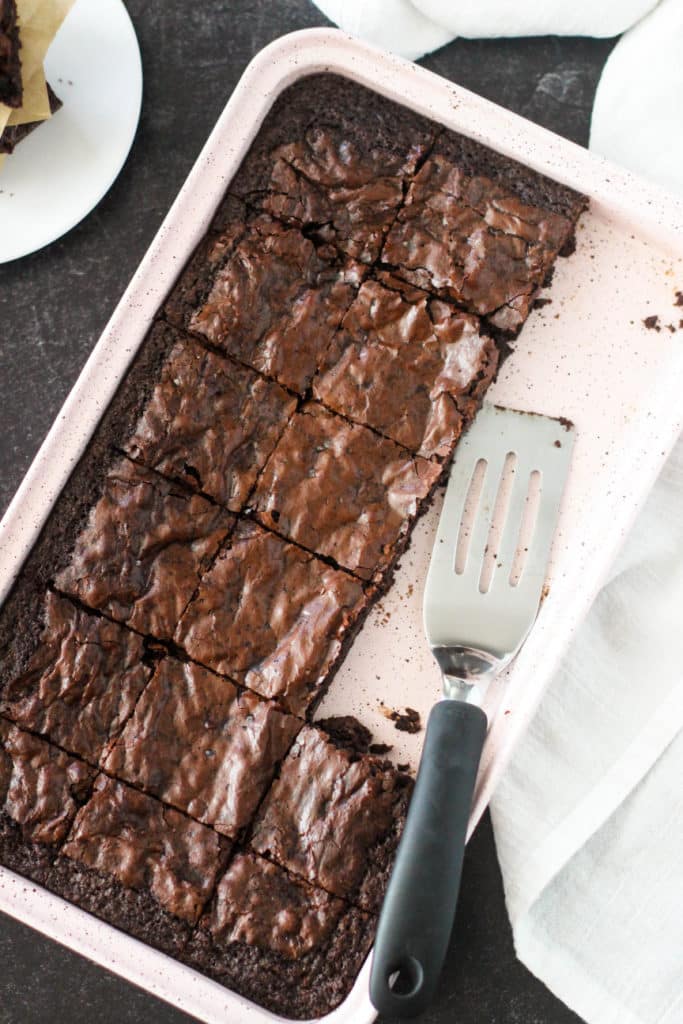 I'm always looking for the right balance of texture in a brownie. I want something that kind of sits in the middle of what we consider a fudgey brownie and a cakey brownie. Plus of course like, A TON of chocolate! Let's get to it!
How to Make Perfect Brownies
Now, I know that this isn't the perfect brownie for everyone. I've got a ton of really pretty amazing brownie recipes on this blog and in my cookbook, and most of those recipes fall into the category of fudgey brownies, and I'm here for that too. I've made those recipes about a million times, and I love them! But for me, this is truly the perfect one!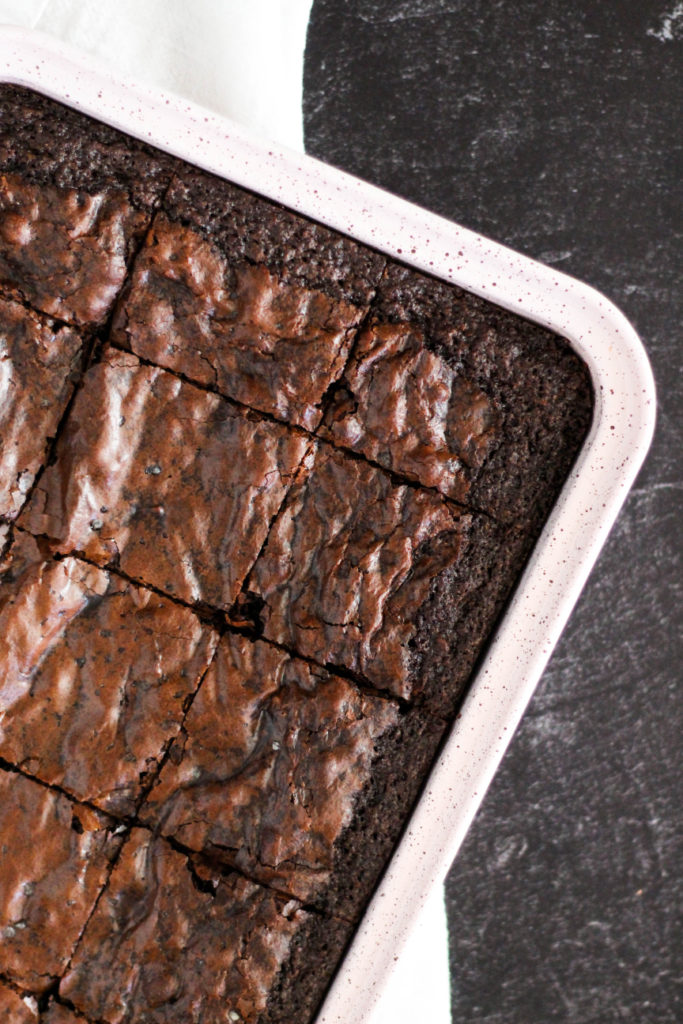 I like to mix brownies by hand, and this is a perfect time to use a Danish Dough Whisk if you have one! Otherwise, go for a normal whisk and a rubber spatula at the end. For the batter, we're starting by whisking together the butter, oil, sugar, and brown sugar until smooth. Then, whisk in the eggs and vanilla extract until well combined.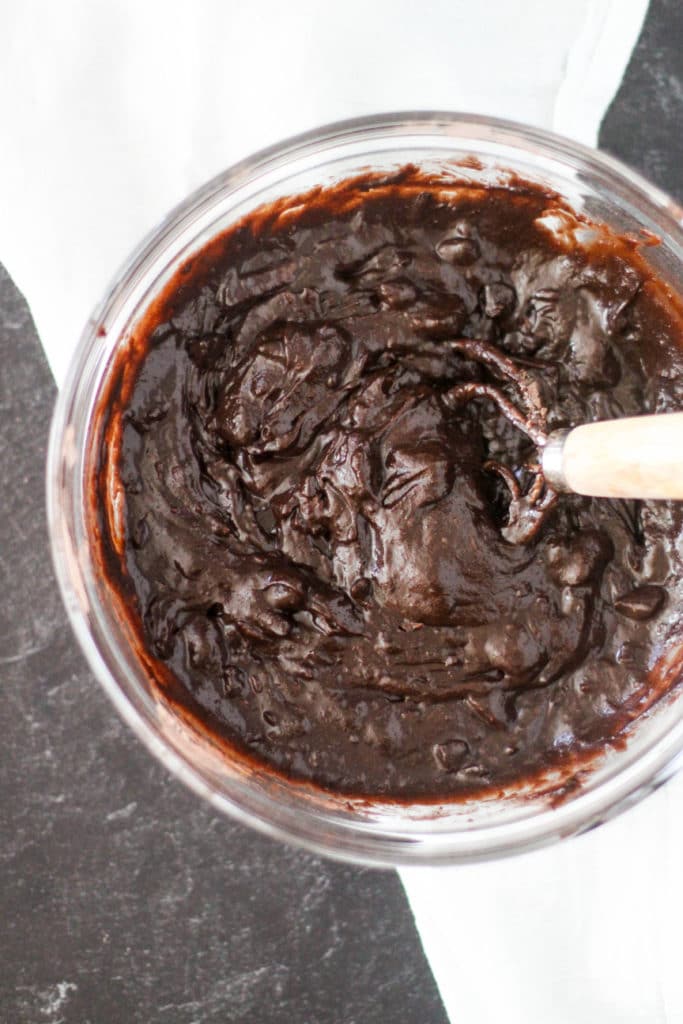 Next it's time to add in the dry ingredients, and give the whole thing a good long mixing session. You want to really mix this batter for a full five minutes by hand, which is going to seem like a lot but trust me! It really helps to create that perfect texture I'm talking about!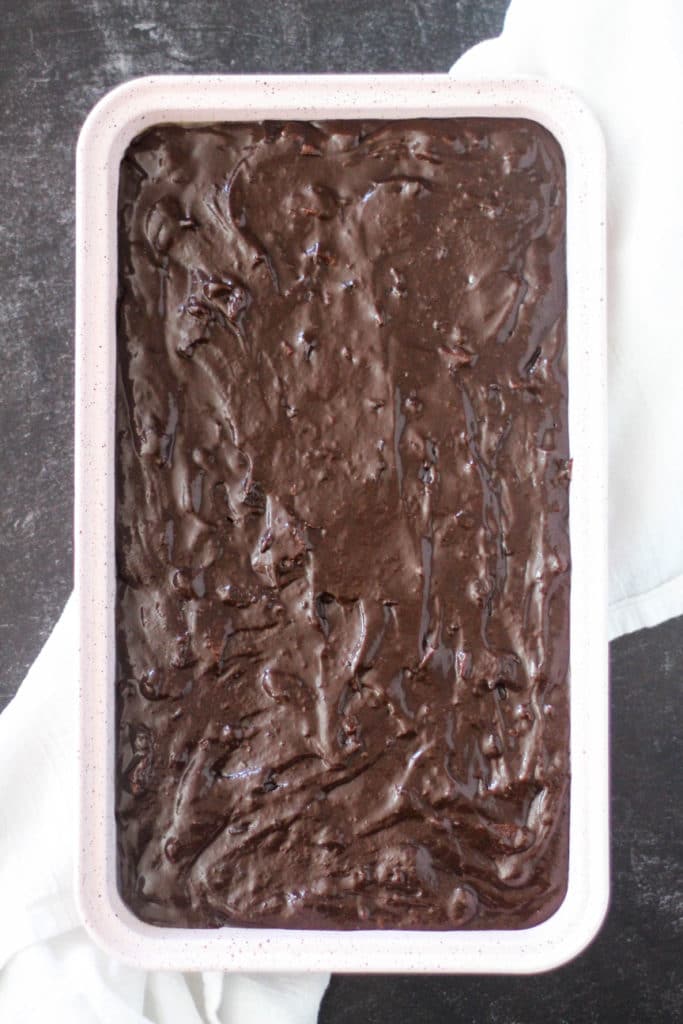 Finally, use a rubber spatula to stir in your chopped chocolate. I like to do a mixture of milk and dark chocolate here, but you can just use one or the other if you prefer. I think the two together give the brownies a really balanced flavor in the end!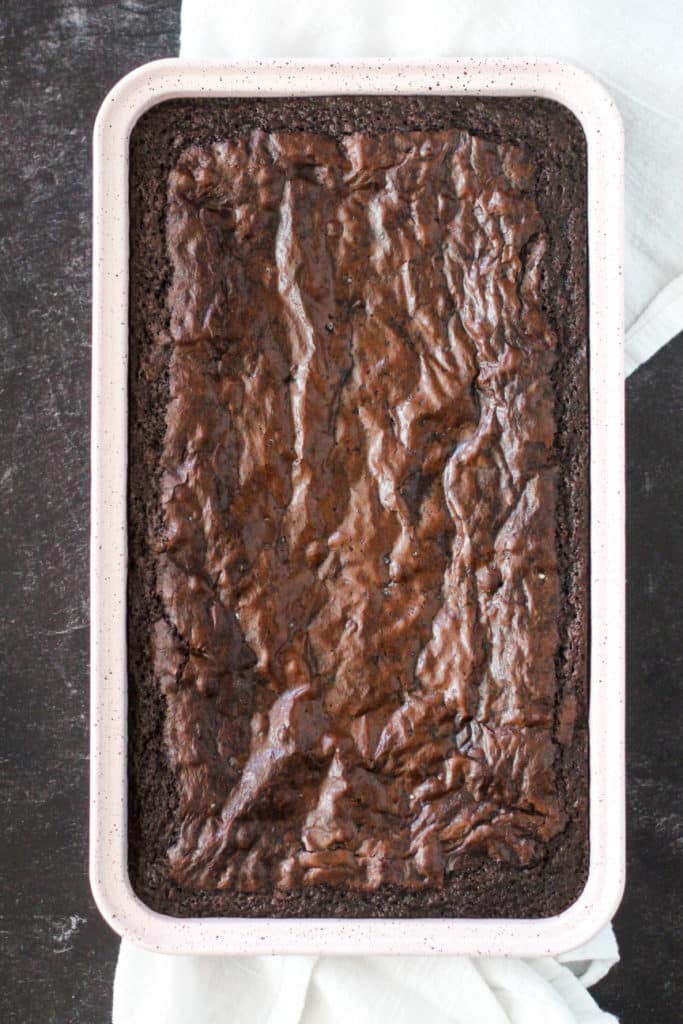 Then it's off to the oven! I'm using a brownie pan, which is not a standard size. However, I've tested this recipe in an 8×8 inch cake pan as well, and it works perfectly, so I've included instructions for both below!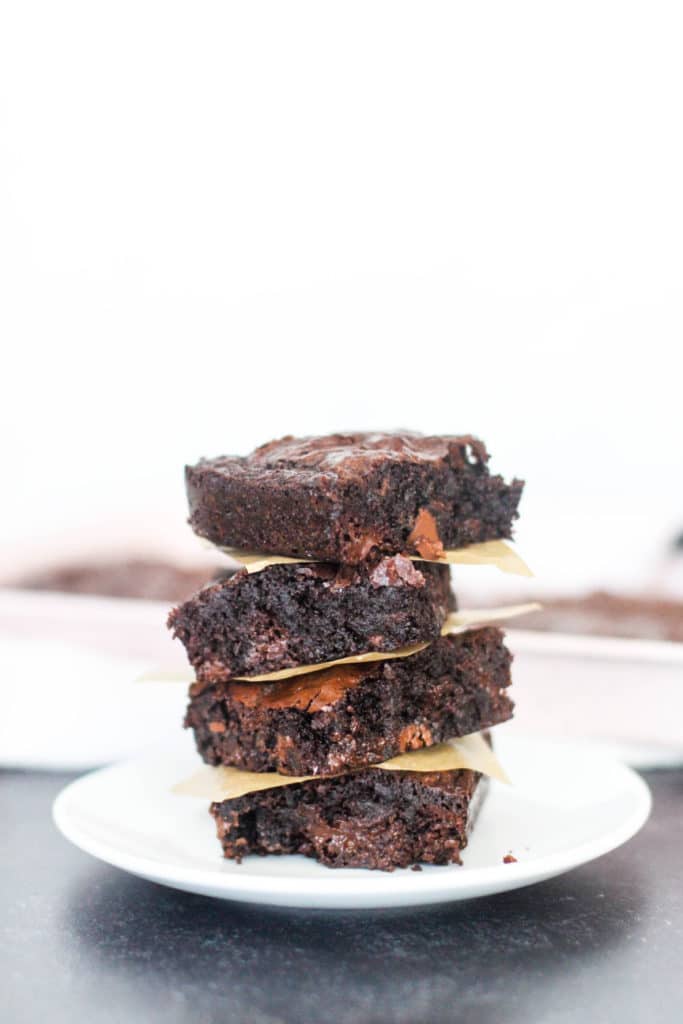 If you want to slice them into pretty squares, you'll want to cool the brownies completely so they hold their shape. But I won't blame you if you want to slice right in and enjoy them hot!
Tips & Tricks for Perfect High-Altitude Brownies
I love an easy brownie recipe, and this is definitely easy. But I've still got some tips to help make sure you get it perfect the first time!
Don't skip the extra mixing step. This makes a huge difference in the texture of the final brownies, and it's super important that you give the batter a good mix for a full five minutes, even though that seems like a long time!
Use dark cocoa powder. I can usually find dark cocoa powder pretty easily in normal grocery stores around me. It's often labeled as dark, but it's actually dutch-processed cocoa powder. This will give your brownies a deeper chocolate flavor!
Use chopped up chocolate bars instead of chocolate chips. This will give the brownies little pieces of chocolate that vary in size running all throughout! Plus, it's normally a better quality chocolate.
Add to the recipe: You can use this recipe as a base for any flavored brownies you like. Sprinkle flakey salt on top before baking, swirl in a little melted chunky peanut butter on top, or even swirl in some sweetened cream cheese before baking!
I'm at 5,000 ft above sea level and I usually find that people who are between 3,000 and 7,000 feet above sea level do not need to make any adjustments to my recipes!
Enjoy this one guys! I can't stop making it!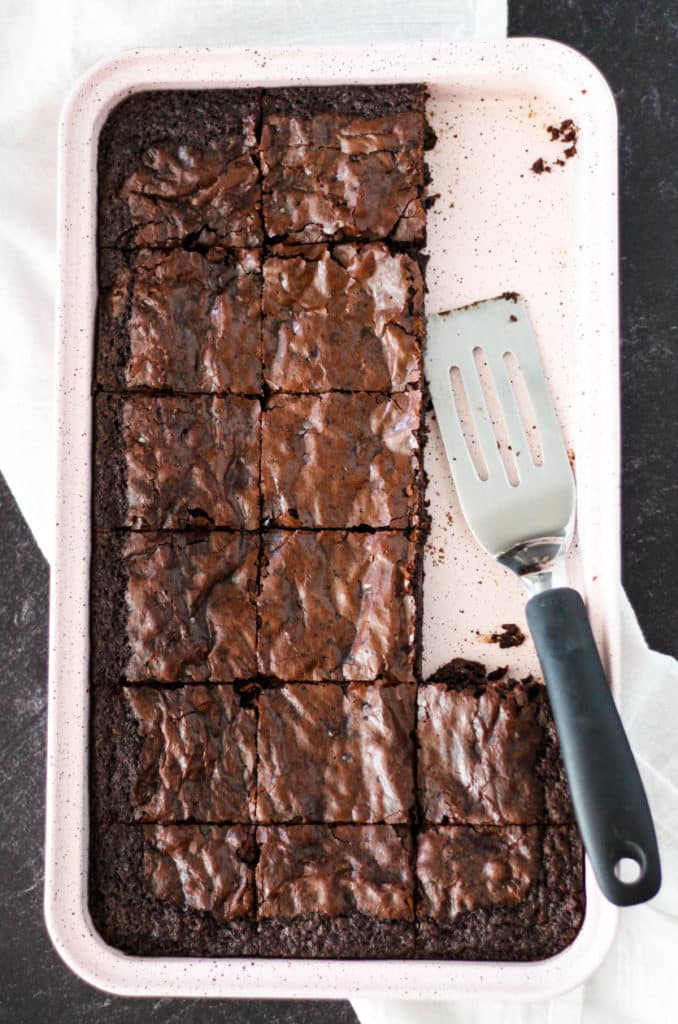 Perfect High Altitude Brownies
Ingredients
1/4

cup

melted butter

1/4

cup

oil

1

cup

sugar

1/4

cup

brown sugar

3

eggs

2

tsp.

vanilla extract

3/4

cup

flour

1/3

cup

dutch processed cocoa

1/2

tsp.

salt

1/8

tsp.

baking powder

3

oz.

chopped dark chocolate

3

oz.

chopped milk chocolate
Instructions
Preheat your oven to 350 degrees. Generously grease your brownie pan- you can use an 11x7 inch brownie pan, or an 8x8 inch square cake pan.

In a large bowl, whisk together the butter, oil, sugar, and brown sugar until well combined. Add in all 3 eggs and the vanilla extract, and whisk together until well combined. In a small bowl, stir together the flour, cocoa powder, salt, and baking powder, and then stir this mixture into your large bowl. At this point you want to whisk the batter for a full 5 minutes by hand. It's going to seem like a really long time to mix this batter, but trust me! It helps create the perfect texture.

Once you've mixed the batter well, switch to a rubber spatula and fold in the chopped chocolate. Pour the batter into your prepared pan, and spread it evenly. Bake the brownies for 22-25 minutes if you are using an 11x7 inch pan, or 32-35 minutes if you are using an 8x8 inch pan. The brownies should have a shiny top, set edges, and toothpick inserted about 2 inches from the edge of the pan should come out with a few crumbs on it. Cool the brownies, slice, and enjoy!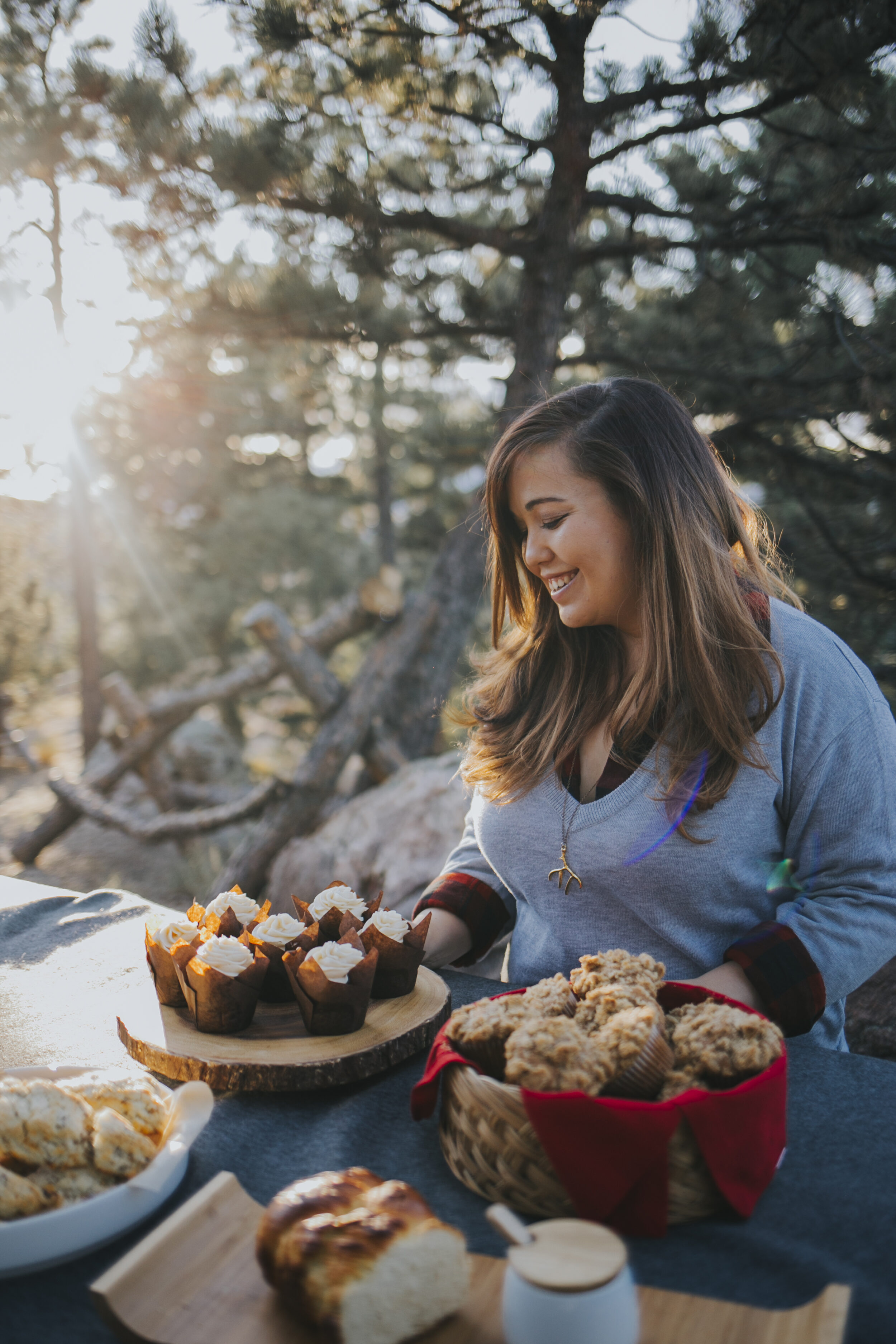 Hello and welcome! My name is Nicole, and Dough-eyed is a food blog for people who want to bake for their family and friends in high-altitude areas. Think of me as a friendly voice there with you in the kitchen, here to give you confidence when you're baking, and to help you with the struggles of baking at high-altitude. Come back every week for new recipes, tips, and advice on high-altitude baking!