Peanut Butter Brownies are pretty much a top-tier dessert. I've made a lot of different versions of this over the years, but this is my favorite, so I'm sharing the recipe with you guys today!
This brownie recipe is lovely on it's own, but it's really something fantastic with the addition of crunchy peanut butter swirls and peanut butter chips on top- let's get to it!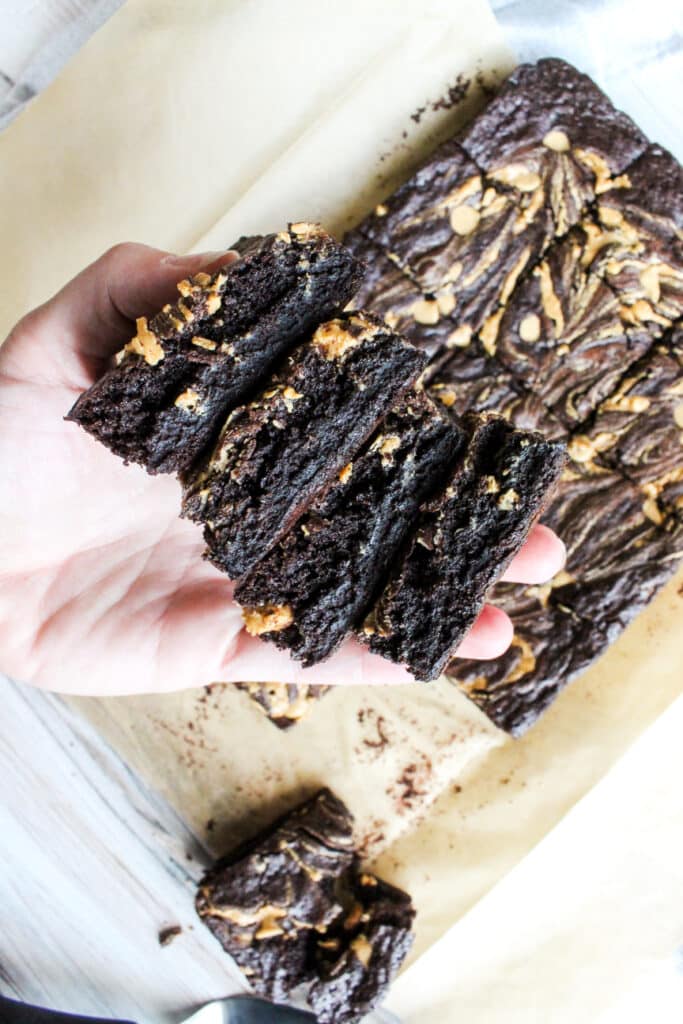 How to Make Peanut Butter Brownies
These brownies start off by microwaving your butter and sugars until everything is melted together and fairly hot, about 2-3 minutes.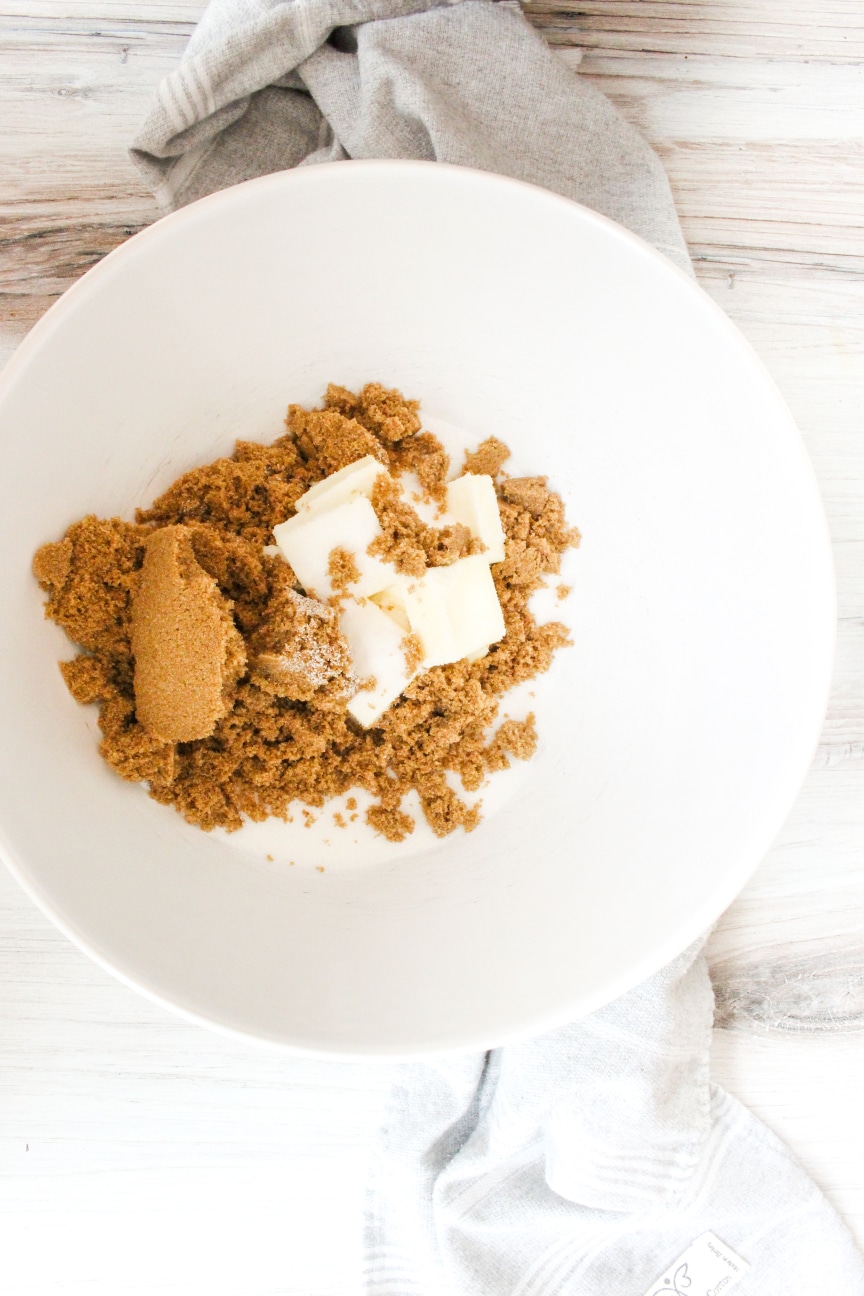 This microwaving process helps the brownies get that shiny top that we all know and love. This is part of why brownies can be tricky, particularly at high-altitude. You have to find the right balance between enough sugar to create the classic texture, and not so much sugar that the mixture explodes in the oven.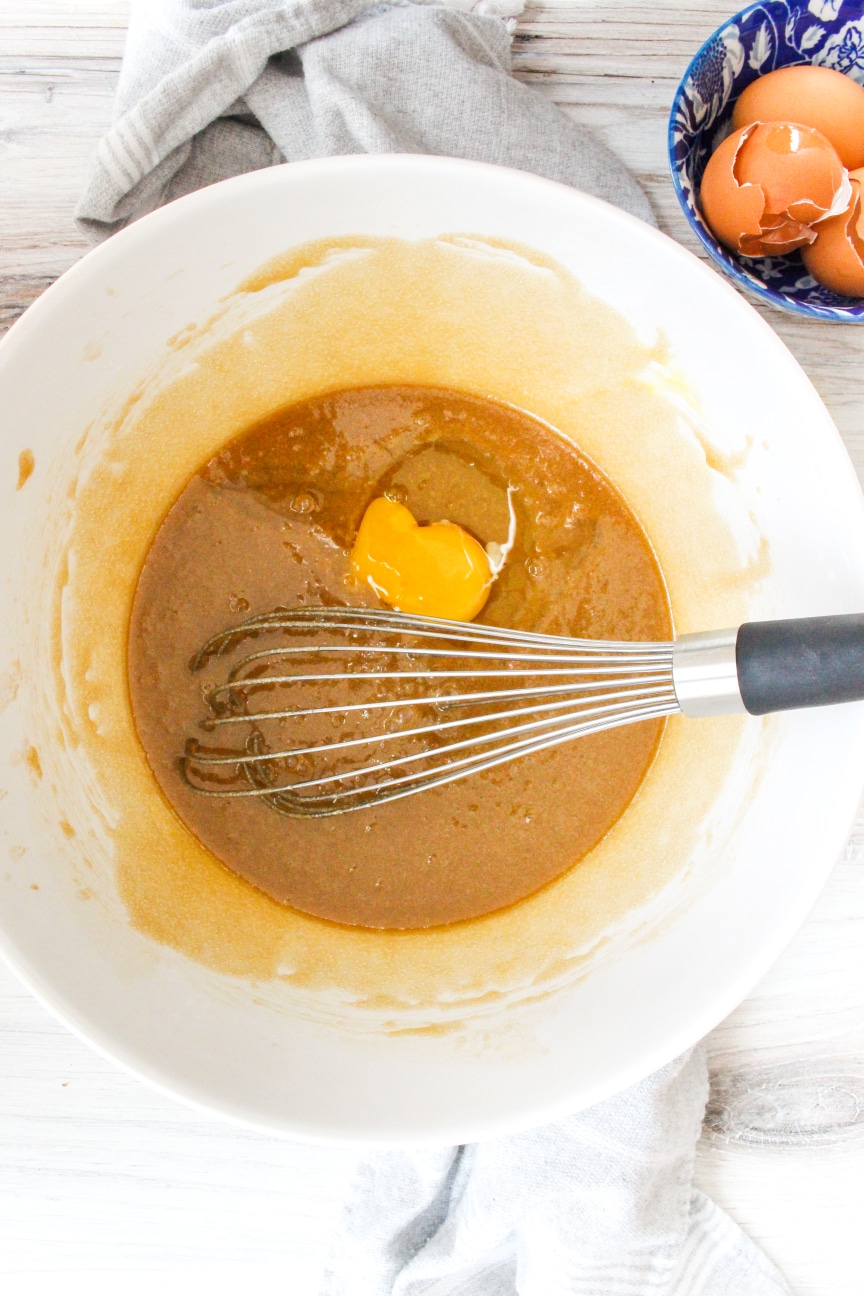 Then stir in the eggs, one at a time, along with the vanilla extract until everything is well combined. Finally, add in the dry ingredients, and whisk everything together until you have a thick, shiny batter. Pour into your brownie pan.
I like to use crunchy peanut butter in these brownies because it makes for a really great texture, but you can use crunchy or smooth. Dollop the peanut butter all over the batter, and use a knife to swirl everything together.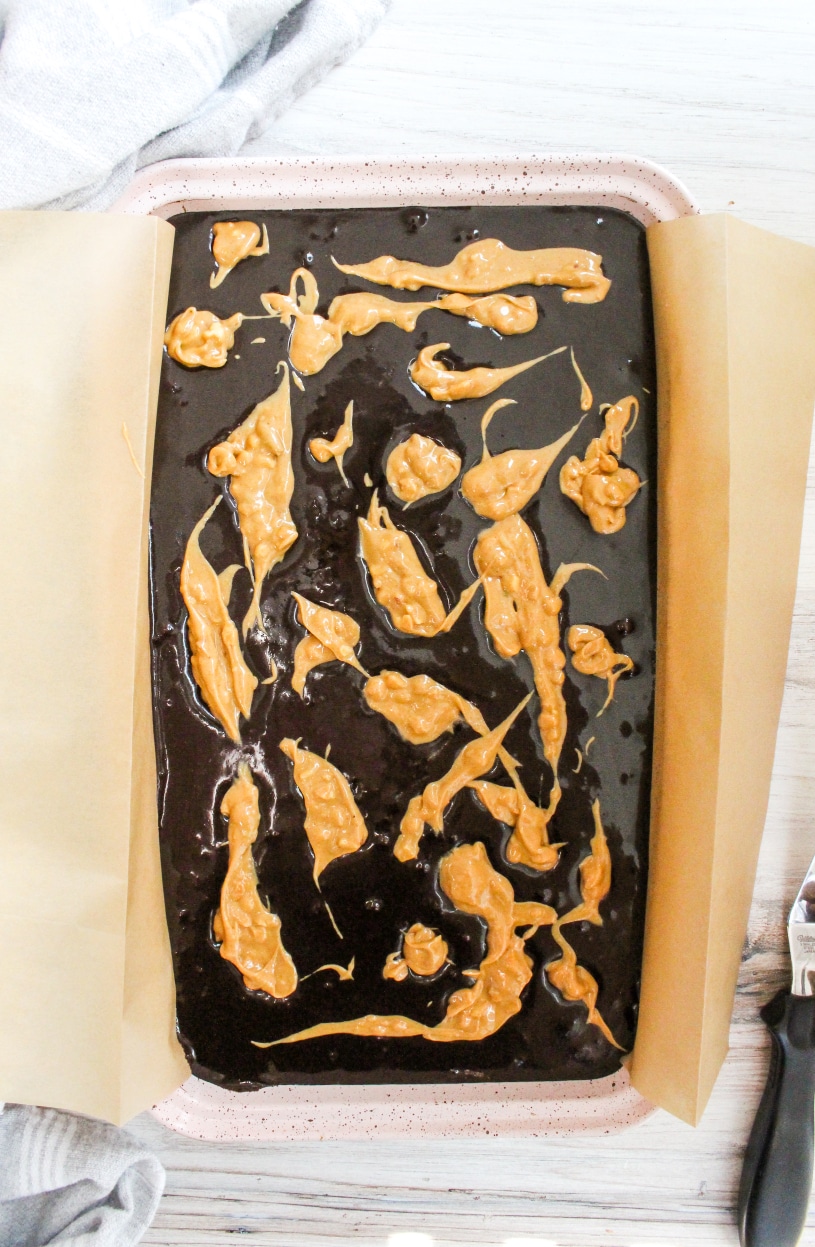 After adding the peanut butter chips on top, it's off to the oven for these to bake up until everything is just set, and the top is shiny. Cool, slice, and serve!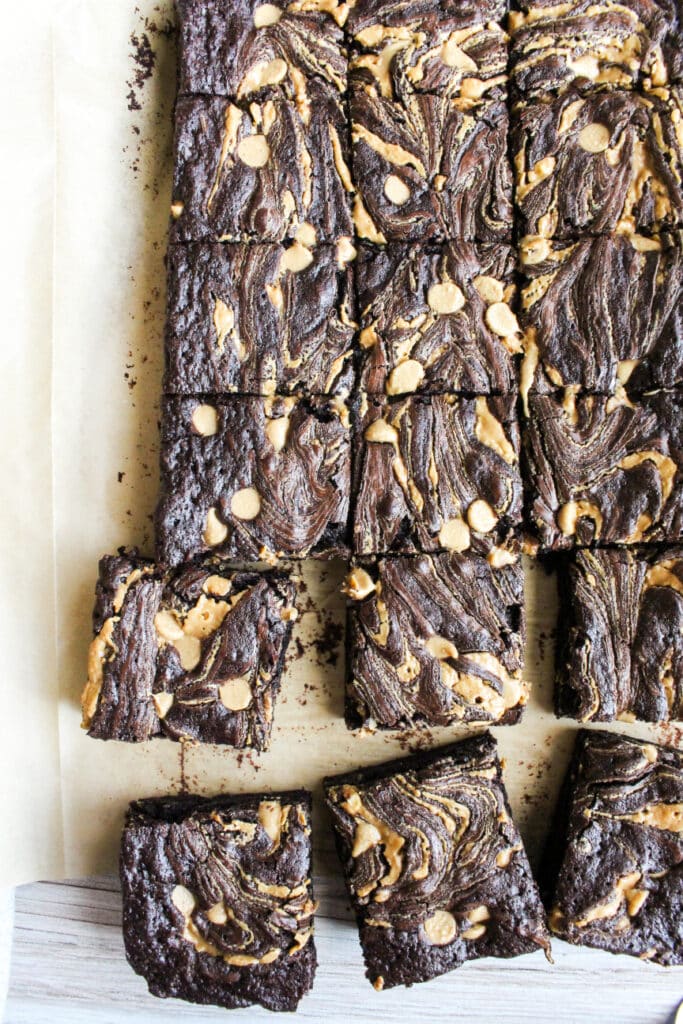 Tips & Tricks for Peanut Butter Brownies
Brownies can be a bit tricky, so here are my tips to help along the way!
Use dutch-processed cocoa powder. As with all my recipes, I just think it makes a huge difference to use dutch-processed cocoa powder when it comes to getting a deep, chocolatey flavor. The brand that is easiest to find in most grocery stores is Hershey's Special Dark Cocoa Powder.
Why can't I just start with melted butter? The process of heating the butter and sugars together helps to dissolve the sugar into the batter, and this process helps create that papery top to the brownies!
Be sure to whisk your batter thoroughly. You don't want any dry pockets of batter, and a few extra whisks isn't going to hurt your brownies, but instead will contribute to a chewy texture, which is great in brownies!
Can I use natural peanut butter? I find that natural peanut butter doesn't give the same effect, and can often absorb into the brownies as they bake. I recommend using a traditional Jiffy-type peanut butter here.
Do I have to use crunch peanut butter? No, you can use either crunchy or smooth peanut butter for this recipe!
What if I want to make regular brownies? You can simply omit the peanut butter and peanut butter chips and bake the brownies as they are for a really fantastic pan of treats!
How do I know when the brownies are done? The brownies should be set in the middle, so when you shake the pan a little bit, you should not see any jiggle in the middle of the pan. If you insert a toothpick, you should get some crumbs clinging to it, but not a completely wet batter.
What if I'm above 7,000 ft, will this recipe work for me? I am unable to test recipes at higher altitudes, however, brownies can be a bit tough to master because of the high sugar ratio here. If you are at a higher altitude, I would recommend using slightly less baking powder, and cutting about 3 tbs. of sugar from this recipe.
I'm at about 5,000 ft above sea level and I find that most people who live between about 3,000-7,000 ft above sea level do not need to make any adjustments to my recipes.
Hope you guys enjoy this one!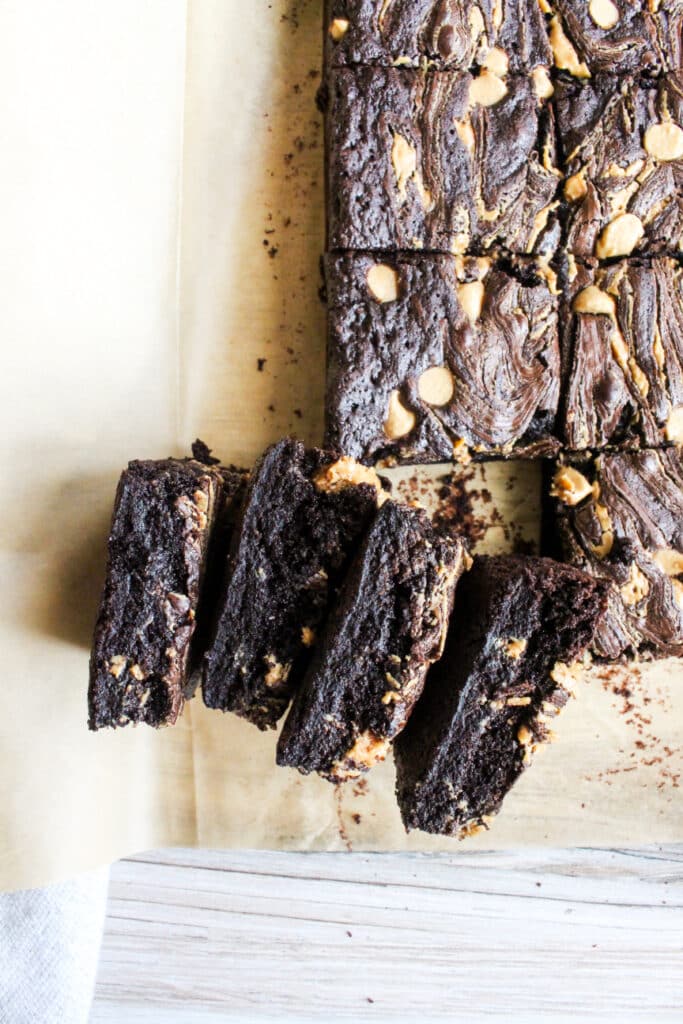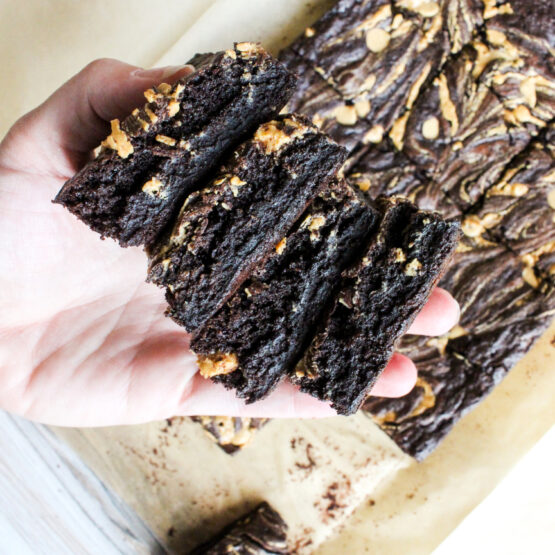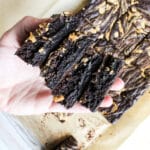 Peanut Butter Brownies
Ingredients
3/4

cup

dutch processed cocoa powder

2/3

cup

flour

1/8

tsp.

baking powder

1/2

tsp.

salt

2/3

cup

butter

3/4

cup

sugar

2/3

cup

brown sugar

3

eggs

1

tsp.

vanilla extract

1/2

cup

chunky peanut butter

1/4

cup

peanut butter chips

optional
Instructions
Preheat your oven 350 degrees and grease your brownie pan. You can use either an 8×8 inch square cake pan, or an 11×7 inch brownie pan. Grease your pan with baking spray, and line with parchment paper for easier removal, and set the pan aside.

In a medium bowl, stir together the dutch processed cocoa powder, flour, baking powder, and salt, and set this mixture aside. In a large microwave safe bowl, add your butter, cut into chunks, sugar, and brown sugar. Microwave for 2-3 minutes, stirring every thirty seconds or so, until everything is melted together and fairly hot.

Add in the vanilla and eggs one at a time, then stir in the dry ingredients and whisk until everything is very well combined. Pour your batter into your prepared baking pan and spread evenly. Then, microwave the crunchy peanut butter in a small bowl for about 15-20 seconds, or until it's a little bit thinner and closer to the consistency of the brownie batter.

Dollop the peanut butter all over the top of the brownie batter, and use a knife to swirl it together gently. Then sprinkle the peanut butter chips evenly over the top of the batter.

Bake for 30-35 minutes if you're using an 8×8 inch pan, and 20-25 minutes if you're using an 11×7 inch pan, or until set and the flakey top is shiny and a little puffed. Cool completely before slicing and serving!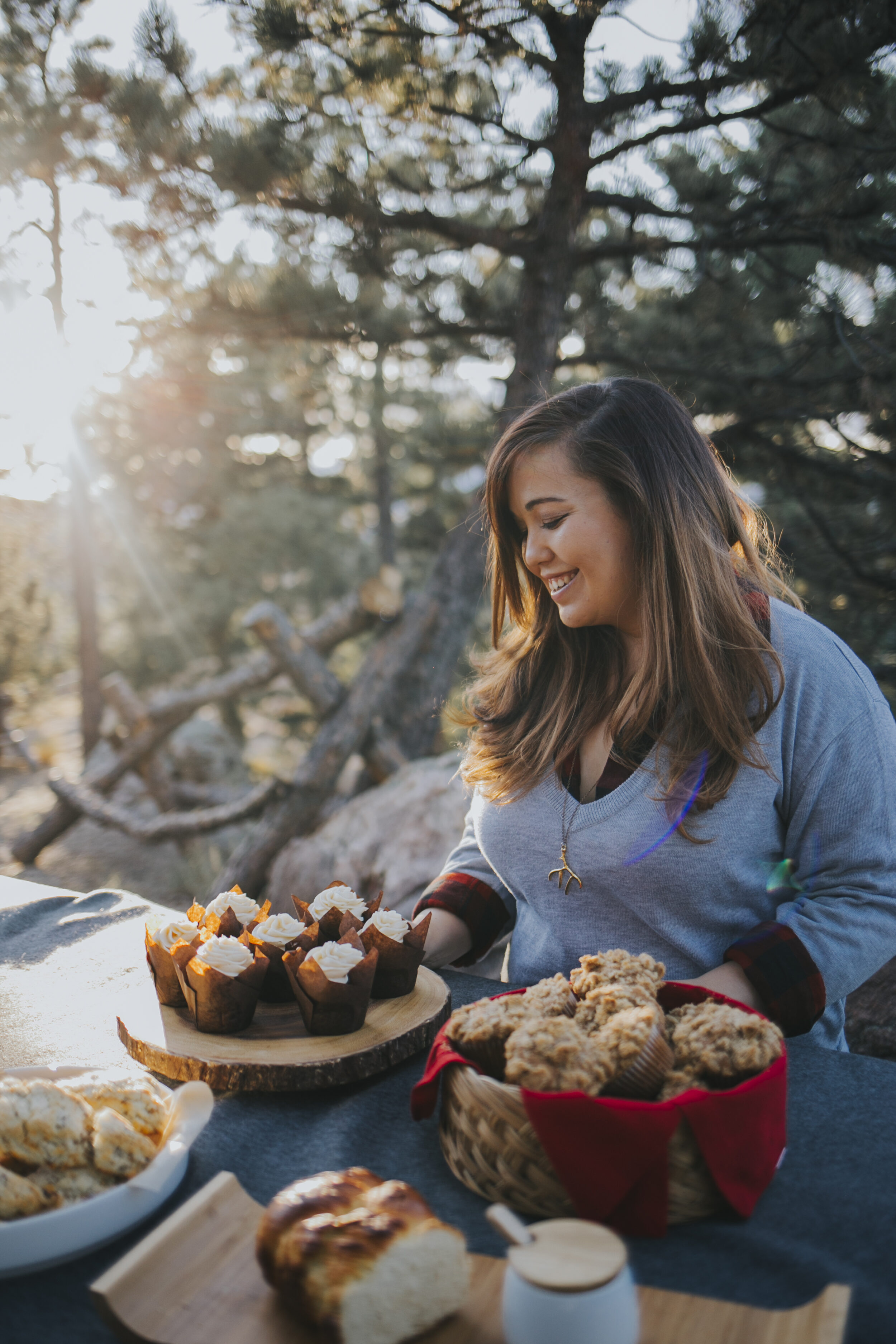 Hello and welcome! My name is Nicole, and Dough-eyed is a food blog for people who want to bake for their family and friends in high-altitude areas. Think of me as a friendly voice there with you in the kitchen, here to give you confidence when you're baking, and to help you with the struggles of baking at high-altitude. Come back every week for new recipes, tips, and advice on high-altitude baking!