Kicking off the fall recipes this year with a small-batch version of everyone's favorite muffin! These pumpkin muffins are super simple, and you can easily customize them to whatever you're looking for.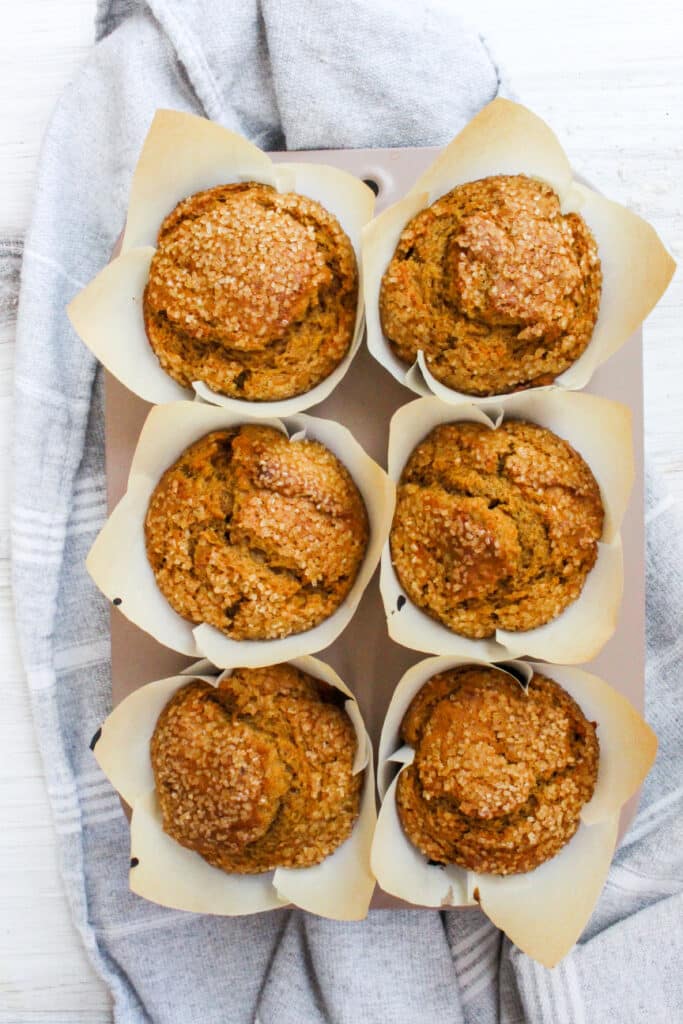 I make these every year, but I've never shared a small-batch of this recipe. Sometimes we just don't want to have a whole dozen muffins, so here's the perfect solution. Let's get to it!
How to Make Small-Batch Pumpkin Muffins
We are starting out by whisking together the dry ingredients, including all the warm spices to make these pumpkin muffins taste amazing. Then, whisk together the sugars and oil until well combined. Using oil helps these stay really moist, and the brown sugar makes everything a little more flavorful and warm.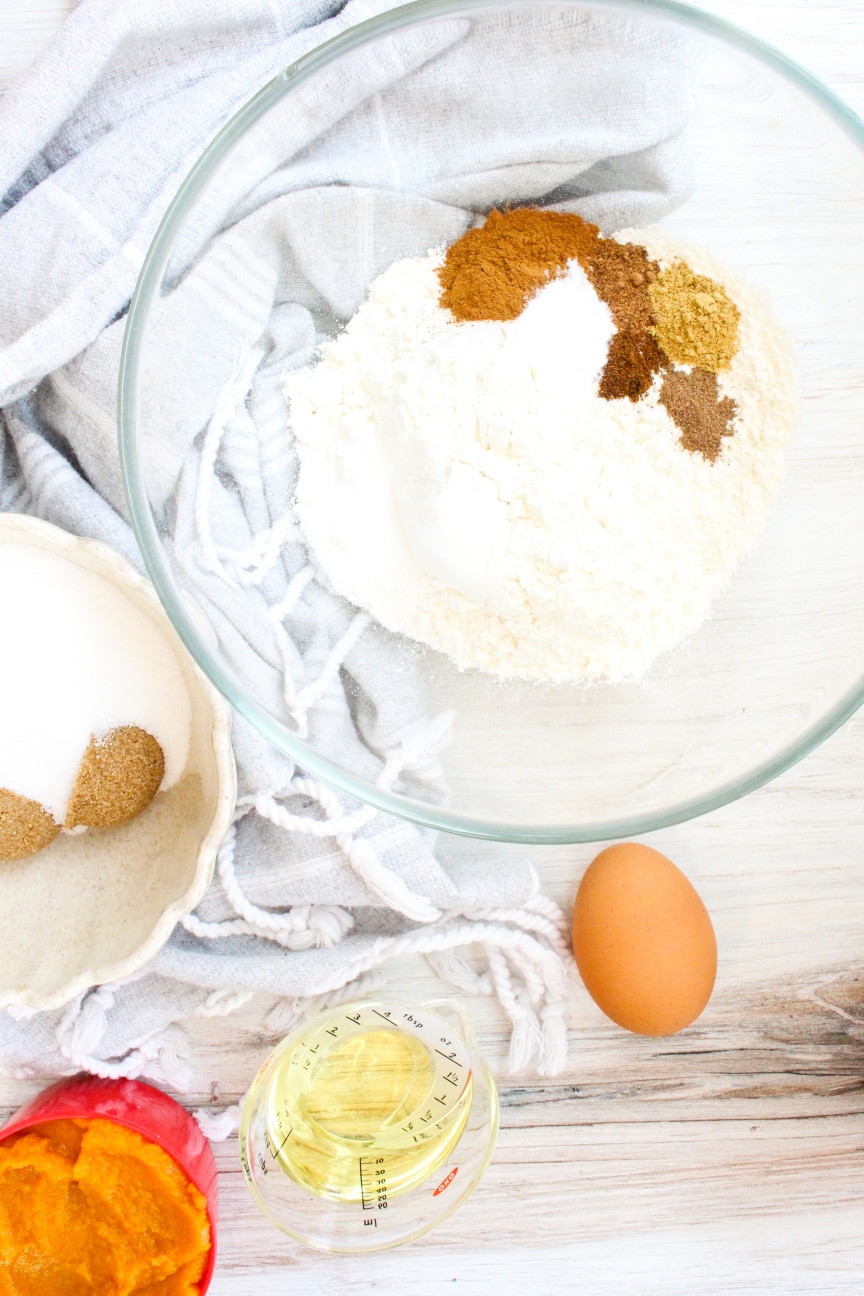 Add in the egg, pumpkin puree, and vanilla extract and stir until well combined. Then it's onto the dry ingredients- we're whisking until everything is well combined.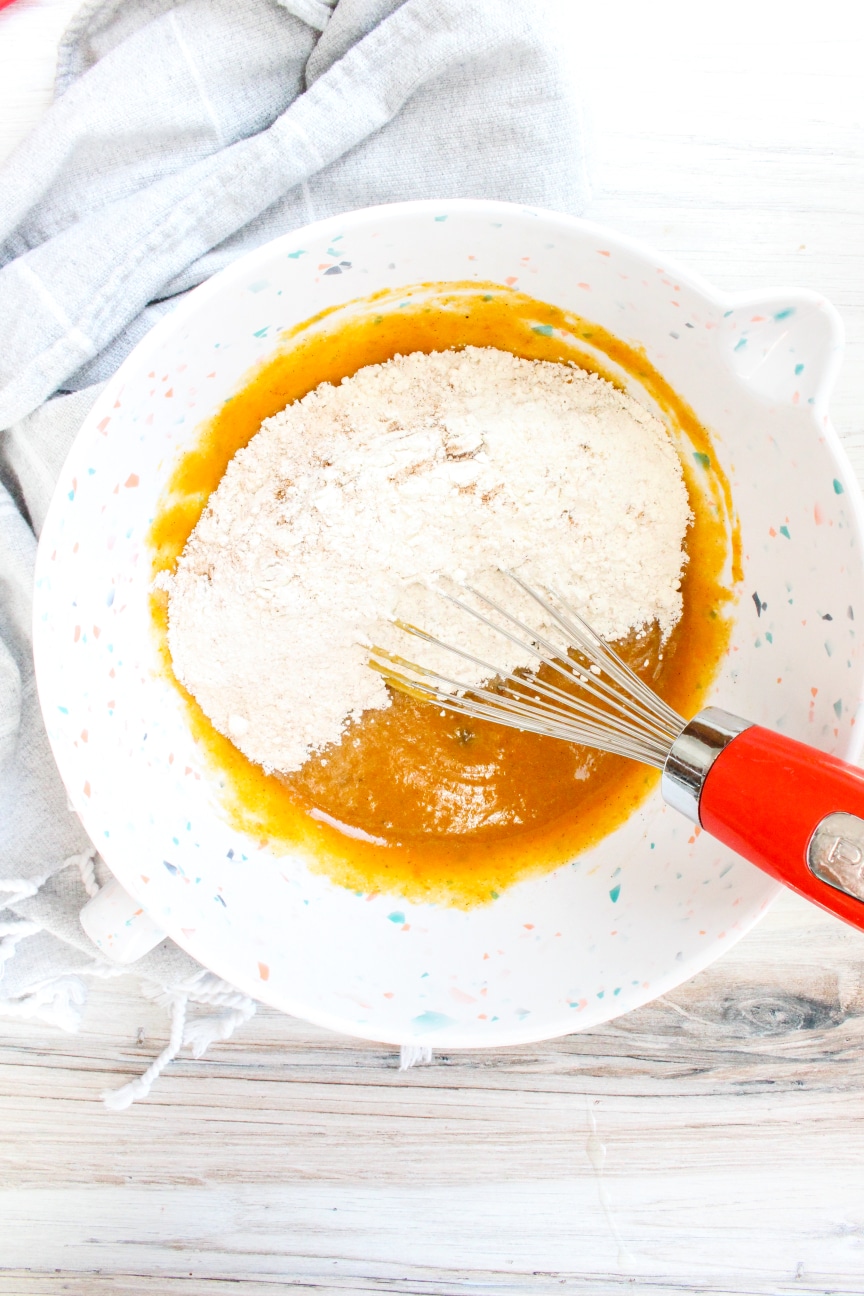 Then scoop the batter into your prepared muffin tin. I love using these large paper liners because they look really great, but they also allow you to easily make really big, bakery-style muffins, which is what I'm going for here.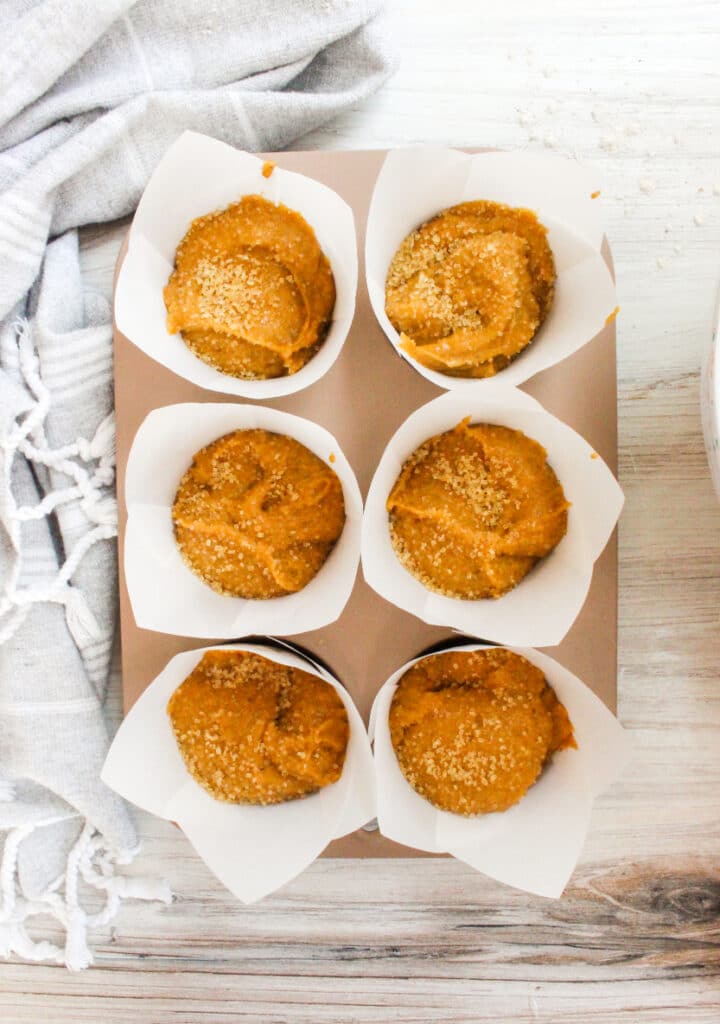 I like to keep things simple and top these with a sprinkle of coarse sugar before they head to the oven to bake off. You can also top them with a simple crumble topping, or whisk together some powdered sugar and water, and ice them after they have baked!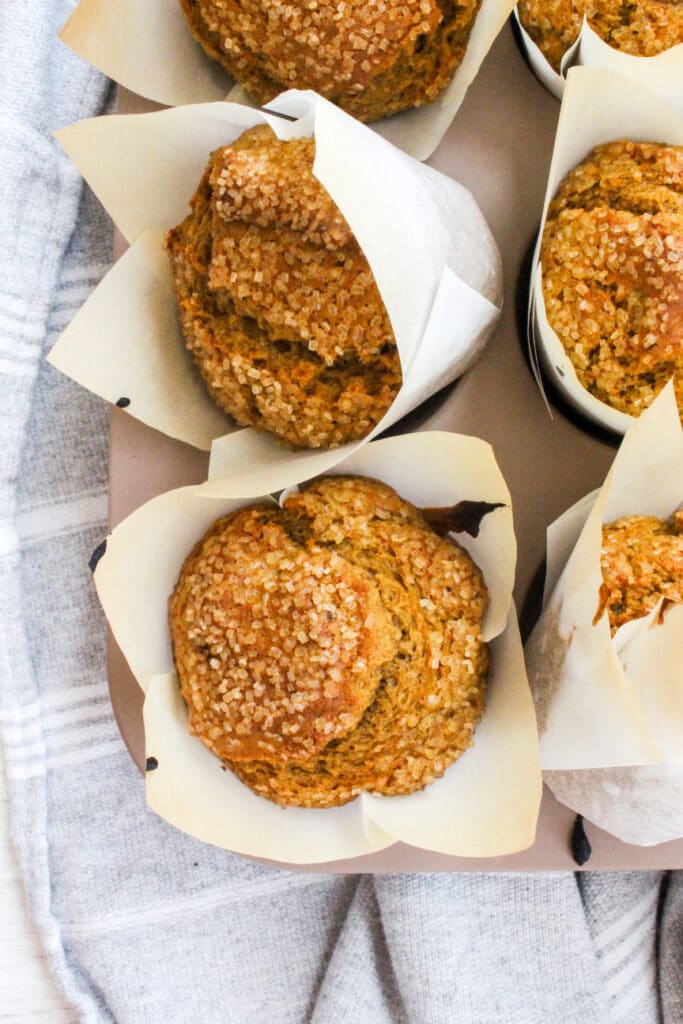 They will bake up tall and lightly golden (though it's a little hard to see on pumpkin muffins), and they should rise up over the edges of your pan. Cool these completely and enjoy!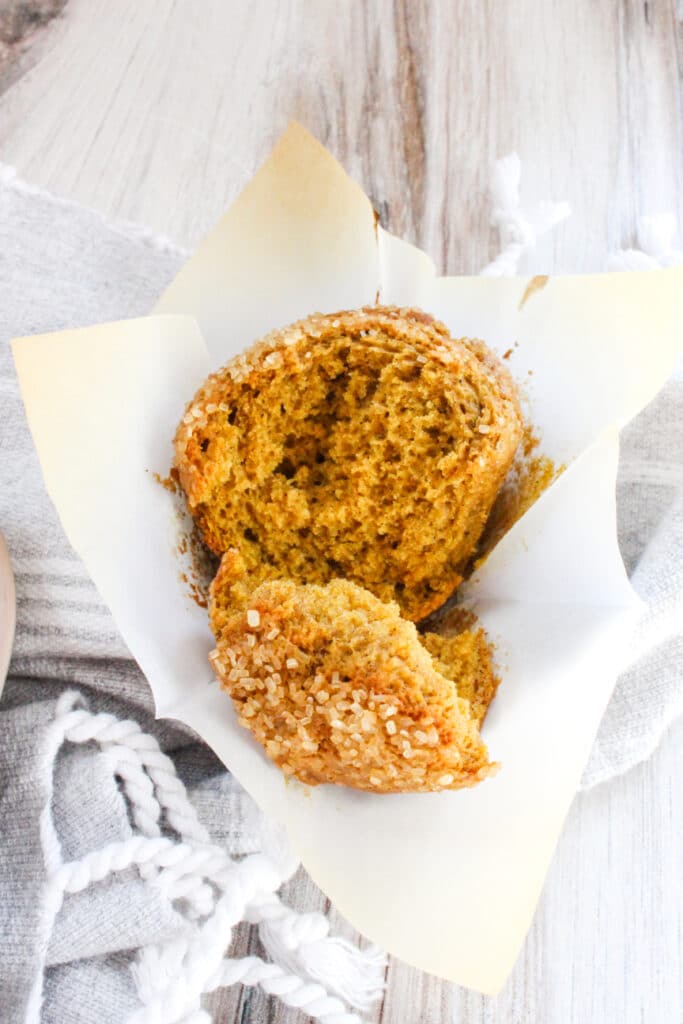 Tips & Tricks for Small-Batch Pumpkin Muffins
These are my absolute fav fall treat, and I hope you guys love these small-batch Pumpkin Muffins as much we do! Here are all my tips and tricks to help you along the way:
Do I have to use this combination of spices? No, this is my preferred mix, but you can use any warm spices that you like, or any measurements that you like here. Remember this is only for 6 muffins if you adjust measurements!
What kind of pumpkin puree should I use? I always use pure pumpkin puree, NOT pumpkin pie mix. That will not work here.
Be sure to avoid over-mixing the batter. This batter is great because it's easy to whisk everything together by hand. Be sure to just mix until everything is combined.
Can I top this with a crumble topping? Yes, you can make a simple crumble topping by combining 1/2 cup flour, 1/4 cup brown sugar, 1/4 cup white sugar, 2 tsp. cinnamon, and 3-4 tbs of melted butter with a fork until crumbles form. Top your muffins with this and bake as directed!
Fill your muffin cups up nearly to the top. If you're not using paper liners that are tall like mine, be sure to spray your muffin tin with cooking spray to prevent the muffins from sticking! This creates tall, big muffins.
Can I double this recipe? Yes, you can easily double this recipe for 12 generous muffins.
Can I add nuts to these muffins? Yes, you can add in chopped pecans or walnuts with the flour mixture here and they will work great!
I am at about 5,000 ft above sea level and I find that most people who live between about 3,000-7,000 ft above sea level do not need to make any adjustments to my recipes.
Enjoy!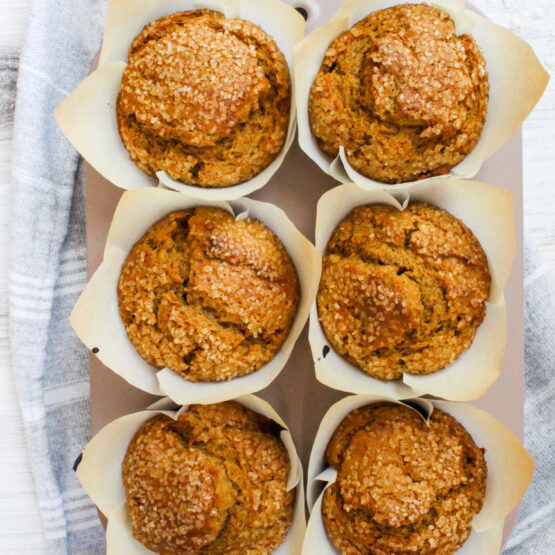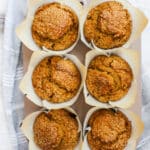 Small-Batch Pumpkin Muffins
Ingredients
1

cup

flour

1/4

tsp.

baking soda

1/2

tsp.

salt

3/4

tsp.

cinnamon

1/4

tsp.

nutmeg

1/4

tsp.

ginger

1/8

tsp.

allspice

1/8

tsp.

cloves

6

tbs.

sugar

3

tbs.

brown sugar

1/4

cup

oil

1

egg

2/3

cup

pumpkin puree

1

tsp.

vanilla extract
Instructions
Preheat your oven to 400 degrees, and line your muffin tins with paper liners. In a small bowl, whisk together the flour, baking soda, salt, cinnamon, nutmeg, ginger, allspice, and cloves. Set aside.

In a medium bowl, whisk together the sugar, brown sugar, and oil until combined. Add in the egg, pumpkin puree, and vanilla, and stir until combined. Slowly add in the flour mixture, and stir until the batter is smooth and completely incorporated.

Fill each muffin cup about 3/4 full with the batter. You should get 6 muffins, and you want the cups to be fairly full.

Top your muffins with coarse sugar, a simple crumble, or leave them plain and ice them with a cinnamon water icing.

Bake for 20-22 minutes, or until golden brown on top and a toothpick comes out mostly clean. Cool and serve!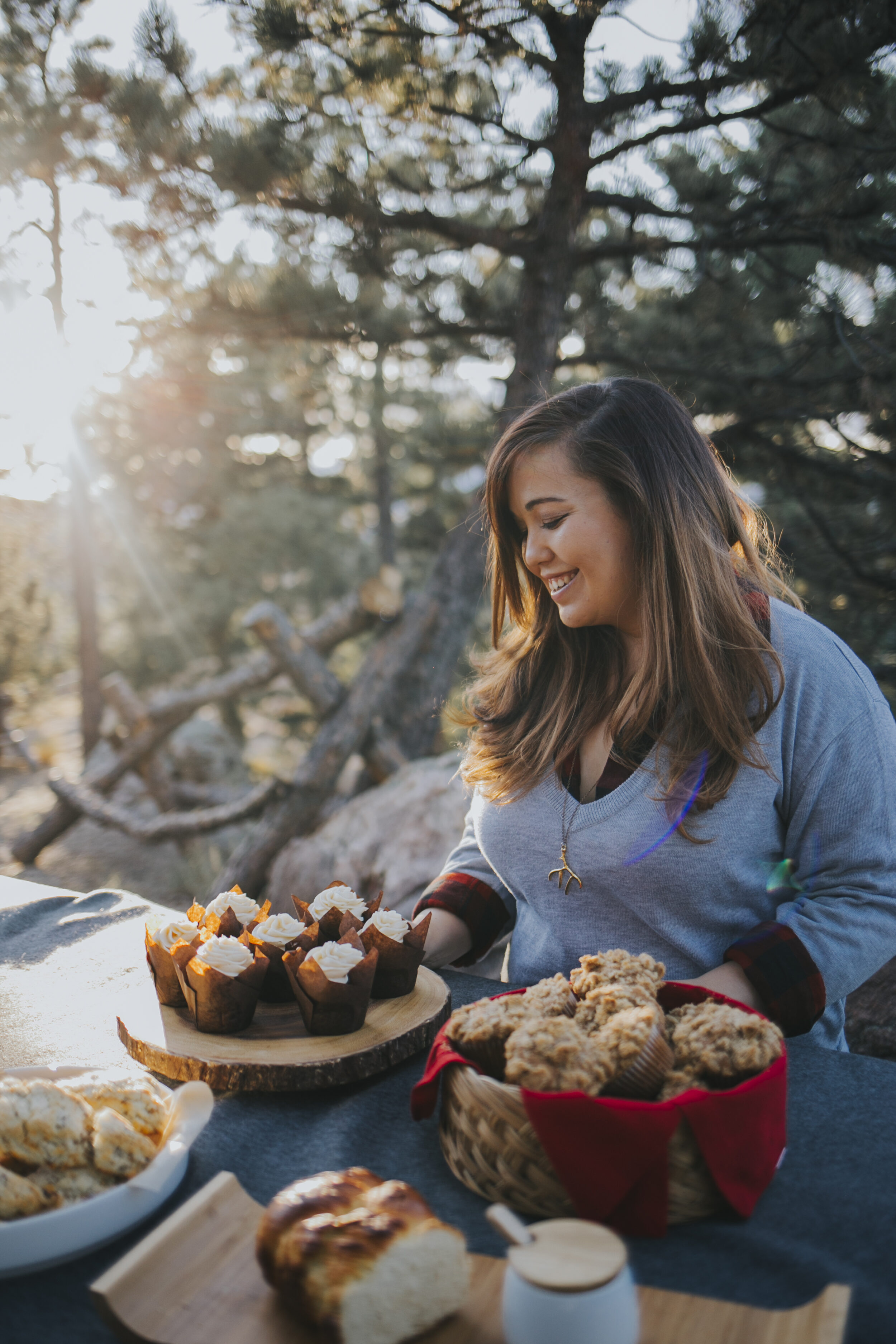 Hello and welcome! My name is Nicole, and Dough-eyed is a food blog for people who want to bake for their family and friends in high-altitude areas. Think of me as a friendly voice there with you in the kitchen, here to give you confidence when you're baking, and to help you with the struggles of baking at high-altitude. Come back every week for new recipes, tips, and advice on high-altitude baking!