Today I'm sharing the recipe for these perfect little blueberry scones and they are SO good. They turn into something really soft and fluffy on the inside with the addition of ricotta, and it's super easy to make.
I'm a big fan of scones with breakfast, and these ones are topped with sugar for a sweet little crunch and no need for icing. Let's get to it!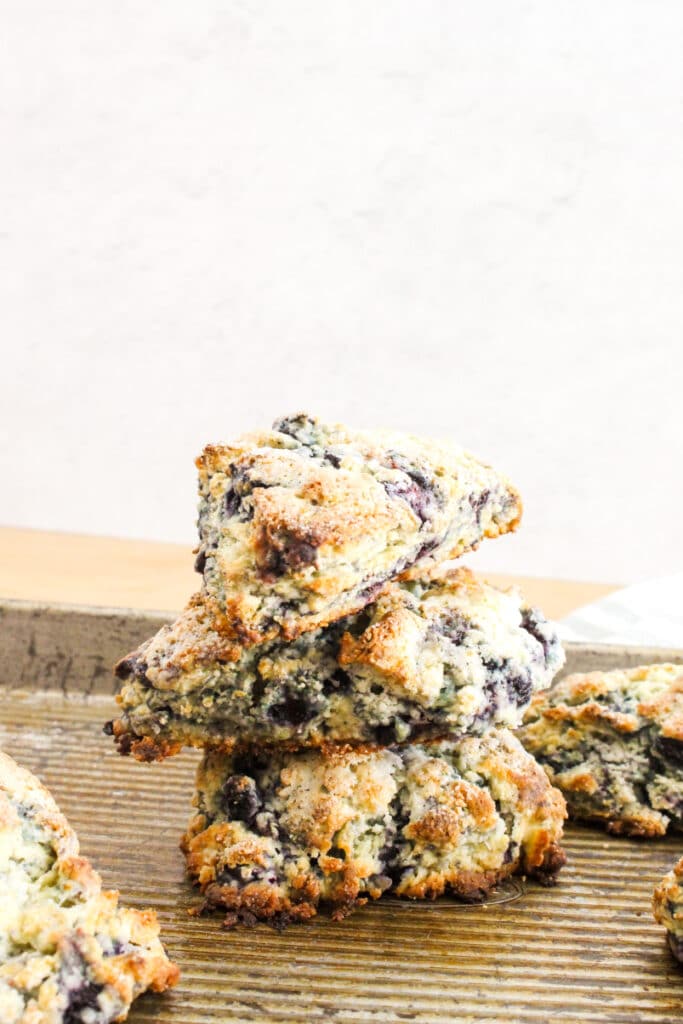 How to Make Blueberry Ricotta Scones
This is a typical method for biscuits and scones, and we're starting off by cutting some butter into the dry ingredients. I usually add a bit more sugar into my scone recipes for a sweeter flavor. Here's what it should look like after you cut in the butter: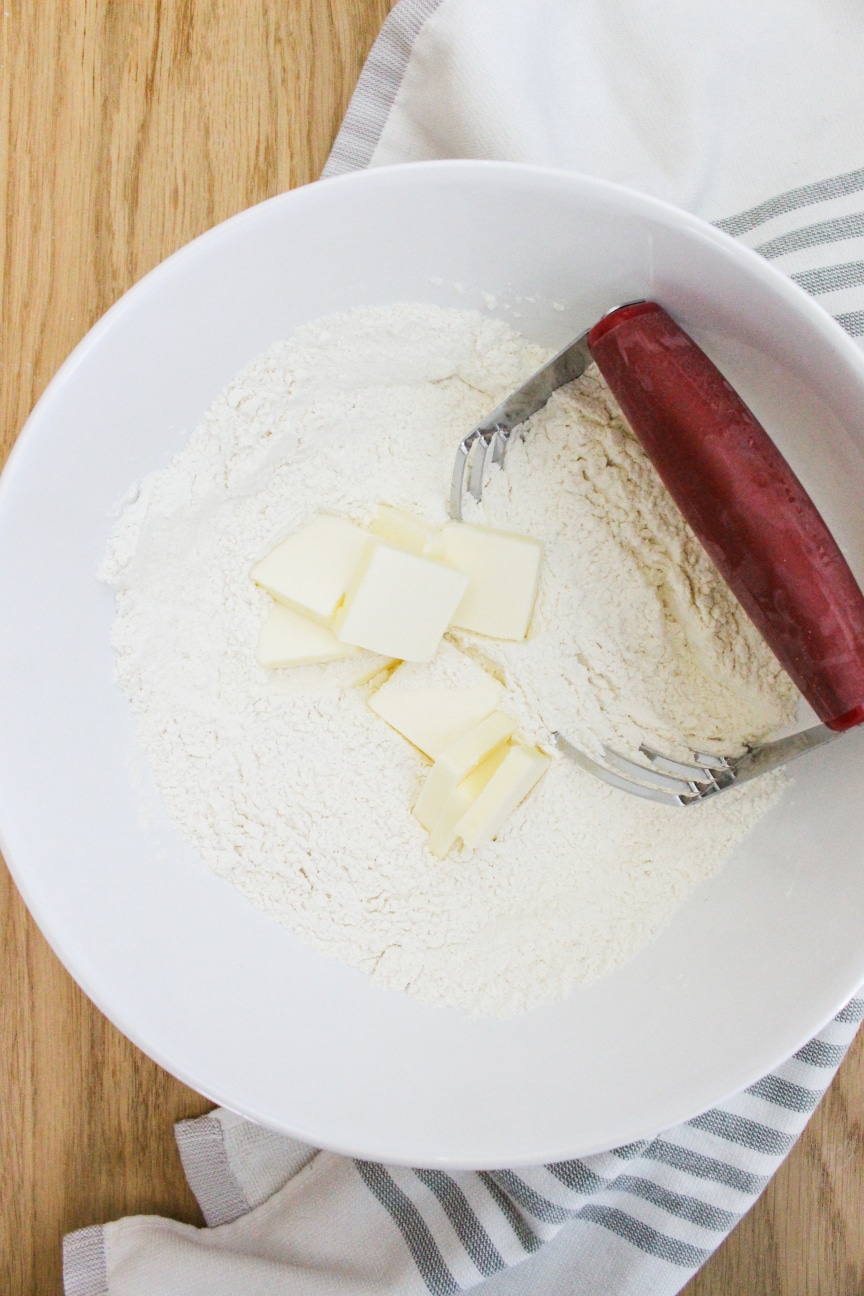 Once the butter is cut in, we're going to toss the blueberries into the mixture as well. I'm using frozen blueberries. One huge benefit of using frozen berries in this recipe is that it helps to keep everything really cold as you work the dough together.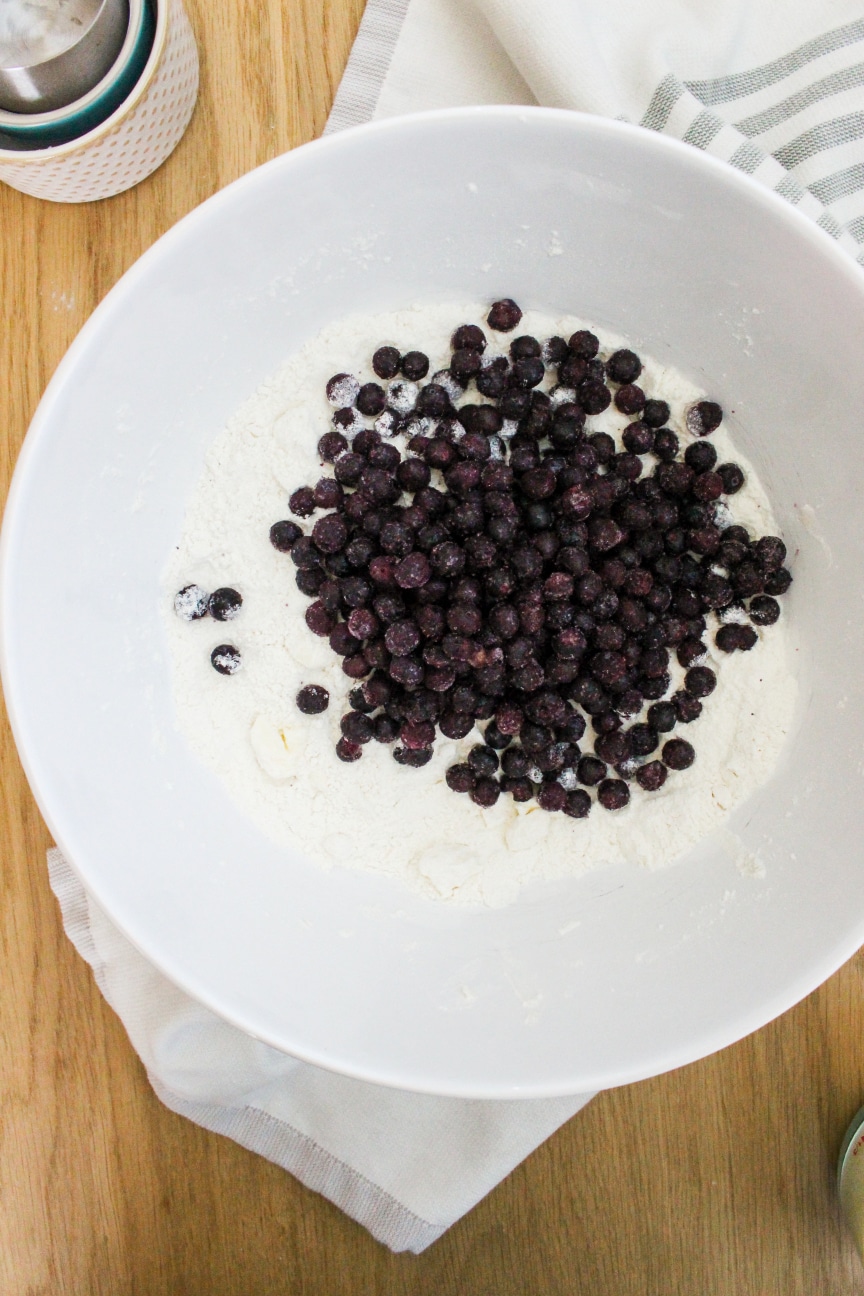 After adding in the wet ingredients, you want to work quickly and gently to knead the dough together into one mass, and I like to give it a few folds to give them a little more flakiness. Then you can cut your scones into 8 triangles.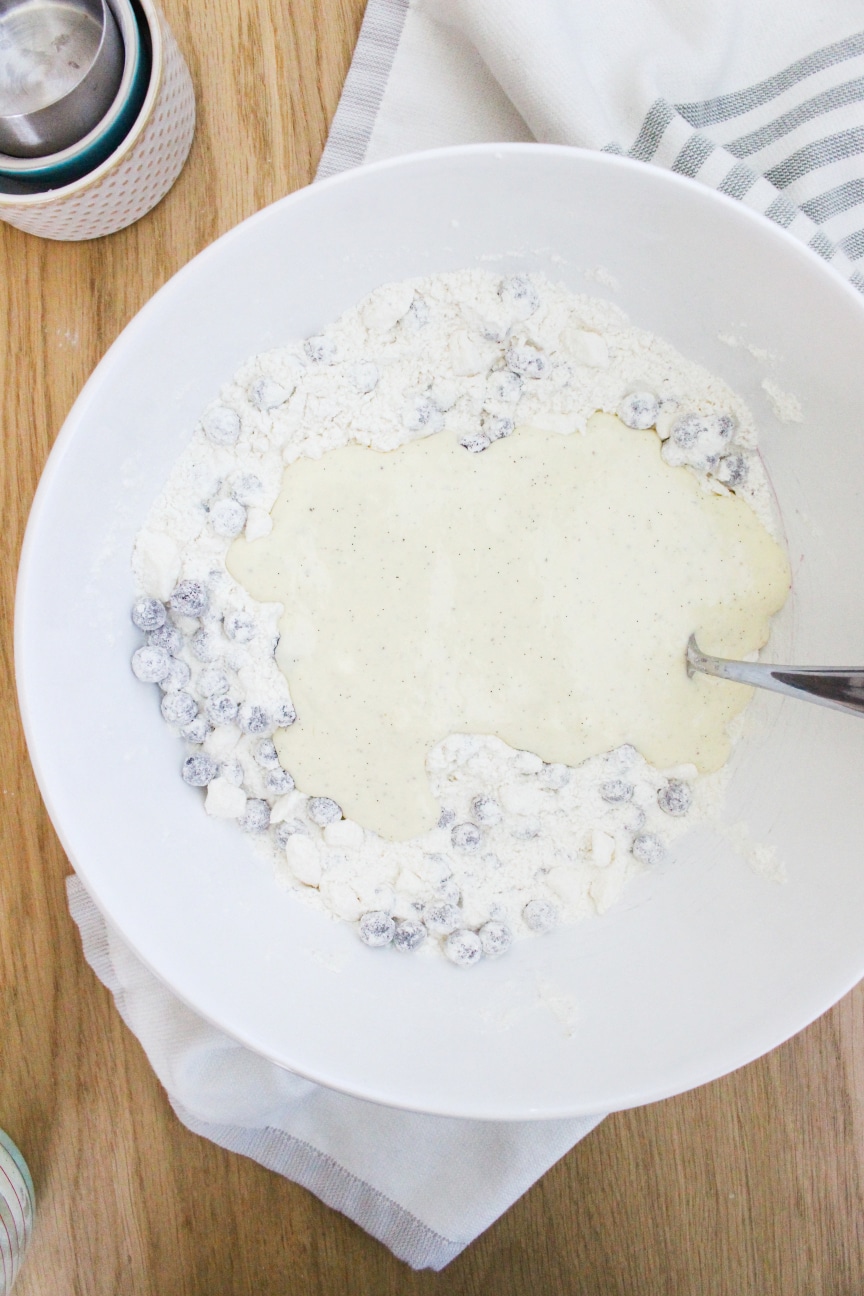 I like to freeze the dough for 10-15 minutes before brushing the tops with cream and sprinkling coarse sugar over them before baking. You want to bake these until they are puffed and a deep golden brown all over.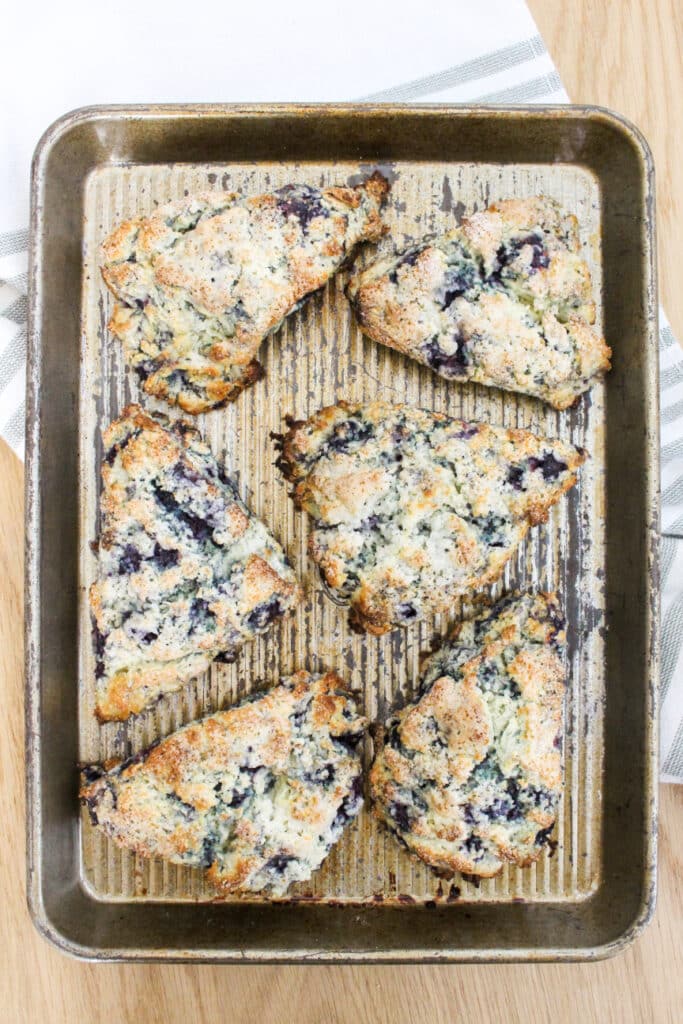 Hope you guys love these ones!
Tips & Tricks for Blueberry Ricotta Scones
Here are all my tips to help you make these lovely Blueberry Ricotta Scones!
Do I need to use a pastry cutter? No, you can also use your hands to mash the butter into the flour mixture. You want to be sure to work quickly since your hands will start to warm up the butter.
My dough is too wet, what do I do? This recipe works very well for me in terms of landing on the right moisture level, but scones are a bit tricky. You can work on a floured surface to incorporate more flour as needed when you are shaping the dough together. Also, keeping the dough as cold as possible helps with this.
My dough is too dry, what do I do? Again, scones can be a bit tricky, and a bit less of a science because of the differences in all the ingredients we are using here. If you find your dough is not coming together in the bowl before you turn it out, sprinkle an additional 1-2 tbs. of cream in until the dough starts to hold together a bit more.
My butter is getting warm, how can I fix this? At any stage of the process, you can stop and put your entire bowl into the fridge for 10-15 minutes if your butter is getting too warm. It's important to work with cold ingredients the entire time to help prevent this!
Do I have to use frozen blueberries? No, you can also use fresh, but this is a great application for frozen berries. Either will work wonderfully!
Can I use icing on these scones? Of course! Top with whatever icing you want if you like. But I love the simple sugar on top version.
I'm at about 5,000 ft. above sea level, and I find that most people who live between about 3,000-7,000 ft do not need to make any adjustments to my recipes.
Enjoy!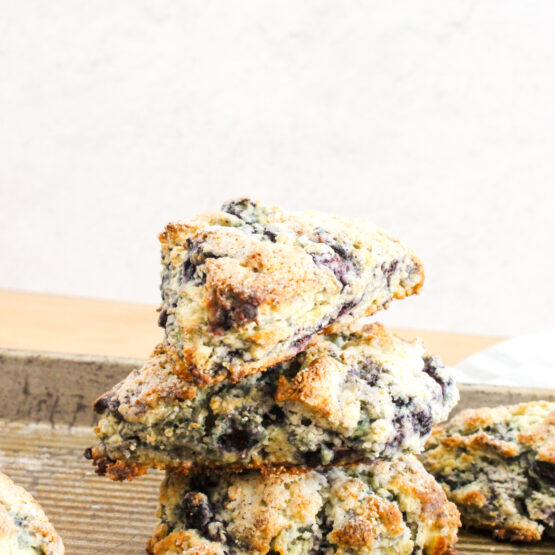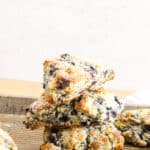 Blueberry Ricotta Scones
Ingredients
2 1/4

cups

flour

plus more as needed for shaping

1

tbs.

baking powder

1/8

tsp.

baking soda

1/3

cup

sugar

1/2

tsp.

salt

6

tbs.

cold butter

1/4

cup

heavy cream

1/2

cup

whole milk ricotta

1

egg

cold

1

tbs.

vanilla extract

1

tbs.

coarse sugar

1 1/2

cups

frozen blueberries
Instructions
Preheat your oven to 425 degrees, and line a baking sheet with parchment paper. Set aside.

In a large bowl, stir together the flour, baking powder, baking soda, sugar, and salt. Using a pastry blender or clean hands, cut the cold butter into your flour mixture until it has coarse crumbs of butter running throughout.

In a small bowl, whisk together the heavy cream, ricotta, egg, and vanilla extract until combined. Pour the wet ingredients into the dry, and use a spatula to mix until a dough comes together. Toss in the blueberries gently until distributed.

Turn your dough out onto a floured surface, and gently knead it until it just comes together, adding more flour if needed until the dough is not sticky, but still holds together. Pat the dough into a long rectangle, and fold it in half gently. Press the dough down into an even rectangle, using a bench scraper to help you shape it. Then cut the dough into 8 triangles.

Place your scones onto your prepared baking sheet spaced evenly. Pop the pan into the freezer for about 10 minutes. Brush the tops generously with cream, and sprinkle with the coarse sugar. Bake for 10-12 minutes, or until the scones are golden on top. Cool and enjoy!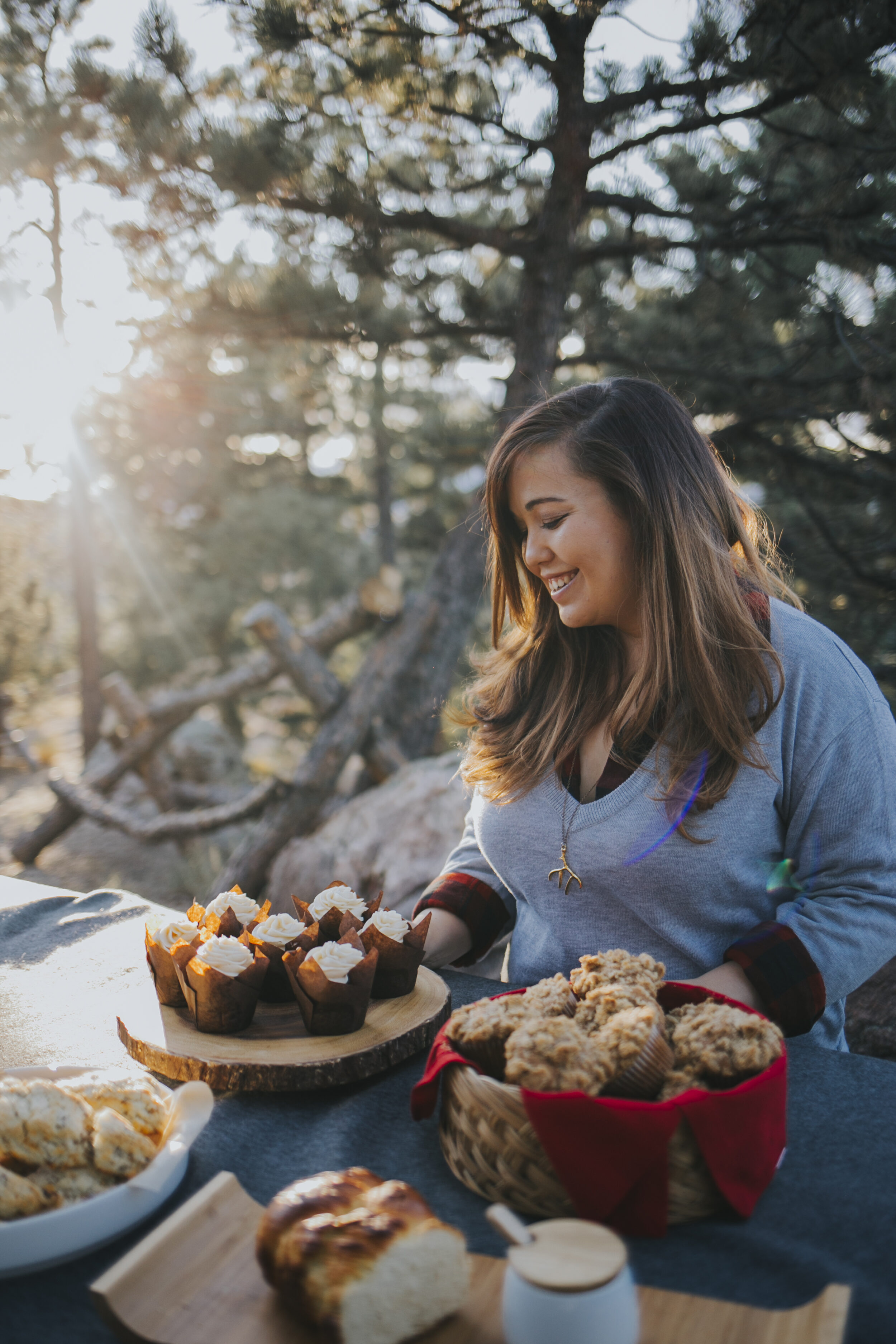 Hello and welcome! My name is Nicole, and Dough-eyed is a food blog for people who want to bake for their family and friends in high-altitude areas. Think of me as a friendly voice there with you in the kitchen, here to give you confidence when you're baking, and to help you with the struggles of baking at high-altitude. Come back every week for new recipes, tips, and advice on high-altitude baking!