Hey guys! I'm sharing one more sweet little holiday recipe for you before Christmas is here, and it's these perfect cinnamon rolls! I've got a lot of cinnamon roll recipes on my website, but this is my new favorite for a classic, gooey cinnamon roll!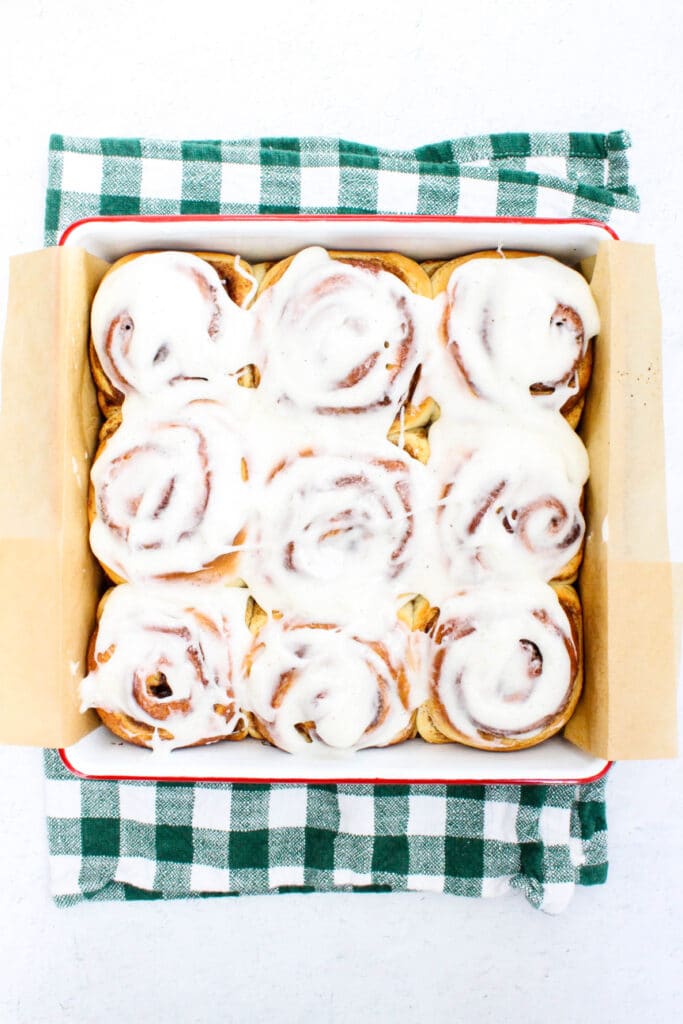 These are a sweet little batch of nine rolls, perfect for Christmas morning, and they're of course frosted with gobs of cream cheese icing that I'm obsessed with. I've got tons of tips and tricks to help you out along the way to perfect rolls- let's get to it!
How to Make Gooey Cinnamon Rolls
The dough for these rolls has an extra step added in for an extra soft cinnamon roll, and it's worth it I promise! We're using a cooked flour paste in the dough. So we're starting by cooking together a little milk and flour until a thick paste forms, and letting it cool completely. The rest of the dough comes together really easily, and you should end up with a soft, easy to work with dough. Here's what it looks like before and after rising:
Then we're using a classic filling of butter topped with a sugar-cinnamon mixture. It's going to seem like a lot of the sugar mixture, but you want to use it all! This is what creates that gooey filling that we all know and love!
Roll up your dough and slice it into 9 even rolls. The dough is fairly soft, so you may find that your rolls are a little messy looking at this stage, but I like to just gently tighten and re-wrap the messy looking rolls if needed, tucking the last little tail of dough underneath to keep it looking clean, like these: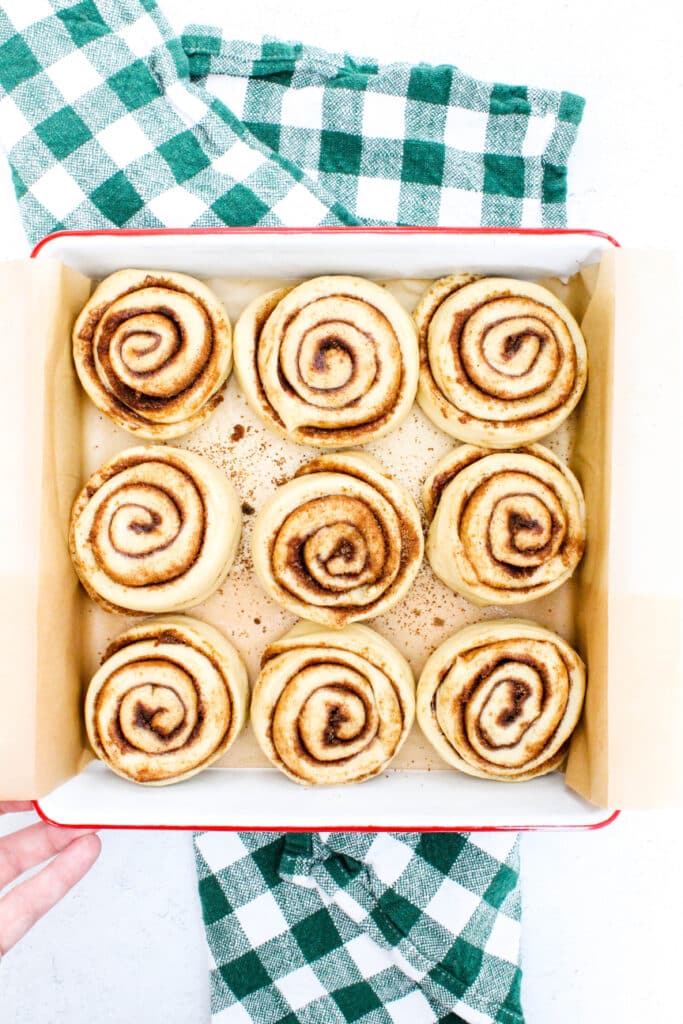 The rolls will take a little rest and become just slightly more puffy while the oven preheats. You shouldn't expect to see a huge rise here, and that's ok! Then they're off to the oven until they are a nice golden brown all over.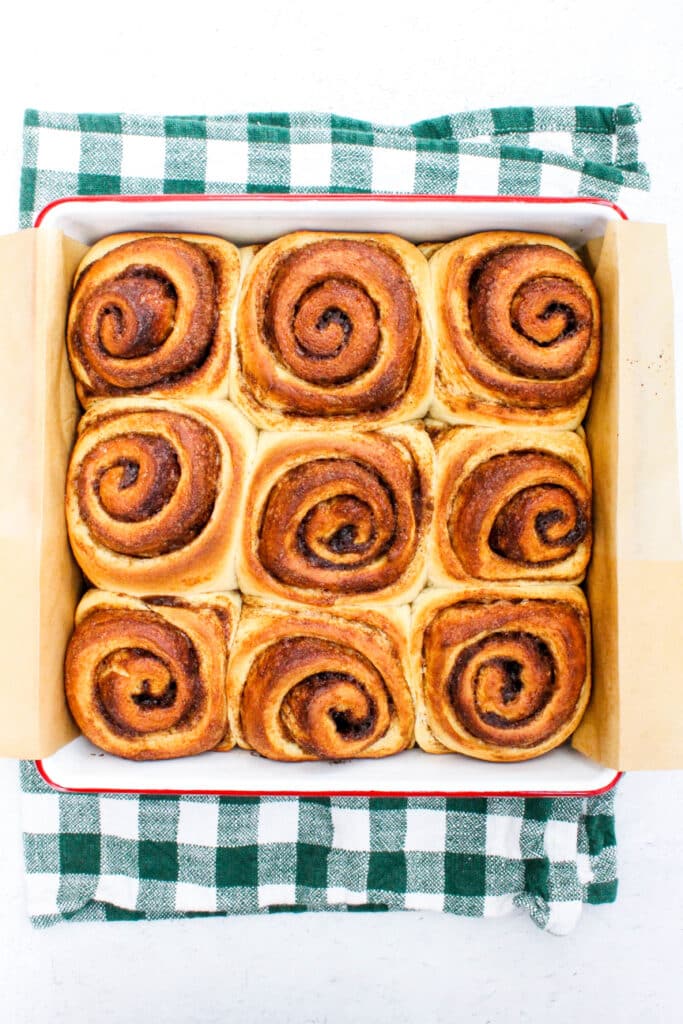 And you guessed it- it's time for a bunch of cream cheese icing. What is a cinnamon roll even without a great icing?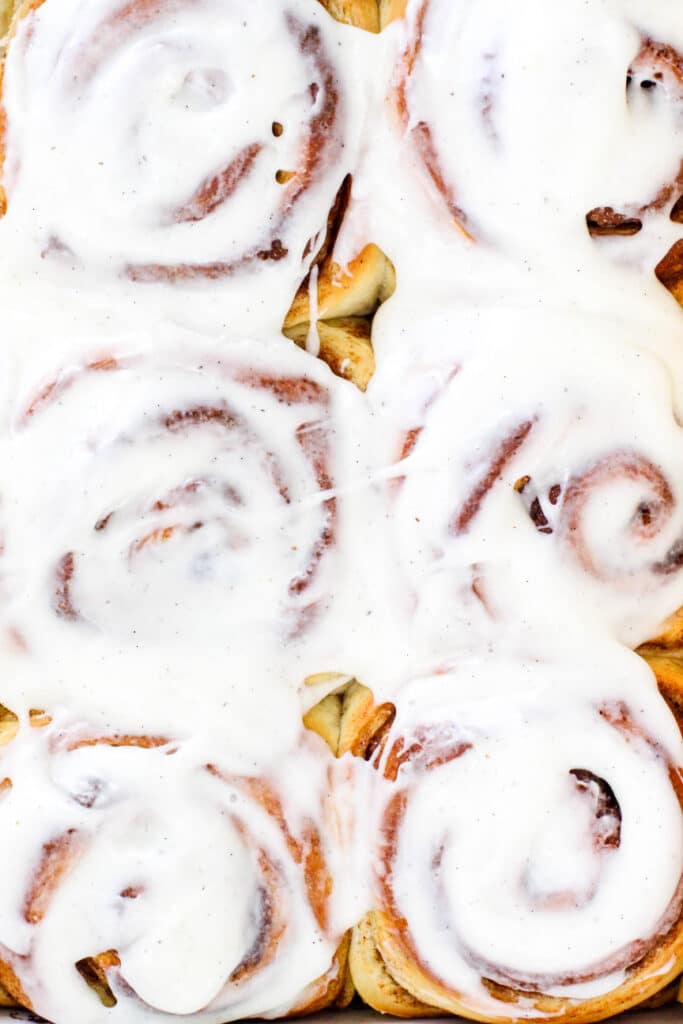 I hope you guys love this one, we'll be enjoying it any time of year, but especially around the holidays!
Tips & Tricks for Gooey Cinnamon Rolls
Here's all my tips and tricks to help you along the way to the best ever Gooey Cinnamon Rolls!
The flour paste will be very thick. There are a lot of methods for this flour paste, and some result in a less thick paste, but I've always used a very thick version of it. Just cook and stir the mixture until it's very thick, and set it aside to cool!
How long should I knead the dough? You want your dough to be very soft, stretchy, and smooth. I find that in a stand mixer this will take me about 10 minutes, and by hand it can take closer to 15-20 minutes. Your dough should still be sticking to the bottom of a stand mixer bowl, you want it to still be soft!
How long should I let my dough rise? At high altitude, I often find that my bread doughs rise very quickly, but I would encourage you to focus on the visual cues instead of the time. If your kitchen is warmer, or if you're higher up, it can rise much faster. You want the dough to puff and almost double in size, and it should bounce back if you poke it!
Can I make these rolls the night before? Yes, for this recipe I recommend that if you want to make the rolls the night before, you chill the dough as it rises for the first time, and then once you shape your rolls, cover the pan and pop it in the fridge again overnight. Keeping the dough cold will slow the rise time, and you can bake them first thing in the morning.
Be sure to use all of the filling mixture even though it seems like a lot. This contributes to having cinnamon rolls that are gooey in the center and filled really well!
Don't be afraid to re-shape your rolls after slicing if they are a bit messy. This dough is very soft, which means it can get a little messy and un-raveled as you slice the rolls. You can re-shape and roll the sliced rolls if you'd like, tightening them and making them look a little neater. Totally don't have to do this though!
I'm at about 5,000 ft. above sea level, and I find that most people who live between about 3,000-7,000 ft do not need to make any adjustments to my recipes.
Enjoy!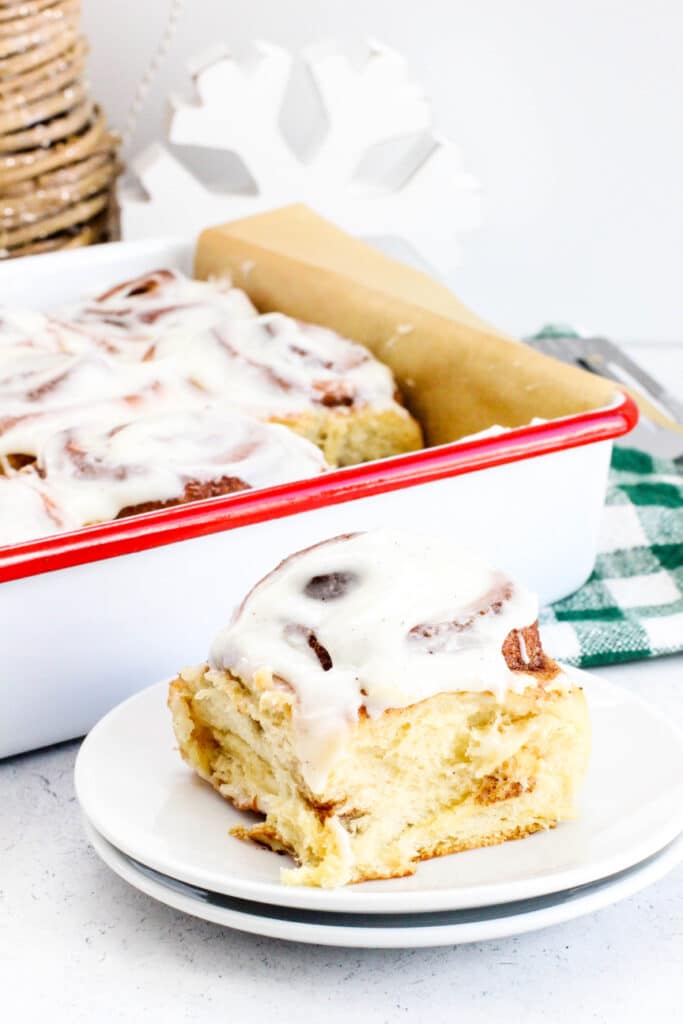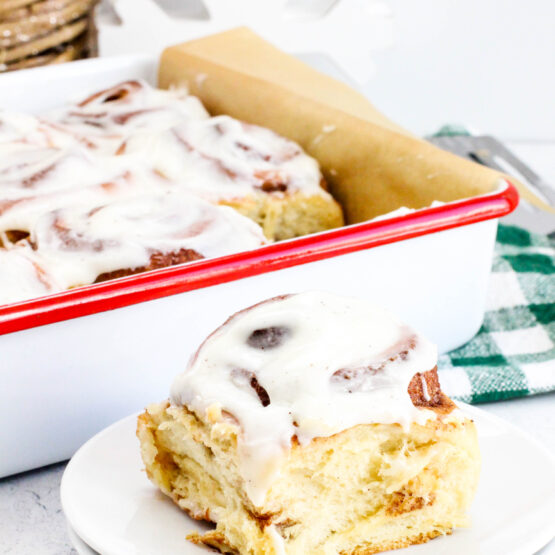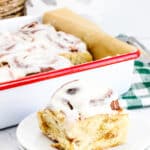 Gooey Cinnamon Rolls
Ingredients
For the rolls:
3/4

cup

whole milk plus 3 tbs separated

3

tbs.

brown sugar

2 1/4

tsp

active dry yeast

1

egg

1/4

cup

softened butter

3-4

cups

all-purpose flour plus 2 tbs separated

1

tsp.

salt
For the filing:
1/4

cup

softened butter

1/2

cup

brown sugar

2

tbs

white sugar

1

tbs

plus 1 tsp cinnamon

1/4

tsp

salt
For the frosting:
2

oz

softened cream cheese

1 1/2

cups

powdered sugar

1

tbs.

milk

1

tsp.

vanilla extract

1/4

tsp.

salt
Instructions
For the rolls:
In a small saucepan over low-medium heat, cook together 3 tablespoons milk with 2 tablespoons of flour, whisking constantly, until a thick paste forms. Remove and cool completely. In a microwave safe bowl, heat together the remaining 3/4 cup whole milk with the brown sugar until it is about 110 degrees, or warm to the touch. Stir in the yeast, and set aside until puffy and bloomed.

In the bowl of your stand mixer, mix together the egg and softened butter, and then stir in the bloomed yeast mixture. Then add in 3 cups flour and the salt, and stir until a shaggy dough forms. Add in the cooked flour paste and begin to knead the dough.

Knead the dough with the dough hook for about 10 minutes or until the dough is soft and smooth. It should be still a little wet, and may stick to the bottom of your bowl slightly while kneading. Avoid adding too much flour, but you can add a bit more if it's just globbing entirely on the bottom of the bowl.

Scrape the dough into a ball, and cover the bowl with plastic wrap. Let the dough rise for about 30 minutes, or until it has almost doubled in size.
For the filling:
Grease a 9×9 square pan or a round 9 inch cake pan and set aside. In a small bowl, stir together the brown sugar, sugar, cinnamon, and salt until combined. Roll out the risen dough into a large rectangle. It should be about 12-14 inches long. Spread the butter evenly over the entire dough, and sprinkle all of the sugar mixture on top. Use your rolling pin to gently press the mixture into the dough, and roll the dough into a tight log length-wise.

Slice the ends of the log off, and then slice the log into 9 even rolls. The dough is soft to work with, so you may find the rolls get a little messy or unraveled, but you can re-roll them individually if needed. Place into your prepared baking pan, and cover with plastic wrap to let them rise for about 20 minutes, or until puffed.

Meanwhile, preheat your oven to 350 degrees. Bake the risen rolls for about 25-30 minutes, or until they are light golden brown on top.
For the frosting:
Beat together the cream cheese, powdered sugar, milk, vanilla extract, and salt until a thick, smooth frosting is formed. Spread generously on top of the rolls once they have cooled for about 5 minutes. Enjoy the frosted rolls warm!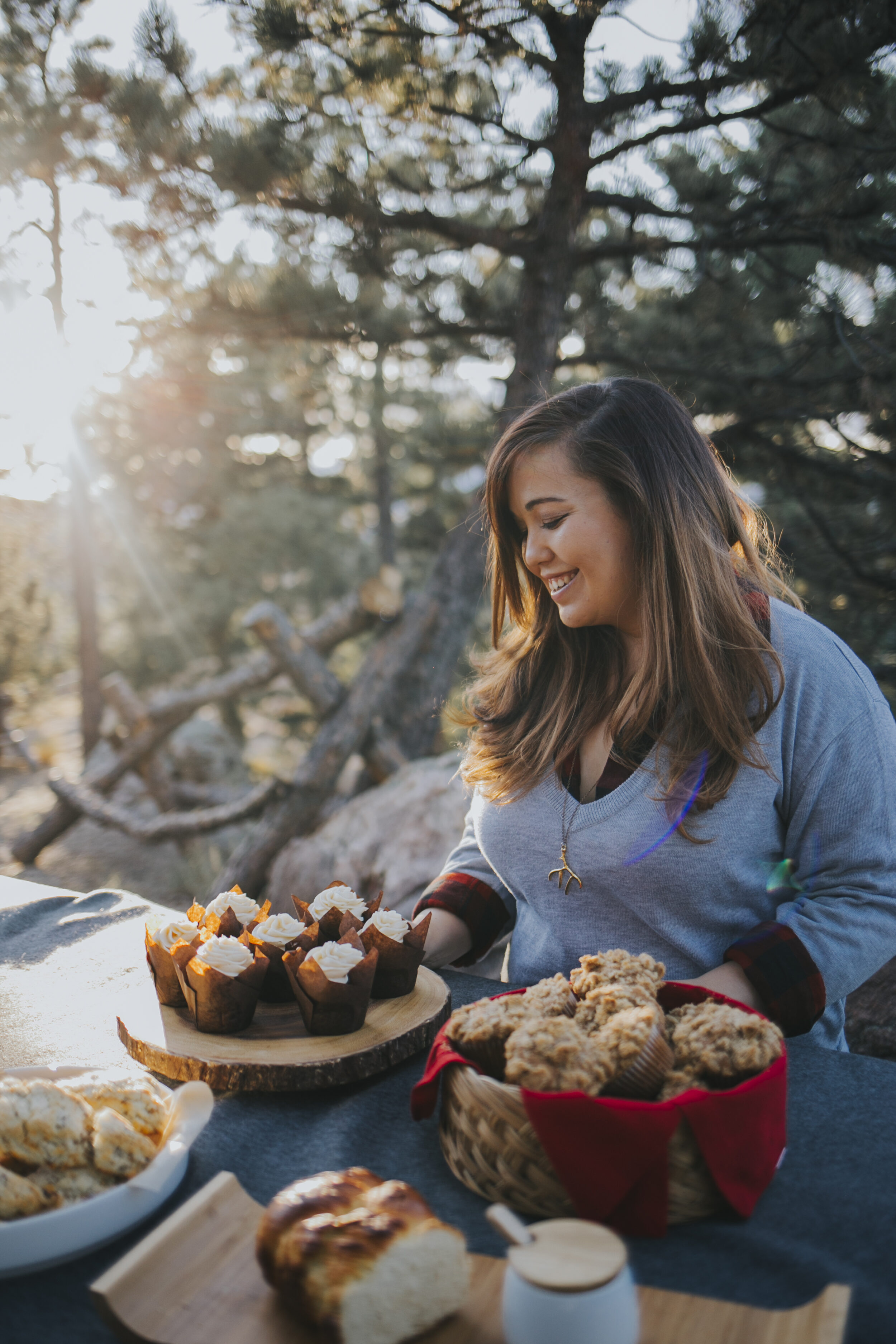 Hello and welcome! My name is Nicole, and Dough-eyed is a food blog for people who want to bake for their family and friends in high-altitude areas. Think of me as a friendly voice there with you in the kitchen, here to give you confidence when you're baking, and to help you with the struggles of baking at high-altitude. Come back every week for new recipes, tips, and advice on high-altitude baking!