Fresh Bread and Pesto Garlic Butter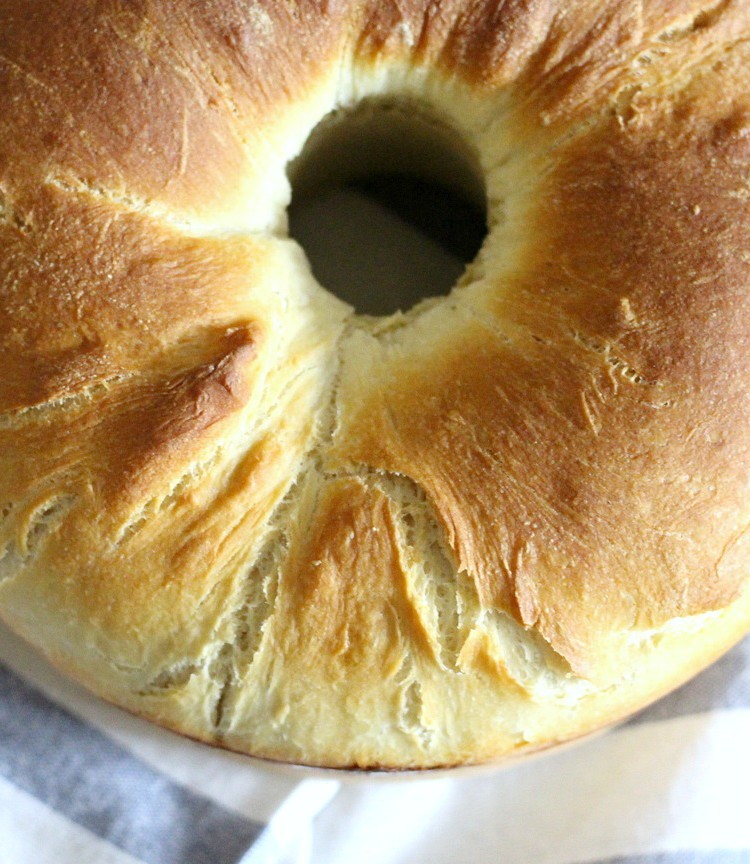 Fresh baked bread is maybe the best thing you can do. Your whole house is going to smell AMAZING, I promise, and you can enjoy it with super yummy butters, like this garlic pesto version.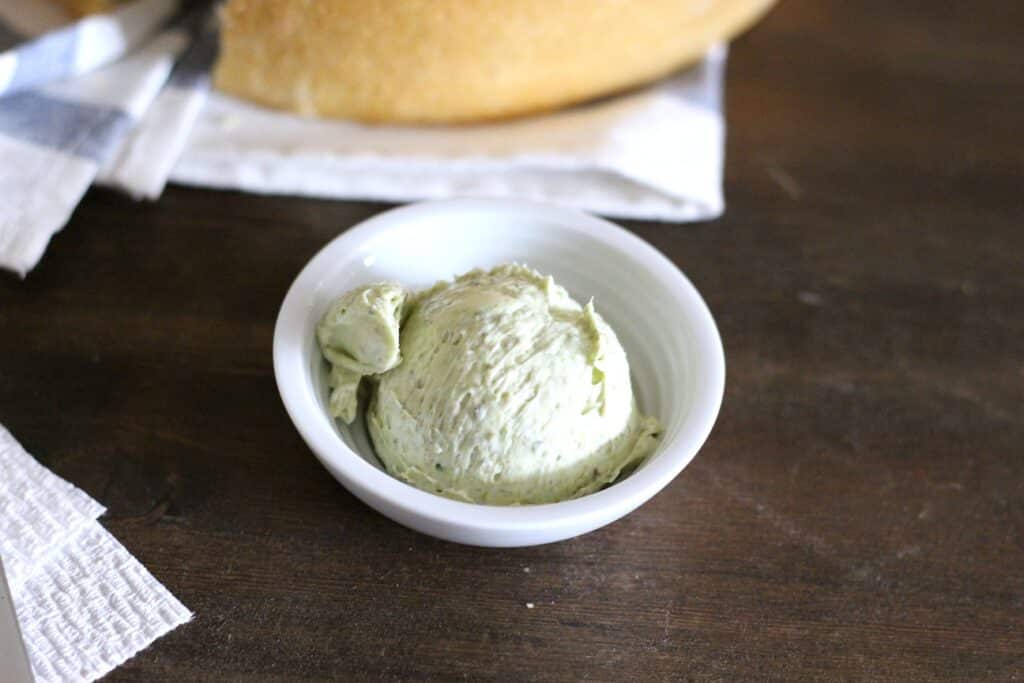 This is a high altitude recipe, so if you're making this at sea level, you'll want to decrease the liquid by about 1/4 cup, and let your dough rise for 15-20 minutes longer on each rise.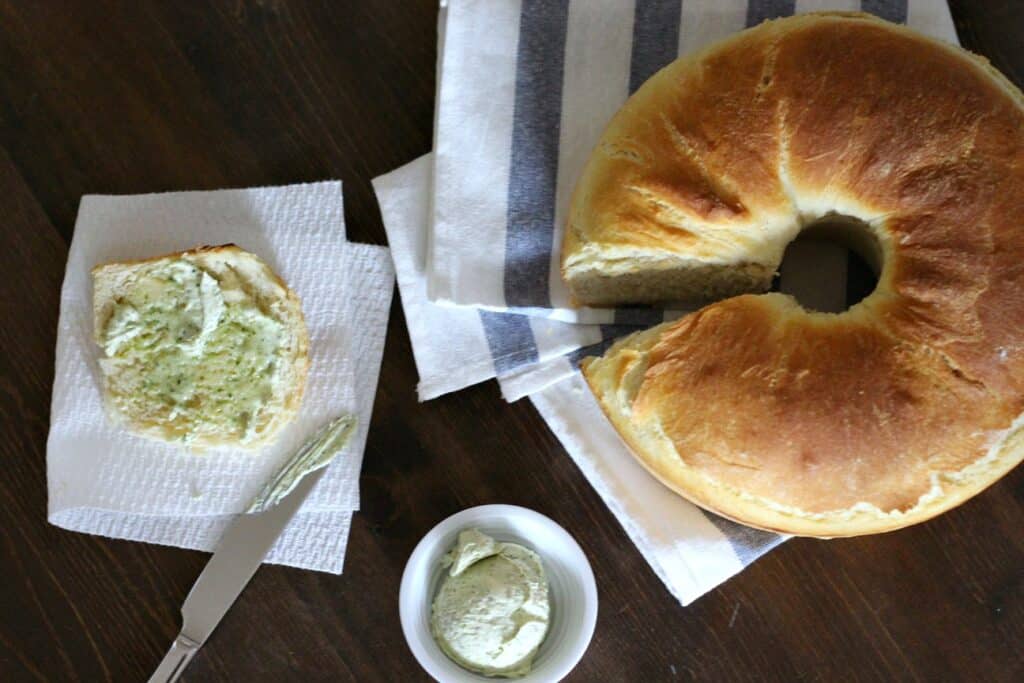 On another note, if you've ever tried to make bread at a high altitude, you've probably been unhappy with the results. In my case, I almost always ended up with a very dense, heavy, and overly chewy end product that was… not good basically. In high altitudes, the rising times are a huge factor, so pay close attention to each rise for your dough!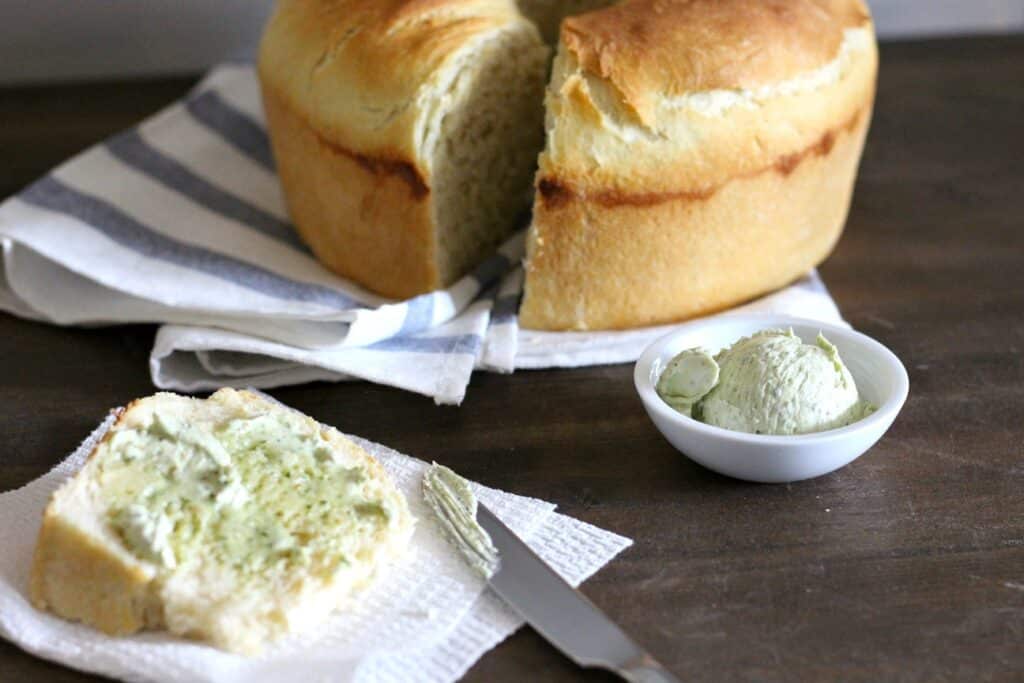 Eating bread thats still warm from the oven is one of the better things in life, and this recipe is an easy one. Bake bread today. Tomorrow. And everyday. (JK, that's just a dream of mine).
I also made mine with a honey cinnamon butter, which is fantastic too!
Enjoy!
Fresh Bread and Pesto Garlic Butter
Ingredients
For the bread:
4 1/2 tsp. active dry yeast
1/2 cup warm water (100-110 degrees)
2 tbs. sugar
1 cup whole milk
1 cup water
2 tbs. canola oil
2 tsp. salt
5 cups (to 5 1/2 cups) bread flour
2 tbs. milk
For the butter:
2 sticks softened butter
2 tbs pesto of your choice
1 tbs. roasted garlic
1/2 tsp. garlic powder
1/2 tsp. salt
1/2 tsp. pepper
Instructions
For the bread:
Mix together the yeast, warm water, and sugar. Let this sit for 5 minutes until the yeast has bloomed.
Meanwhile, in a small saucepan, heat together the whole milk, water, canola oil, and salt until about 120 degrees.
Pour the milk mixture into a stand mixture, or a large bowl. Add in 4 cups of flour to start, and beat together until combined.
Add in the yeast mixture, and beat together for several minutes. You will have a lumpy, very wet mixture at this point.
Add in another 1/2 cup of flour, and beat together. Continue slowly adding flour until dough leaves the sides of the bowl, and is no longer sticky.
Then, pull the dough out onto a floured surface and gently knead in a little more flour until it's smooth.
Place the dough into a lightly oiled bowl, and cover with plastic wrap. Let the dough rise for 50-55 minutes for the first round.
After the first rise, punch down the dough, and knead on a floured surface once or twice. Place the dough back in the bowl, cover, and let it rise again for about 40-45 minutes this time.
Once the dough has risen a second time, pat the dough into a large rectangle, and roll it into a log. Pinch the seam closed, and then pull the dough into a ring, and pinch that seam closed
Place into a lightly greased tube pan and cover with plastic wrap. Preheat your oven to 400 degrees.
Let your dough rise again for a final 20 minutes while your oven preheats. Then, brush the top with milk.
Bake for 15 minutes and then reduce the temperature to 375 degrees. Continue baking for 30 minutes, or until golden. The inside temp of the bread should be 190-195 degrees.
Remove from the pan immediately and cool on a wire rack.
Enjoy!
For the butter:
Mix everything together with a hand mixer or stand mixer until the mixture is light and fluffy. Store in a small container or mason jar in the fridge!
https://www.dougheyed.com/fresh-bread-and-pesto-garlic-butter/
Comments