Hey everyone! Thanksgiving is already upon us, what the heck happen??
Thanksgiving is really the start of the holiday season for us, so we've already got Christmas decorations up and shining in our house. I know, I know, it's too early. But it's not too early, you guys are all wrong!
BUT, we're still in pumpkin season, so that's really the important thing to take away from this. I think many of us skip lunch on Thanksgiving, but it's nice to have a little something for breakfast on the big day, especially if you've got company around.
Enter Maple Pumpkin Cinnamon Rolls. You guys. It's the perfect combination of flavors, seriously. A sweet yeast bread, filled with pumpkin and all the spices, and then rolled up with butter, brown sugar, and cinnamon. Top it with the flippin' best maple cream cheese icing and seriously, it's a winner.
So when I first started making yeast breads, I kind of thought of it as a huge, all day affair type of thing. It takes so long to rise, and shape, and rise again, I always thought it would take me forever. But when you're baking at altitude, it really doesn't always take that long.
In fact, because dough rises a bit faster here, I often can get through an entire recipe (like this one) in about 2 hours start to finish. That's pretty crazy, and with all the downsides to learning how to bake at high-altitude, this just isn't one of them!
This is a fairly small batch when it comes to homemade cinnamon rolls- normally you get a batch of somewhere between 12-18. But these make an easy 8 rolls, and I love this smaller-batch form. Hey, I can't even go through 18 cinnamon rolls, and believe me I've come close.
So seriously you guys, if you're looking for something festive, these are perfect to throw together the evening before Thanksgiving, or maybe just on Tuesday night for snacks throughout the week off!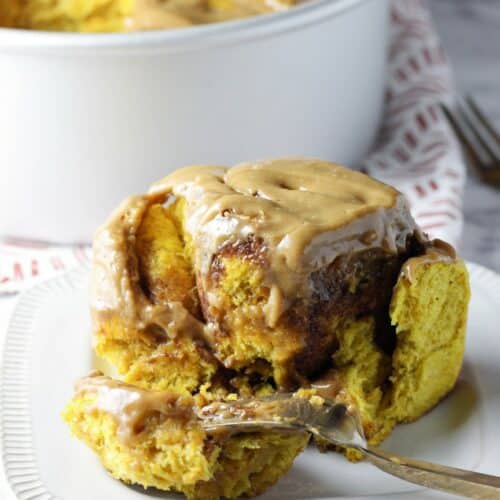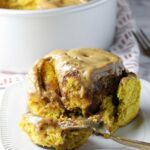 Maple Pumpkin Cinnamon Rolls
Servings
8
rolls, frosted
Ingredients
For the rolls:
1/4

cup

whole milk

2

tbs.

butter, melted

3/4

cup

pumpkin puree

1/4

cup

sugar

2 1/4

tsp.

active dry yeast

1

egg

1

tsp.

vanilla extract

1

tsp.

salt

1 1/2

tsp.

cinnamon

1/2

tsp.

nutmeg

1/4

tsp.

allspice

3 1/2-4

cups

flour

3

tbs.

softened butter

1/2

cup

brown sugar

2

tbs.

cinnamon
For the Maple frosting:
2

ounces

cream cheese, softened

1

cup

powdered sugar

1

tsp.

maple extract

1/8

tsp.

salt

1/2-1

tbs.

milk
Instructions
For the rolls:
In a small bowl, stir together the milk, melted butter, pumpkin puree, and sugar. The mixture will be thick. Microwave until the mixture is warm (about 110 degrees on an instant read thermometer). Stir in the active dry yeast, and set aside to bloom.

In a large bowl, stir together the egg and the vanilla extract. Once the yeast mixture has bloomed, it should look a little puffy near the yeast granules, stir the yeast mixture into the egg and vanilla until incorporated.

Add in the salt, cinnamon, nutmeg, allspice, and 3 cups of flour. Stir together with a sturdy spatula or a wooden spoon until a shaggy dough forms. Turn the dough out onto a floured surface and gently start to knead. You will likely need to add a bit more flour while kneading. You are looking for the dough to still be slightly tacky and soft, but strong enough to hold in a ball shape. It should only take about 5 minutes of kneading in additional flour.

Return the dough to the bowl and cover with plastic for the first rise. You want the dough to grow by just under double in size, as you can see from the photos above. For me, this only takes about 20-30 minutes.

Return the dough to your floured surface, and begin to pat out into a rectangle. Then use a rolling pin to roll the dough to a rectangle about 10x16 inches. It doesn't need to be exact.

Spread the softened butter evenly over the dough, all the way to the edges. It will be a very thin layer of butter. In a small bowl, stir together the brown sugar and cinnamon, and then evenly sprinkle the mixture over the butter, again all the way to the edges. With your rolling pin, gentle press the mixture into the dough. Starting on the longer edge, roll your dough into a spiraled log.

Cut of the edges of the dough, and then cut the dough into 8 even rolls. I use a very sharp knife and a sawing motion here, cutting the dough in half, and then each of those pieces in half, and repeating again to reach 8 total.

Lightly grease an 8 inch cake pan with cooking spray, and place the rolls evenly into the pan. Cover with plastic for the second rise. Preheat your oven to 375 while the dough rises.

For the second rise, the dough will only get slightly puffed. For me, this takes about 15 minutes, or about as long as it takes for my oven to preheat. Then, remove the plastic and bake the rolls for 25-30 minutes, until just slightly golden on top.
For the maple frosting:
In a small bowl, whisk together the softened cream cheese, powdered sugar, maple extract, salt, and 1/2 tbs. of milk until smooth. Add more milk if needed to reach your desired consistency, though I like to keep my icing a bit thick.

Frost the rolls in the pan while still hot, and serve warm. Enjoy!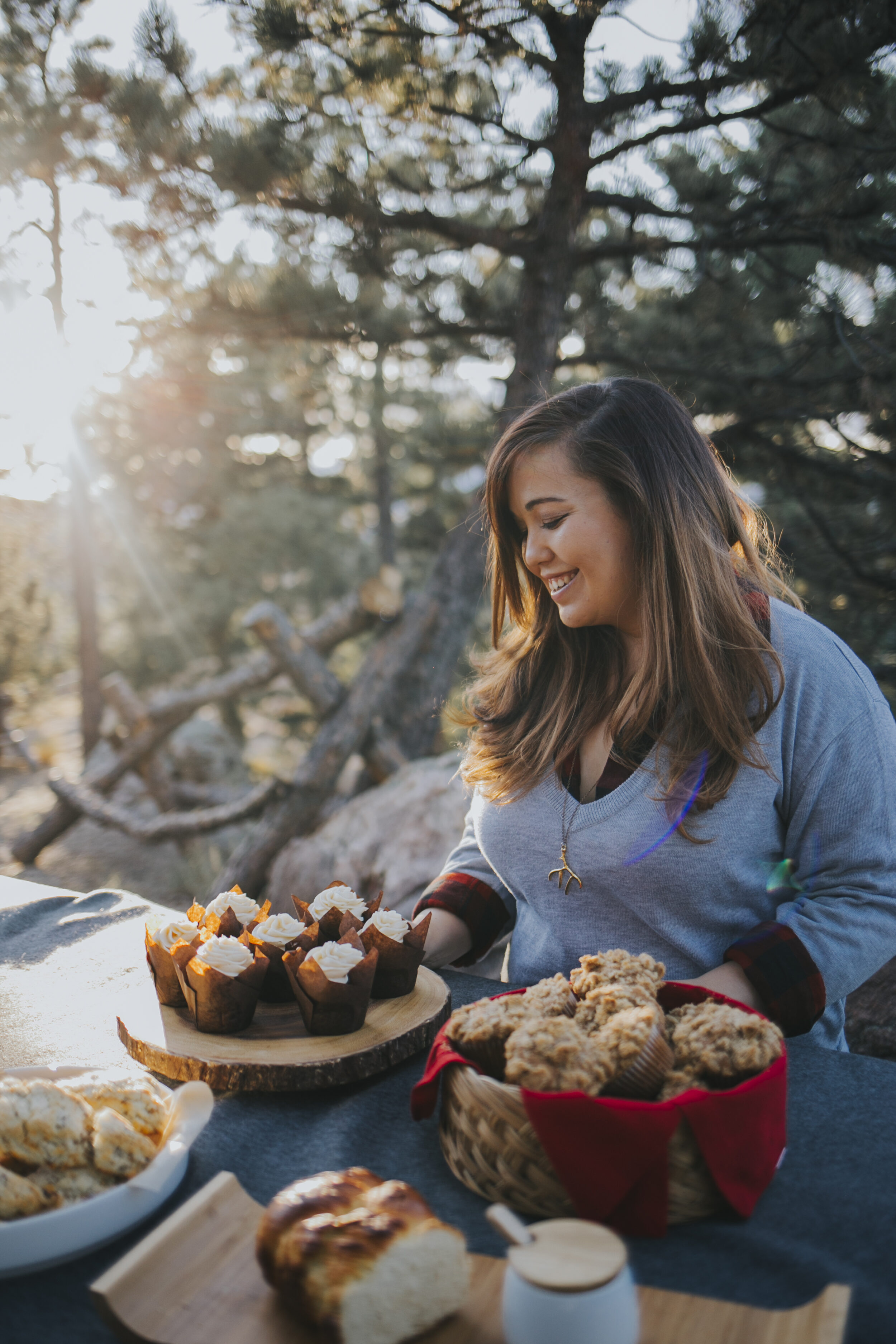 Hello and welcome! My name is Nicole, and Dough-eyed is a food blog for people who want to bake for their family and friends in high-altitude areas. Think of me as a friendly voice there with you in the kitchen, here to give you confidence when you're baking, and to help you with the struggles of baking at high-altitude. Come back every week for new recipes, tips, and advice on high-altitude baking!