Hey guys! I hope you are all a few pounds heavier and happier after Thanksgiving- I know I am!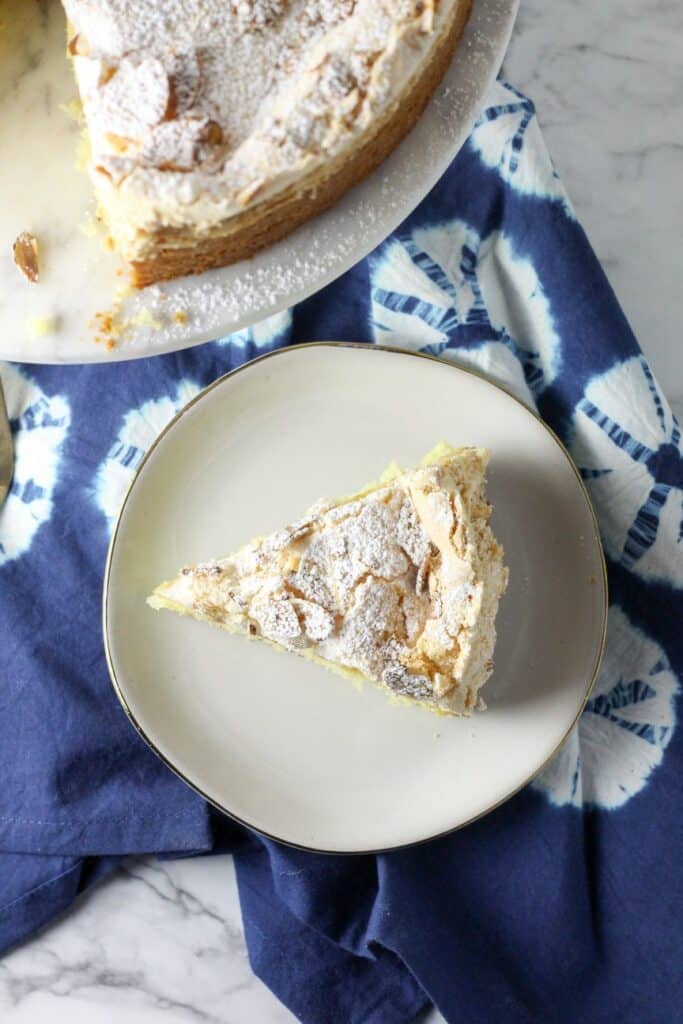 Annnnd we're onto Christmas, amirite? Actually if I'm being honest, I've had my tree up for several weeks already, and there were presents wrapped long before Thanksgiving. I love Christmas and the holiday season all together, so I'm all for early celebrations!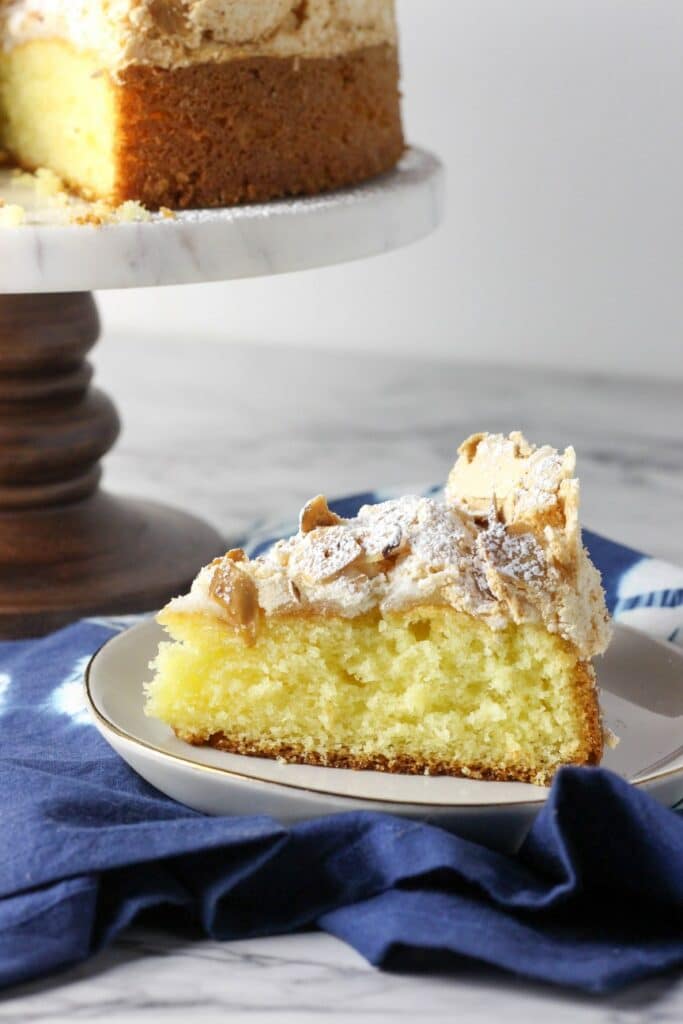 This cake is so interesting to me, and it feels very wintery and Christmasy to me also- maybe because of the generous dusting of powdered sugar on top. It's packs a strong almond flavor, and it's kind of an interesting take on a coffee cake.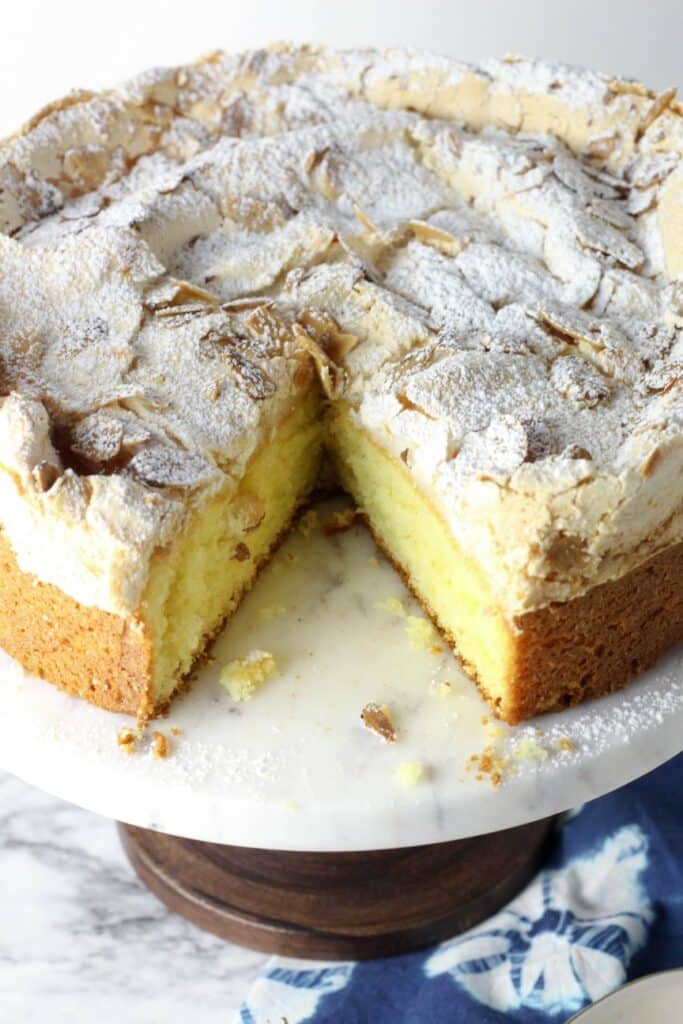 First, you want to partially bake your cake so that it holds up with the meringue on top, and so that it will be finished cooking when the meringue is nice and toasty. Then, you spread a soft-peak-whipped meringue on top, and sprinkle sliced almonds all over. When you bake it, it will get all puffy and lightly toasty. Then, when it cools, the meringue settles down, and becomes a thin, crispy, sugary layer of goodness sitting atop a pretty cake.
I'm into it tbh, it's super easy, and really unique! I first heard about this as something called a Swedish Visiting Cake. I don't know too many of the details about it, or what it's supposed to be, but this seems fairly similar to the original concept!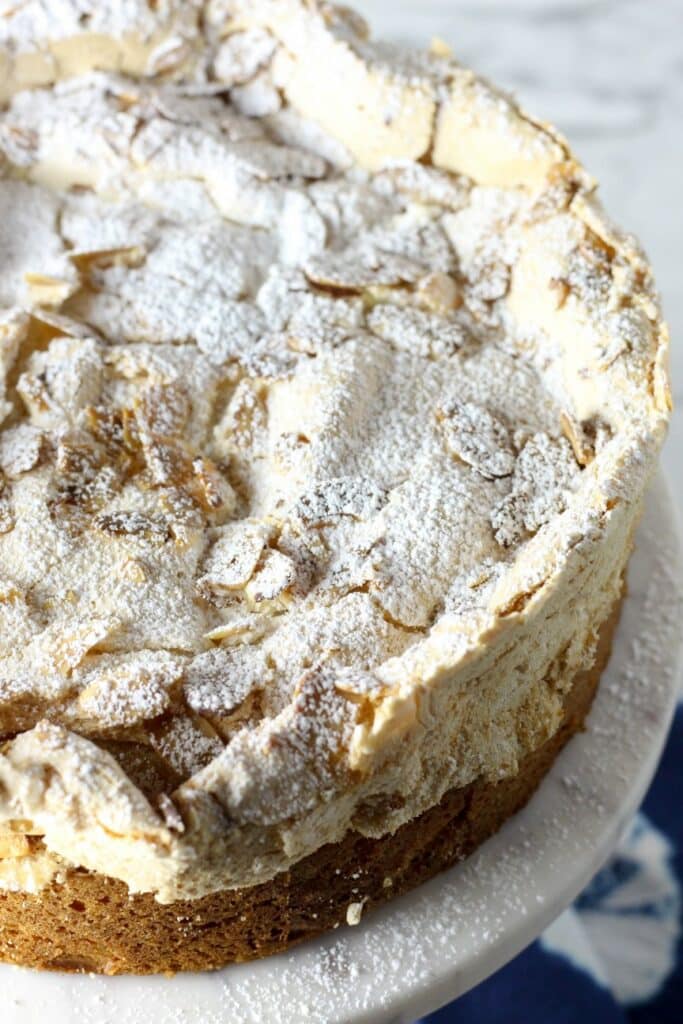 So anyways, I think let's make this cake for visitors, let's make it for breakfast, and let's make it for desserts when company comes over for a cup of coffee. It's winter, it's holiday time, so I'll just be over here baking, and I know you will be too!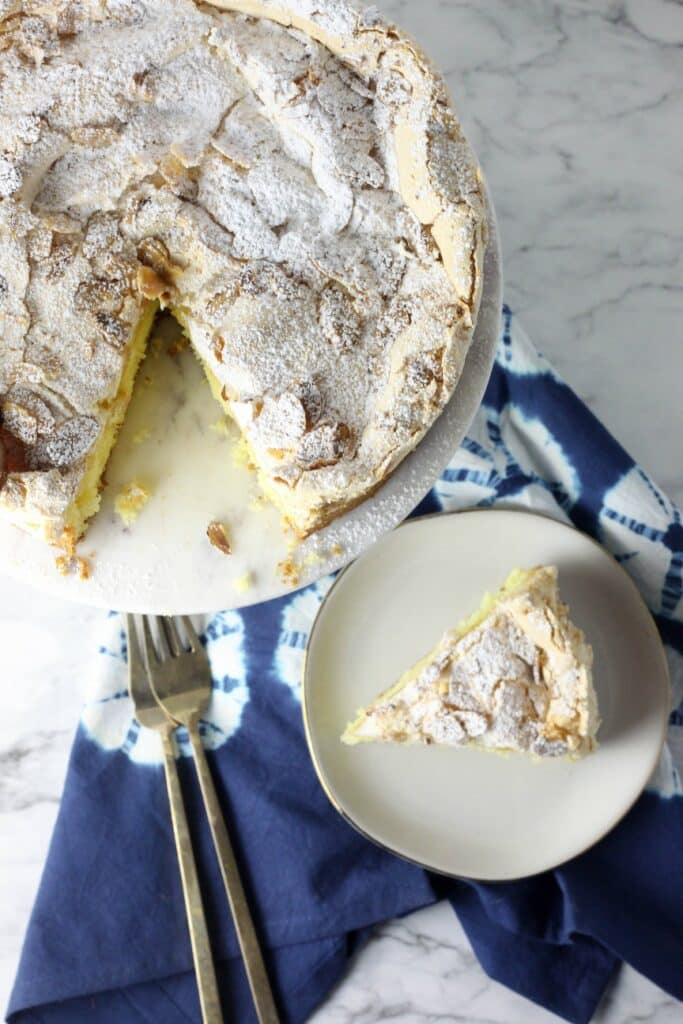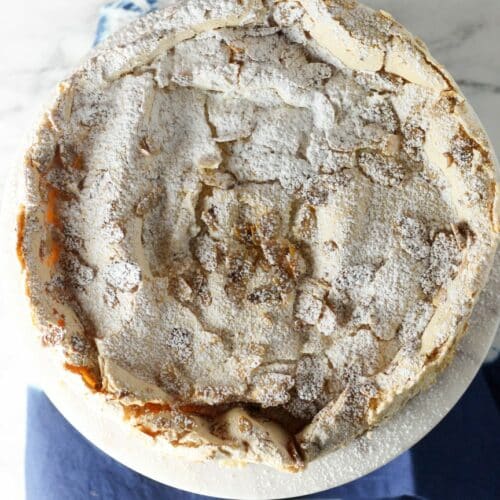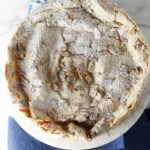 Almond Meringue Cake
Ingredients
For the cake:
1/2

cup

softened butter

3/4

cup

sugar

2

eggs

1/2

tsp.

vanilla extract

1

tsp.

almond extract

1/4

cup

sour cream

1

cup

flour

1

tsp.

baking powder

1/2

tsp.

salt
For the meringue:
3

egg whites

1/2

tsp.

cream of tartar

3/4

cup

sugar

1/4

tsp.

salt

1

tsp.

almond extract

3

tbs

sliced almonds

2-3

tbs.

powdered sugar
Instructions
For the cake:
Preheat your oven to 350 degrees, and grease a tall 8 inch cake pan or spring form pan. If using a cake pan, insert a piece of parchment paper with flags up to help remove the cake. NOTE: IT IS VERY IMPORTANT THAT YOU USE A TALL PAN HERE! The meringue will puff, so you need the room!

In a large bowl, beat together the butter and sugar until fluffy. Add in the eggs, vanilla extract, almond extract, and sour cream and beat until combined. Add in the flour, baking powder, and salt, and beat until smooth. The batter will be thick.

Spread evenly into your prepared pan. Bake for 15-18 minutes, or until the cake is puffed up and slightly golden.
For the meringue:
While the cake is baking, beat your egg whites until foamy. Add in the cream of tartar, and beat until you have stiff peaks. Very slowly, add in the sugar while beating. Then, beat in the salt and almond extract. You should have a glossy, medium/soft peak meringue.

Remove the cake from the oven, and carefully spread the meringue evenly over the top. Sprinkle with almonds. Return to the oven for an additional 30 minutes. The meringue will be puffy and lightly toasted. Cool completely, and dust with powdered sugar through a mesh sifter. Enjoy!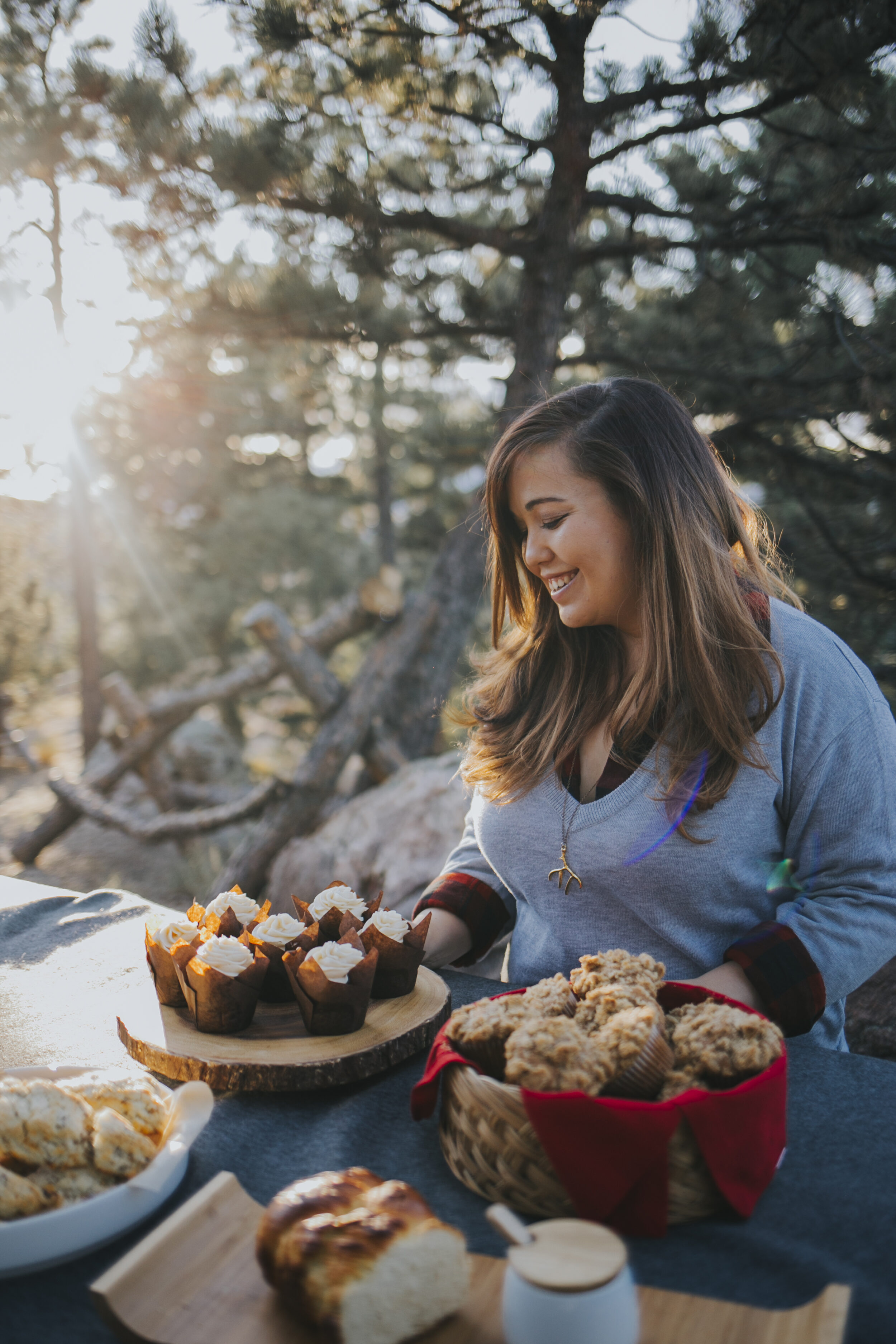 Hello and welcome! My name is Nicole, and Dough-eyed is a food blog for people who want to bake for their family and friends in high-altitude areas. Think of me as a friendly voice there with you in the kitchen, here to give you confidence when you're baking, and to help you with the struggles of baking at high-altitude. Come back every week for new recipes, tips, and advice on high-altitude baking!