If you're looking for something that will make your house smell amazing AND that tastes fantastic, this is the perfect fall stop. Apple butter is everything we all love about fall, and it's really easy to make!
Apple butter is kind of like applesauce that's been cooked way down into something soft, smooth, and creamy. Let's get to it!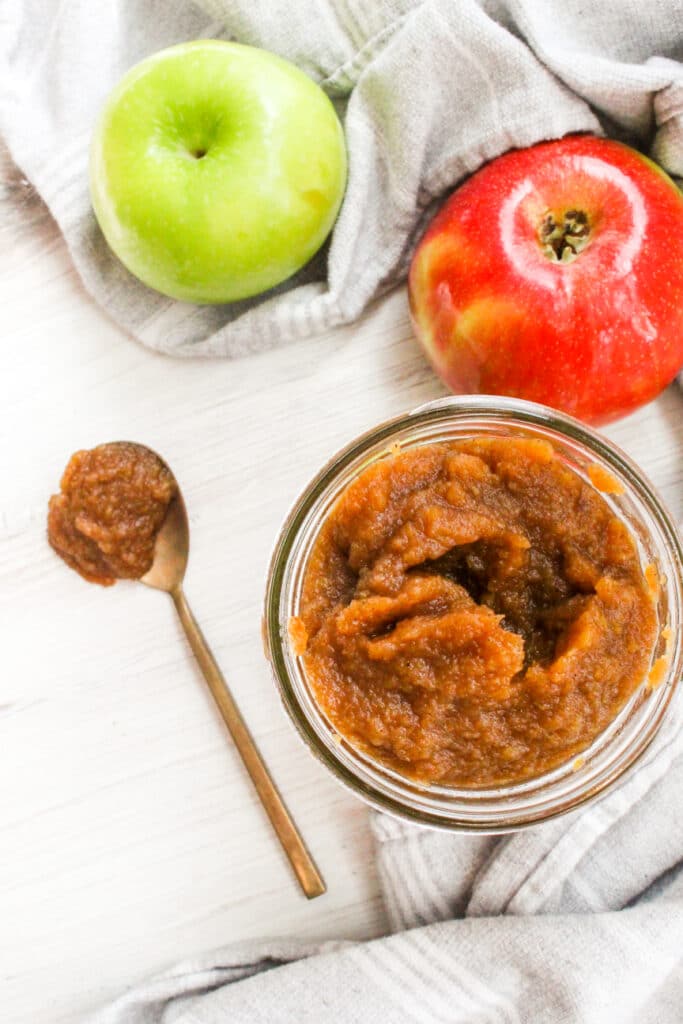 How to Make Apple Butter
Apple butter is pretty low effort, but it just takes a while to cook down. We're starting out with a bunch of chopped up apples. I like to use a combination of Granny Smith and Honeycrisp, but any apple that you like to eat will work perfectly.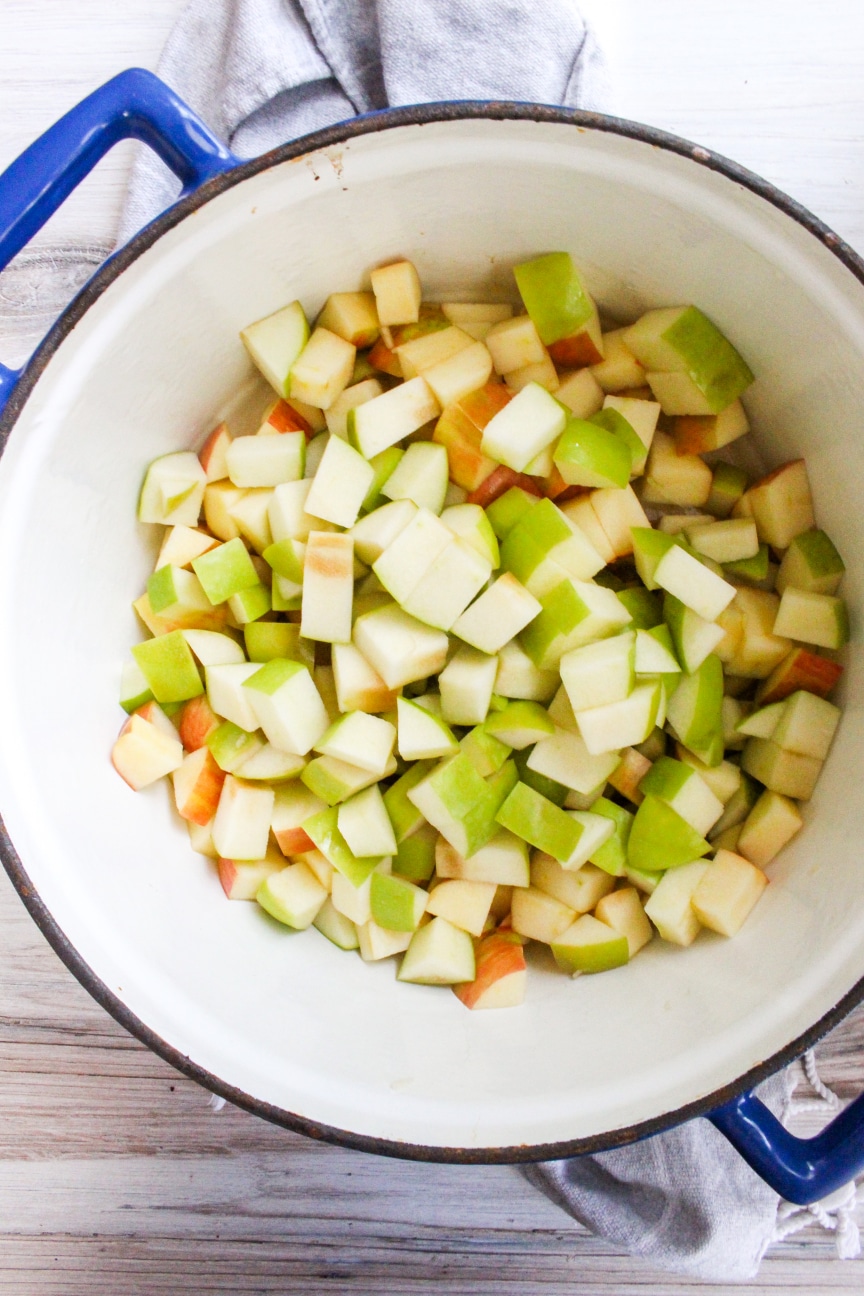 Then stir in some brown sugar, lemon juice, apple juice or cider, warm spices, and vanilla extract until everything is well coated. It's off to the stove to cook and simmer until the apples are softened and cooked through.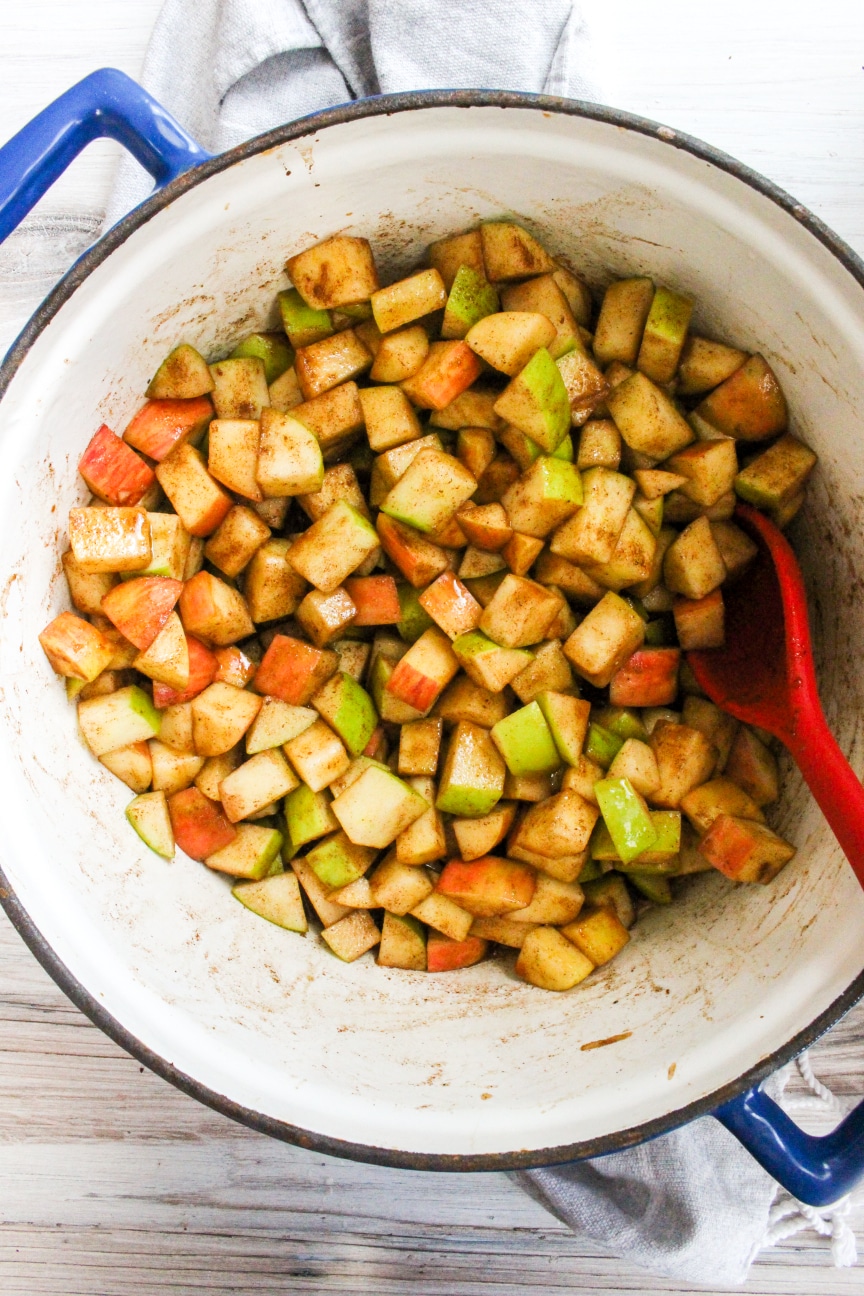 Once that happens, you want to blend the apples into a sauce. I'm using an immersion blender for mine, but you can also scoop the apples into a food processor or blender and then pour it all back into your pan.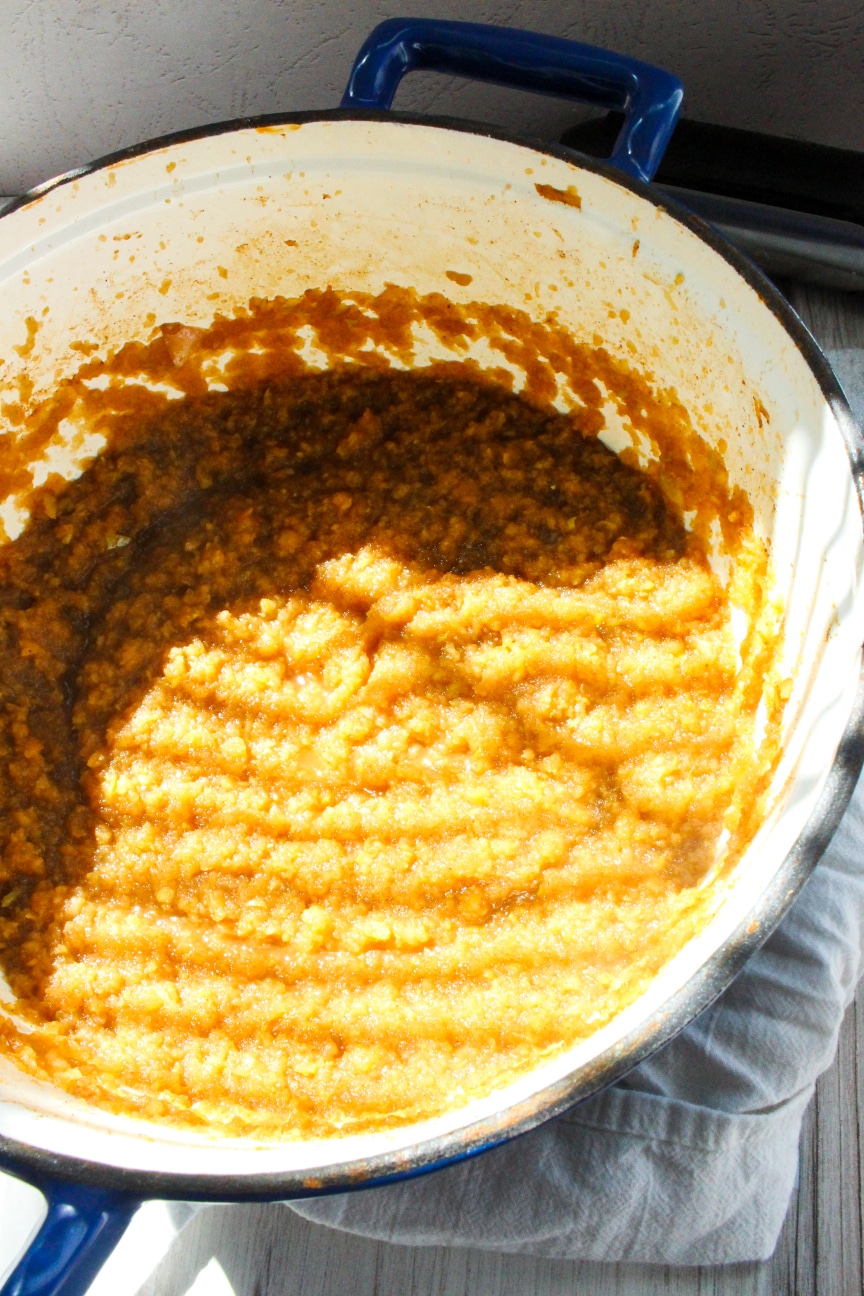 Continue cooking the apple sauce mixture for an addition 1 1/2-2 hours, stirring occasionally. This process will continue to softened the apples, evaporate moisture, and create a smooth, thick apple butter. I like to give it another blend about half way through this cook time, but that's optional!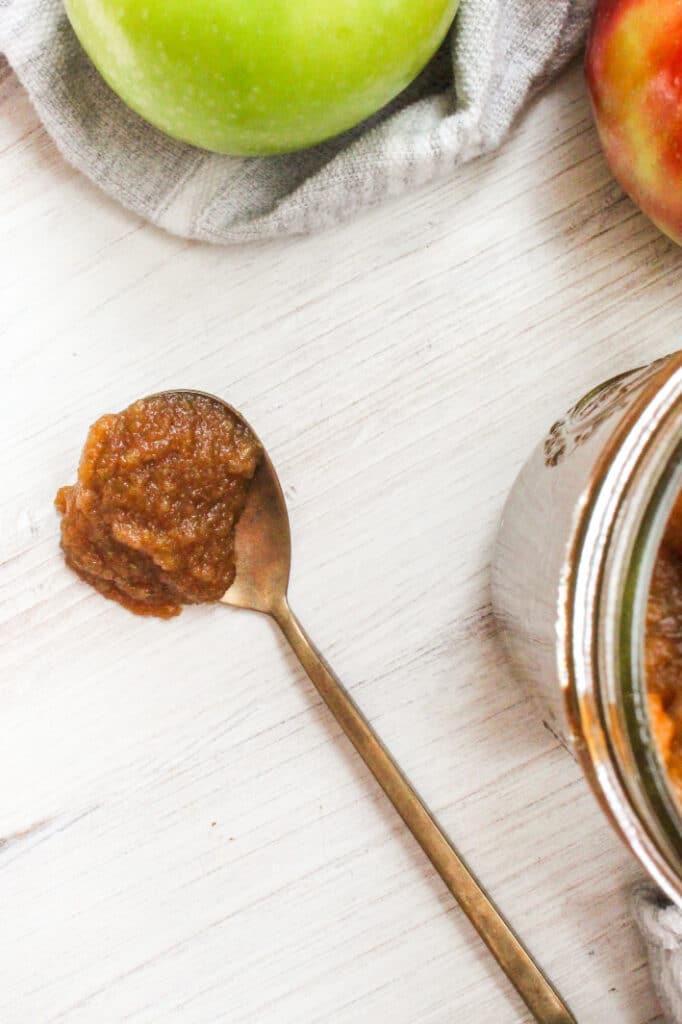 After that it's time to just cool it and put the apple butter into jars or container to chill. You can can the apple butter at this stage if you're into that, or it will last for about a month in the fridge without canning.
Tips & Tricks to Make Apple Butter
Apple butter is pretty straight forward to put together, but here are tips and tricks to help along the way:
Use any apples you like here. I like to use a combination of different apples to have a more complex flavor, but use the kinds of apples you like to eat most.
Do I have to use apple cider? No, you can also use apple juice, or if you don't have any on hand, you can just use water and it will still be fantastic!
Don't skimp on the cook time! The longer you cook your butter, the smoother it will get. It makes a big difference to cook it for a long period of time after blending the apples.
What if my butter isn't perfectly smooth? The type of blender you use makes a big difference in how smooth your apple butter will get, along with the cook time. BUT, it doesn't have to be perfectly smooth, it's delicious no matter what!
How can I use apple butter? It's so good spread on toast, on top of pancakes or waffles, and you can even use it in baking! Plus it's such a sweet gift.
I'm at about 5,000 ft. above sea level and I find that my recipes work well for most people between about 3,000 and 7,000 ft above sea level.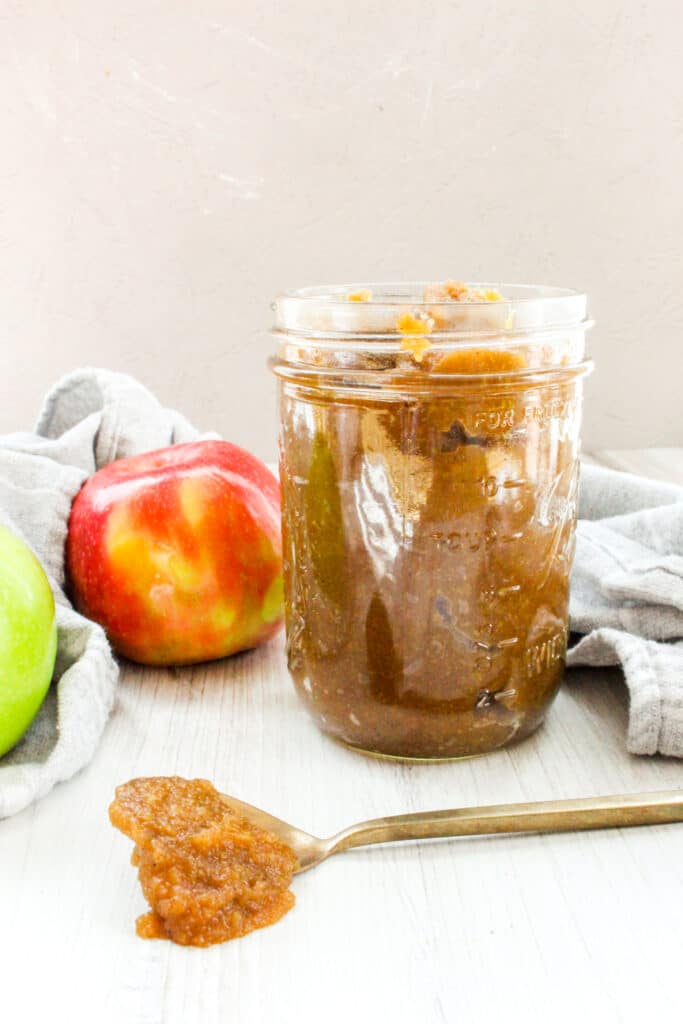 Hope you guys enjoy this one, and happy fall!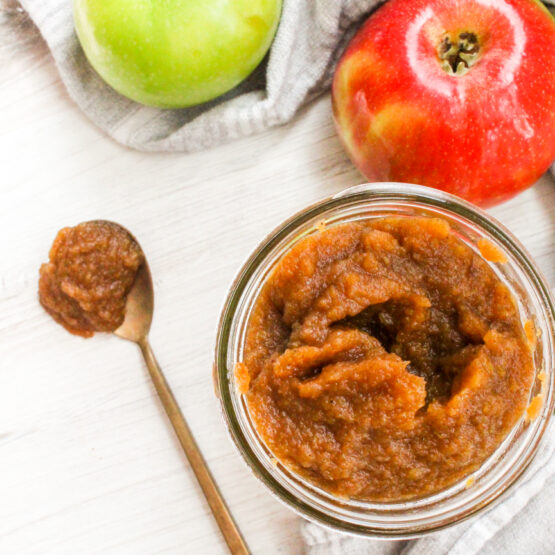 Homemade Apple Butter
Ingredients
6

large apples

(or about 8 cups chopped)

2

tbs.

lemon juice

2/3

cup

brown sugar

2

tsp.

cinnamon

1

tsp.

ginger

1/4

tsp.

salt

1/2

cup

apple cider

1

tsp.

vanilla extract or paste
Instructions
Core your apples and chop into 1/2 cubes- this doesn't have to be perfect. No need to peel your apples, everything will cook down and be blended together. Place the chopped apples into a large pot. Stir in the lemon juice, brown sugar, cinnamon, ginger, salt, apple cider, and vanilla extract until everything is well coated and evenly distributed.

Cook the apples over medium heat for about 30 minutes, or until the apples are softened and cooked through. Use an immersion blender to blend the cooked apples into a sauce. Alternatively, you can scoop the apples into a blender or food processor and blend. Then pour the apples back into your pot.

Cook the apples over medium-low heat for 1 1/2-2 hours, stirring occasionally. Your apple butter will thicken as the liquid evaporates, and it will reach a darker color. Optionally, you can use the immersion blender once more around halfway through this cook time to create an even smoother butter. Cool and scoop into jars, and store in the fridge for up to a month. Enjoy!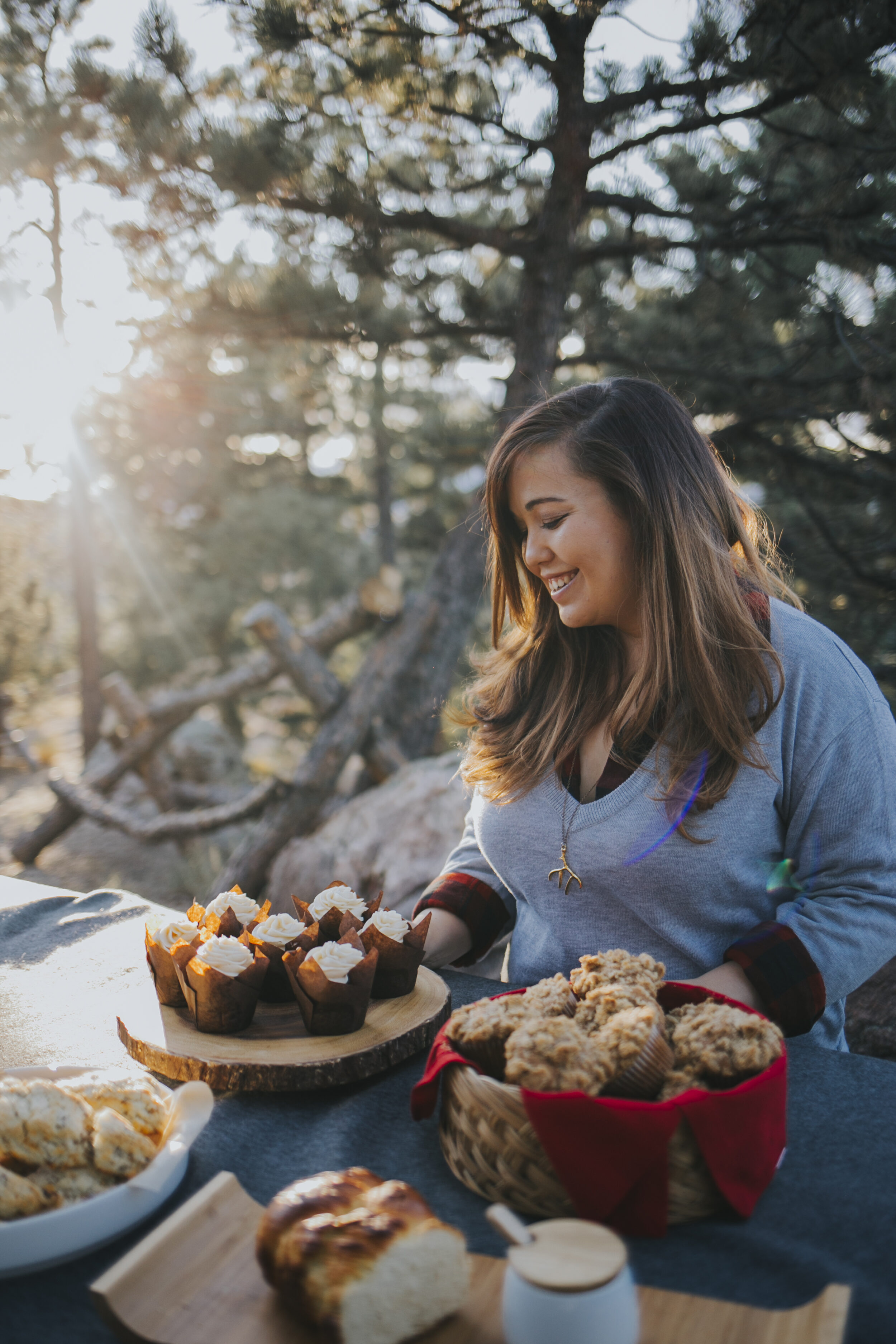 Hello and welcome! My name is Nicole, and Dough-eyed is a food blog for people who want to bake for their family and friends in high-altitude areas. Think of me as a friendly voice there with you in the kitchen, here to give you confidence when you're baking, and to help you with the struggles of baking at high-altitude. Come back every week for new recipes, tips, and advice on high-altitude baking!