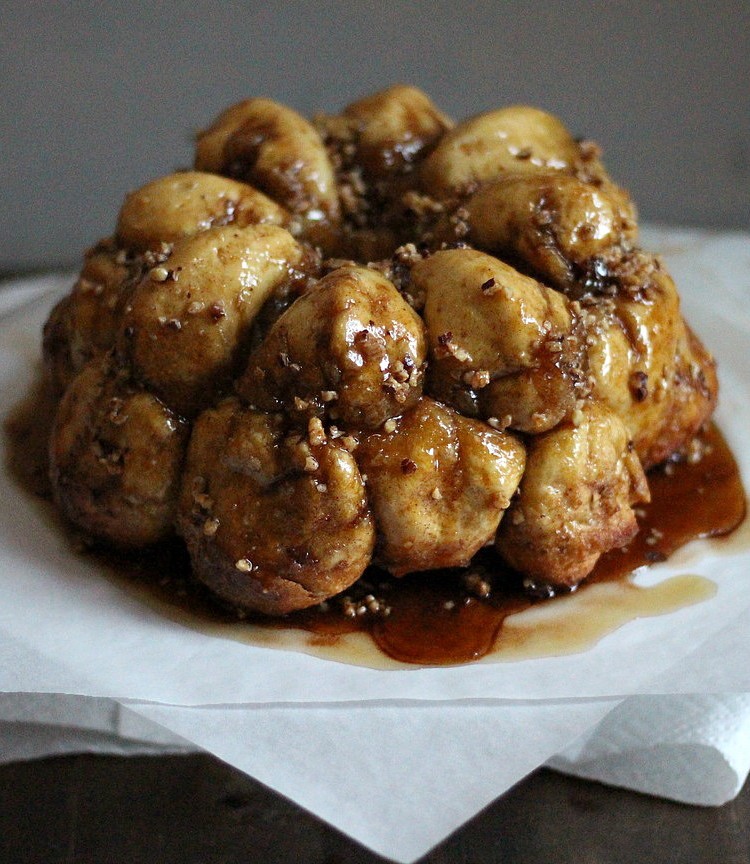 Guys, this is a good one. It's a long title, but I just felt like you needed to know the extent of what's happening here like, immediately.
So, wanna hear a super cool story? One of my co-workers at my day job, Chaz, always talks about this awesome pizza place he grew up with called Dion's, and how they just recently started opening them up in Colorado. Like seriously, Chaz loves this place. So when Dion's reached out to me about this post, I was sitting there thinking, "Dion's… Dion's… where do I know that name?"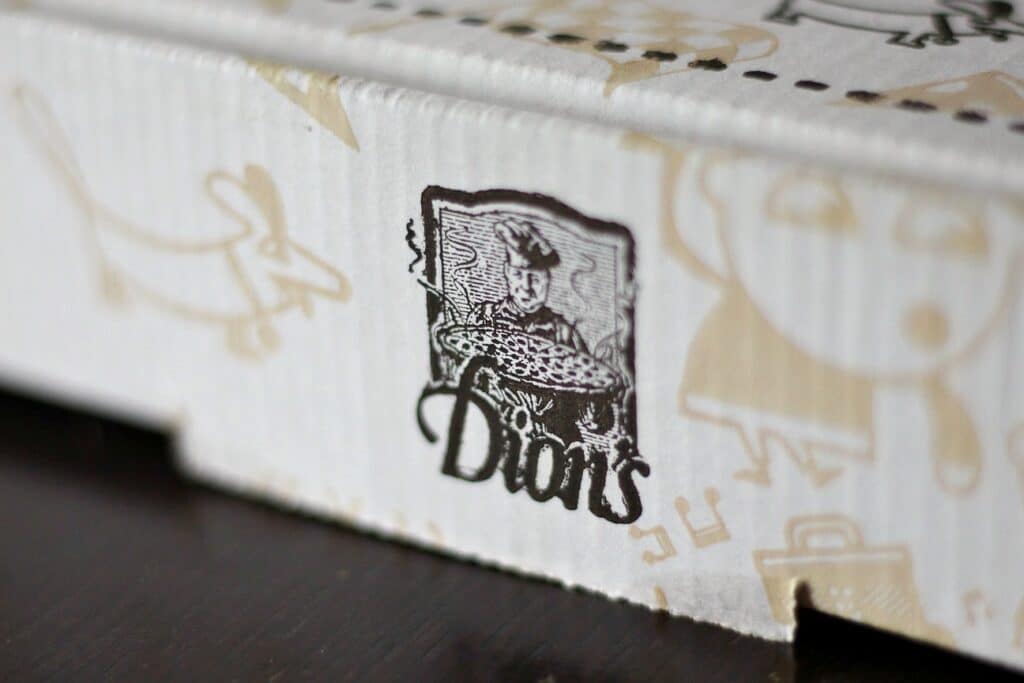 The point of the story is that I'm so excited to be partnering with this awesome restaurant for my post today, and I hope you guys love it! Thanks for listening.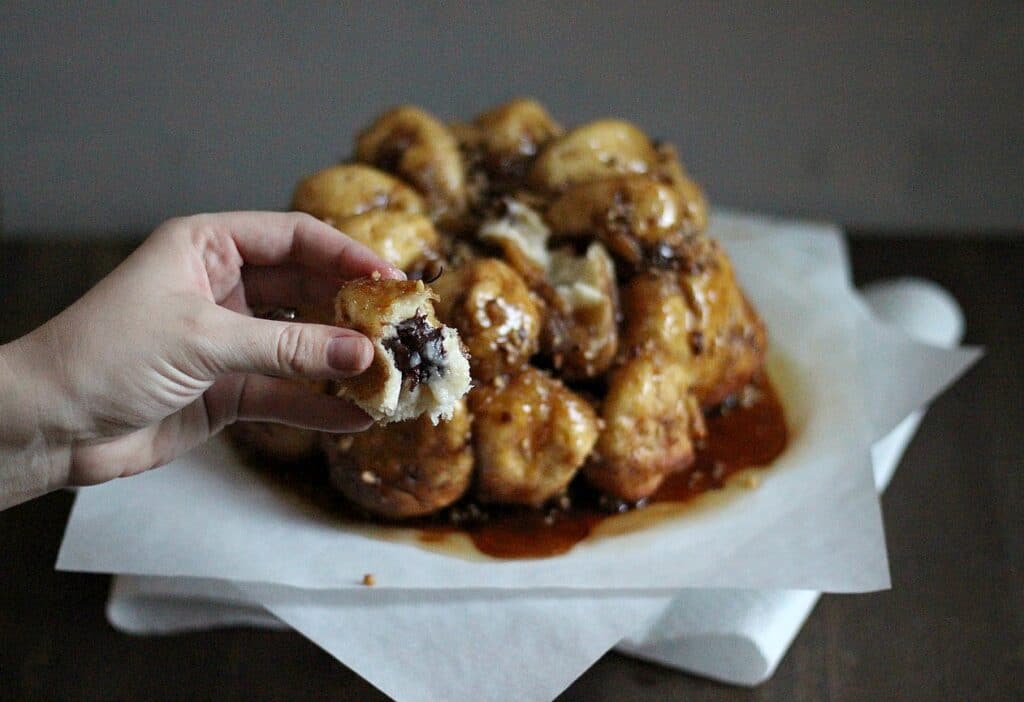 My husband and I went over to Dion's last night for dinner, my first time at the restaurant. We ordered the Duke City pizza, from a recommendation of my friend Chaz, and it didn't disappoint! It's really unique, with green chili's so it's got a good kick to it.
When we headed out, we grabbed a few dough balls to take home for this dessert recipe. Their dough is made fresh every morning, so it's really great to work with, especially compared to some grocery store options out there. I'm a from-scratch baker for a lot of recipes, but in my everyday life, I LOVE shortcuts. With such a great quality dough, it's super easy to bake with.
Alright, on to the monkey bread. You guys, please, you must try this recipe! It's one of my favorite things I've ever made. Seriously, EVER. Listen, you can make monkey bread that's not stuffed. You can, but don't, because this version is worth every single extra step.
I hope you guys enjoy this as much as we did, and if you have a Dion's in your city, give it a shot, you won't be disappointed!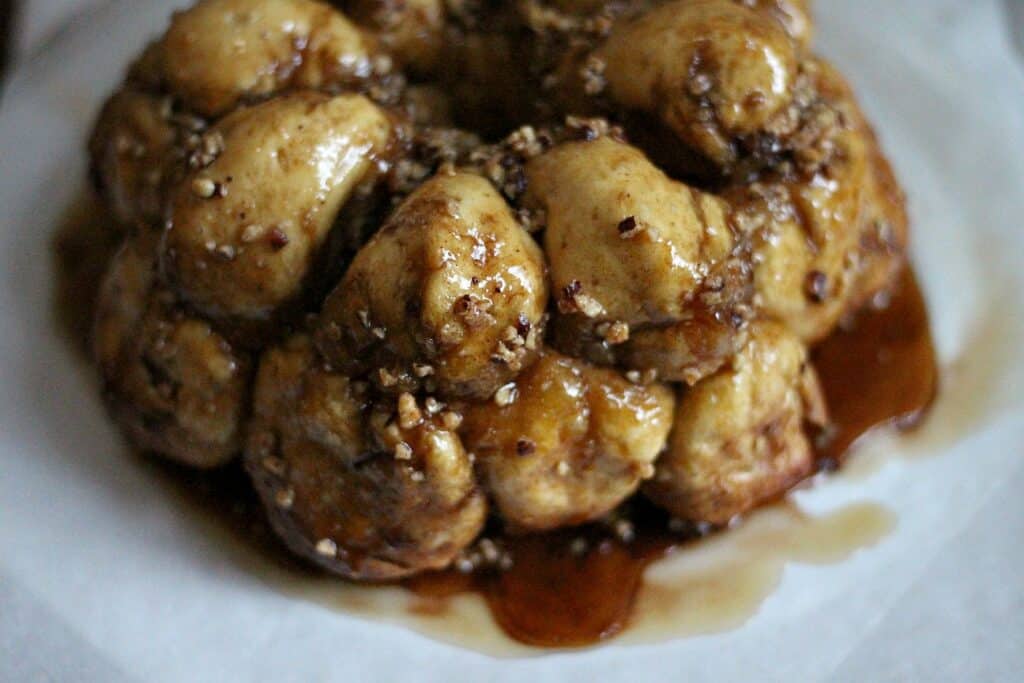 This post was sponsored by Dion's.
Chocolate Chip Cheesecake Stuffed Monkey Bread
Ingredients
40 oz of fresh pizza or bread dough (about one and a half large dough balls from Dion's)
1 8oz pkg of cream cheese
1/2 cup sugar
2 tsp. vanilla extract
1/4 cup chocolate chips
1/2 cup melted and cooled butter
3/4 cup sugar
1 tbs. cinnamon
1/2 cup chopped hazelnuts
1/2 cup butter
1/2 cup brown sugar
1 tsp. vanilla extract
1/2 tsp. salt
Instructions
Preheat your oven to 350 degrees, and grease a 10-cup bundt pan with cooking spray.
In a small bowl, beat together the cream cheese, first 1/2 cup of sugar, and 2 tsp. vanilla. Set aside.
Place your melted butter in another small bowl. In a third small bowl, mix together the 3/4 cup sugar and cinnamon. Set aside.
Pull off small pieces of dough, about the size of a golf ball. Stretch the dough into a flat circle. Spoon a small amount of the cream cheese mixture in the middle, along with two chocolate chips.
Stretch the dough around the filling back into a circle shape, and pinch to seal.
Dip the ball into the melted butter, and then roll in the cinnamon-sugar mix. Place in your bundt pan.
Continue until you have one layer of filled dough balls in the pan. Then sprinkle on half of the chopped hazelnuts.
Finish filling and rolling the rest of the dough balls, until the pan is 3/4 full.
In a small saucepan, melt the second 1/2 cup of butter, then whisk in the brown sugar, vanilla, and salt until combined.
Pour the sauce over your dough in the bundt pan.
Bake at 350 degrees for 40-50 minutes, or until set, and the top is golden. If the top starts to get too dark, cover with foil while you continue to bake.
Cool for 10-15 minutes, and then turn out onto a plate, and enjoy warm!
https://www.dougheyed.com/chocolate-chip-cheesecake-stuffed-monkey-bread/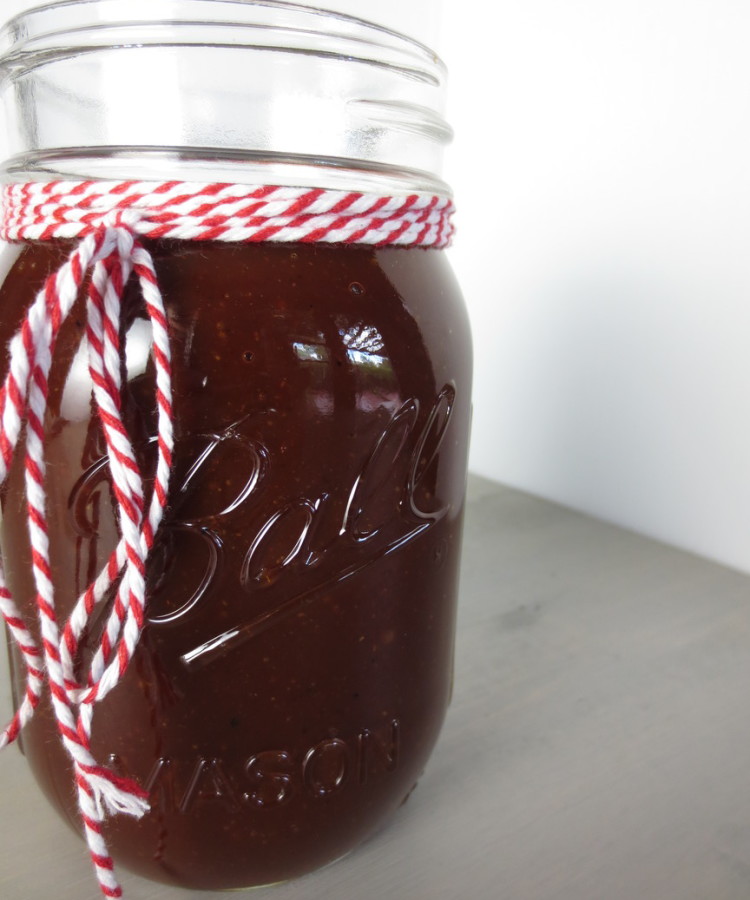 Barbecue sauce.
Making it yourself is pretty awesome. It's super easy to do, and you'll be able to adjust how sweet or spicy your brew is, it's very flexible. I've always been intimidated my making sauces and homemade condiments, but lately I've gotten more into it- DIY-ing your sauces allows you to pull in flavors that you've loved from different dishes.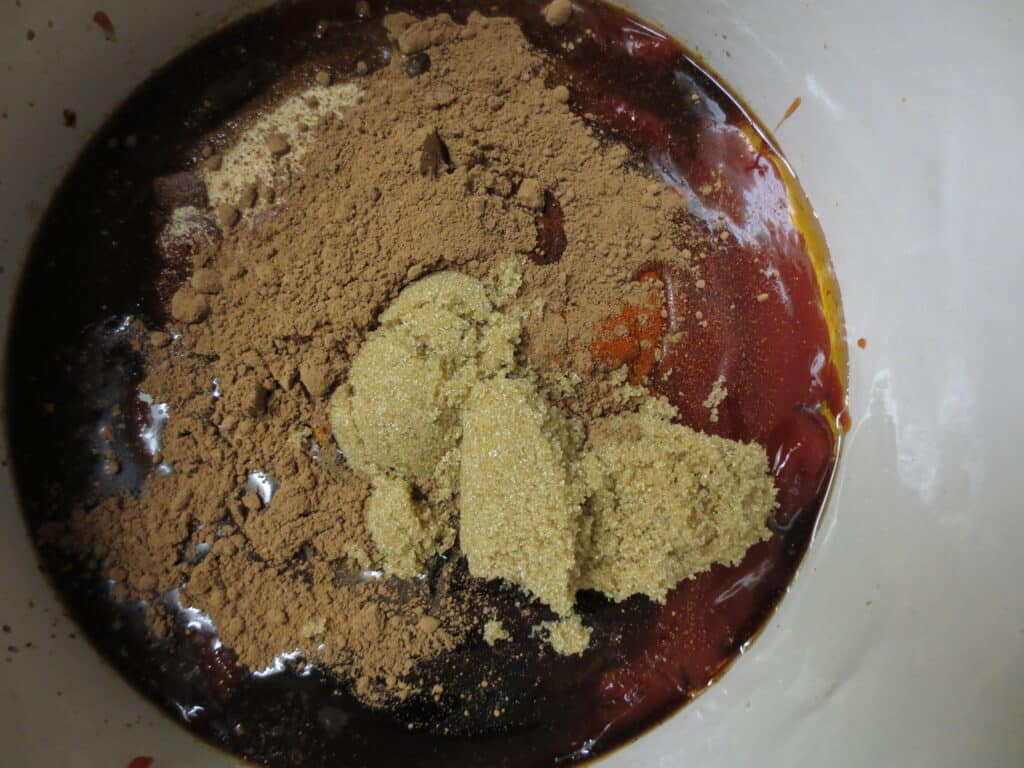 I'll be honest though, barbecue food is not my favorite. There's something about the messiness of it that isn't too appealing to me. That being said, I love a good dipping sauce for fries and chicken, or to throw on a burger.
This particular version of bbq sauce is sweet at first, and you get a kick of heat at the end that I think is perfect. It's savory, not too spicy, and it's certainly going to stand out in any dish. Since there's so much dried chili in the recipe, (this helps to thicken as well as spice) I decided to add a little bit of cocoa powder to cut through some of the spice. It doesn't taste like chocolate at all, but it helps tone down the spice. I actually saw the idea on a Bobby Flay recipe, but his was more centered around a chocolate flavor.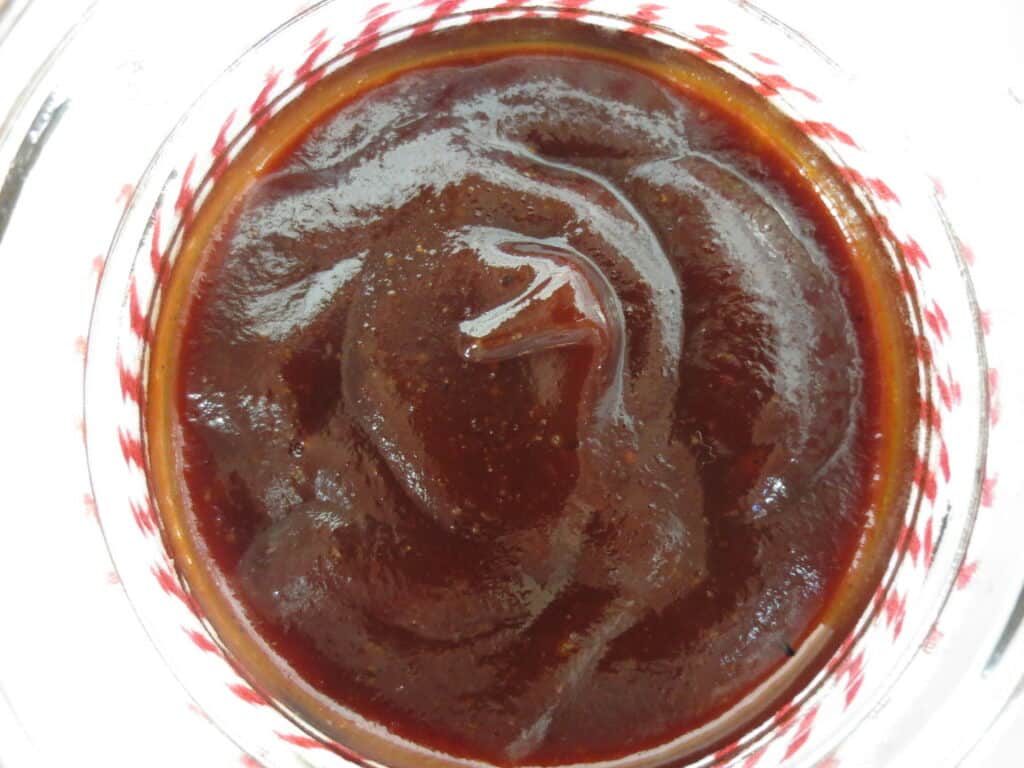 If you like spice, this sauce has a real kick, and it's awesome with anything from fries to chicken, to pulled pork (which I made this weekend)!
Enjoy!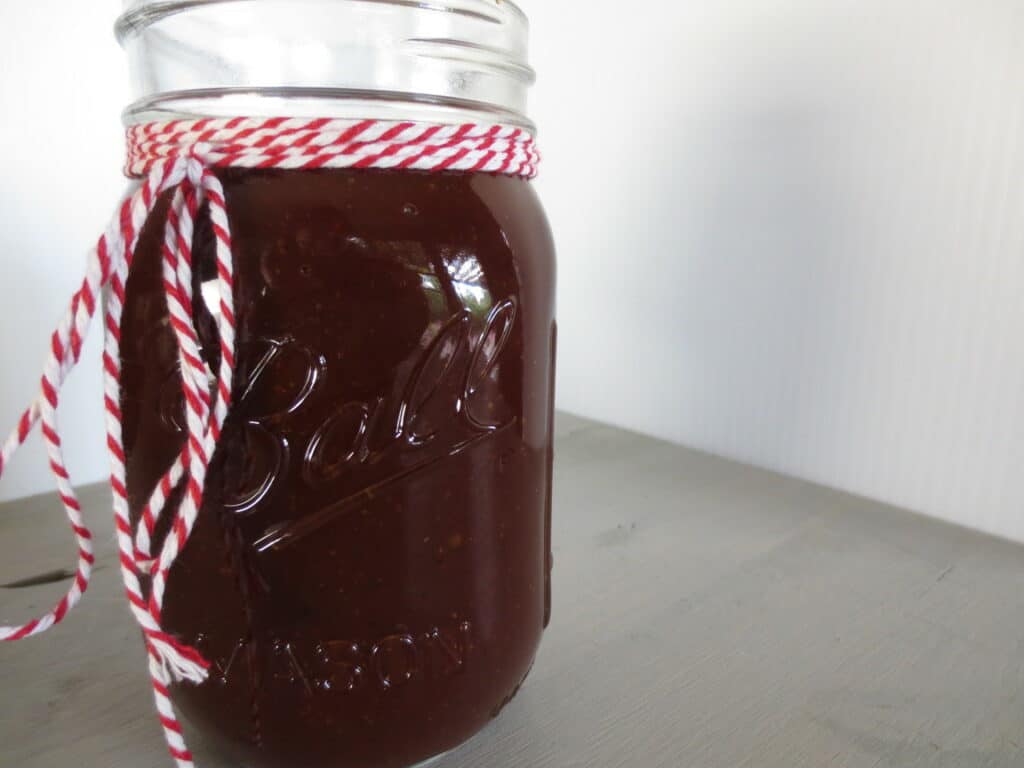 Sweet & Spicy BBQ Sauce
Ingredients
2

cups

ketchup

2

tbs.

Dijon mustard

1

tbs.

white wine vinegar

or red

2

tbs.

Worcestershire sauce

2

tbs.

honey

2

tbs.

molasses

1

tbs.

oyster sauce

optional

1/4

cup

brown sugar

1

tbs.

paprika

2

tbs.

chipotle chili powder

1/2

tsp.

cayenne pepper

1

tsp.

onion powder

1

tsp.

garlic powder

1/2

tsp

salt

1/2

tsp.

black pepper

2

tbs.

cocoa powder
Instructions
Add all the ingredients to a medium saucepan.

Cook over low heat for 30-40 minutes.

Allow to cool completely, and store in an airtight container.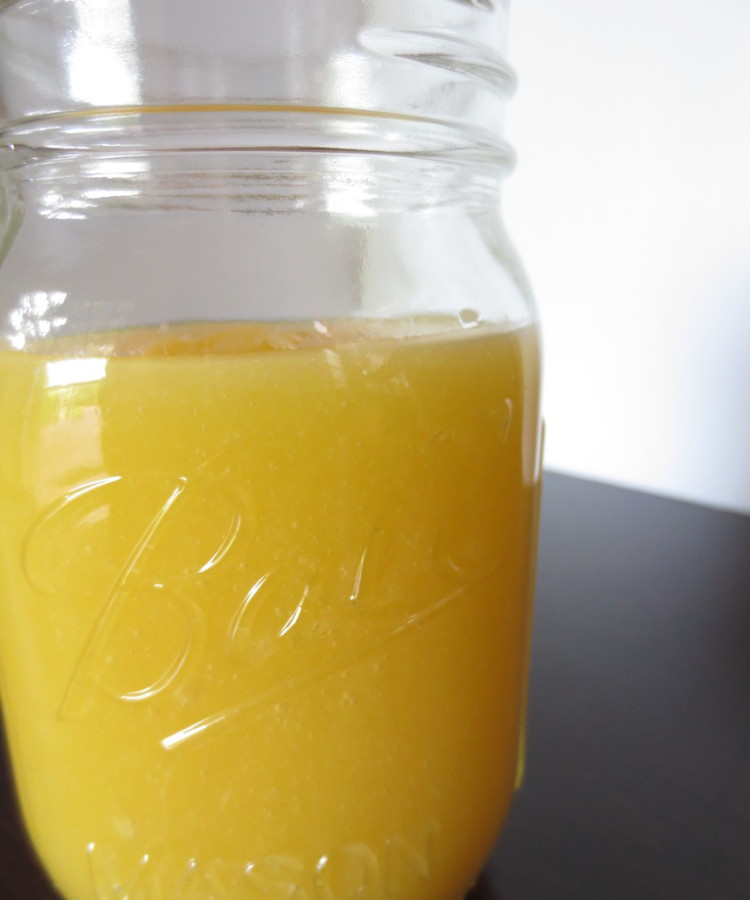 Hi everyone! Super simple and fast post today on how to make lemon curd!
If you've never made custards at home, it's much less intimidating than it sounds. I'd say the most important tool to have is a good, fine mesh sifter to use at the end- if anything bad happens while trying to temper the eggs, you can just strain out all that nonsense. You'll be left with a smooth, silky custard afterwords!
Lemon curd is sweet and tart, and it's amazing even just on toast. I use it as cake or cupcake filling, and you can even mix it into a cake batter for lemon flavor, and for additional moisture in your cake. It also happens to be extremely adorable in a mason jar with a little tag tied around it- hostess gift anyone? Homemade lemon curd, jams, anything that can be jarred, it's all pretty darn cute.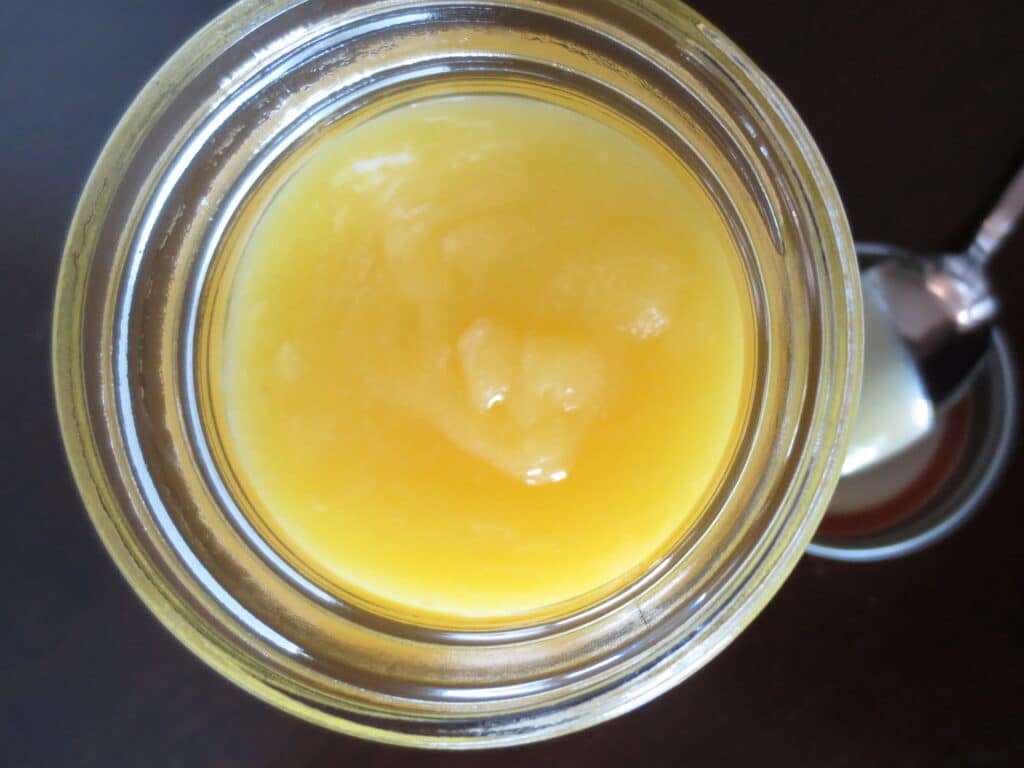 Alright, so here's the deal with this recipe- you can't leave it alone. When it starts to thicken, it happens really quickly, and it's important to keep whisking it the entire time. I promise it's worth it though!
The recipe makes about 3 cups of curd, and you can store it in an air tight container in the fridge for several weeks. Spread it on toast, eat it with a spoon, smother your ice cream with it- lemon curd=love.
Lemon Curd
Ingredients
2

tbs.

lemon zest

1/2

cup

fresh lemon juice

1 1/2

cups

sugar

6

tbs.

butter

cut into chunks

4

eggs

beaten
Instructions
In a medium sauce pan, bring zest, juice, and sugar to a boil over medium heat

Add in the butter, and whisk until melted

In a medium bowl, whisk together your eggs. Slowly drizzle in a ladle-full of the hot lemon mixture while whisking to temper the eggs

Pour the entire egg mixture into the pot, and whisk constantly until curd has thickened- about 6-10 minutes.

Remove from heat immediately, and transfer to your heat-proof, air-tight container to cool.