Hey guys! If you're looking for a little Sunday treat, I've got something for ya! These ice cream sandwiches are super easy, plus they are insanely tasty! We're using an easy cookie recipe plus a no-churn ice cream that comes together super quick.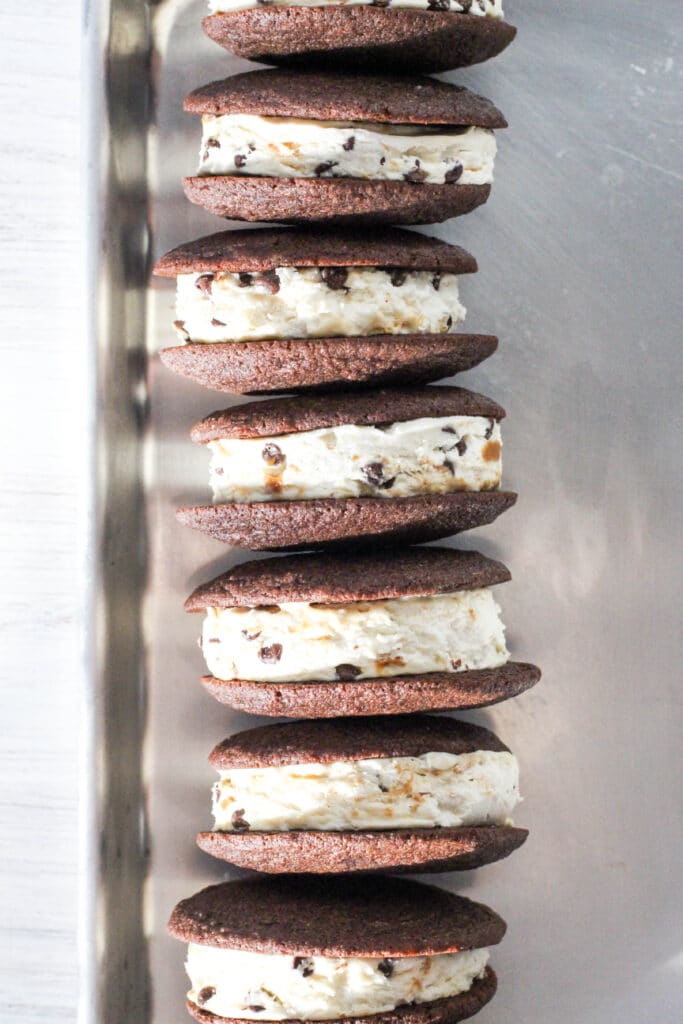 Honestly sometimes I think no-churn ice cream is better than the classic stuff. It's just so easy and you can make it taste like whatever you want. Let's get to it!
How to Make Ice Cream Sandwiches
We're going to start with the chocolate cookies. This recipe makes a soft, cake-y cookie that's perfect for an ice cream sandwich. These cookies are super simple!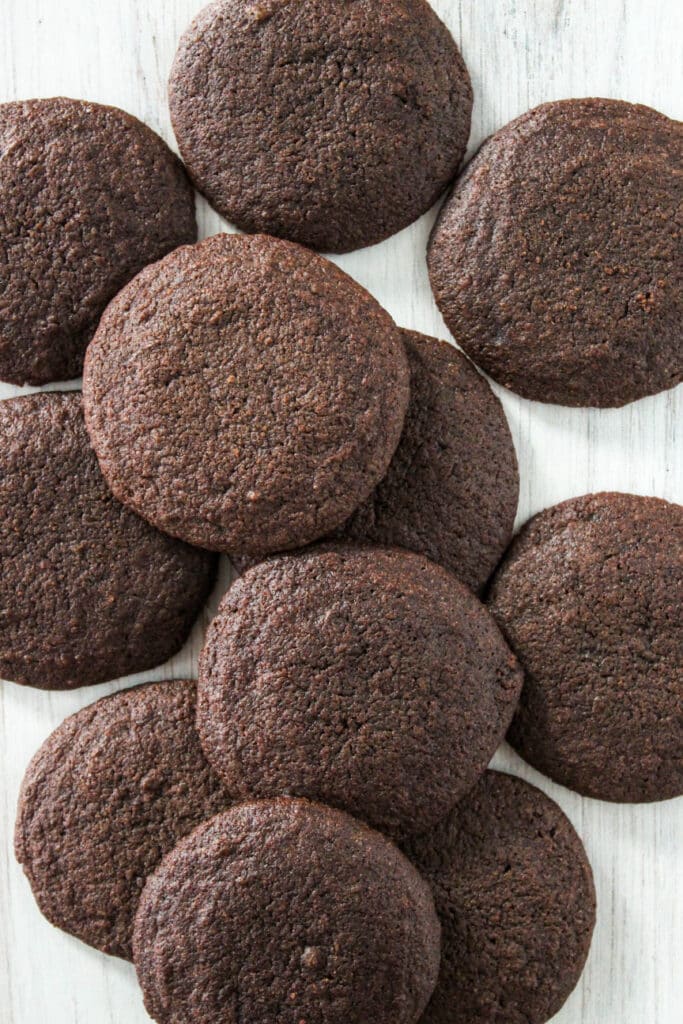 Once you've got your dough ready, bake these cookies until they are spread, puffy, and look dry on top. You've got to let the cookies cool completely before filling with your ice cream!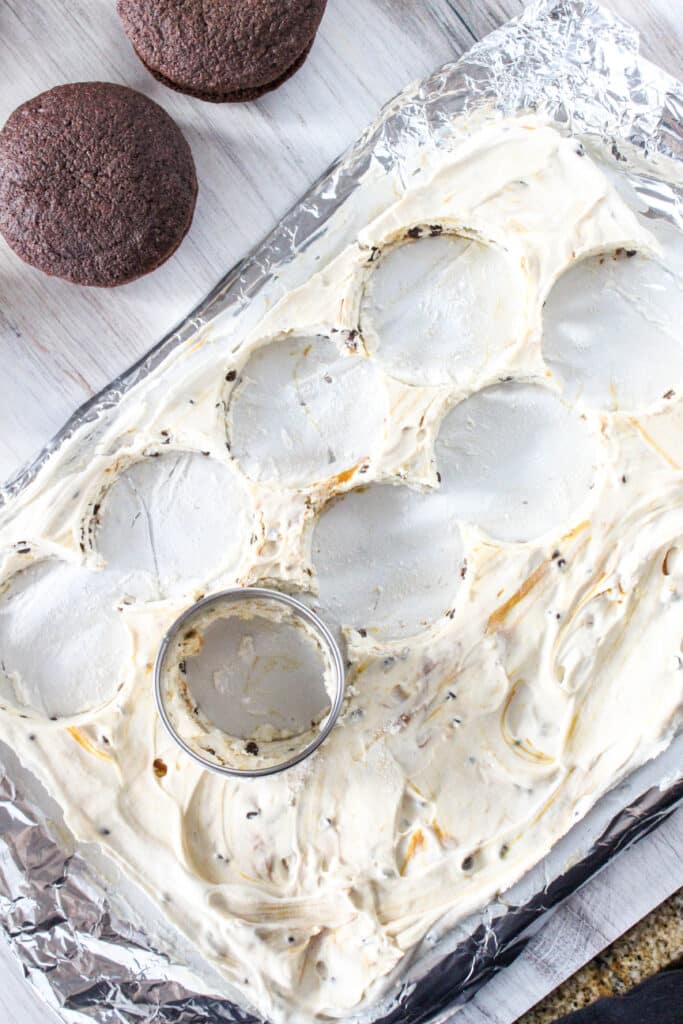 The ice cream is super simple to make, and you can do any flavor you like! I've decided to go with a chocolate chip studded and dulce de leche swirled option! It comes together super easily and results in a really creamy, fluffy ice cream!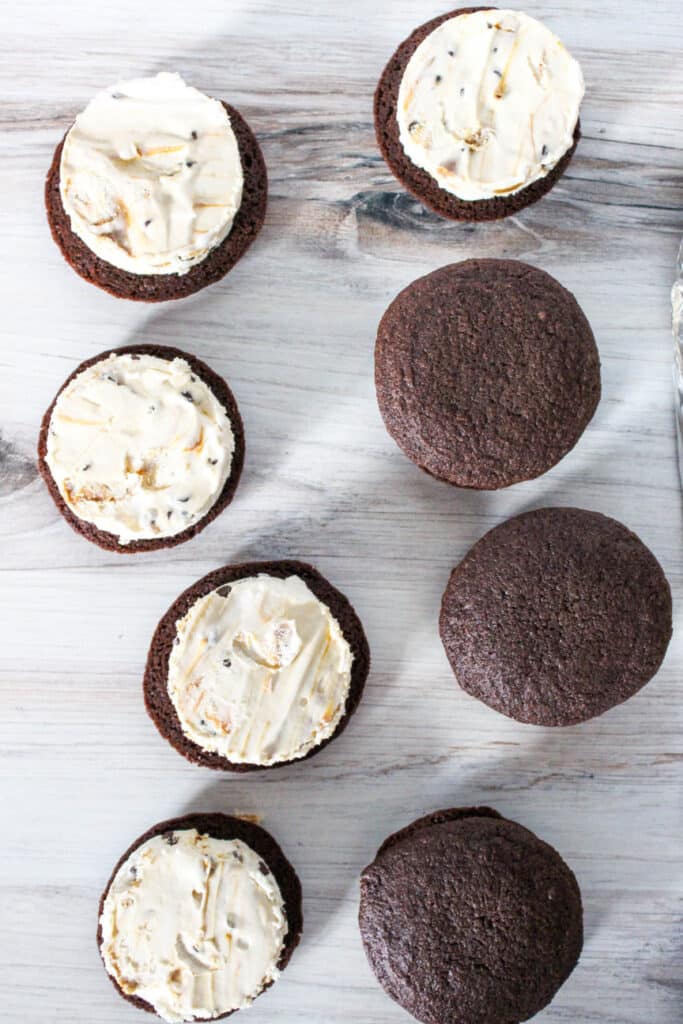 We're spreading the ice cream onto small sheet pans to freeze. This lets us cut out perfect rounds of ice cream to fit between the cookies. Plus- save the scraps and you can eat them later! Once you've put the sandwiches together, you can wrap them tightly in plastic wrap and pop them back into the freezer for another hour before enjoying.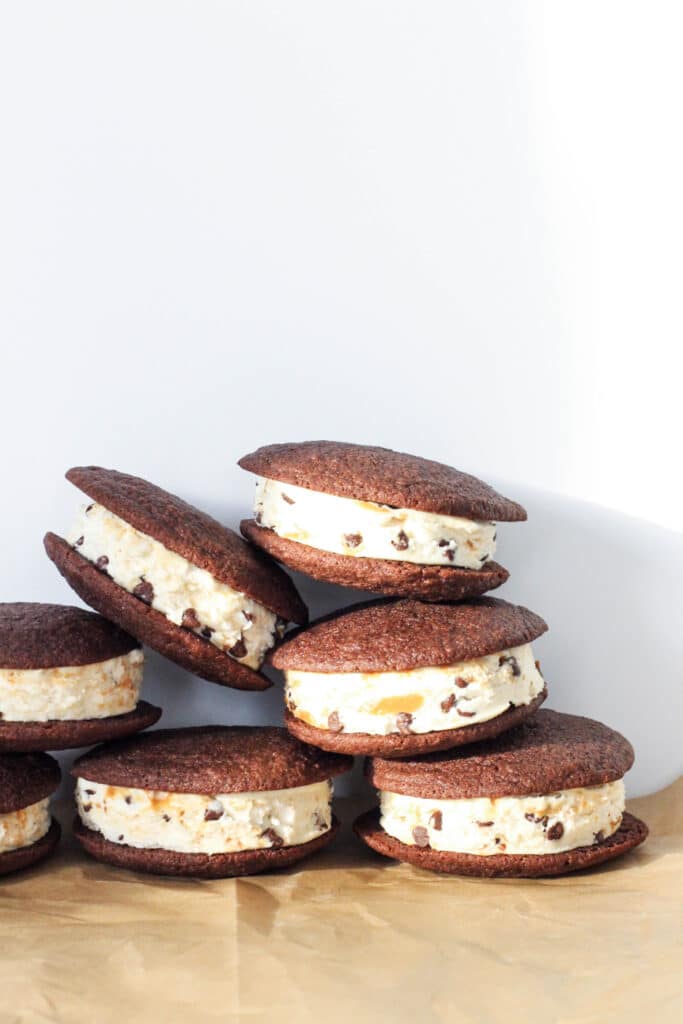 Tips & Tricks for Ice Cream Sandwiches
These come together pretty easily, but I've got a few tips to help you along the way:
Don't over bake your cookies or else they'll be too hard and crunchy when you freeze them! It can be hard to see when chocolate cookies are done, but you should er on the side of under-baking!
Use mini chocolate chips or very finely chopped chocolate. If you go for full size chips, they get super hard when frozen and it's a bit rough on your teeth!
If you don't want to use the sheet pan/cutter method you can freeze the ice cream in containers. Then, once it's hardened mostly, you can scoop it onto the cookies and press together. It won't be as clean, but it will be just as delicious!
Flavor your ice cream however you want! You can add cocoa powder to make chocolate flavored ice cream, or cinnamon to give it a cozy twist. Or you can even add strawberry jam for a strawberry ice cream!
Be sure to wrap each sandwich individually tightly in plastic wrap. I know it's a lot of plastic, but you want to keep them as sealed as possible so they last a while in the freezer!
Hope you guys enjoy this one!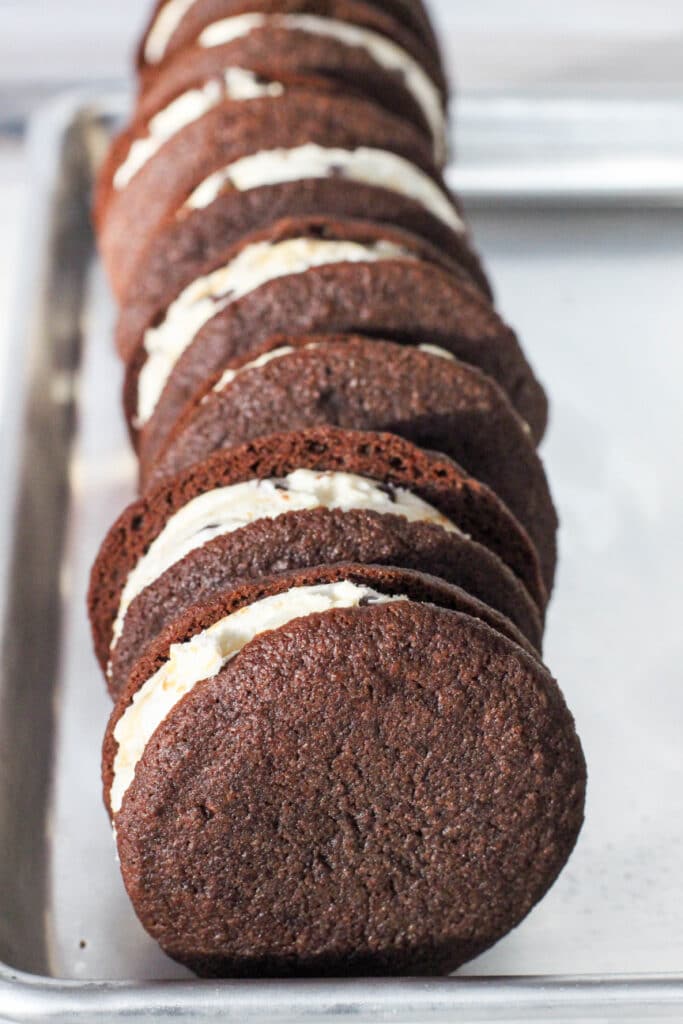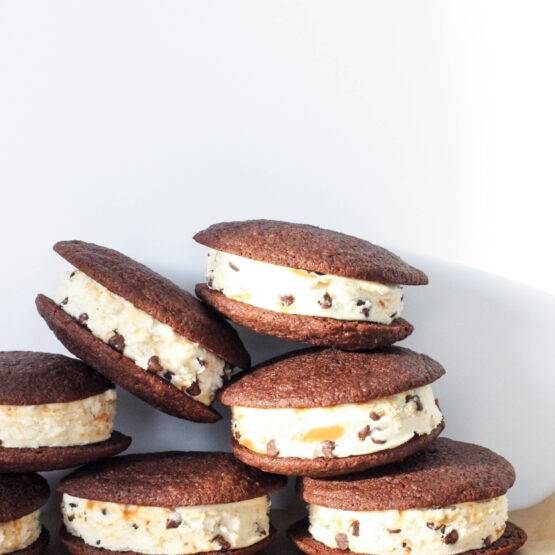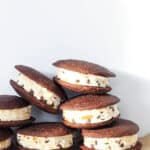 Dulce De Leche Ice Cream Sandwiches
Ingredients
For the cookies:
2

cups

flour

1/4

cup

bread flour

1/4

cup

dark cocoa powder

3/4

tsp.

baking soda

1

tsp.

salt

1

cup

softened butter

1/2

cup

sugar

1

cup

brown sugar

2

eggs

1

tsp.

vanilla extract
For the ice cream:
3

cups

heavy cream

1

can sweetened condensed milk

1

tsp.

vanilla extract

2

tbs.

brown sugar

1/2

tsp.

salt

1 1/2

cups

mini chocolate chips

1/2

cup

dulce de leche

2

tbs.

heavy cream
Instructions
For the cookies:
Preheat your oven to 350 degrees, and line two baking sheets with parchment paper or nonstick sheets. In a medium bowl, whisk together the flour, bread flour, cocoa powder baking soda, and salt. Set aside.

In a large bowl, beat together the softened butter, sugar, and brown sugar until fluffy. Beat in the eggs and vanilla until smooth. Slowly add in the flour mixture, and beat until completely incorporated.

Scoop dough by 2 tablespoonfuls onto your baking sheet. These will spread a little so leave some space between. Bake for 8-10 minutes, or until the cookies are spread and puffy, and look dry on top. Do not over bake. Cool completely on the cookie sheets before removing.

Chill the cookies in the fridge once cooled to room temperature until you are ready to use them for the sandwiches.
For the ice cream:
Line two small sheet pans or 8-inch cake pans that will fit into your freezer with foil. Set aside.

In a large bowl, beat the heavy cream until stiff peaks form. You want it to be slightly over-whipped. Then, stir in the condensed milk, vanilla extract, brown sugar, and salt until combined. Fold in the mini chocolate chips until well distributed.

Divide the ice cream between the two cake pans, and spread evenly. It should be about 3/4 inch thick, but does not have to be perfect. In a small bowl, stir together the dulce de leche and the remaining 2 tbs. of heavy cream. Then, dollop the mixture all over the top of the ice cream in both pans, and use a knife to swirl it into the ice cream. Freeze both pans of ice cream until solid, about 2 hours.

Remove from the freezer, and use the foil to pull the ice cream out of the cake pan, working with only one pan at a time so it doesn't melt too quickly. Using a round cutter that is slightly smaller than your cookies, cut out rounds of ice cream, and sandwich between two cookies, pressing together slightly.

You want to work in small batches here, and move quickly so the ice cream doesn't melt too fast! Wrap each sandwich tightly in plastic wrap or place into individual zipper bags and freeze immediately. Enjoy!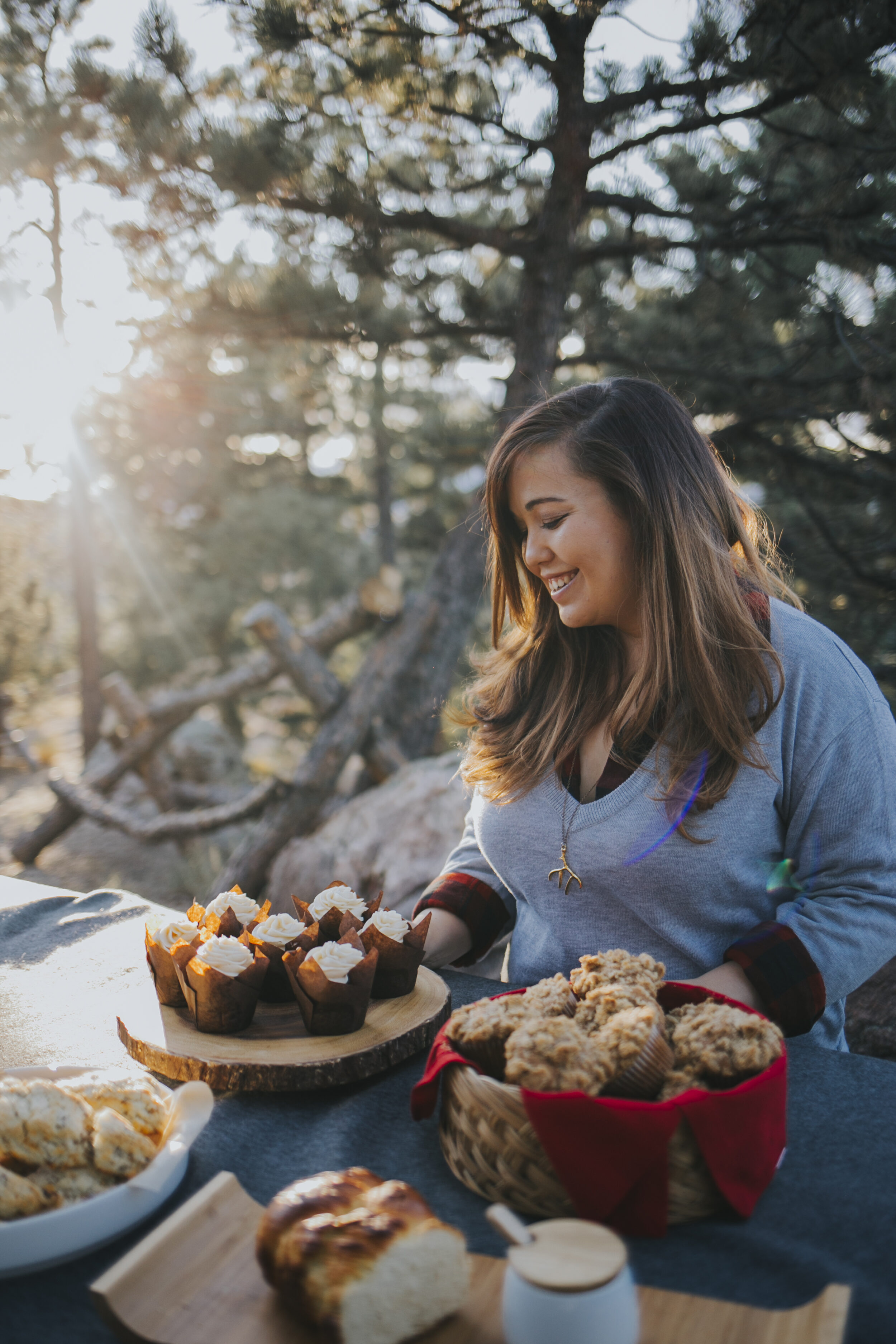 Hello and welcome! My name is Nicole, and Dough-eyed is a food blog for people who want to bake for their family and friends in high-altitude areas. Think of me as a friendly voice there with you in the kitchen, here to give you confidence when you're baking, and to help you with the struggles of baking at high-altitude. Come back every week for new recipes, tips, and advice on high-altitude baking!