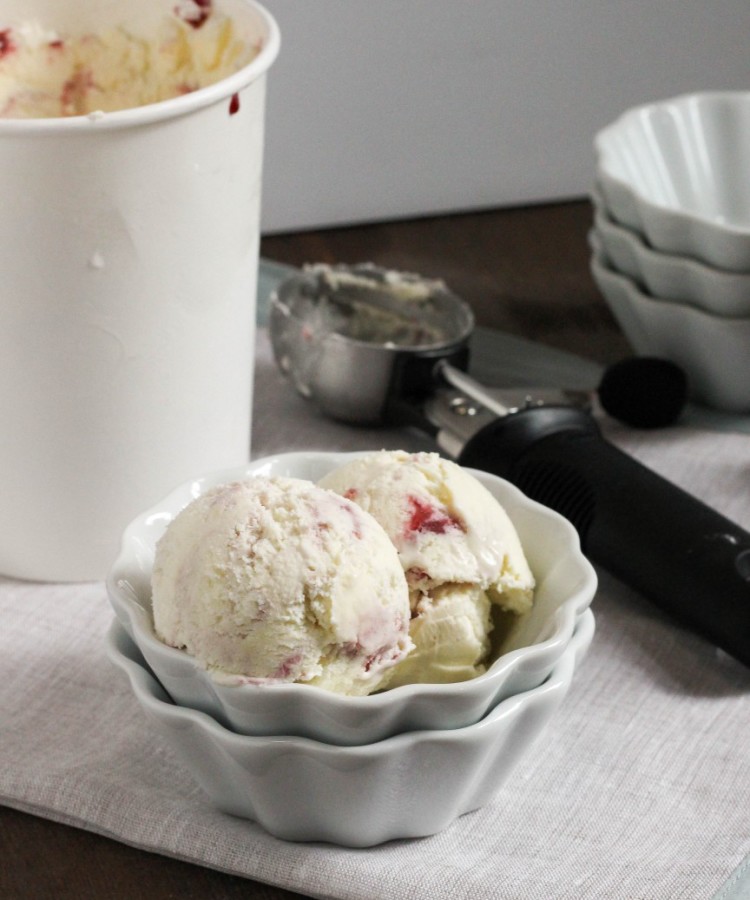 As a last summer moment, let's all enjoy some Concord Grape Ripple Ice Cream because honestly, it's super nom.
I got a ton of pretty fresh Concord grapes from a friend, and decided it was time to experiment with them. I've never really worked with grapes- to be honest, I just don't like them very much. But also, I've never actually had Concords before, so here we are.
Things to know that I at first did not- one, these grapes have seeds in them. I had no idea and we just chomped down on them haha. I didn't even know there was anything other than seedless grapes. Okay, my knowledge about grapes might be shockingly low, whatever.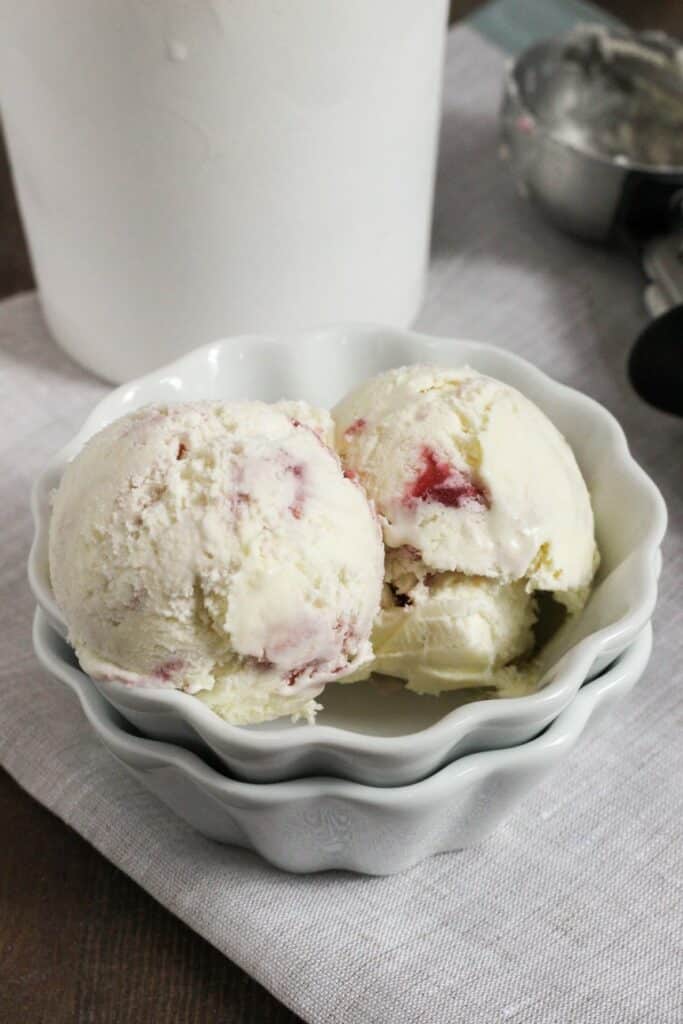 Two- the skins are something serious here. But it's cool, we're going to take care of the seeds and the skins all at once in a food processor (or blender if you please), and then a mesh siv.
Basically there's two components- a super creamy vanilla ice cream base, and a fruity grape curd that we're swirling (or rippling) all throughout the base. The results are really special. TBH, I was ready to not like this because ya know, grape, but I'm totally into it. The vanilla ice cream is the perfect compliment, and everything is really tasty together.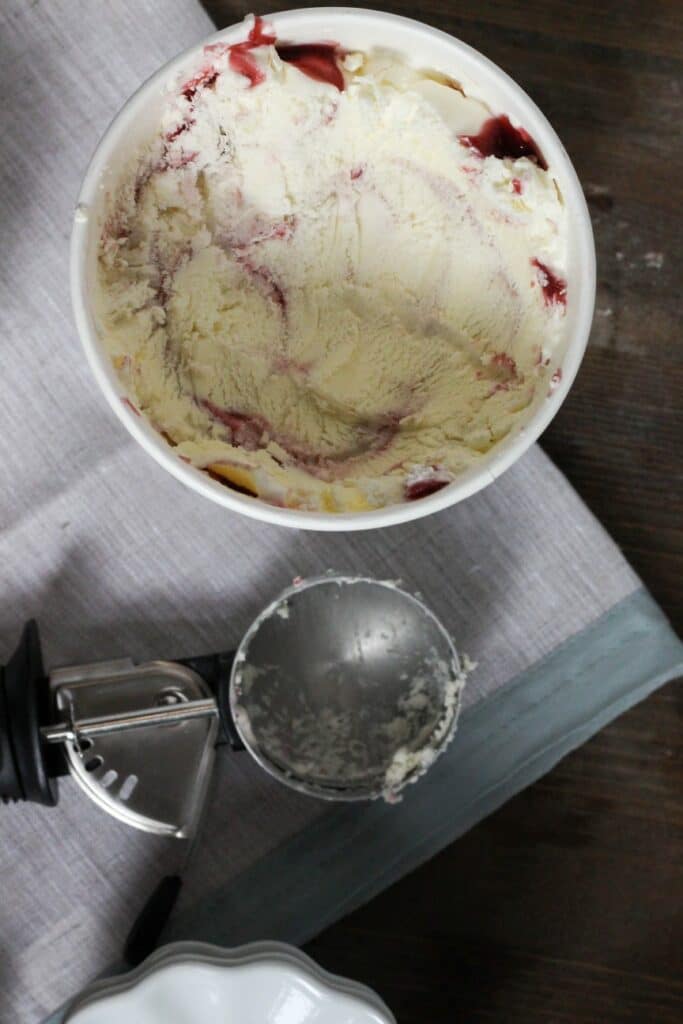 So, this is a no churn recipe, and there's some shortcuts along the way. For one thing, we're using instant vanilla pudding mix as a thickener and for flavor on the vanilla ice cream base. I actually love instant vanilla pudding mix, and I keep some in a mason jar in my pantry. It's great to be able to throw a few tablespoons into whipped cream whenever you need some stabilizer.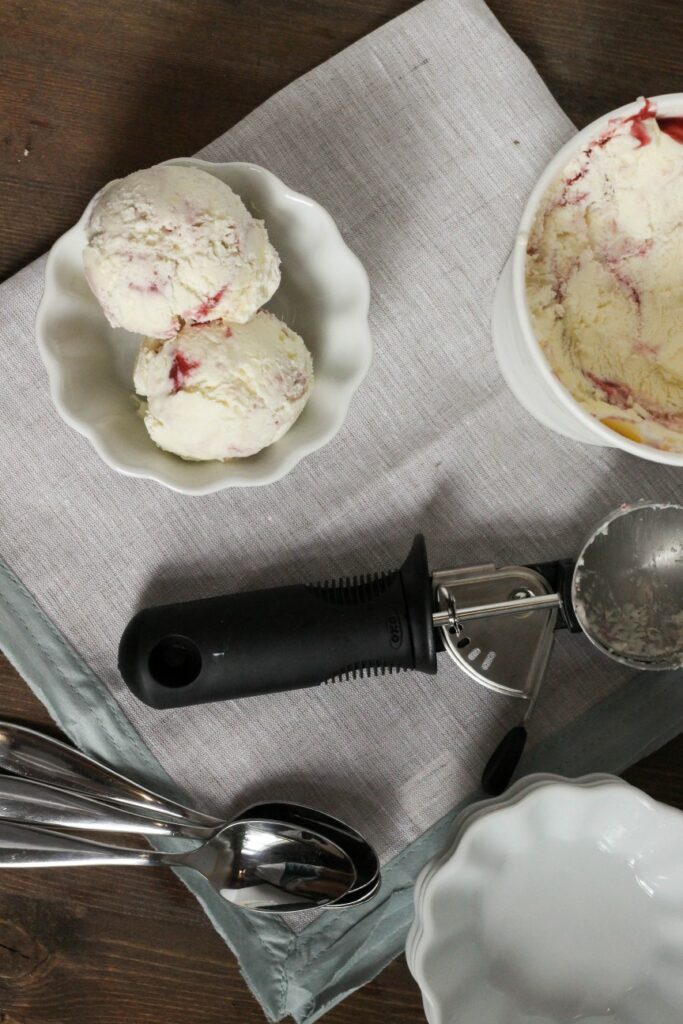 Alright, onto the recipe guys. I hope you enjoy it, make it as a last ditch effort to eat ice cream while it's hot outside. Is it still hot where you are? It is here haha. Enjoy!
Grape Ripple Ice Cream
This makes about 2 quarts of ice cream.
Ingredients
2

cups

Concord grapes, with seeds and skins

3

tbs.

sugar

1

tbs.

cornstarch

1/2

cup

milk

1/2

cup

heavy cream

1/4

cup

instant vanilla pudding mix

2

cups

heavy cream, additional

1/2

cup

powdered sugar

1

tsp.

vanilla extract

1/4

tsp.

salt
Instructions
In a food processor or blender, blend your grapes until the mixture is purple and liquid-y. Pour through a mesh siv to remove the seeds and skins, pressing to get as much liquid out as possible.

Transfer the liquid into a small saucepan, and stir in the sugar and cornstarch. Cook over medium heat, stirring frequently, until the mixture is thickened. Remove from heat and pour into a bowl to chill in the fridge for 30 minutes to an hour.

In a medium bowl, whisk together the milk, 1/2 cup heavy cream, and instant vanilla pudding mix. Set aside to thicken. In a large bowl, beat the remaining 2 cups of cream until soft peaks form. Then add in the powdered sugar, vanilla extract, and salt, and beat until stiff peaks form.

Fold the vanilla pudding mixture into the whipped cream until completely combined. That's your base! In either two loaf pans or two quart-sized containers, start by spooning a layer into the bottom of the vanilla base. Then, spoon some of your grape curd on top, and use a knife to swirl it in. Then, layer more vanilla cream, and repeat the process until your containers are full and all the mixtures have been used.

Freeze for at least 6 hours. When serving, leave on the counter for 5 minutes to help make scooping easier. Enjoy!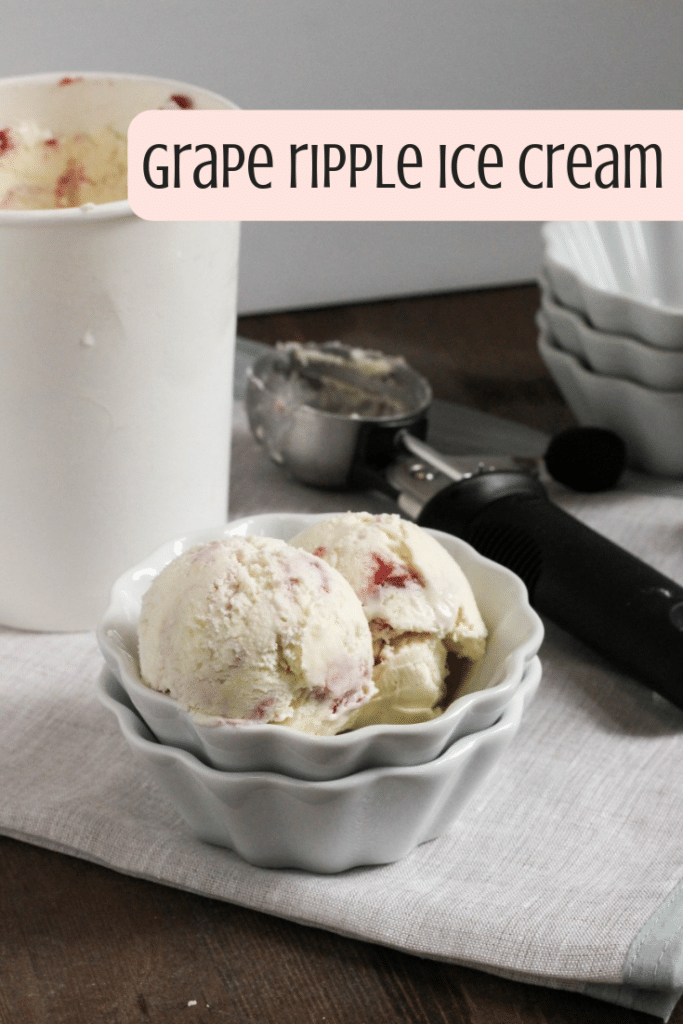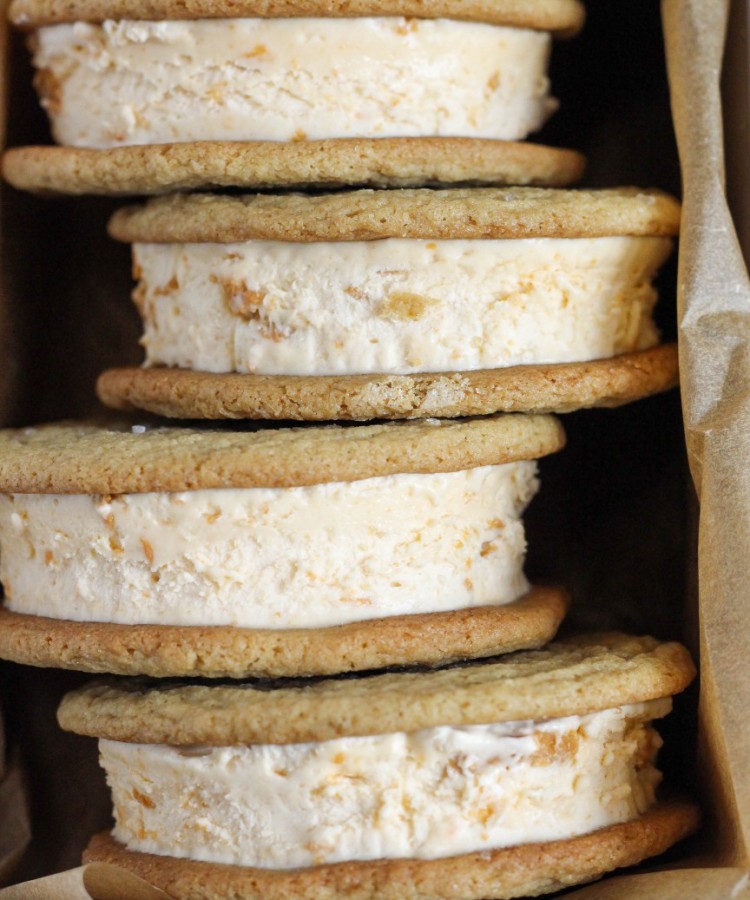 Phew, that's a long name!
I've been trying to make ice cream sandwiches right for a long time. Honestly, it sounds easy, and then it's just not. And now summer is here and I knew I had to get it right. For the sake of pregnancy cravings guys.
So, the problem is typically the cookie. What would be a nice, chewy, cookie with slightly crisp edges at room temperature, when frozen, becomes rock hard and tooth-shattering. It's so annoying. I feel like there's a specific kind of texture that I go for when I'm making a normal cookie, and it's totally achievable for me at this point. But finding that balance for a cookie that's going to be frozen… it's a whole other thing.
Being at altitude, I've tried a ton of recipes for classic ice cream sandwich cookies, and they've also ended up too hard. Basically, what you need is a very, very chewy cookie, and you'll need to bake it just slightly less than you normally would.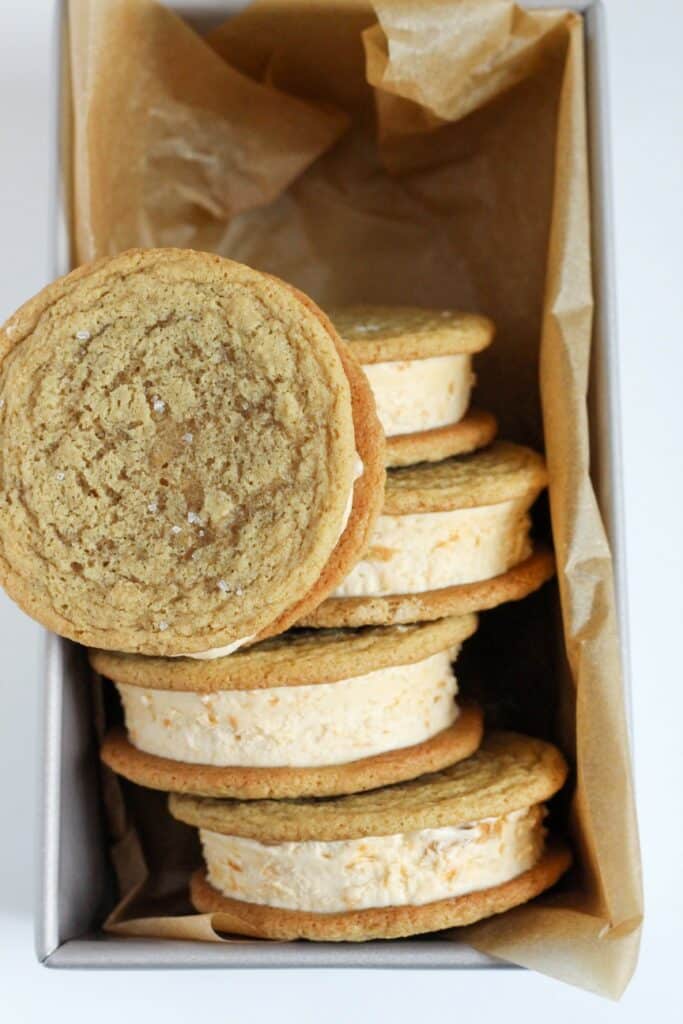 The cookies for this one are thin and very, very chewy. Another option, or so I've heard, is to opt for a cake-like cookie. In either case though, you absolutely have to make sure you don't over bake anything! I would also note that even if you aren't freezing them for later, as in you're just going to serve the sandwiches right away, the coldness of the ice cream will be enough to make your cookies hard, I promise.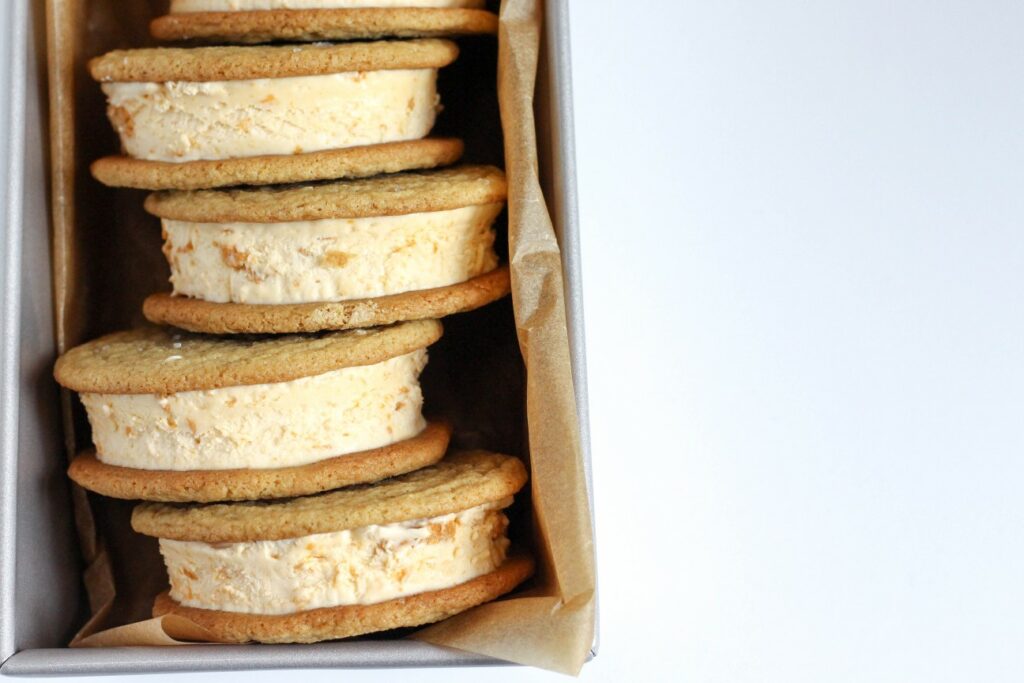 This cookie is basically a classic chocolate chip cookie without the chocolate chips. I know, I know, we love chocolate. Trust me, you won't miss them. I think brown sugar cookies stand alone, especially when you sprinkle them lightly with salt just when they come out of the oven. It's got a ton of flavor, and you may have never known since chocolate is the star normally!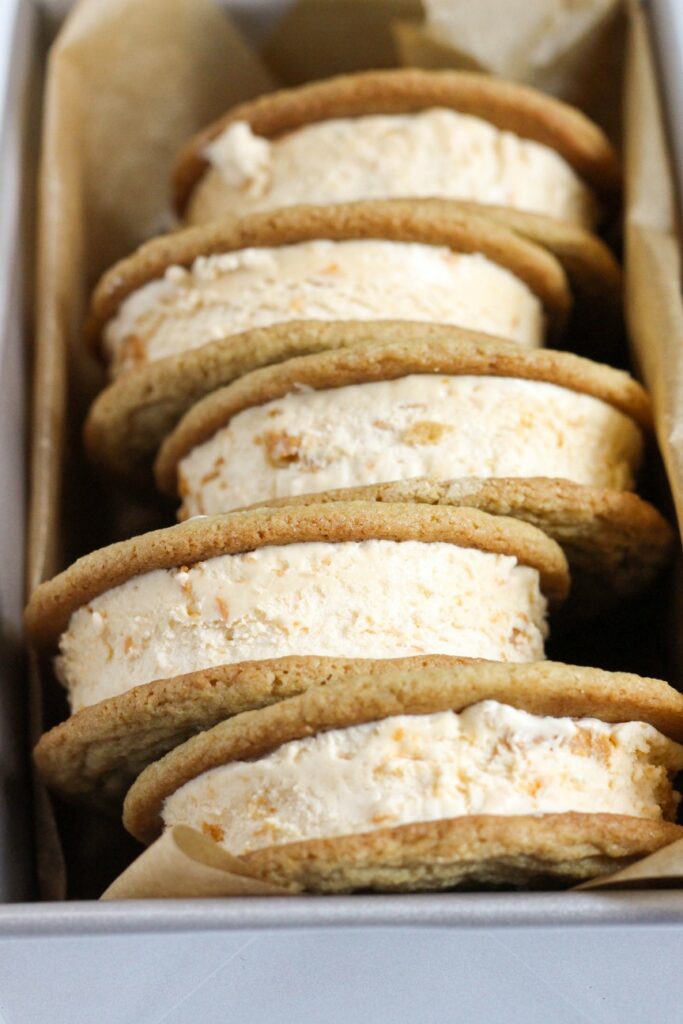 Onto the ice cream. I went for a no-churn style here, and it's popular for a reason guys. This stuff is so easy to make, it's criminal. Couple of things to note- butterscotch chips melt way faster and differently than chocolate chips, so keep a close eye on them, stirring more frequently than you would with chocolate. Also, going in the opposite direction, they will harden back up easily, which is how you get the little chunks you can see in the pictures! You just want to fold vigorously into your cold (not frozen) ice cream mixture, and it'll happen like magic!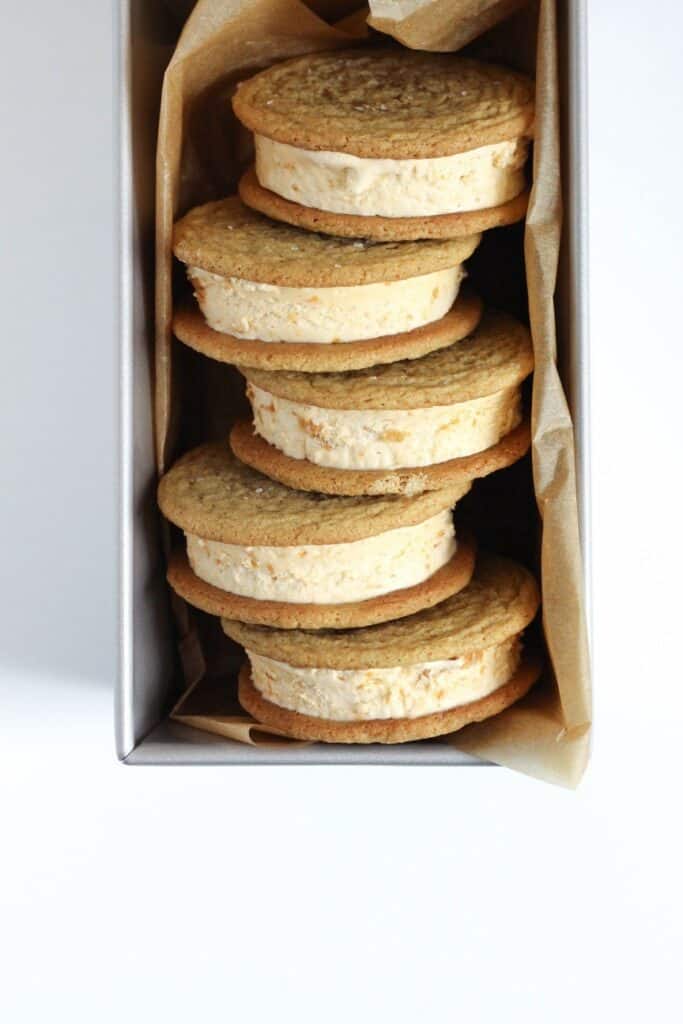 I'm super pleased with this recipe, to say the least. I recommend storing them in small plastic bags individually to keep everything fresh and easy, and freeze them for the first time in one layer before stacking them up- this helps keep the ice cream where it should be!
Enjoy!
Salted Brown Sugar Butterscotch Ice Cream Sandwiches
Ingredients
For the salted brown sugar cookies:
2 1/4

cups

flour

1/4

cup

bread flour

3/4

tsp.

baking soda

1

tsp.

salt

1

cup

softened butter

1/2

cup

sugar

1

cup

brown sugar

2

eggs

1

tsp.

vanilla extract

2-3

tbs.

coarse salt
For the butterscotch ice cream:
4

cups

heavy cream

2

14oz cans

sweetened condensed milk

2

tsp.

vanilla extract

1/4

tsp.

salt

1

bag

butterscotch chips, melted and slightly cooled
Instructions
For the salted brown sugar cookies:
Preheat your oven to 350 degrees, and line two baking sheets with parchment paper or nonstick sheets. In a medium bowl, whisk together the flour, bread flour, baking soda, and salt. Set aside.

In a large bowl, beat together the softened butter, sugar, and brown sugar until fluffy. Beat in the eggs and vanilla until smooth. Slowly add in the flour mixture, and beat until completely incorporated.

Scoop dough by 2 tablespoonfuls onto your baking sheet. These will spread quite a lot, so leave a good amount of space between. Bake for 8-10 minutes, or until the cookies have just started to become golden brown on the edges. Do not over bake. When you remove them from the oven, immediately sprinkle on some coarse salt. Cool completely on the cookie sheets before removing.

Chill the cookies in the fridge once cooled to room temperature until you are ready to use them for the sandwiches.
For the butterscotch ice cream:
Line two 9x13 inch cake pans with foil. Set aside.

In a large bowl, beat the heavy cream until stiff peaks form. You want it to be slightly over-whipped. Then, stir in the condensed milk, vanilla extract, and salt until combined.

Moving quickly, stir in the melted butterscotch. It will immediately start to cool and harden some, so you want to stir it in quickly to ensure that it gets incorporated completely.

Divide the ice cream between the two cake pans, and spread evenly. It should be about 3/4 inch thick, but does not have to be perfect. Freeze both pans of ice cream until solid, about 2 hours.

Remove from the freezer, and use the foil to pull the ice cream out of the cake pan, working with only one pan at a time so it doesn't melt too quickly. Using a round cutter that is slightly smaller than your cookies, cut out rounds of ice cream, and sandwich between two cookies, pressing together slightly.

You want to work in small batches here, and move quickly so the ice cream doesn't melt too fast! Wrap each sandwich tightly in plastic wrap or place into individual zipper bags and freeze immediately. Enjoy!
Recipe Notes
**You will have extra ice cream here. You can absolutely cut the recipe for the ice cream in half and still have enough- I only prefer to make a larger batch so you don't have to re-spread and freeze to use the scraps. I simply freeze the extra in a container to eat as a stand-alone treat later!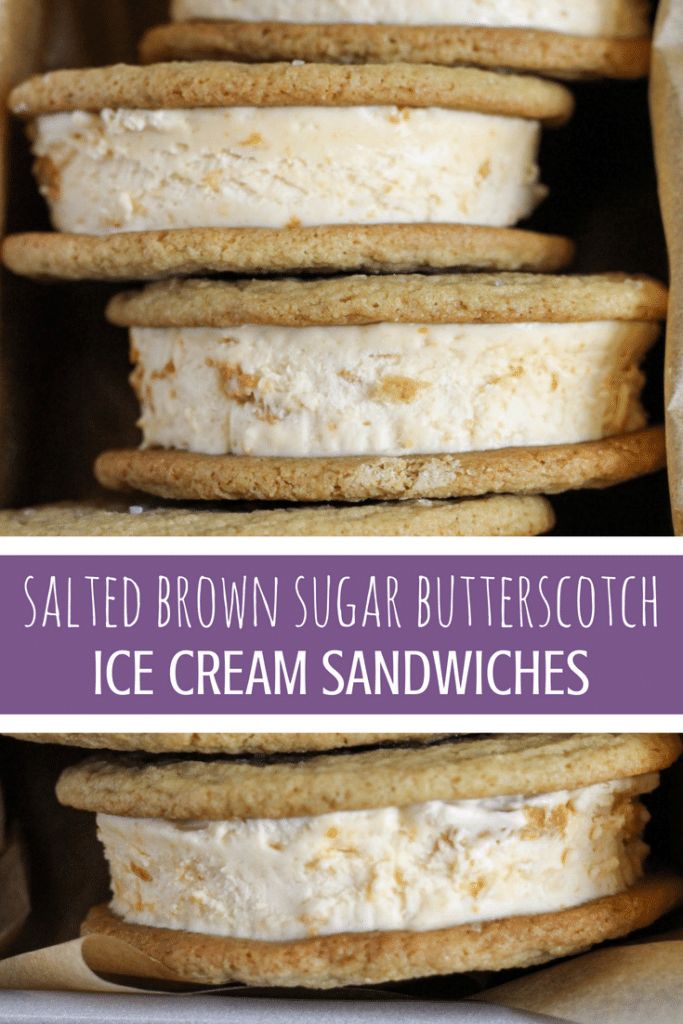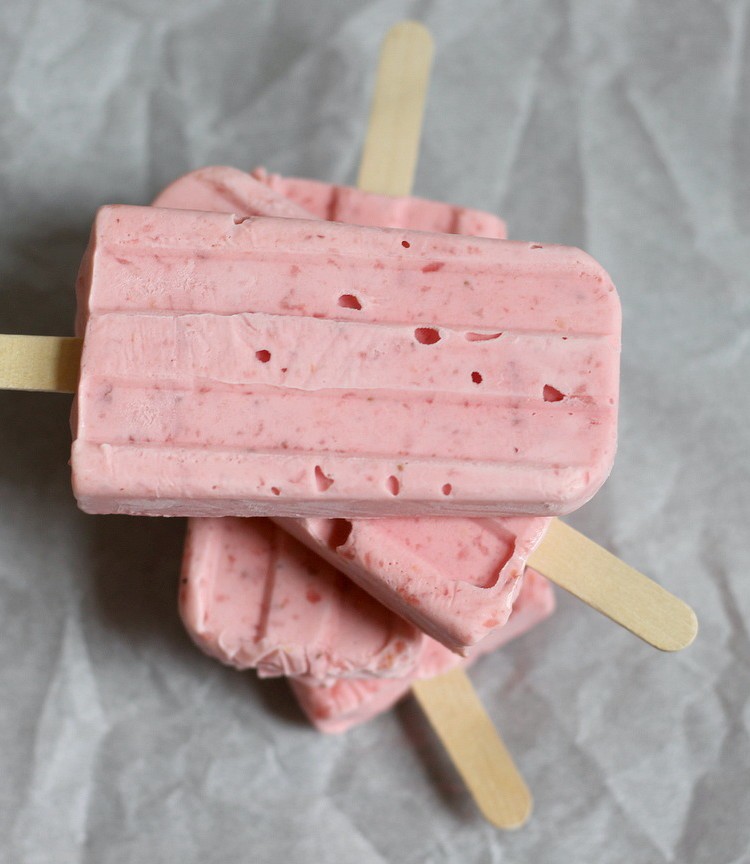 Let's all just sit and enjoy some lemonade, shall we? I don't like summer, but I DO like ice cream a lot. Enter my new popsicle mold, which seriously was a long time coming. I constantly think to myself "oh, you should totally get one of those!" and then proceed to forget. Forever.
Anyways, I finally managed to buy this ice pop mold, which I love so far! It's got that classic shape, and it's simple. Does the job!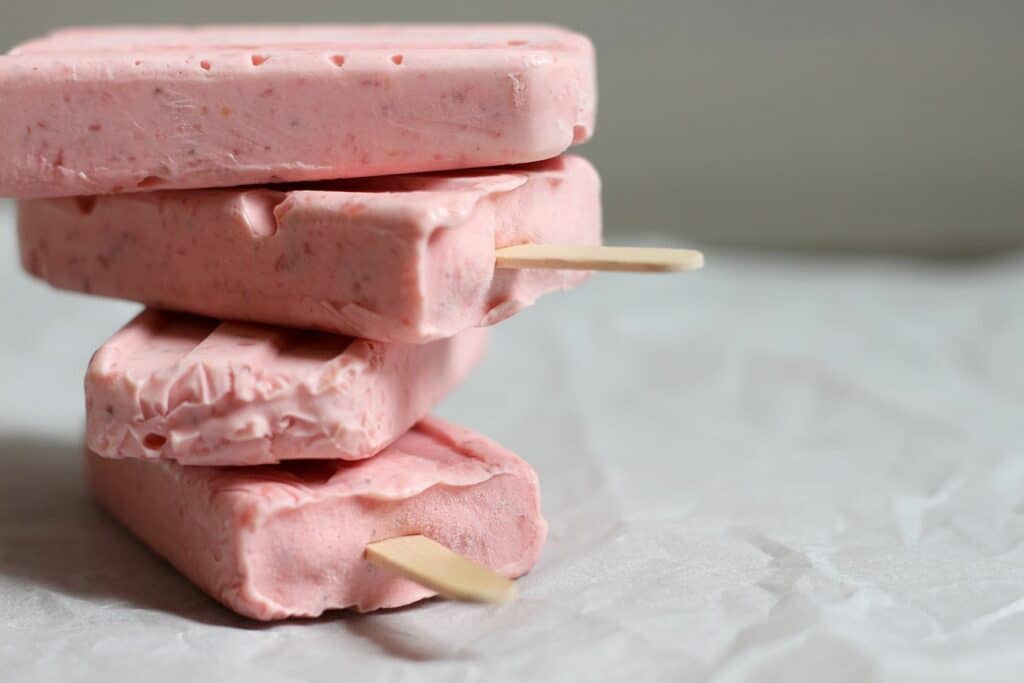 Moving on to one of the prettiest and best tasting ice creams I've ever made. Seriously, I was kind of surprised at how addicting it is. If you like lemon, this is perfection. The lemon flavor really comes through, even with so many strawberries in the mix. It's tart and sweet and creamy, overall I'd say it's the perfect summer treat to cool off with.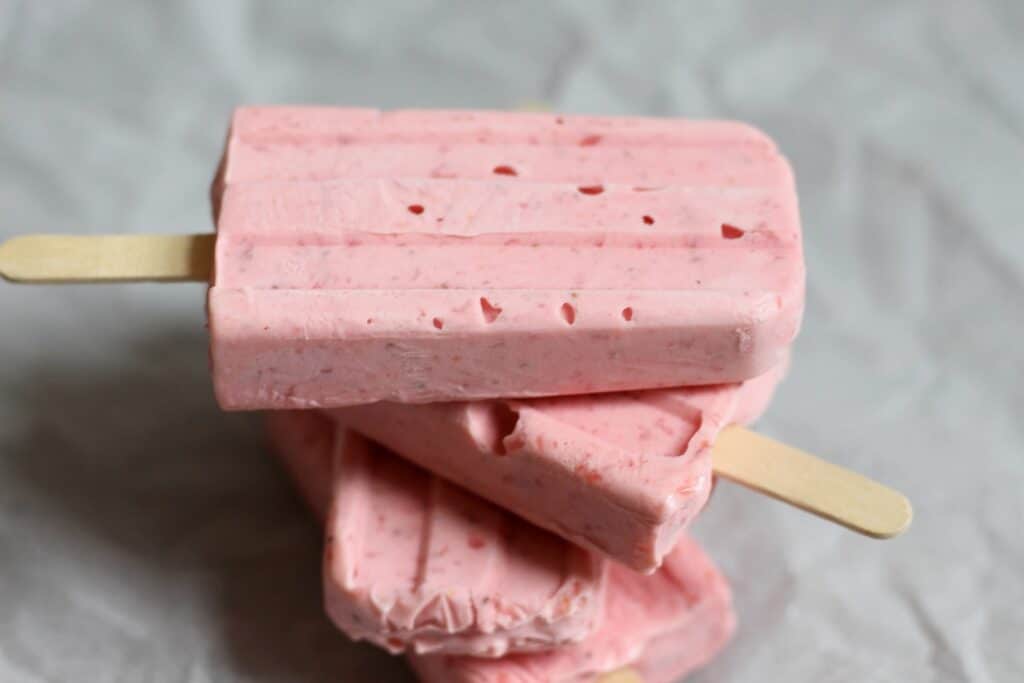 The process of making pops is fairly lengthy, but it's mostly freezing time, so it's low effort. Basically, for ice pops which are more water-based and use a thin liquid, you want to fill your molds, and partially freeze them. Then, you'll place the sticks in, and fully freeze before removing them from the molds.
For this recipe, however, the ice cream base is thick enough on it's own to hold up the sticks right away. That means you can simply spoon your molds full, place the sticks in, and freeze until completely solid. When it's time to remove them from your tray, you'll want to fill a large pan, that is high enough to cover your mold, with warm water. You can set the mold in the water for about 30 seconds, and then simply pull your pops out!
This recipe makes about 24 pops, so several batches of freezing. You can keep your ice cream mixture in the fridge between batches, or you can simply freeze the rest as a scoop-able ice cream for later!
Enjoy!
Creamy Strawberry Lemonade Popsicles
Ingredients
2 lbs. fresh strawberries
1 tbs. cornstarch
2 tbs. sugar
1 tbs. water
1 pint heavy cream
1 can sweetened condensed milk
3/4 cup lemon juice
3 tbs. grated lemon zest
Instructions
Wash and hull your strawberries. Cut them in half. In a medium saucepan, cook the strawberries, cornstarch, sugar, and water until boiling.
Remove from heat. Pulse in a food processor or blender until only small chunks of strawberries remain. Cool completely.
Whip your cream until stiff peaks form, and then add in the sweetened condensed milk. Mix in the lemon juice and zest until fully incorporated.
Mix in the blended strawberries until fully combined.
Spoon mixture into your ice pop molds, add the sticks, and freeze until completely hard, 4-6 hours.
Wrap each pop tightly in plastic wrap to store in the freezer!
https://www.dougheyed.com/creamy-strawberry-lemonade-popsicles/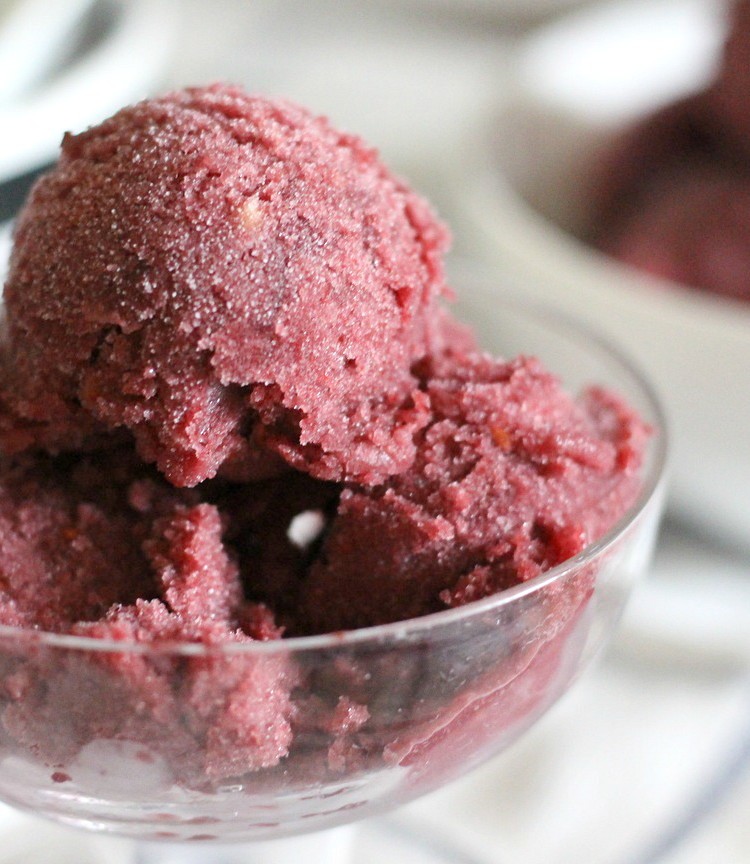 Summer is here in Colorado, and it's not playing nice about it. We've been in the 80s and 90s for a while now, and my swamp cooler is down currently, which means I need something else to cool me off.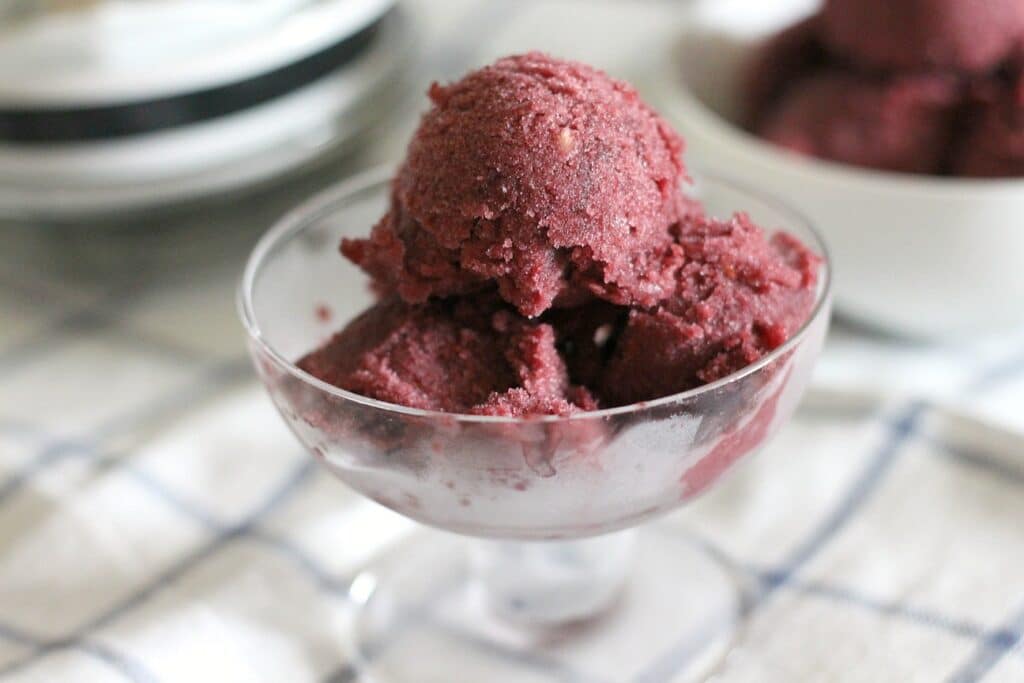 Something you may not know about me- I don't really prefer summer. I really love winter actually, and I hate what the heat does to my hair and skin. Also, I like all my winter clothes much better. (I know, I know, everyone thinks I'm crazy).
Alas, I still live in a state where the summer season and heat occurs right on schedule every damn year, so here I am with some sorbet to help us all get through it.
The first time I made this flavor of sorbet was because I was headed to a BBQ at a friend's house, and she can't eat dairy. Sorbet is maybe the best solution for a summer dessert without dairy, honestly. It's mainly just frozen fruit, with a couple of small ingredients to throw in, and it turns into something super flavorful and awesome.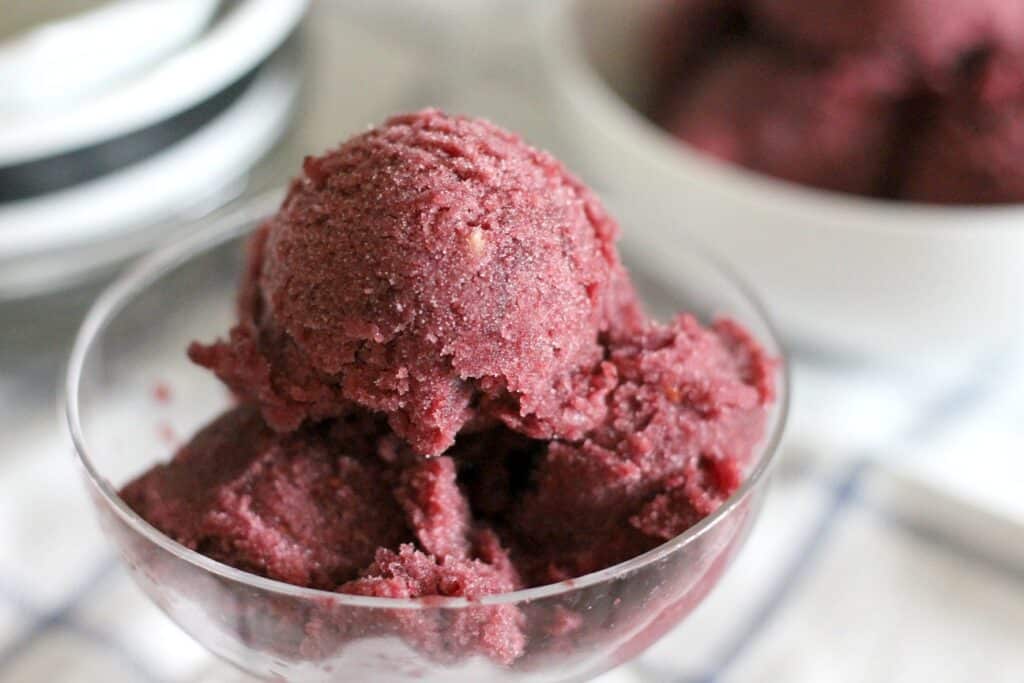 This is a no-churn recipe, but you do need a food processor or a blender that can handle ice. The main reason we churn ice cream is so that it freezes slowly, while moving, in order to lessen the amount of ice crystals being formed on the end result. similarly with sorbet, we want to work with frozen fruit. As you work through the recipe, the fruit will thaw a bit, but overall this will allow for that partially-freezed-before-the-freezer goal, and will result in a creamy delight.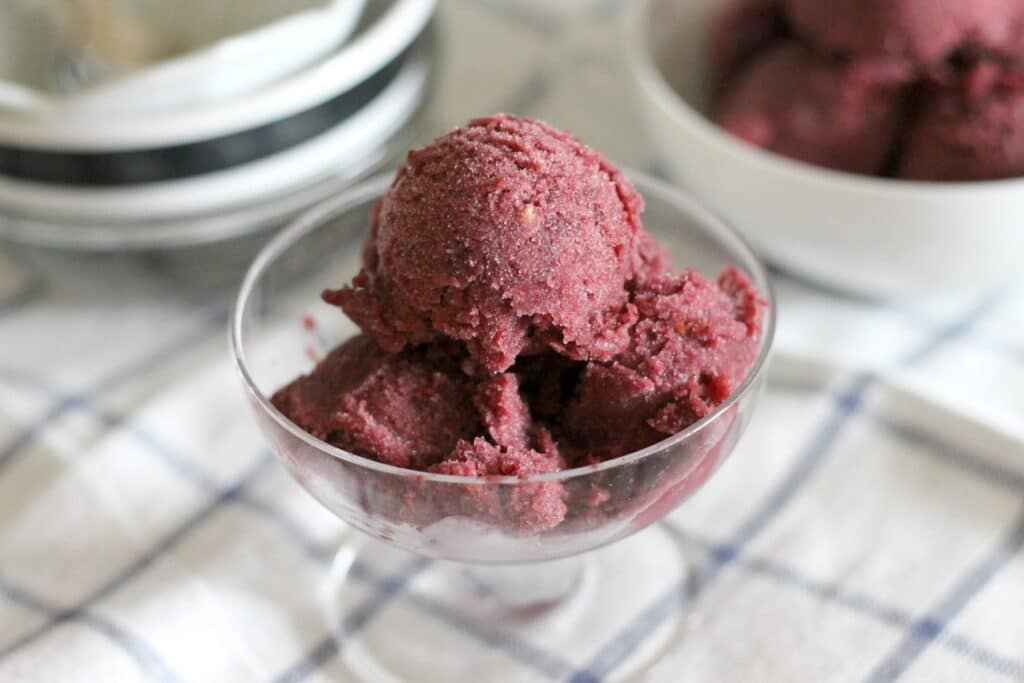 If you aren't in a dairy-free house or if you don't like almond milk and don't want to buy it, just use regular milk in place! You can also use soy milk if you prefer. I'm using a sweetened vanilla almond milk because that's the kind I like best. Adding some form of a milk product helps the sorbet get a smooth, less crumbly and icy texture.
This is a 4 ingredient recipe, and just takes a few minutes to whip up.
Enjoy!
Ingredients
1 16oz. bag of frozen peaches
1 cup frozen blackberries
1/3 cup sugar
1 cup almond milk
Instructions
In a food processor or ice friendly blender, pulse together the peaches, blackberries, and sugar until crumbly. The mixture should be a lot of small chunks of fruit, and should be even- no giant chunks hiding in the corners.
Add in about half of the almond milk and pulse several more times.
Add in the remaining almond milk, and scrap down the bits near the top.
Blend until completely smooth. You may have scrap down the mixture a few times to ensure everything gets blended completely.
Pour the mixture into a freezer-safe container, and freeze completely before serving.
https://www.dougheyed.com/peach-blackberry-sorbet/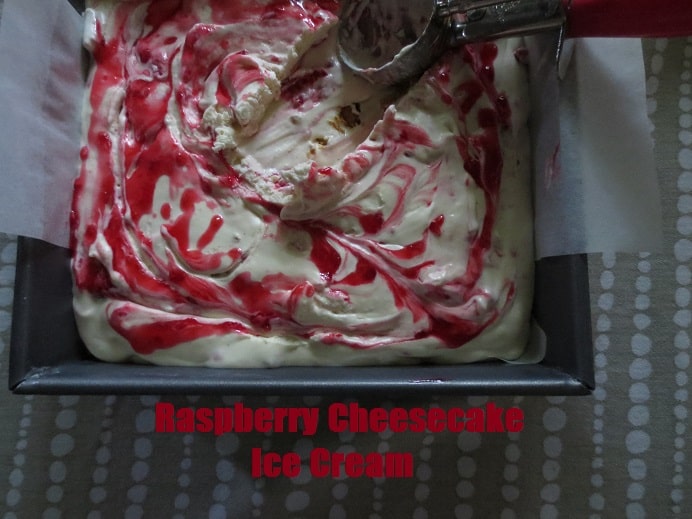 Even though if you're in Colorado you know we are having a less-than-summery day today, it's still the season for cold treats! A couple of years ago my fiance bought me an ice cream maker and it's one of my favorite gifts I've ever gotten! The possibilities are endless for homemade ice cream.
Just think about it- when you're in the ice cream section of the grocery store, how many flavors of that stuff do they have? Not sure? That's because ice cream is sooooooo versatile. You can add fruit, nuts, sauces, cereal, salty snack, really anything you'd like to a solid base of ice cream. Then you can churn it, and, like so many other things, there's really no comparison to fresh-made ice cream at home.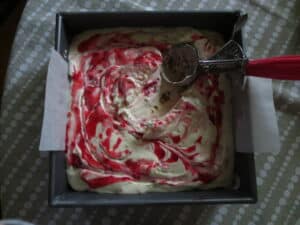 Over the last couple of years I've tried tons of different recipes for ice cream and frozen yogurt. This time around, I tried something new for my recipes. I've traditionally used custards, and then simply churned them from there. For this recipe, however, I made a sort of sweet cream cheese mousse and then mixed in some standard vanilla custard to make a lighter, more airy ice cream.
Because the texture of this recipe ends up so fluffy before freezing, you can make it without an ice cream making if you don't have one. I do think the churning process gives it a bit of a different texture, but the base is really delicious so I know it will be great either way. Enjoy!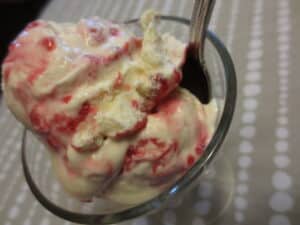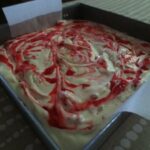 Raspberry Cheesecake Ice Cream
Ingredients
For the custard
1

cup

half and half or whole milk

1/2

cup

heavy cream

Vanilla

1

egg

3

egg yolks

1/2

cup

sugar
For the raspberries
1 6

oz

package fresh raspberries

1/2

cup

sugar

1

tbs.

water

1

tsp

cornstarch
For the ice cream
1 8

oz

block of cream cheese

softened

1/2

cup

sugar

1 1/2

cups

heavy cream

2-3

honey graham cracker

broken into small pieces
Instructions
For the custard
Bring the half and half, heavy cream, and vanilla to a simmer over medium heat in a medium saucepan.

In a bowl, whisk together the egg, yolks, and sugar until pale.

Take about a half cup of the boiling milk mixture and pour it into the eggs, whisk to temper.

Immediately pour the egg mixture back into the pot with the rest of the hot milk, and cook on medium heat, whisking constantly, until thick.

Pour the custard through a fine mesh sieve, and place in the fridge to cool.
For the raspberries
Place the raspberries, sugar, and water in a small saucepan. Cook until sauce has formed.

Add the cornstarch, and cook for a few more minutes until slightly thickened. Take the raspberries out with a slotted spoon, and reserve the juices for later.

Cool the raspberries in the fridge.
For the ice cream
With an electric mixer, beat together the cream cheese and sugar until smooth. Add in about a half cup of cream, and beat until fluffy.

Add in the rest of the heavy cream, and beat until completely stiff.

Once the custard has cooled, slowly add this into the cream cheese mixture.

If you are using an ice cream maker, churn this mixture until mostly frozen. Then, add in the raspberries and crumbled graham crackers.

Pour into a bowl or pan to store. Then, swirl in some of the reserved raspberry sauce.

Freeze completely and enjoy!