Hey guys! I hope you had a happy July 4th this year! Today we're talking homemade ice cream, which is a bit of a process, but well worth it!
Let me start by letting you guys know that this recipe does require an ice cream maker or churner, and thats some special equipment that can't be skipped in this one. I love this recipe though, and it's full of strawberries with flecks of chocolate running throughout. Let's do it!
How to Make Strawberry Chocolate Chip Ice Cream
First and foremost, don't forget to put your ice cream maker bowl in the freezer if you have that kind of ice cream maker. We do have to chill the ice cream before churning for quite a while, but you just want to make sure that bowl is completely frozen!
We're starting out by making the custard base for the ice cream. Let's heat up some milk, heavy cream, sugar, and salt in a medium saucepan over medium heat until it's just boiling. Meanwhile, in a medium bowl, whisk together egg yolks, a touch more sugar, and some cornstarch until it gets thick and pale.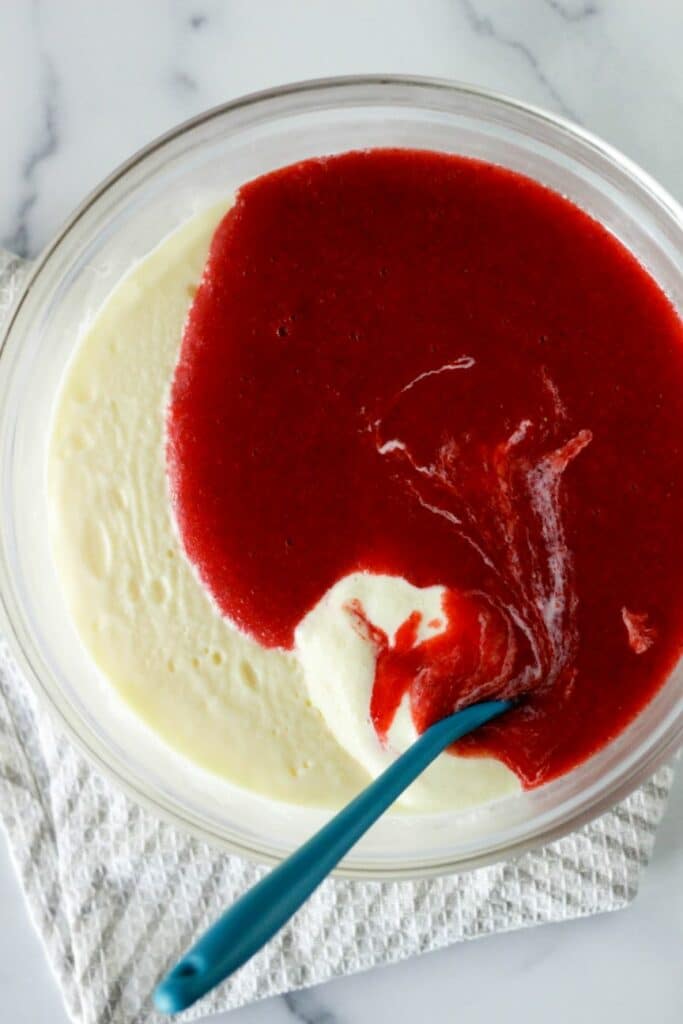 Then, we're tempering the eggs by slowly pouring in some of the hot milk while whisking together. Add it all back to the pot, and then cook it over medium-high heat, whisking constantly, until you've got a thick custard. We've got to be patient and cool that bad boy in the fridge for at least 4 hours, or until it is fully chilled, and thickened.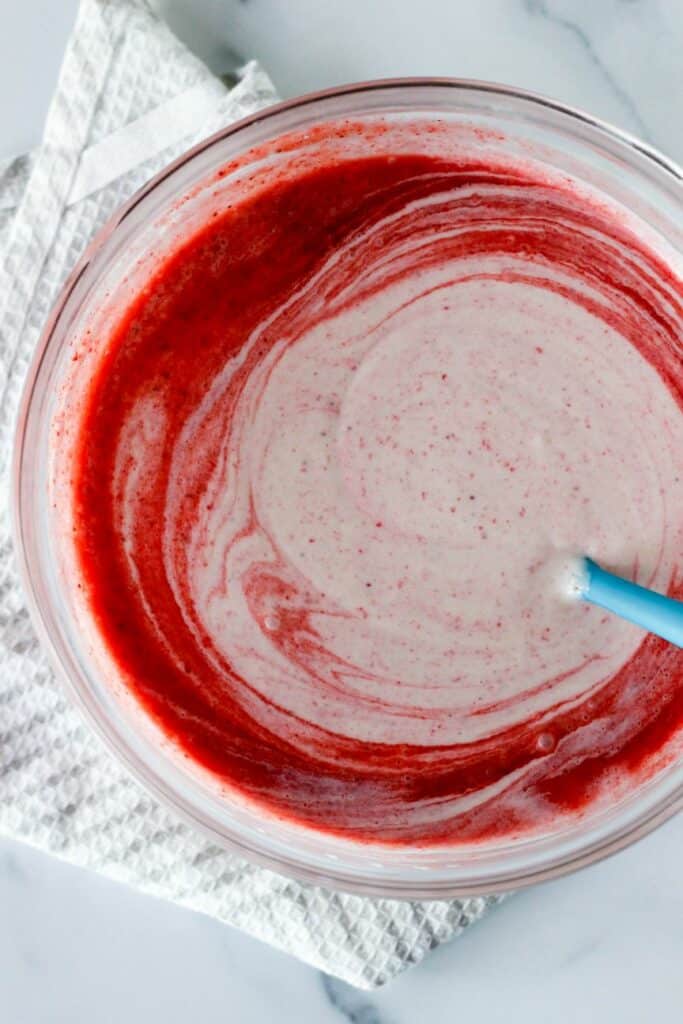 Once that's done, we're taking a pint of fresh strawberries, or about 8 ounces of thawed, frozen strawberries, and blending them in a blender until we've got a liquid strawberry mixture, which should only take a few seconds in the blender.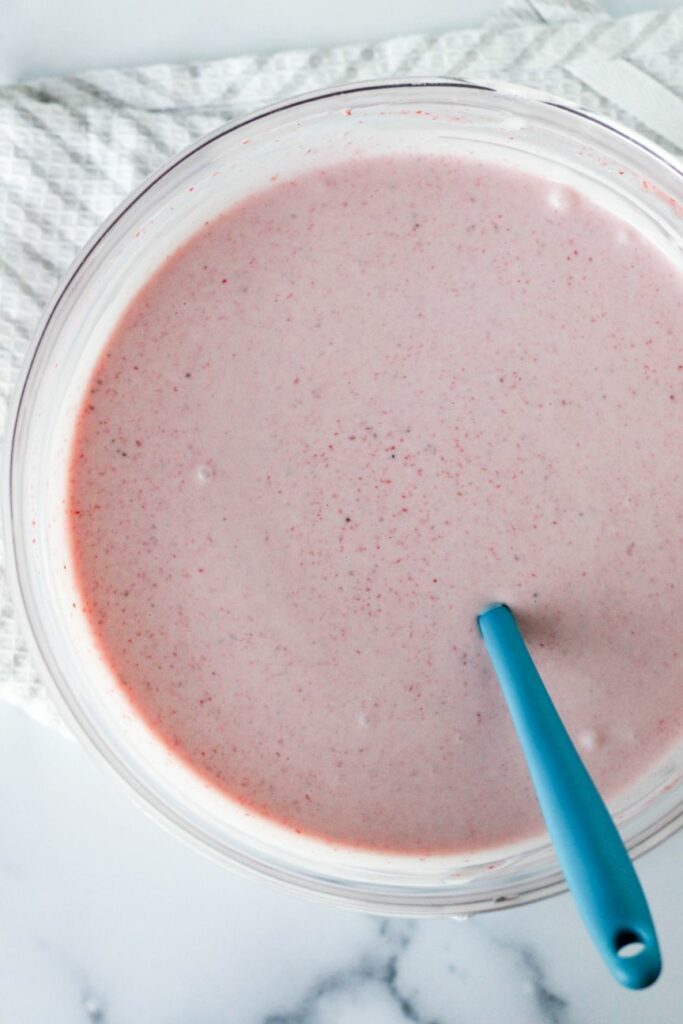 Stir that stuff right into the chilled, thick custard. This will make the custard a bit thinner, which is okay! Then it's off to the ice cream maker to churn away for about 20 minutes, or however long your ice cream maker takes.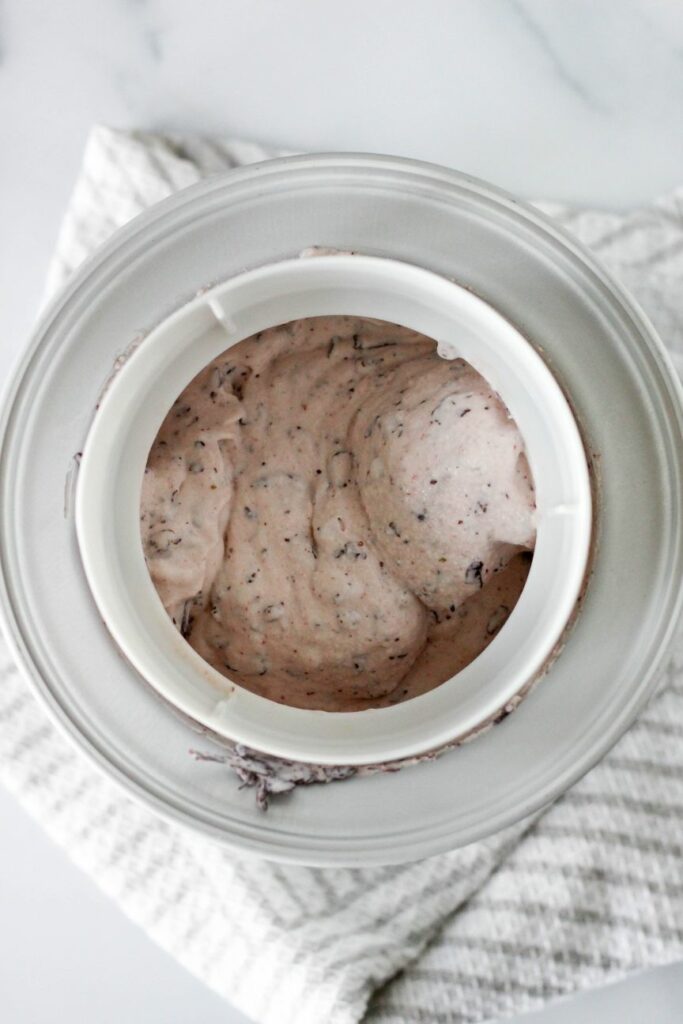 At around 10 minutes in, or when it is about the consistency of a milkshake, you want to very slowly start to drizzle in the melted chocolate. This helps create those delicate little pieces of chocolate that run throughout!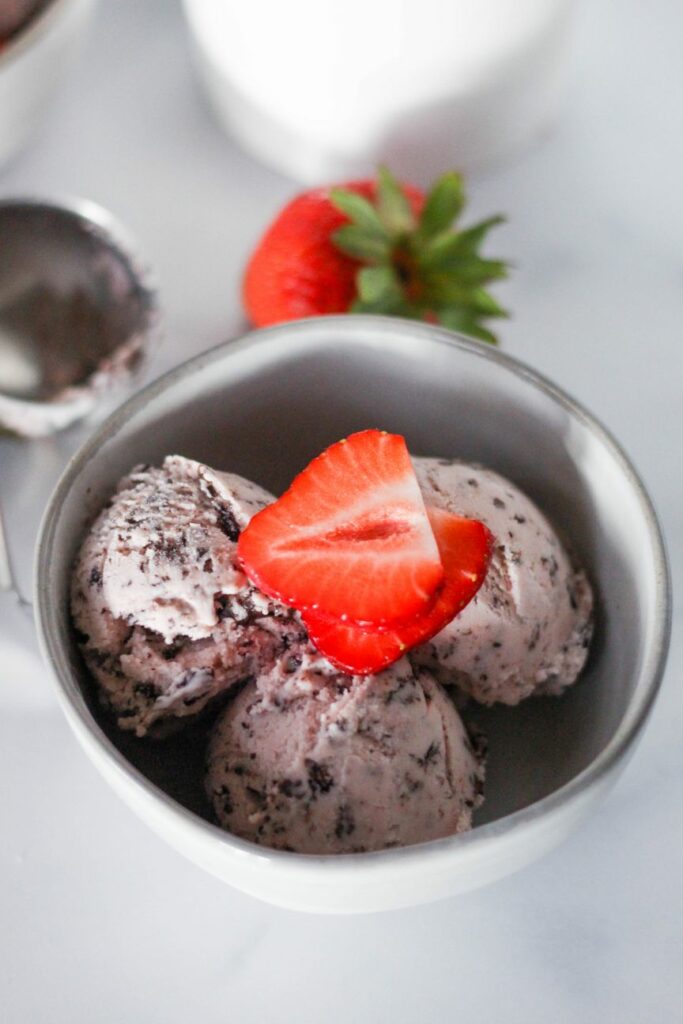 Once churned, it's off to the freezer to harden, and then into your bowls! I love homemade ice cream, there's just something about the process that makes something really satisfying. Enjoy this summer treat guys!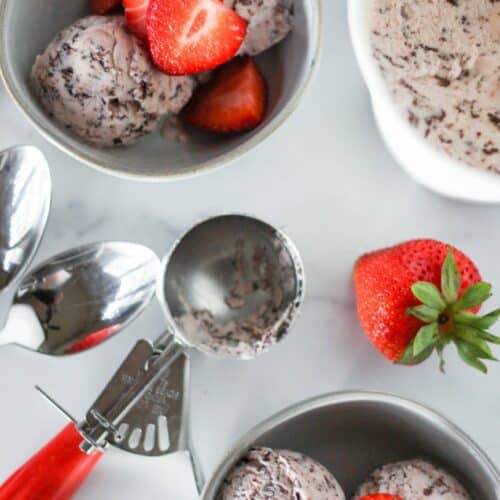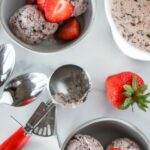 Strawberry Chocolate Chip Ice Cream
Ingredients
3/4

cup

milk

1 3/4

cup

heavy cream

3/4

cup

sugar

1/4

tsp.

salt

5

egg yolks

1

tbs.

cornstarch

2

tbs

sugar

1/2

pound

frozen, whole strawberries, thawed

3

oz.

dark chocolate

1

tsp.

canola oil
Instructions
First, make sure your ice cream maker bowl is in the freezer and chilling!

In a medium saucepan, combine the milk, heavy cream, sugar, espresso powder, vanilla extract, and salt. Cook over medium heat, stirring occasionally, until the mixture is just starting to boil.

Meanwhile, in a medium bowl, whisk together the egg yolks, additional 2 tbs. sugar, and cornstarch until the mixture is thick and pale. Once the milk mixture is boiling, slowly pour about 2 cups (no need to measure) of the hot milk into the egg yolk mixture while constantly whisking. Then, pour everything back into the pot, and cook over medium heat, whisking constantly, until the mixture is thick.

Place a fine mesh strainer over the top of a heat-safe bowl, and pour the custard through it to remove any lumps. Then cover the bowl with plastic, placing the plastic directly on top of the hot custard, and chill in the fridge for at least 4 hours, or overnight. The mixture will be thick, and should be fully chilled through.

While the custard chills, place your thawed strawberries in a blender, and blend to a fairly smooth puree. After the custard chills, stir in the strawberry puree until well combined.

Melt the dark chocolate in the microwave, stirring every thirty seconds until fully melted, and stir in the canola oil until combined and smooth.

Churn the ice cream according to your ice cream maker's instructions. Once it has reached about the consistency of a milkshake, start to slowly drizzle in the melted chocolate mixture with the ice cream maker still running. The chocolate will freeze and break into tiny pieces as it churns.

Pour the churned ice cream into your freezing container of choice, and freeze for at least 2 hours until hardened before serving. Enjoy!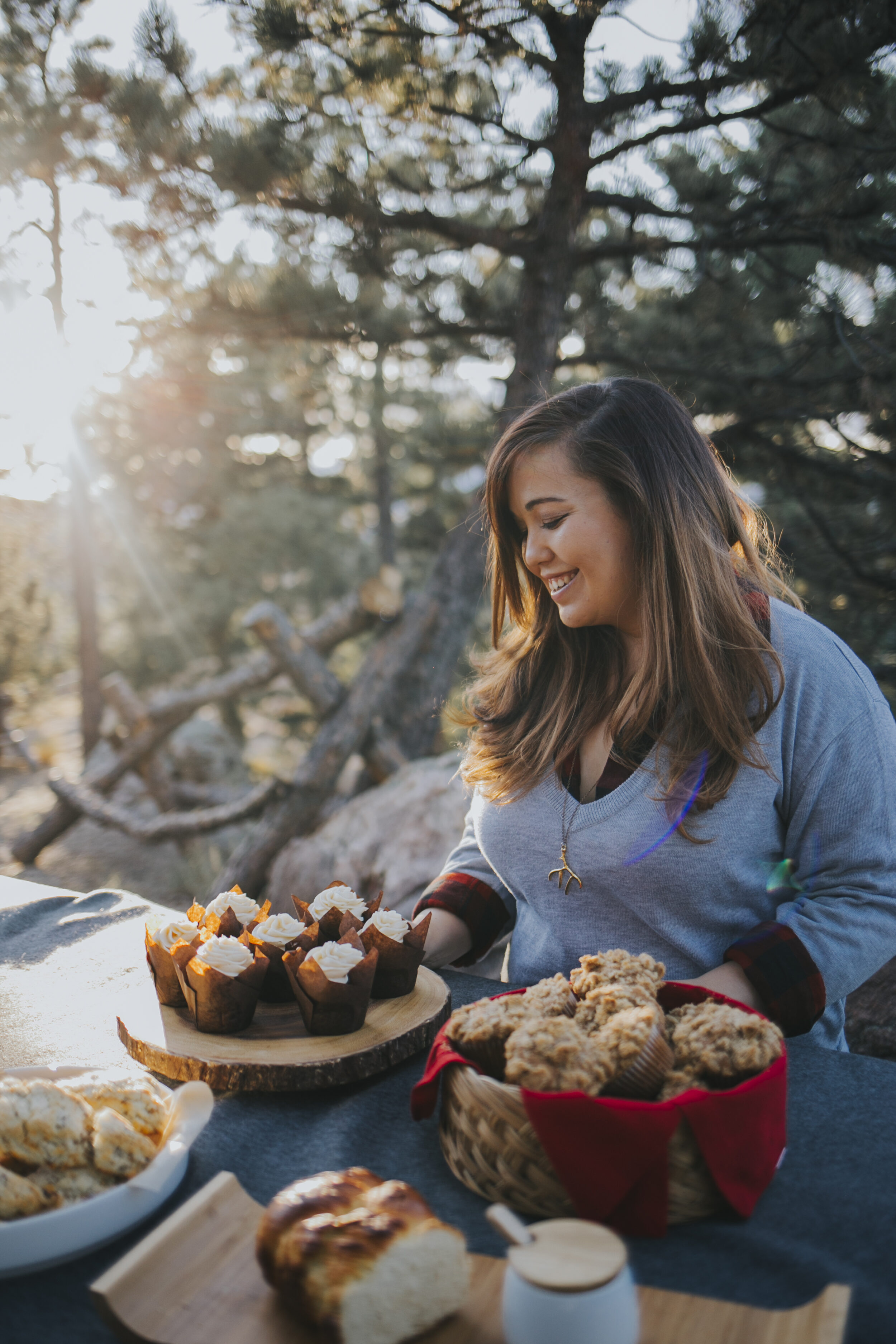 Hello and welcome! My name is Nicole, and Dough-eyed is a food blog for people who want to bake for their family and friends in high-altitude areas. Think of me as a friendly voice there with you in the kitchen, here to give you confidence when you're baking, and to help you with the struggles of baking at high-altitude. Come back every week for new recipes, tips, and advice on high-altitude baking!