Pretzel Bites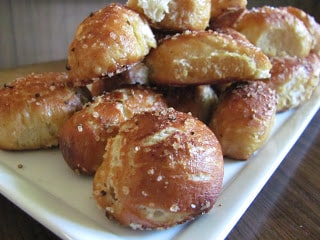 I've recently been experimenting with different bread baking, which I've always found very intimidating. Some of them have been a success, like these pretzel bites, and others not so much. I tried dinner rolls a few weeks ago, and while they did eventually turn out pretty good, they were all very oddly shaped and I ended up re-baking them two or three times after tasting them.
When I saw the recipe for these pretzel bites, I knew I had to try it. Even though they are extremely overpriced at the movie theaters, I always, ALWAYS have to get the pretzel bites with nacho cheese when I catch a flick. Even if I'm not hungry.
I got this recipe from BeantownBaker, a blogger I really love, so you should check her stuff! It sounds a little complicated, but it's actually surprisingly easy. I've made them a few times now and if you've got a friend to make them with you, it's even easier. Hope you love them as much as I do, and that they can replace the pricey theater kind for you too!
Ingredients
1 ½ cups warm water (around 125 degrees)
2 tbs. brown sugar
1 pkg. active dry yeast
6 tbs. melted butter
2 ½ tsp. salt
4 1/2 – 5 cups flour
2 quarts water
¼ cup baking soda (that's right, a whole quarter cup!)
1 egg beaten with a little water
Course salt for topping
Instructions
-If you have a stand mixer, use the paddle attachment. If not, a hand mixer will work. In a large bowl, mix together warm water, brown sugar, yeast, and melted butter. Let stand for about five minutes.
-In the meantime, mix together the salt, and 4 ½ cups flour
-Add the flour mixture to the yeast mixture and combine until dough pulls away from the sides of the bowl. The dough shouldn't be too sticky, so use more flour if needed.
-Knead the dough on a flat surface for about five minutes, and form into a ball. Grease a medium bowl with a small amount of oil. Toss the dough in the bowl, flipping to coat the top. Loosely cover with plastic wrap, and let the dough rise for about an hour, or until it has doubled in size.
-Preheat your oven to 425 degrees. In a large pot, bring two quarts (eight cups) of water to a boil. Add the baking soda to the boiling water quickly and be careful because it might splatter!
-Prepare a large baking sheet with parchment paper or a silpat. I found that I could fit the entire batch onto one baking sheet, but if you don't have a huge sheet pan, you may have to do this in a few batches.
-Divide your dough into four pieces. Roll each piece into a long snake, and then cut off one inch pieces either with kitchen shears or with a knife.
-Use a slotted spoon to boil and remove about ten pieces at time, for about 30 seconds each. You can put the boiled pieces directly onto your prepared sheet pan.
-Then, brush the pieces with your beaten egg mixture and immediately top with salt. I topped mine with coarse salt, pepper, garlic powder, and paprika for a little more flavor. Bake for about fifteen to twenty minutes, until golden brown!
https://www.dougheyed.com/pretzel-bites/
Comments