Hey guys! Today we're making cookies, but like, giant ones. These cookies are full of sprinkles, and white chocolate chunks, and just general delight. They are some of the yummiest cookies I've ever made, and you'll want the whole giant thing, I promise!
I went for Birthday Cake this time around in terms of flavor because it's kind of universally loved. I'm so here for all the sprinkles and sugar-y goodness. Let's get to it!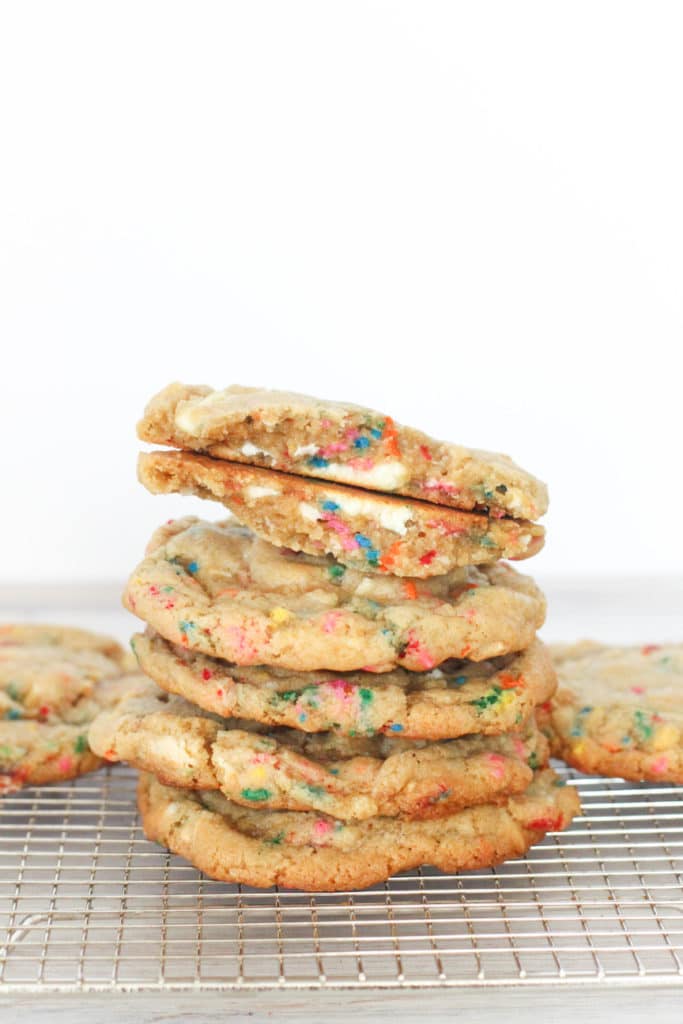 How to Make Birthday Cake Cookies
These cookies start with cold butter, and because of that it can be really difficult to make them in anything other than a stand mixer. However, we are going to freeze the cookies before baking, so you can use slightly softened butter if you're using a hand mixer. You want to keep it as cold as you can while still being able to beat it.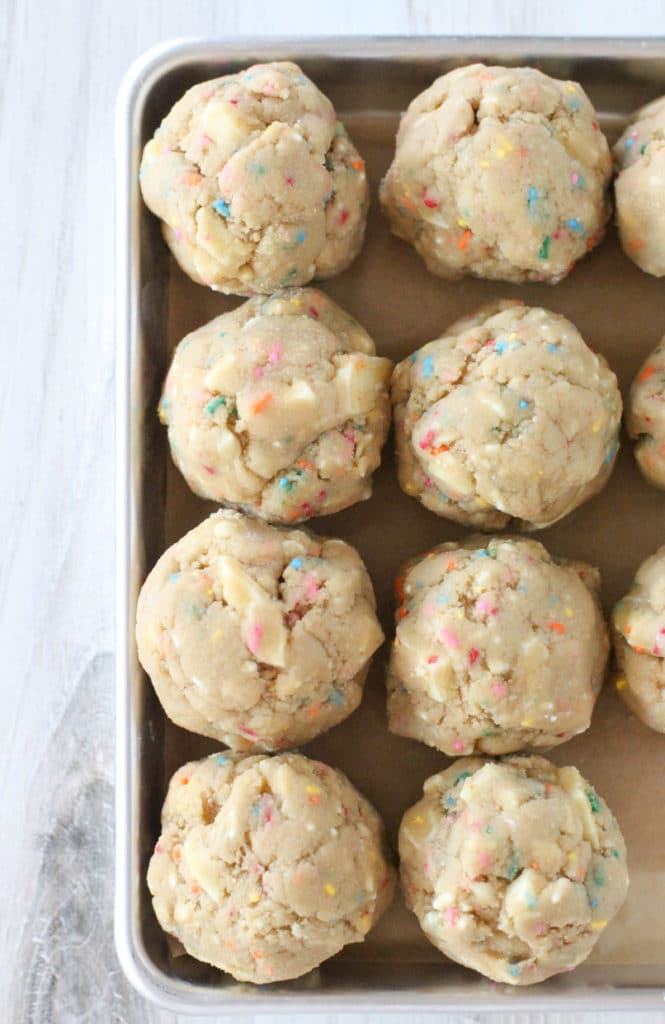 We're just combining butter and sugars, just like a normal cookie, but it won't really fluff up like normal. Just beat things together for a few minutes, until it's fairly combined, and there are just small lumps of butter running throughout. Then we're adding in the eggs, vanilla extract, and almond extract. Almond extract really makes these taste like your classic birthday cake.
Finally, we're adding in the flour mixture, sprinkles, and chopped white chocolate. I like to get bars of white chocolate and chop them up because then you get all different sized pieces running throughout. The dough will be very thick, and cold, so it takes a bit of working in the mixer. Just keep going until everything is very well combined.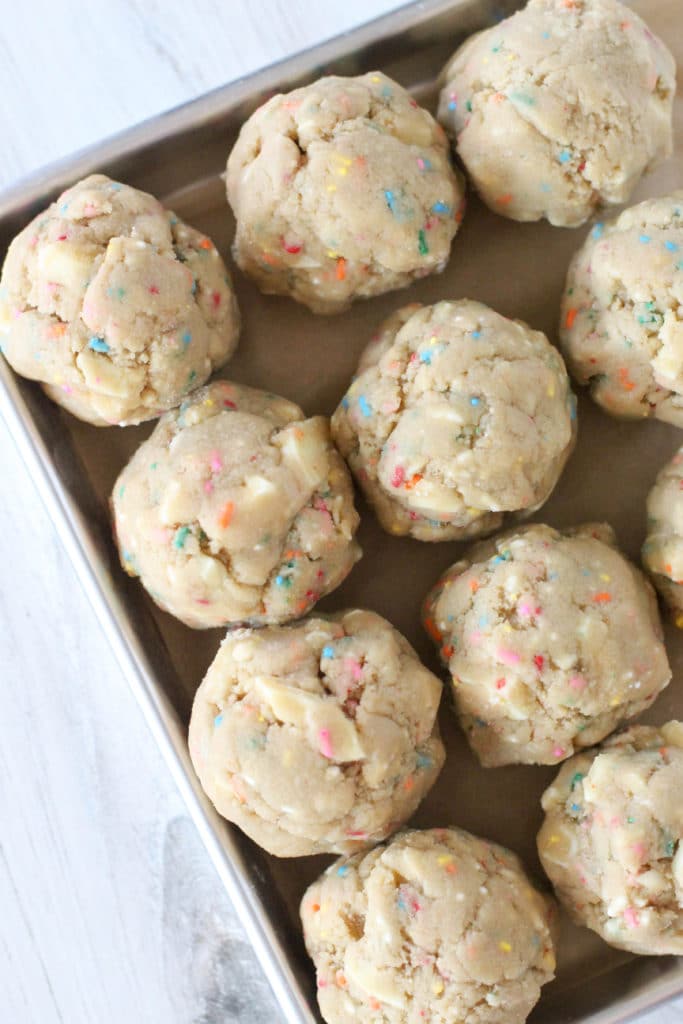 Now, onto shaping the cookies. This part is really important. First of all, we're making BIG cookies, so we're using about 1/3 cup of dough for each cookie, which is a lot! You want to just gently press the dough together, but don't fully roll it up into a ball. You want it to hold, but not be tightly packed.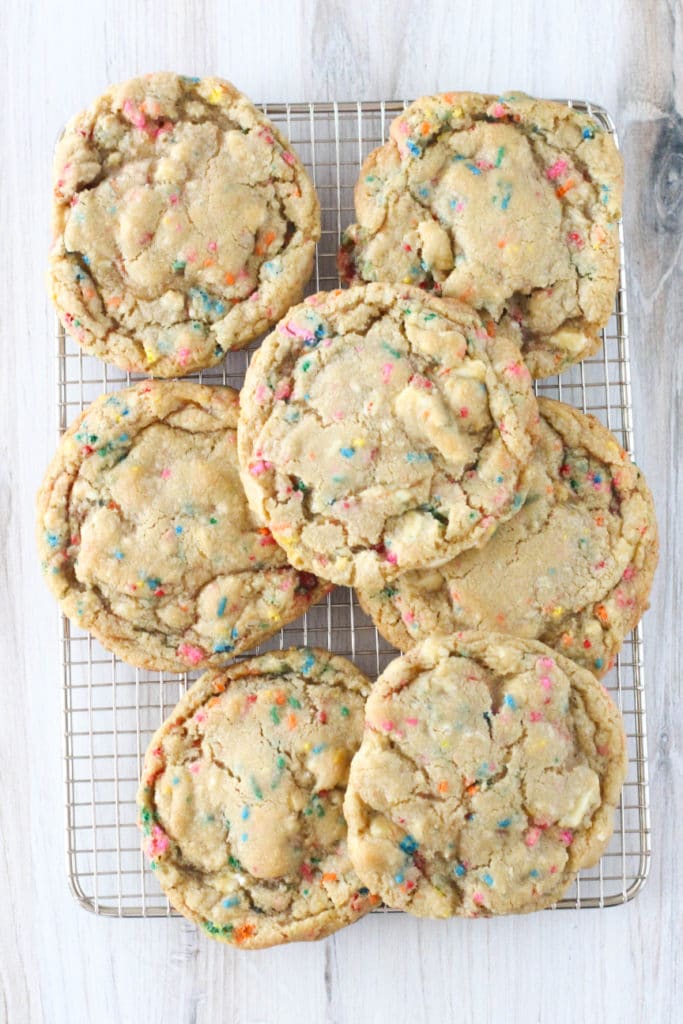 And then it's off to the freezer. Here's the wonderful thing, you can just freeze the cookie dough, and leave it there as long as you want, so feel free to just bake a couple at a time. Since they bake straight from the freezer, you can just have cookies on hand pretty much anytime! Freeze them solid, and then pop them into the oven, and bake to enjoy!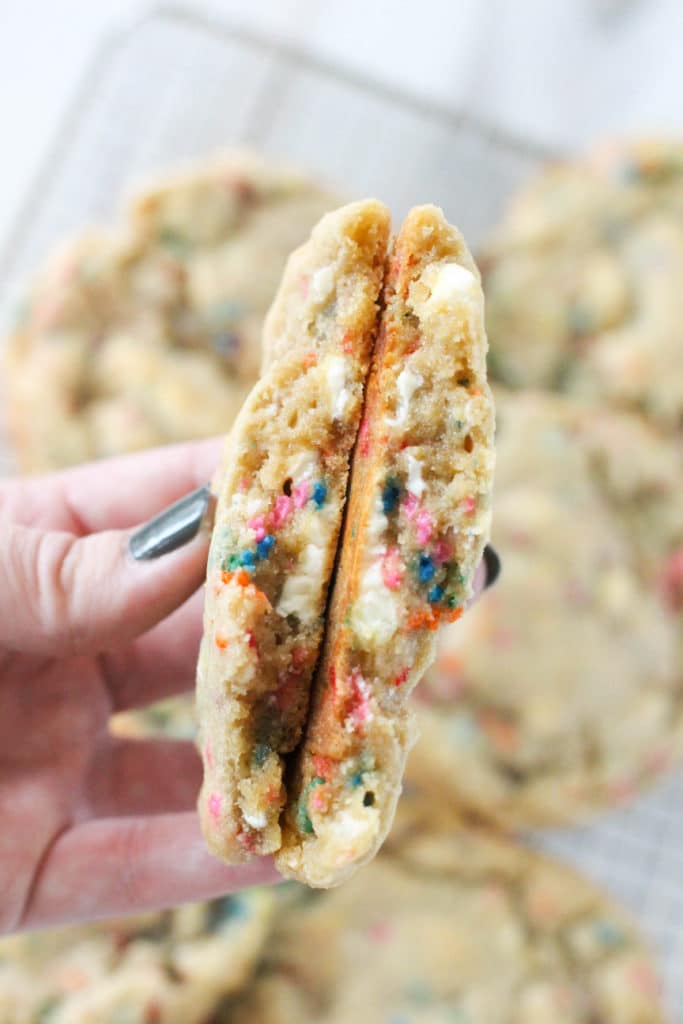 Tips & Tricks For Birthday Cake Cookies
These are kind of different from a normal cookie, so I've got some tips to help you along the way:
Use cold butter like straight from the fridge cold. I greatly prefer using a stand mixer for this recipe because it has the power to handle mixing cold butter, but be sure to use a metal paddle attachment that won't break!
Don't pack the dough together by scooping it or rolling it together. You want it to just be gently pressed into a ball, and it doesn't have to be perfectly round. This helps them bake up thick!
Freeze the dough fully which also helps keep the cookies from spreading too much as they bake. Once the dough is frozen, you can transfer it to a freezer bag and keep it in the freezer for cookies whenever you want them!
These make GIANT cookies and the whole batch only makes about 15 cookies. You can bake them slightly smaller, but be sure to watch the bake time closely if you do, and don't over-bake them!
The butter will clump while you mix but don't worry. We're using cold butter here, so it won't fluff up and mix evenly like you may be used to. It's ok if you see a couple of small chunks throughout as you mix, but once you add the dry ingredients, it should mix in more thoroughly.
Almond extract makes it taste more like cake but you can also use imitation vanilla extract for a similar effect. I prefer this combo because I think the flavor is more pronounced.
I'm at about 5,000 ft above sea level and I find that most people who live between 3,000 ft and 7,000 ft above sea level do not need to make any adjustments to my recipes.
Hope you guys enjoy these ones, they are SO good!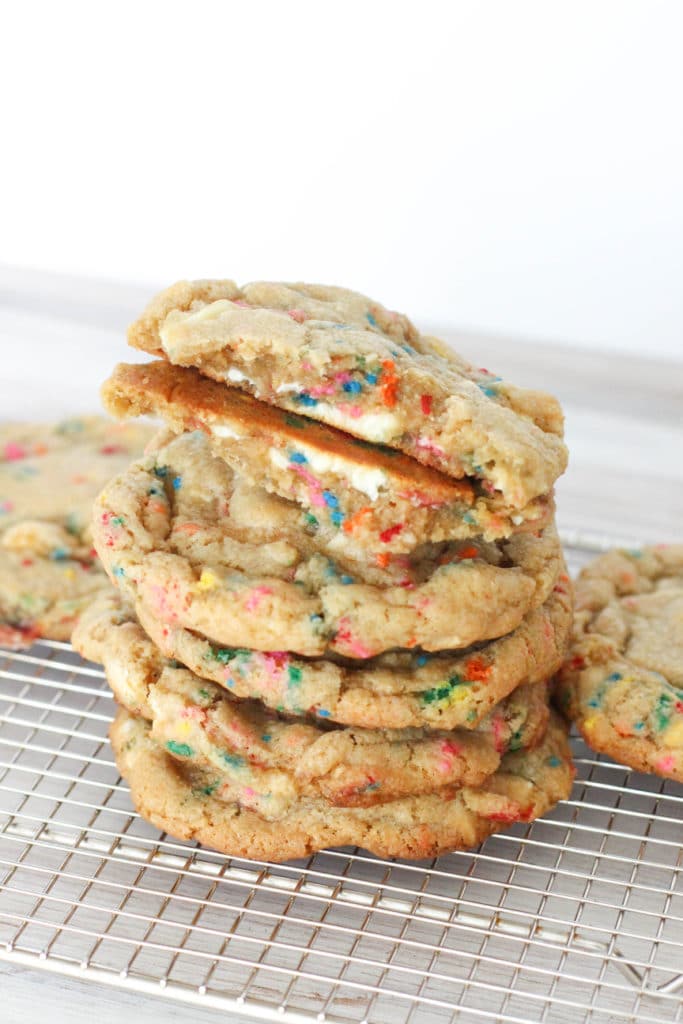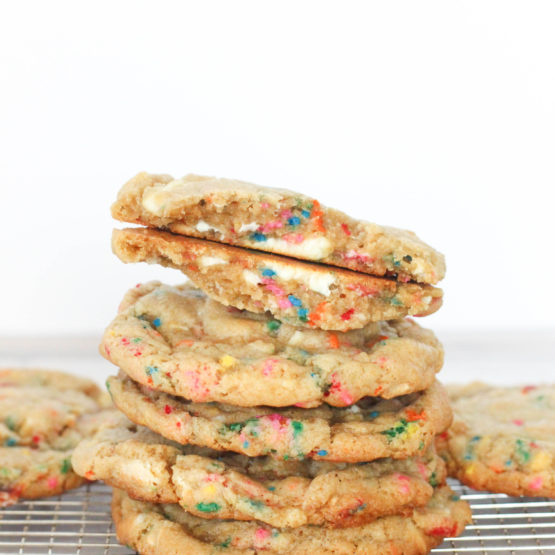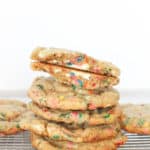 Giant Birthday Cake Cookies
Ingredients
3 1/4

cups

all-purpose flour

1

teaspoon

salt

3/4

teaspoon

baking powder

1/4

teaspoon

baking soda

2

sticks cold unsalted butter

cubed

1

cup

granulated sugar

1

cups

packed dark brown sugar

2

large eggs

1

tbs.

vanilla extract

1

teaspoon

almond extract

1 1/2

cups

white chocolate chunks

1/2

cup

rainbow sprinkles
Instructions
In a medium bowl, stir together the flour, salt, baking soda, and baking powder. Set aside. In the bowl of a stand mixer, add the cold butter, granulated sugar, and brown sugar. Using the metal paddle attachment, beat together until combined. Since the butter is cold, it won't fluff up like normal, but instead you'll have a sandy mixture with small chunks of butter running throughout. Beat in the eggs, and the vanilla and almond extracts until combined.

Beat in the flour mixture slowly, until fluffy combined. Mix for several minutes, or until there are no dry pockets of flour anywhere. Finally, add in the chopped white chocolate and the sprinkles, and mix until well incorporated.

Line a small baking sheet or a plate with parchment paper. Form the dough into very large balls, being sure to just gently press the balls today. You do not want to scoop the dough, or roll and press it together tightly. Just gently press it until it holds, and it doesn't have to be perfectly round. You should be using about 1/3 cup-1/2 cup of dough per cookie, and you should get about 13-15 cookies out of the mix. Freeze the cookies for about 1 hour, and then you can bake, or transfer the cookies to a freezer bag to make them whenever you're ready.

When you're ready to bake, preheat your oven to 375 degrees, and line a large baking sheet with parchment paper. Remove the cookie dough from the freezer, and evenly space 4 giant dough balls on your prepared pan. Bake for 14-16 minutes, or until the cookies are large, and lightly golden brown on top. They should be a little bit puffy, and they will settle as they cool. Enjoy!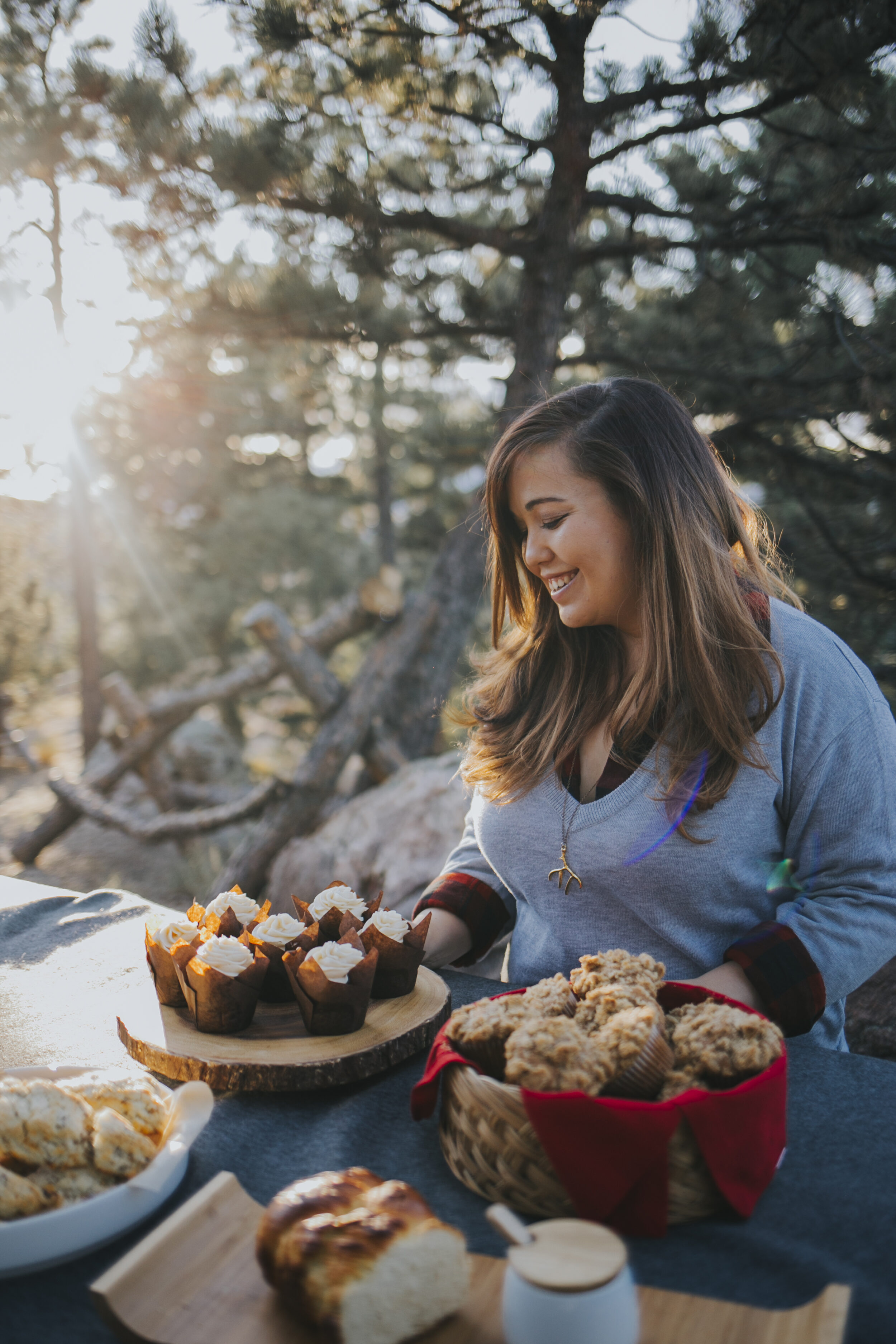 Hello and welcome! My name is Nicole, and Dough-eyed is a food blog for people who want to bake for their family and friends in high-altitude areas. Think of me as a friendly voice there with you in the kitchen, here to give you confidence when you're baking, and to help you with the struggles of baking at high-altitude. Come back every week for new recipes, tips, and advice on high-altitude baking!