Brown Butter Caramel Rice Crispy Treats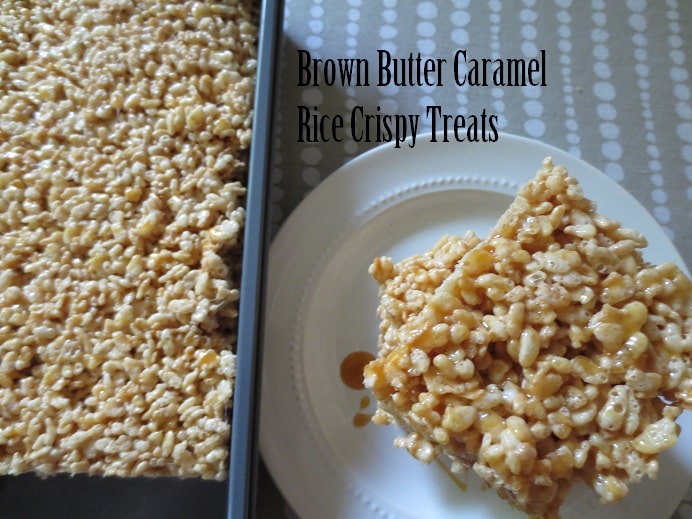 Rice crispy treats are probably my most frequently made dessert item. Why? Because they're super easy, duh! I mean come on, regular rice crispy treats are only three ingredients, and they take ten minutes start to finish. Start to eating time. That's an ideal situation in my book.
I once sat with my friends around a table and we thought of every interesting and possible variation of rice crispy treats we could. Because they're great. In all forms, easy and complicated, whoever thought of rice crispy treats is a genius in my book (Malitta Jensen and Mildred Day, to be exact).
This time I decided to spruce up the old crispy favs with some brown butter and caramel sauce. They're kind of incredible, and really don't take a whole lot more effort on the whole, which is great!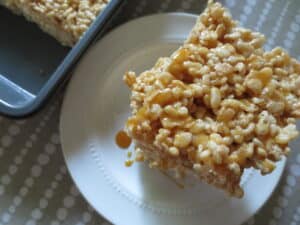 To make brown butter, add the butter to your large saucepan, like you normally would for the treats. Bring the butter to a boil, then begin to stir constantly for 3-4 minutes until you start to see the butter really change in color. Don't burn it, remove it from the heat once it starts to brown, and then add your marshmallows and put it back on the heat.
The brown butter really just adds a touch of depth to the traditional flavor, and brings out the caramel sauce flavor too. I used a store-bought caramel sauce, and you can use whatever brand you like, or even make your own. I didn't make mine because, well, rice crispy treats are supposed to be easy, and caramel is less than easy.
Enjoy!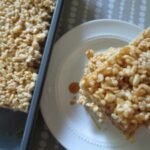 Brown Butter Caramel Rice Crispy Treats
Ingredients
5

tbs.

butter

1

pkg marshmallows

6

or so cups of rice crispy cereal

I tend to eyeball this and then add more as needed

Caramel sauce
Instructions
In a large pot, brown your butter. Remove from the heat to prevent burning. Then, add your marshmallows and put back onto the heat.

Stir until marshmallows are completely melted.

Add in your cereal and stir until combined.

Pour about half of the mixture into a buttered cake pan.

Drizzle caramel sauce on top of this layer. Pour in the rest, and press everything down firmly into the pan.

Drizzle more caramel sauce on top. Cool and enjoy!
Comments