Brown Butter Cookie Bars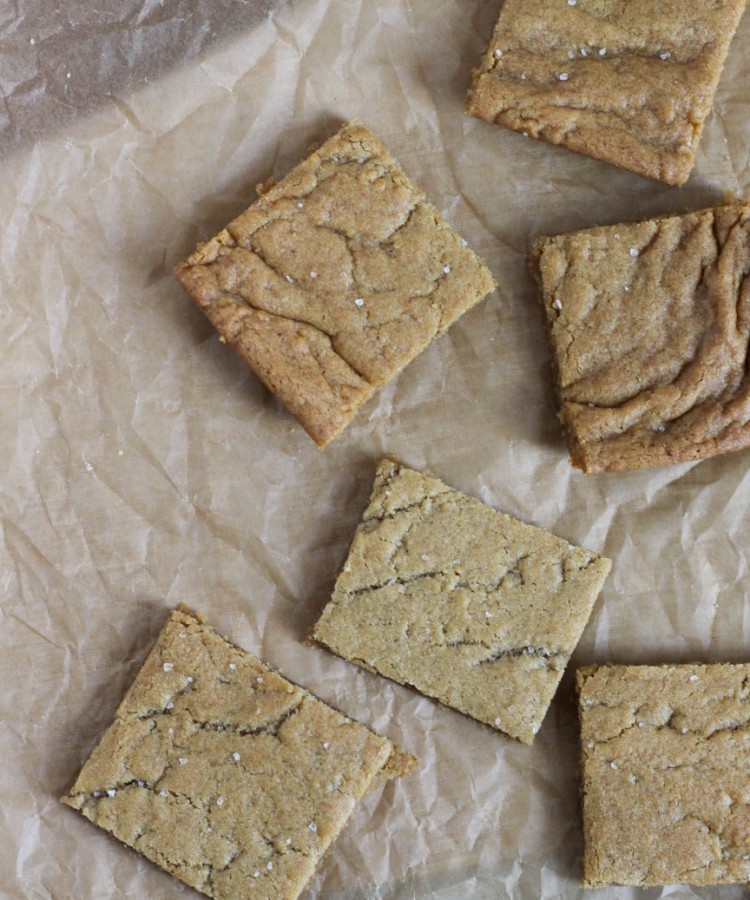 Hey guys!
Today we're making cookie bars, and if you haven't tried making cookies in one giant sheet, now is the time to start. I'm not saying all cookies should be baked this way, but man, it's SO much easier.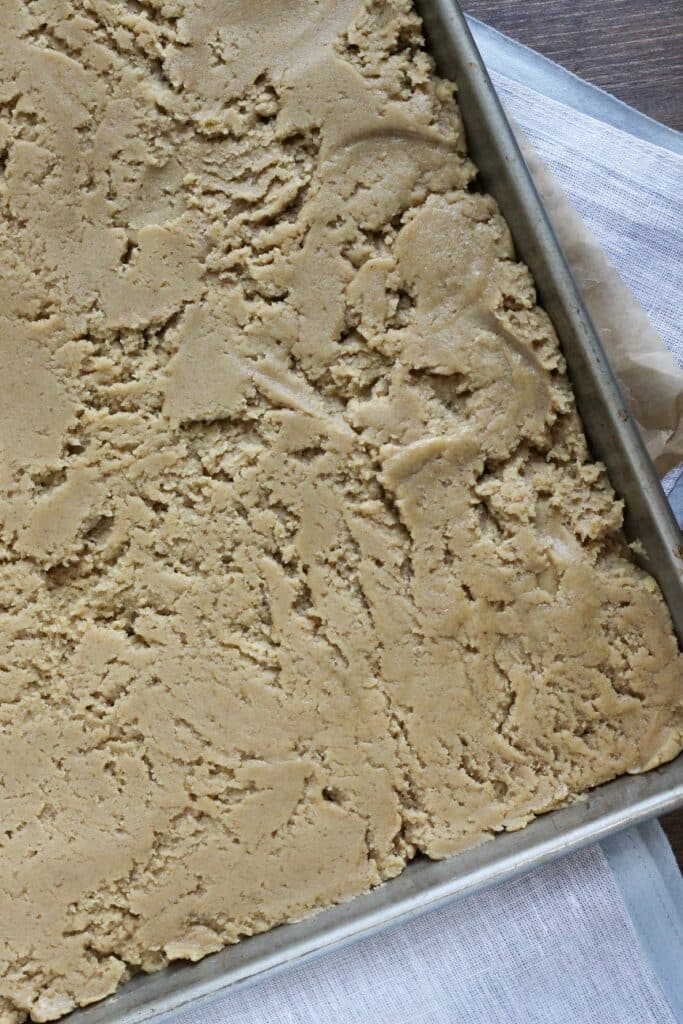 Don't get me wrong, the effect is slightly different when you bake them in one big sheet. You won't get crisp edges around each cookie, for example, if that's what you're into. And sometimes that's right for a cookie.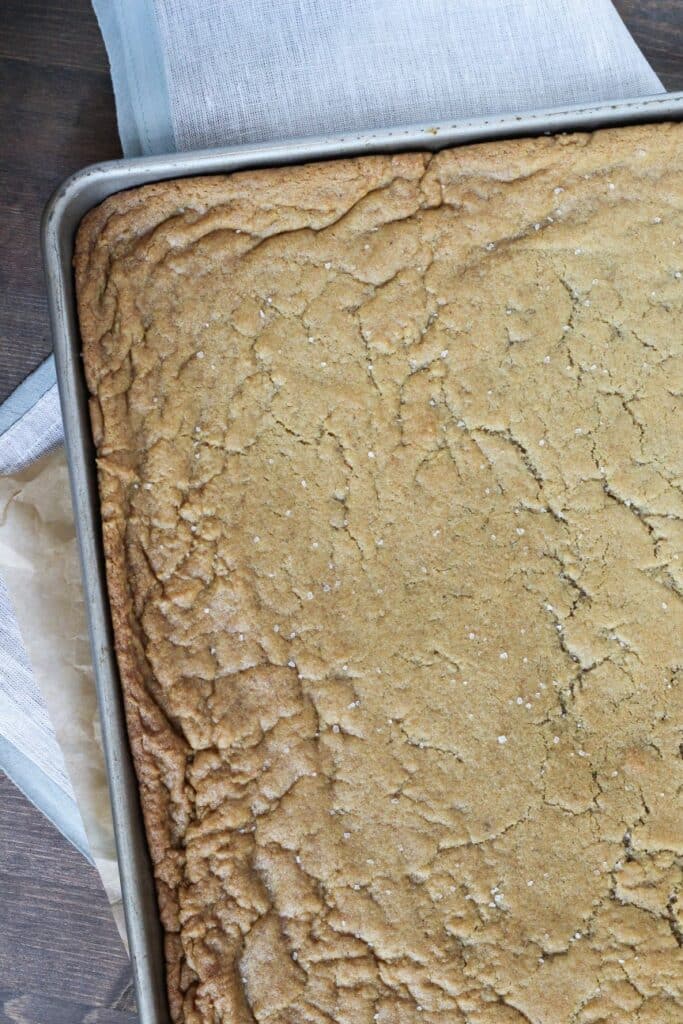 But with these, you can bake the whole dang batch at once, with very little work, and without scooping out cookies and switching pans and baking 4 separate times. So that's a pretty big take away. That being said, you can totally scoop and bake these cookies as well if that's what you're feelin.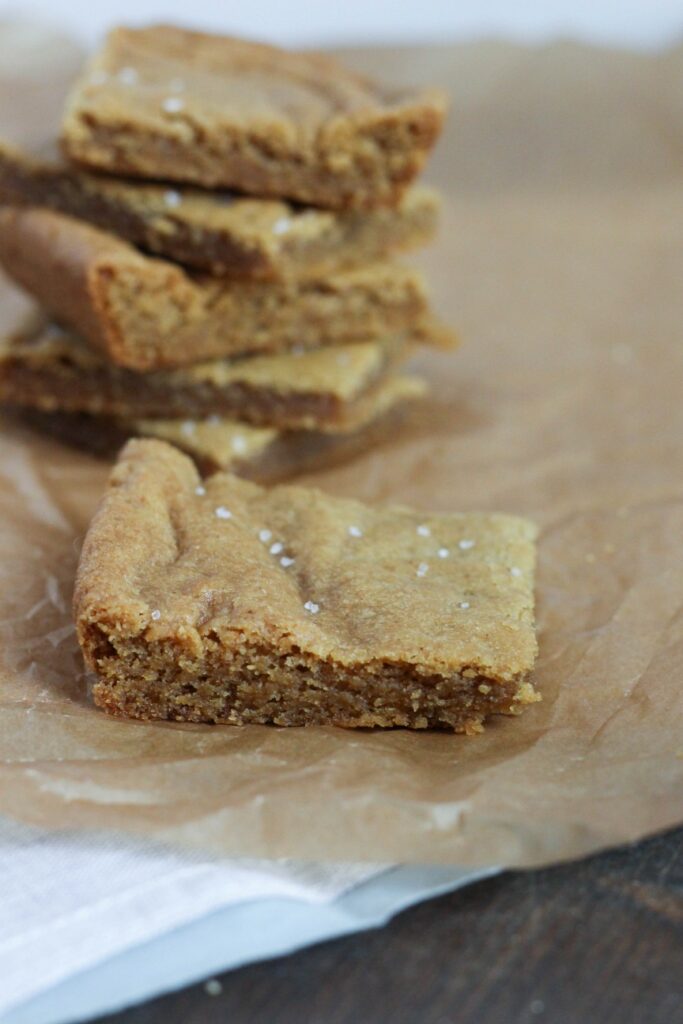 So, these cookies stem from a simple concept- I wanted chocolate chip cookies without the chocolate. I know, I know. Everyone loves chocolate, and me too, but sometimes you aren't in the mood for chocolate. So here we are.
The browned butter kind of just kicks up the flavor on these. It's only barely noticeable, but it's worth it for the overall effect. It's a very simple cookie, which means every little step counts. So we brown the butter. And let it cool back down to room temperature, which can take some time- go watch some TV while you wait or whatever.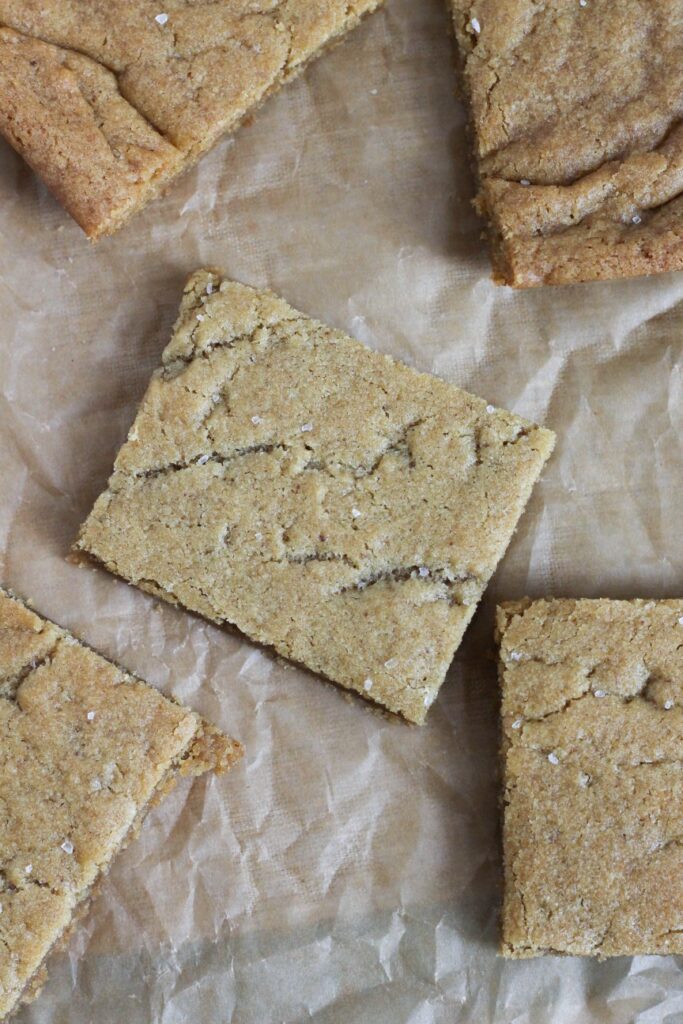 The espresso powder does not make these taste like coffee, so don't be afraid of it if you aren't into coffee flavors. It just pops out the other flavors in here, like the brown butter, and adds to the whole end result flavor, which I promise you'll love!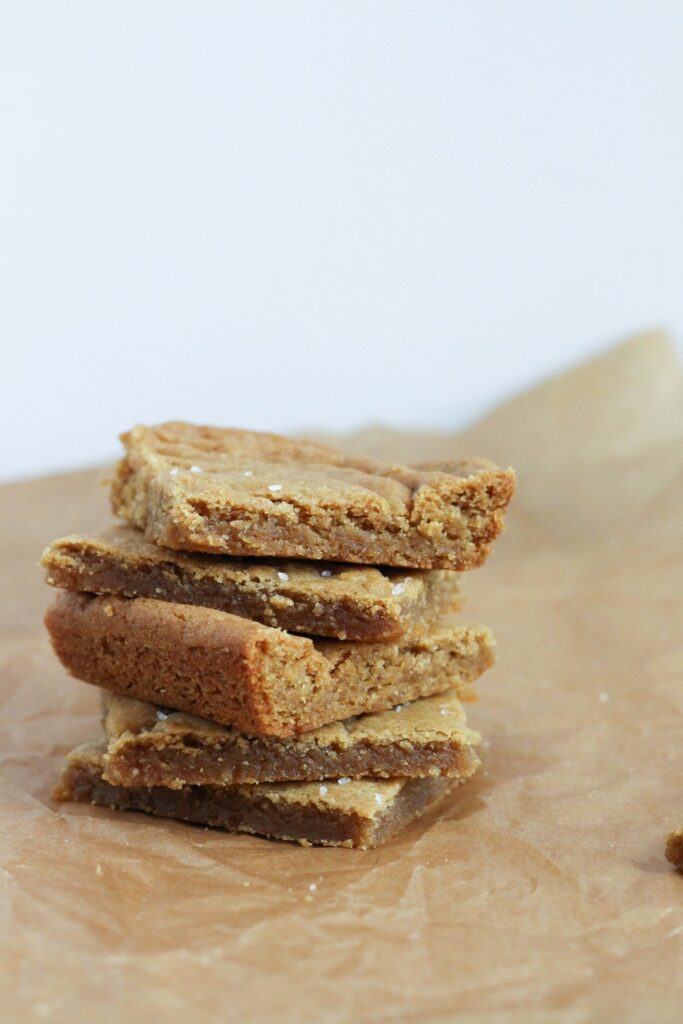 Last, we're sprinkling coarse salt over the top right when it comes out of the oven, which helps it stick to the cookies without baking in during the actual, well, baking time. The salt is just enough to make these bars totally addicting.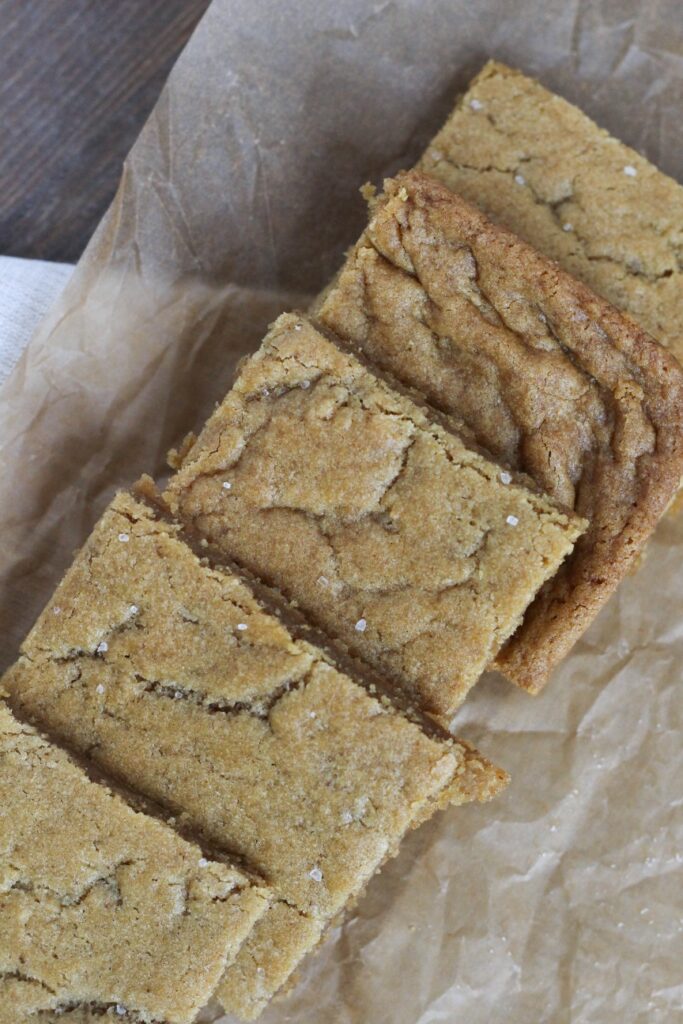 The rest is really simple, so I hope you guys enjoy this one- plus I hope it converts you to making cookie bars occasionally, I think it's a great trick! Enjoy!
Brown Butter Cookie Bars
Ingredients
1 1/2

cups

butter (plus water, as needed, see instructions)

4

cups

flour

1/4

cup

cornstarch

2

tsp.

baking soda

1/2

tsp.

instant espresso powder

1/2

tsp.

salt

1 1/2

cups

packed brown sugar

1/2

cup

sugar

2

eggs

1

tbs.

vanilla extract

1

tbs.

coarse salt (or to taste)
Instructions
In a medium saucepan, brown the butter over medium-high heat. This takes me about 10 minutes. Your butter should melt, become frothy and foamy, and eventually will start to brown on the bottom. Transfer to a heat-safe glass measuring cup. Add enough water to the hot butter to make 1 1/2 cups total liquid in the measuring cup. Cover, and let the mixture cool on your counter to room temperature, about an hour.

Preheat your oven to 350 degrees, and line a 12 by 18 inch baking sheet with parchment paper. Set aside.

In a medium bowl, stir together the flour, cornstarch, baking soda, espresso powder, and salt. Set aside.

In a large bowl, beat together the browned butter mixture, brown sugar, and sugar until combined. Add in the eggs and vanilla, and beat until smooth. Add in the dry ingredients slowly, and beat until completely combined.

Scoop your dough onto your prepared baking sheet, and spread evenly. It should fill the entire sheet. Bake in your preheated oven for 15-17 minutes, or until the cookies have set around the edges and are just starting to become golden. Sprinkle the coarse salt over the cookies right after they come out of the oven. Cool in the sheet pan for 20 minutes before cutting and serving. Enjoy!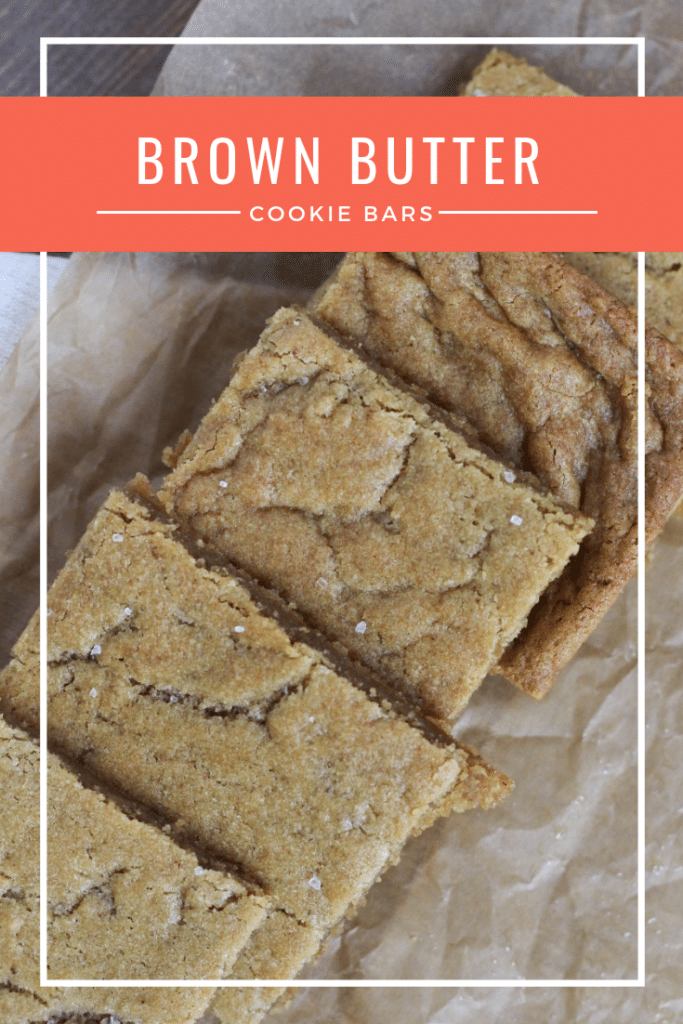 Comments