Happy Easter everyone!!
I hope that amongst many egg hunts and a very sweet breakfast this morning, you're also thinking about dessert, like me! After all, Spring desserts are full swing now, and there's some really fantastic things you could be baking today. Or any day this week.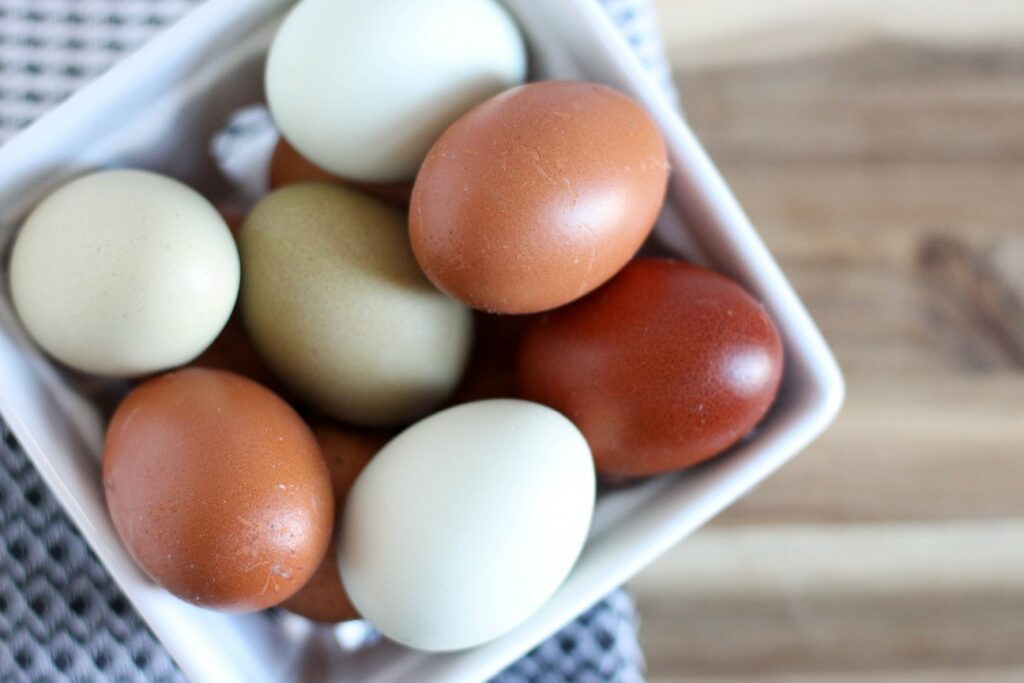 If you're looking for inspiration but angel food cake isn't really your thing, I've got a pretty Spring Baking board all up and ready for you here!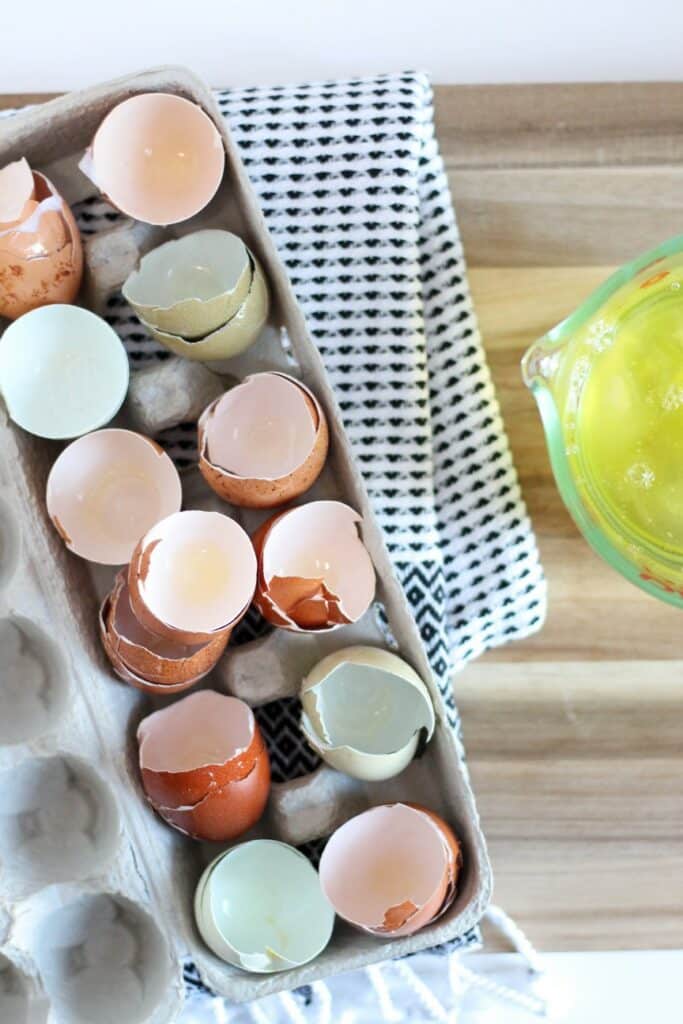 Anyways, over at my house today we are finally putting in new flooring upstairs to help us get ready for baby. Our house hasn't been in this kind of disarray since we moved in, but now that the first few boards have been installed, I'm starting to get really really excited about the whole thing. (BTW, aren't fresh eggs like, the coolest thing ever? I got these from a friend's family farm, and I'm obsessed with all the pretty colors).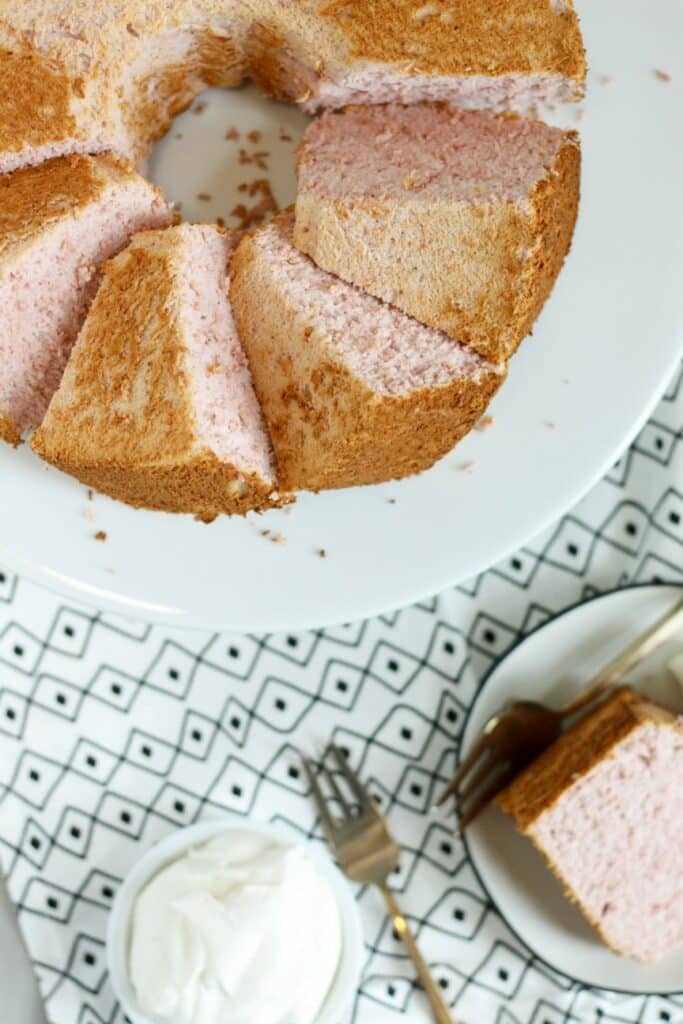 We've randomly decided to take on this huge project of replacing the flooring, painting, changing baseboards, and putting up an accent wall in our house before this little bundle comes into the world, and her bedroom is gonna be a lot nicer than mine! Also I'm pretty sure I'm going to feel like the rest of my house is complete garbage after this haha.
Anyways, back to cake, where we belong. Angel food cake is a tough one, especially at high altitude. You want it to rise and stay risen, and to have that signature chew and fluffy texture. Couple of things to note here- first is that you really want to watch those egg whites while you're whipping. Because we're at altitude, beating them past a soft peak will cause the batter to rise too quickly in the oven, and then fall back down. We're looking for soft peaks, like this: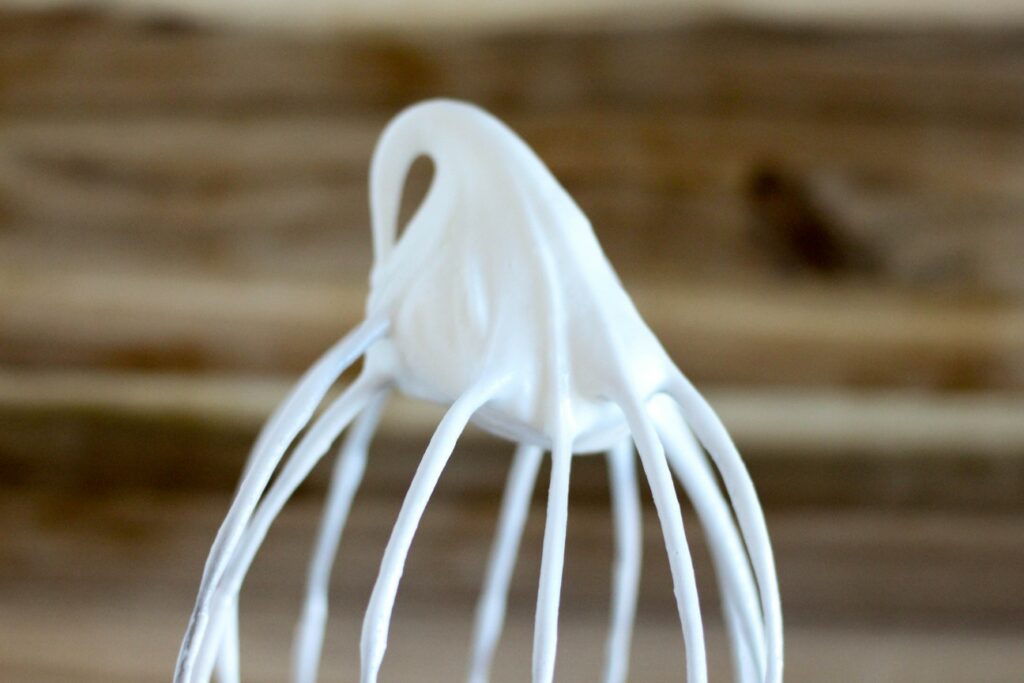 Another thing to note is that if you've made my other angel food cake recipe, this strawberry version isn't going to rise quite as high, and that's because we're adding some weight with the freeze dried strawberries. Not to worry though, it's still super delicious and it has that lovely texture, I promise.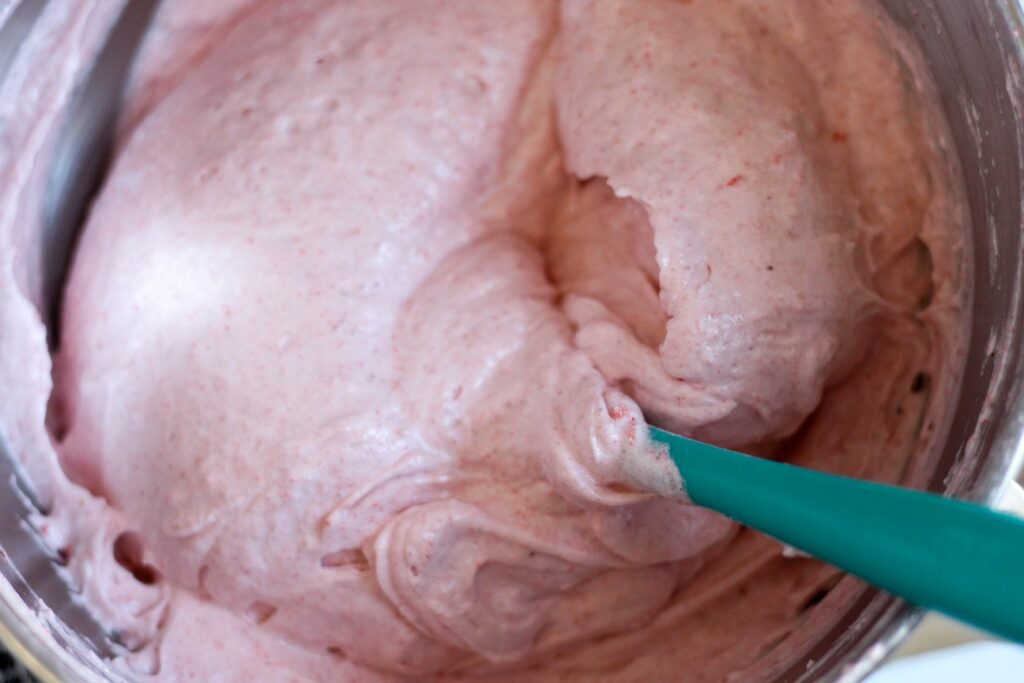 Speaking of the strawberries, I've decided to add them right into the cake this time around. I don't know about you guys, but normally I serve fresh strawberries with angel food cake, and don't get me wrong, that's a winner. But I've really been wanting to play around with freeze dried strawberries, and infusing the strawberry flavor right into the cake is something sweet you guys. I love it.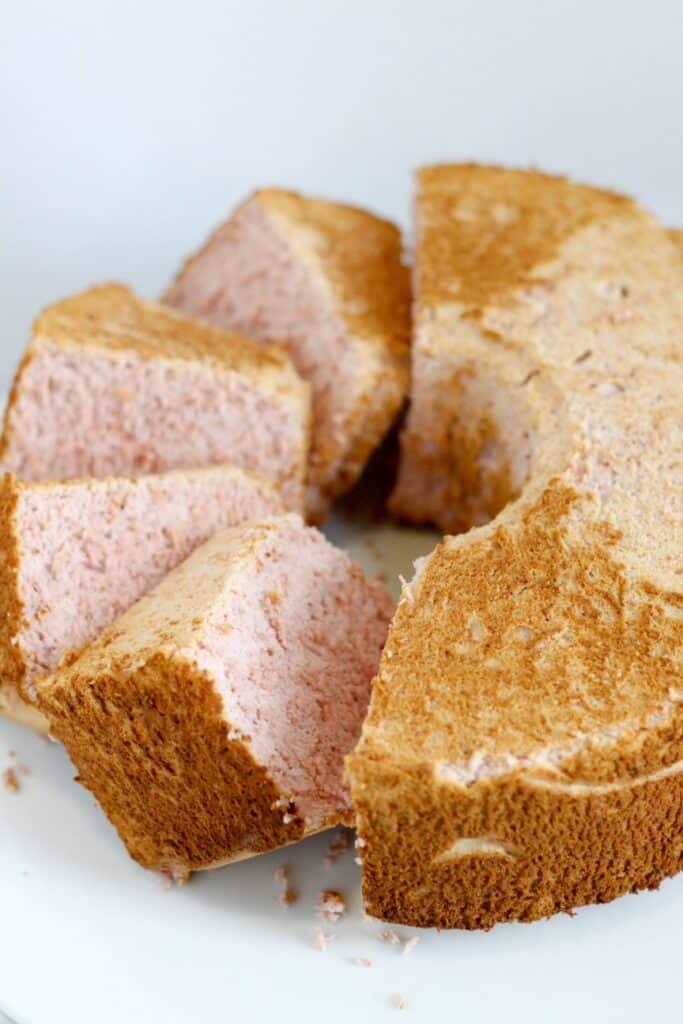 We're crushing up the freeze dried strawberries into a powder here, and sifting them right alongside the flour and powdered sugar. Freeze dried strawberries weren't the easiest thing for me to find in grocery stores by the way, but when they are in stock, they should be near the snacks in your store, like popcorn and beef jerky. Grab em up when you see them!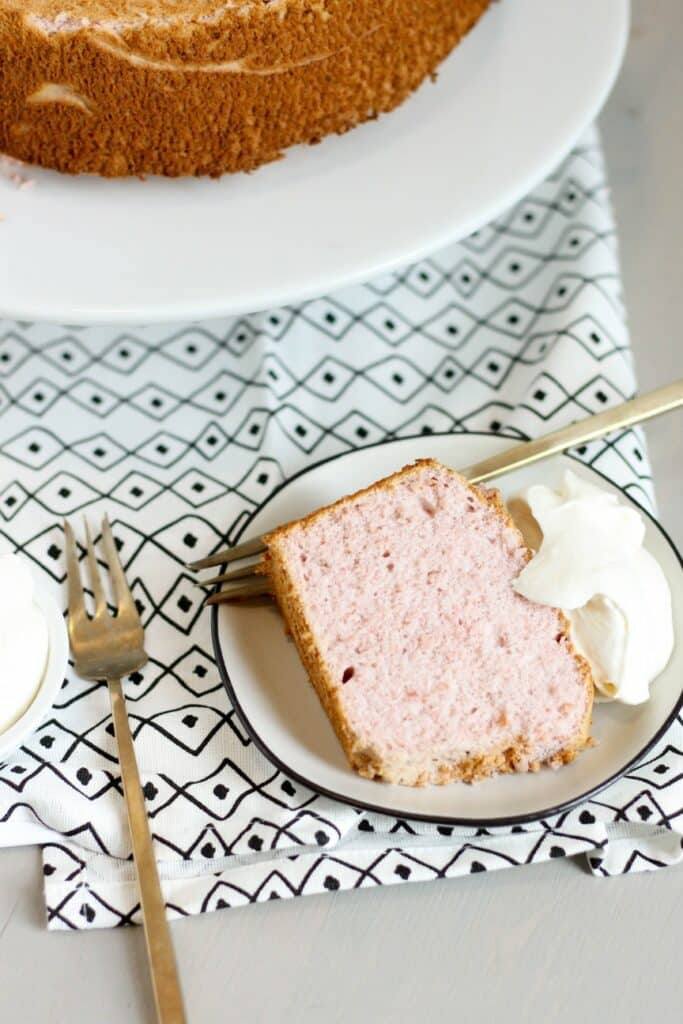 Onto the cream- I've also really been wanting to try a method of making stabilized whipped cream by beating in whipped cream cheese. The results you guys, are too damn good. It's like this fluffy, whipped cheesecake dip that I could (and have) just eat with a spoon. The cream cheese stabilizes it, but it also adds the perfect tang to it, and it's seriously fantastic!
Anyways, I hope you guys love this one as much as I do, Happy Easter!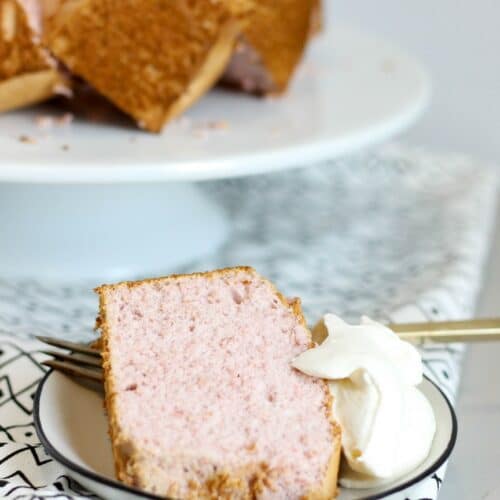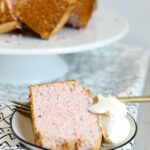 Strawberry Angel Food Cake
Ingredients
For the angel food cake:
1

cup

cake flour

1/2

cup

powdered sugar

1/2

tsp.

salt

3/4

cup

powdered freeze dried strawberries

1 1/2

cups

egg whites (about 10-12 eggs)

1 1/2

tsp.

cream of tartar

3/4

cup

sugar

3

tbs.

water
For the cream:
1 1/2

cups

heavy cream

1/2

cup

powdered sugar

1

tsp.

vanilla extract

1/2

block

cream cheese

room temperature
Instructions
For the angel food cake:
Preheat your oven to 375 degrees, and have a fluted pan ready to go, ungreased.

Over a piece of parchment paper, sift together your cake flour, powdered sugar, salt, and freeze dried strawberries.

Move your sifter over a large bowl, and pour the dry ingredients over it. Set aside.

In a large bowl, beat together your egg whites and cream of tartar until foamy. Increase your speed, and slowly add in the sugar as you continue to beat the eggs, until they have reached soft peaks.

Sift about half of your dry ingredients right into your egg whites, and gently fold everything together until combined.

Sift the remaining dry ingredients, and continue to fold until mostly combined. Then add the water, and continue folding until completely combined. It's a labor of love, GO SLOW.

Spread the batter into your fluted pan evenly. Bake in your preheated oven for 25-30 minutes, or until the top is golden brown and the cake has risen. Cool completely in the pan before removing by running a knife along the edges.
For the cream:
In a large bowl, beat together your heavy cream, powdered sugar, and vanilla until soft peaks form.

In a separate bowl, beat the cream cheese until fluffy.

Add your cream cheese to your heavy cream mixture, and beat for several minutes until completely combined, and stiff peaks have formed. Serve with your cooled cake!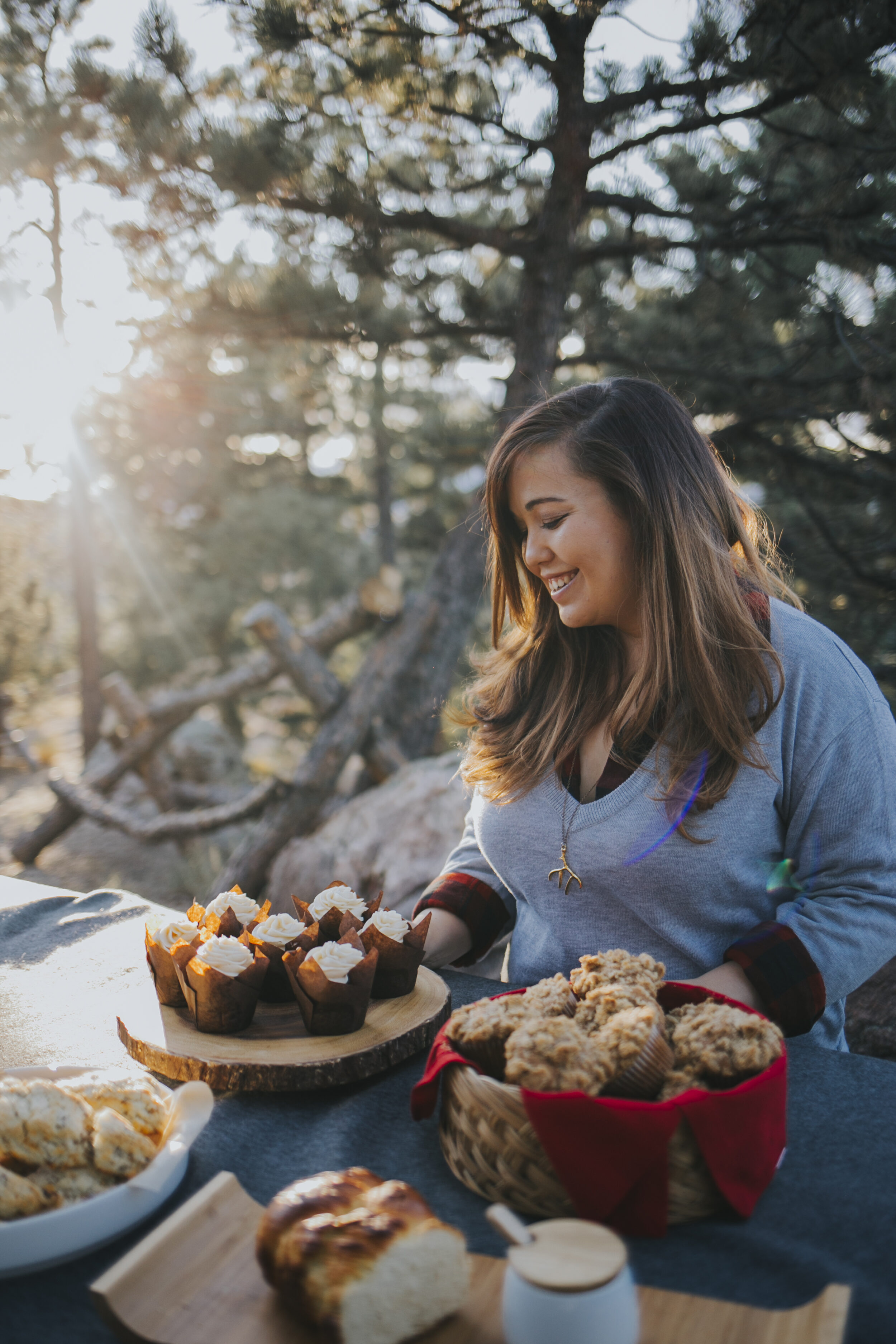 Hello and welcome! My name is Nicole, and Dough-eyed is a food blog for people who want to bake for their family and friends in high-altitude areas. Think of me as a friendly voice there with you in the kitchen, here to give you confidence when you're baking, and to help you with the struggles of baking at high-altitude. Come back every week for new recipes, tips, and advice on high-altitude baking!