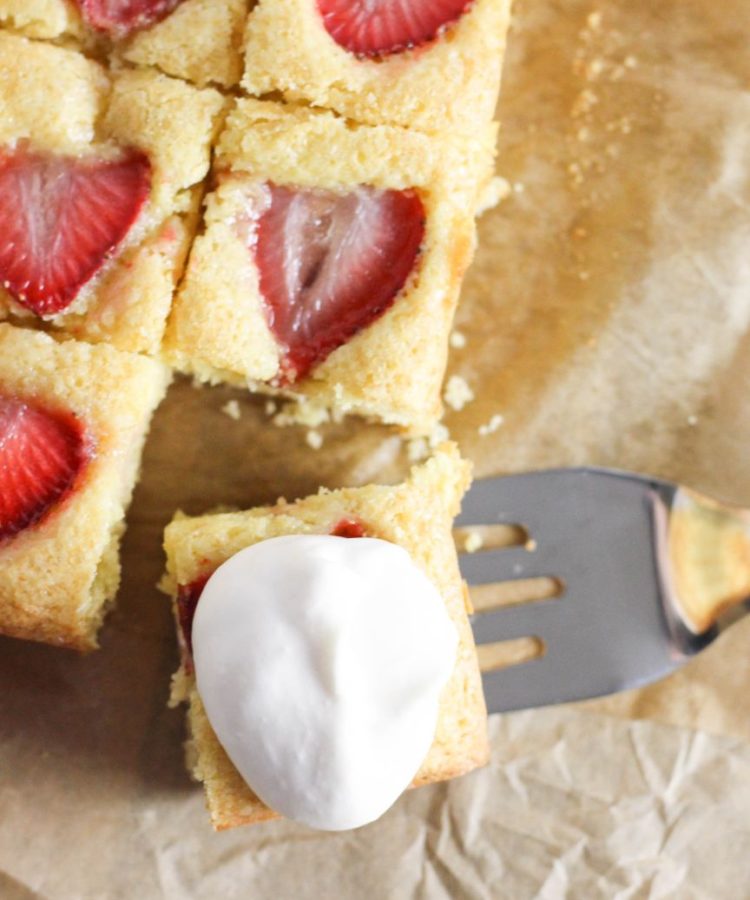 Strawberry Cornmeal Cake- sounds weird, but it's soooo good. You might remember I made a cornmeal cake before, and it's almost like a form of coffee cake.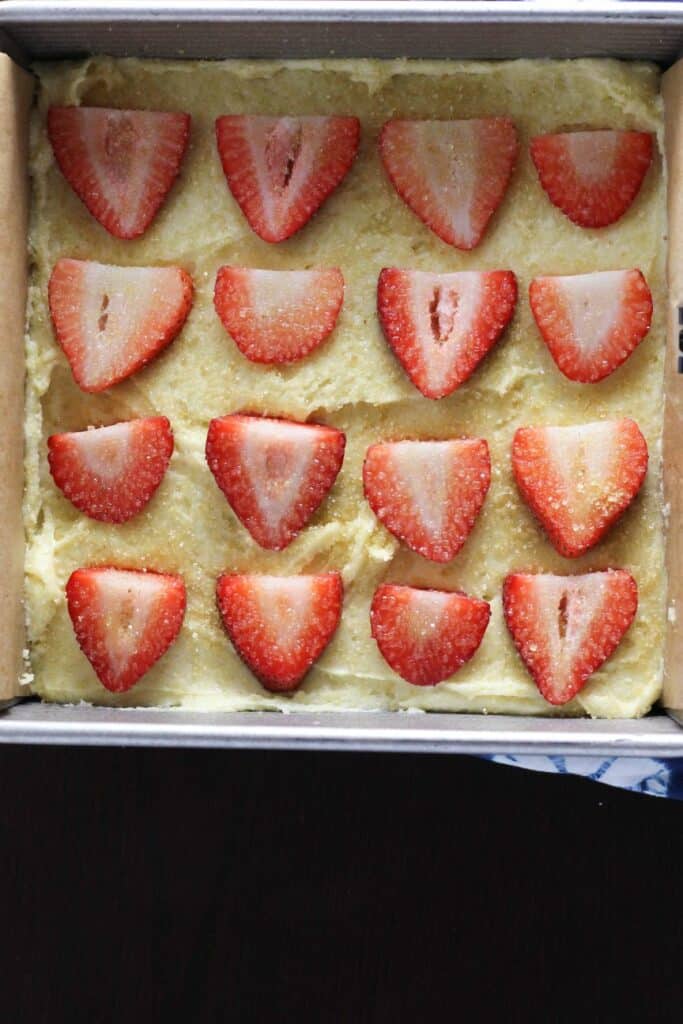 I mean, technically it's not, but it gives you that similar feel of a very hearty, only lightly sweet cake. It's a great breakfast cake, and if that's not already a thing in your life, are you even living? I mean, let's be honest, I'll eat ANY kind of cake and call it breakfast cake, but this is more sensible.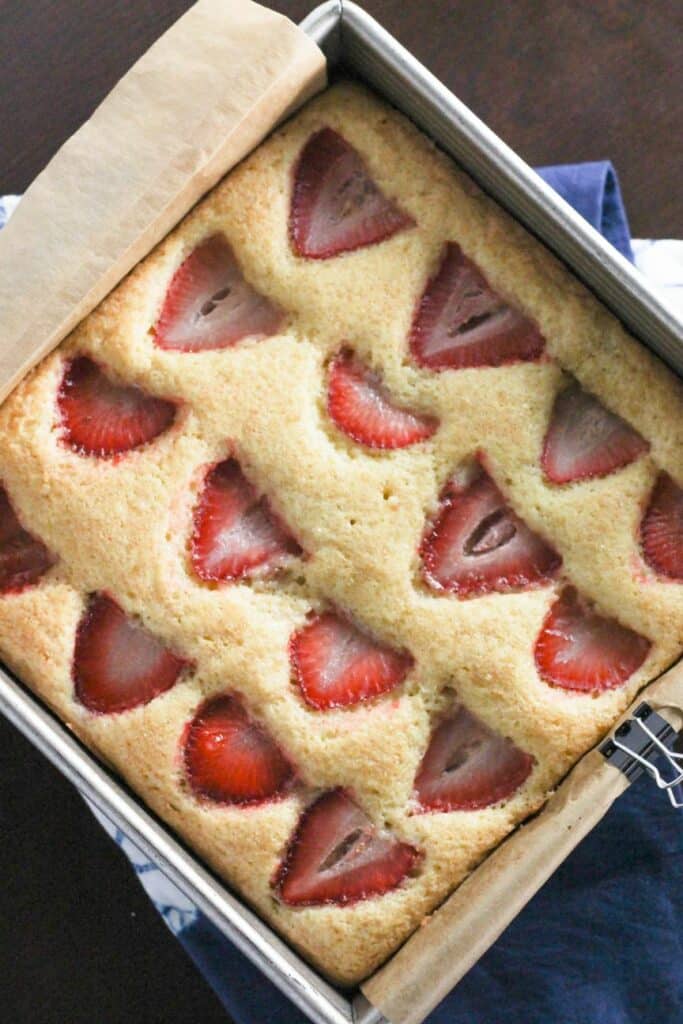 The cornmeal creates an interesting texture, even though we're only using a quarter cup. And I don't like a dry cake, so I've added sour cream here to get to a tender crumb. You can replace that with greek yogurt, or even mayonnaise- I know that sounds weird, but I promise it works totally fine, and won't make your cake taste weird.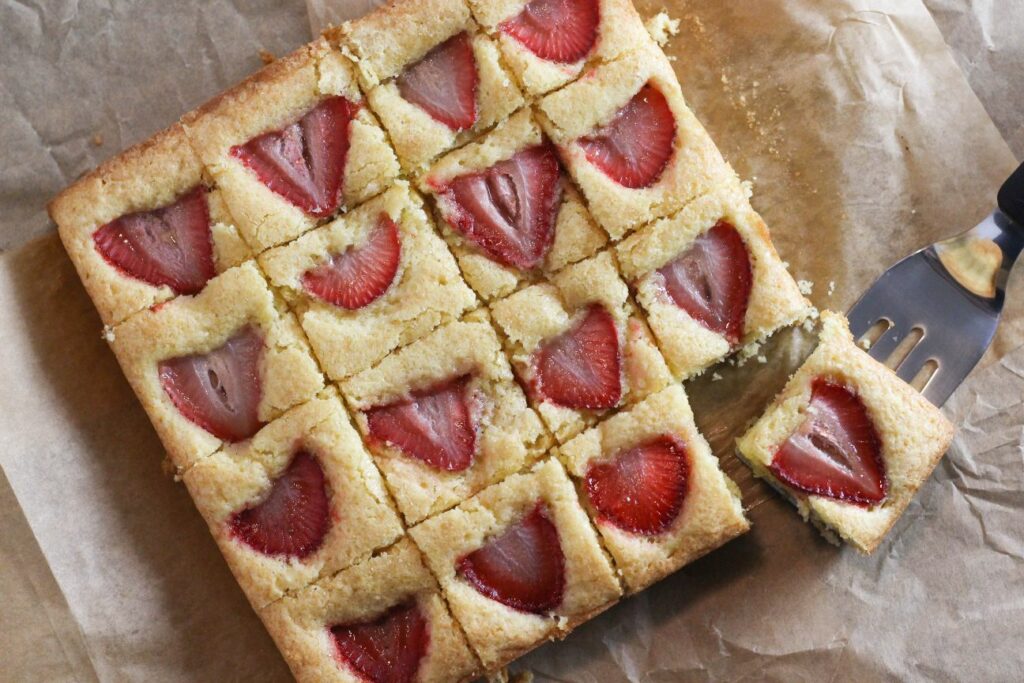 So strawberries are in season, and it's a great time to bake with them. I've sliced them pretty thick here, you want to have substantial strawberry flavor in the cake. When strawberries bake into a cake, they often actually seem to lose a little flavor, so don't skimp here. My strawberries were pretty big, and sliced them into thirds for this cake.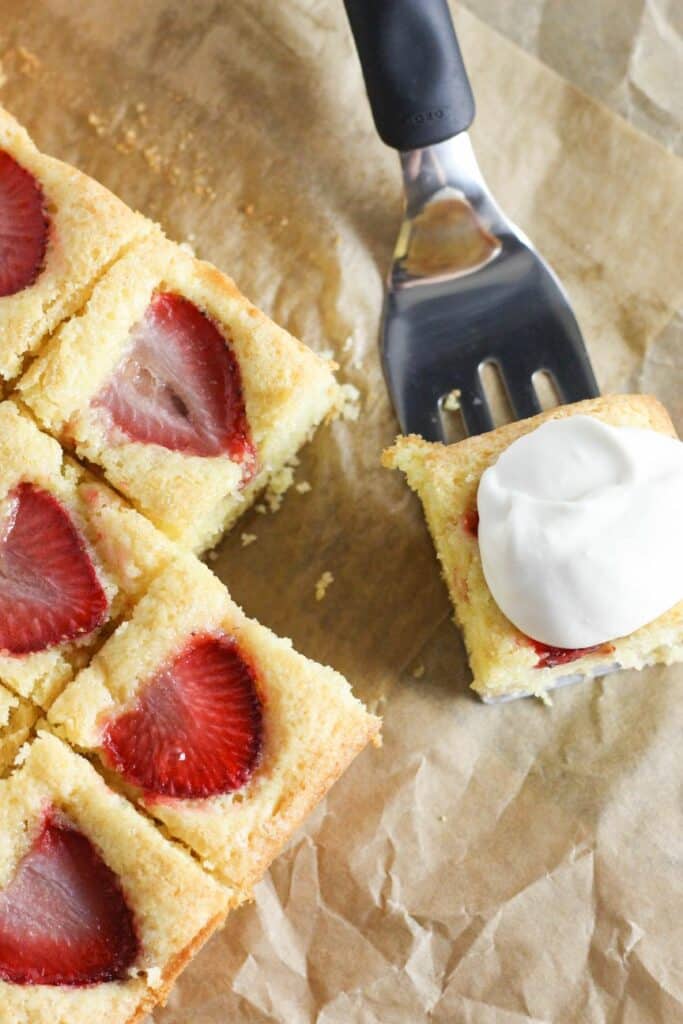 And we're topping things off with coarse sugar. I do this a lot with un-frosted cakes. The coarse sugar will bake into the cake just slightly, and it gives you a nice crunch on top to vary up the textures in your cake. Be generous here, it's worth it!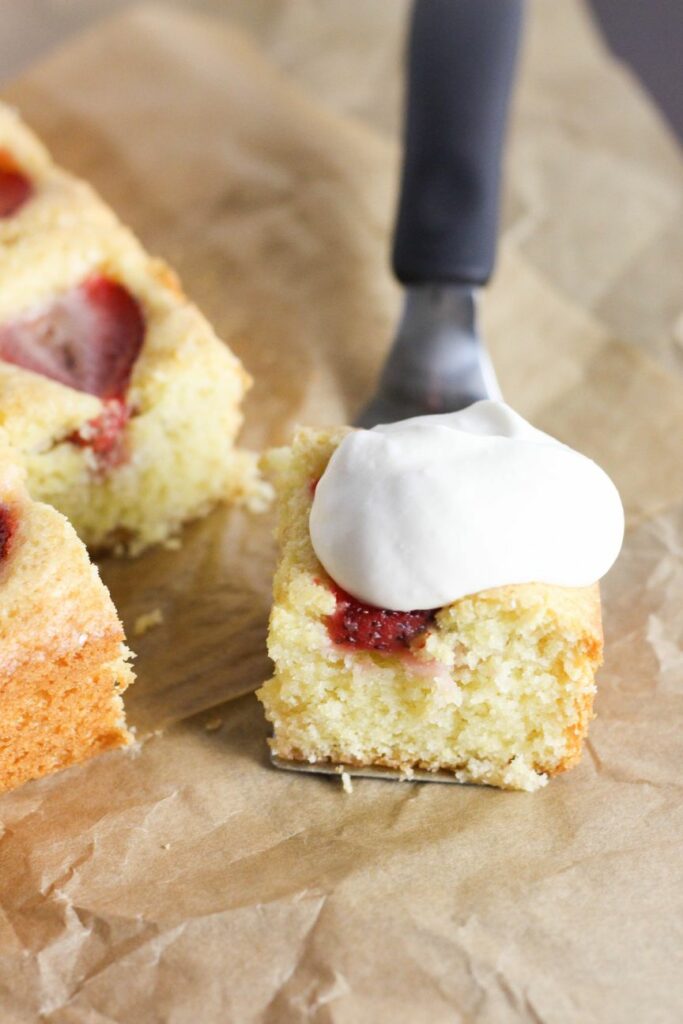 Last but far from least in my book, I topped each slice of cake with a dollop of whipped cream. Strawberries and cream are not new, and it goes perfectly here. Do whipped cream, do ice cream, or eat the cake plain- it's going to be wonderful no matter what! Enjoy guys!
Strawberry Cornmeal Cake
Ingredients
1/2

cup

softened butter

1/2

cup

sugar

1

tsp.

vanilla extract

2

eggs

1/4

cup

sour cream

1

cup

flour

1/2

tsp.

salt

1/4

cup

yellow cornmeal

1 1/4

tsp.

baking powder

5-6

large

strawberries, hulled and sliced thick

2

tbs.

coarse sugar

1

cup

sweetened whipped cream or ice cream

(optional)
Instructions
Preheat the oven to 350 degrees, and generously grease an 8x8 inch cake pan. Line with parchment paper, leaving an overhang to help remove the cake after it bakes. Set aside.

In a large bowl, beat together the butter and sugar until fluffy. Beat in the vanilla extract, eggs, and sour cream until smooth.

Add in the flour, salt, cornmeal, and baking powder. Beat until completely combined. The batter will be fairly thick. Spread evenly in the prepared baking pan. Lay the thick slices of strawberries in rows on the cake, 4 in each row and column.

Sprinkle the coarse sugar evenly over the top. Bake for 30-35 minutes, or until a cake tester comes out clean and the top has become lightly brown. Cool completely in the pan, and slice into 16 pieces. Top with whipped cream or ice cream as desired to serve. Enjoy!