Hey guys! Happy Easter weekend!!
In the spirit of spring, I've got a Chantilly Cake for you guys today, filled with lots of beautiful berries, sweetened whipped cream, and a fluffy vanilla cake. It's simple, beautiful, and really tasty.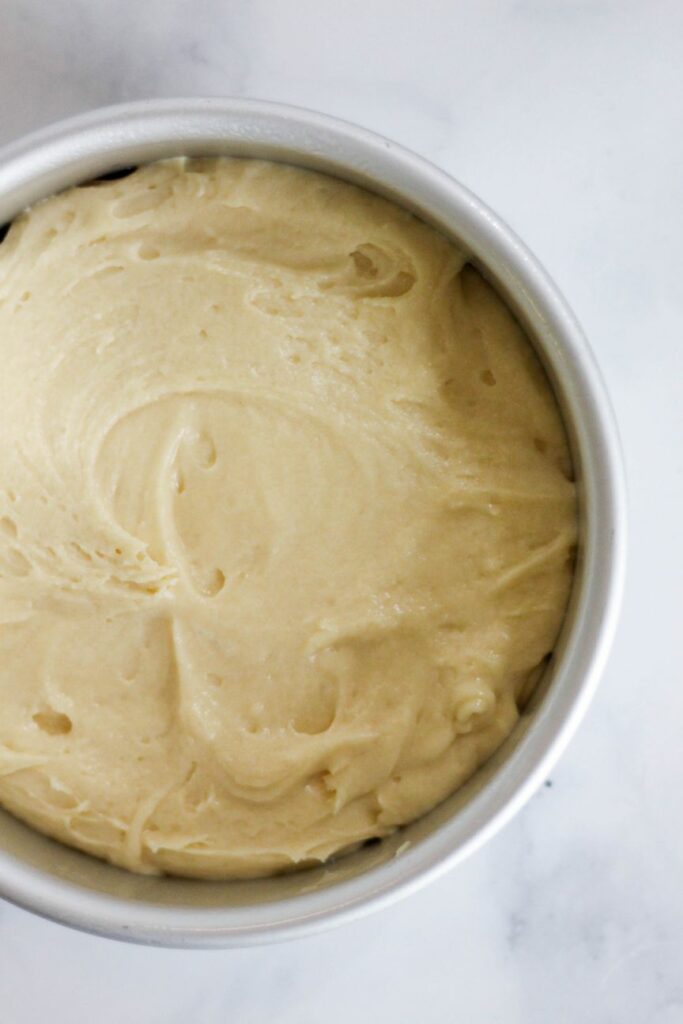 You guys may have heard claims about the Whole Foods Chantilly Cake, or maybe you're even one of the die-hard followers of this beauty. I have a confession- I've never actually had it. I know, if you love them you'll be gasping right now.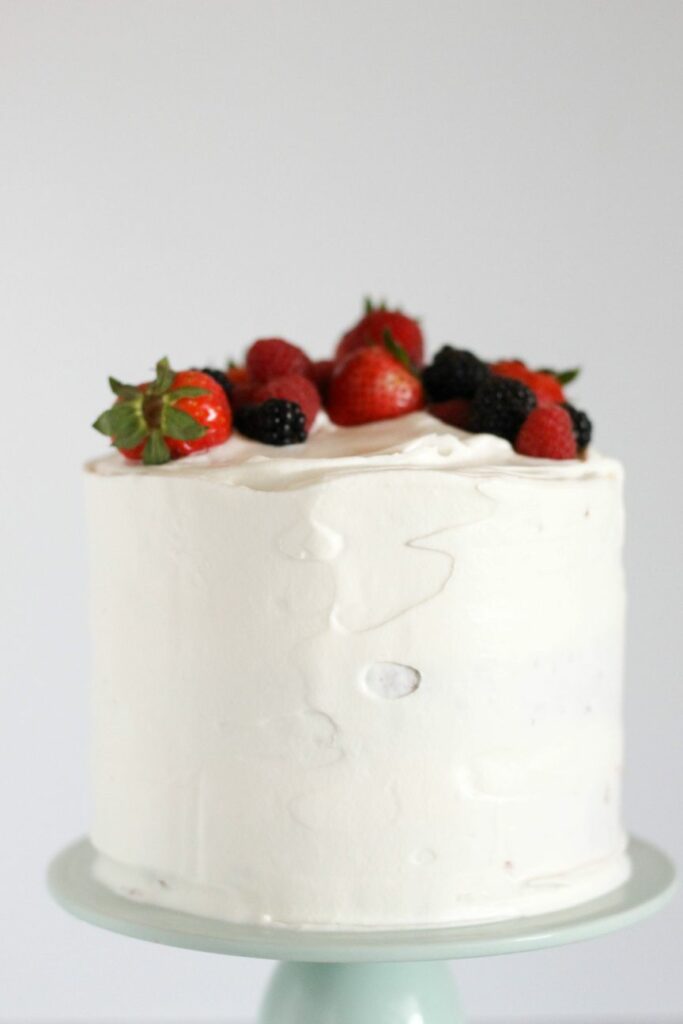 So that being said, I can't exactly promise that this cake is like that cake. But I CAN promise that this cake is super delicious. I mean, and what's not to like?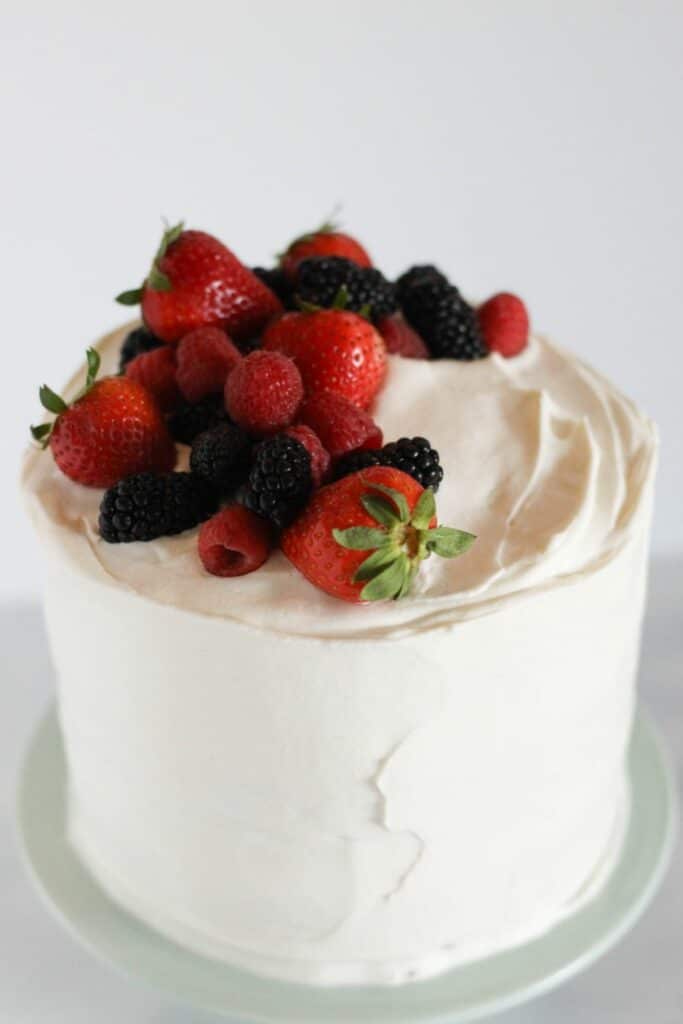 Here's the one thing you'll want to be careful about here- Chantilly Cakes are frosted with whipped cream, and while I've added cream cheese to provide some stabilization, it's still not the strongest standing cake ever, so be aware of that as you go. Gentle is key!
For the cakes, this is a classic vanilla cake, but we're whipping up the egg whites and folding them to add a bit of that light, fluffiness that you'll typically see in a cake like this.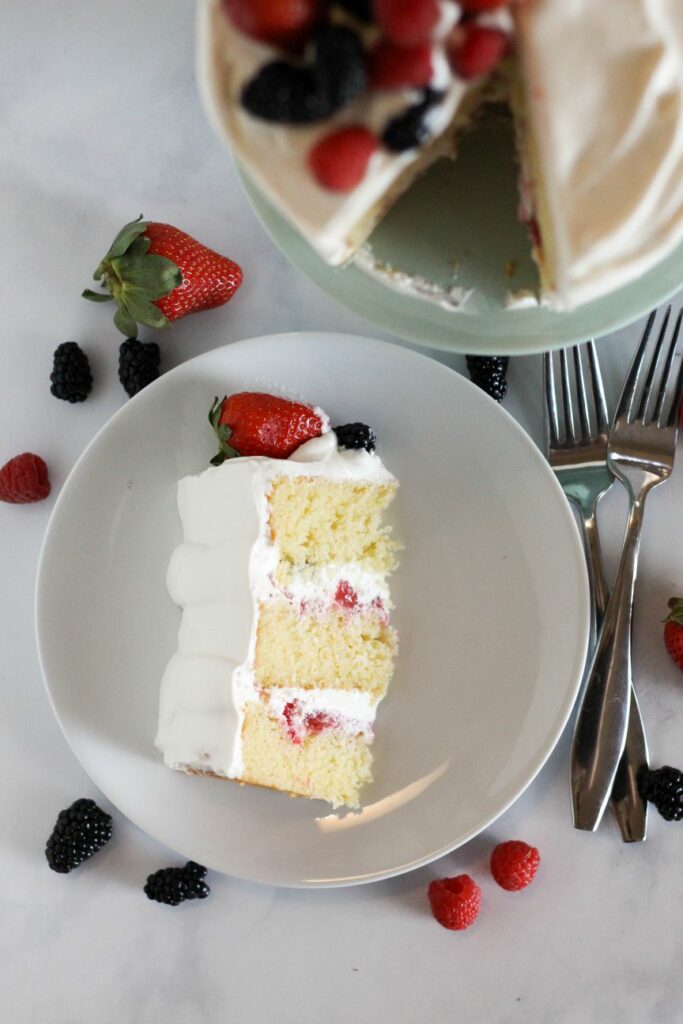 By the way, Chantilly, as far as I've ever known, just means sweetened whipped cream. The addition of cream cheese here is optional, but HIGHLY recommended. Not only does it taste amazing, but it also adds a touch of stability and thickness to the whipped cream, and it really helps when it comes to stacking and frosting the cake.
I'm using strawberries, blackberries, and raspberries here, but you can use any berries you like. For the strawberries, I actually use most of them in a cooked-down, jammy, sauce thing that goes between the layers, and this also will work with any type of berry really really well, or even a mix of berries.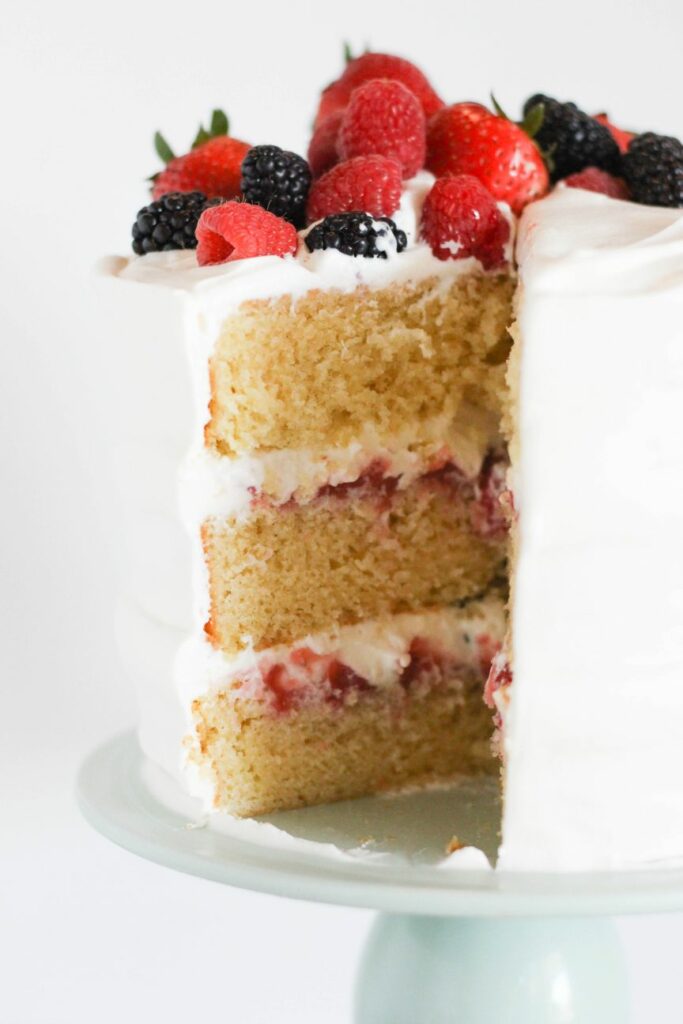 Alright guys, go make this cake for your friends, I think they will all truly be impressed by the homemade version, it's a killer cake. Enjoy!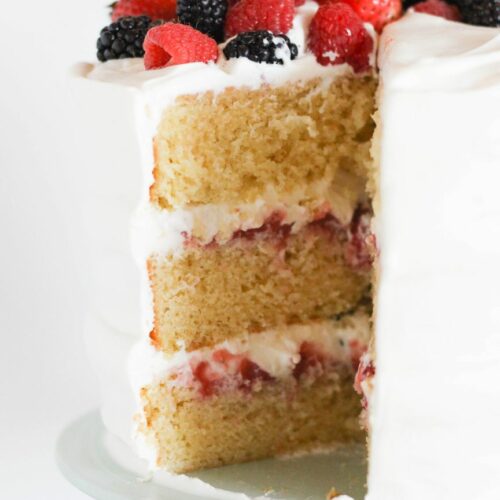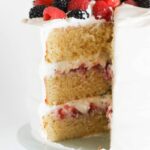 Chantilly Cake
Ingredients
For the cakes:
1

cup

softened butter

1

tbs.

canola oil

1

cup

sugar

1

tsp.

vanilla extract

1/2

cup

sour cream

4

egg yolks

2

cups

all-purpose flour

2 3/4

tsp.

baking powder

1

tsp.

salt

1/4

cup

milk

4

egg whites

2

tbs.

sugar
For the strawberry sauce:
3/4

pint

of strawberries

(this doesn't need to be exact)

1/4

cup

sugar

1

tbs.

cornstarch

1/4

tsp.

salt
For the Chantilly cream:
2

cups

heavy cream

1/4

cup

sugar

1

tsp.

vanilla extract

8

ounces

room temperature cream cheese

1

pint

assorted berries
Instructions
For the cakes:
Preheat your oven to 350 degrees, and grease three 6-inch round cake pans and line the bottoms with parchment paper. This recipe also works with two 8-inch round pans.

In a large bowl, beat together the butter, oil, and sugar until fluffy. Add in the vanilla extract, sour cream, and egg yolks, and beat until combined. Add in the flour, baking powder and salt, and beat until combined, then beat in the milk. The batter will be fairly thick.

In a separate bowl, beat the egg whites until they just start to become fluffy, and then add in the remaining sugar VERY slowly as you continue to whip the egg whites. Beat until you reach stiff peaks.

Stir about 1/3 of the egg whites into the batter to lightly the base of the batter. Then fold in the remaining egg whites. This will take a bit of time, but keep folding until the whites are fully incorporated.

Divide the batter evenly between your pans, and bake for 18-20 minutes, or until a cake tester comes out clean. Cool the cakes completely before frosting.
For the strawberry sauce:
In a food processor or blender, blend the hulled strawberries until they are mostly mashed. Pour into a small saucepan, and cook over medium heat with the sugar, cornstarch, and salt, until the mixture is thick. Cool completely.
For the Chantilly cream:
In a large bowl or stand mixer, using a whisk attachment, beat the heavy cream, sugar, and vanilla together until stiff peaks form.

In a separate small bowl, beat the cream cheese for several minutes until smooth and fluffy. Add the cream cheese to the beaten heavy cream mixture, and whip for several minutes to incorporate fully.
To assemble the cake:
Once the cake layers have cooled completely, you can trim off the tops to make even layers. Using a piping bag filled with the Chantilly cream, make a thick ring around the edge of the first layer as a dam. Add about half of the strawberry sauce to the middle, and spread evenly. Cover the strawberry sauce with more cream, and spread evenly. Top with raspberries and blackberries.

Repeat this process until all three layers are build. Then, use remaining Chantilly cream to frost the outside of the cake. Top with any remaining berries, and remaining strawberries. Keep this cake chilled until ready to serve. Enjoy!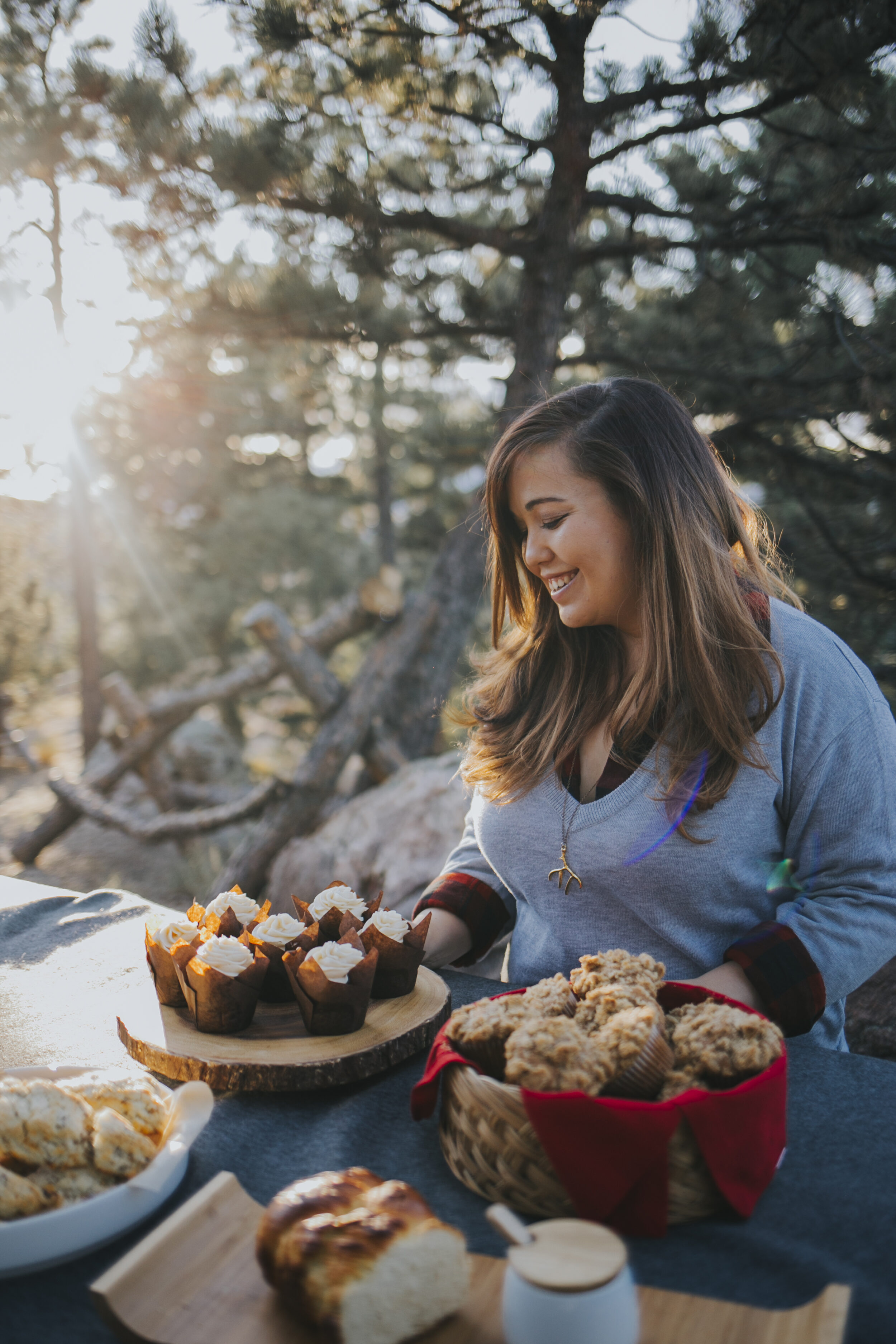 Hello and welcome! My name is Nicole, and Dough-eyed is a food blog for people who want to bake for their family and friends in high-altitude areas. Think of me as a friendly voice there with you in the kitchen, here to give you confidence when you're baking, and to help you with the struggles of baking at high-altitude. Come back every week for new recipes, tips, and advice on high-altitude baking!