Hey guys! Today I'm sharing another cookie recipe of course, but this time it's for something super simple, easy, but very festive feeling! After making tons of roll-out cookies this year, I'm ready for some simple scoop cookies to add to my cookie box, and these Red Velvet Chocolate Chip Cookies are the perfect choice.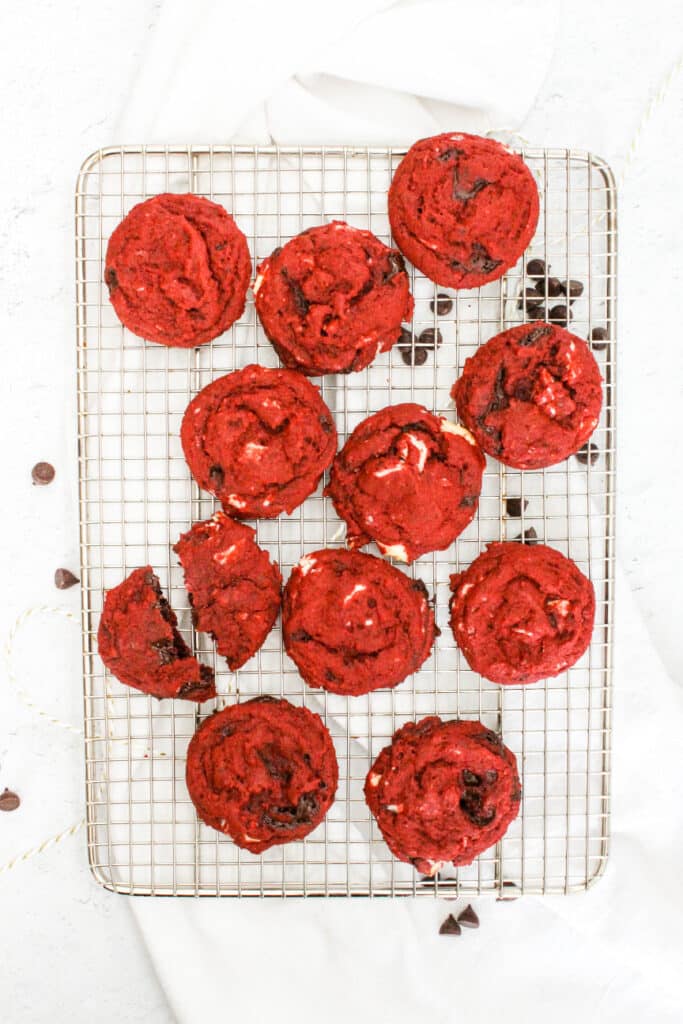 These cookies come together really easily, they require no rolling or chilling, and they turn out chewy, soft, and packed with lots of chocolate chunks! Let's get to it.
How to Make Red Velvet Chocolate Chip Cookies
I've got another recipe on my blog for Giant Red Velvet Cookies, and they turn out amazing, but sometimes you want something a little smaller and a little easier- in come these little guys! We're starting out with a super simple cookie dough by mixing together butter, sugar, and brown sugar. Then pop in some eggs, vanilla extract, food coloring, vinegar (don't worry, it won't make the cookies taste like vinegar), and a little milk.
Then it's time to add in the dry ingredients- including a little bit of dark cocoa powder for that classic red velvet flavor!
Finally, I'm adding in heaps of chopped up chocolate- both dark and white chocolate go into these cookies. I prefer to chop up bars of chocolate for this, but you can also use chips if you like! The bars will make for a really lovely variance in the size of chocolate you have, plus you can usually get some higher quality chocolate this way.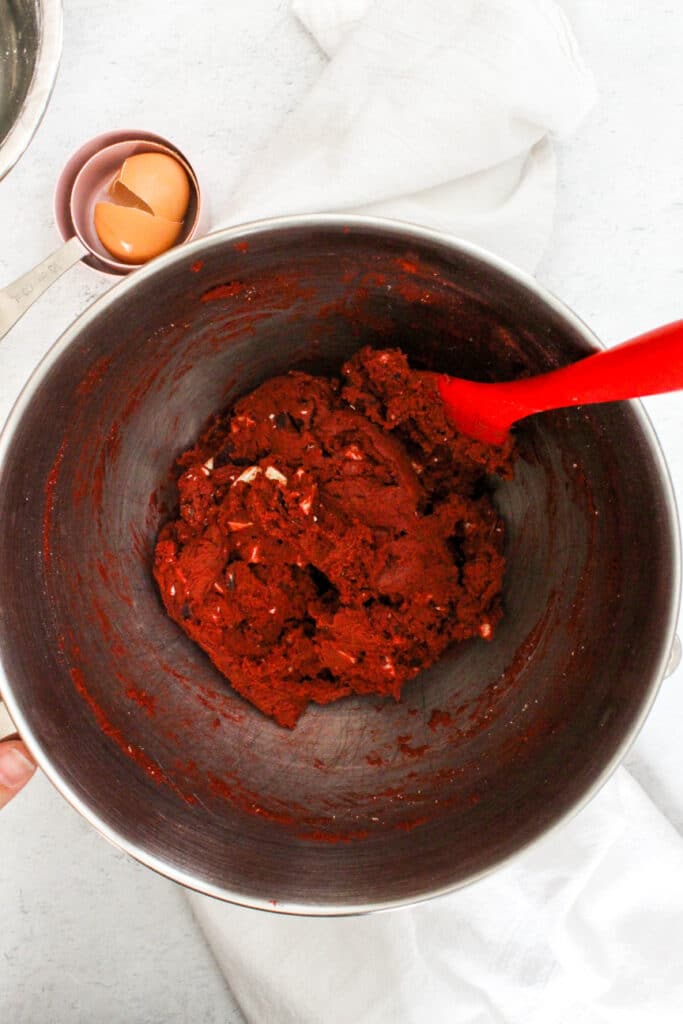 Then we're just scooping the cookies out and popping them into the oven until they are puffy and set. They should be fairly puffy, tall cookies, but they will set into a classic cookie texture that I really love- soft on the inside and just lightly crisp on the outside.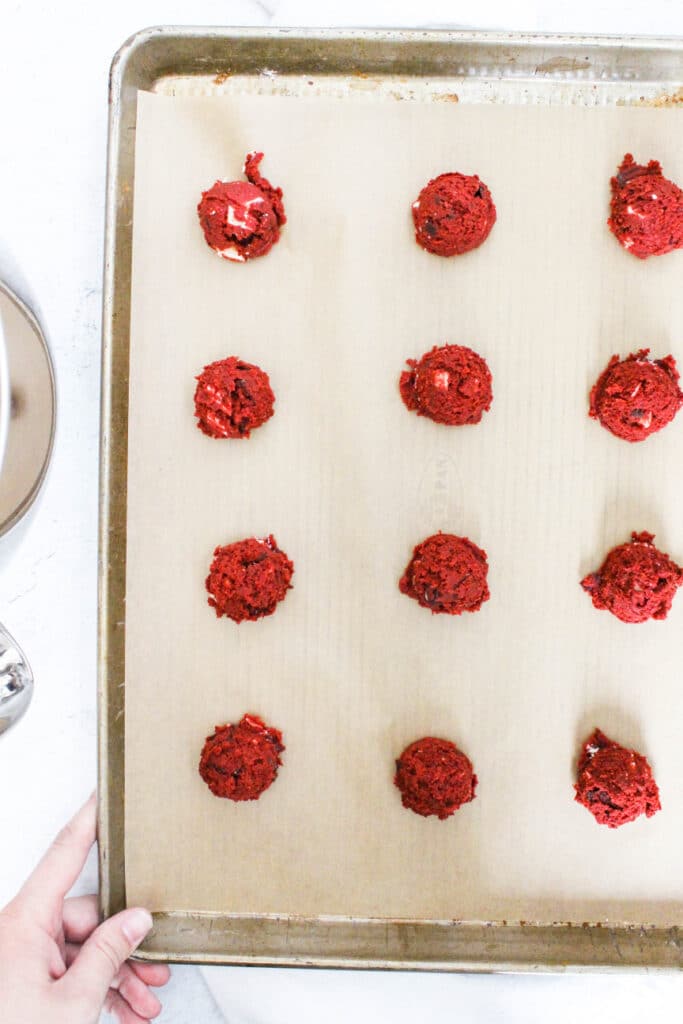 I love the way these cookies look in a cookie tin, bright red and standing out for a super yummy holiday treat. Hope you guys love these!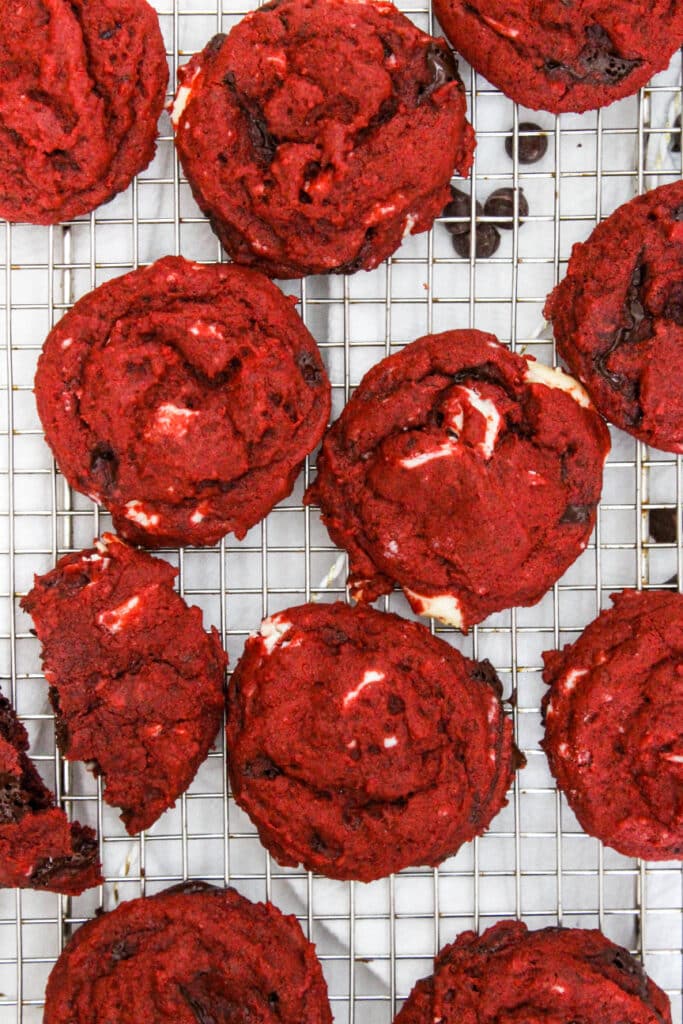 Tips & Tricks for the Perfect Red Velvet Cookies
These cookies come together really easily, but here are my tips and tricks to help along the way!
Don't skip the white vinegar– if you're new to baking red velvet treats, this may seem like an odd ingredient, but it contributes to the just slightly tangy flavor of red velvet here!
How much food coloring do I need for really red cookies? This depends on what type of food coloring you are using. If you're using a gel coloring like me, you only need about 3/4-1 tsp coloring. If you're using a liquid coloring, you may find you need 2-3 tsp. When you mix it into your dough, it should look very bright red, and it will become slightly less bright as you mix in the dry ingredients.
Can I use chocolate chips instead of chopping the chocolate? You can, yes. I definitely think chopped chocolate makes for a better cookie, and I highly recommend it, but it's a bit of a pain. Go for chips if you prefer!
How do I know when my red velvet cookies are finished baking? Your cookies should look puffy, dry on top, and fairly set. This happens quickly, and you don't want to over-bake these cookies. Remember that they will continue cooking after they come out of the oven, so always error on the side of under-baking for soft cookies.
I'm at about 5,000 ft. above sea level and I find that most people who live between about 3,000-7,000 ft above sea level do not need to make any adjustments to my recipes.
Enjoy!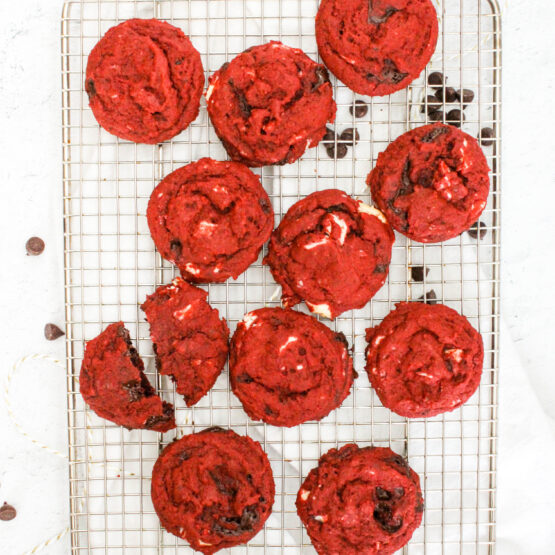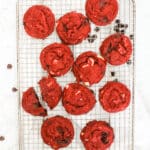 Red Velvet Chocolate Chip Cookies
Ingredients
1/2

cup

softened butter

1/2

cup

sugar

1/3

cup

brown sugar

1

egg

2

tbs.

milk

2

tsp.

vanilla extract

2 – 3

tsp.

red food coloring

1

tsp.

white vinegar

2

cups

all-purpose flour

2

tbs.

dark cocoa powder

1

tbs.

cornstarch

1/2

tsp.

baking soda

1/2

tsp.

salt

4

oz.

dark chocolate chunks

4

oz.

white chocolate chunks
Instructions
Preheat the oven to 350F degrees and line two baking sheets with parchment paper. In a large bowl beat together the butter, white sugar and brown sugar until light and fluffy. Then beat in the egg, milk, vanilla extract, food coloring, and white vinegar.

In a medium bowl whisk together the flour, cocoa powder, cornstarch, baking soda and salt. Slowly add the flour mixture to the butter mixture, and stir until well combined and no dry pockets remain. Then fold in the chocolate chunks.

Scoop the dough into about 1 1/2 tablespoon balls. Bake for 10-12 minutes, or until the cookies are soft and set. Cool the cookies fully on a cooling rack!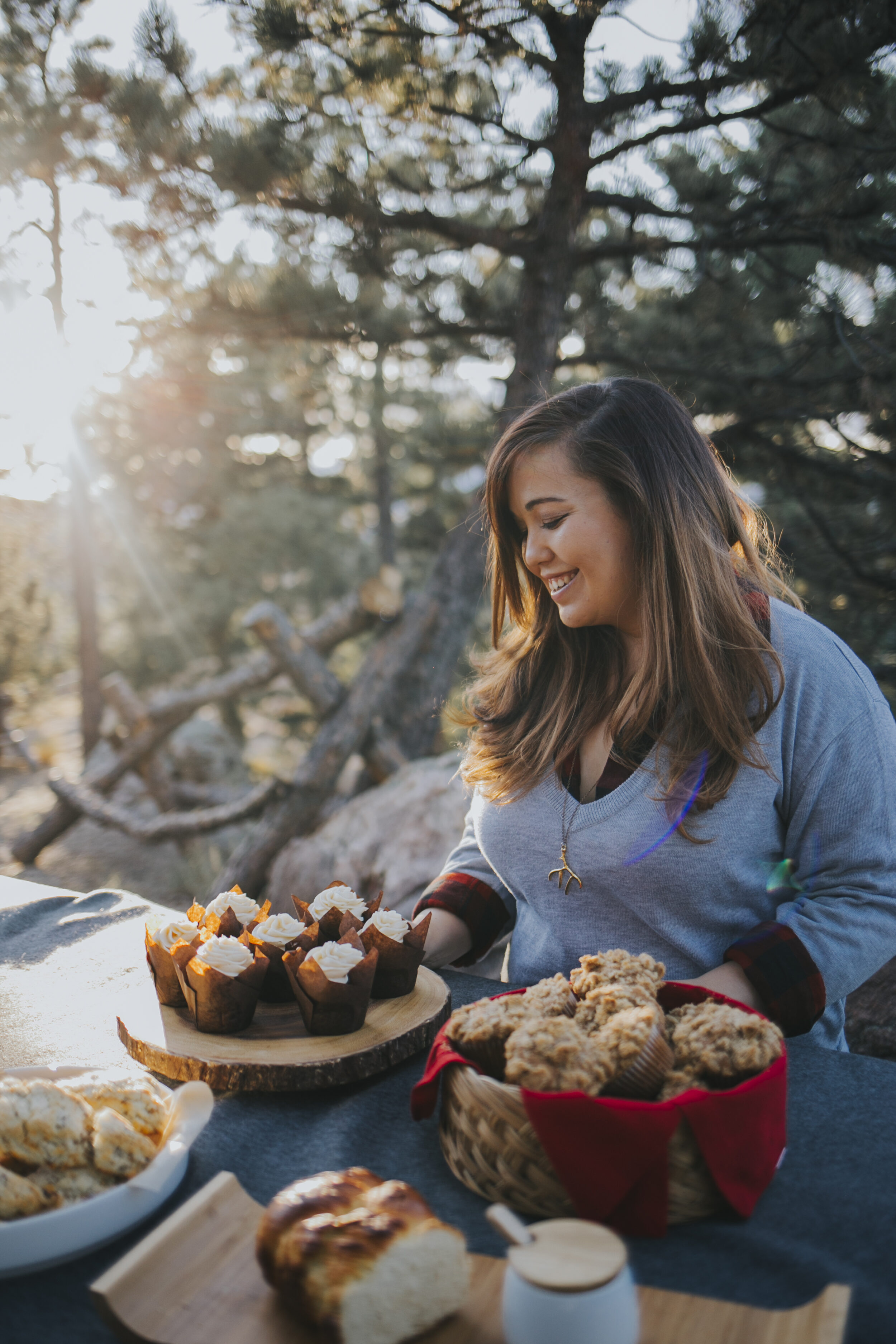 Hello and welcome! My name is Nicole, and Dough-eyed is a food blog for people who want to bake for their family and friends in high-altitude areas. Think of me as a friendly voice there with you in the kitchen, here to give you confidence when you're baking, and to help you with the struggles of baking at high-altitude. Come back every week for new recipes, tips, and advice on high-altitude baking!