Even though if you're in Colorado you know we are having a less-than-summery day today, it's still the season for cold treats! A couple of years ago my fiance bought me an ice cream maker and it's one of my favorite gifts I've ever gotten! The possibilities are endless for homemade ice cream.
Just think about it- when you're in the ice cream section of the grocery store, how many flavors of that stuff do they have? Not sure? That's because ice cream is sooooooo versatile. You can add fruit, nuts, sauces, cereal, salty snack, really anything you'd like to a solid base of ice cream. Then you can churn it, and, like so many other things, there's really no comparison to fresh-made ice cream at home.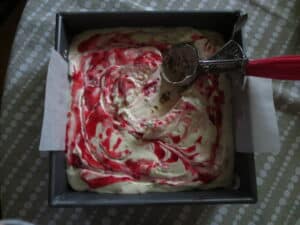 Over the last couple of years I've tried tons of different recipes for ice cream and frozen yogurt. This time around, I tried something new for my recipes. I've traditionally used custards, and then simply churned them from there. For this recipe, however, I made a sort of sweet cream cheese mousse and then mixed in some standard vanilla custard to make a lighter, more airy ice cream.
Because the texture of this recipe ends up so fluffy before freezing, you can make it without an ice cream making if you don't have one. I do think the churning process gives it a bit of a different texture, but the base is really delicious so I know it will be great either way. Enjoy!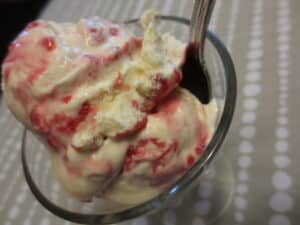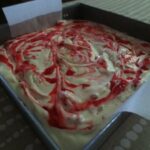 Raspberry Cheesecake Ice Cream
Ingredients
For the custard
1

cup

half and half or whole milk

1/2

cup

heavy cream

Vanilla

1

egg

3

egg yolks

1/2

cup

sugar
For the raspberries
1 6

oz

package fresh raspberries

1/2

cup

sugar

1

tbs.

water

1

tsp

cornstarch
For the ice cream
1 8

oz

block of cream cheese

softened

1/2

cup

sugar

1 1/2

cups

heavy cream

2-3

honey graham cracker

broken into small pieces
Instructions
For the custard
Bring the half and half, heavy cream, and vanilla to a simmer over medium heat in a medium saucepan.

In a bowl, whisk together the egg, yolks, and sugar until pale.

Take about a half cup of the boiling milk mixture and pour it into the eggs, whisk to temper.

Immediately pour the egg mixture back into the pot with the rest of the hot milk, and cook on medium heat, whisking constantly, until thick.

Pour the custard through a fine mesh sieve, and place in the fridge to cool.
For the raspberries
Place the raspberries, sugar, and water in a small saucepan. Cook until sauce has formed.

Add the cornstarch, and cook for a few more minutes until slightly thickened. Take the raspberries out with a slotted spoon, and reserve the juices for later.

Cool the raspberries in the fridge.
For the ice cream
With an electric mixer, beat together the cream cheese and sugar until smooth. Add in about a half cup of cream, and beat until fluffy.

Add in the rest of the heavy cream, and beat until completely stiff.

Once the custard has cooled, slowly add this into the cream cheese mixture.

If you are using an ice cream maker, churn this mixture until mostly frozen. Then, add in the raspberries and crumbled graham crackers.

Pour into a bowl or pan to store. Then, swirl in some of the reserved raspberry sauce.

Freeze completely and enjoy!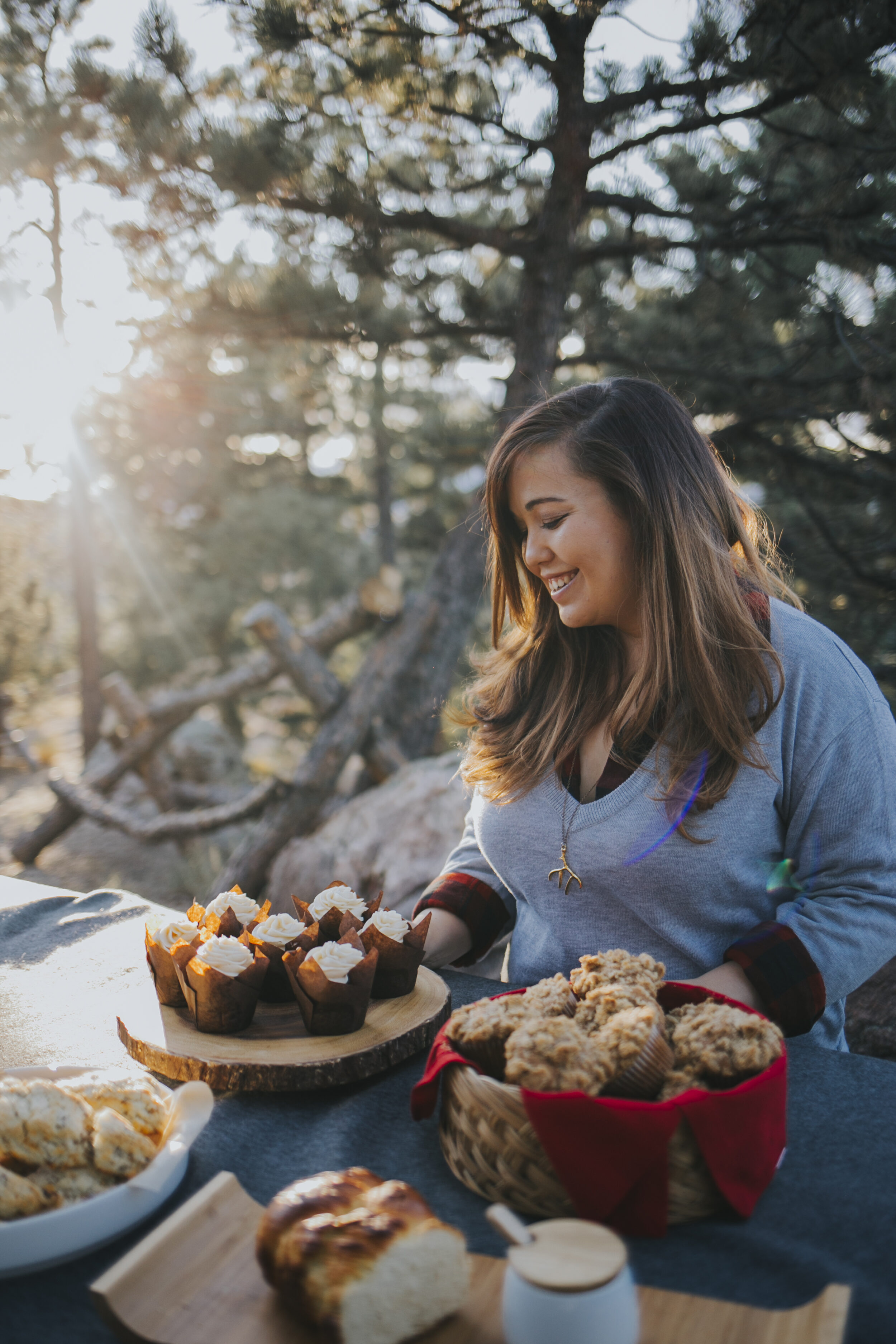 Hello and welcome! My name is Nicole, and Dough-eyed is a food blog for people who want to bake for their family and friends in high-altitude areas. Think of me as a friendly voice there with you in the kitchen, here to give you confidence when you're baking, and to help you with the struggles of baking at high-altitude. Come back every week for new recipes, tips, and advice on high-altitude baking!