Hey guys! Today I'm giving you a recipe to indulge in the cold weather happening right now. When I was a kid, there was a little bakery near our house, and they sold single servings of chocolate mousse in little plastic deli containers and the day that I have been trying to recreate that for years. While I'm not sure if this one is QUITE as good, it's a solid second to what I remember!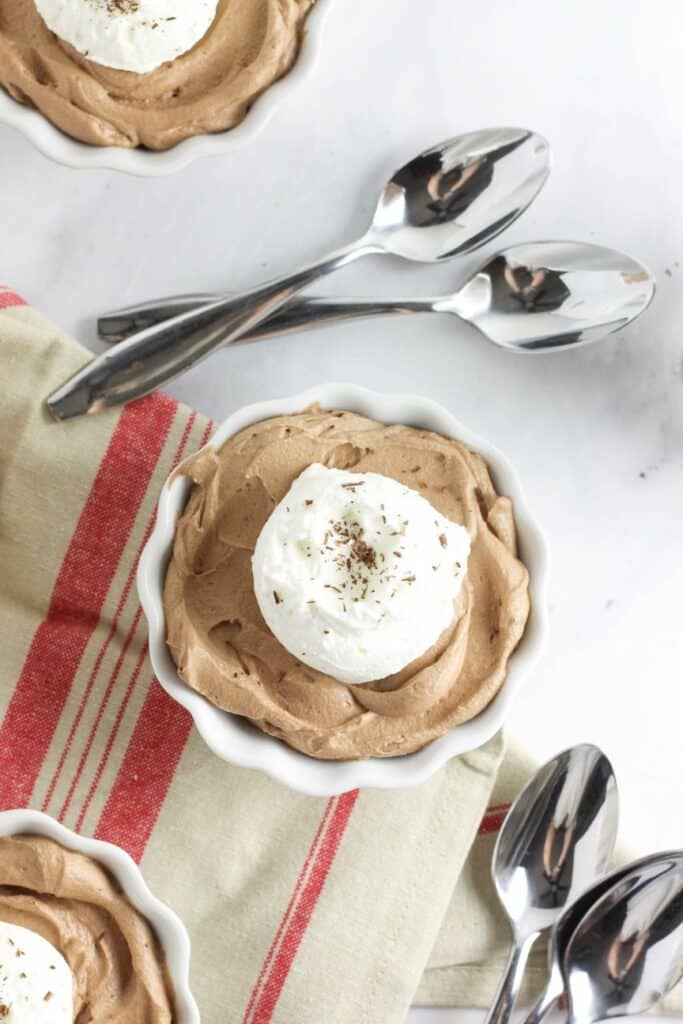 The bakery was really small, in a little strip mall near my parent's house, and I think they were mostly doing larger projects because it wasn't really a place to sit down and get coffee or anything like that. But they always had chocolate mousse, and my mom would take me over there for a little treat every now and then. The owners were the absolute SWEETEST, and I really wish I could remember the name of their bakery. It has long since left that strip mall, but that chocolate mousse really made an impact on me as a baker.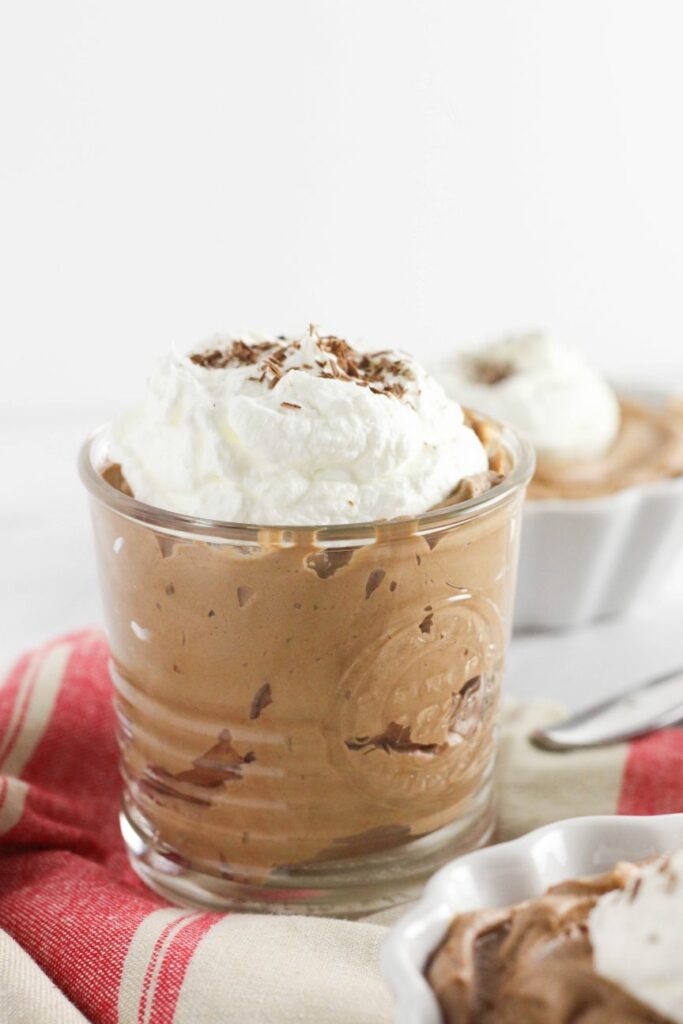 I really love custard based desserts anyways- they feel really indulgent and special, so if you haven't made pastry cream before, this is a great time to start. There's a lot of ways to make chocolate mousse, and this method is really similar to making a diplomat cream, but of course we're making it chocolate. What you end up with is a super creamy yet stable mousse that is silky smooth.
How to Make Chocolate Mousse
This method for chocolate mousse basically has two stages- the first is making the chocolate pudding. Once it's cooled, you fold in whipped cream to lighten it up and give it that mousse texture we want, which is the second stage.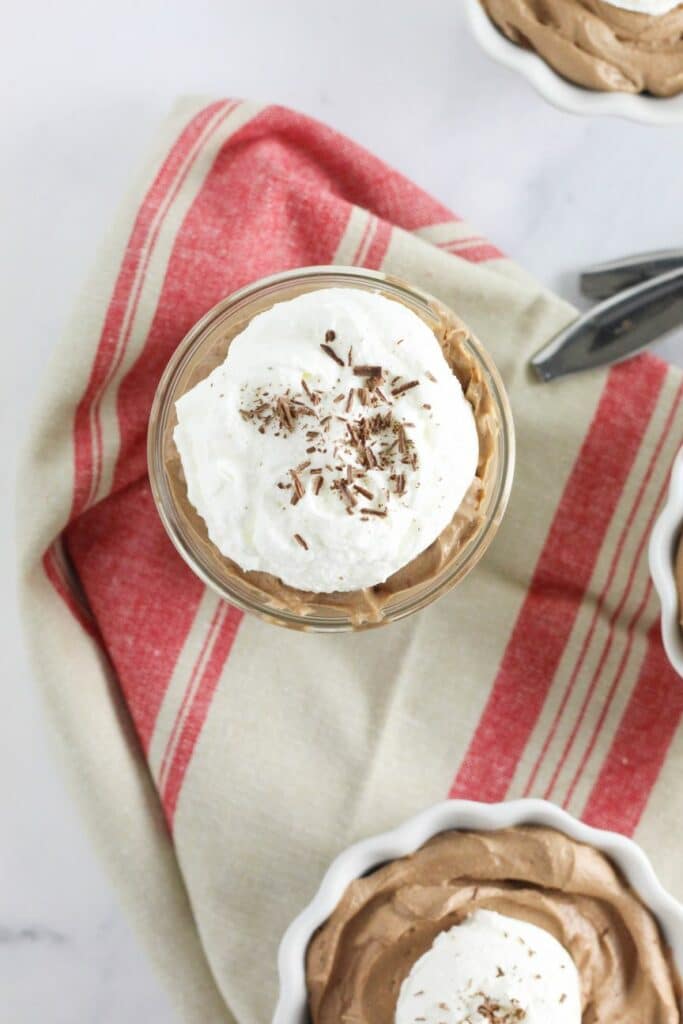 So let's start with the custard, or the chocolate pastry cream. It's a simple custard, thickened with both egg yolks and corn starch. I find that using both really gives you more reliable thickening power, and a better flavor in the end. You start by whisking together your sugar, cornstarch, and salt in a medium saucepan. In a bowl, whisk together the egg yolks, whole milk, heavy cream, and vanilla extract.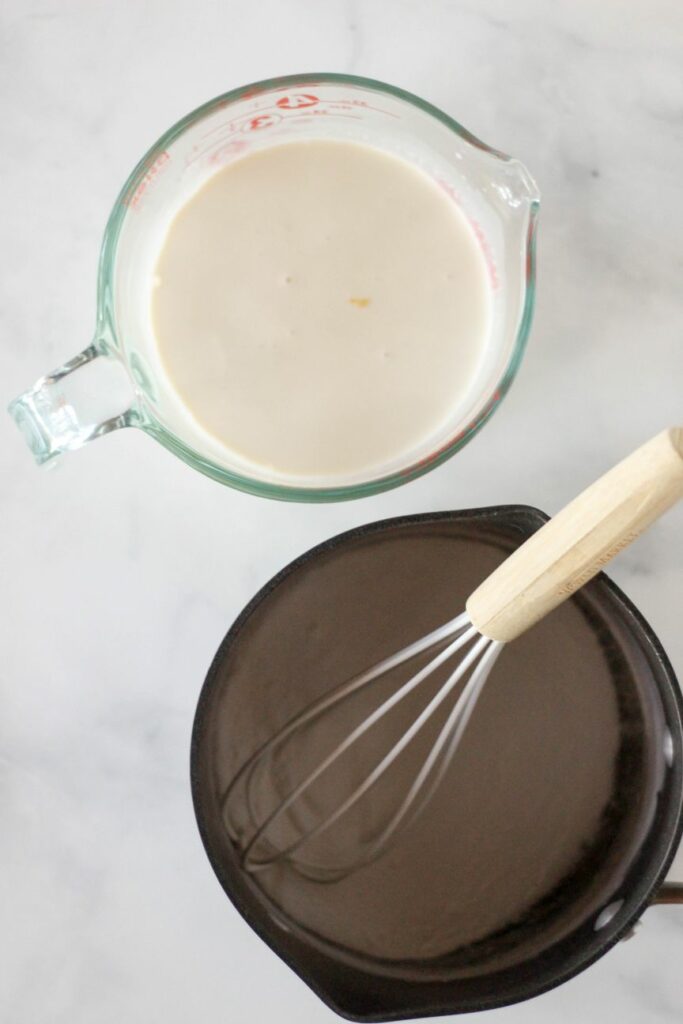 Slowly whisk the wet ingredients into the dry until smooth, and place over medium heat. You'll want to whisk the mixture frequently during this time, and once it starts to thicken, you don't want to stop whisking. Once the pastry cream has become very thick and smooth, remove it from the heat. Immediately whisk in the chocolate and butter and whisk until the chocolate is completely melted and smooth. Finally, you want to push the custard through a fine mesh siv while it's still hot to remove any lumps.
Cover the custard with plastic wrap by placing it directly on top of the custard. Chill for about 2 hours, or until it is completely cold before moving on. That's important- you can't move to the next step without a fully cooled custard!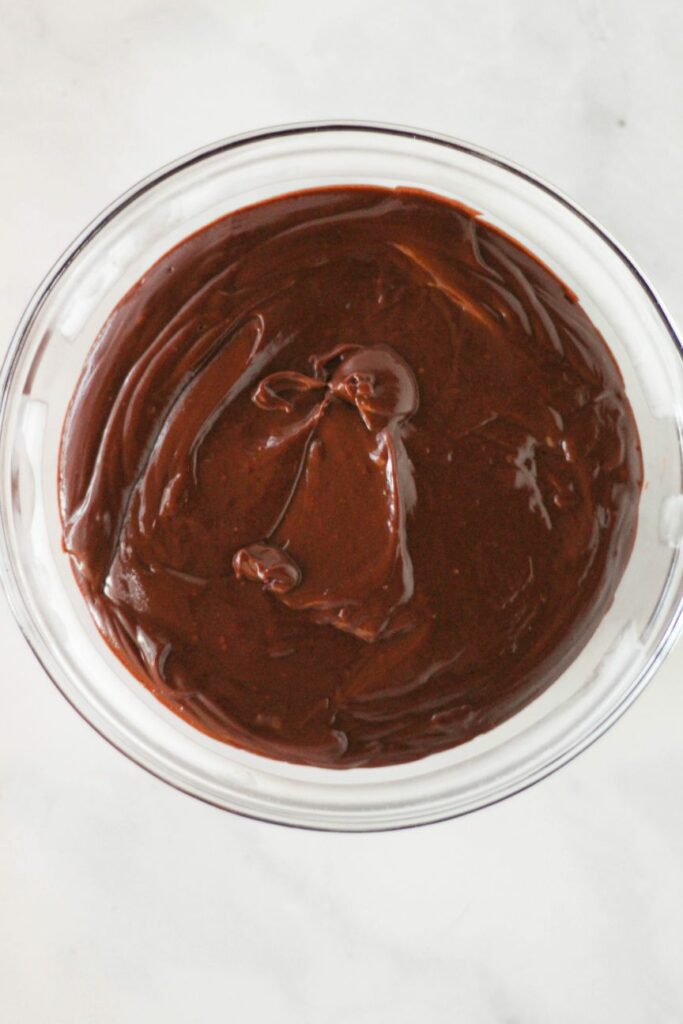 Finally, you want to whip up some heavy cream until it reaches soft peaks- being careful to avoid over beating at this stage. You really want to hit that sweet spot of soft peaks that hold their shape, but are not stiff. Gently fold the whipped cream into your custard in several additions, until it is all completely incorporated. Then, simply spoon the mousse into your serving/storing vessels, and chill! You can top with whipped cream, like I did, but you don't have to- it's wonderful all on it's own!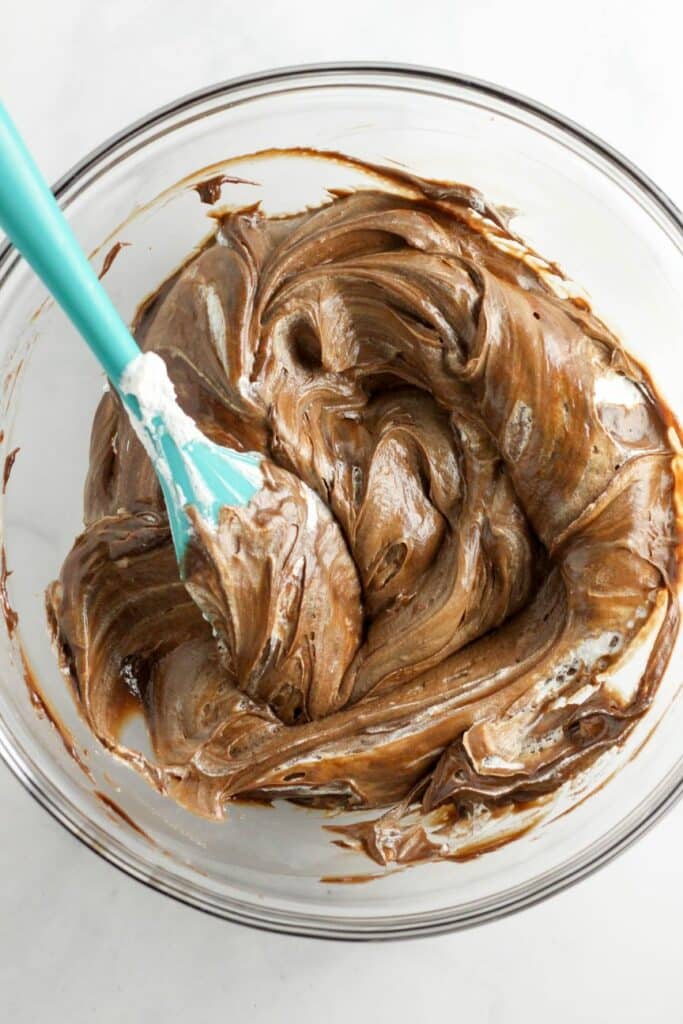 Enjoy!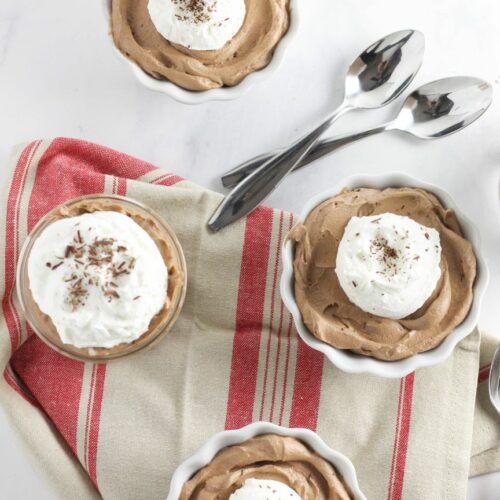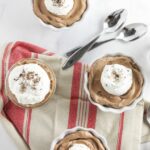 Chocolate Mousse
Ingredients
1/4

cup

sugar

1

tbs.

cornstarch

1/2

tsp.

salt

1

egg yolk

1/2

cup

whole milk

1/4

cup

heavy cream

2

tsp.

vanilla extract

1/3

cup

dark chocolate chips

1/2

tbs.

butter

1

cup

heavy cream

2

tbs.

powdered sugar
Instructions
In a small saucepan, whisk together the sugar, cornstarch, and salt. Set aside. In a small bowl, whisk together the egg yolk, whole milk, 1/4 cup heavy cream, and vanilla extract. Slowly whisk the wet ingredients into the dry until completely incorporated.

Cook the mixture over medium heat, whisk very frequently, until it becomes very thick. This will take about 10 minutes. Once the mixture starts to thicken, you want to whisk it constantly.

Remove the mixture from the heat, and immediately whisk in the dark chocolate chips and butter until completely smooth. Press the mixture through a fine mesh siv to remove any lumps that formed during the cooking process. Press a sheet of plastic wrap directly on top of the custard mixture, and chill for about 2 hours, or until it is completely chilled through.

Once the custard is chilled, beat the remaining heavy cream until you reach soft peaks. Beat in the powdered sugar. Do not overbeat- soft peaks are the perfect stopping point here! Scoop a large spoonful of the whipped cream into the custard, and fold it in gently. Repeat until all of the whipped cream has been added. Spoon into your serving bowls, and top with more whipped cream if you'd like. Enjoy!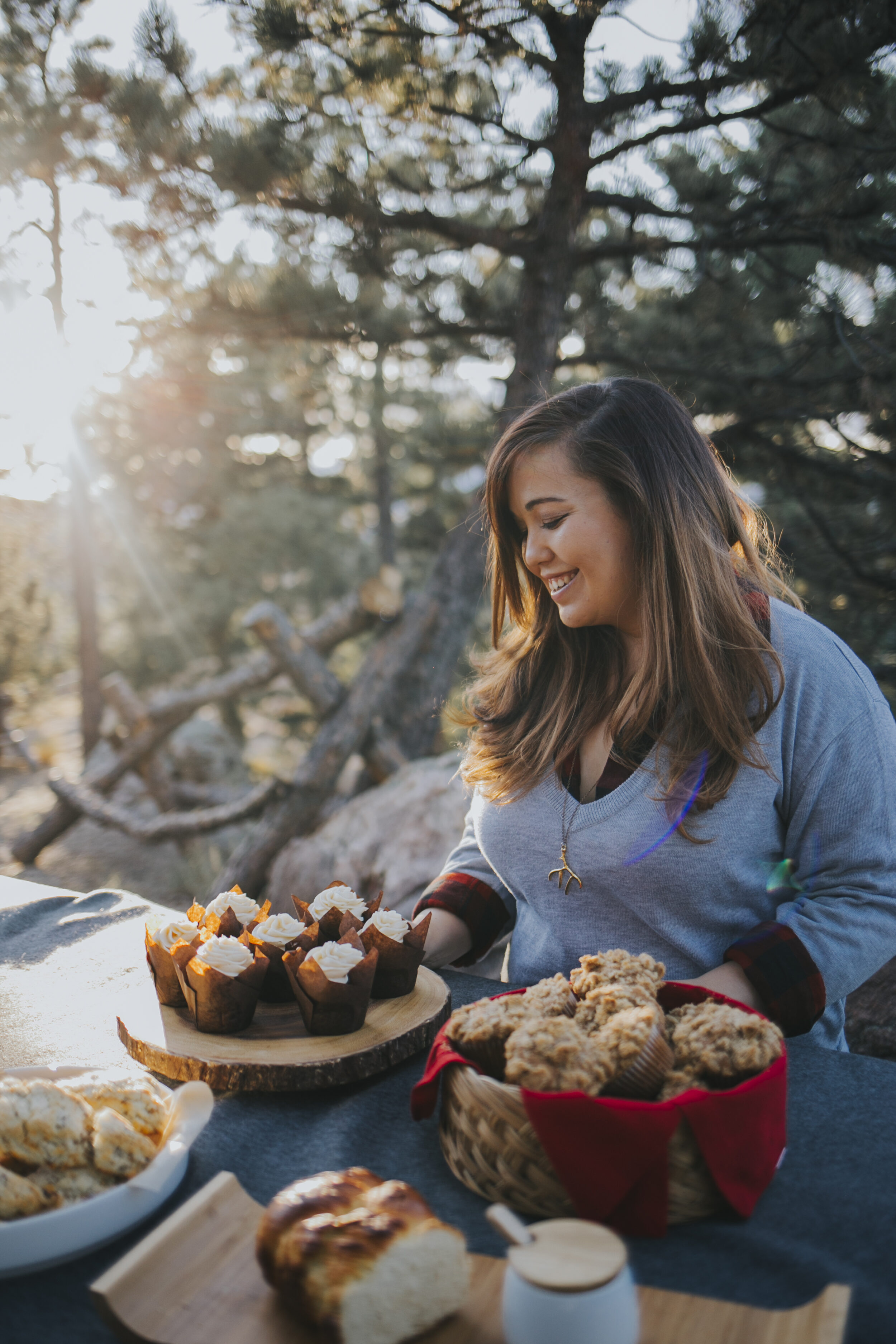 Hello and welcome! My name is Nicole, and Dough-eyed is a food blog for people who want to bake for their family and friends in high-altitude areas. Think of me as a friendly voice there with you in the kitchen, here to give you confidence when you're baking, and to help you with the struggles of baking at high-altitude. Come back every week for new recipes, tips, and advice on high-altitude baking!