Another sweet little fall recipe for you guys today with these Pumpkin Cookie Sandwiches! These cookies are fantastic on their own too, you can do the cream cheese frosting, or skip it all together. Either way, they are super easy to pull together.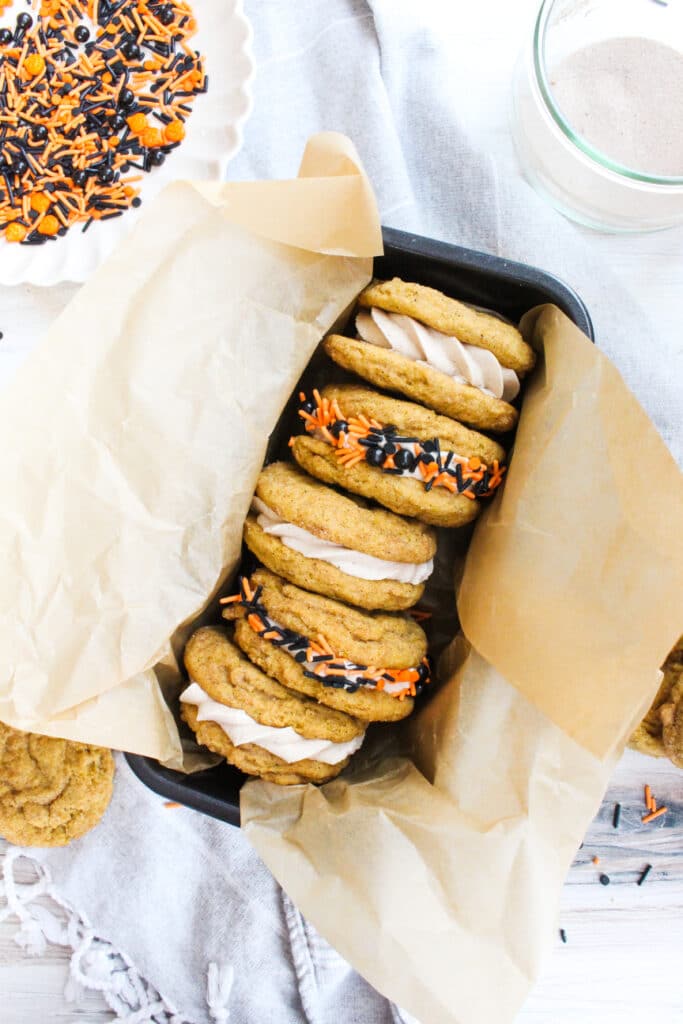 Pumpkin is kind of made for cream cheese frosting right? Feel free to fill these sweet little guys with any frosting you like. I'm just using a simple cream cheese buttercream with a touch of cinnamon. Let's get to it!
How to Make Pumpkin Sandwich Cookies
Let's start with the pumpkin cookies. It can be really tricky to make a pumpkin cookie that isn't completely cakey. You have to go with the right ratio of pumpkin puree to fat, and using just an egg yolk also helps create a chewy texture.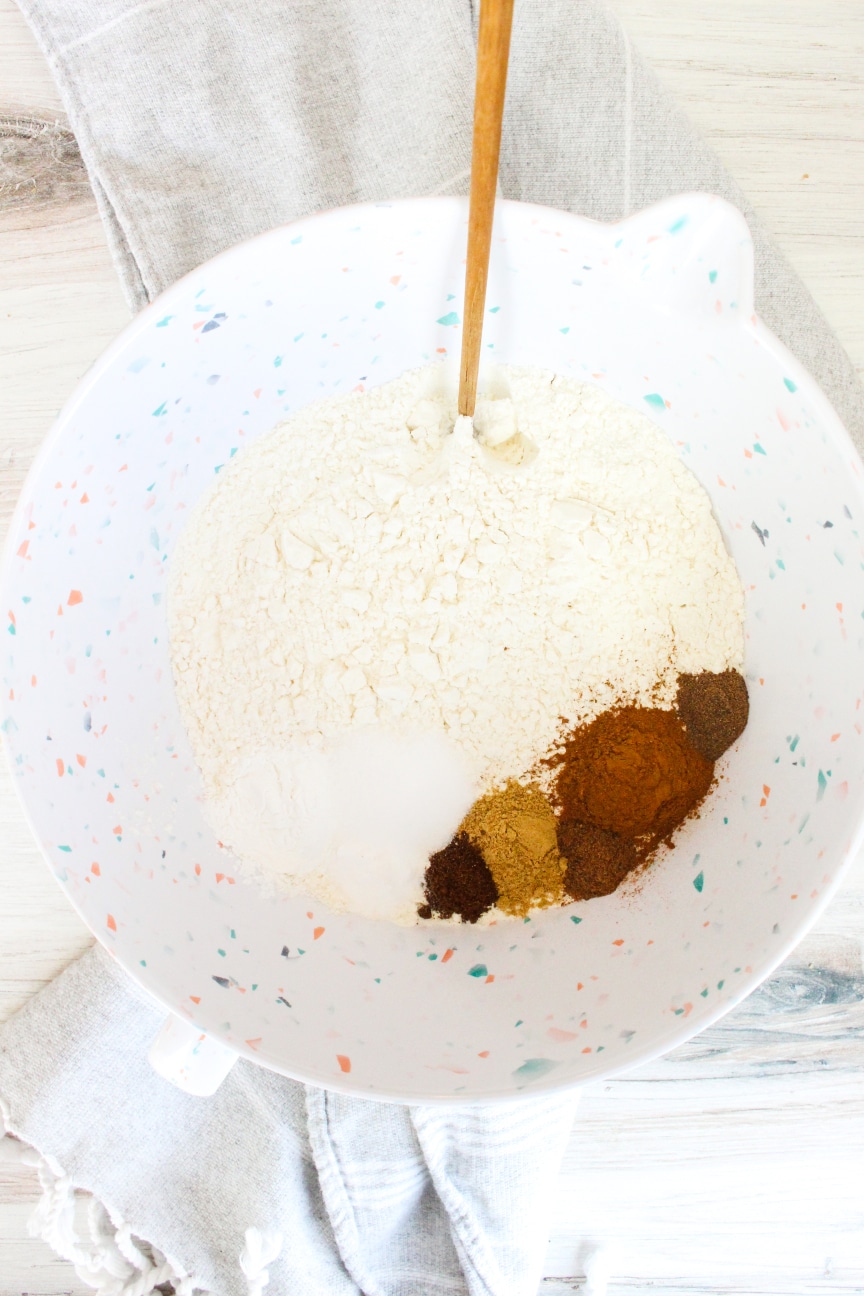 The cookies come together like most cookies- we're starting out by mixing the dry ingredients and setting them aside. This includes all those warm spices that make pumpkin what we know and love.
Then we're beating together some butter and sugar until everything is light and fluffy, and then it's time for the pumpkin puree (NOT pumpkin pie filling), egg yolk, and vanilla extract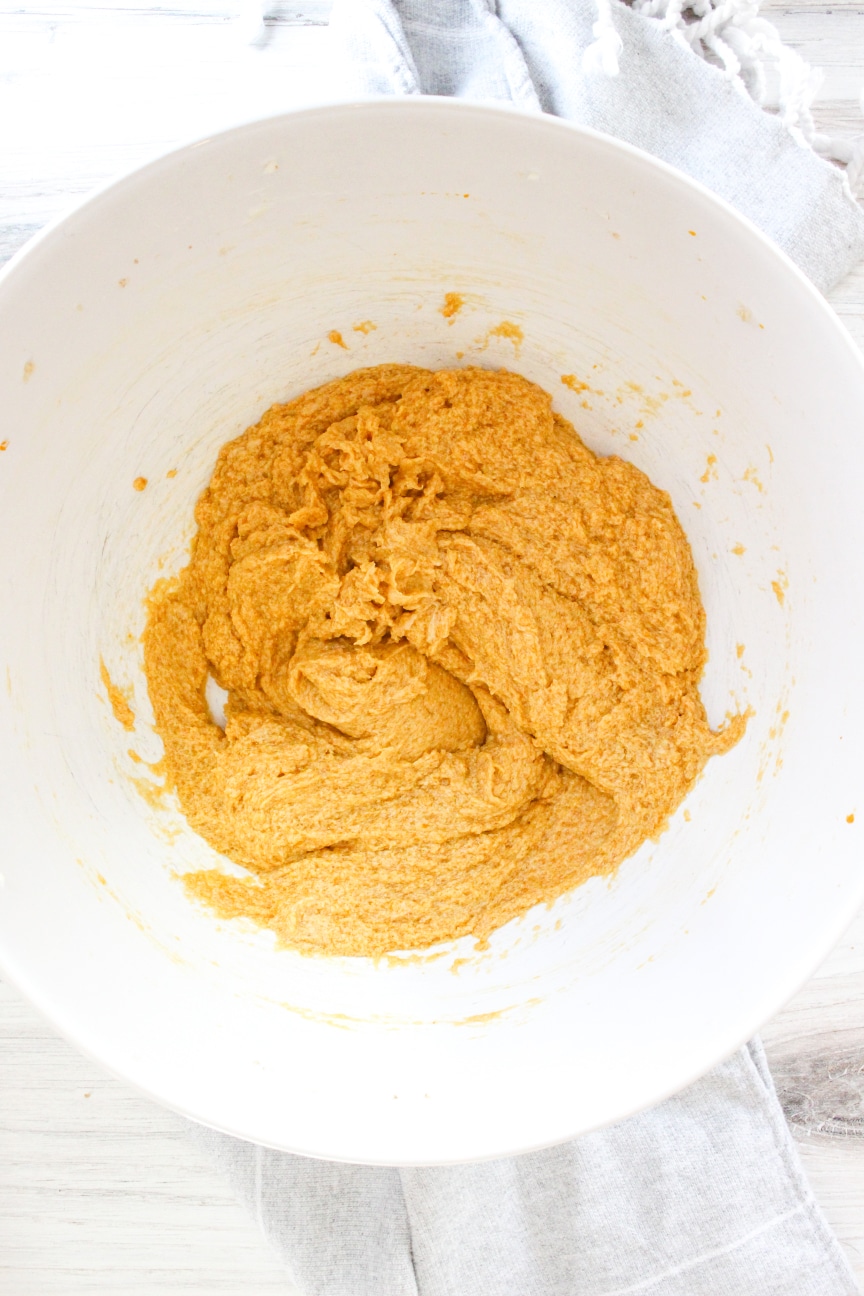 Beat in the dry ingredients until everything is well combined. You should have a thick but soft cookie dough to work with here.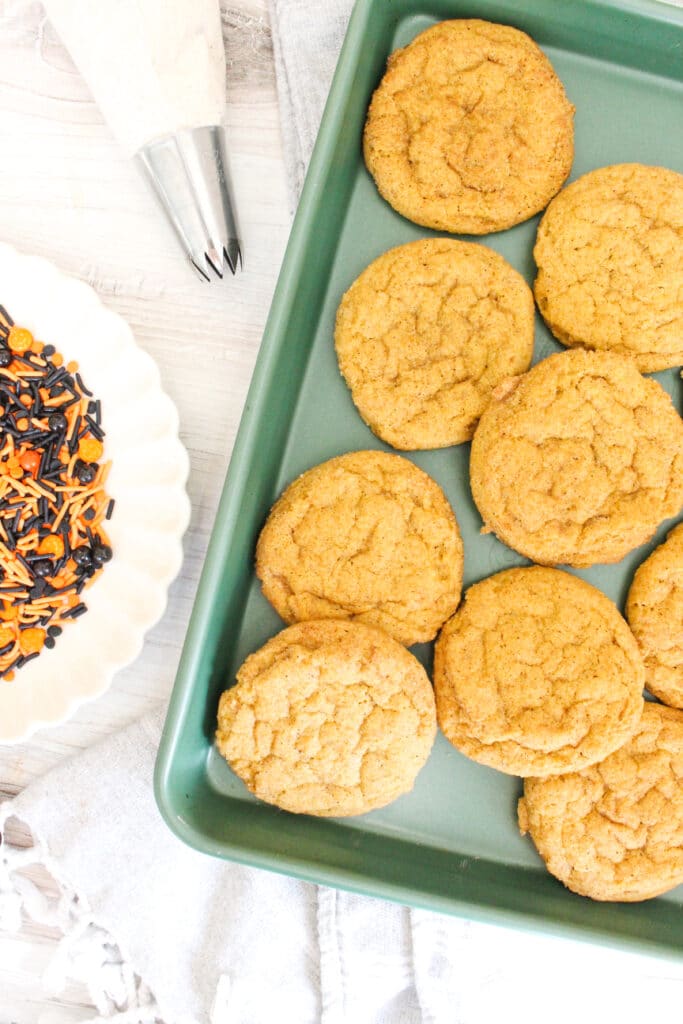 I love the addition of rolling these cookies in cinnamon and sugar- it gives the exterior a crisp texture, again adding to the overall cookie-not-cake vibe we're going for. Then it's off to the oven to bake until you've got a crinkly cookie.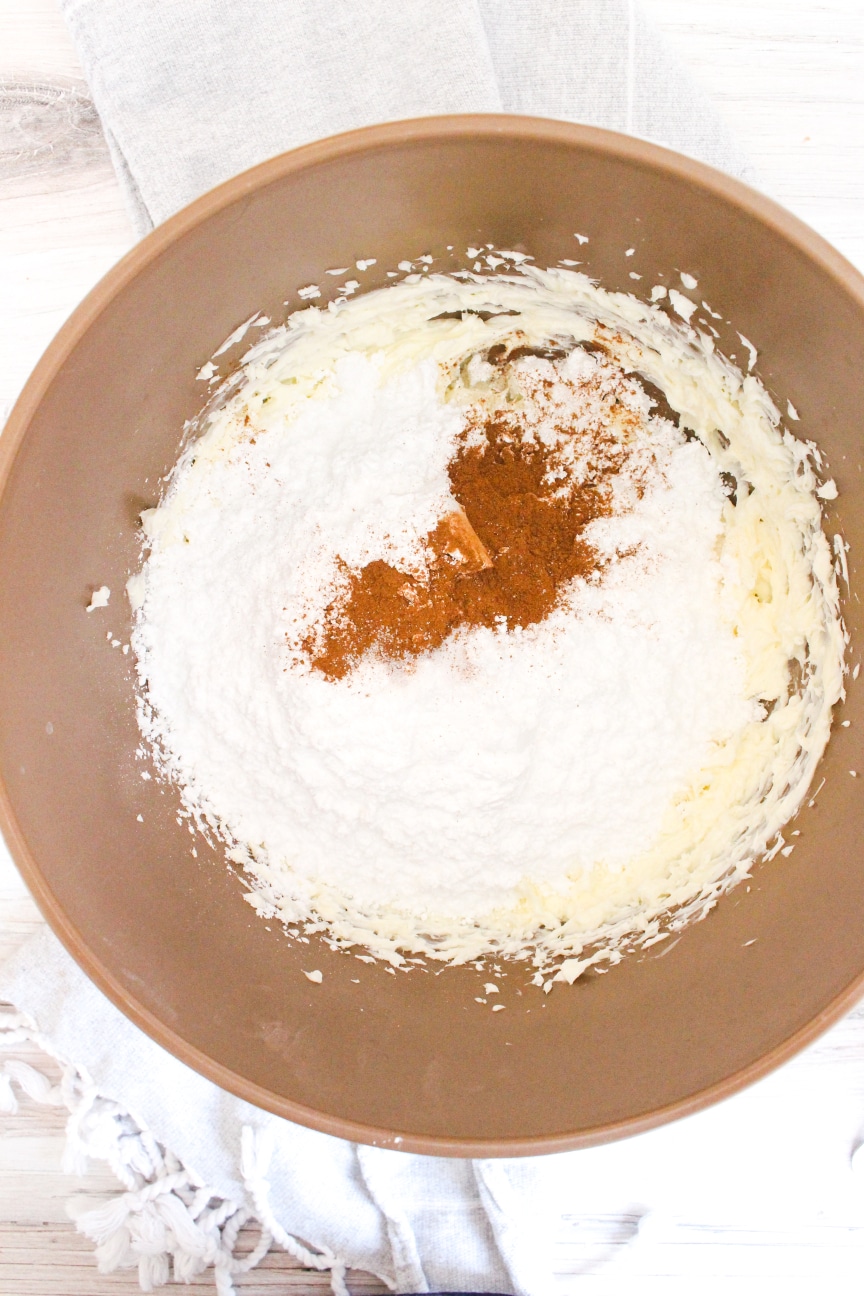 The cream cheese frosting comes together just like any American buttercream- using butter and cream cheese, plus a touch of cinnamon in with the sugar.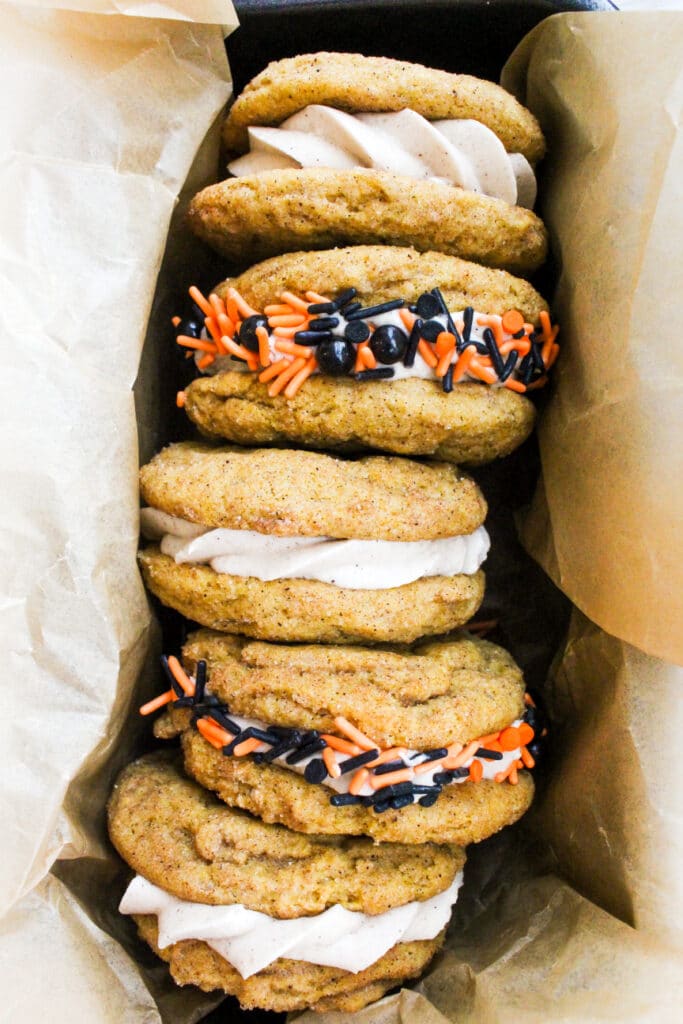 I'm using a piping bag to fill the cooled cookies, but you can also just spread it on with a spoon- it's totally up to you, and they'll be delicious either way.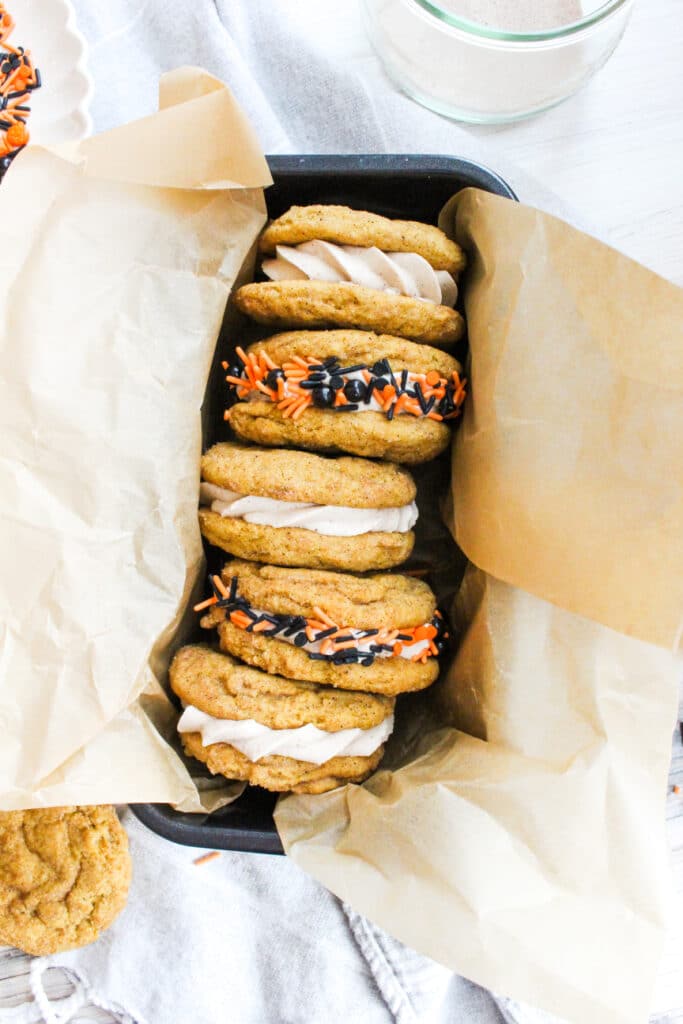 Tips & Tricks for Pumpkin Sandwich Cookies
Here are all my tips and tricks to make these cookies absolutely perfect!
Use pumpkin puree, NOT pumpkin pie filling. Both are available in cans, but you'll need to be sure you use pumpkin puree here!
Use the spice combo that you prefer. You can use my recommended mix, or a mix of your favorite warm spices.
Be sure to avoid over baking these cookies to achieve the perfect chewy texture. Your cookies should look puffy and cracked all over when they are ready to come out. They will settle as they cool.
Use all room temperature ingredients for the cookies and for the frosting. If your frosting ingredients are not room temp, it will become lumpy and separated.
If your frosting separates you may have not used room temp ingredients. You can pop the entire bowl in the fridge for 5-10 minutes, and then re-whip. Repeat this process 2-5 times until the frosting comes together.
If your frosting is too thin you can simply beat in more powdered sugar until it becomes thick and easy to use.
I am at about 5,000 ft. above sea level, and I find that most people who live between about 3,000-7,000 ft. above sea level do not need to make any adjustments to my recipes.
Enjoy!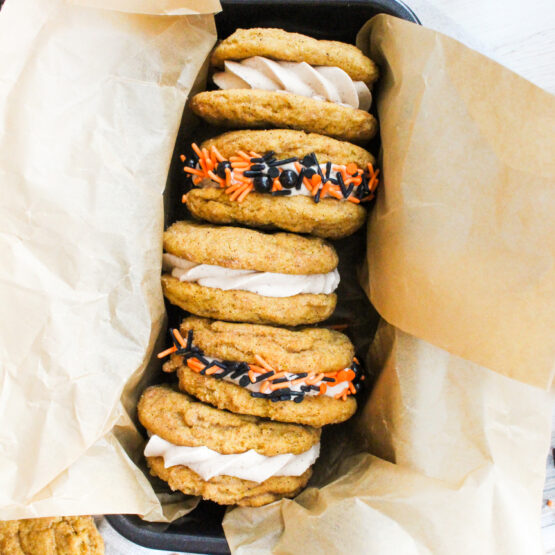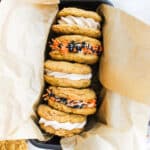 Pumpkin Sandwich Cookies
Ingredients
For the cookies:
2 1/3

cups

all-purpose flour

1 1/2

tsp.

ground cinnamon

1/2

tsp.

ground ginger

1/4

tsp.

cloves

1/4

tsp.

allspice

1/4

tsp.

nutmeg

1/2

tsp.

baking soda

1

tsp.

baking powder

1

tsp.

salt

3/4

cup

unsalted butter

softened

3/4

cup

granulated sugar

1/3

cup

brown sugar

1

egg yolk

room temperature

2

teaspoons

vanilla extract

1/3

cup

canned pumpkin
For the cinnamon sugar mix:
1/4

cup

granulated sugar

1

tbs.

ground cinnamon.
For the frosting:
3/4

cup

unsalted butter

softened

4

oz.

cream cheese

softened

3

cups

powdered sugar

1

tsp.

cinnamon

1/4

tsp.

salt
Instructions
For the cookies:
Preheat your oven to 350 degrees and line two large baking sheets with parchment paper. In a large bowl, stir together the flour, cinnamon, ginger, cloves, allspice, nutmeg, baking soda, baking powder, and salt, and set this mixture aside.

In a large bowl, beat together the butter, sugar, and brown sugar until light and fluffy, about 3 minutes. Then mix in the egg yolk, vanilla extract, and pumpkin puree until well combined. Slowly beat in the flour mixture until everything has been incorporated fully.
For the cinnamon sugar mix:
In a small bowl, stir together the cinnamon and sugar until well combined. Scoop your dough into 2-tablespoonfuls and roll each ball of dough in the cinnamon sugar mixture to coat it fully. Place the rolled dough onto your baking sheet, leaving space for spreading as they bake. Bake for 10-12 minutes, or until the cakes are puffy all over and lightly golden at the edges. You really don't want to over-bake these! Cool the cookies completely before frosting.
For the frosting:
In a large bowl, beat together the butter and cream cheese until well combined and fluffy. Then add in the powdered sugar, cinnamon, and salt, and whip until a stiff frosting forms. Fill your COOLED cookies generously with the mixture!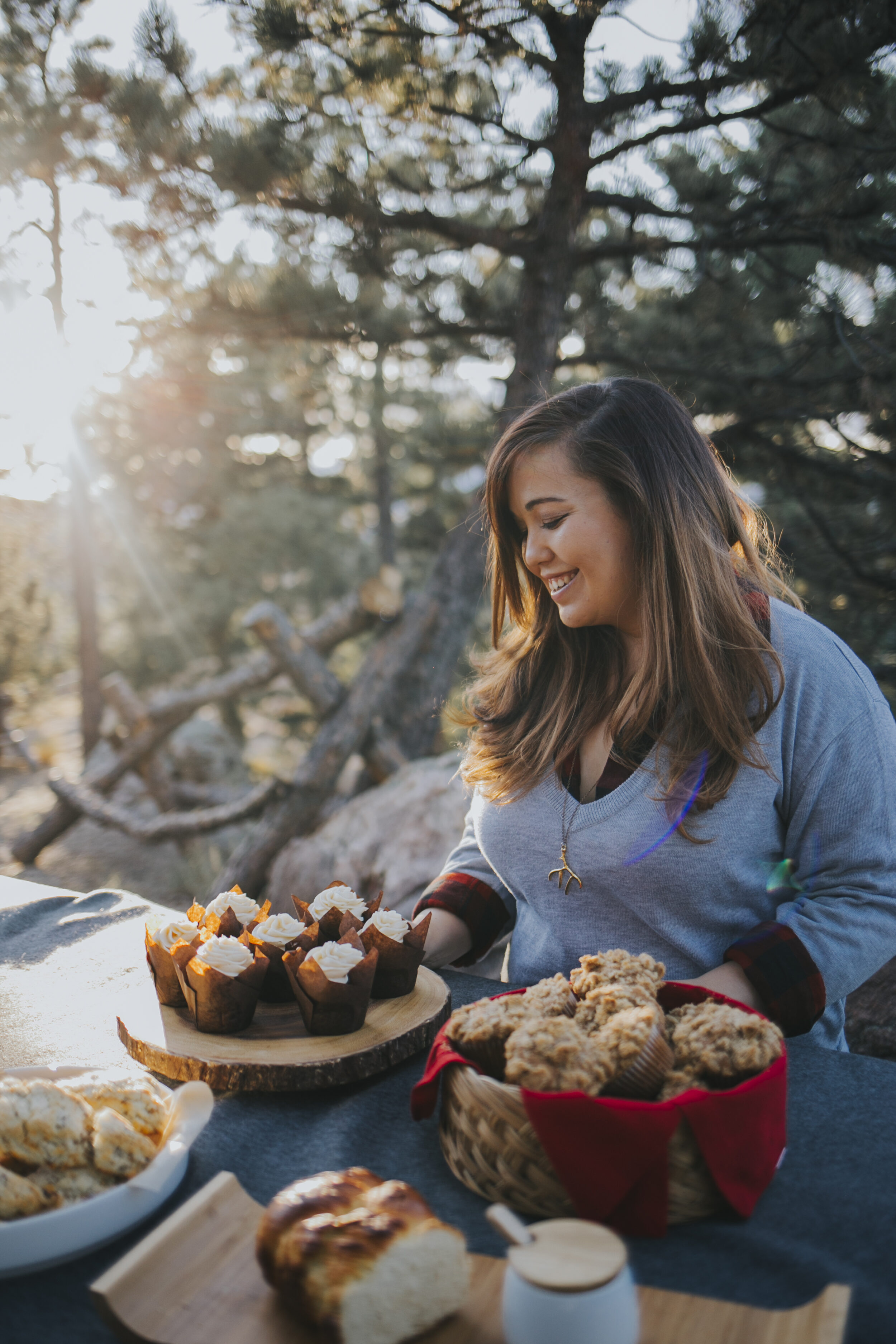 Hello and welcome! My name is Nicole, and Dough-eyed is a food blog for people who want to bake for their family and friends in high-altitude areas. Think of me as a friendly voice there with you in the kitchen, here to give you confidence when you're baking, and to help you with the struggles of baking at high-altitude. Come back every week for new recipes, tips, and advice on high-altitude baking!