Carrot cake has always felt like a fall dessert to me, and today I'm sharing the recipe for this dreamy, swirly, Carrot Swirl Cake. It's like a pound cake with a swirl of carrot cake running through it- it's so dang good!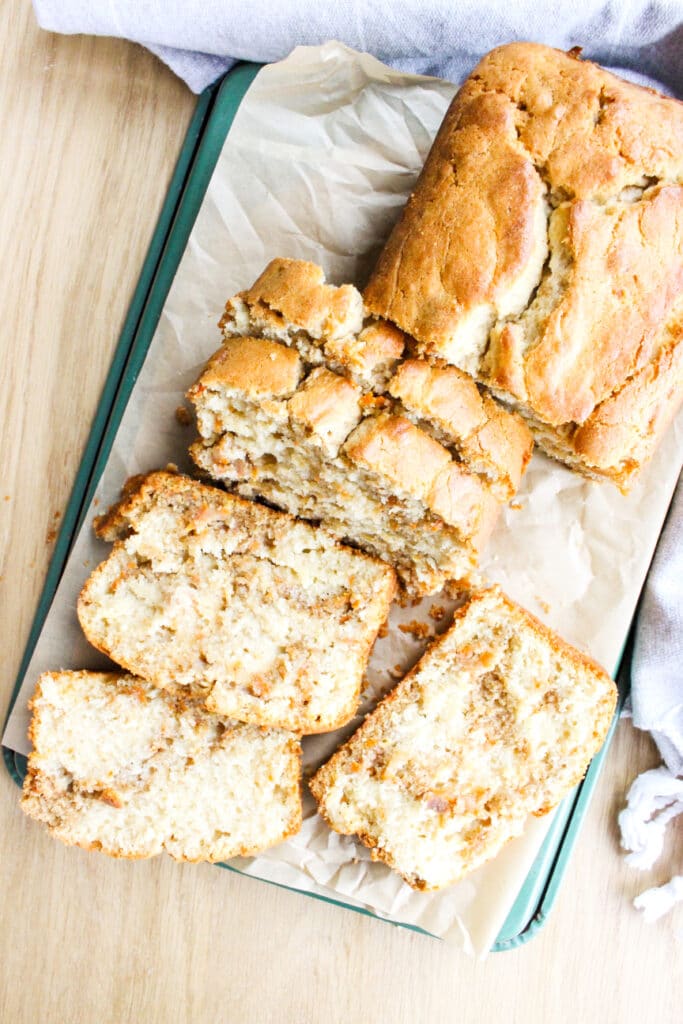 This recipe is a sweet little butter cake, and it's easy to pull together. It kind of tastes like a mild carrot cake mixed with, well, a pound cake! If you're looking for a classic High-Altitude Carrot Cake Recipe, I've got ya covered!
How to Make Carrot Swirl Cake
This cake starts by mixing together the butter, oil, and sugars until everything is well combined and smooth. Then add in the eggs one at a time, and mix it all up. The mixture may look a little separated at this stage if your eggs were not at room temp, but that's ok!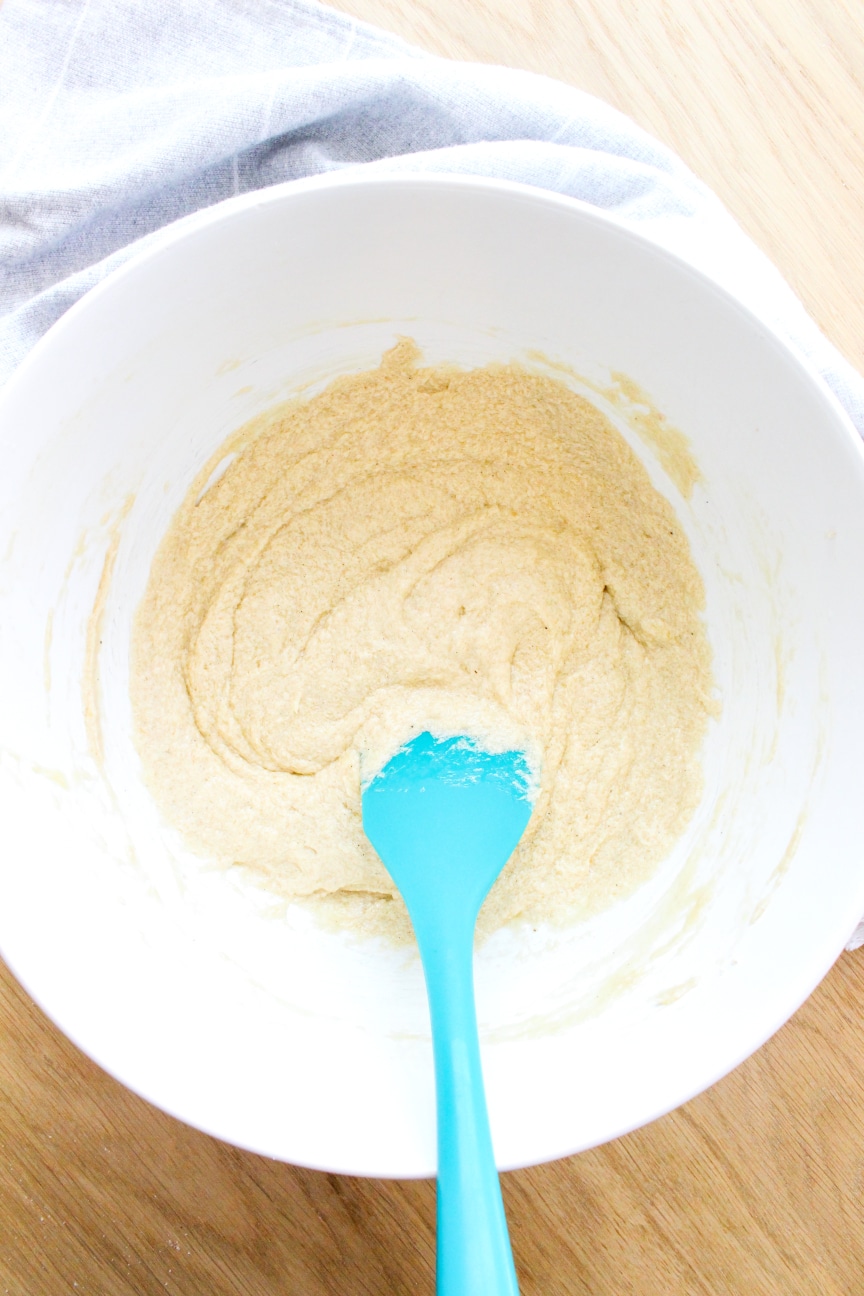 Then add in your flour mixture in alternating stages with the buttermilk. This process will create a smooth, well-mixed batter.
Finally, add about 1/3 of the batter into another bowl, and then we're adding in all the carrot cake goodies. This is shredded carrots, a bunch of warm spices, and just a touch more flour to make the two batters hold up next to each other.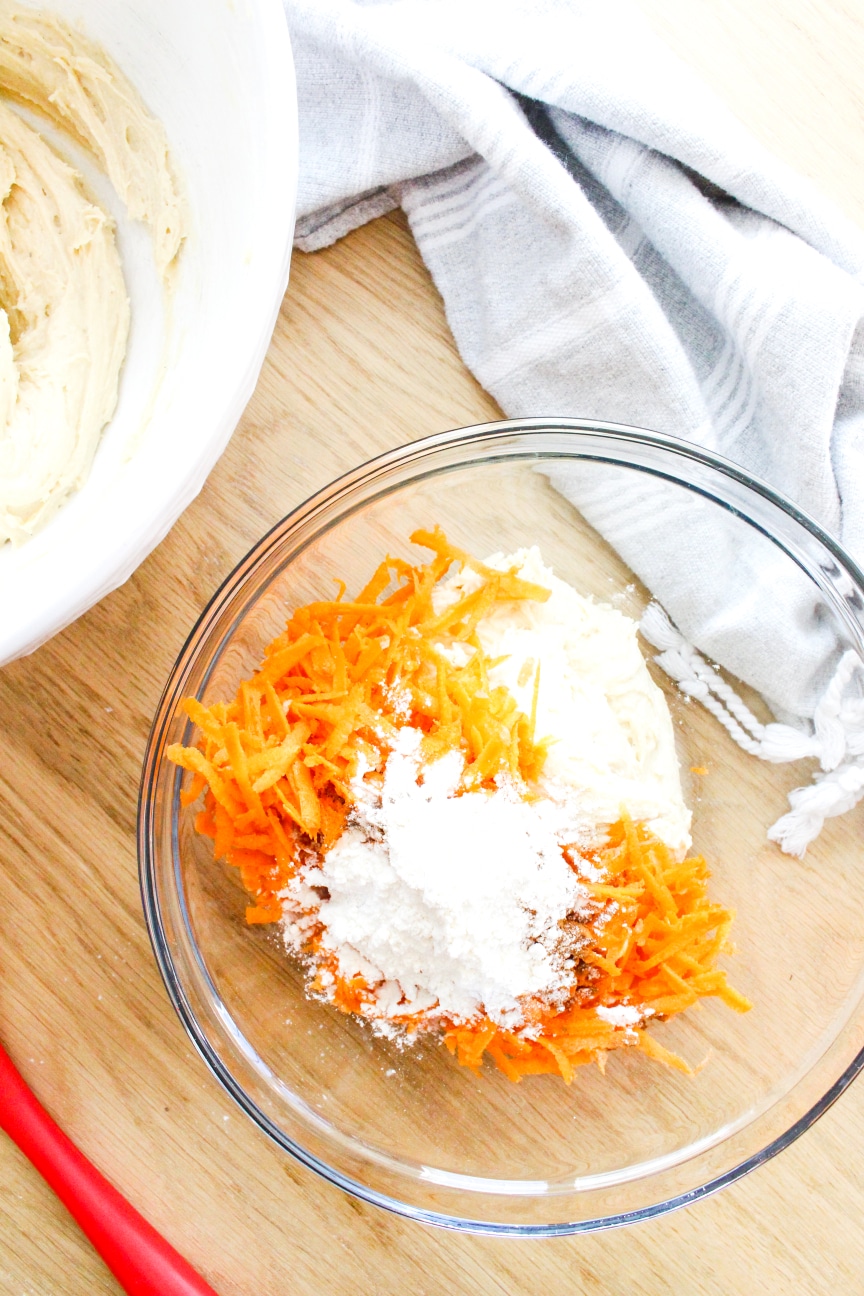 I like to use a couple of spoons or small cookie scoops to scoop the batter into the loaf pan in alternating additions. This will help with the swirling process. Then take a butter knife and swirl the two cake batters together, being sure to go all the way to the bottom of the pan as you swirl. Smooth it out on top, and it's off to the oven to bake.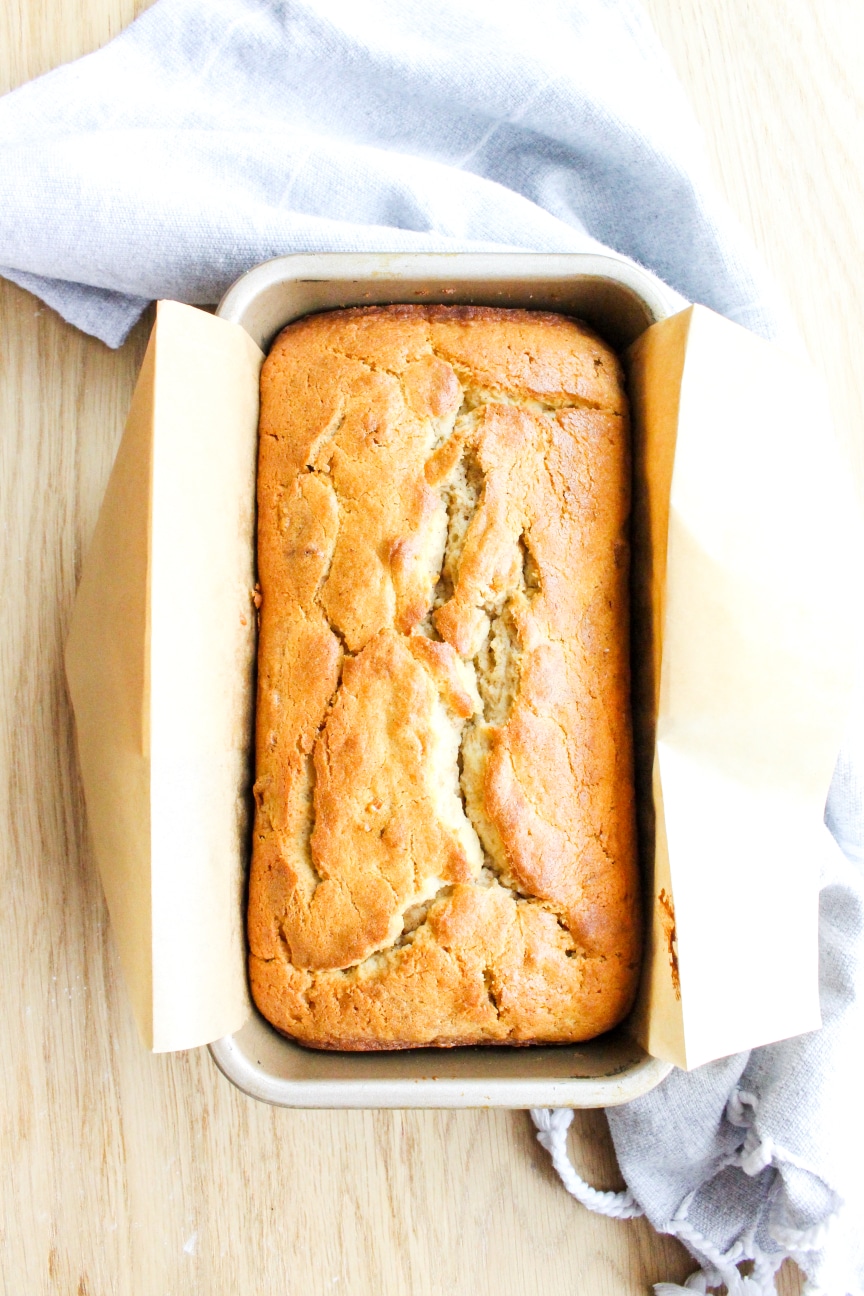 You really want to cool this cake completely before slicing and serving- it's delicate, but will hold together much better once fully cooled. Then you've got a sweet little fall treat, perfect for your morning coffee.
Tips & Tricks for Carrot Swirl Cake
Here are all my tips to help along the way to the perfect Carrot Swirl Cake!
Don't over mix your batter. This cake should be mixed at every stage until everything is just combined. If you over-mix the batter, you risk the cake sinking and becoming over dense.
Do I have to use buttermilk? Buttermilk works to keep the cake tender and soft here, and I highly recommend using it. You can use a buttermilk alternative by mixing 1 tsp. white vinegar with whole milk.
Do I have to use sour cream? The sour cream can be replaced with yogurt here if you prefer, but the additional moisture is part of what makes this cake great!
Will this recipe work without the carrot swirl? Yes! You can skip the carrot swirl if you're looking for a simple pound cake, but it's a great base recipe either way!
How do I know when the cake is done baking? Your cake should be golden brown all over the top, and should not look wet anywhere. Use a toothpick inserted to the center of the cake to tell if it's done baking- it should have just a couple of moist crumbs clinging to it when removed.
This is a pound cake so it's meant to be a little dense with a tight crumb structure. Letting the cake cool completely makes a big difference in the texture here, so don't skip that step!
I'm at about 5,000 ft above sea level and I find that most people who live between about 3,000-7,000 ft above sea level do not need to make any adjustments to my recipes.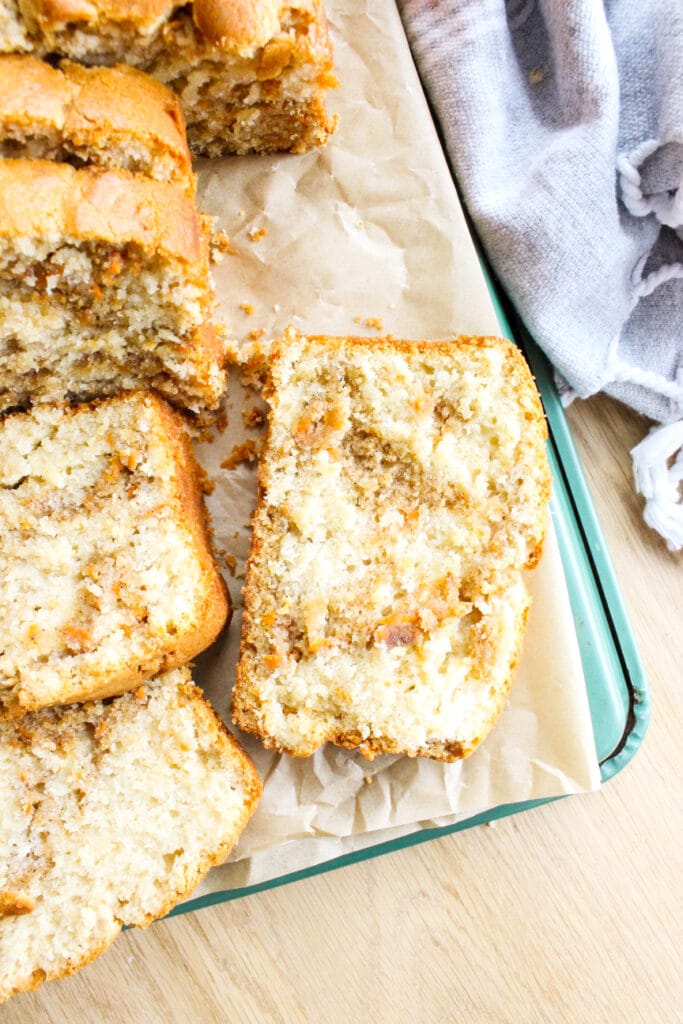 Enjoy!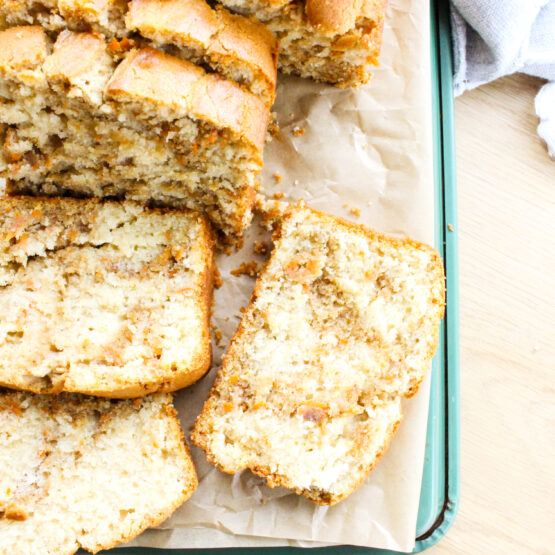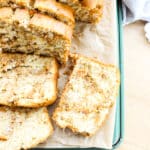 Carrot Swirl Cake
Ingredients
For the main cake batter:
2

cups

all-purpose flour

1

tsp

baking powder

1/2

tsp.

salt

3/4

cup

softened butter

2

tbs.

oil

1/2

cup

granulated sugar

1/4

cup

brown sugar

2

large eggs

1/4

cup

sour cream

1

and 1/2 teaspoons pure vanilla extract

1/2

cup

buttermilk
For the carrot cake swirl
2

tbs.

flour

1

cup

shredded carrot

1

tsp.

cinnamon

1/2

tsp.

ground ginger

1/4

tsp.

cloves
Instructions
For the main cake batter:
Preheat your oven to 350 degrees and generously grease a loaf pan with baking spray. Optionally line the pan with parchment paper for easy removal. I'm using an 8×4 inch loaf pan, but you can use a larger one as well, it just may take less time to bake.

In a medium bowl, stir together the flour, baking powder, and salt, and set the mixture aside. In a large bowl, beat together the butter, oil, and sugar until smooth and fluffy, about 1-2 minutes. Add in the sour cream, vanilla extract, and one egg- stir until well combined. Then, beat in the second egg.

Add in about 1/3 of the flour mixture and stir until well combined. Then add in about half of the buttermilk and stir to combine. Repeat until all of the buttermilk and flour mixture has been added. The batter should be very thick.
For the carrot cake swirl
Scoop about 1/3 of the main batter into another medium bowl. Add in the flour, shredded carrot, cinnamon, ground ginger, and cloves and stir until everything is well combined.

Begin scooping your two cake batters into your cake pan in alternating additions- you can use a scoop or just a spoon to put dollops of each batter into your pan. Then use a knife or a long toothpick to swirl the cake batters together, being sure to bring the knife all the way to the bottom of the pan.

Bake the cake for 55-60 minutes, until a cake tester comes out clean. Cool completely in the pan and then remove to slide and serve!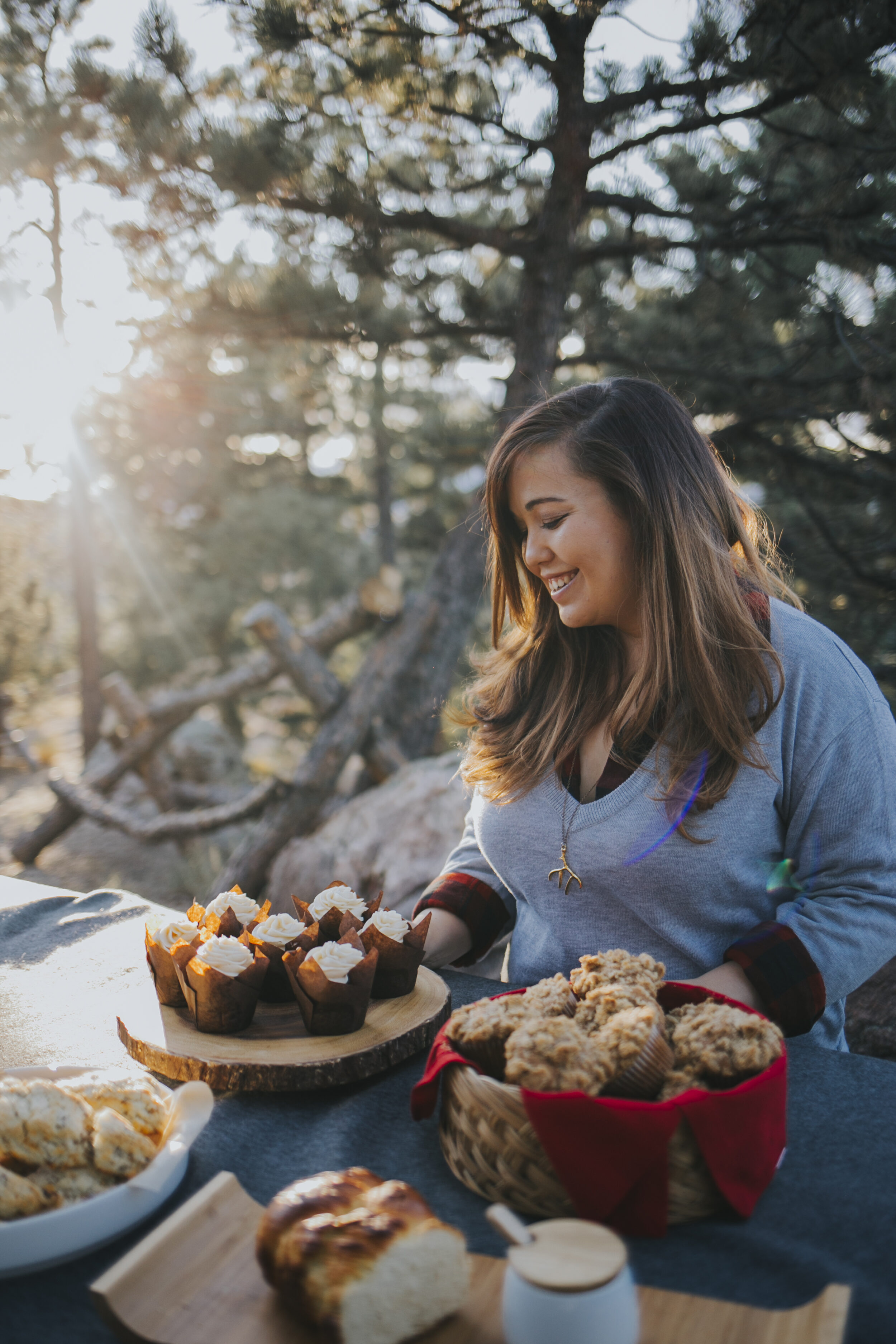 Hello and welcome! My name is Nicole, and Dough-eyed is a food blog for people who want to bake for their family and friends in high-altitude areas. Think of me as a friendly voice there with you in the kitchen, here to give you confidence when you're baking, and to help you with the struggles of baking at high-altitude. Come back every week for new recipes, tips, and advice on high-altitude baking!