Peanut Butter & Chocolate Cupcakes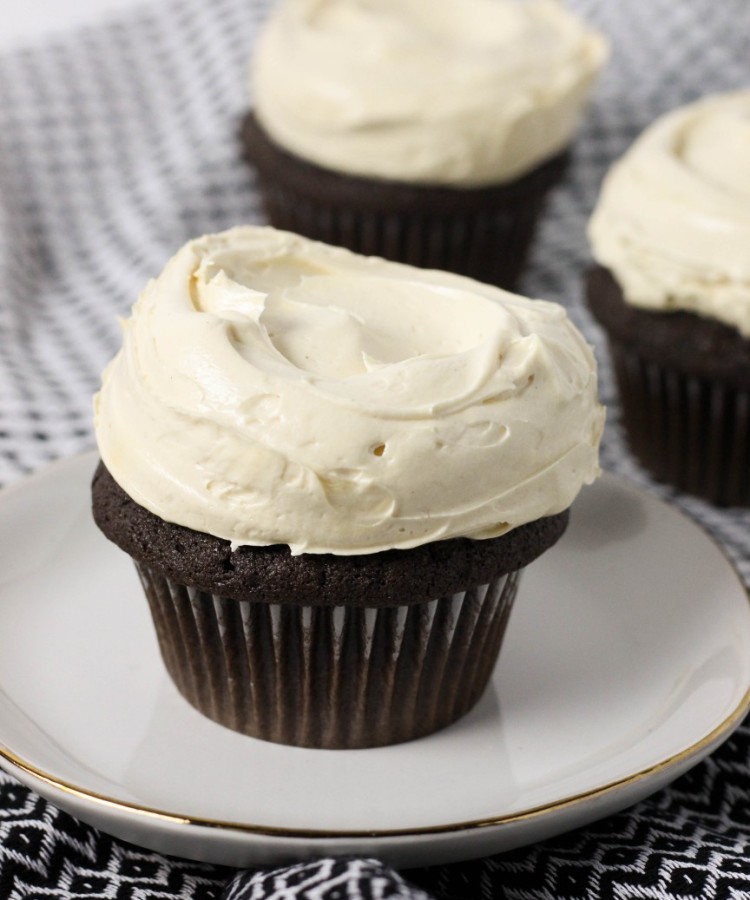 It's classic, it's totally been done before, I know it. But peanut butter and chocolate belong together in all forms, not just candy you guys. So today I'm comin' atcha with these sweet chocolate cupcakes piled high with a pillowy peanut butter frosting.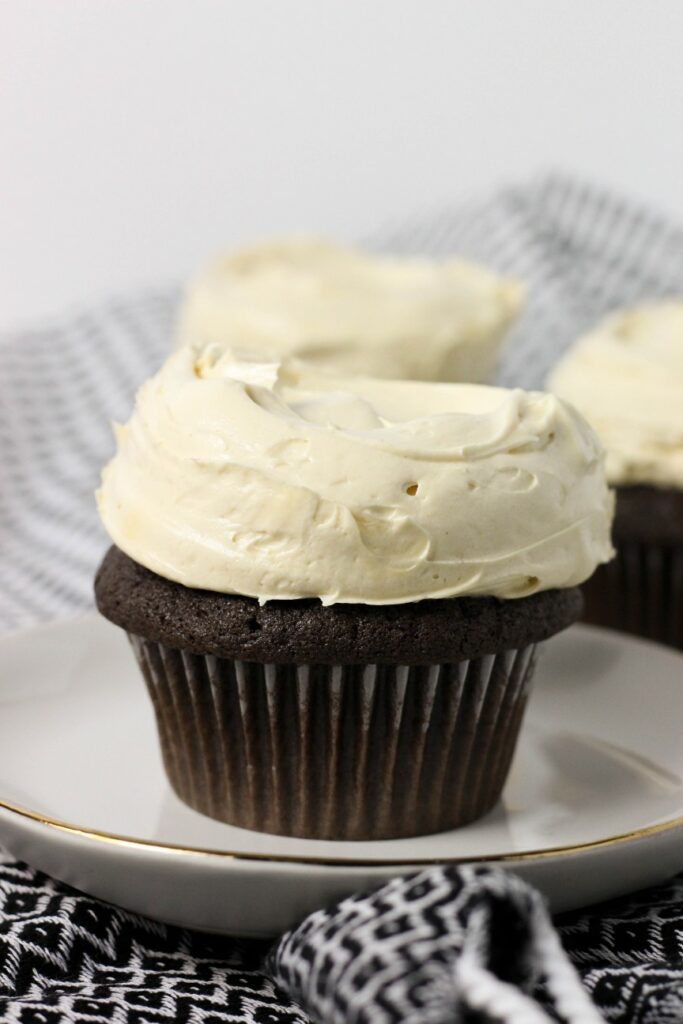 Speaking of the frosting, yes, there's a lot of it on these. If you're not that into frosting, I accept our differences and also you might want to cut the frosting recipe in half. OR, even better, double the cake recipe.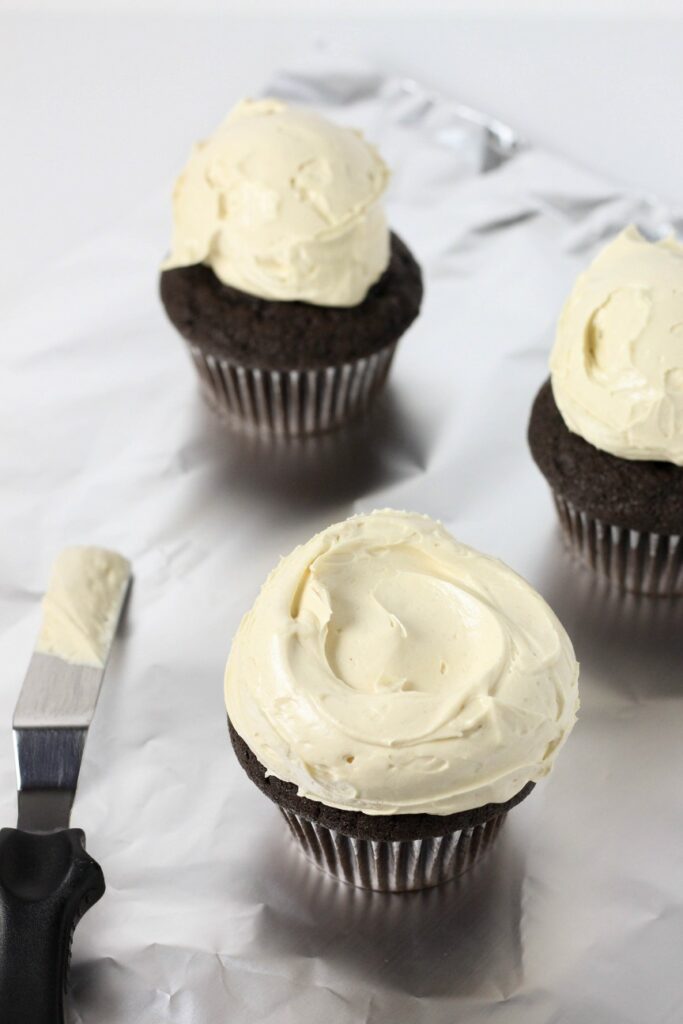 Ok, so it's Valentine's Day week, and I know everyone is all about the pink and red desserts for this holiday, but let's also not forget about the chocolate love. And if you love a little pb on your chocolate, why not switch things up this year and enjoy these with your friends or loved ones?

I'm telling ya, they're gonna be hit. Who doesn't love peanut butter and chocolate? Don't answer that, I'm not prepared to meet those people.
So this frosting is a Swiss meringue buttercream, which I think is my new fav when it comes to frosting. It's much lighter than an American buttercream. Think of it this way- American buttercream is all butter, while Swiss meringue buttercream is like half butter and half egg whites. Egg whites you guys, it's practically health food. I mean it's not, also I'm not a professional so don't listen to me when I call things health food, but it's lighter for sure. I think.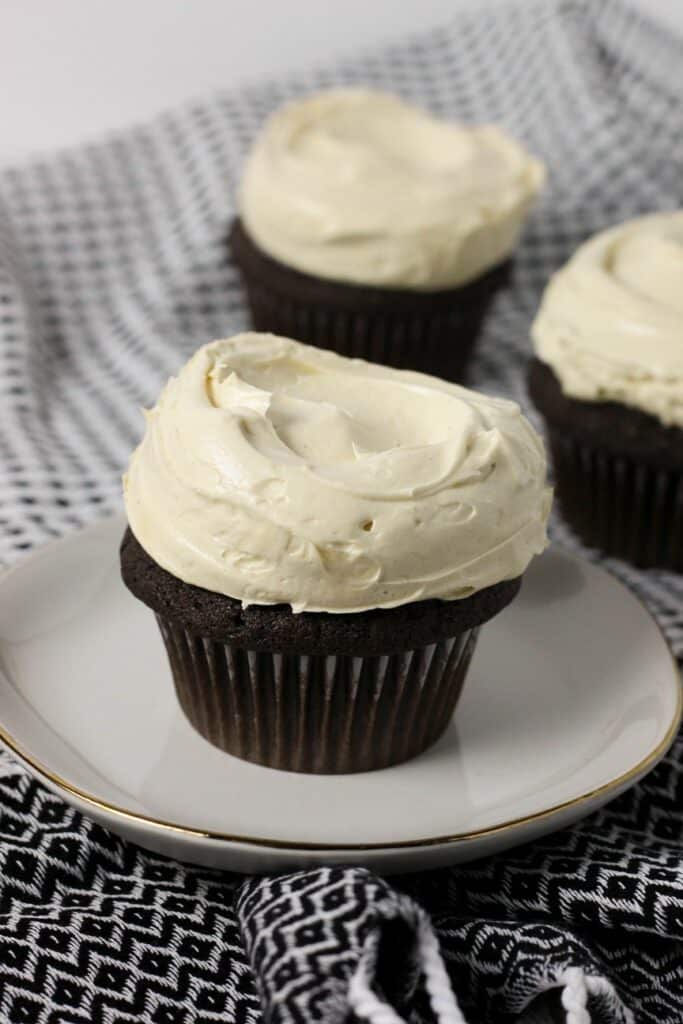 I'm throwing a giant amount of the good stuff on top of these simple dark chocolate cupcakes. They've got a strong chocolate flavor, and they're a simple recipe to whip up. I did the whole thing, start to frosted and finished, in under an hour. I mean, I was hurrying, I wanted the cupcakes, but still.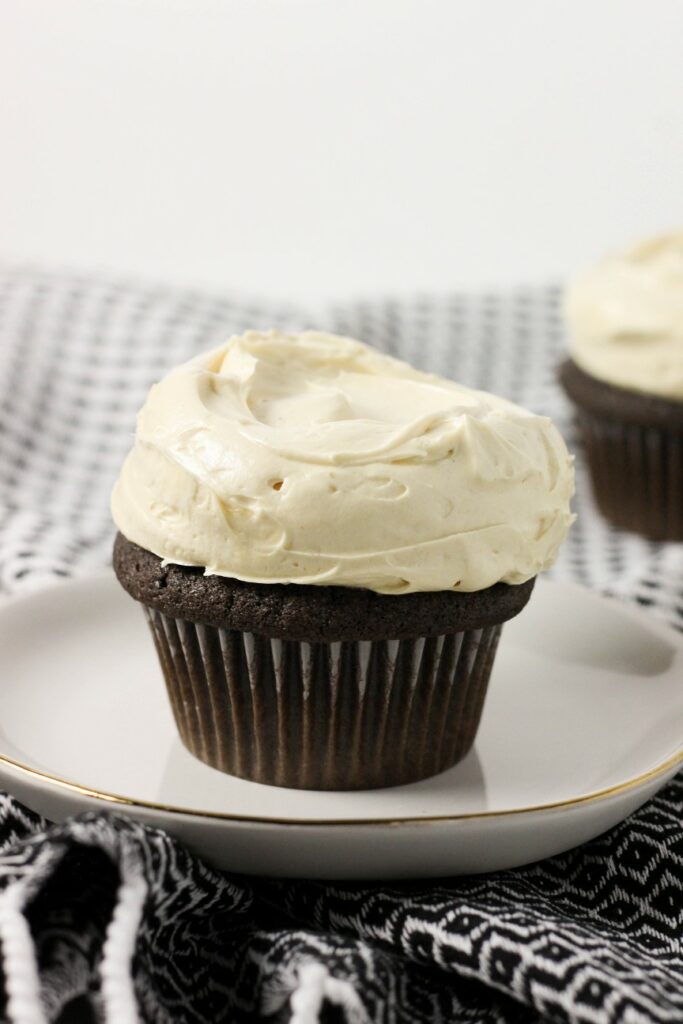 Anyways so happy Valentine's Day, or happy day if you aren't a big celebrator, and let's get on these ones guys. Enjoy!
Peanut Butter & Chocolate Cupcakes
Ingredients
For the cupcakes:
1/4 cup boiling water
1/4 cup dark chocolate cocoa powder
1/2 cup softened butter
1/2 cup (heaping) sugar
2 eggs
1 tsp. vanilla extract
1/4 cup sour cream
1 cup flour
1 1/2 tsp. baking powder
1/4 tsp. salt
2 tbs. milk
For the frosting:
5 egg whites
1 1/4 cup sugar
1 1/4 cup softened butter
1 tsp. vanilla extract
3/4 cup creamy peanut butter
Instructions
For the cupcakes:
Preheat your oven to 350 degrees, and line a 12 cup muffin tin with cupcake liners.
In a small bowl, stir together the boiling water and the cocoa powder until smooth. Set aside to cool.
In a large bowl, beat together the butter and sugar until fluffy.
Beat in the eggs, vanilla, and sour cream.
Add in the flour, baking powder, salt, and milk, and beat until smooth.
Last, beat in the cocoa mixture until completely combined.
Scoop the batter evenly between your 12 muffin cups.
Bake for 18-20 minutes, or until a cake tester comes out clean. Cool completely before frosting.
For the frosting:
In a double-broiler, cook the egg whites and sugar until they reach 155 degrees, or until the sugar has dissolved completely.
Beat the hot egg mixture either by hand or in your stand mixer for about 10 minutes, until the mixture is completely cool and has formed stiff peaks.
Slowly add in the butter, mixing well while adding. Beat for several minutes until the frosting becomes light and fluffy. This can take some time, and the frosting might look broken along the way- just keep going.
Add in the vanilla and peanut butter and beat until smooth. Frost your cupcakes as desired.
https://www.dougheyed.com/peanut-butter-chocolate-cupcakes-2/
Comments