Hey guys! I've got something really fun today- these Mini Snickerdoodle Cookies are so dang cute, and really, really yummy!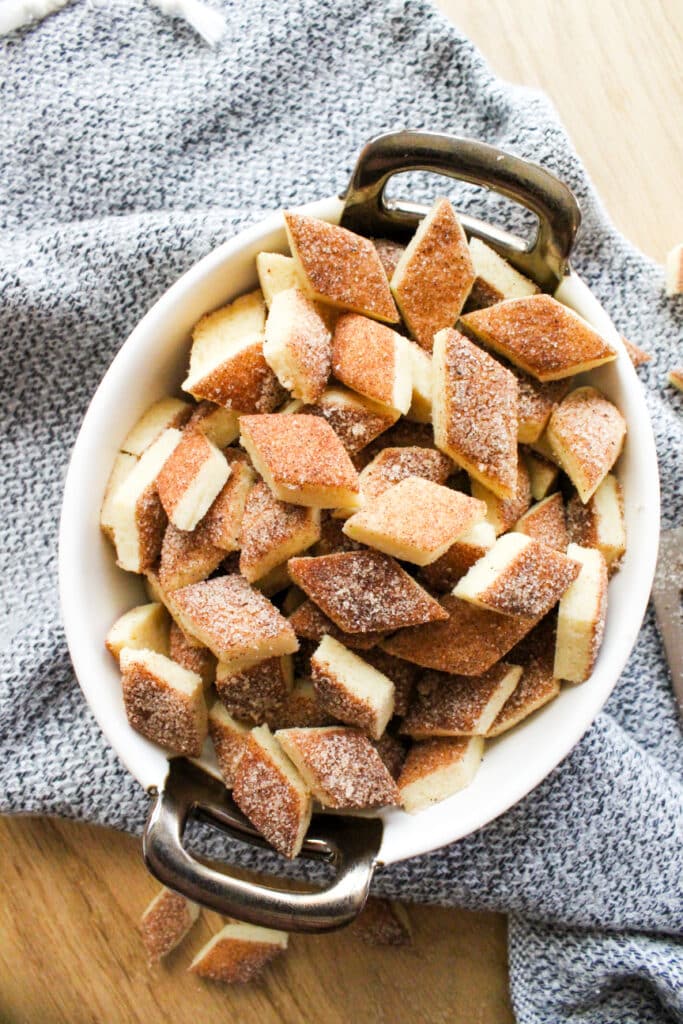 I love the idea of adding something mini into your holiday cookie boxes, and these are the perfect option. They are a combo of a cutout sugar cookie and a snickerdoodle, and the results are so addictive!
How to Make Mini Snickerdoodle Cookies
The base of these cookies is from my recipe for cutout sugar cookies, with the addition of cream of tartar, which is a classic Snickerdoodle ingredient. I like to use cold butter and sugar to start, and then add in an egg and some vanilla extract.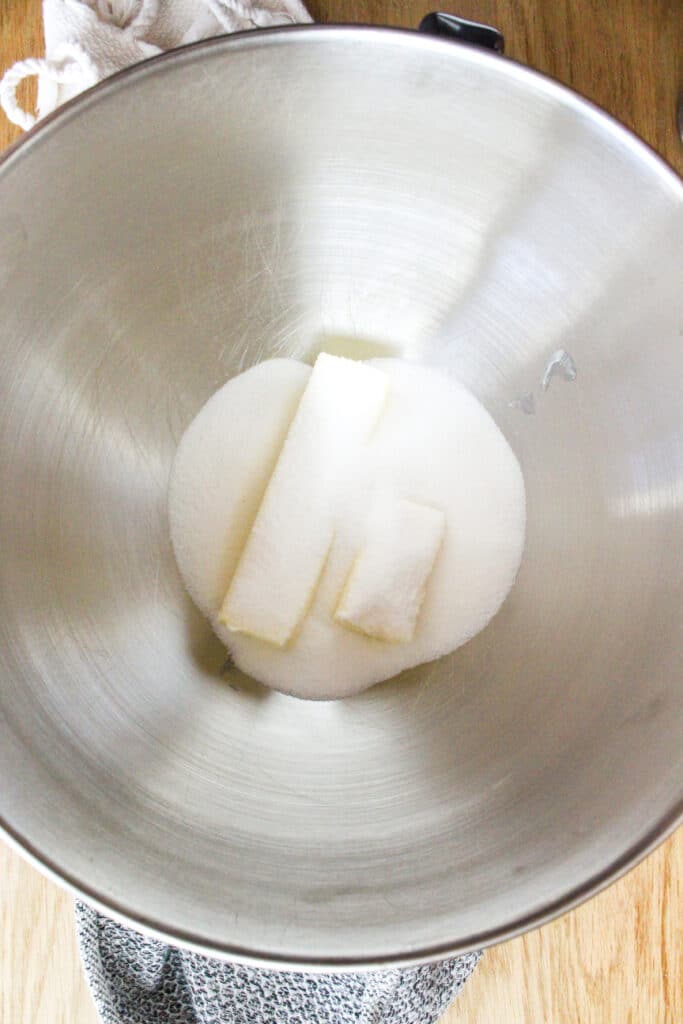 Then add in flour, salt, and cream of tartar and mix everything together until you have a very thick dough. Since we're using cold butter, this is easiest made in a stand mixer! You'll end up with a very firm dough that is really easy to work with and roll out.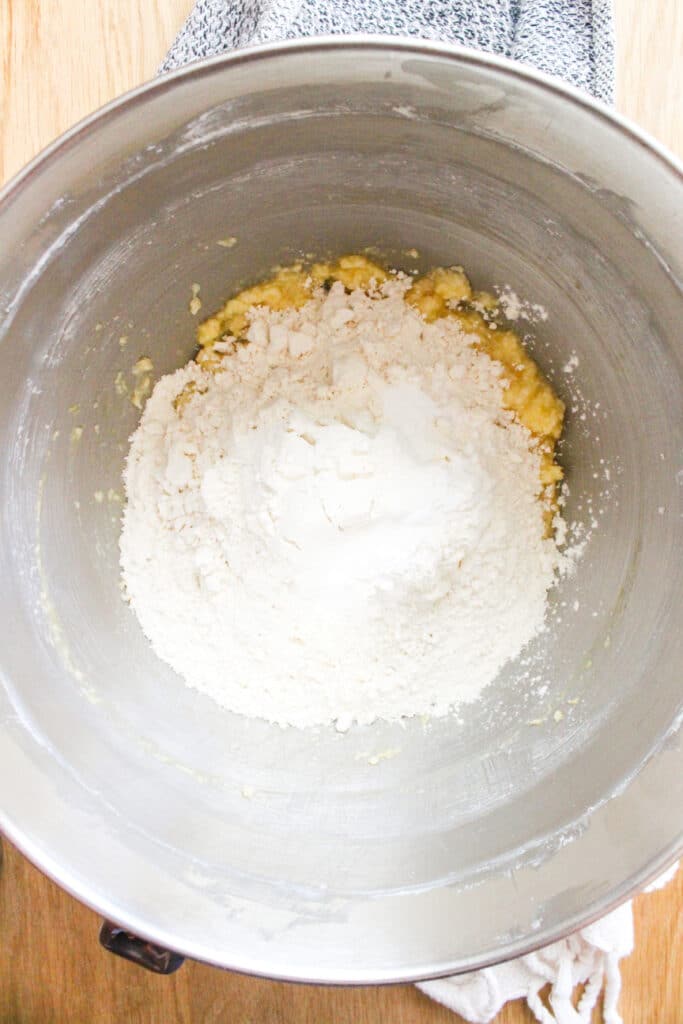 I like to roll my dough between two pieces of parchment paper for easier cleanup, but this is optional. Roll out your dough to a fairly thick sheet- about 1/2 inch thick. Then we're sprinkling a LOT of cinnamon and sugar on top.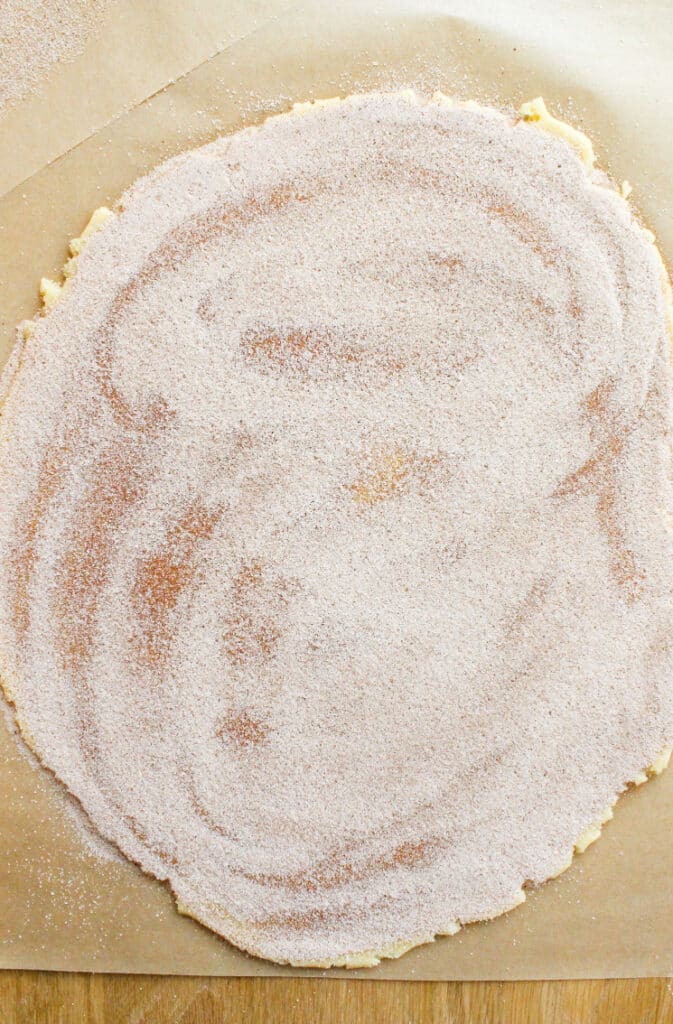 Use a rolling pin to gently press the cinnamon/sugar mixture into your dough, and then start slicing it all up into small diamond shapes. There's very little dough wasted in this method, which I love!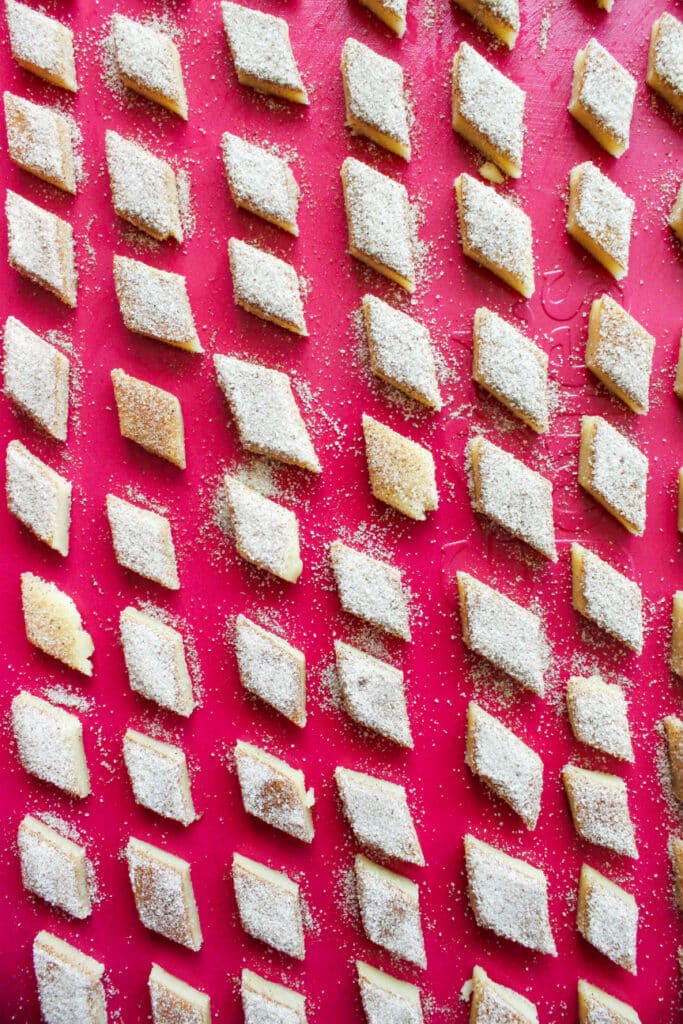 These cookies won't spread in the oven, so you want to just give them a little space to breath, but they can be very close together on your sheet pans. You should be able to fit all the cookies on two sheet pans easily.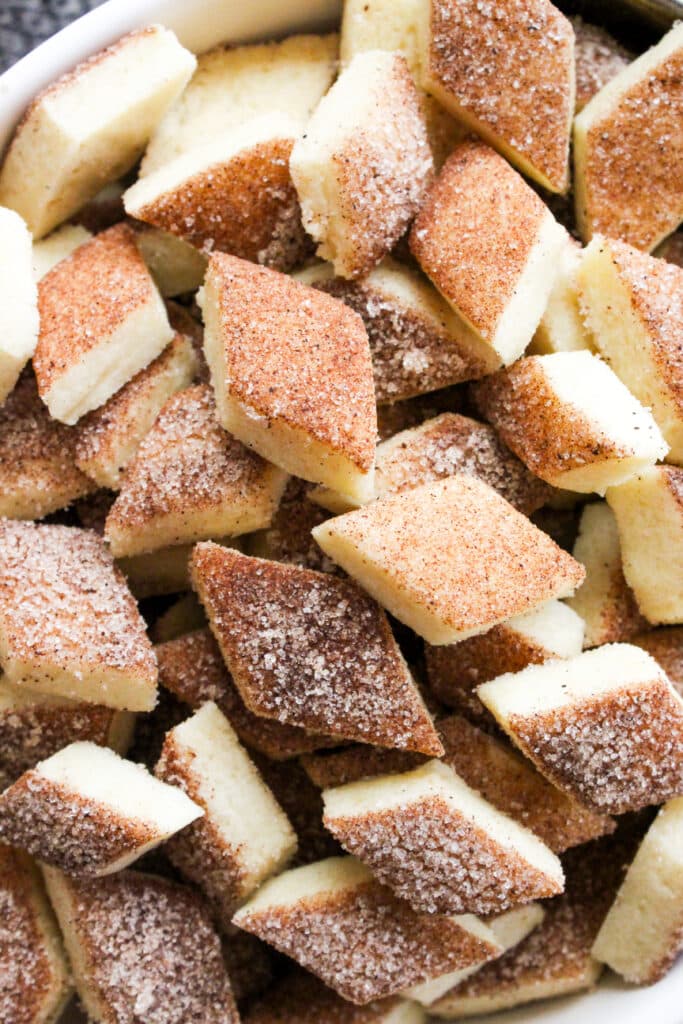 Then it's off to the oven until the sugars on top have slightly darkened and the cookies are just set. You don't want to over-bake these cookies, and it's a pretty fast bake time since they are so small!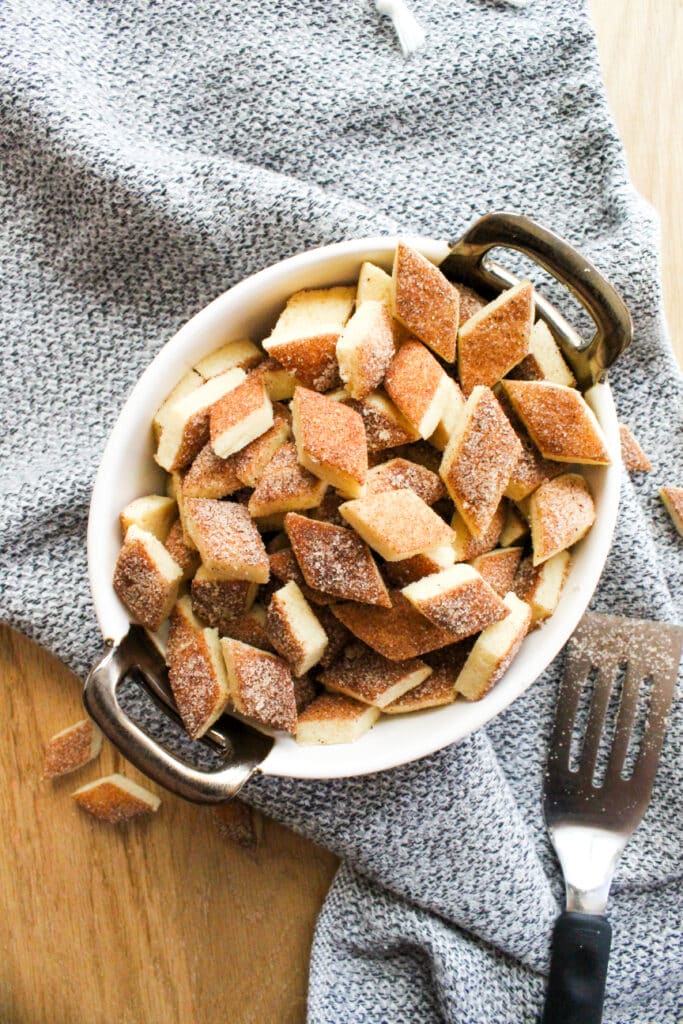 It's kind of like cookie confetti, I am obsessed with these. Hope you guys enjoy them!
Tips & Tricks for Mini Snickerdoodle Cookies
Here are all my best tips and tricks to make these cookies perfect!
Use cold butter if you have a stand mixer. This dough is easiest with cold butter, but the mixing process can be difficult if you are not working with a stand mixer.
I don't have a stand mixer, can I still make these? Yes, you can instead using slightly softened butter, and allow your cookies to chill for a solid 30-45 minutes instead.
It's going to seem like too much cinnamon/sugar, but it's not! You want the cookie dough to have a pretty thick layer of cinnamon/sugar on top. It's where we are getting all the cinnamon flavor, and it gets lightly crisp in the oven!
Do I have to chill these cookies? Chilling the dough helps prevent the cookies from spreading, so it's an important step here. It also helps the cookies relax, and results in a more tender cookie after baking.
These cookies don't need much space on the baking sheet as they will not spread when baked. You should end up with around 130 small cookies, but they should all fit on two baking sheets since they don't need much space.
Be sure to avoid over-baking. You want these cookies to stay soft after baking, so they really only take a short bake time. The cookies will look darker on top, and they will continue to cook as they cool on the baking sheet.
I'm at about 5,000 ft above sea level, and I find that most people who live between about 3,000-7,000 ft above sea level do not need to make any adjustments to my recipes.
Enjoy!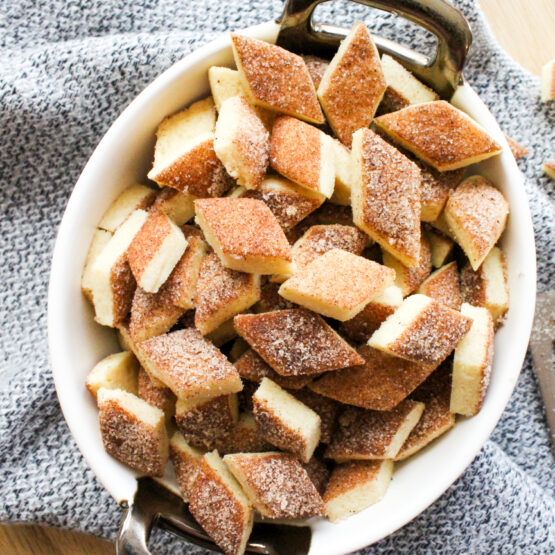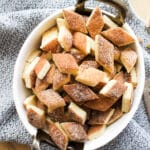 Mini Snickerdoodle Cookies
Servings
130
small cookies
Ingredients
For the dough:
3/4

cup

cold butter

3/4

cups

sugar

2

tsp.

vanilla extract

1

cold egg

2 1/4

cups

flour

1/4

tsp.

salt

1/4

tsp.

cream of tartar
For the topping:
1/4

cup

sugar

1

tsp.

cinnamon
Instructions
For the dough:
Line two baking sheets with parchment paper and set aside. In a large mixing bowl, beat together the butter and sugar until combined. This is easiest done in a stand mixer since we're working with butter straight from the fridge. Add in the vanilla extract and egg and beat until just combined. Then add in the flour, salt, and cream of tartar, and beat until a firm dough forms.

Form the dough into a ball on a piece of parchment paper, and cover it with another sheet of parchment. Optionally, you can just do this directly on a clean counter dusted with flour. Roll the dough out to about 1/4-1/2 inch thick- you want it to be fairly thick, slightly thicker than you might do for a cutout sugar cookie. Remove the top layer of parchment paper if using.
For the topping:
In a small bowl, stir together the sugar and cinnamon until well combined. Evenly sprinkle the mixture all over the rolled out dough. It's going to seem like a lot of cinnamon/sugar, but this is ok! Use your rolling pin to gently press the mixture into the dough. Then, use a knife to slice the dough into mini diamond shapes. I like to slice it into thin strips, about 1/2 – 3/4 inch wide, and then repeat the process in the other direction at a slight angle to get the diamond shape.

You're going to end up with a lot of cookies here- they should be very small! Gently lay out the cookies on your prepared baking sheets- they do not need much space between them because they won't spread at all during baking. Place the cookie sheets in the fridge while you preheat your oven to 350 degrees. Once the cookies have chilled for 20 minutes, place one sheet of cookies into the oven and bake for 6-8 minutes, or until the sugar topping has darkened slightly and the cookies are barely browning on the edges. Repeat for the second tray of cookies, and cool before serving!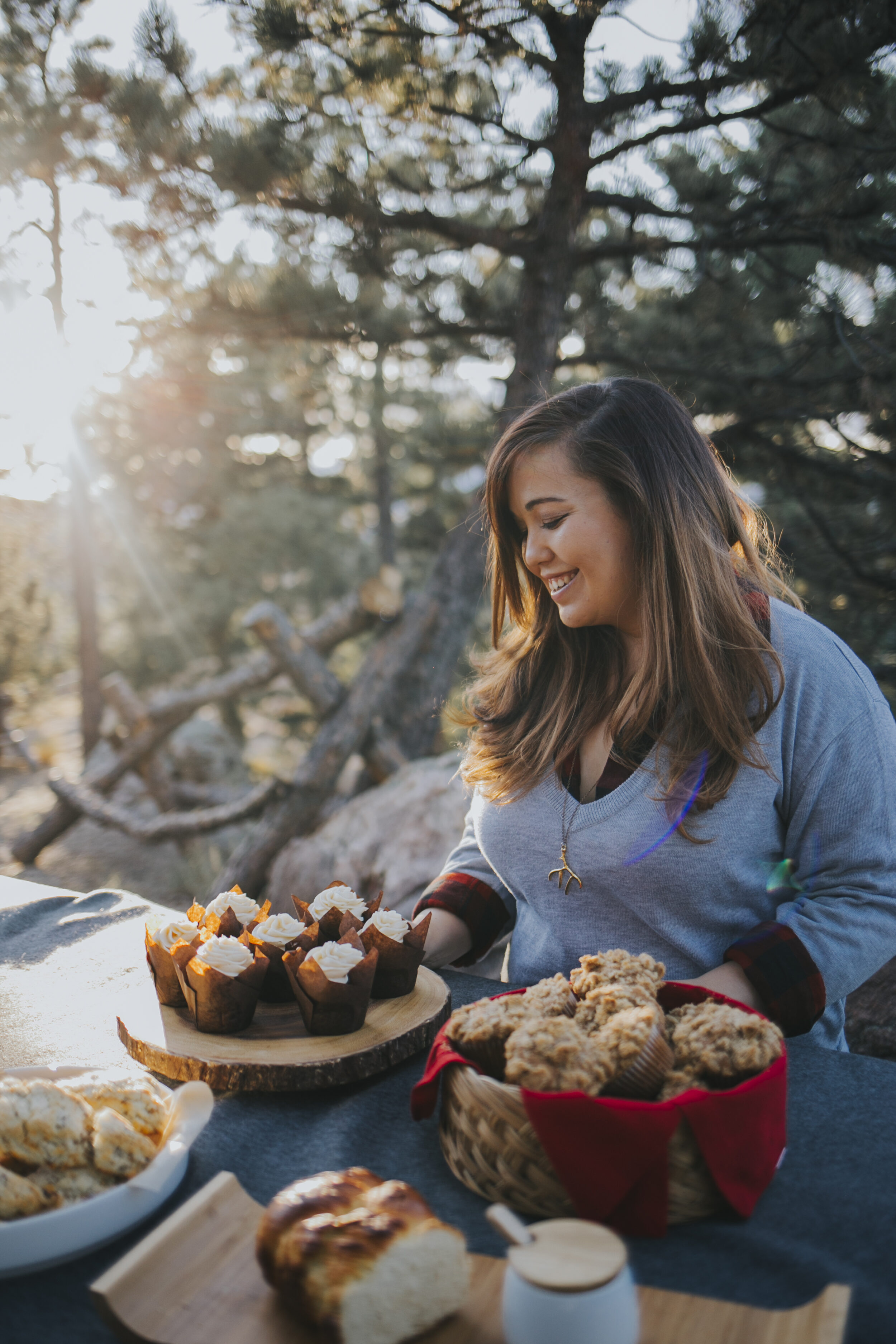 Hello and welcome! My name is Nicole, and Dough-eyed is a food blog for people who want to bake for their family and friends in high-altitude areas. Think of me as a friendly voice there with you in the kitchen, here to give you confidence when you're baking, and to help you with the struggles of baking at high-altitude. Come back every week for new recipes, tips, and advice on high-altitude baking!