I know we're nearly into Spring now, but I couldn't resist one more warm and toasty winter-style recipe for the season's end.
Marzipan challah isn't my idea, I first saw it on TV from Breads Bakery, and have since seen it done on a few other blogger websites as well. I wanted to give it a little twist, and also make it even more of a dessert style bread, which is where the addition of cinnamon comes in.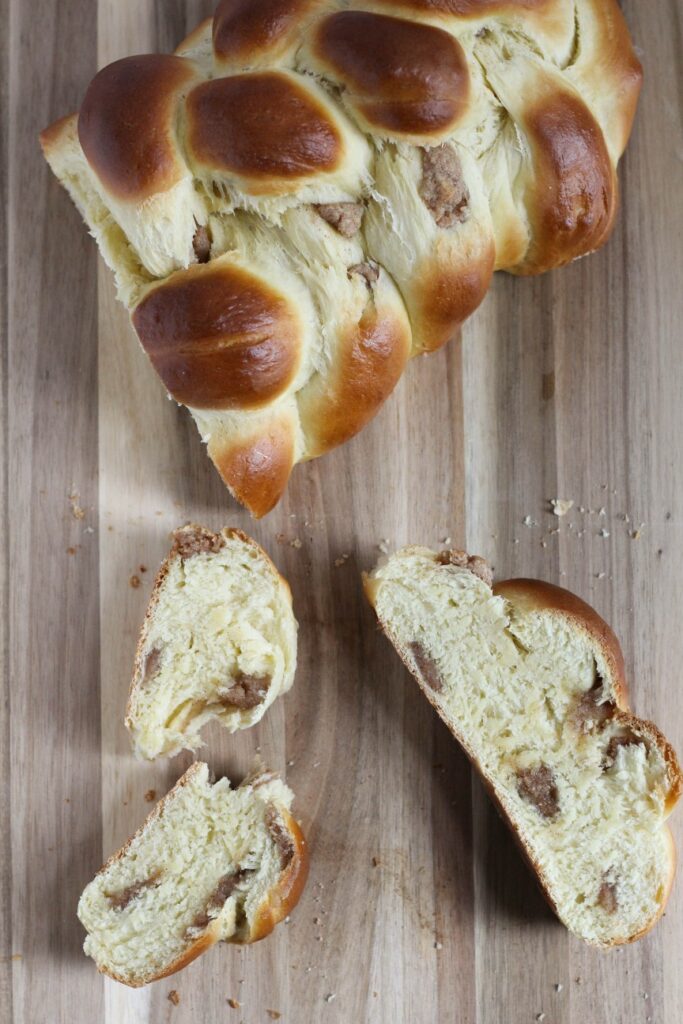 I've never made challah, but man it's fantastic. Even just the dough feels lush and soft and fluffy the whole way through. I'm into this bread, filled or not you guys.
Alright so, we're starting with the dough. Once you've got everything completely mixed up and kneaded, here's what you should be seeing: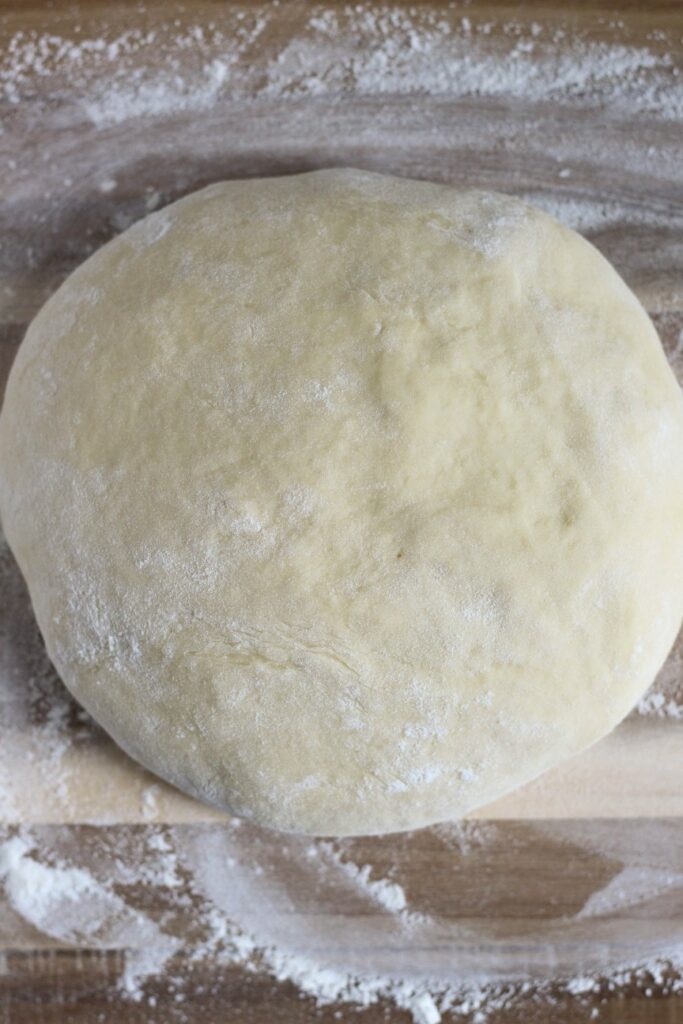 After letting it rise for the first round, it'll look quick similar, but puffy and larger of course: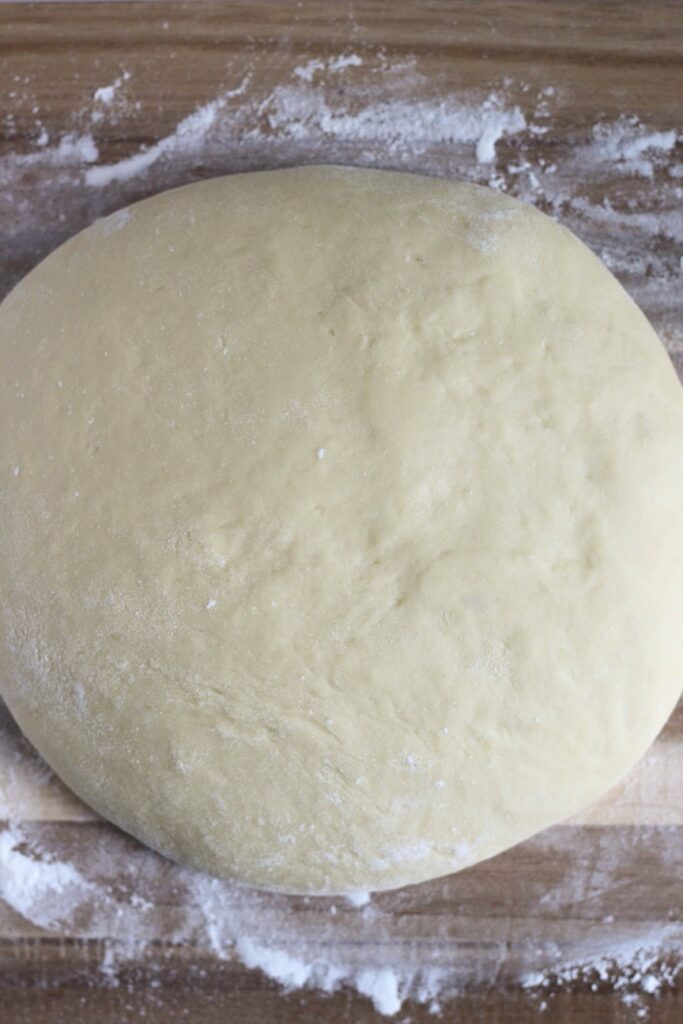 Then, we're going to start working on each of the ropes. You'll flatten out each section of dough into a long rectangle, and put a little line of the marzipan mixture right in the middle: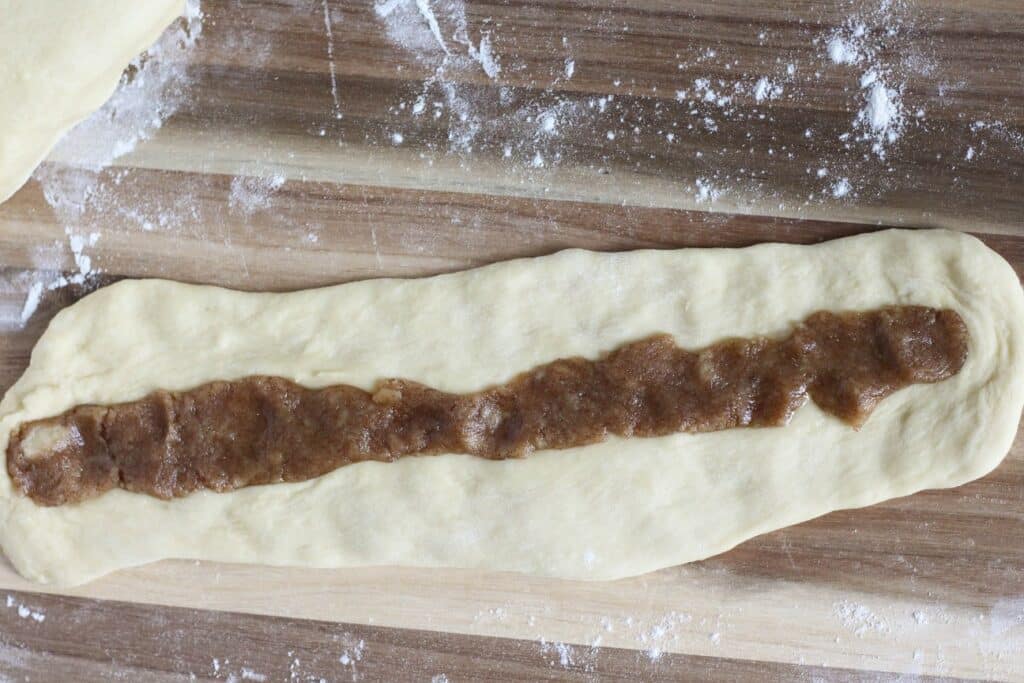 Wrap it up tight, pinch the seam, and roll it out to about a 16 inch rope: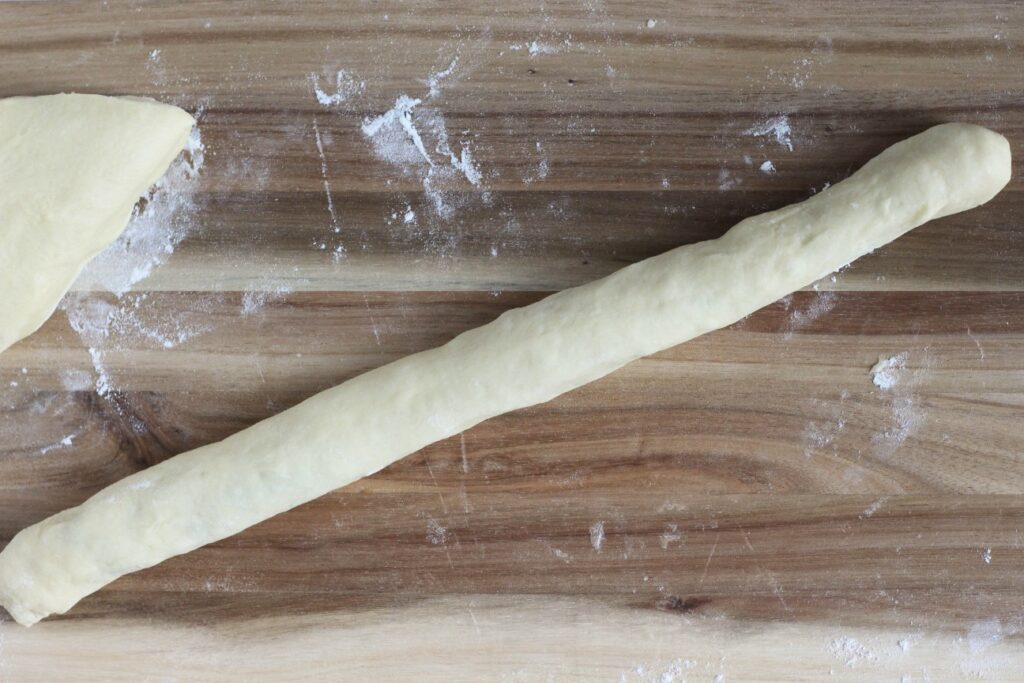 Then, you braid. Now listen, there's just no way I can explain or show this to you any better than this video, so if you want to stick with this 6 braid design like me, check out this video. This was my first try, and you can tell my loaf is a little lop-sided. It's cool, the ugly loaves are still delicious, I promise.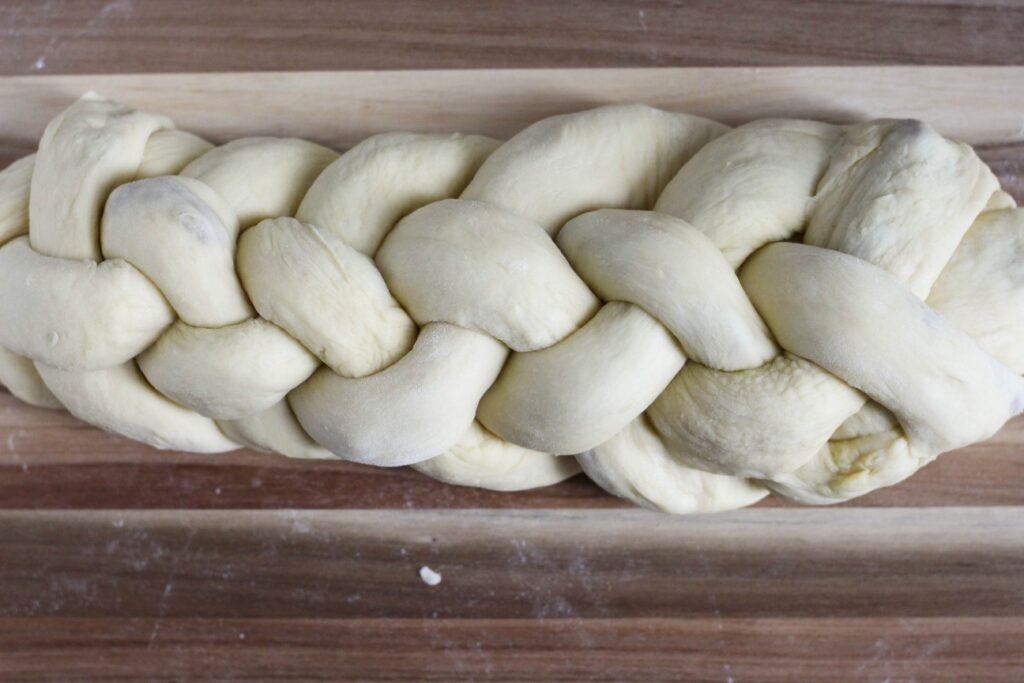 After you let the dough rise once more, you'll brush it with your egg white wash, and brush it good. Here's what my shiny braid looked like: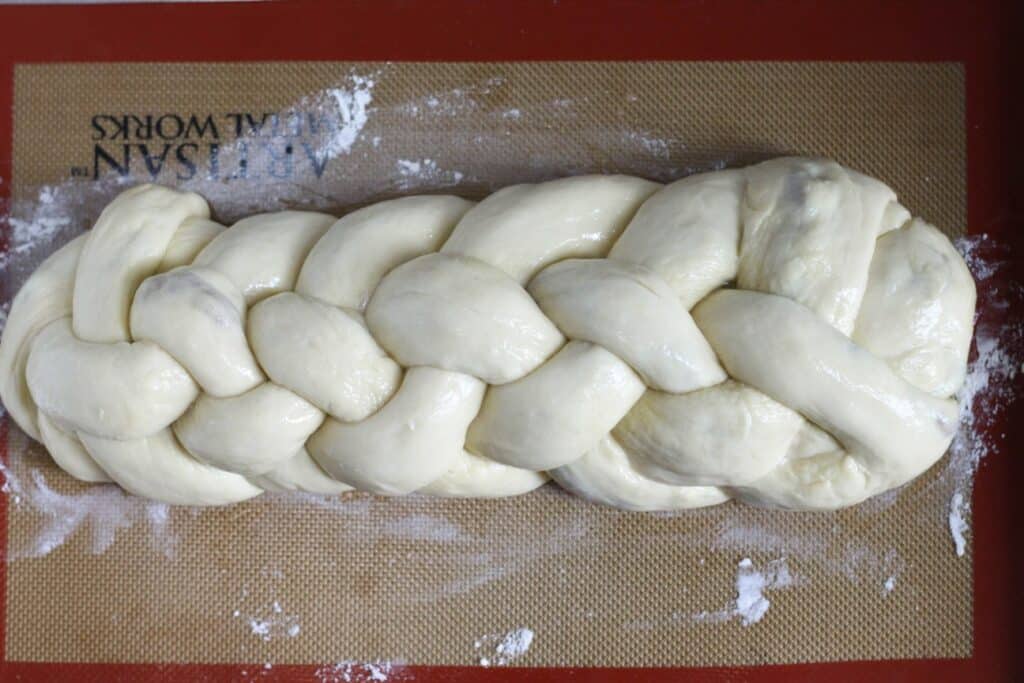 And that's it really, then you're just baking it until golden brown- easy peasy. I loved this bread you guys. It's like the perfect little dessert bread treat, and it makes french toast you would just die over. See below.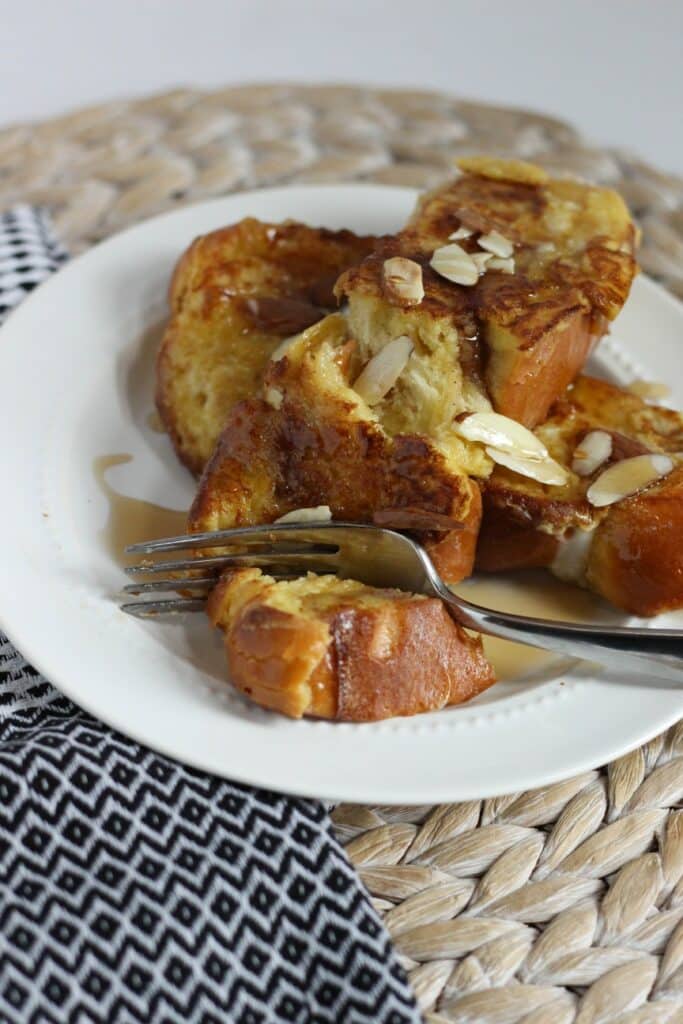 Seriously doesn't that sound amazing? Well it was, and you should do it up too. Enjoy guys!
Marzipan Cinnamon Challah
Ingredients
1 cup water
1/4 cup half & half
1/4 cup sugar
2 1/4 tsp. active dry yeast
2 eggs
1 egg yolk (reserve the white)
1/4 cup canola oil
5- 5 1/2 cups flour
1 tbs. salt
5 oz. baking marzipan
1 1/2 tsp. cinnamon
1/4 cup sugar
1/4 sup softened butter
Instructions
In a medium bowl, stir together the water, half & half, and sugar. Microwave until the mixture reaches about 110 degrees.
Sprinkle in the yeast, and stir. Set aside to bloom.
While you wait for the yeast, whisk together the eggs, egg yolk, and canola oil in a large bowl, or the bowl of a stand mixer. Once the yeast has bloomed and is foamy, stir it into the egg mixture.
Add in 4 cups of flour to start, along with the salt, beating for a few seconds on medium speed with a paddle attachment.
Add another cup, and switch over to the kneading hook attachment. Knead the dough for about 5 minutes, and add more flour if the dough is not coming together.
The dough should still be soft and a little sticky. Scrap it out of the bowl, and onto a floured surface.
Form the dough into a ball, and cover lightly with plastic. Let the dough rise until it has doubled in size. For me this took about 20-30 minutes.
During this rise, in a medium bowl, mash together the marzipan, cinnamon, sugar, and softened butter until completely combined. Set aside.
Divide the dough into 6 equal pieces. Pat and stretch each piece into a long rectangle. Place about 1/6 of the filling in an even, long, strip in the middle of the rectangle. Roll the dough around it, and pinch closed, making a rope that is about 16 inches long.
Repeat these steps with all 6 pieces of dough and filling.
Braid or twist your dough as you wish, I used a classic 6-strand braiding technique.
Transfer the dough onto a parchment lined baking sheet with a little bit of flour spread on it. Cover lightly with plastic, and let the dough rise for another 20-30 minutes.
Meanwhile, preheat your oven to 350 degrees, and whisk the reserved egg white with a splash of water.
The dough should puff up a bit, and rise by about 1/3 in size.
Brush the dough liberally with the egg white mixture. Be sure to get into the crevices and down the sides of the dough.
Bake for 35-40 minutes, or until the dough has reached a rich golden brown.
Cool slightly before slicing and serving, enjoy!
https://www.dougheyed.com/marzipan-cinnamon-challah/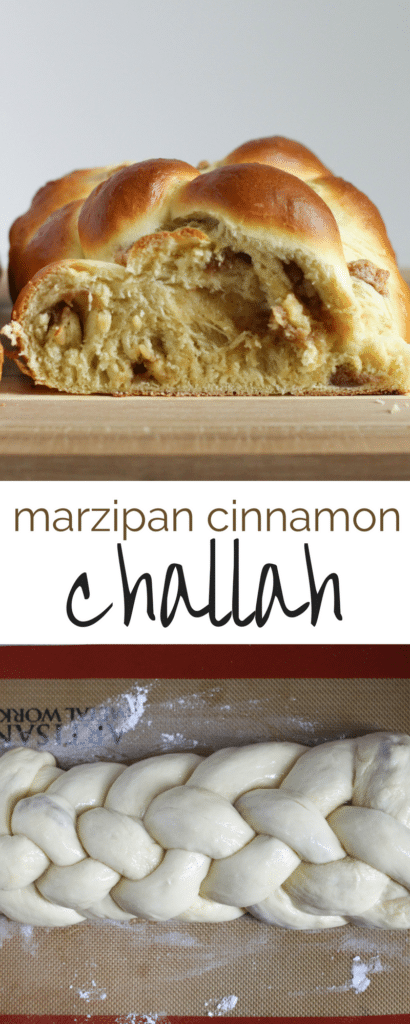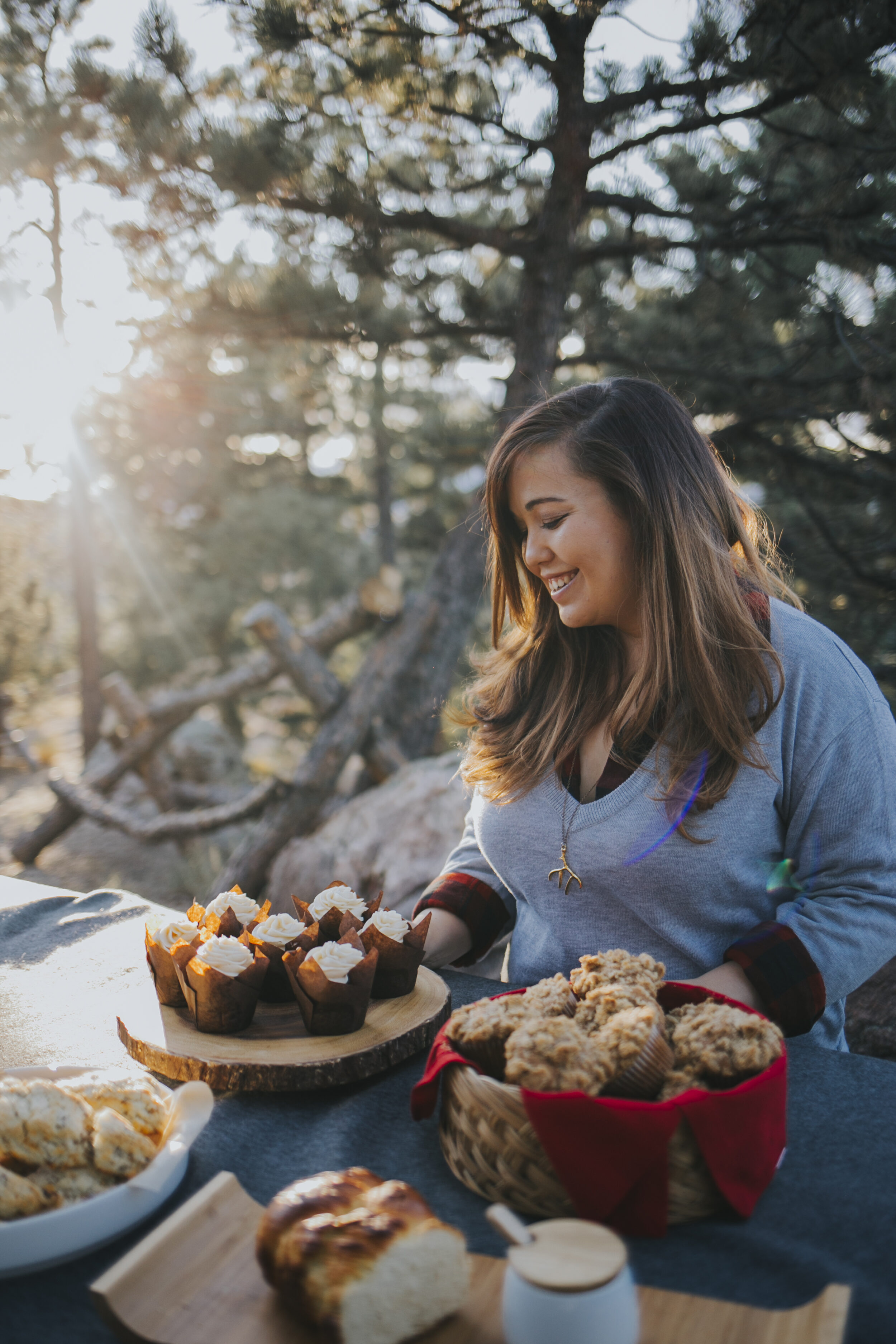 Hello and welcome! My name is Nicole, and Dough-eyed is a food blog for people who want to bake for their family and friends in high-altitude areas. Think of me as a friendly voice there with you in the kitchen, here to give you confidence when you're baking, and to help you with the struggles of baking at high-altitude. Come back every week for new recipes, tips, and advice on high-altitude baking!