Cherry Almond Sweet Rolls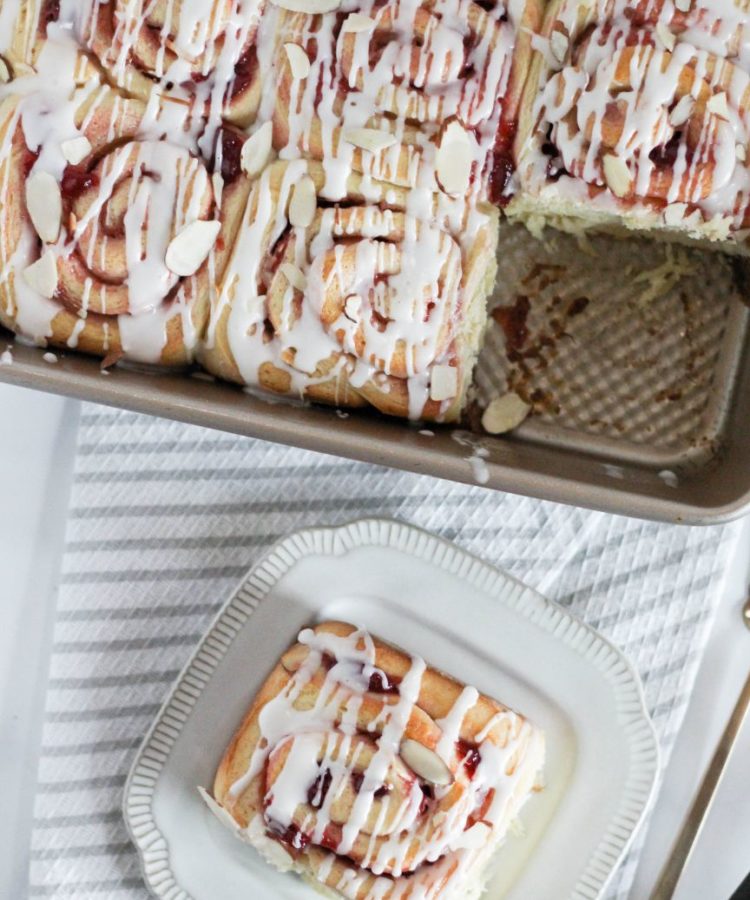 Good morning guys! I hope you're reading this today with a mind ready to bake, this one is the PERFECT weekend baking recipe.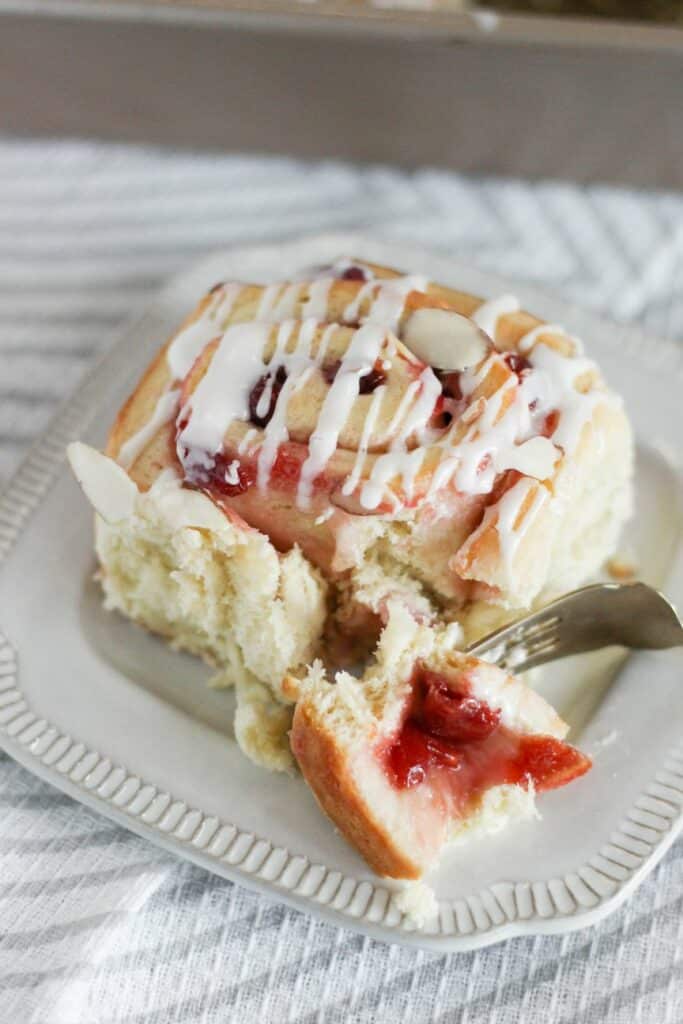 Cherry and almond are a classic combo. If you ever get cherry flavored baked goods, they often have a strong hint of almond. Ever loved those pink grocery store cherry cookies? Me. Too. Those babies are cherry almond flavor all the way. In fact, cherry and almond go together so much for me at this point, I pretty much expect one with the other.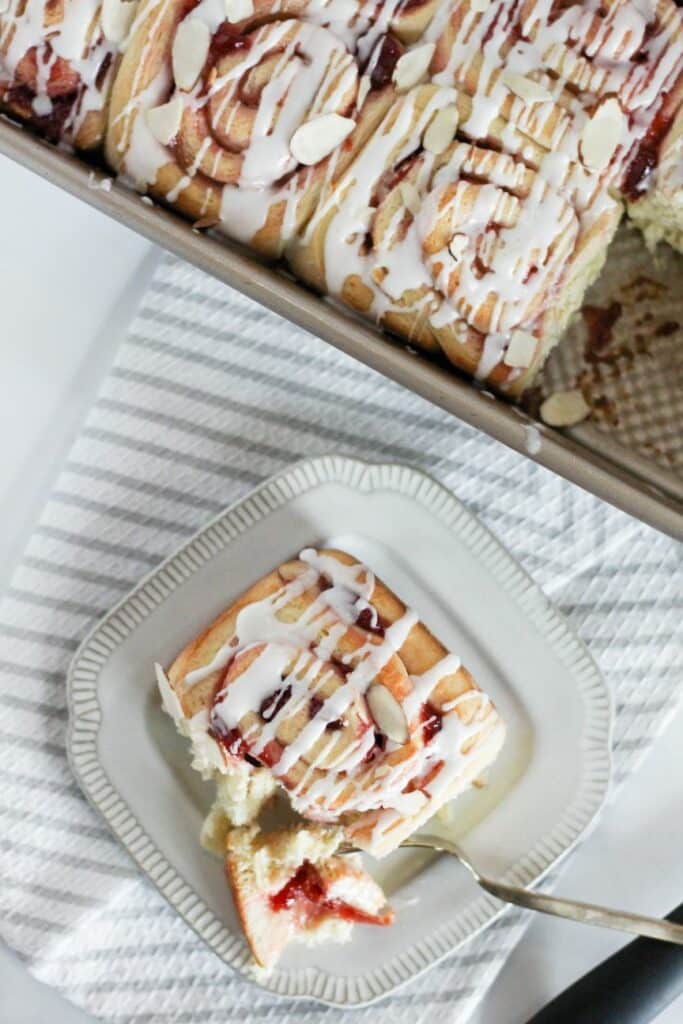 Alright so anyways, today we're putting them in the form of sweet rolls. There's a couple of reasons why I love this recipe, first of all, it uses a pretty tried-and-true dough for me. If you've baked some of my recipes from Sugar High, the bread portion probably looks familiar. It's an enriched dough, super soft and fluffy, and perfect for all kinds of sweet rolls.
Another flippin awesome part of this recipe is that it uses a jar of cherry jam as the filling. Because look, who is literally ever in the mood to pit a hundred cherries? I get it, fresh is great for some things. But for sweet rolls, a jar of nice cherry jam is really going to do the trick, make it easier, and it's going to taste fantastic. Sliced almonds and an almond icing bring home the flavor, and it's super easy!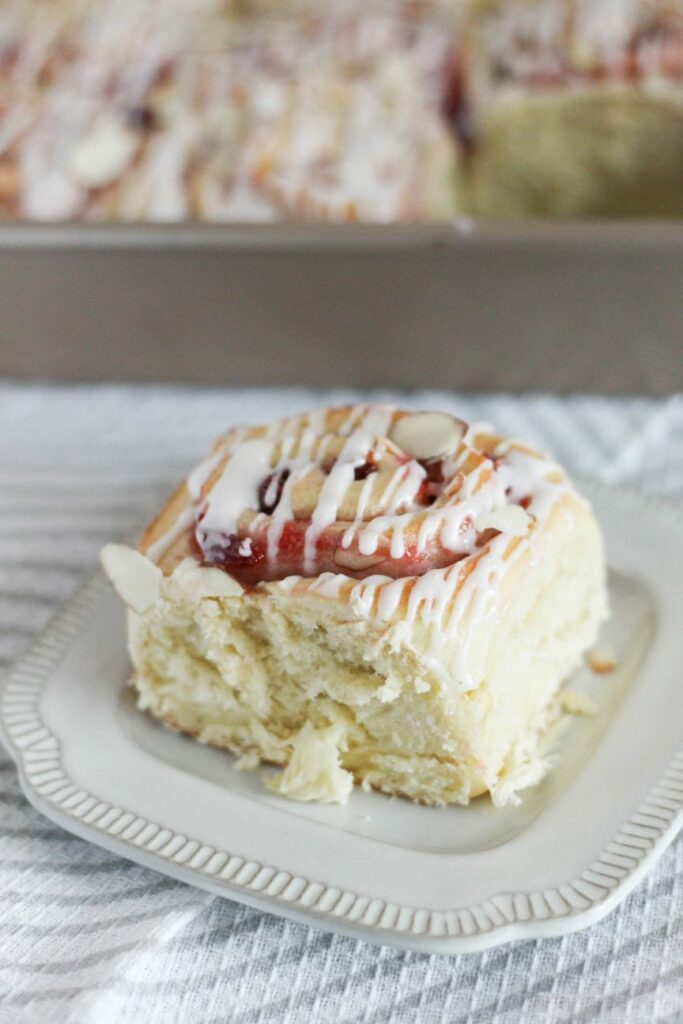 If you've never made sweet rolls, this is a great place to start guys. And if you live in high-altitude like me, you're going to need to start with a good bread recipe, it's the most important part! After you let the dough rise once, you'll roll it out, spread the jam, sprinkle some almonds, and slice it up. Let it rise once more, and bake to golden. Drizzle over a super simple almond icing, and take a whole one to yourself! Enjoy!
Cherry Almond Sweet Rolls
Ingredients
For the dough:
1 1/2

cups

whole milk

1/2

cup

sugar

1

tsp.

vanilla extract

1

tbs.

+ 1 tsp. active dry yeast

2

eggs

1/2

cup

very soft butter

5-5 1/2

cups

bread flour

1

tsp.

salt
For the rolls:
10

ounce

jar of cherry preserves

1/4

cup

sugar

1/2

cup

sliced almonds

2

cups

powdered sugar

1

tsp.

almond extract

2

tbs.

milk
Instructions
For the dough:
Heat your whole milk in the microwave until it reaches about 120 degrees. Stir in the sugar and vanilla, and then stir in the yeast. Set aside until lightly frothy and bubbled.


In a large bowl, stir together the eggs and softened butter. The mixture will be lumpy. Add the yeast mixture into the egg mixture and stir until combined. Add in the salt, and then add the bread flour 2 cups at a time, mixing between, until you reach 5 cups.


Place the dough onto a floured surface, and knead for several minutes, or until the dough is smooth. Add more flour if the dough is too sticky at this point.

Place your dough into a lightly buttered bowl, and cover with plastic wrap. Let the dough rise for about 30 minutes, or until it has risen by about 1/3 in size.

For the rolls:
Once the dough has risen one time, turn the dough out onto a lightly floured surface. Roll into a large rectangle, about 1/2 inch thick. Even spread the cherry preserves all over the top, all the way to the edges. Sprinkle the sugar evenly over the preserves, and then the sliced almonds.

Roll the dough into a tight log, starting on the longer side of the rectangle. Slice off the ends of the log to create even edges. Cut the dough log in half, then each of those in half, and each remaining section into thirds. This will give you 12 rolls.

Lightly grease a 9x13 inch cake pan. Place the rolls evenly into the cake pan, and cover with plastic. Preheat your oven to 375 degrees. Let the dough rise for about 20 minutes while your oven preheats- the rolls will have only slightly puffed.

Bake for 20-22 minutes, or until the rolls are a light golden brown color. While the rolls cool slightly, make the icing.

In a small bowl, whisk together the powdered sugar, almond extract, and milk until a smooth icing forms. It should be a consistency that will drizzle well, but still hold it's shape slightly. Drizzle the tops of the rolls generously with the icing, and top with more sliced almonds if preferred. Enjoy!
Comments