Almond Crumb Coffee Cake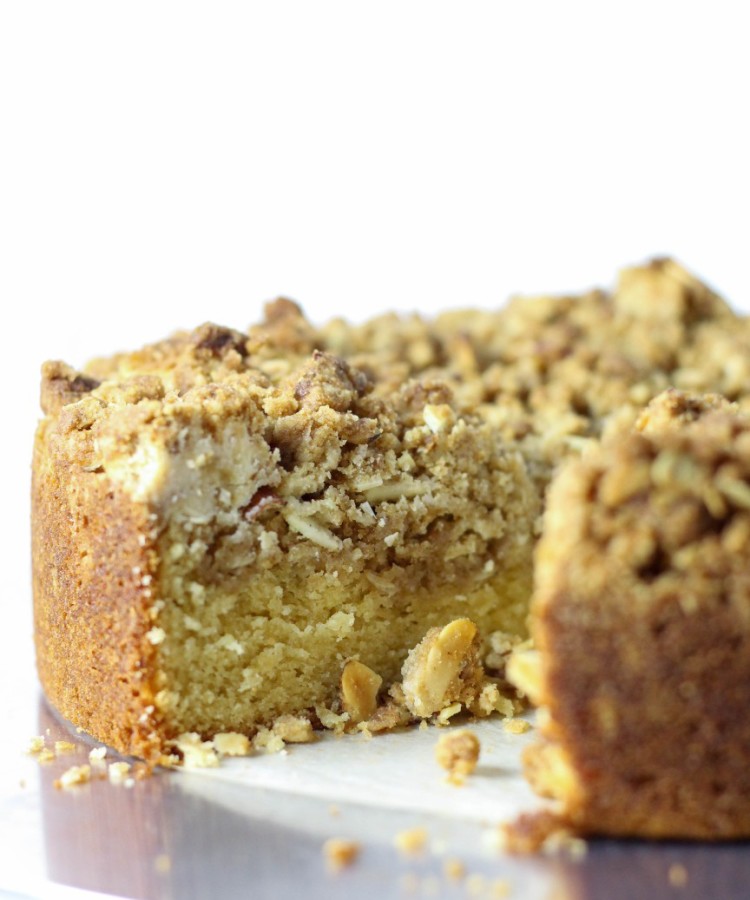 We're at it again this week- yet another excuse to eat cake for breakfast. If it's called coffee cake, that means it's breakfast as far as I'm concerned. And okay, if it's not called coffee cake, I probably consider that breakfast too.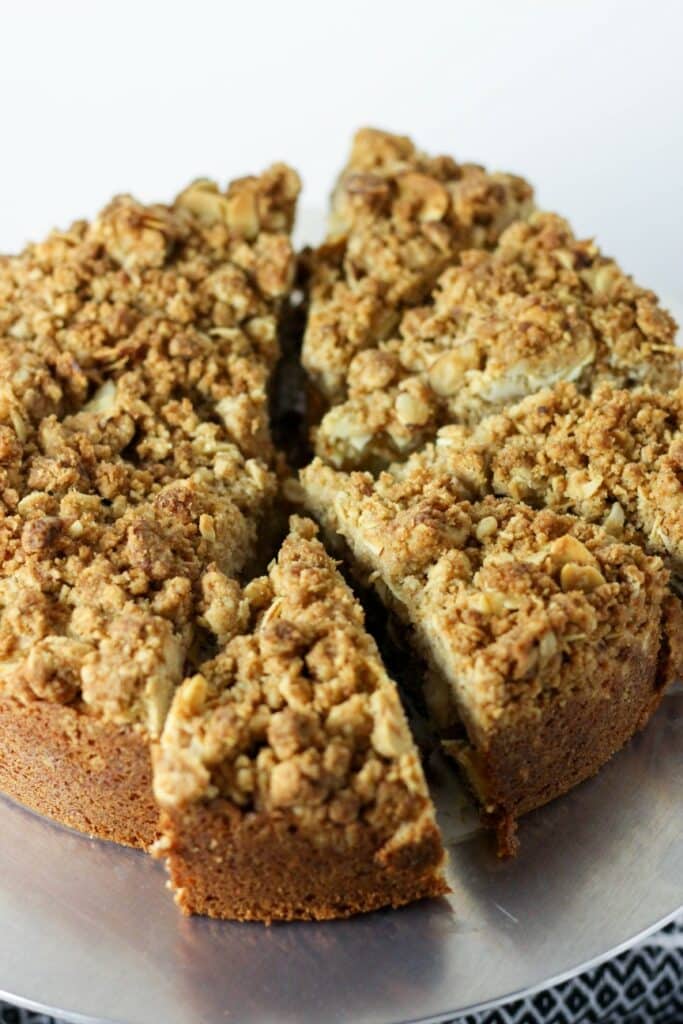 I'm really into breakfast, it's definitely the best type of food as far as I'm concerned, and so making breakfast desserts is a thing I'm also really into.
This recipe is just a variation on classic crumb cake. The crumb is stuffed with almonds and oats to give it a little more umph, and the cake is made with almond extract instead of vanilla. The end results are something almond lovers can rejoice over.
So first, the cake is super simple and easy to whip up- no need to even mix your dry ingredients before tossing them into the wet. Since we're just making enough cake batter for one 8 inch layer, you don't even need a very big bowl. The batter will be thick and smooth when it's ready to go into the pan.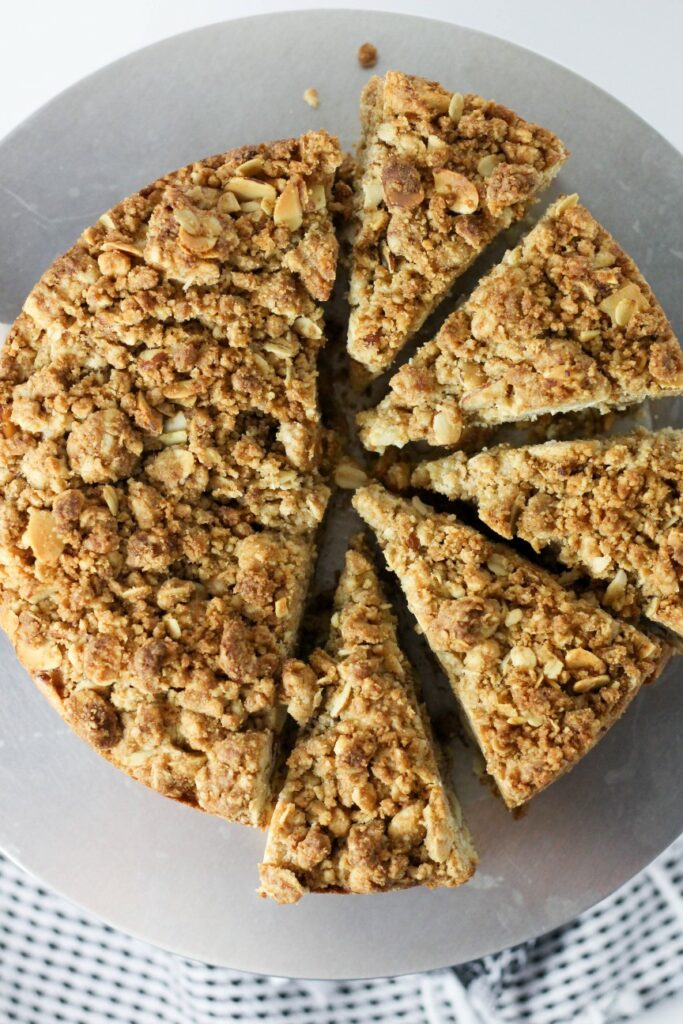 There's nearly as much crumb as there is cake, and that's how it should be as far as I'm concerned. You want that crumb to be the big star here. Toss it over the top of the cake batter before impatiently waiting on that darn baking time.
I like to make mine in a round cake pan, though you can absolutely make it in a square pan, which is the traditional method. I think it's just pretty to be able to cut it into slices like a layer cake. After all, it's layers of crumb AND cake, that's a layer cake, alright?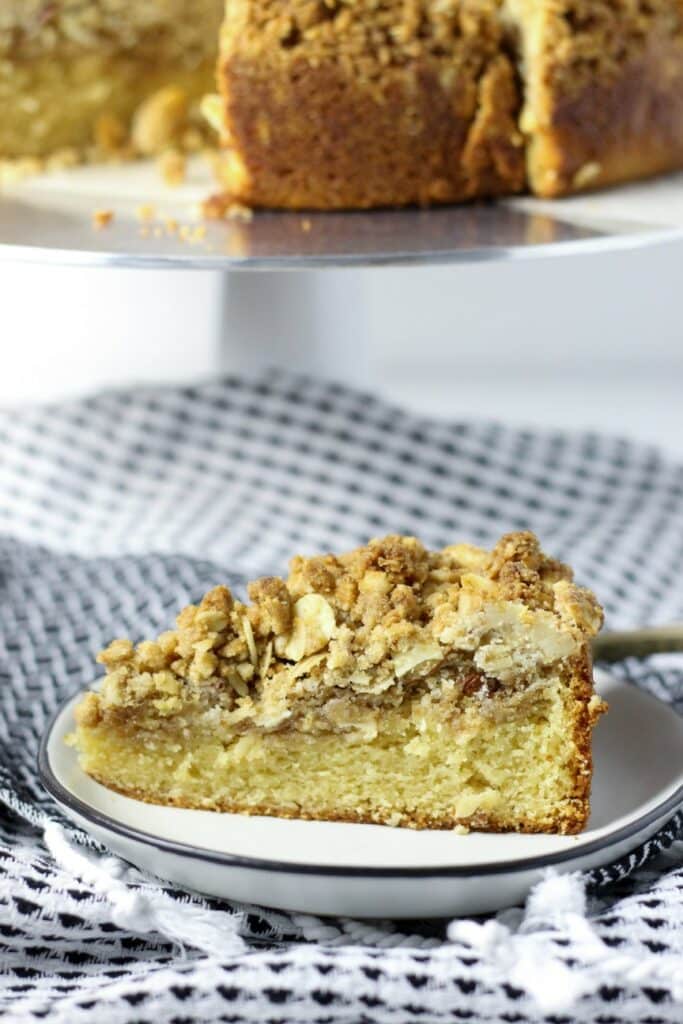 Serve it with coffee or eggs or toast or juice, or whatever the heck is on your breakfast table this morning. I promise it'll complete the meal, or be the whole meal, whichever you prefer!
Almond Crumb Coffee Cake
Ingredients
For the cake:
1/2

cup

softened butter

1/2

cup

sugar

1/4

cup

brown sugar

2

eggs

1

tsp.

almond extract

1/4

cup

sour cream

1 1/4

cups

flour

1/2

tsp.

salt

1 1/2

tsp.

baking powder

2

tbs.

milk
For the crumb:
2

cups

cake flour

3/4

cup

brown sugar

1/4

tsp.

salt

1/2

tsp.

cinnamon

1/2

cup

sliced almonds

1/4

cup

old fashioned oats

3/4

cup

melted butter
Instructions
For the cake:
Preheat your oven to 350 degrees, and grease an 8 inch round or square cake pan. Line with parchment paper for easy removal.

In a medium bowl, beat together the butter, sugar, and brown sugar until fluffy.

Beat in the eggs, almond extract, and sour cream.

Add in the flour, salt, baking powder, and milk, and beat until completely combined. The batter will be thick.

Spread evenly in your baking pan and set aside while preparing crumb.
For the crumb:
In a medium bowl, stir together the cake flour, brown sugar, salt, cinnamon, almonds, and oats.

Pour the melted butter into the dry mixture, and work it together with a fork until completely coated.

You should have a crumbly mixture that forms large chunks.

Sprinkle over your prepared batter evenly, using the entire crumb mixture.

Bake for 40-45 minutes, or until a cake tester comes out clean and the top is golden brown. Cool and enjoy.
Comments