These cookies are the perfect summery treat! Sugar cookie dough with swirls of lemon curd and raspberry jam bake into super chewy and overall pretty fantastic cookies.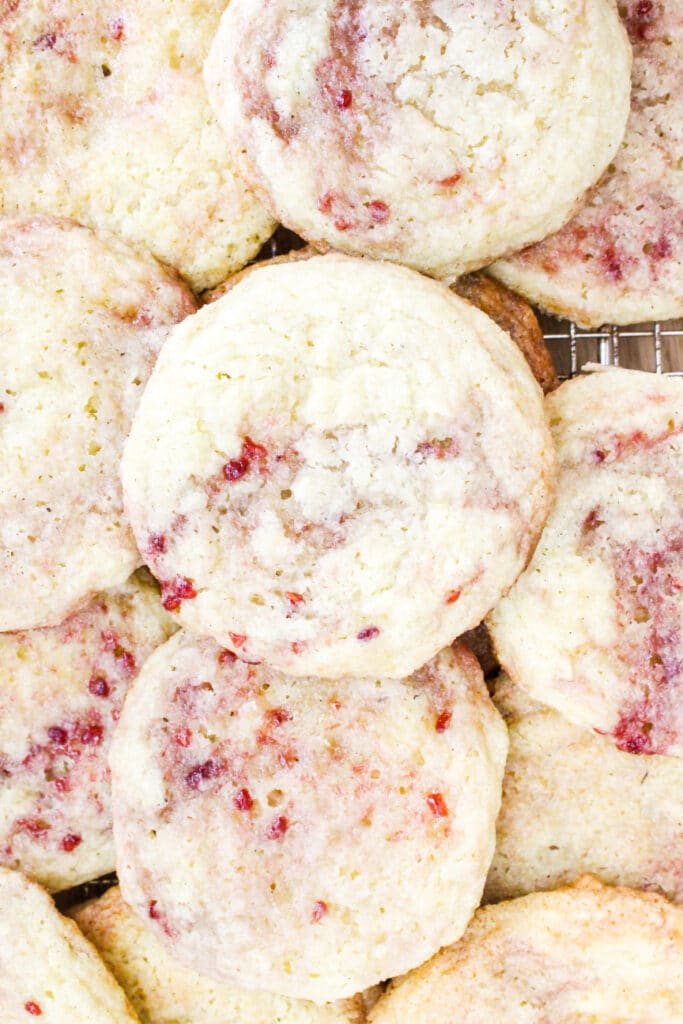 I'm using a really simple sugar cookie dough base here plus store-bought lemon curd and jam, so everything comes together really easily. Let's make cookies!
How to Make Lemon Raspberry Cookies
This sugar cookie dough starts with butter and sugar, and you want to mix them together with an electric mixer for a few minutes until everything is light and fluffy. Then we're adding in egg yolks, vanilla extract, and a little bit of milk.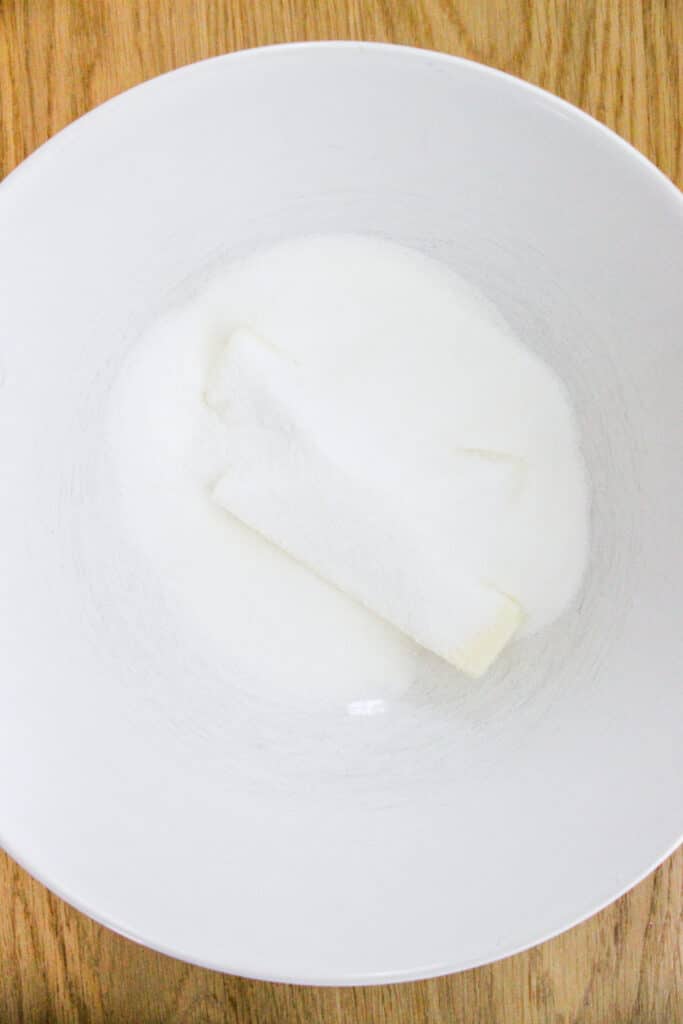 You can add in the dry ingredients all at once here, and use your mixer to ensure that everything is well mixed- you don't want any dry pockets of flour remaining in the dough. Next up you'll want to dollop spoonfuls of jam and lemon curd all over the dough.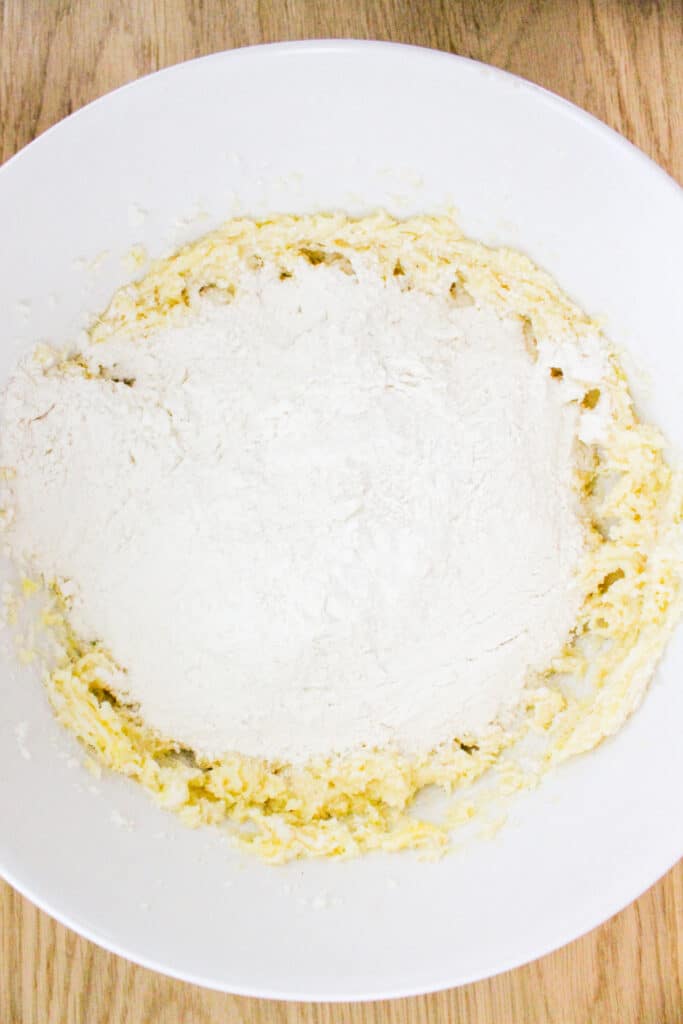 The process of getting is just swirled takes a few steps. After dolloping about half of the curd and jam over your dough, give it a few gentle folds with a rubber spatula. Then, using the spatula, flip the dough over in the bowl to the other side, and repeat the dollop and fold process. You want to just swirl in the curd and jam, but there should still be big streaks running through it.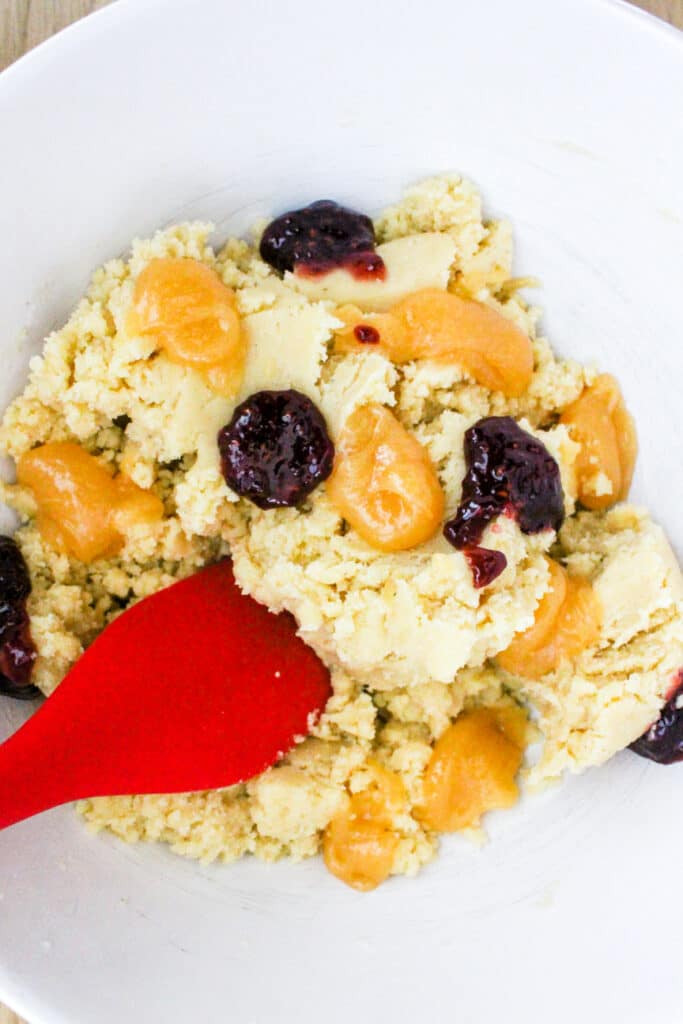 Then just scoop the dough onto your cookie sheet, and bake until the cookies are set and just starting to become a light golden brown. Cool the cookies completely on a cooling rack.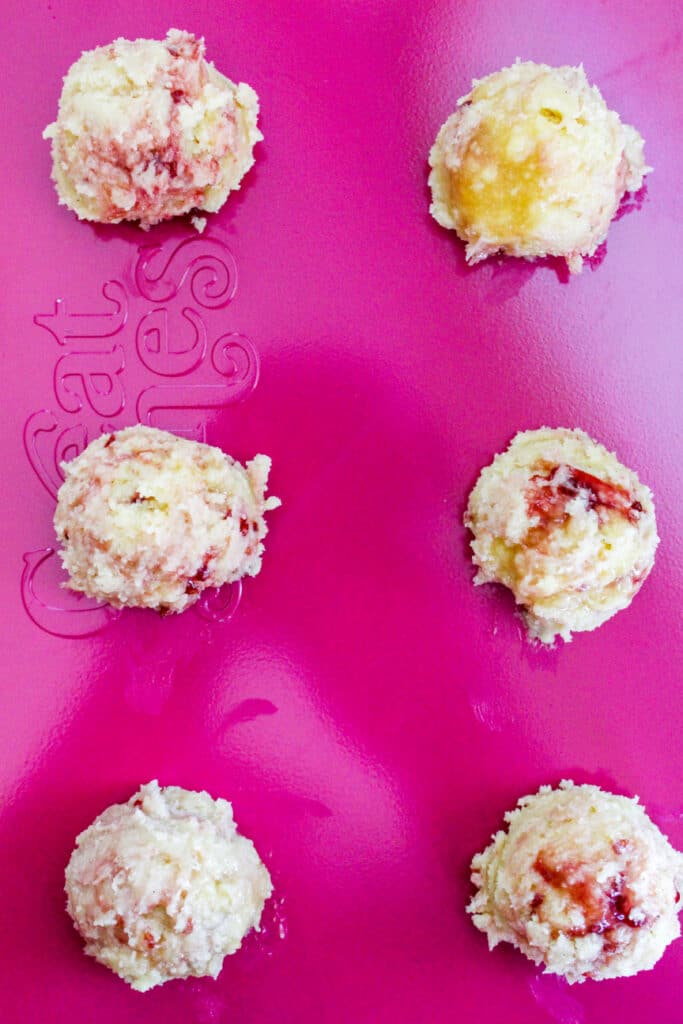 These will turn out super chewy and soft because of the lemon curd and jam, and you'll have pockets of both running through each cookie. It's seriously such a delight!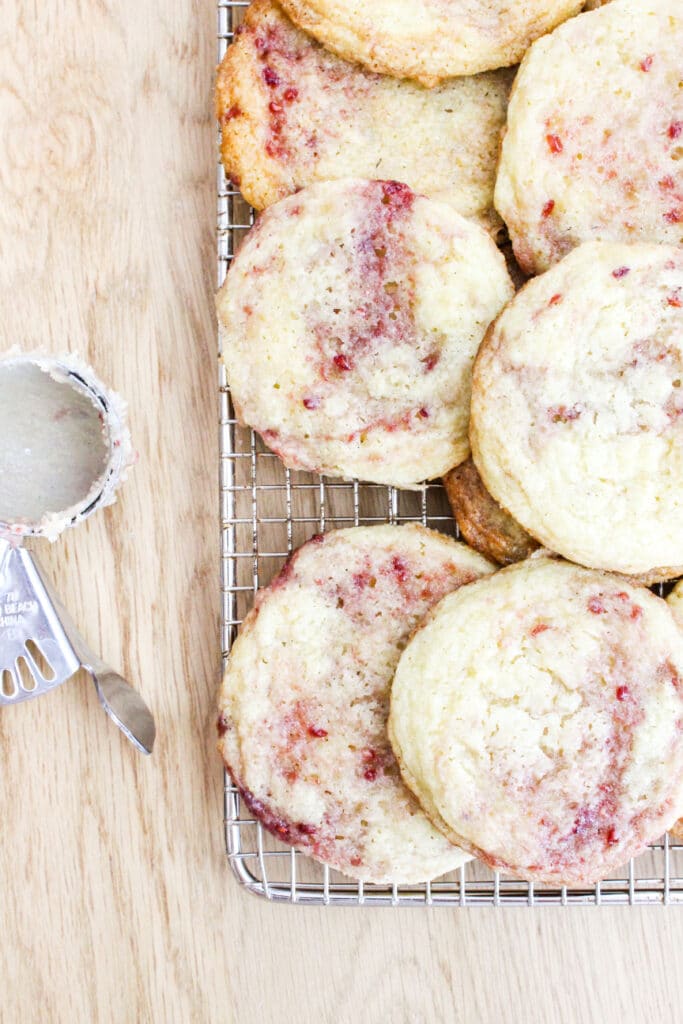 Tips & Tricks for the Best Lemon Raspberry Cookies
Here are all my tips and tricks for these summary Lemon Raspberry Cookies!
Beat the butter and sugar until fluffy, which usually takes 2-3 full minutes of mixing with an electric hand mixer or stand mixer. It should just start to lighten in color.
Use egg yolks, not the whole egg for a chewy cookie and a really delightful texture.
Be sure to fully mix the dough. Cookie dough can be tricky while we try to balance avoiding over-mixing, but you need to make sure you don't have dry pockets of flour stuck to the bottom of your bowl- mix thoroughly!
Can I use other flavors of jam here? Yes, use any jam you like, though I recommend going for preserves in this recipe.
Can I use homemade lemon curd or jam? Yes, if you have homemade versions of either, feel free to use them for these cookies!
How do I know how much to fold in the jam and lemon curd? It's not an exact science, but you want to just incorporate it, but you should still see large streaks running throughout. It should only take a couple of turns.
How do I know when the cookies are done baking? The cookies are done when they have spread, no longer look wet on top, and are just starting to become a light golden brown around the edges.
I'm at about 5,000 ft above sea level, and I find that most people who live between about 3,000-7,000 ft above sea level do not need to make any adjustments to my recipes.
Enjoy!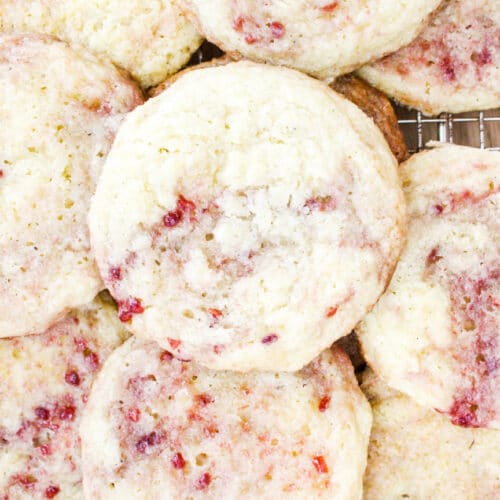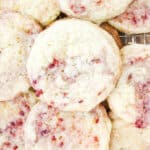 Lemon Raspberry Cookies
Ingredients
2 1/2

cups

+ 2 tbs. flour

1

tsp.

baking soda

1/2

tsp.

cream of tartar

1/2

tsp.

salt

1

cup

softened butter

1 1/4

cups

sugar

3

egg yolks

1

tbs.

vanilla extract

1

tbs.

milk

1/4

cup

lemon curd

1/4

cup

raspberry jam
Instructions
Preheat your oven to 350 degrees and line two baking sheets with parchment paper. In a medium bowl, whisk together the flour, baking soda, cream of tartar, and salt. Set aside.

In a large bowl, beat together the butter and sugar until light and fluffy, about 2-3 minutes with an electric hand mixer. Add in the egg yolks, vanilla, and milk and beat until combined. Add in the flour mixture and beat until fully combined, making sure you have no remaining flour clumps at the bottom of your bowl.

Dollop about half of the lemon curd and jam all over your dough in the bowl, and use a rubber spatula to gently fold and swirl it into the dough. Then use your spatula to flip the dough over, and repeat the dollop and fold process. You want to just barely fold in the curd and jam and leave big streaks visible throughout the dough.

Scoop the dough into 2-tablespoonful balls onto your prepared baking sheet and bake for 10-12 minutes, or until the cookies are set and just golden brown on the edges. Let the cookies cool for 5 minutes on the baking sheet, and then transfer to a baking rack to finish cooling. Enjoy!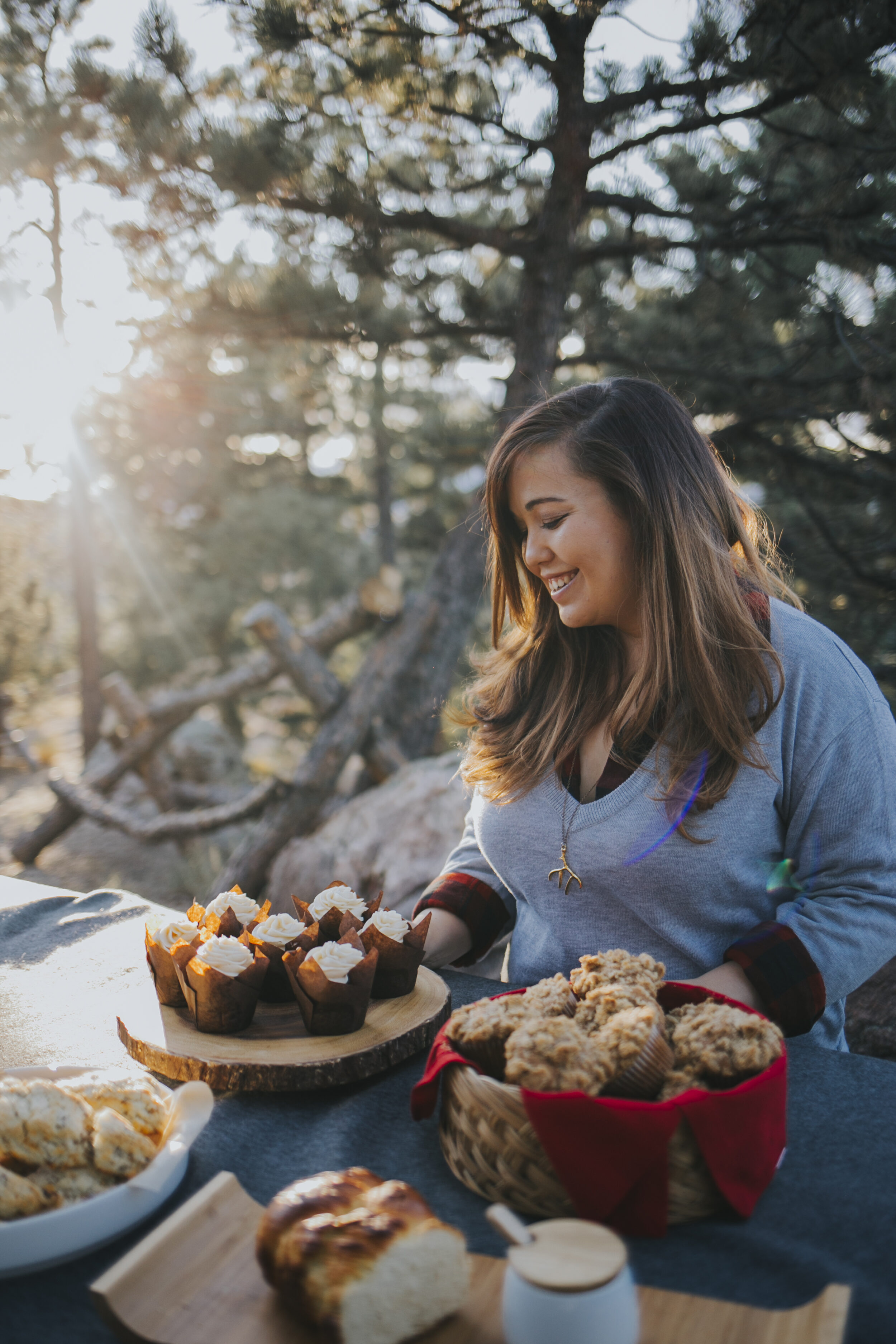 Hello and welcome! My name is Nicole, and Dough-eyed is a food blog for people who want to bake for their family and friends in high-altitude areas. Think of me as a friendly voice there with you in the kitchen, here to give you confidence when you're baking, and to help you with the struggles of baking at high-altitude. Come back every week for new recipes, tips, and advice on high-altitude baking!