Layer cakes don't have to be fussy, and this little 2-layer Mocha Cake is the perfect treat for any party. It has layers of fluffy chocolate cake and a silky smooth mocha frosting to create one of my favorite flavor combinations in a cake.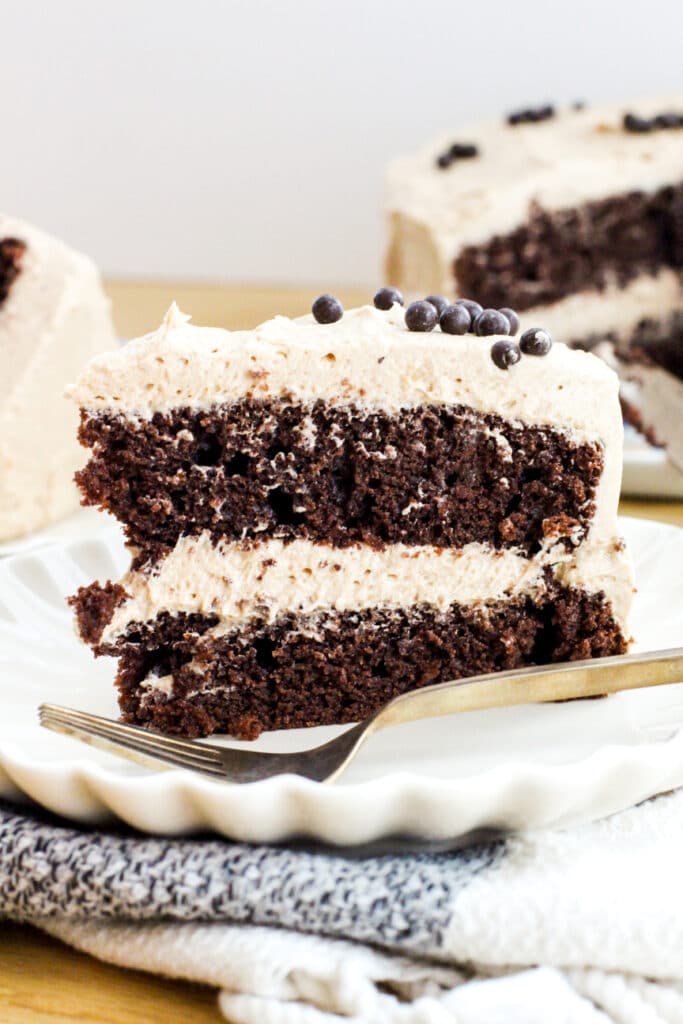 I think there's two main keys to making a layer cake- a frosting that holds up well to stacking, and level cake layers. I'll walk you through how to do both here- let's get to it!
How to Make the Perfect Mocha Cake
This recipe starts out by baking the cake layers. If you've ever made chocolate cake at high-altitude, you know it can be tricky. This version is simple and makes a really fluffy, super chocolatey cake that you'll love, and that works every time! After stirring together the dry ingredients, we're going to bloom the cocoa powder.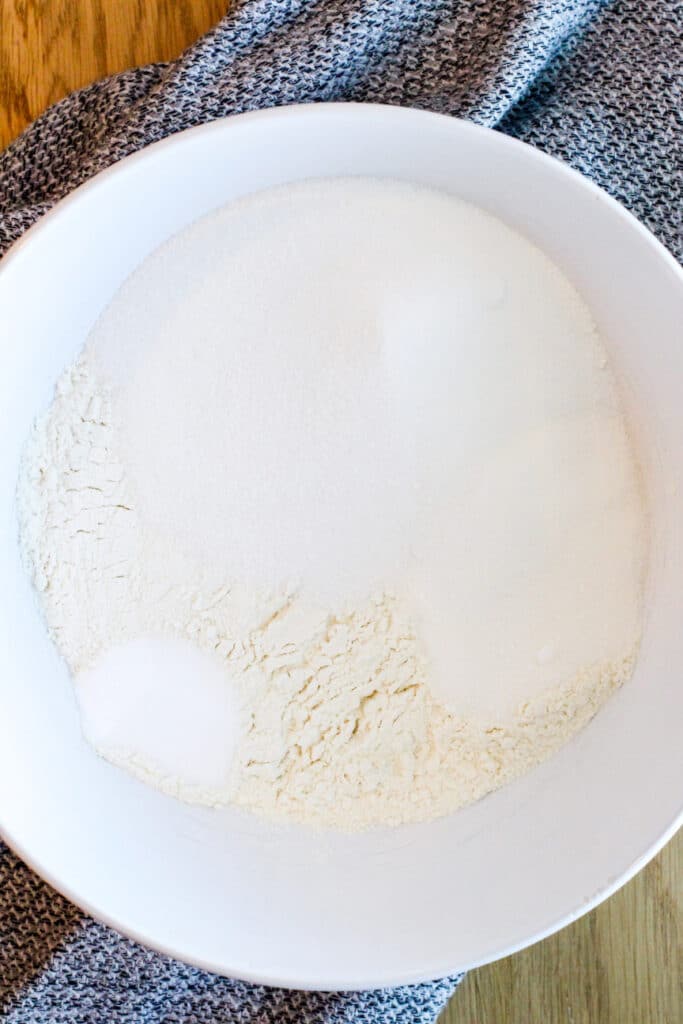 This is the process of stirring your cocoa powder into a boiling liquid (in this case, butter and coffee), and it brings out the chocolate flavor of dutch-processed cocoa powder even more.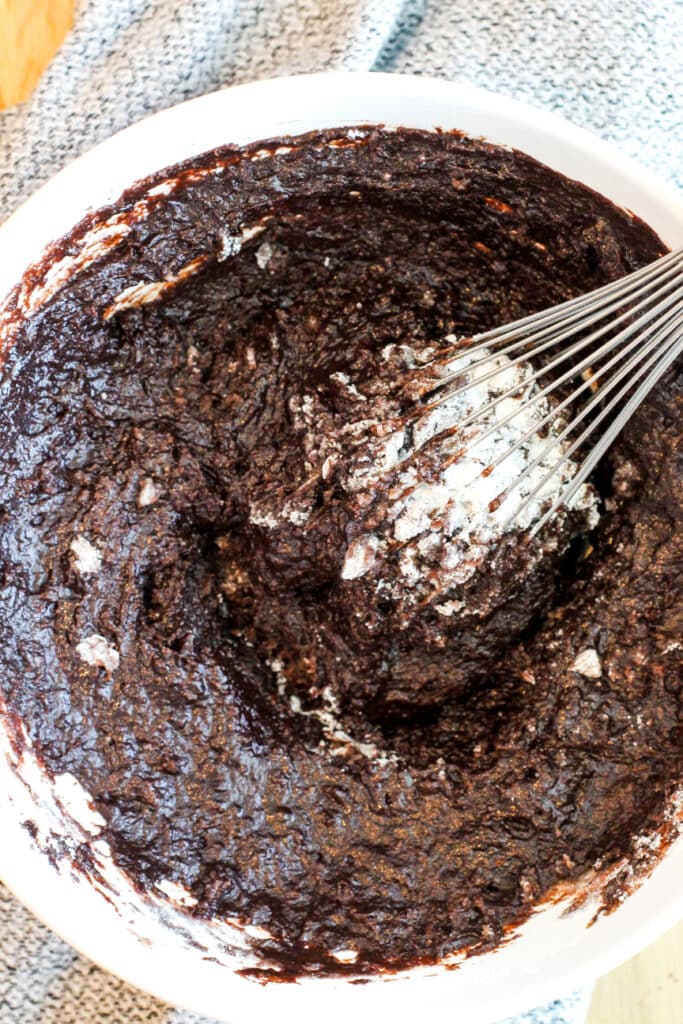 Once the hot cocoa mixture is stirred into the dry ingredients, creating a very thick batter, you can add in the remaining wet ingredients- eggs, buttermilk, and vanilla extract. Keep whisking until everything is smooth, and then it's off to the oven.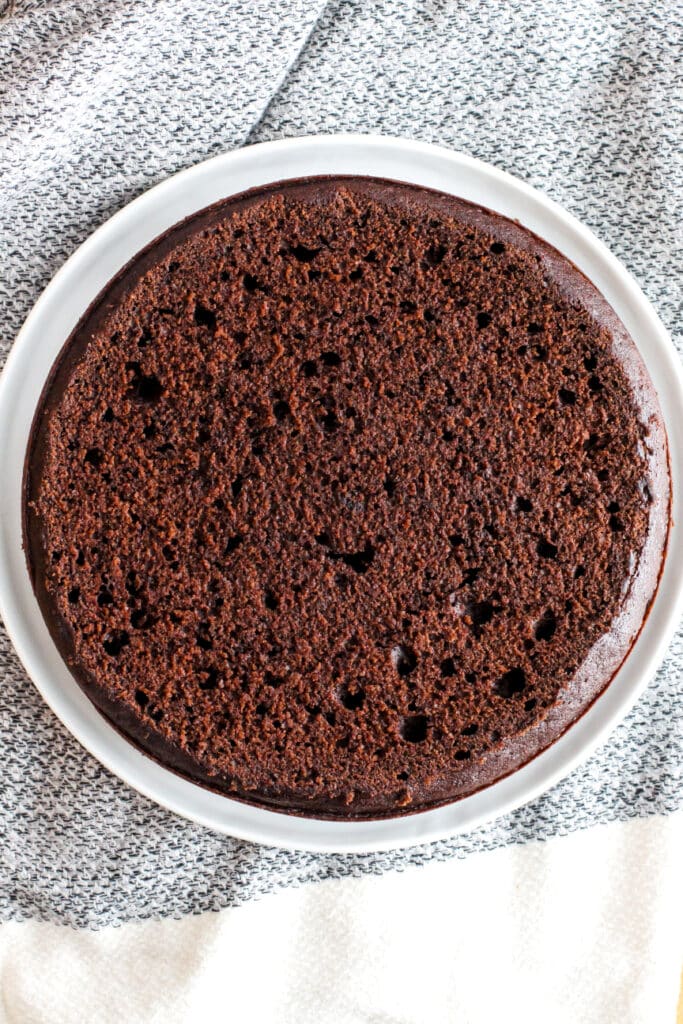 When the cakes have baked through, I recommend removing the cakes from their pans while they are still very hot and wrapping them tightly in plastic wrap. I usually lay out two pieces of plastic on my counter, and use oven mitts to flip the cakes out of the pans and then wrap up in the plastic. You want to be careful to avoid burning yourself, but wrapping them while hot and then letting them cool on the counter helps the cakes stay moist.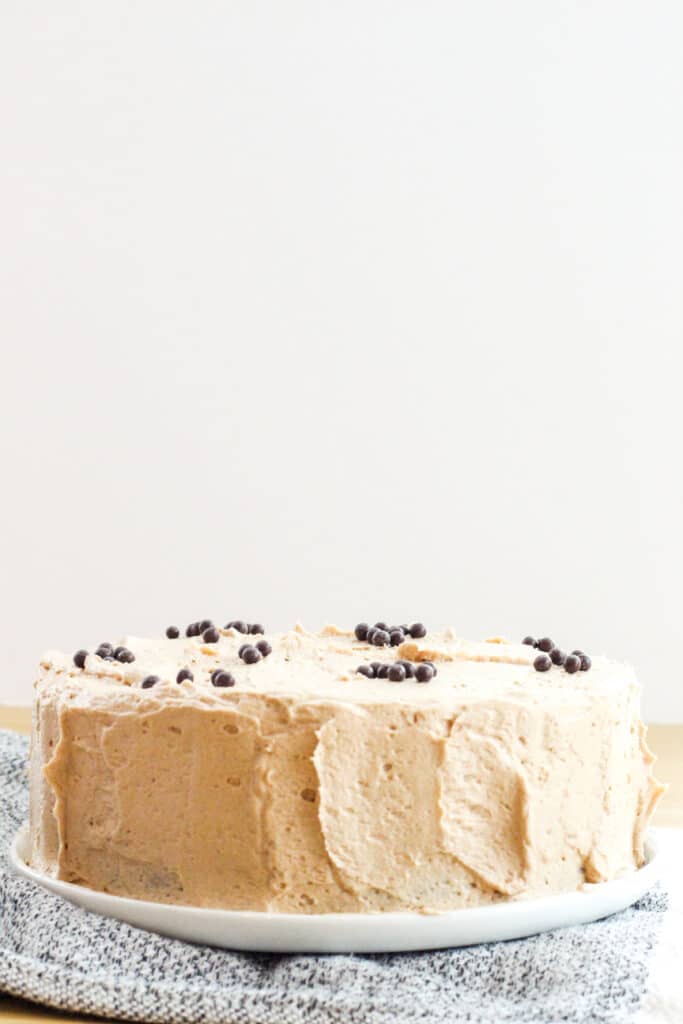 The frosting I'm using here is an ermine style buttercream. The most important tip I can give you here is that the flour paste needs to cool completely before making the rest of the frosting, so I recommend making the paste first and allowing plenty of time for it to cool down.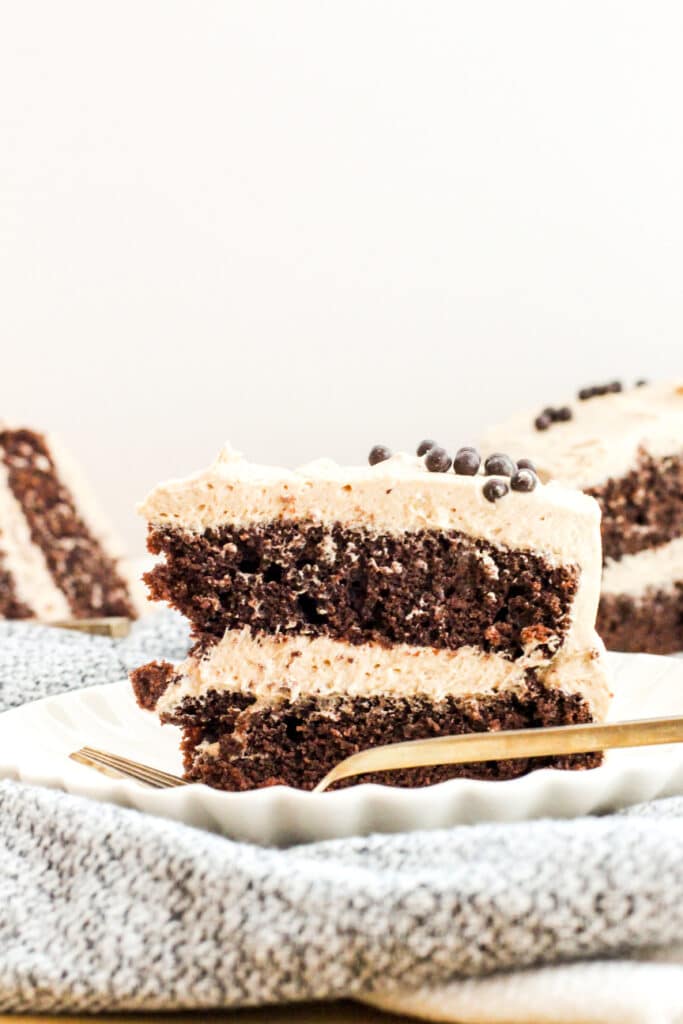 The resulting frosting is super fluffy and silky in texture, with a light coffee flavor that pairs perfectly with the fluffy chocolate cake layers.
Tips & Tricks for Mocha Cake
Here are all my best tips and tricks for the perfect Mocha Cake!
Use dutch-processed cocoa powder to ensure that you have a super chocolatey, dark cake. Natural cocoa powder won't have as strong of a chocolate
Mix the cake batter by hand to avoid over-beating the batter. I usually make this cake entirely with a whisk, and it's not too difficult to pull together!
Wrap the hot cake layers in plastic wrap to help keep the cake moist. I usually do this very quickly and carefully once the cakes come out of the oven, and then let the cakes cool on the counter wrapped in plastic.
Level your cake layers for easier stacking and frosting. I use a sharp serrated knife, and go very slowly, rotating the cake as I go to slice the top off and make a flat surface.
How do I know when the cakes are done baking? Use a toothpick inserted into the center of the cake. It should come out with just a few crumbs stuck to it. Optionally, you can also insert an instant read thermometer into the center of the cake- it should read 200 degrees.
Make the flour paste for the frosting ahead of time, as it needs to cool completely before you continue with the frosting recipe. If the flour paste is still warm at all, the frosting will not come together. Don't skip this step!
There's plenty of frosting for a generous layer, and having enough buttercream will also help throughout the process of layering the cake- you don't want to run out!
I'm at about 5,000 ft above sea level, and I find that most people who live between about 3,000-7,000 ft above sea level do not need to make any adjustments to my recipes.
Enjoy!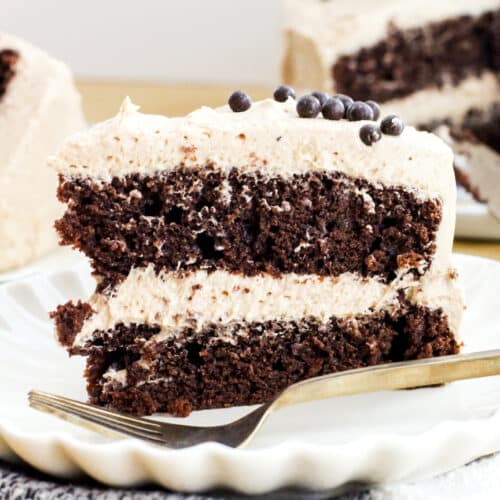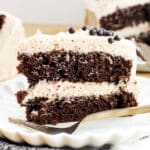 High-Altitude Mocha Cake
Ingredients
For the cake:
2 1/2

cups

all-purpose flour

1 1/2

cups

granulated sugar

1/2

teaspoon

baking soda

2

teaspoon

salt

1

cup

unsalted butter

1

cup

hot coffee

1/2

cup

dutch processed cocoa powder

1/2

cup

buttermilk

2

large eggs

2

teaspoon

vanilla extract
For the frosting:
6

tbs.

flour

1 1/4

cups

milk

2

tsp.

instant espresso powder

1

tsp.

vanilla extract

1 1/2

cups

room temp. butter

1 1/2

cups

sugar

1/8

tsp.

salt
Instructions
For the cake:
Preheat your oven to 350 degrees and grease two 8 inch round cake pans. Optionally line the pan with parchment paper and set aside. In a large bowl, whisk together the flour, sugar, baking soda, and salt. In a microwave safe medium bowl, melt the butter until just melted in the microwave, about 2 minutes. Then add in the coffee and microwave for another minute, or until the mixture is just boiling. Stir in the cocoa powder and whisk to combine until smooth.

Pour the hot chocolate mixture over the dry ingredients, and whisk until combined- the mixture will be very thick at this point, and it doesn't have to be fully mixed through. Then stir in the buttermilk, eggs, and vanilla extract and whisk until combined and smooth. Pour the batter into your prepared cake pans, and bake for 30-35 minutes, or until a toothpick comes out with just a few crumbs clinging to it, or an instant read thermometer reads 200 degrees when inserted in the center of the cake. Cool the cake completely before frosting it. Optionally, remove the cakes from the pans while hot and wrap tightly in plastic wrap, allowing the cakes to cool at room temp while wrapped. See tips on this process above.
For the frosting:
In a small saucepan, stir together the flour and milk and cook this mixture over medium heat until you have a very thick paste. It should take about 5 minutes, whisking constantly to avoid lumps. This mixture needs to cool completely to room temperature before moving on- don't skip the cooling process! It's important.

In a large bowl or the bowl of a stand mixer, beat together the butter, sugar, and espresso powder for about 10 minutes, or until the mixture is extremely fluffy and lightened in color. Add in the completely cooled flour paste mixture, and whip for 5-10 minutes, or until you have a very light, fluffy frosting mixture. Beat in the salt and vanilla extract until well combined, and then frost your cake as desired.

I like to slice the cake layers to remove any domed tops, and then do a simple cake-frosting-cake-frosting layering process. Level cakes will make the process much neater and easier. I use a sharp serrated knife and work slowly around the cake to slice off the top until you have an even layer. Going slowly helps!

Slice and enjoy!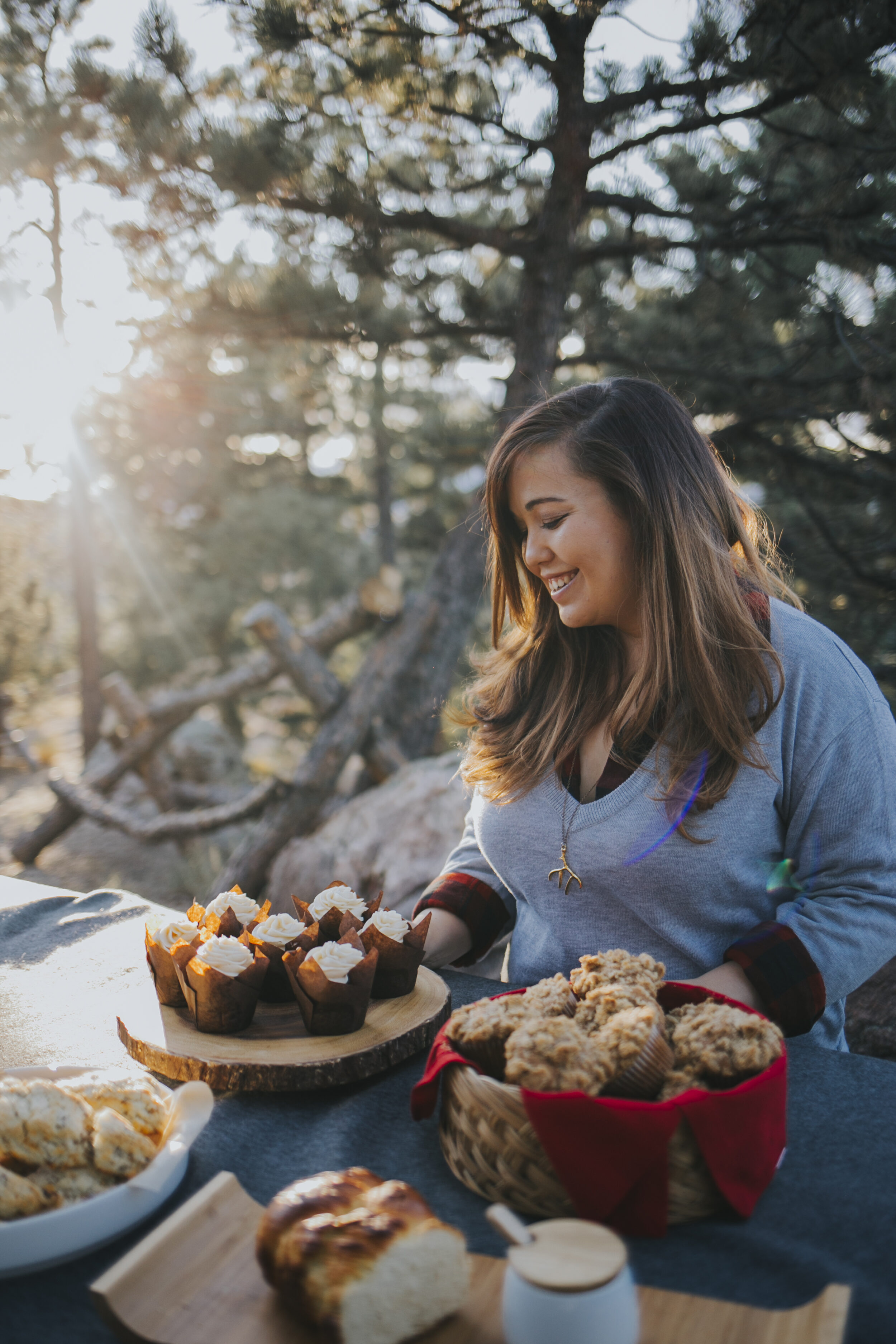 Hello and welcome! My name is Nicole, and Dough-eyed is a food blog for people who want to bake for their family and friends in high-altitude areas. Think of me as a friendly voice there with you in the kitchen, here to give you confidence when you're baking, and to help you with the struggles of baking at high-altitude. Come back every week for new recipes, tips, and advice on high-altitude baking!