Here with a little summary cake for you today- this is a S'mores cake with brown sugar cake, a layer of dark chocolate, and a toasted marshmallow frosting and it's so good!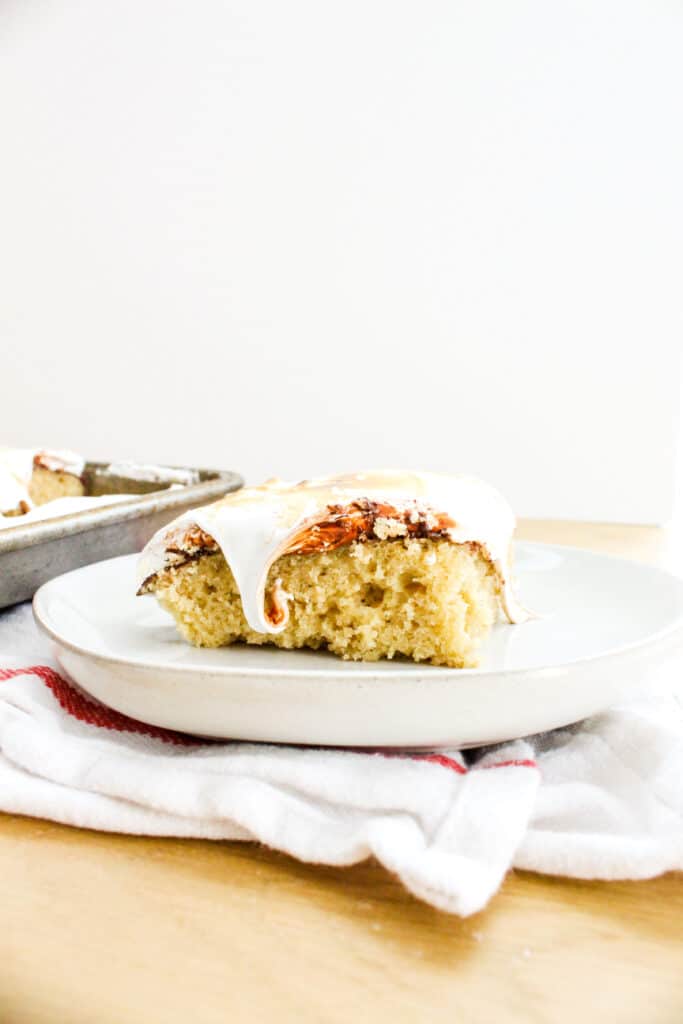 If you've never done sheet cake baking, I highly recommend it. The process is really easy, the cake bakes quickly since it's in a thin layer, and you get a bit of a different cake-to-frosting ratio that I'm a big fan of. Let's get to it!
How to Make S'mores Cake
We're starting off with a really simple vanilla cake recipe that uses brown sugar instead of white sugar to give it more graham cracker vibes. The cake can be mixed entirely by hand, starting with melted butter, oil, and brown sugar, and then adding in an egg and vanilla extract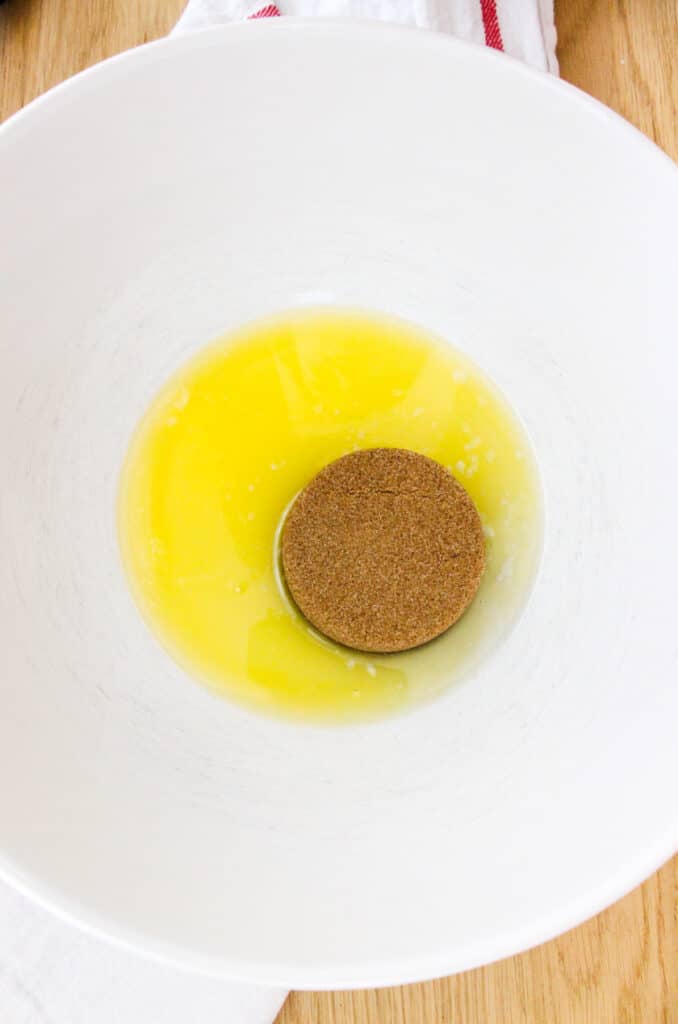 Then we're whisking in the dry ingredients in alternating additions with buttermilk until you have a silky smooth batter. I'm using a quarter sheet pan for this recipe that has been lined with parchment paper and lightly greased so nothing sticks to it. Then it's off to the oven to bake!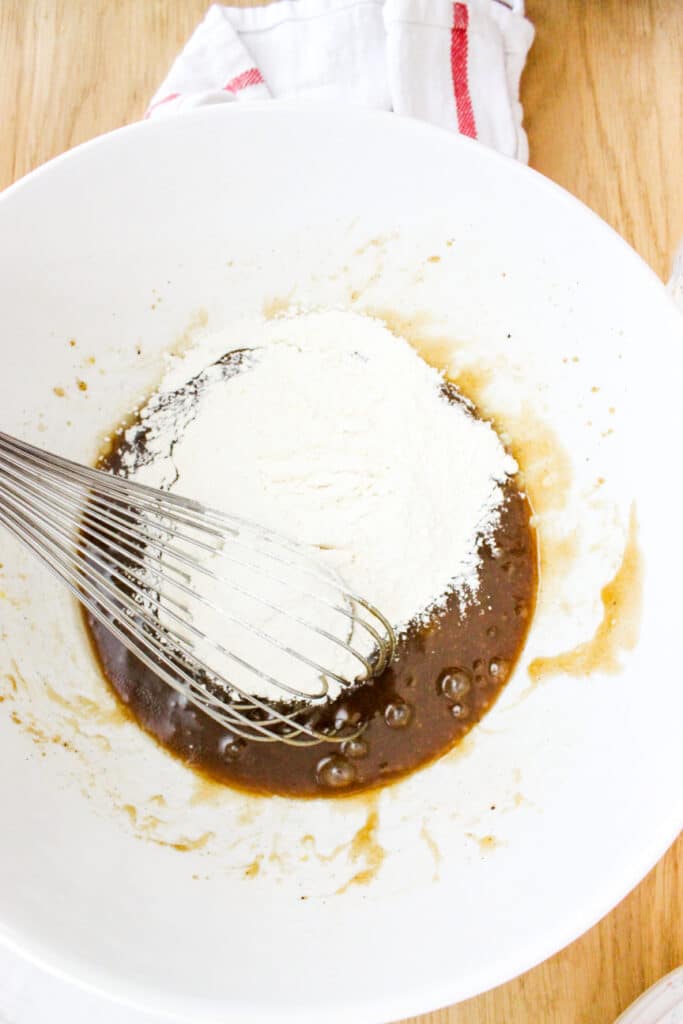 Once the cake has baked and cooled, we're melting dark chocolate and spreading it in a thin, even layer over the top of the cake. Give this about 20-30 minutes to set, optionally you can pop the whole thing in the fridge to harden the chocolate faster. Once the chocolate has set, you can top with your marshmallow frosting, which is just a Swiss meringue.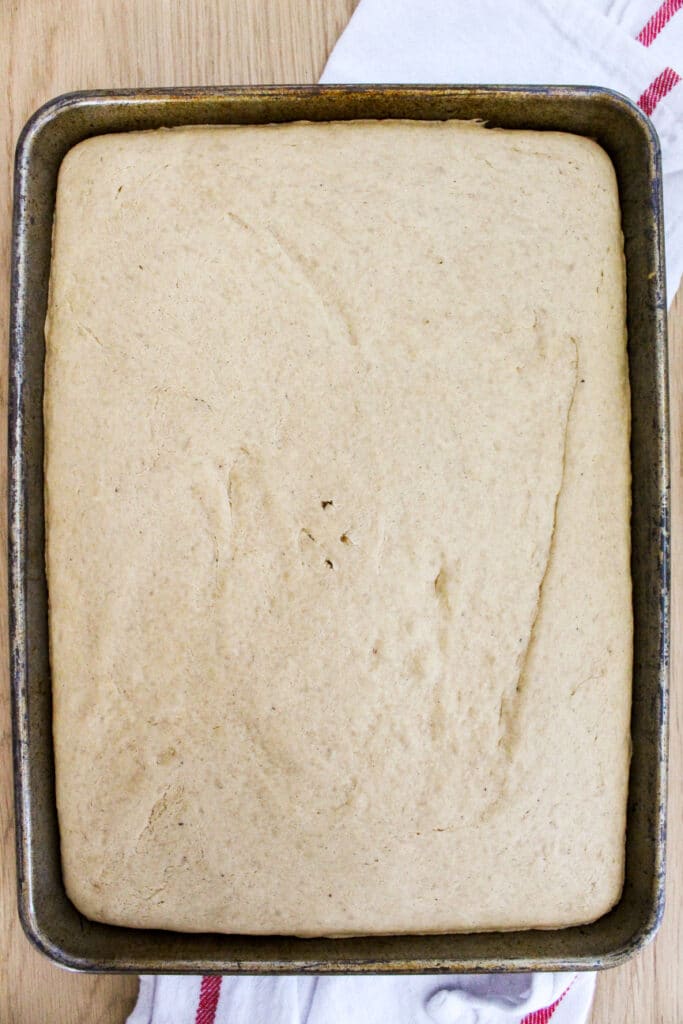 I like using Swiss meringue here because it's pretty stable from the light cooking process. As long as it's not super humid where you are, you should be able to get stiff, moldable peaks working here. I used a kitchen torch to toast the meringue, but you can also put the entire cake under the broiler in your oven for a few minutes if you don't have a torch.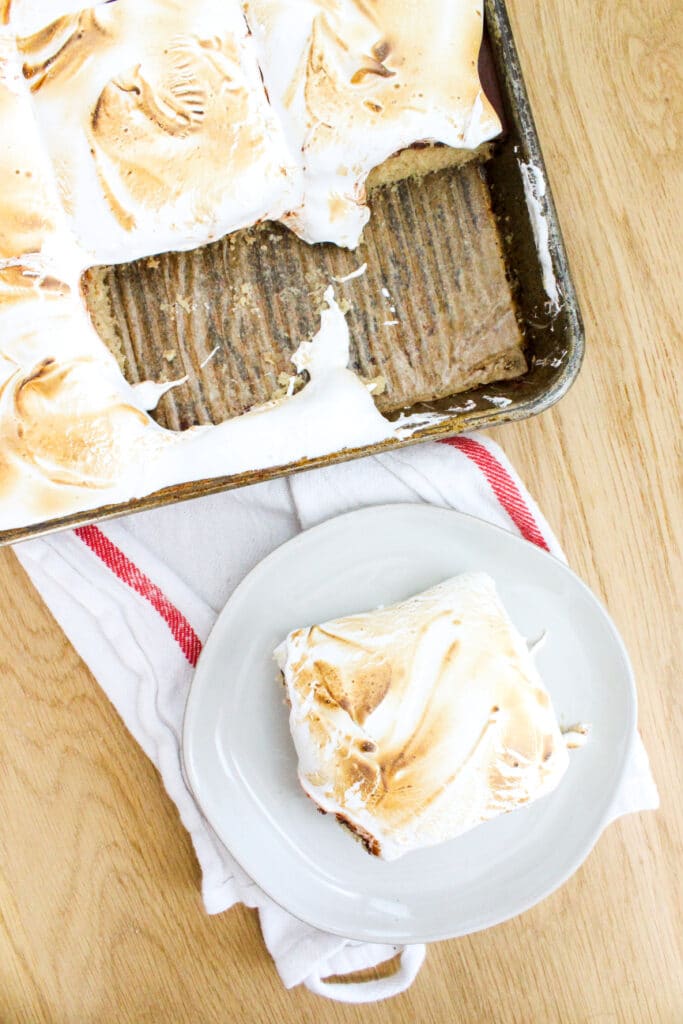 And then the whole thing is ready to slice and serve- a little bite of the classic summer treat in cake form!
Tips and Tricks for your S'mores Sheet Cake
Here are all my tips and tricks for a perfect s'mores cake!
Whisk the cake batter by hand to avoid over-beating it. You can easily whisk everything together here by hand, and you should have a smooth batter like you see above.
Bake the cake in a quarter-sheet pan to match my recipe. Optionally, you can bake the cake in a 9×13 inch cake pan as well.
Can I double this recipe for a half-sheet pan? Yes, you can easily double this recipe for a half-sheet pan, and the bake time will be fairly similar since it's still in a thin layer, but it may take a few minutes longer.
How do I know when the cake is finished baking? The cake should look set all over, and a cake tester inserted into the center of the cake should come out with just a few crumbs clinging to it. Optionally, you can use an instant read thermometer and it should read 200 degrees when the cake is done.
Do I have to use dark chocolate? You can use any chocolate you prefer here, but the cake is pretty sweet overall, so I recommend using dark chocolate to help balance out the flavors a little more.
How do I know when the egg whites and sugar are cooked? If you take a little bit of the mixture and rub it between two fingers, you should no longer feel the sugar granules and the sugar should be dissolved.
How do I know when the meringue is finished whipping? You want to have stiff peaks here, which means when you hold the beater upside-down, the meringue should hold it's shape easily. The meringue will likely ball up in your beaters as you mix when it's ready.
What if I don't have a kitchen torch? That's ok- just preheat your oven broiler on high for 5 minutes, and place the entire frosted cake in for 3-5 minutes. Keep a very close eye on this as it goes- some broilers are pretty intense so it can happen very quickly!
I'm at about 5,000 ft. above sea level and I find that most people who live between 3,000-7,000 ft above sea level do not need to make any adjustments to my recipes.
Enjoy!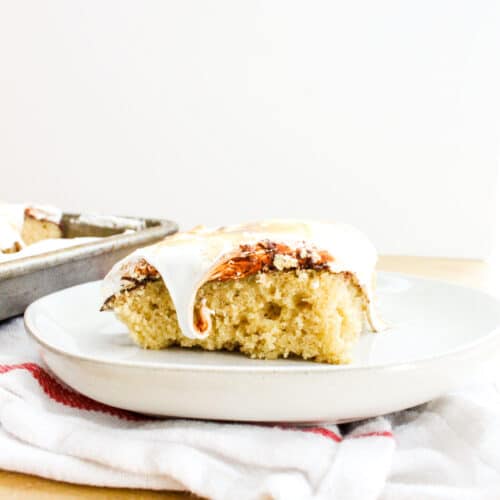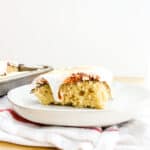 S'mores Sheet Cake
Ingredients
For the cake
1/2

cup

dark brown sugar

1/2

cup

melted butter

1/4

cup

canola oil

1

egg

2

tsp

vanilla extract

2

cups

flour

1

tsp.

salt

1/2

tsp.

baking powder

1/4

tsp.

baking soda

1

cup

buttermilk
For the topping:
6

oz

dark chocolate

1

cup

sugar

3

egg whites

1/4

cup

light corn syrup

1/4

tsp.

salt

2

tsp.

vanilla extract or paste
Instructions
For the cake:
Preheat the oven to 325, and grease a quarter-sheet pan. Line the bottom of the pan with parchment paper for easy removal, and set aside.

In a large bowl, whisk together the brown sugar, melted butter, and canola oil until combined, and then mix in the egg and vanilla extract. In a small bowl, stir together the flour, salt, baking powder, and baking soda. Stir the flour mixture and the buttermilk into the egg mixture in alternating additions, starting and ending with the flour mixture. You want to mix well between each addition until everything is just combined and you have a smooth batter.

Spread the batter evenly into your prepared cake pan, and bake for 12-15 minutes, or until a cake tester comes out with just a few crumbs clinging to it. Optionally, you can use an instant read thermometer that should read 200 degrees when the cake is done. Cool the cake completely before adding the topping.
For the topping:
In a microwave safe bowl, break up your chocolate into chunks and microwave the mixture for 30 seconds. Stir, and repeat microwaving in 30 second increments until the chocolate is melted. Pour the melted chocolate on top of the cooled cake, and use the back of a spoon or an off-set spatula to spread it into an even thin layer over the cake. Let this layer of chocolate fully set before you add the marshmallow topping.

Place a large heat-proof bowl, or the metal bowl of your stand mixer, over a pot of simmering water (the water should not touch the bowl). In this bowl, stir together the sugar, egg whites, corn syrup, and salt. Stir this mixture over the heat for 5-10 minutes, or until the sugar has dissolved, and then remove it from the heat.

Using an electric mixer or your stand mixer, whisk until the mixture has thickened dramatically, and holds stiff peaks, which should take about 10 minutes. Add in the vanilla extract and stir to combine. Use a spoon to gently pile the frosting on top of your cake, and gently make swirls with small peaks if desired.

To toast the meringue, the easiest option is to use a kitchen torch and toast the top of the frosting to your desired brown/black. Optionally, you can place the cake under the broiler on high in your oven for 3-5 minutes. Slice and serve!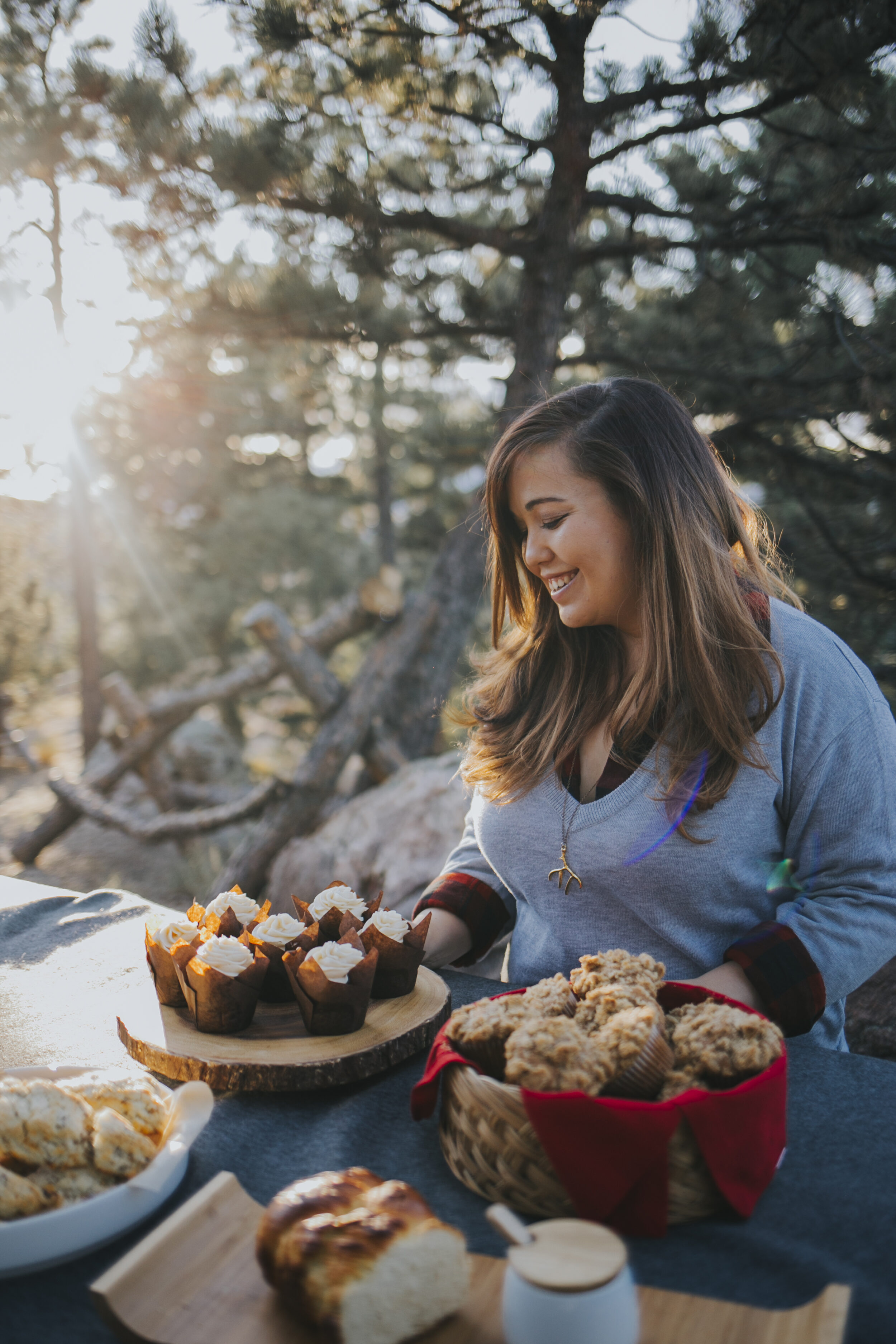 Hello and welcome! My name is Nicole, and Dough-eyed is a food blog for people who want to bake for their family and friends in high-altitude areas. Think of me as a friendly voice there with you in the kitchen, here to give you confidence when you're baking, and to help you with the struggles of baking at high-altitude. Come back every week for new recipes, tips, and advice on high-altitude baking!