Another quick summer bake for you guys today with these perfect Lemon Cookie Bars! Baking cookies in bar form is the easiest way to make a batch, and you won't have to keep your oven on for hours in the summer heat.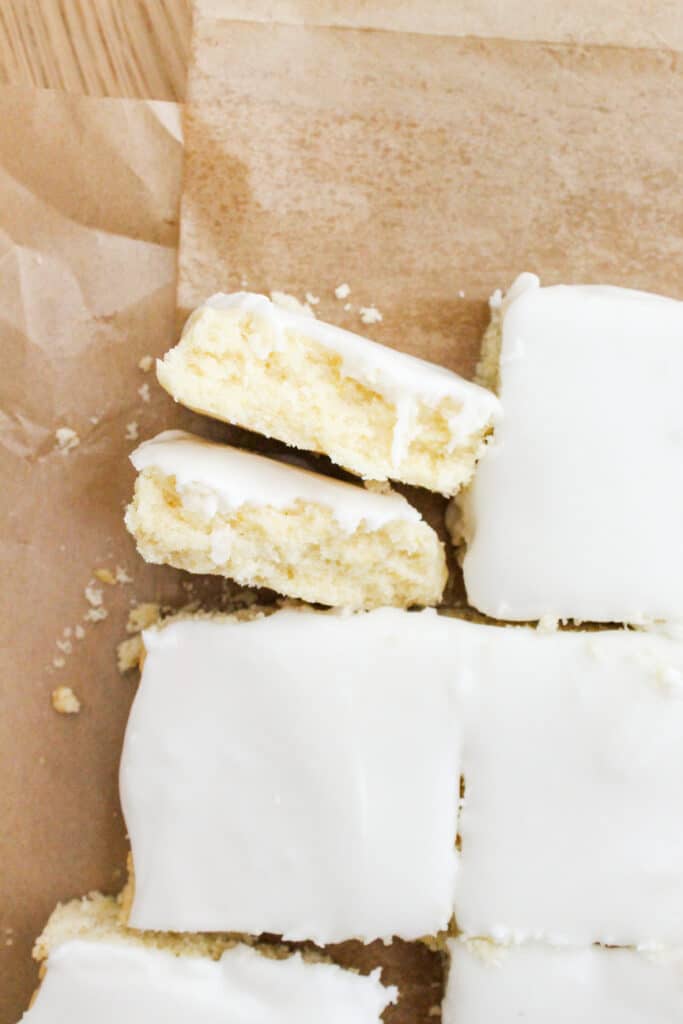 These cookies are topped with a super simple lemon icing that compliments the light lemon flavor in the cookie bars, and it's overall the perfect little picnic, party, and porch treat. Let's get to it!
How to Make Lemon Cookie Bars
These cookies get baked in a 9×13 inch cake pan, and then removed and sliced to serve, so start by greasing your cake pan and lining it with parchment paper. You want to leave some overhang on the parchment paper so you can easily remove the bars once they've cooled.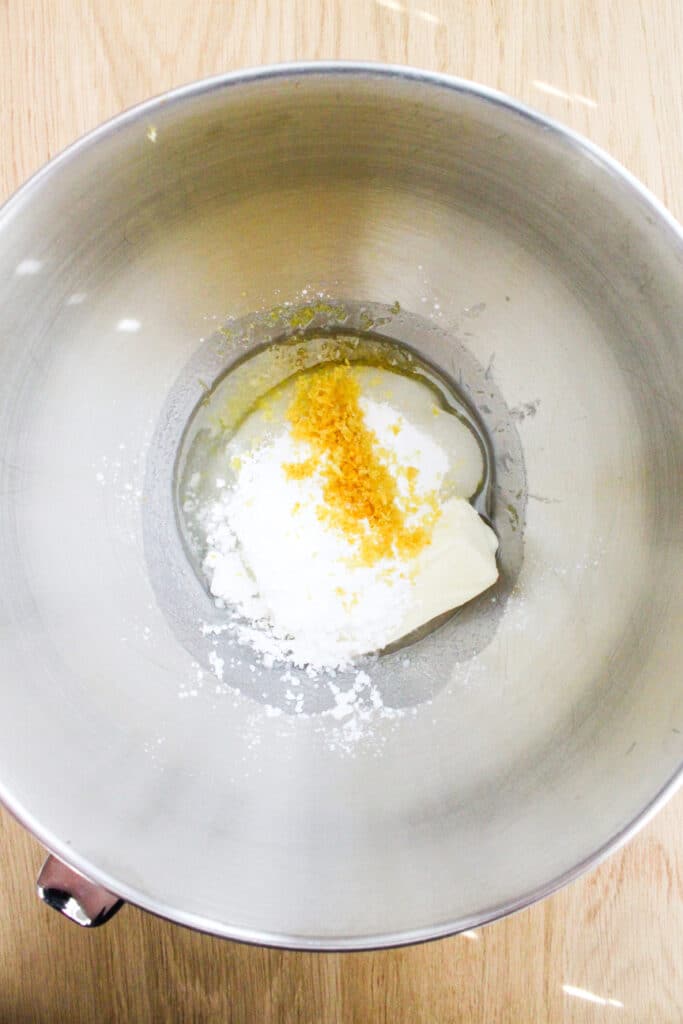 This is a simple sugar cookie dough base, with a couple of additions that turn the cookies into a soft, pillowy texture. We're starting with butter, oil, sugar, powdered sugar, and lemon zest. The oil and powdered sugar will keep the cookies soft, and give the cookies a texture similar to a melt-away cookie if you've had one of those.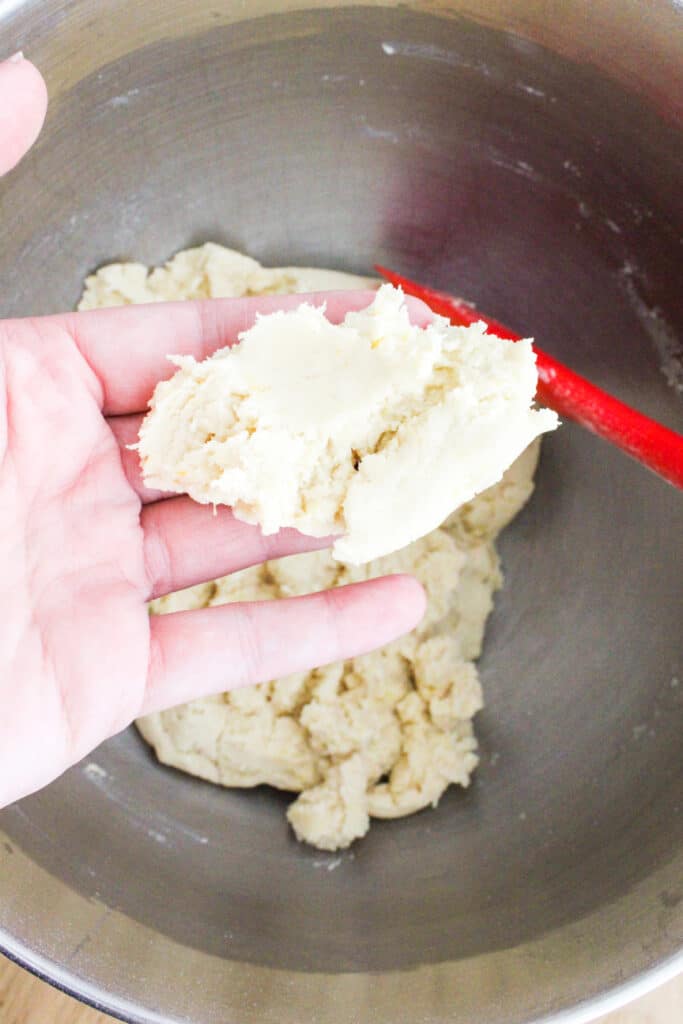 Then add in the egg, lemon juice, and vanilla extract and stir everything together, and then it's time to add in the dry ingredients. You should end up with a soft dough that is easy to mold.
Press the dough evenly into your prepared cake pan. This will take some working since it's a dough and not a batter, but you can use an off-set spatula or the back of a measuring cup to help press the dough into an even layer before baking.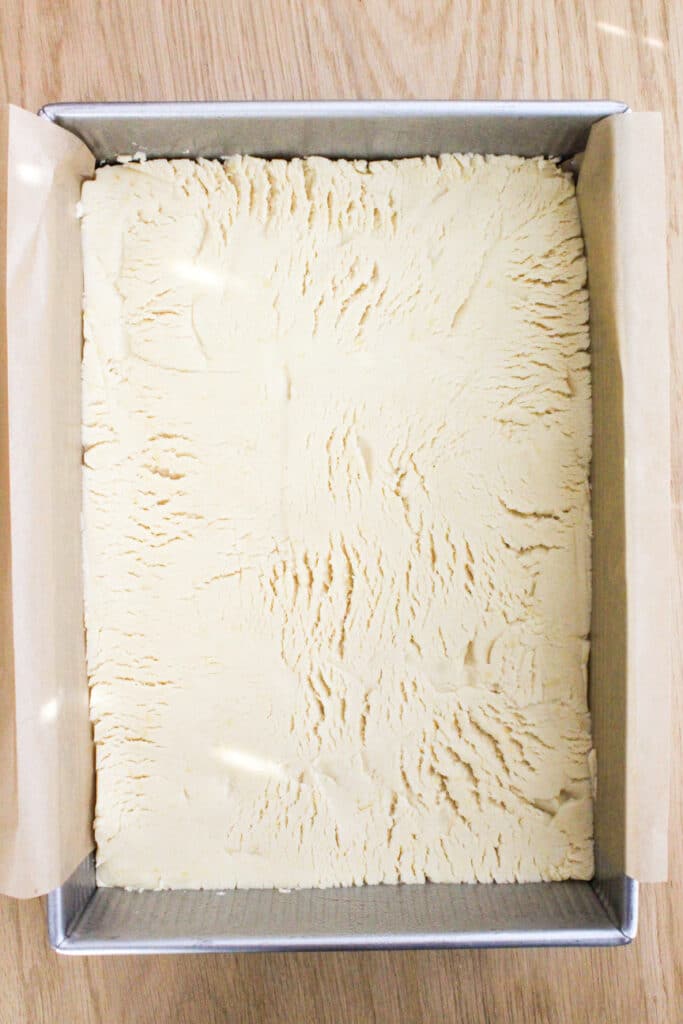 Let the cookies cool completely before you remove them from the pan and frost. The icing is super simple, and you can use the juice from the lemons you zested earlier here. You want a thick icing that slowly flows off your spoon when you lift it up. Spread it all over the bars before slicing and serving. Enjoy!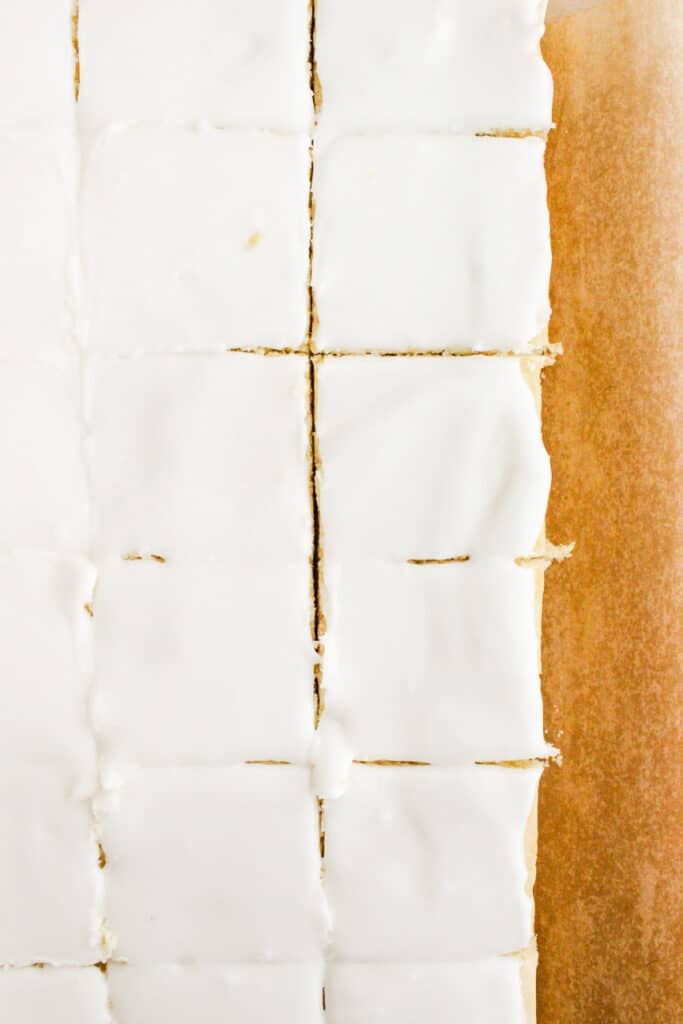 Tips & Tricks for the Perfect Lemon Cookie Bars
Here are all my tips and tricks to make the perfect Lemon Cookie Bars every time!
Use softened butter to make sure everything blends together easily in the first step.
Do I have to use powdered sugar? I highly recommend the powdered sugar here as it contributes a lot to the texture of the cookie bars, but you can substitute for granulated sugar without any issue if needed.
Do I have to use canola oil? You can use any neutral oil you prefer here- vegetable, avocado, canola, or grapeseed are all great options!
How do I spread the dough into the pan? It takes a little bit of work, but I find it easiest to crumble the dough into the pan all over so you have a relatively even start, and then using an off-set spatula to help press and spread everything into place.
How do I know when the cookies are done baking? The cookies should be getting lightly golden around the edges of the pan when they are done, but overall should still look fairly pale in color.
Be sure to let the cookies cool before adding the icing or else the icing will melt completely over the top and drip off the bars almost entirely.
I'm at about 5,000 ft. above sea level, and I find that most people who live between 3,000-7,000 ft. above sea level do not need to make any adjustments to my recipes.
Enjoy!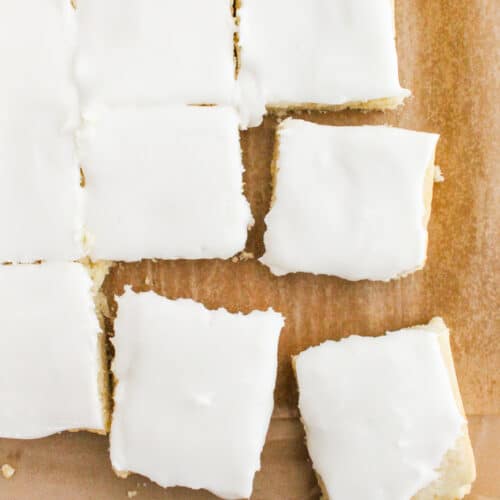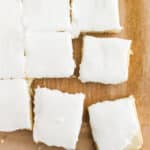 Lemon Cookie Bars
Ingredients
For the cookie bars:
3

cups

flour

1

tsp.

salt

1/2

tsp.

baking powder

1/8

tsp.

baking soda

1/2

cup

softened butter

1/4

cup

+ 2 tbs. canola oil

3/4

cup

sugar

1/4

cup

powdered sugar

2

tbs

lemon zest

1

egg

3

tbs.

Lemon juice

1

tsp

vanilla extract
For the icing:
1/4

cup

lemon juice

3

cups

powdered sugar

1/8

tsp

salt
Instructions
For the cookie bars:
Preheat your oven to 350 degrees, and grease a 9×13 inch pan, and then line the pan with parchment paper, leaving overhangs for easy removal.

In a medium bowl, whisk together the flour, salt, baking powder, and baking soda. Set aside. In a large bowl, beat together the butter, canola oil, sugar, powdered sugar, and lemon zest until fluffy. Beat in the egg, lemon juice, and vanilla extract until combined.

Slowly add in the flour mixture, and stir until completely combined. Spread the dough evenly in your prepared pan. Bake for 14-16 minutes, or until the cookies look just golden near the edges. Cool completely before icing.
For the icing:
In a medium bowl, whisk together the lemon juice, powdered sugar, and salt until a very thick icing forms. It should flow very slowly off of your whisk when you lift it up. If the icing is too thick and isn't coming together, add another teaspoon of lemon juice. If it's too thin and drizzly, add another 1/4 cup of powdered sugar.

Evenly spread the icing over the top of the cooled bars, and slice to serve. Enjoy!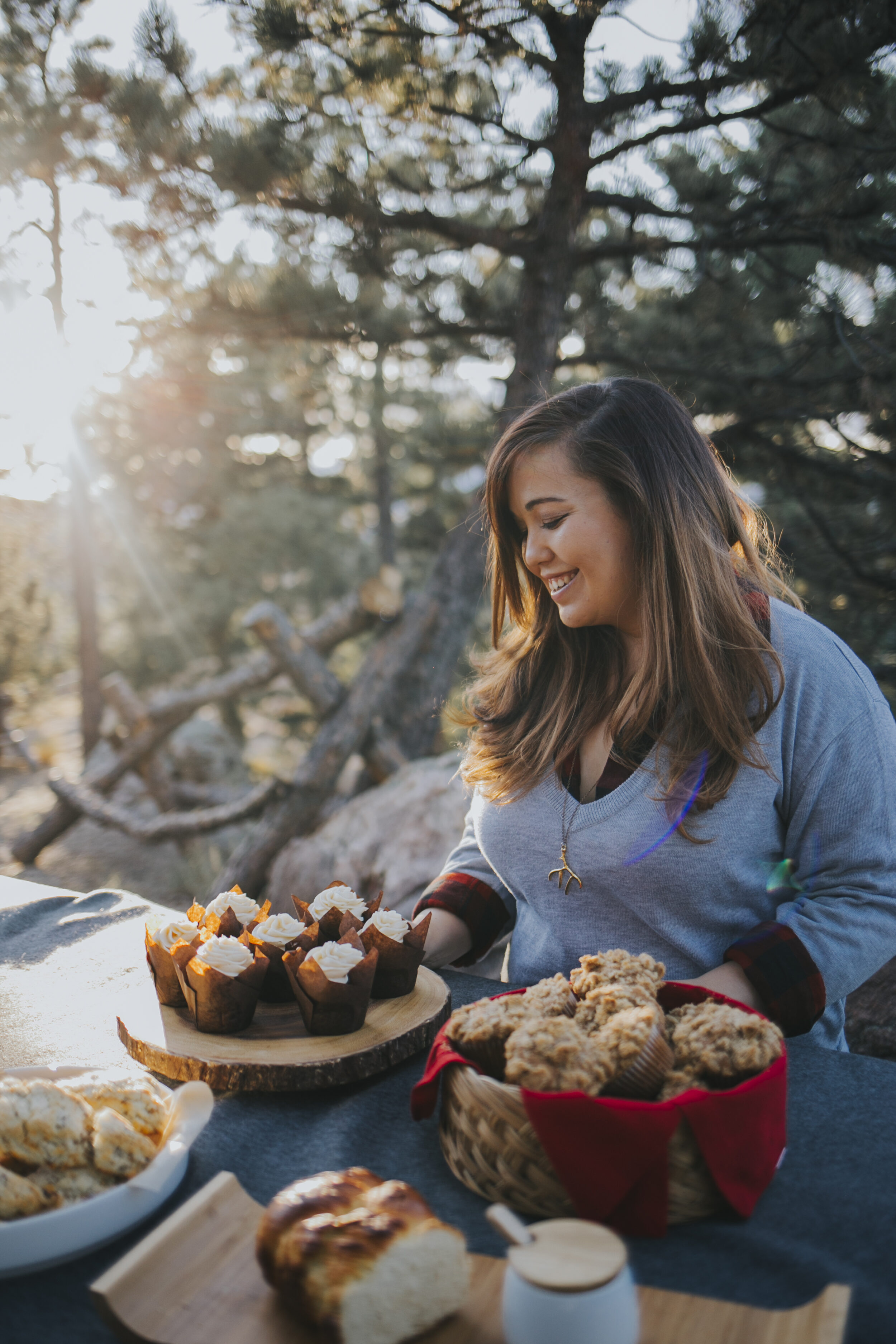 Hello and welcome! My name is Nicole, and Dough-eyed is a food blog for people who want to bake for their family and friends in high-altitude areas. Think of me as a friendly voice there with you in the kitchen, here to give you confidence when you're baking, and to help you with the struggles of baking at high-altitude. Come back every week for new recipes, tips, and advice on high-altitude baking!