Today I'm sharing a recipe for Coconut Cupcakes that any coconut lover will enjoy! I'm not even a big fan of coconut in general, but these are delightful enough to change my mind.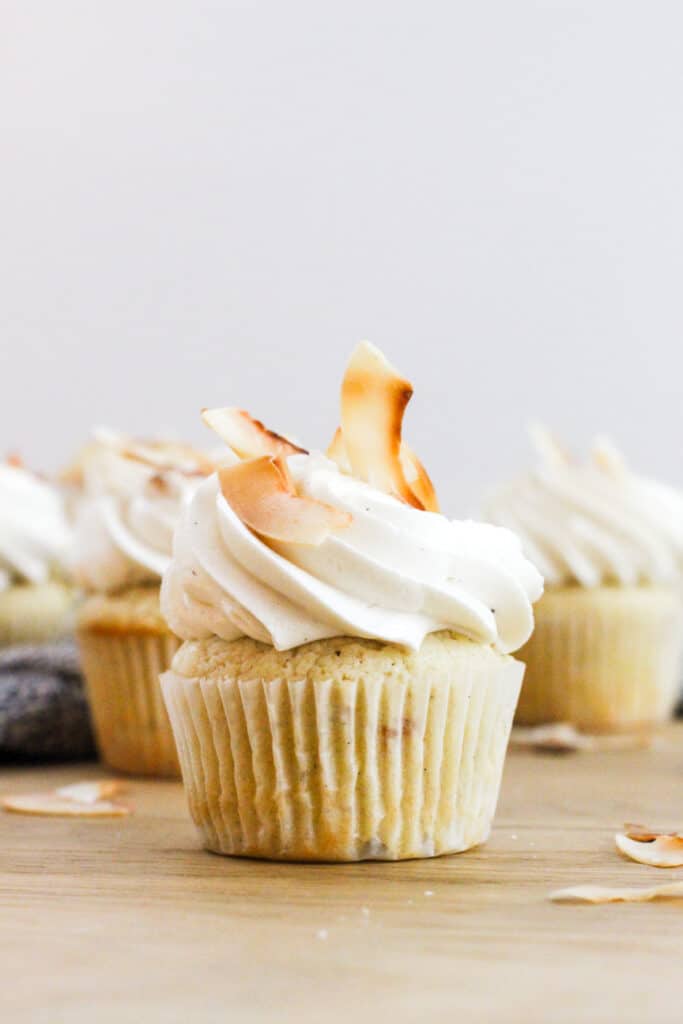 I'm using a simple vanilla cake recipe for the cupcakes with the addition of coconut cream, plus a super fluffy coconut buttercream and toasted coconut flakes. Let's get to it!
How to Make The Best Coconut Cupcakes
Let's start with the cupcakes. I'm using a can of full-fat coconut cream here, and I gave it a quick buzz with an immersion blender (you can also use a normal blender or food processor) to combine the solids with the liquid again. The rest of the cake batter can be mixed by hand because it uses a combination of melted butter and oil.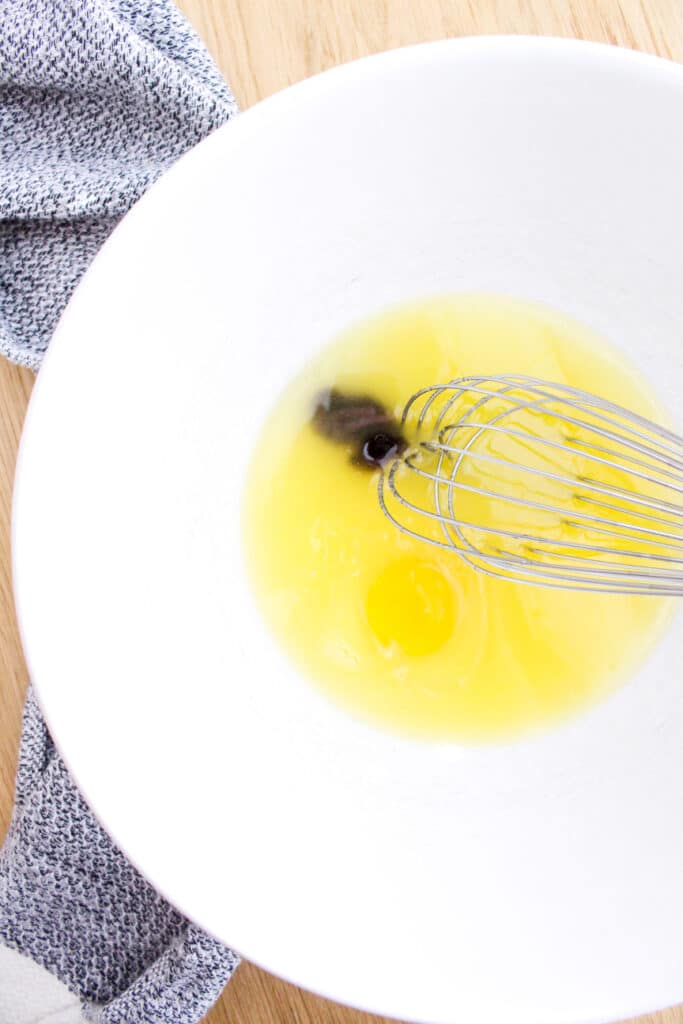 You'll want to add in your dry ingredients in alternating additions with your coconut cream and buttermilk, resulting in a smooth batter. The buttermilk, oil, and melted butter will all contribute to a cupcake that stays fluffy and moist (sorry) in texture!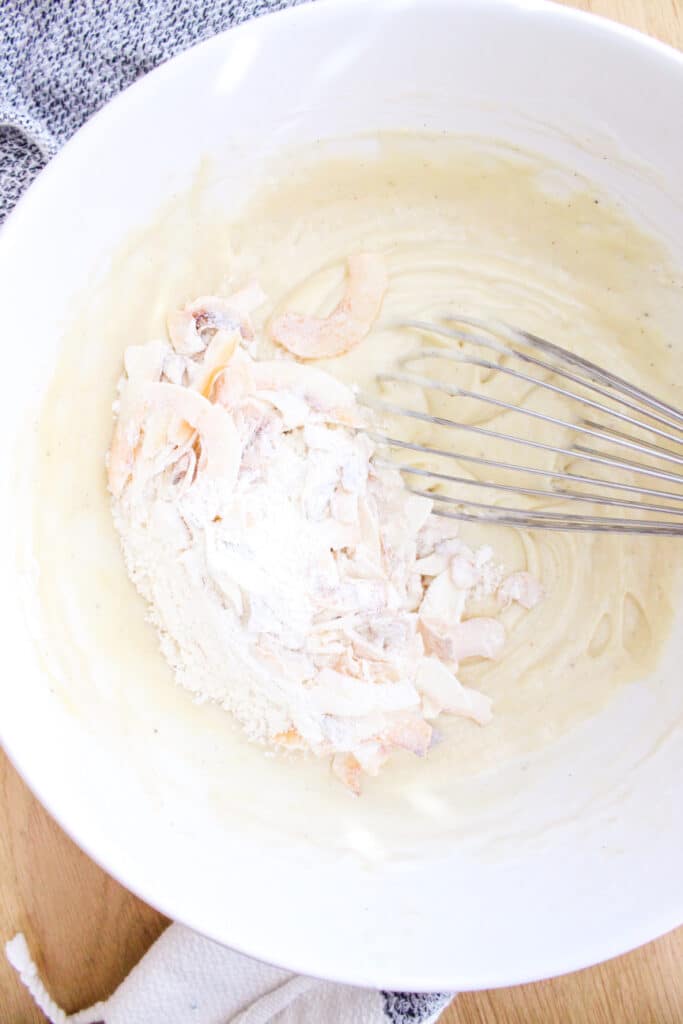 Then it's off to the oven to bake the cupcakes. The cupcakes need to cool completely before being frosted- give it the time it needs to fully cool off.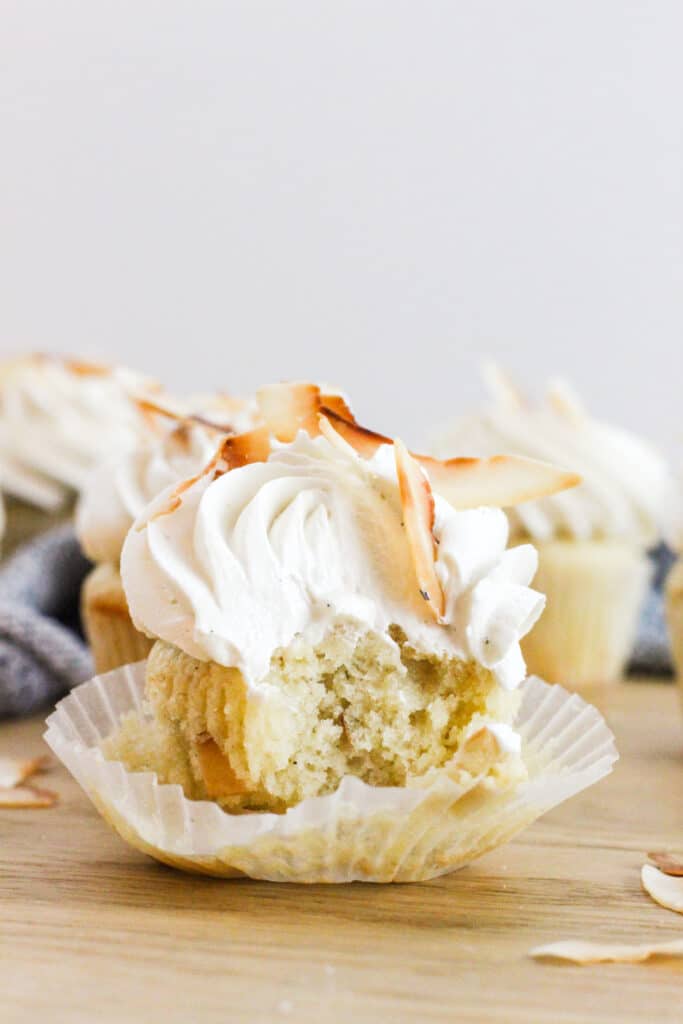 This is a version of an ermine frosting recipe with the addition of coconut cream instead of milk. You'll need to cook the flour paste first, and allow plenty of time for the mixture to fully cool off before continuing to make the frosting.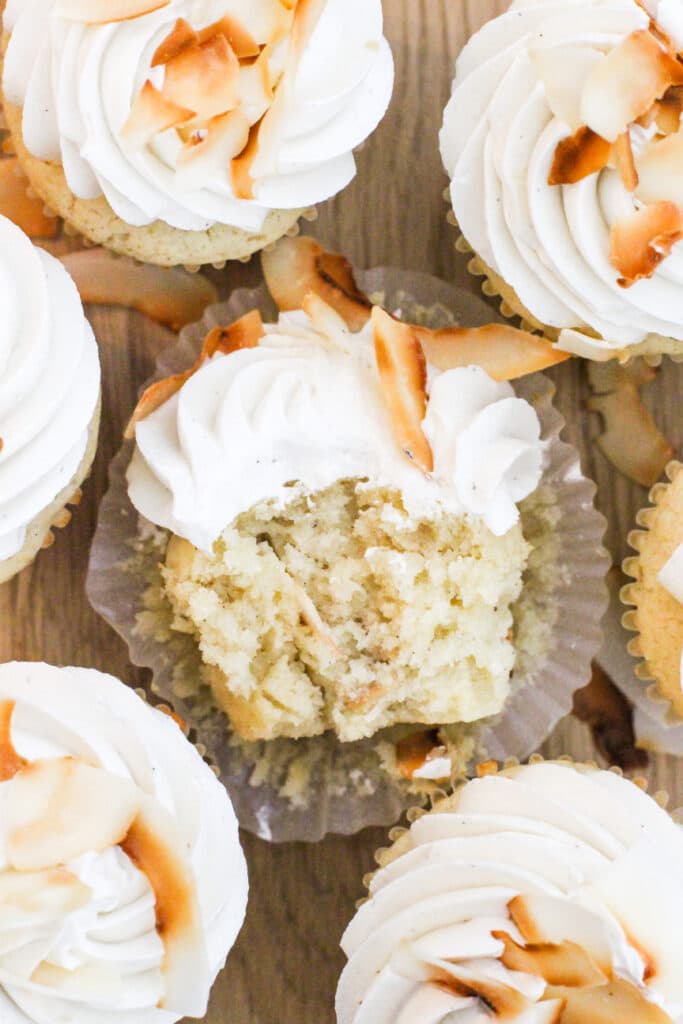 I'm using coconut flakes here because you can typically find them unsweetened, and because I prefer the texture of the larger flakers to fine shreds. You can use whatever you prefer though, if you like the classic sweetened shreds, go for it!
Once everything is cooled and the frosting is fluffed up, you can frost the cupcakes as you like and enjoy!
Tips & Tricks for Coconut Cupcakes
Here are my tips to help you along the way with this recipe, resulting in the best Coconut Cupcakes!
Use large coconut flakes if you can find them- I usually find them at Trader Joe's, and I love the texture of the big flakes. Plus, these are unsweetened. However, you can use classic sweetened shreds if you prefer them!
Mix the batter by hand to avoid over-mixing. You want to mix at each stage until everything is just combined, and no further.
I used a can of full-fat coconut cream here, which has enough for both the cake and frosting, and blended it before using to make sure the solids and liquids are combined and smooth. You can use coconut milk if you prefer, but I find that the cream offers a richer texture and flavor.
Toast your coconut flakes ahead of time and allow them to cool before mixing them into the cake batter. These flakes create a more textured cake, and it's completely optional!
How do I know when the cupcakes are finished baking? You should insert a toothpick into the center of a cupcake, and it should come out with a few crumbs clinging to it, but should not look wet. The cupcakes should be lightly golden on top.
How do I know when the flour paste is cooked? The flour paste should create a thick mixture when fully cooked, similar to the texture of a soft cookie dough, or a thick frosting. It's not an exact science though, and as long as you have a thick mixture, you're good to go!
My frosting looks split, how do I fix it? The frosting looks split as it mixes, and your first step should be to let the mixture continue to whip for another 5-10 minutes if it's not coming together. If that doesn't work, add in an additional 2-3 tablespoons of softened butter and the mixture should come together.
Don't skip any of the cooling stages! For both the cupcakes and the frosting, letting your cupcakes and flour paste cool completely is vital. Do not skip this step, or your frosting will melt and not come together.
I'm at about 5,000 ft above sea level and I find that most people who live between about 3,000-7,000 ft above sea level do not need to make adjustments to my recipes.
Enjoy!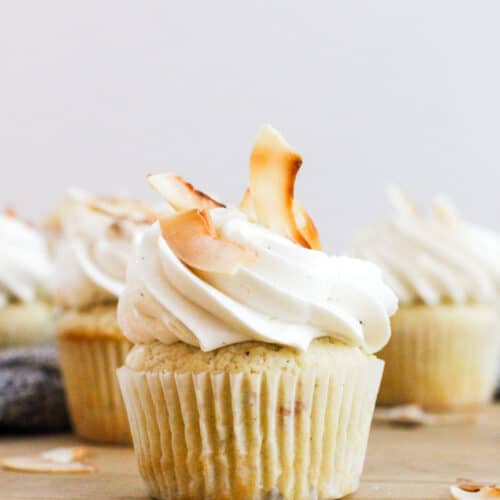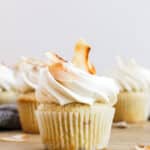 Coconut Cupcakes
Ingredients
For the cupcakes
1/2

cup

sugar

1/2

cup

melted butter

1/4

cup

canola oil

1

egg

2

tsp

vanilla extract

2

cups

flour

1

tsp.

salt

1/2

tsp.

baking powder

1/4

tsp.

baking soda

1/2

cup

buttermilk

3/4

cup

full fat coconut cream

1

cup

coconut chips

toasted
For the frosting:
3/4

cup

sugar

6

tbs.

flour

1/4

tsp.

salt

1

cup

full fat coconut cream

1

cup

softened butter

2

tsp.

vanilla extract or paste
Instructions
For the cupcakes:
Preheat the oven to 350 degrees, and line a 12-cup muffin tin with paper liners.

In a large bowl, whisk together the sugar, melted butter, and canola oil until combined, and then mix in the egg and vanilla extract. In a small bowl, stir together the flour, salt, baking powder, and baking soda. In another small bowl, stir together the buttermilk and coconut cream. Stir the flour mixture and the buttermilk mixture into the egg mixture in alternating additions, starting and ending with the flour mixture. You want to mix well between each addition until everything is just combined. Gently fold in the toasted coconut flakes with the last addition of flour, reserving a handful of flakes for decorating.

Evenly divide the batter between the 12 muffins cups. The batter should fill the cups about 3/4 of the way. Bake the cupcakes for 20-22 minutes, or until a toothpick inserted into the center of a cupcake comes out mostly clean. Let the cupcakes cool completely before frosting.
For the frosting:
After you put your cake in the oven, it's time to cook your flour paste for the frosting so it has enough time to cool. In a small saucepan, whisk together the sugar, flour, and salt. Then whisk in the coconut cream. Cook this mixture over medium heat, whisking constantly, until you get a thick paste. Then transfer the mixture to a heat-safe bowl, and cover with plastic wrap. This mixture needs to be completely cooled and at room temperature before you proceed with the frosting- don't skip cooling it down, it's very important here!

Once your cupcakes and your flour paste are cooled, place your butter into a large bowl, or the bowl of a stand mixer with a paddle attachment. Beat the butter until it is very light and fluffy, about 5-8 full minutes in a stand mixer, or slightly longer if you're mixing with an electric hand mixer. Beat in the cooled flour paste mixture and the vanilla extract. Continue to beat the mixture until it becomes light, fluffy, and smooth, which may take 3-5 minutes. It should be very light and creamy. Frost your cupcakes as desired, top with reserved coconut flakes, and serve!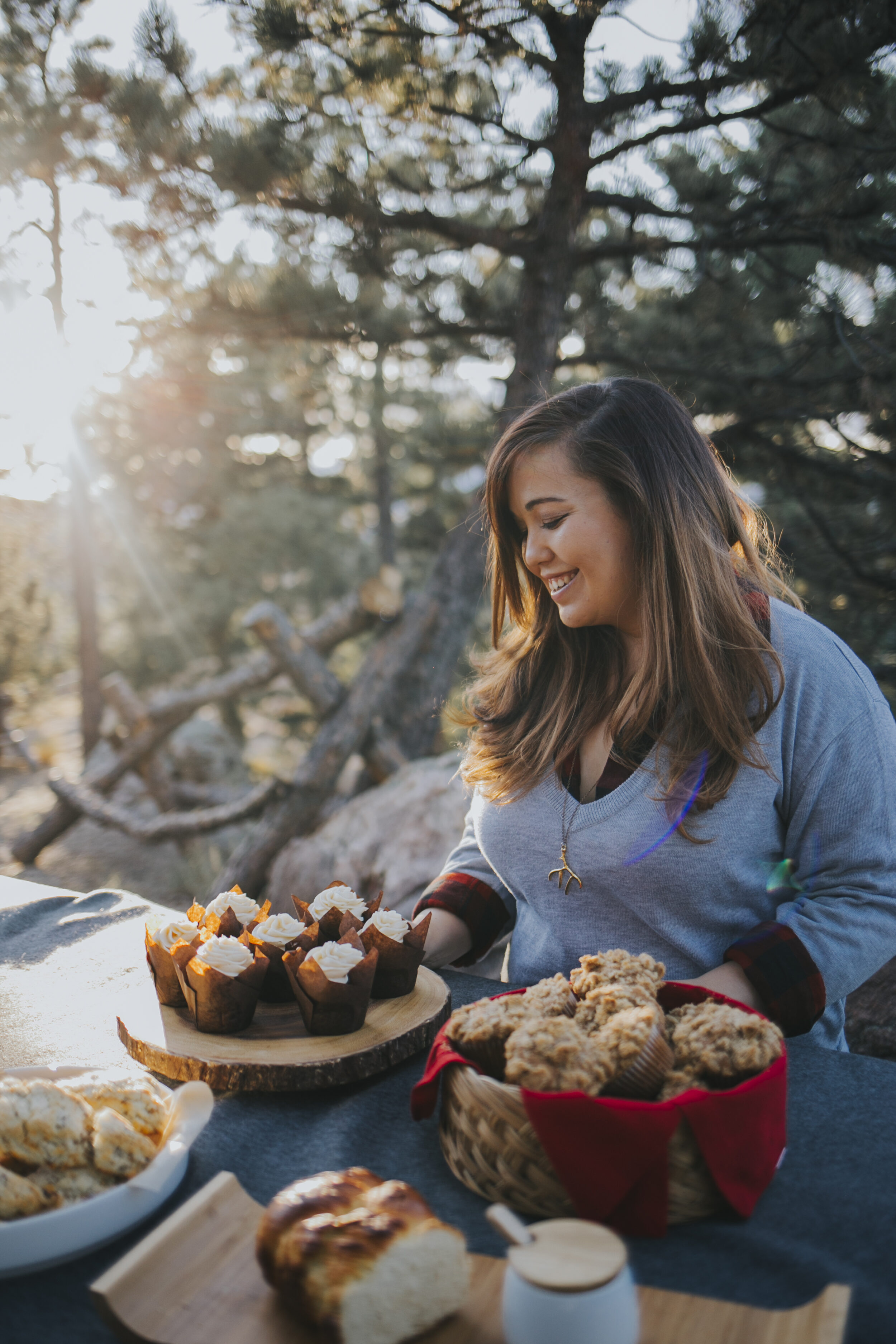 Hello and welcome! My name is Nicole, and Dough-eyed is a food blog for people who want to bake for their family and friends in high-altitude areas. Think of me as a friendly voice there with you in the kitchen, here to give you confidence when you're baking, and to help you with the struggles of baking at high-altitude. Come back every week for new recipes, tips, and advice on high-altitude baking!