Hey guys! This is one of those recipes that walks the line between sweet and savory, and it's a really delightful cake. I'm using pistachio butter for this cake, which can be a pretty tough ingredient to find, and you may want to do some peeking around online beforehand.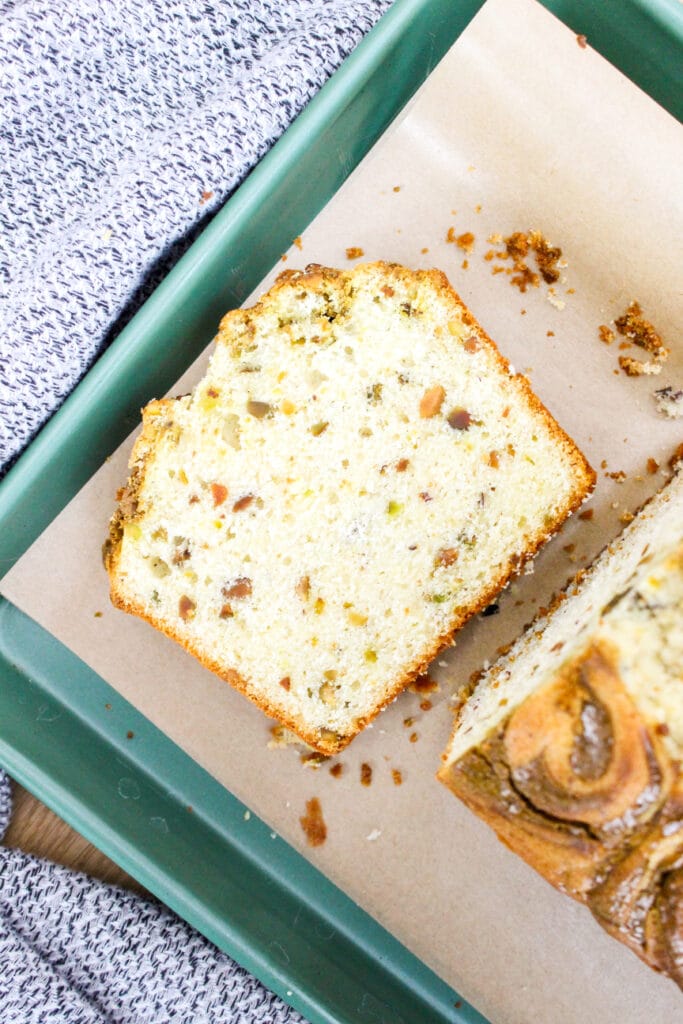 The Pistachio Pound Cake itself is really simple to put together. It's got chopped pistachios running throughout, and pistachio butter swirled into the top of the cake. Let's get to it!
How to Make Pistachio Pound Cake
The pound cake base of this recipe is super simple to put together. We're starting by beating together the butter, oil, and sugar until everything is looking fluffy. Then we're adding in the eggs one at a time until well combined.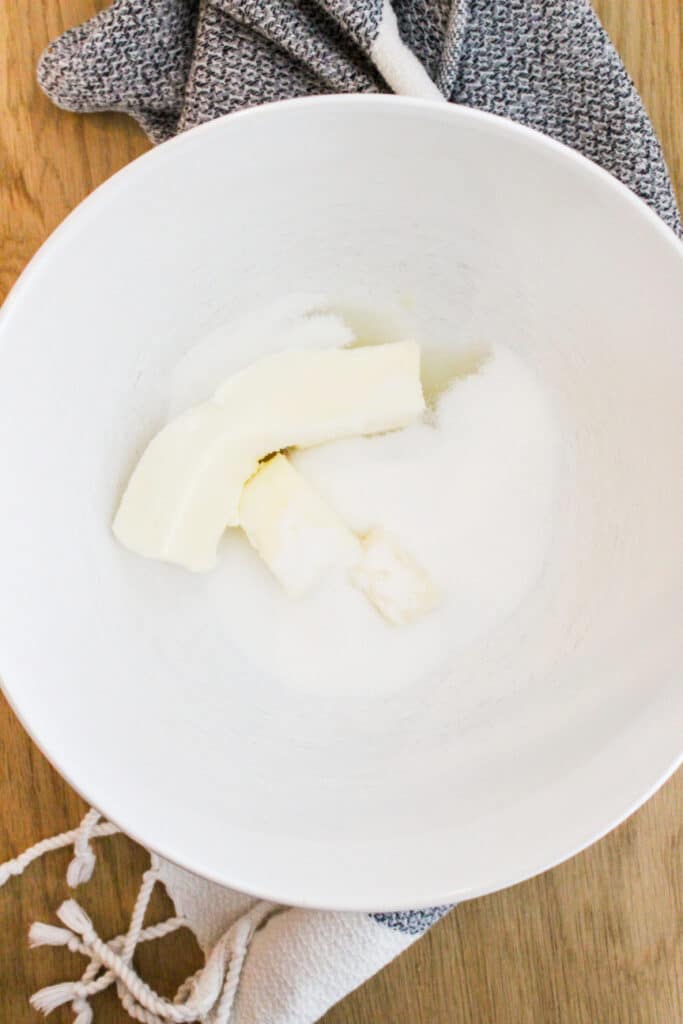 Add in the flour mixture and the buttermilk in alternating additions, mixing well each time. This helps to ensure everything is really well combined and smooth. With the last addition of the flour mixture, add in a whole mess of chopped pistachios. Letting the nuts become lightly coated with the flour mixture helps to prevent them sinking to the bottom of the cake.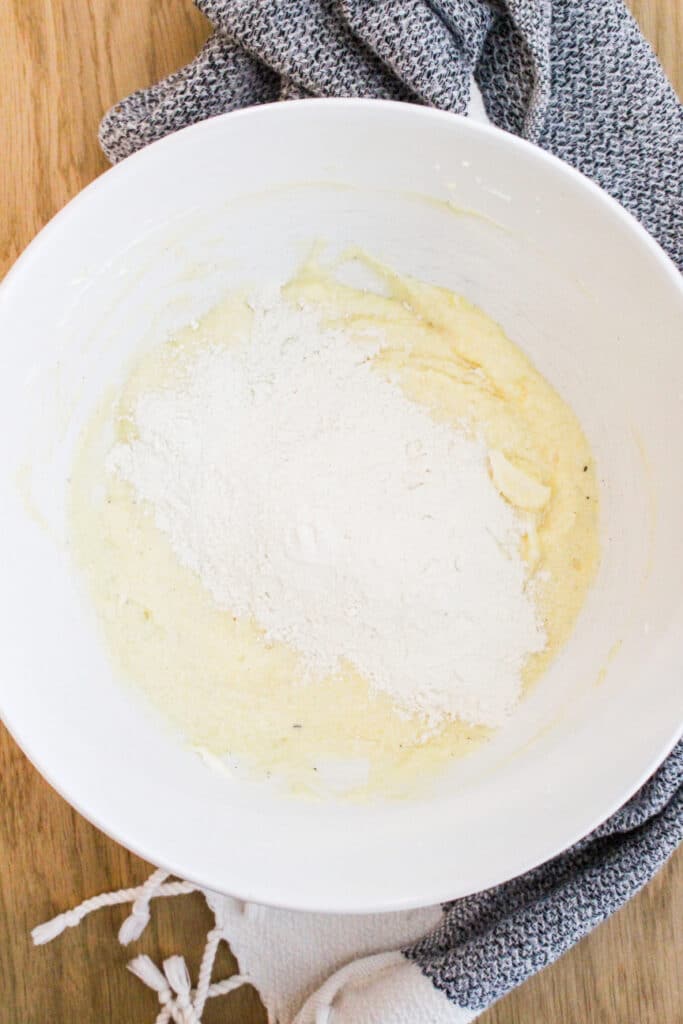 You'll have a pretty thick batter at this point, and you can spread it into your loaf cake pan evenly. Then dollop on some pistachio butter, and use a knife or an off-set spatula to swirl it into the batter gently. Then it's off to the oven!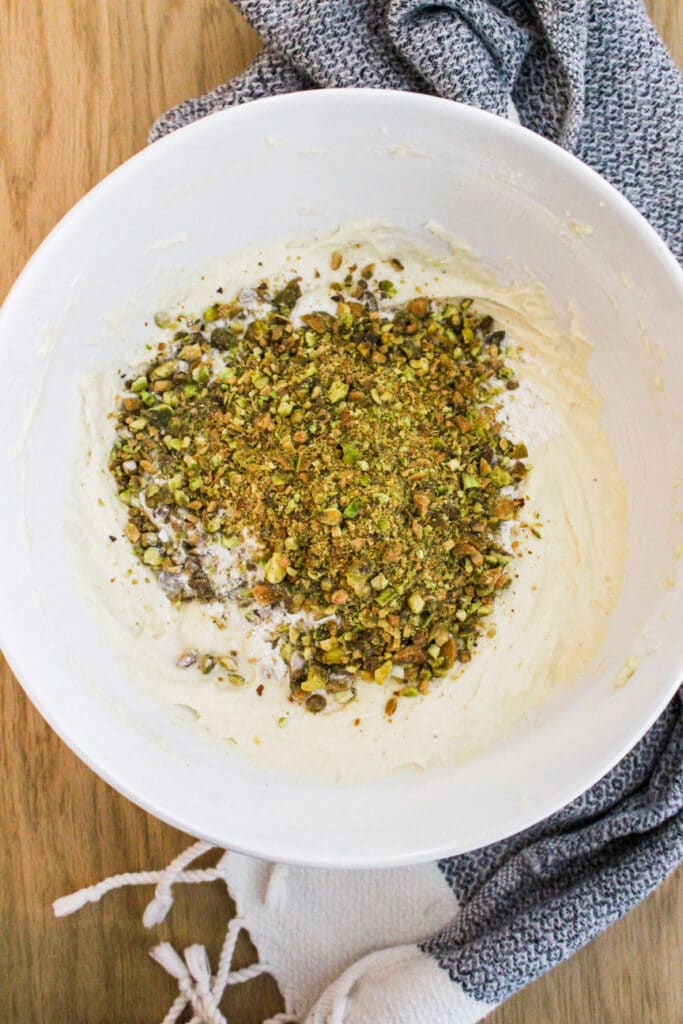 Pound cake often takes a pretty long time to bake through at altitude, so don't be afraid to put a little foil tent over the top if it's getting too browned while it bakes. Cool the cake completely before removing from the pan to slice and serve.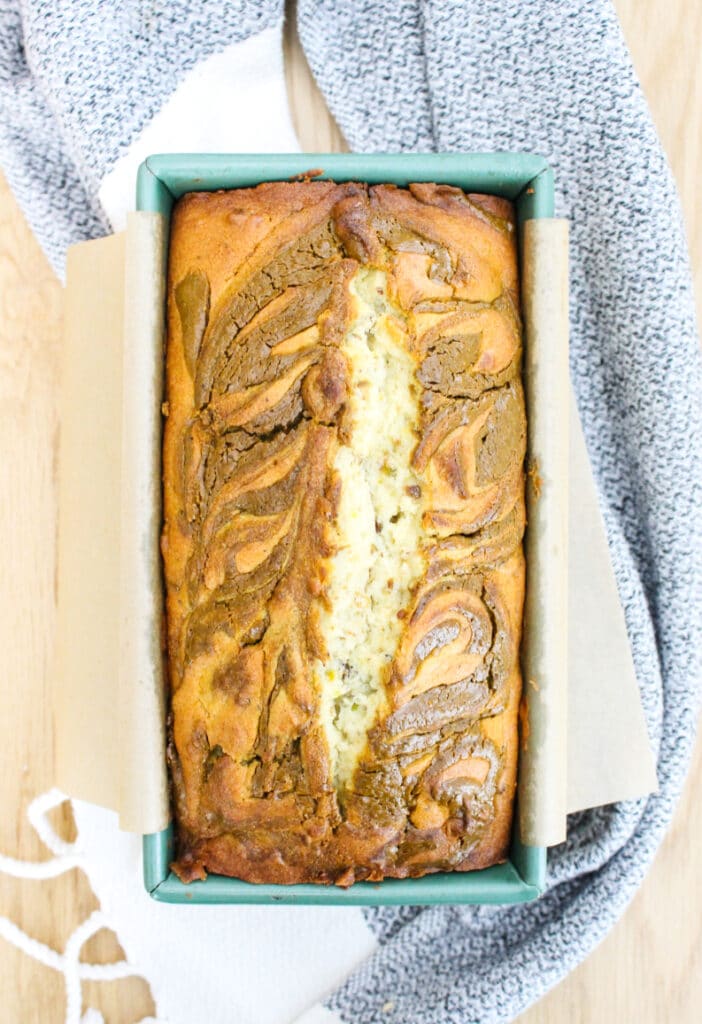 Both the chopped pistachios and the butter are salty, so this cake has a sweet and salty flavor overall, and it's the perfect little breakfast cake!
Tips & Tricks for the Perfect Pistachio Pound Cake
Here are all my tips and tricks to make the perfect cake every time!
Mix at every step until ingredients are just combined. This will help the cake stay tender, and you want to avoid over-mixing the batter. I usually mix in the last addition of flour along with the pistachios by hand.
Do I have to use pistachios? You can swap in another chopped nut if you prefer and still get great results. A yummy combo would be chopped hazelnuts with Nutella swirled into the top!
Where can I buy pistachio butter? I usually can only find it online, but it's worth buying a high-quality option online for this one!
Use a knife or off-set spatula to make a line in the batter before baking. This will give you that classic cracked-down-the-center top of the cake.
If the cake is getting too browned on top while it bakes, don't be afraid to add a foil tent over it while it finishes baking. Pound cake can take a long time to bake through!
How do I know when the cake is done baking? A toothpick inserted into the center should come out mostly clean, with just a few crumbs stuck to it. Optionally, you can use an instant read thermometer and the internal temp of the cake should be at 200 degrees.
I'm at about 5,000 ft. above sea level, and most people who live between about 3,000-7,000 ft above sea level do not need to make any adjustments to my recipes.
Enjoy!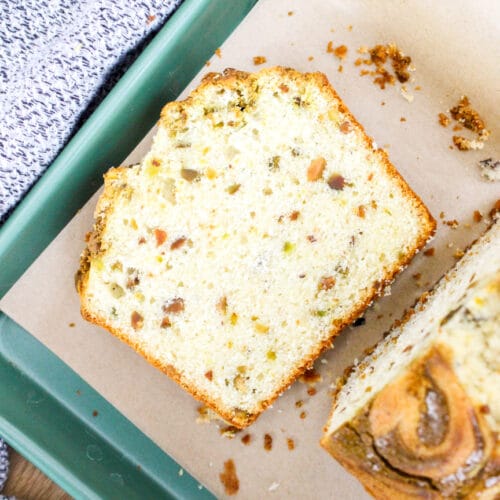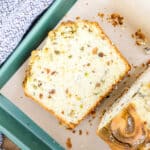 Pistachio Pound Cake
Ingredients
2 3/4

cups

flour

1 1/4

tsp.

baking powder

1

tsp.

salt

3/4

cup

softened butter

1 1/4

cup

sugar

1/4

cup

canola oil

4

eggs

2

tsp.

vanilla extract or paste

1

tsp.

almond extract

1/4

cup

whole milk

3/4

cup

chopped pistachios

1/3

cup

pistachio butter
Instructions
Preheat your oven to 350 degrees and grease a loaf pan. Optionally line the pan with parchment paper that has overhanging sides for easy removal- set aside.

In a medium bowl, stir together the flour, baking powder, and salt. Set aside. In a large bowl, beat together the butter, sugar, and oil until light and fluffy. Add in the eggs, beating the batter between each egg addition. Stir in the vanilla extract and almond extract. Add in about half of the flour mixture and beat until smooth. Then add in the whole milk and mix to combine. Add in the remaining flour along with the chopped pistachios and beat for several minutes until the batter is completely smooth.

Pour into your prepared pan. Dollop the pistachio butter over the top of the pan, and use a knife or off-set spatula to swirl the butter into the batter. Optionally, if you want a crack in the cake down the middle, run a butter knife down the middle of the batter to just create a line. Bake for 45 minutes, or until the top is golden brown, and then cover gently with a foil tent and continue baking for an additional 20-25 minutes, or until a cake tester comes out mostly clean, or an instant read thermometer reads 200 degrees for the center of the cake. Cool completely in the pan, uncovered, and remove to slice and serve the cake when it's completely cooled.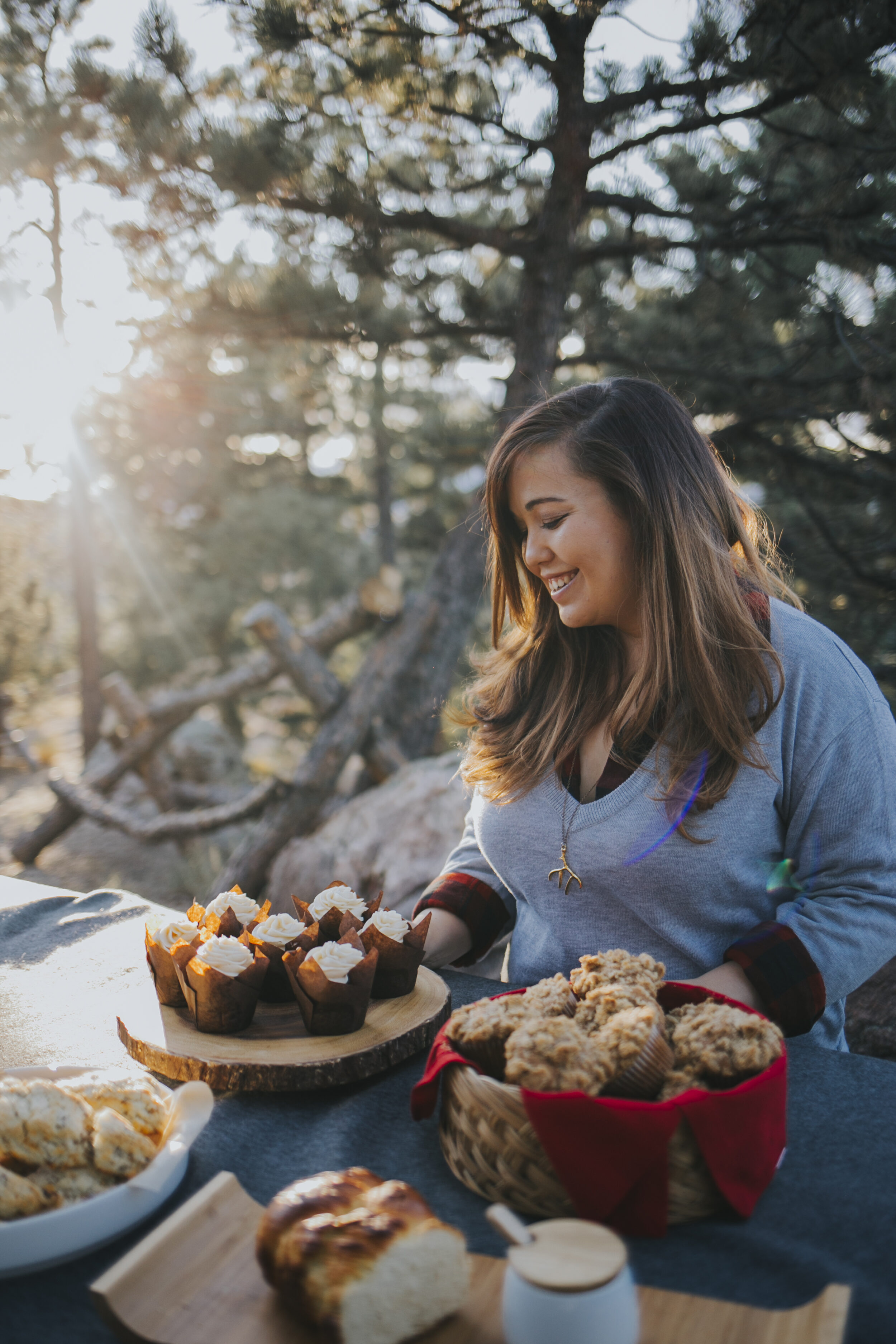 Hello and welcome! My name is Nicole, and Dough-eyed is a food blog for people who want to bake for their family and friends in high-altitude areas. Think of me as a friendly voice there with you in the kitchen, here to give you confidence when you're baking, and to help you with the struggles of baking at high-altitude. Come back every week for new recipes, tips, and advice on high-altitude baking!