We're right there in pie season you guys, and I'm ready to share some pie recipes in time for Thanksgiving this year. We're starting with my fav, the classic, the perfect high-altitude Pumpkin Pie.
We're making some simple updates to the classic recipe, plus using the perfect High-Altitude Pie Crust recipe, and we're going to end up with a super smooth, creamy, and really pretty incredible pumpkin pie. PLUS, if you're feeling it, let's whip up some homemade whipped cream, ok?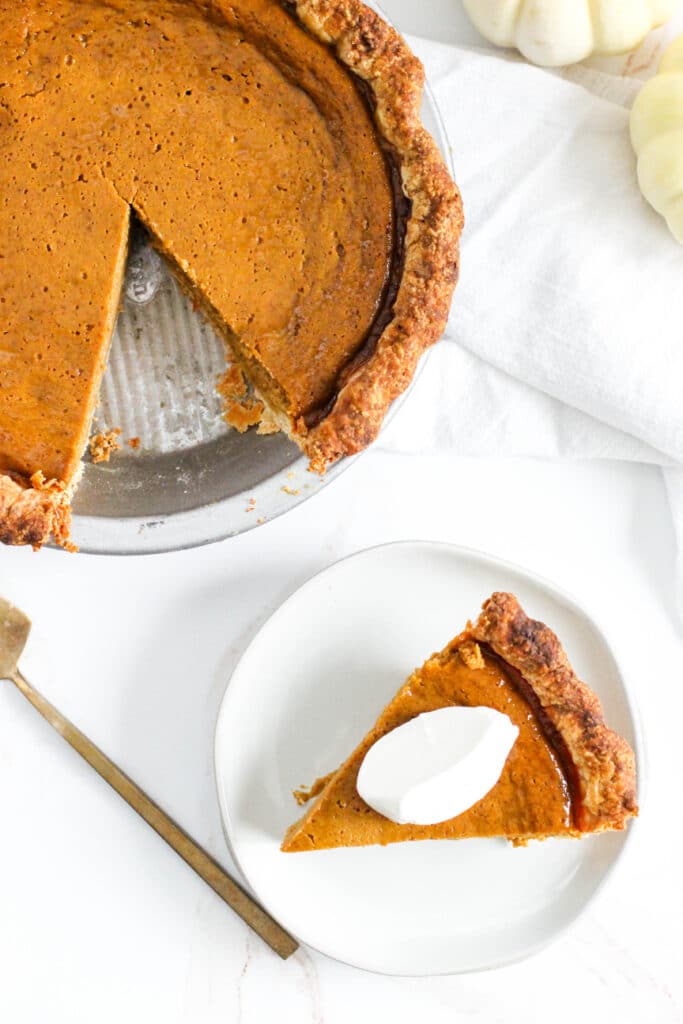 How to Make High-Altitude Pumpkin Pie
Pumpkin pie is really very simple, and we're basically just mixing things together. You can do the whole thing by hand, and optionally, I like to just give it a quick blend with an immersion blender. We're going to start by stirring together a can of pumpkin, some brown and white sugar, and your warm spices.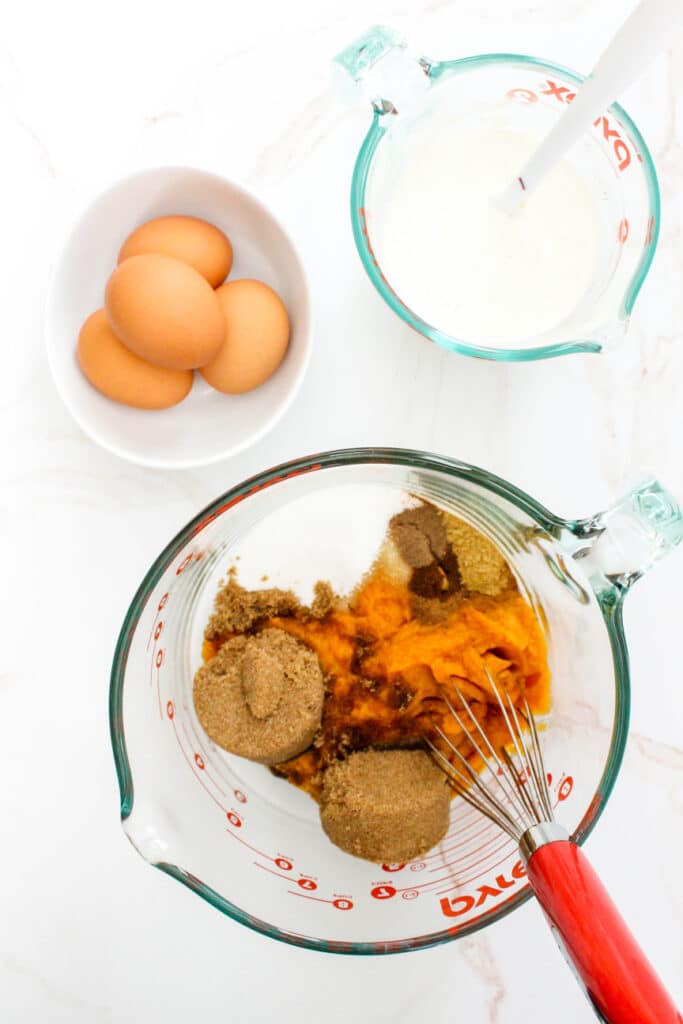 You can use whatever spices you love of course, but I'm going with a pretty classic mix here of cinnamon, ginger, cloves, nutmeg, and allspice. I love the combo with pumpkin, and it gives you a very warm spicy pie that still tastes very pumpkin-y in the end. After that's all smooth, we're adding in the eggs one at a time, the vanilla, and then adding in a big ol' swirl of heavy cream.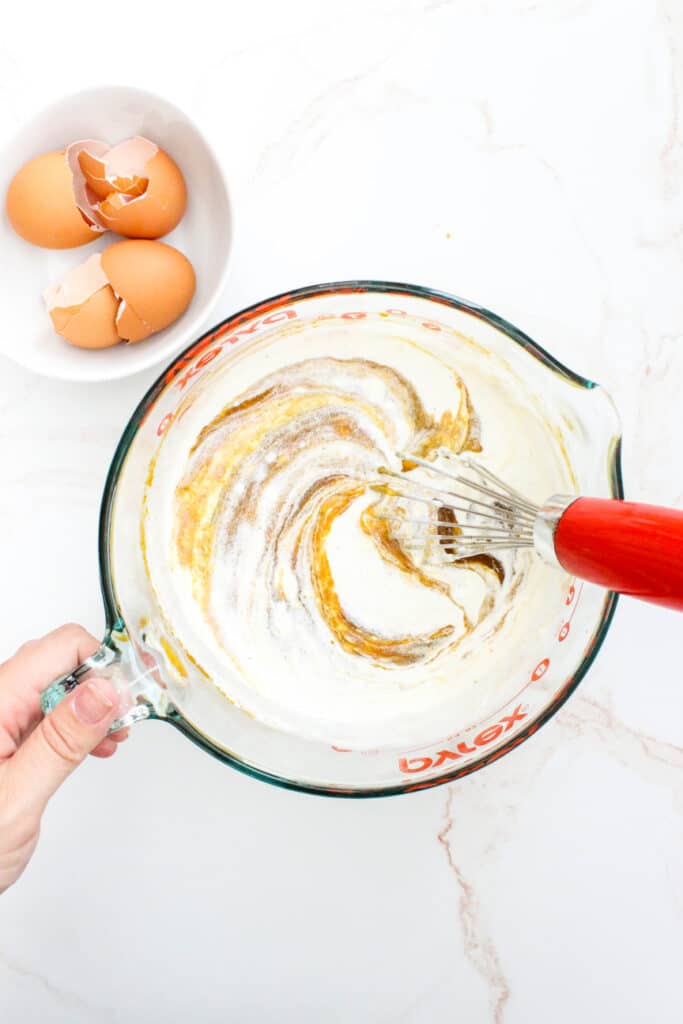 Optionally, here's the point where you can give the whole thing a quick blend with an immersion blender if you have one. The pie will be lovely either way, but I love how smooth everything gets with the quick blend, so if you have one I recommend it! And then we're off to the oven in our par-baked pie crust!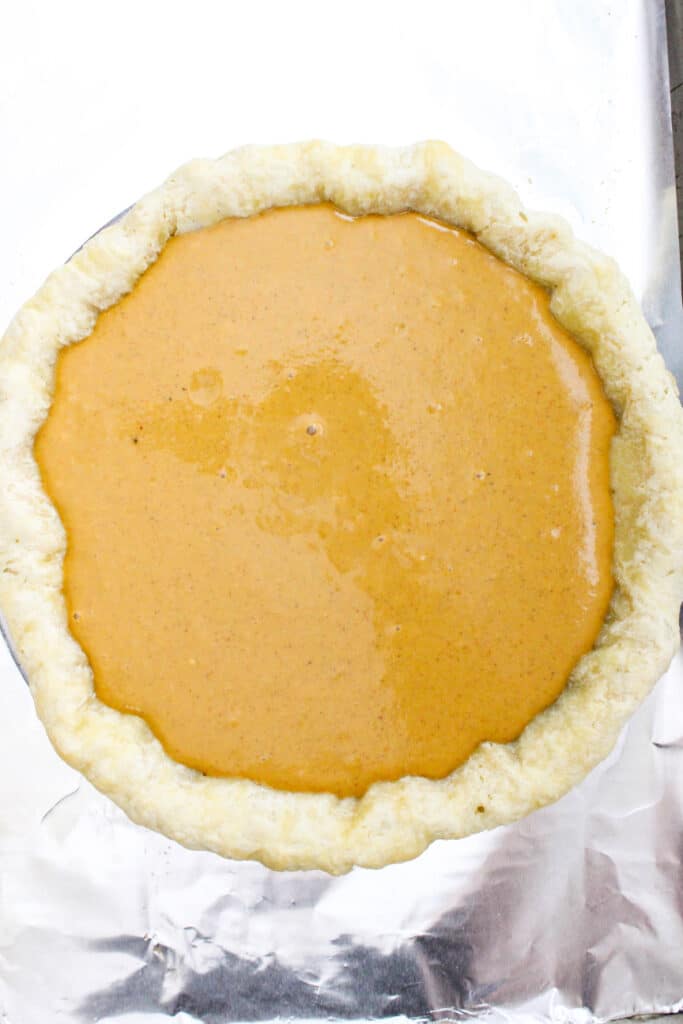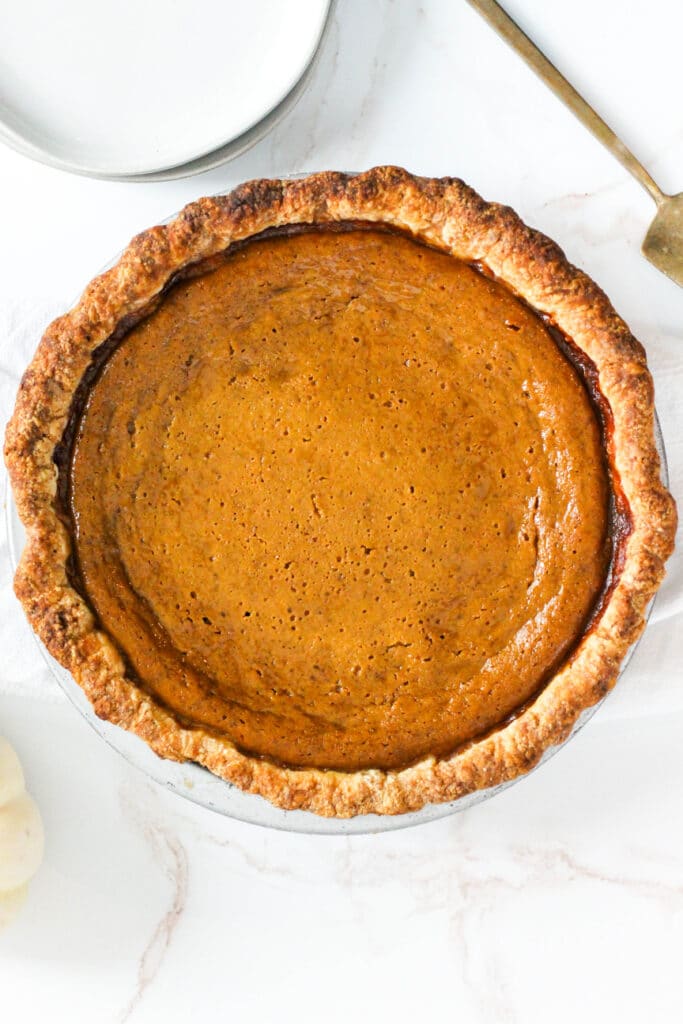 The pie will come out puffy and then it settles down as it cools into the perfect little pie. You can serve it at room temperature, but I definitely prefer a cold pumpkin pie- really just up to you though! Either way you'll end up with a creamy, spicy, beautiful high-altitude pumpkin pie!
Tips & Tricks for High-Altitude Pumpkin Pie
This is a super simple pie, but I've got a few tips and tricks to help you along the way.
Par-bake your crust. I like to do par-baking with a custard pie just to make sure your crust cooks well through the bottom. If you're using a metal pie plate, you can get away without par-baking, but I still prefer a pretty well-done crust in this case!
Can I use other spices in my pumpkin pie? Absolutely, you should use the spices that you love! I have a classic pumpkin pie mix in this recipe, but feel free to add or remove what you love here- it's your pie!
How do I know when the pie is done? Your pumpkin pie should be slightly puffed all over, and it still will have a little bit of a jiggle in it, but it should not look liquidy. You'll see the change from a liquidy center to a just jiggly center as you're checking. You can also stick a butter knife into the center, and if it comes out clean, you're good to go.
Let the pie cool completely before slicing to make sure you can get a clean slice, and to make sure that your pie has fully set. Better yet- let the pie chill in the fridge for at least a couple of hours. I like to bake my pies the night before Thanksgiving, and put them in the fridge in the morning so they'll be perfect by dessert time.
Use the immersion blender if you have one to just give everything a quick blend at the end. It makes the whole mixture just a little bit smoother, and I think it's well worth it if you have the blender on hand!
I'm at about 5,000 ft above sea level, and I find that most people who live between about 3,000-7,000 ft above sea level do not need to make any adjustments to my recipes.
Enjoy!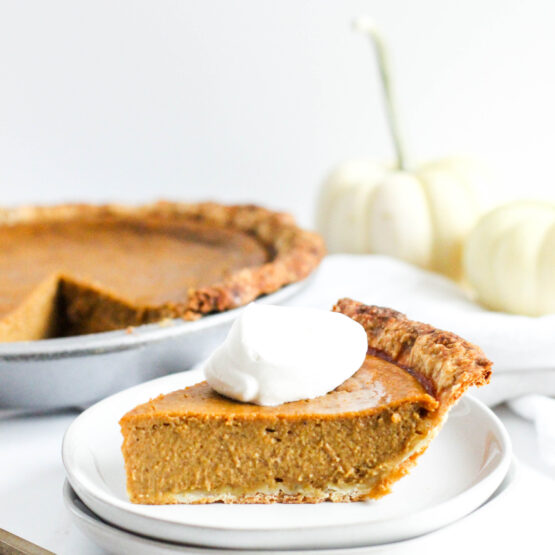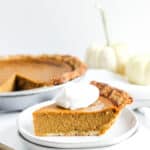 High-Altitude Pumpkin Pie
Ingredients
For the pie:
1

par-baked pie crust

1

can pumpkin

(15 oz.)

2/3

cup

brown sugar

1/3

cup

white sugar

1/2

tsp.

salt

1

tsp.

cinnamon

1

tsp.

ginger

1/4

tsp.

cloves

1/4

tsp.

nutmeg

1/4

tsp.

allspice

4

eggs

2

tsp

vanilla extract

3/4

cup

heavy cream
For the whipped cream:
1 1/2

cups

heavy cream

1/4

cup

powdered sugar

1

tsp.

vanilla extract
Instructions
To par-bake your pie crust:
No matter what kind of pie crust you are using, you want to roll and form it into your pie plate, and pop it into the freezer for about 30 minutes while your oven pre-heats to 425 degrees. Then, line the crust with foil, covering the edges, and fill the pie with your preferred pie weights. I like to use dried rice or beans here. Bake for 15-20 minutes, or until the foil easily pulls away from the crust. Remove your foil and pie weights and set the partially-baked pie crust aside while you make your filling.
For the filling:
Reduce your oven temperature to 375. In a large bowl, whisk together your entire can of pumpkin puree, brown sugar, white sugar, salt, cinnamon, ginger, cloves, nutmeg, and allspice until just combined. Whisk in the eggs, one at a time, and then add the vanilla extract and whisk until everything is smooth. Add in your heavy cream, and whisk until it's well combined and there are no streaks of white running through the mixture. Optionally, use an immersion blender to further mix your filling for 1-2 minutes, or just until everything is extra smooth.

Pour your filling into your par-baked crust, and place the whole pie onto a baking sheet for easier transferring. Bake your pie on the sheet pan for 55-60 minutes, or until the pie looks puffy all over, and the center has a slight jiggle but no longer looks liquidy. Cool the pie completely at room temperature, and then chill for at least 3 hours before serving. Optionally, you can also serve your pumpkin pie at room temperature.
For the whipped cream:
In a large bowl, whip the heavy cream until it reaches stiff peaks. Then beat in your powdered sugar and vanilla extract until just combined. Store in the fridge in an air-tight container until ready to serve generously on top of each slice of your pumpkin pie!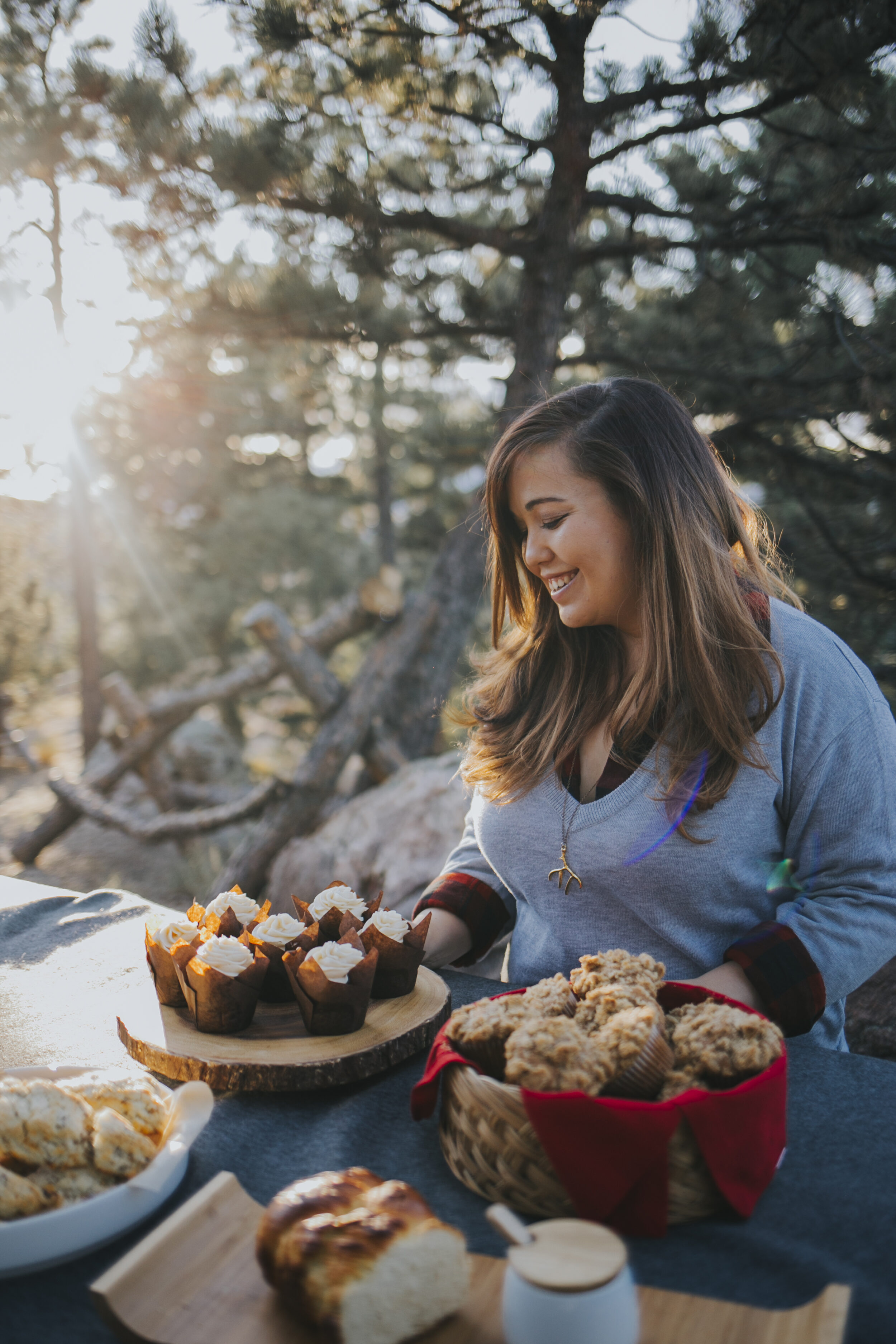 Hello and welcome! My name is Nicole, and Dough-eyed is a food blog for people who want to bake for their family and friends in high-altitude areas. Think of me as a friendly voice there with you in the kitchen, here to give you confidence when you're baking, and to help you with the struggles of baking at high-altitude. Come back every week for new recipes, tips, and advice on high-altitude baking!