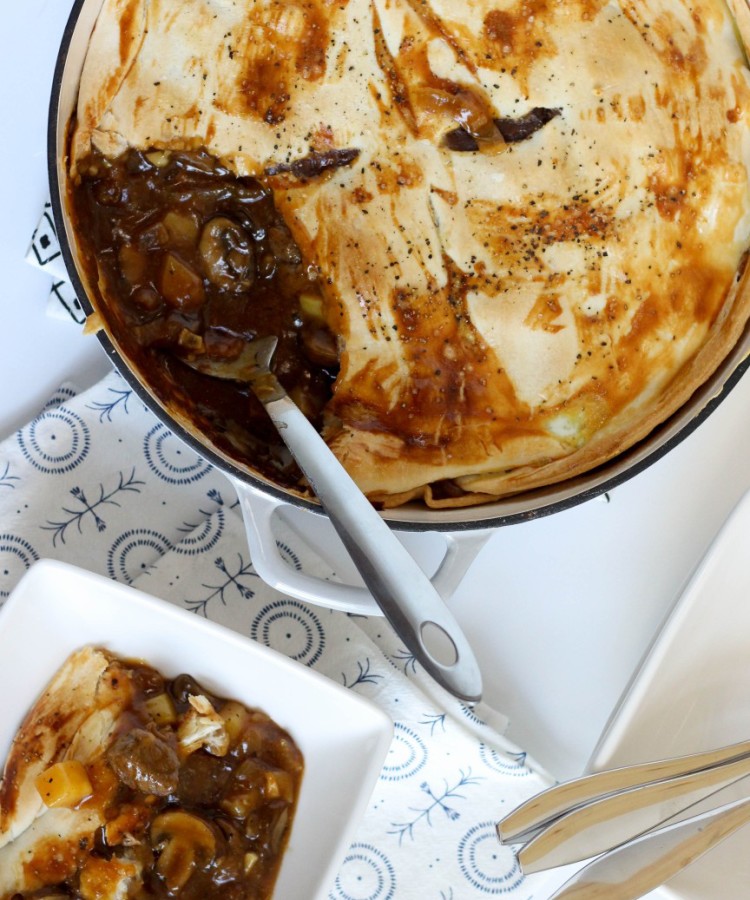 Hey guys! It's been a while since we've gone to the savory side of things on here, so I think it's about time.
I've been watching the newest season of The Great British Bake Show, and first of all, if you aren't watching this, get on it. It's like a breath of fresh air compared to American food competition shows. Everyone is super nice to each other and the whole thing feels way more wholesome.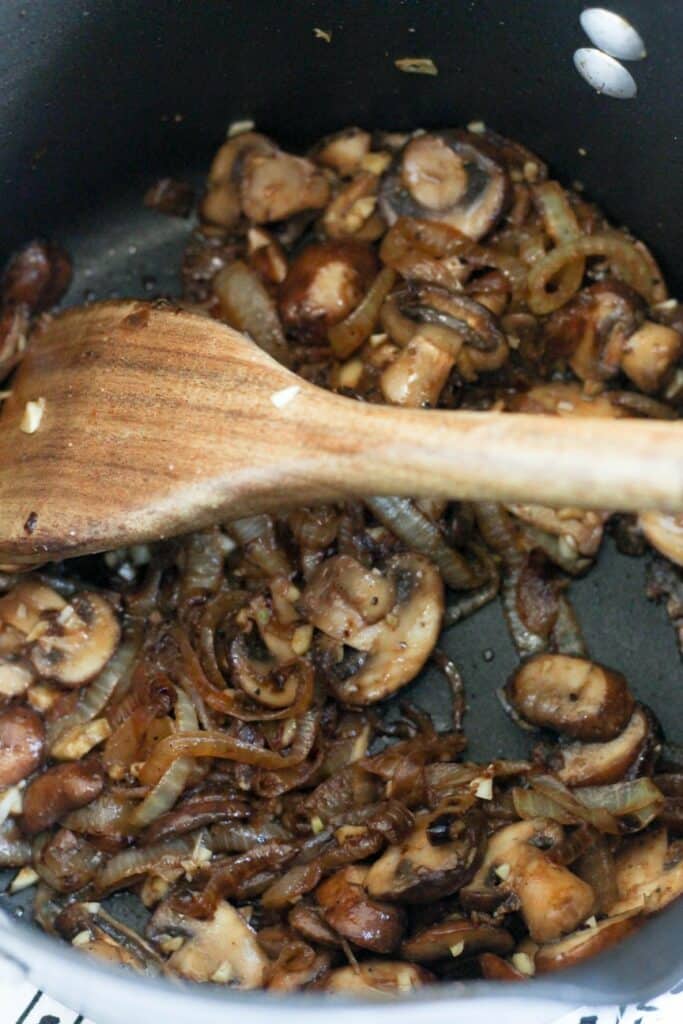 And anyways, every time I watch a season of this show, when it comes to pastry week, those savory pies give me a craving. On Sunday morning a while back, I was watching the latest season, and the bakers where making savory pies that were KILLING ME. I had to have one.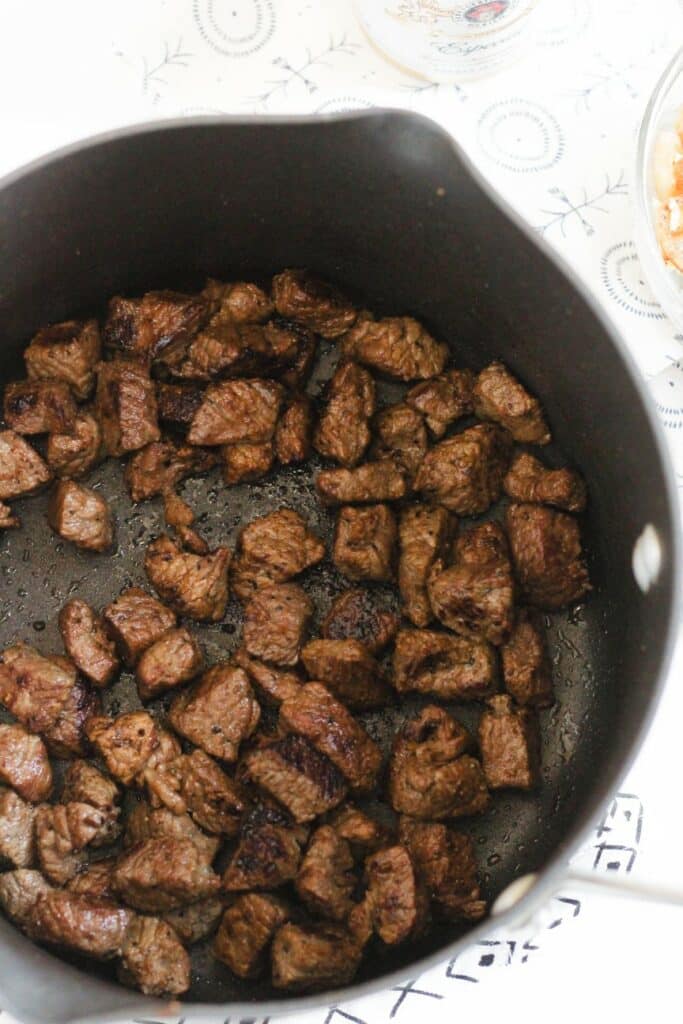 Also, side note, why don't Americans eat more savory pies? I don't know why it's not a thing here, outside of chicken pot pie that is, because savory pies are so flippin good. It's like full on comfort food. Flakey pie crust, gravy, potatoes, meat? It's the perfect meal.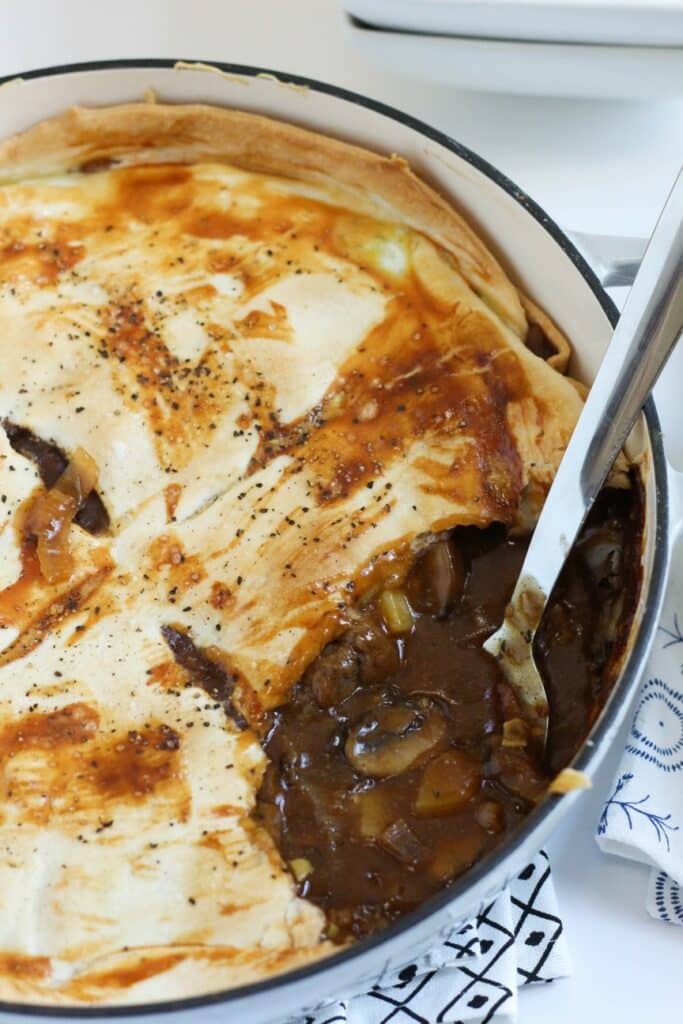 So anyways, onto this pie. Because there's a lot of steps here (and I have a baby to tend to), I'm using a couple of shortcuts here. The first is store-bought pie crust. I know, I know, I'm a baker, and listen, it's not that I CAN'T make a pie crust. It's that I don't always have the time, and you probably don't either. Anyways, I also bought pre-sliced mushrooms for this, huge help because honestly chopping takes time.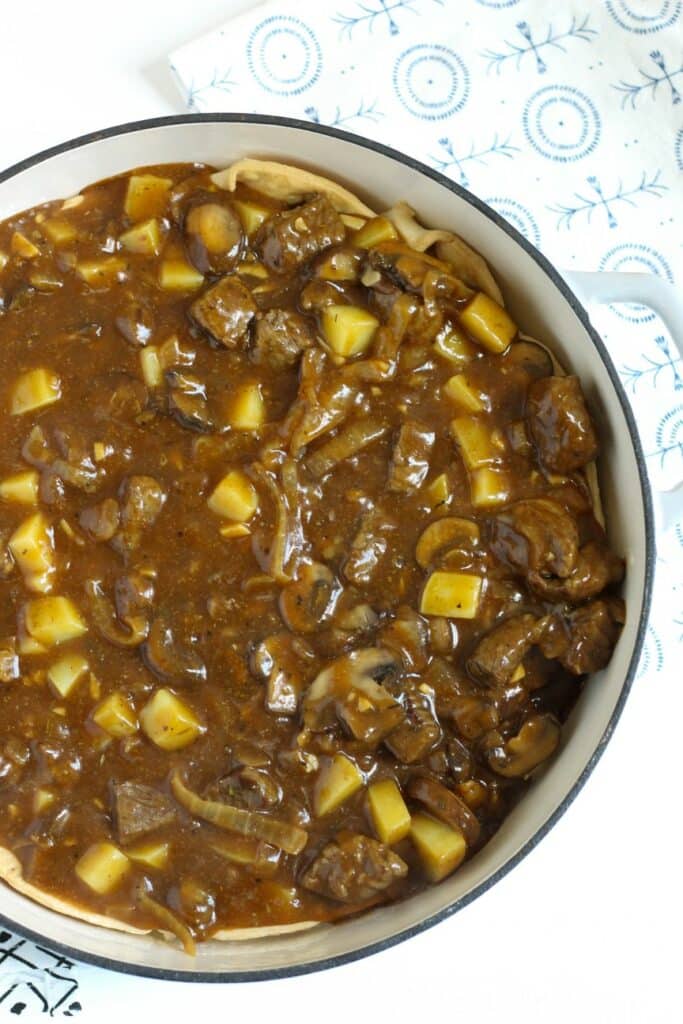 I baked mine in a braiser-style dutch oven. If you don't have one of those, you can also bake it in a regular standard 6-7 quart dutch oven, or similar oven-safe pot. Or if you have a deep dish square-ish casserole dish, that would probably work as well.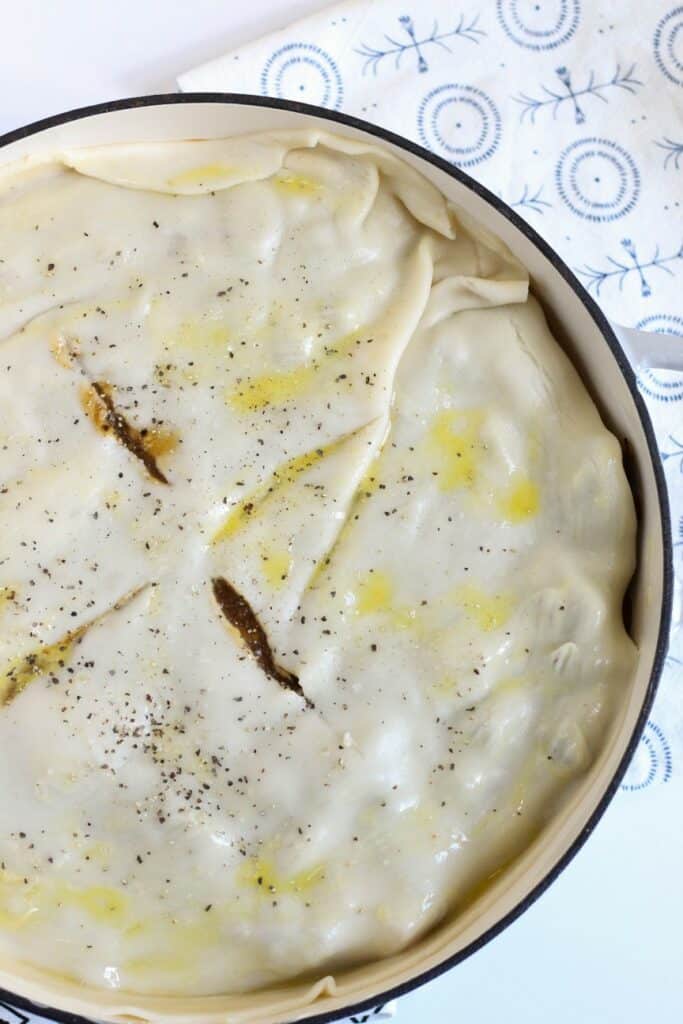 As for the steak, I used short ribs. They were at a good price at my store. Now, I'm gonna be honest, I'm not great at cooking red meat, so I don't have a ton to go on here, but the short ribs worked really well for me. I hear that any type of stew meat would work well here.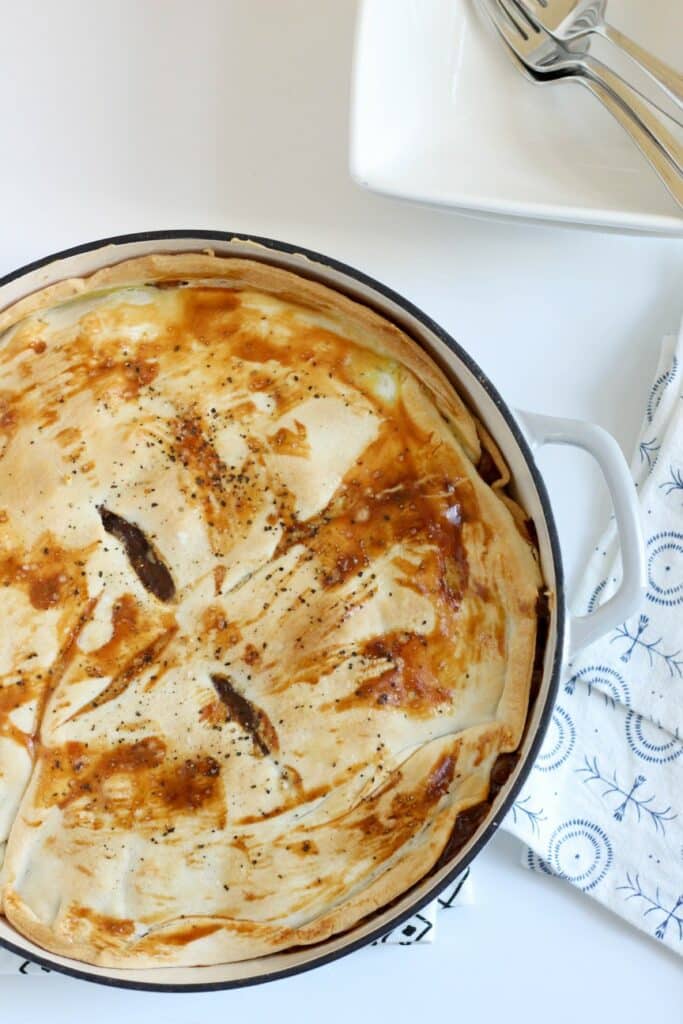 So anyways, I hope you guys enjoy this one, it's one of my favs lately!
Steak & Ale Pie
Ingredients
1

large

yellow onion, cut into half-moon slices

2

tbs.

olive oil

1

tsp.

sugar

4

garlic cloves

1 1/2

pounds

steak meat of your choice, I used short ribs

2

pie crusts, prepared and rolled out

8

oz.

sliced baby bella mushrooms (or white mushrooms)

1/2

can

light beer, I used a pilsner

1

tbs.

tomato paste

32

oz

beef stock

2

large

yellow potatoes, cut into small cubes

2

tsp.

ground rosemary

1

tsp.

ground thyme

3

tbs.

cornstarch

2

tbs.

water

1

egg

Salt & pepper to taste for the top of the pie

Salt, pepper, & garlic powder as needed, see recipe instructions
Instructions
In a large saucepan, cook the sliced onions, olive oil, sugar, 1 tsp. of salt and 1 tsp. of pepper over medium-high heat until the onions are caramelized. This should take about 15 minutes, stirring occasionally. Meanwhile, mince the garlic cloves, and place them into a medium bowl. After the onions are caramelized, scoop them into the bowl with the garlic. Set aside.

Place your saucepan back on the stove, and return to medium-high heat. Cut the steak into bite-size cubes, and toss with the 2 tsp. salt, 1 tsp. pepper, and 2 tsp. garlic powder. Brown in your saucepan until the edges have reached a deep brown, and the meat is cooked through. Remove the steak from the pan, and place into a small bowl, set aside.

Preheat your oven to 400 degrees. Line your baking dish with the bottom pie crust, and prick with a fork. Bake for 15 minutes, until it's reached a light golden brown. Set aside.

Back on medium-high heat, add the sliced mushrooms, 1 tsp. salt, 1 tsp. pepper, and beer into your pot. Cook until the beer has reduced significantly, and then add the onions and garlic back into the pan. Stir in the tomato paste, and then the beef stock.

Add the cubed potatoes, 1 tbs. salt, 2 tsp. pepper, rosemary, thyme, and 1 tbs. garlic powder, and boil for about 10 minutes, or until the potatoes have cooked through. In a small bowl, stir together the cornstarch and water until combined. Pour into the boiling stew, and stir constantly until it becomes very thick. Stir in the cooked steak.

Pour the mixture into your prepared bottom crust in your baking dish. Place the top crust over the top, and slice vent holes. Beat the egg, and brush over the top of the crust. Sprinkle with salt and pepper lightly. Bake for 25-30 minutes, or until the top crust is golden brown. Serve hot.