Gooey Mini Brownie Cookies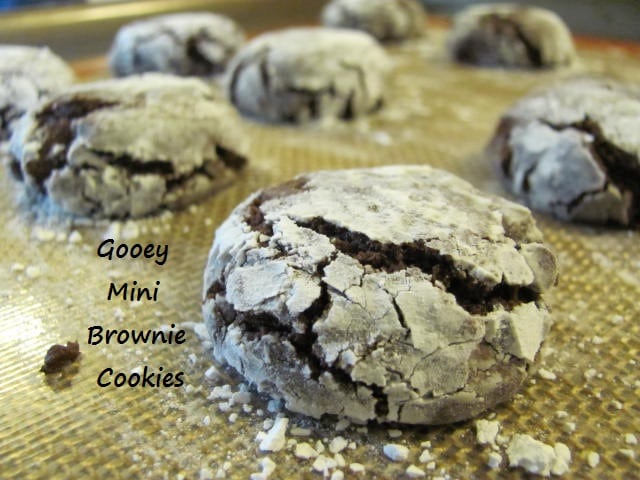 Brownies are lovely, but I am lazy enough to say that I really don't like having to cut them out and use a little napkin and all that junk. These are tiny two-bite cookie sized brownies that are perfect for the lazy girl in me, and in you too.
I'll be the first one to admit that chocolate desserts are not my favorite. I do get the occasional craving for chocolate, but on the whole I prefer vanilla for most things. Cheesecake is a favorite of mine, but I don't really love chocolate versions as much. Boston cream pie is probably my all time favorite dessert, but I almost always scrap most of the chocolate off the top in favor of only tasting the vanilla cake and vanilla custard.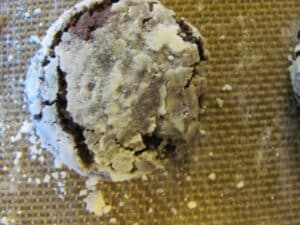 That being said, when those times come around that I do crave chocolate, I really want a strong chocolate flavor. These cookies offer just that, by using a mixture of cocoa powder and mini chocolate chips. The mini chips will stay soft in the moist cookies which helps with the gooey factor that I really love. Sometimes these cookies are referred to as crinkles because of the way the cookie peaks out through powdered sugar after being baked, but they really do taste like bite-sized brownies. They are very easy to make, and maybe a little bit too easy to eat!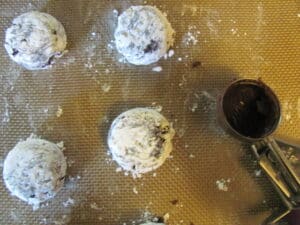 Gooey Mini Brownie Cookies
Ingredients
1 stick butter
2/3 cup cocoa powder
2 eggs
1 heaping cup regular sugar
1/2 cup packed brown sugar
Salt
Vanilla
2 1/4 cups flour
1 1/2 tsp baking powder
3/4 cup mini chocolate chips
1/2 cup powdered sugar for rolling
Instructions
Microwave butter and cocoa powder for about 1 minute, until butter is melted. Stir until smooth. Mixture will be thick. Set aside.
Mix together eggs, sugars, salt, and vanilla. .
Slowly add cocoa mixture to the egg mixture.
Slowly add in flour and baking powder. Stir in chocolate chips
Roll dough into small balls, and roll in the powdered sugar. Place on lined baking sheet, and press down slightly with the bottom of a glass.
Bake at 350 for 6-9 minutes. Let cookies cool slightly on pan, then move to a rack.
https://www.dougheyed.com/gooey-mini-brownie-cookies/
Comments