Hey guys! I'm here with another recipe for giant cookies, and it's one of my favorites that I've ever done. This time we're making chocolate cookies and stuffing them with both white and dark chocolate chunks- it's insanely yummy.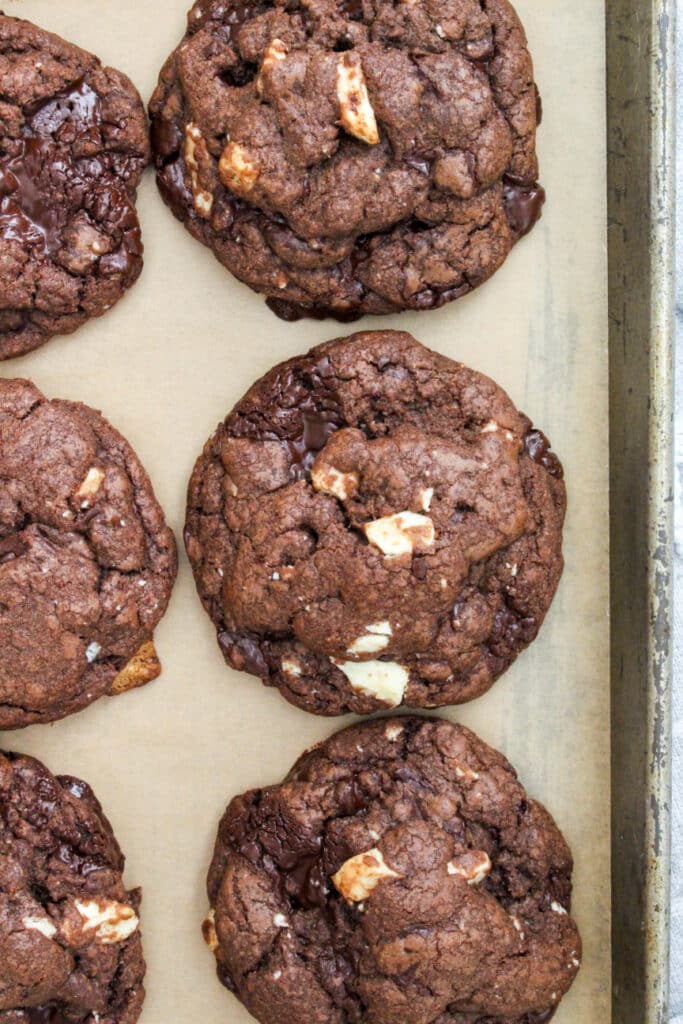 Just like all my giant cookie recipes, I love this one because you can keep them in the freezer and bake up a giant cookie whenever you feel like you need a treat. Let's get to it! Plus, you'll end up with huge, bakery-style cookies that make amazing treats and gifts.
How to Make Giant Chocolate Cookies
This is one of those recipes that really works better with a stand mixer, so if you have one, it's time to bring it out. You can also use an electric hand mixer, but it will take a bit more working and elbow grease! We're starting out with cold butter here, and that means that at several stages of this dough, you'll still see small chunks of butter running through it- that's ok!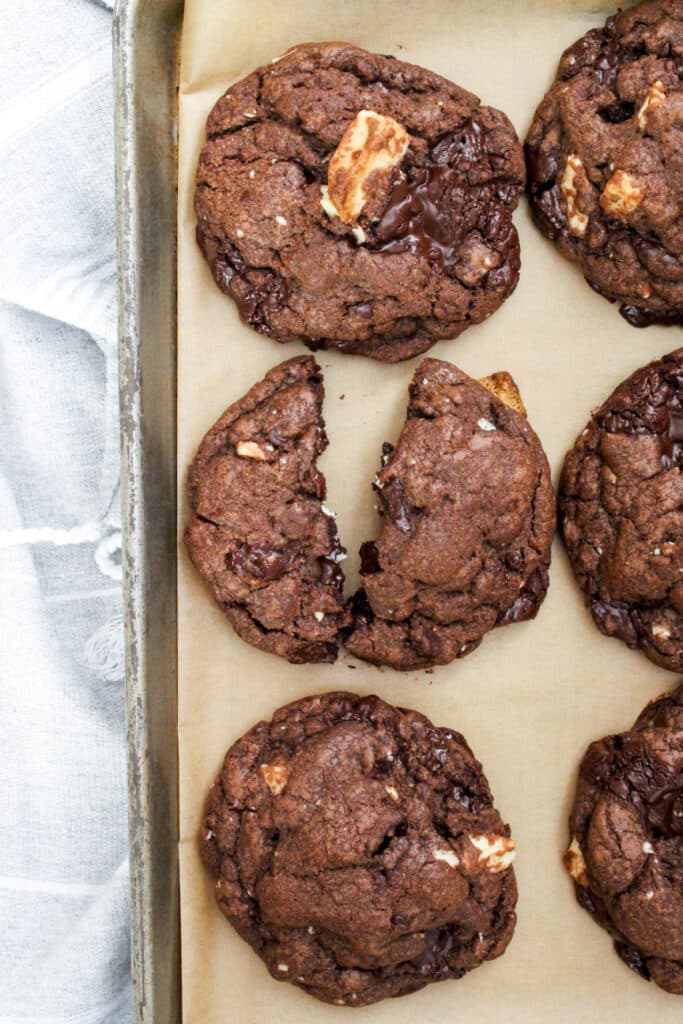 Start by mixing up the dry ingredients and setting them aside, and then chopping up a ton of chocolate. We're going for a dark chocolate and white chocolate mix here- I find that this mixture gives the cookies a really great balance of sweet and bitter.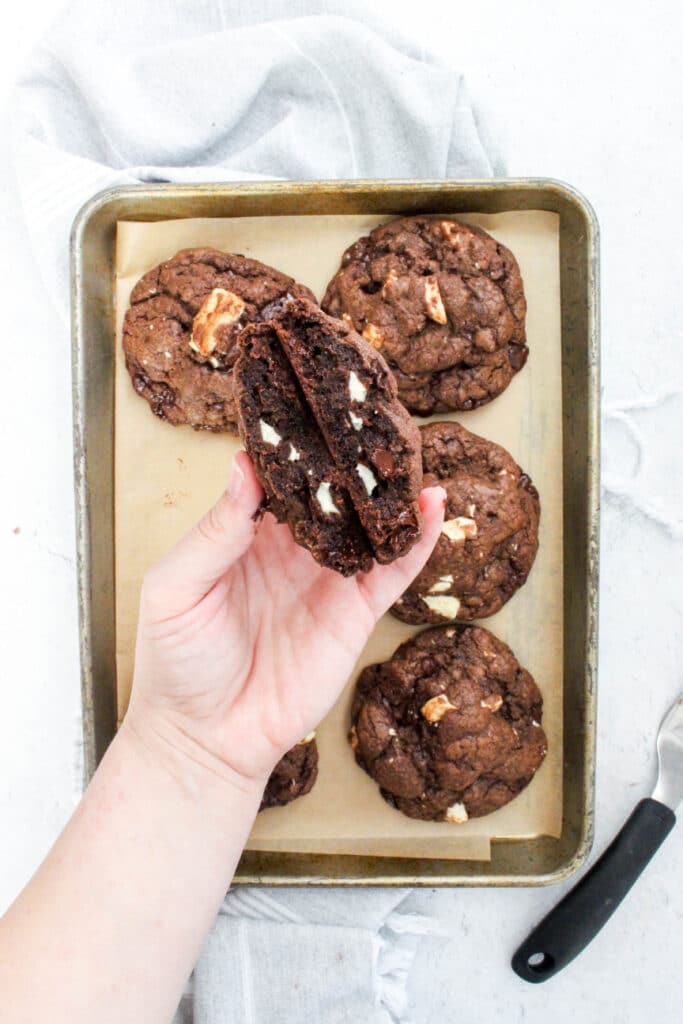 Then we're mixing up the cold butter and sugars until they make a sandy mixture. Here's what you're looking for:
Once you've added in the eggs and vanilla, you may still see some butter chunks running through the dough- that's ok. Then we're adding in the dry ingredients, and then the chocolate chunks.
Then it's time to form the cookies. You want to just gently press the dough into large balls that hold together, but are still a little rough around the edges. Once they're all formed, it's off to the freezer before we bake- at this point you can freeze the dough and store it for several months if you'd like! I do this all the time, and then pop in a cookie or two when I need a quick treat or a quick gift.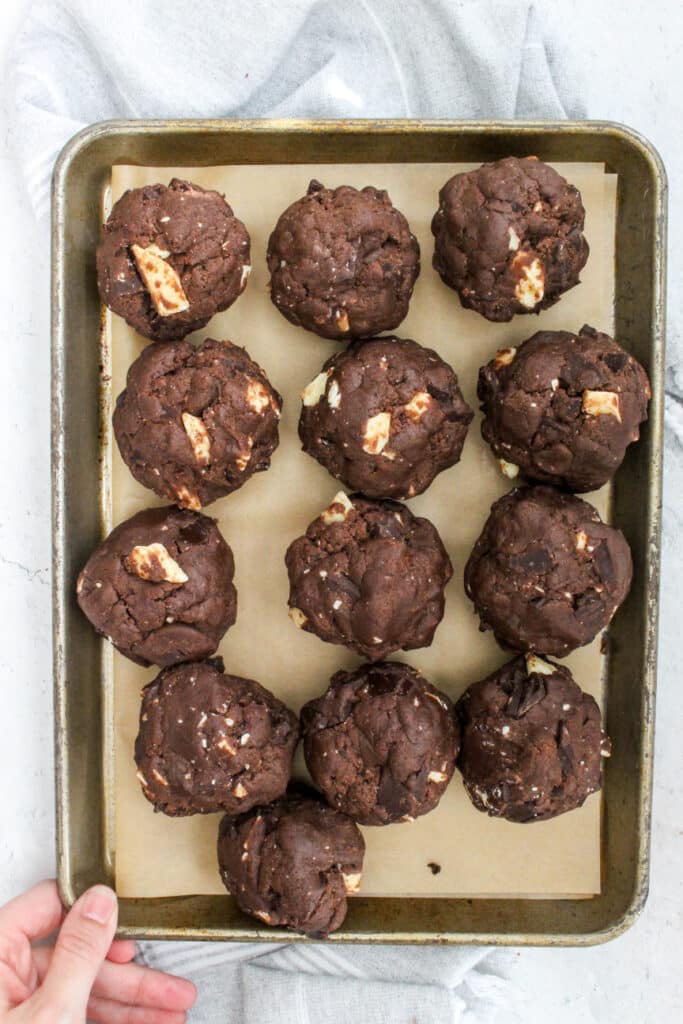 These cookies will bake up giant, puffy, and gooey on the inside. They are a definite bakery-style treat at home, and they're so yummy! Enjoy!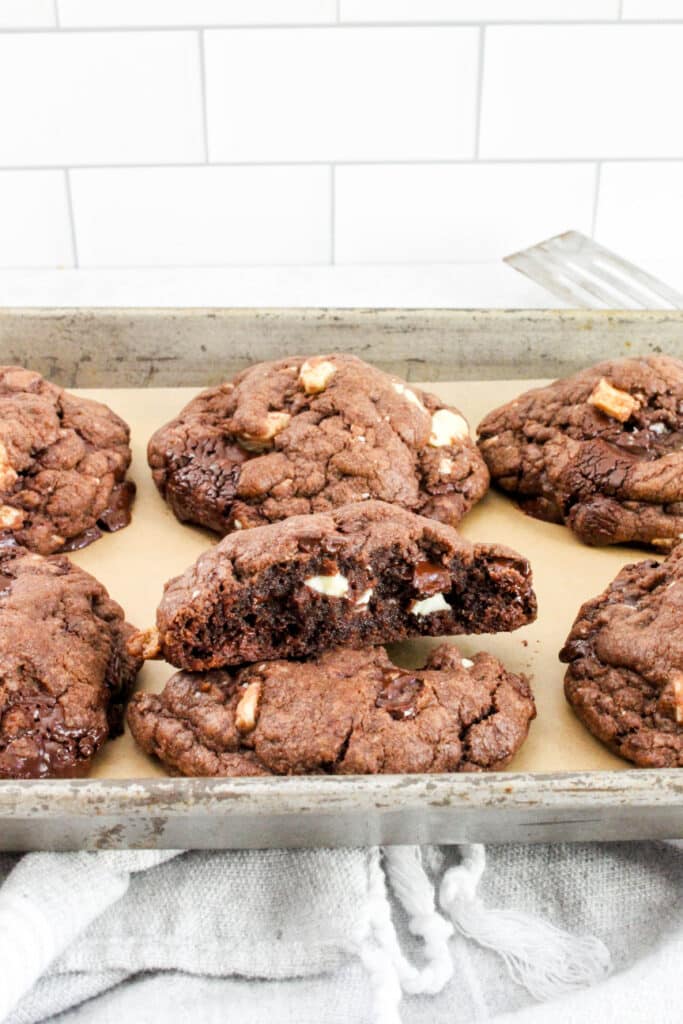 Tips & Tricks for Giant Chocolate Cookies
Here are my tips and tricks to help you make the perfect Giant Chocolate Cookies!
Use a stand mixer if you have one. We are using cold butter for these cookies, so they take a lot of elbow grease. You can make them with an electric hand mixer, but a stand mixer is best.
Why do I need to use cold butter? Cold butter throughout the entire process, including freezing the dough before baking, is part of what keeps these cookies thick and chewy. Keep your butter cold to ensure you end up with the right texture.
Don't pack the dough together by pressing or scooping it. You want to just gently press the dough into balls that just hold together- they should be rough around the edges still.
Use chopped chocolate instead of chips to get a really beautiful texture and flavor. You'll end up with gooey pools of chocolate running throughout the cookies that are insanely yummy!
Can I skip the dark chocolate? You can go with any kind of chocolate you like here, so if you're not a fan of dark chocolate, go for milk and white instead. But go for the chopped bars instead of chips- it makes a big difference!
The butter will clump while you mix but don't worry. We're using cold butter here, so it won't fluff up and mix evenly like you may be used to. It's ok if you see a couple of small chunks throughout as you mix, but once you add the dry ingredients, it should mix in more thoroughly.
These make GIANT cookies and the whole batch will only bake about 12-15 cookies. You can make them smaller, but they won't take as long to bake so keep a close eye on them to avoid over-baking.
I'm at about 5,000 ft above sea level, and I find that most people who are between about 3,000-5,000 ft above sea level do not need to make any adjustments to my recipes.
Hope you guys love these as much as we do!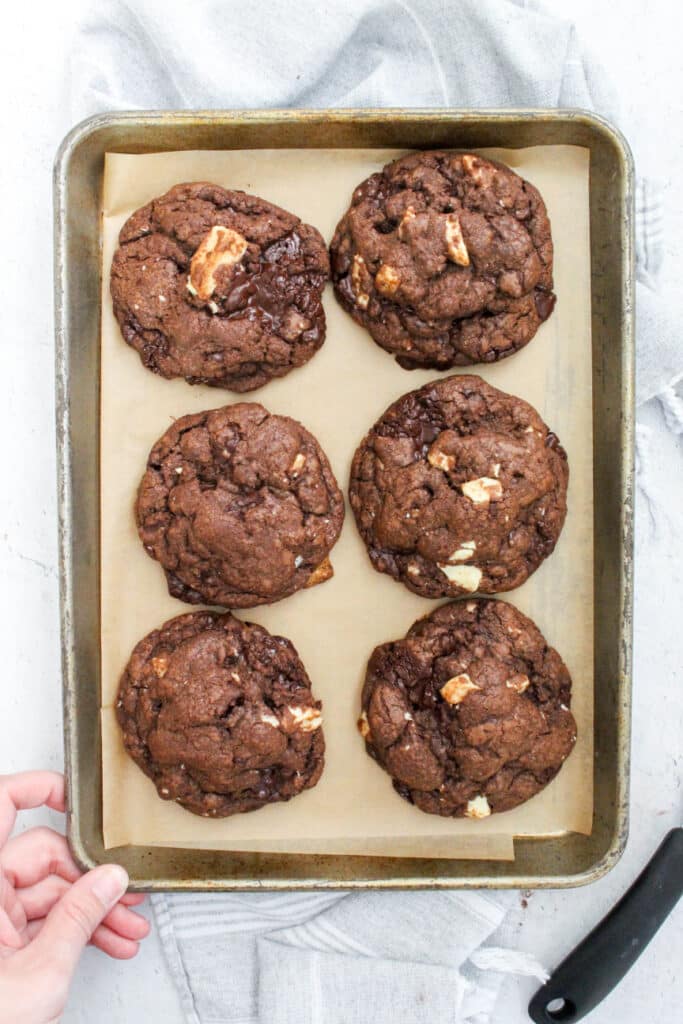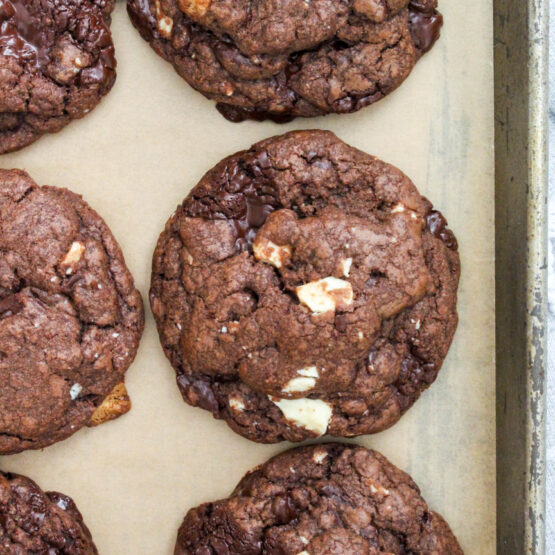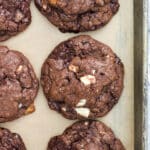 Giant Chocolate Cookies
Ingredients
3 1/4

cups

all-purpose flour

1/4

cup

dark cocoa powder

1

teaspoon

salt

3/4

teaspoon

baking powder

1/4

teaspoon

baking soda

2

sticks cold unsalted butter cubed

1

cup

granulated sugar

1

cup

packed dark brown sugar

2

large eggs

1

tbs.

vanilla extract

1

cup

white chocolate chunks

1 1/2

cup

dark chocolate chunks
Instructions
In a medium bowl, stir together the flour, cocoa powder, salt, baking powder, and baking soda, and set the mixture aside. In the bowl of a stand mixer, using a metal paddle attachment, beat together the cold butter, sugar, and brown sugar. The mixture will become sandy and will still have small chunks of butter running throughout.

Beat in the eggs, and vanilla until combined. The mixture will be lumpy, but that's ok! Slowly beat in the flour mixture until well combined- this will take a bit of working. Then, stir in the chopped chocolate until well distributed.

Line a small baking sheet with parchment paper. Start forming your dough into balls by grabbing about a heaping 1/2 cup of dough and gently pressing it into a ball. You want to just gently press it together without rolling it or firmly forming the dough- it's okay if it's a little rough around the edges. The whole batch should make about 12-15 giant cookies!

Cover the tray with plastic wrap and freeze the cookies for at least 1 hour, and up to 3 months before baking. When you're ready to bake, preheat your oven to 375 degrees. Line a large baking sheet with parchment paper.

Place 6 frozen dough balls onto the sheet evenly spaced. Bake the cookies for 16-18 minutes, or until the cookies are puffed and look dry on the top. They cookies will be very thick, and they may not be done in the middle yet, but they will continue to cook as they cool! Cool the cookies on the pan for 15 minutes, and then transfer to a cooling rack. Enjoy!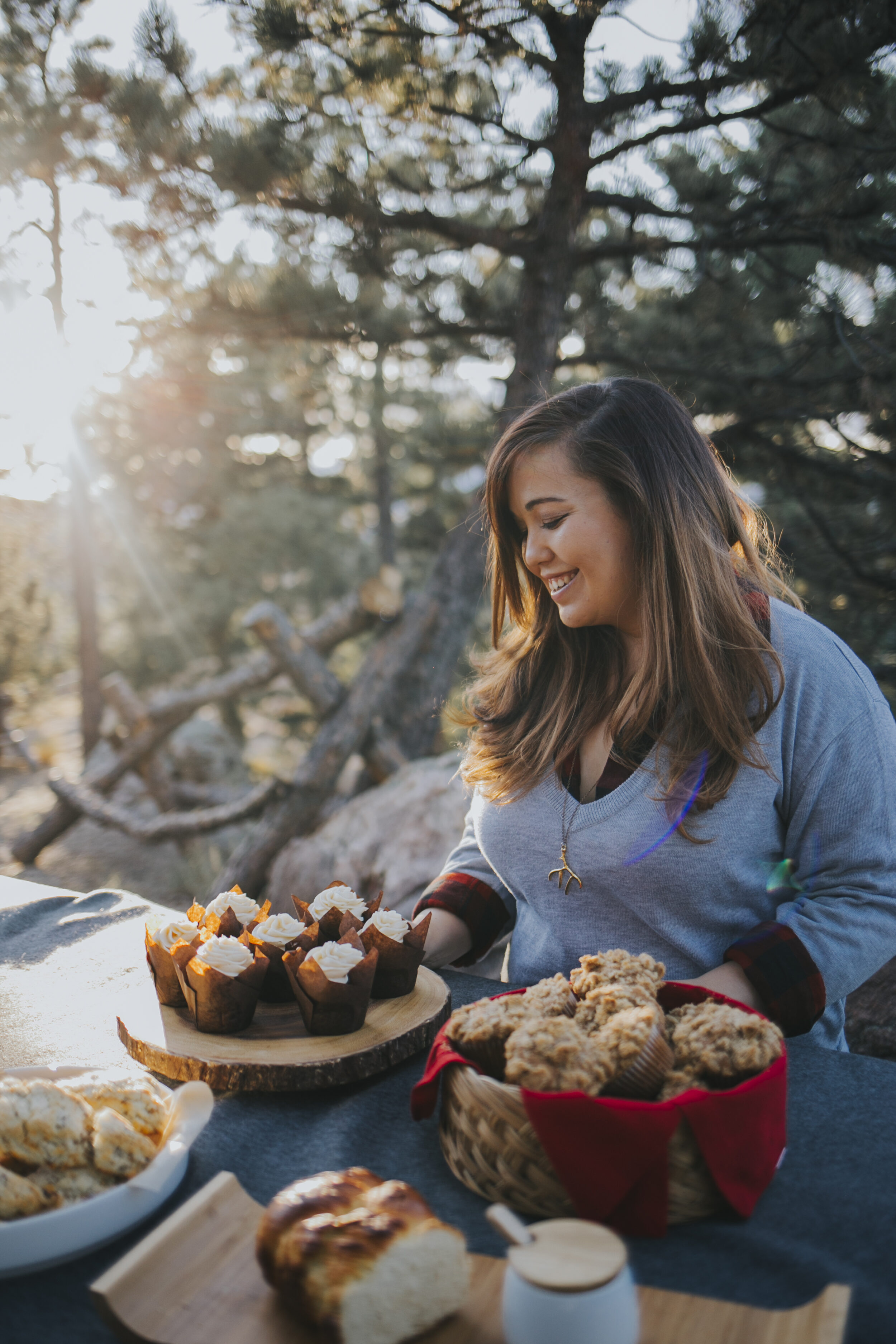 Hello and welcome! My name is Nicole, and Dough-eyed is a food blog for people who want to bake for their family and friends in high-altitude areas. Think of me as a friendly voice there with you in the kitchen, here to give you confidence when you're baking, and to help you with the struggles of baking at high-altitude. Come back every week for new recipes, tips, and advice on high-altitude baking!