Hey guys! Cherries are in season right now, so let's use 'em! Today I'm using them up in a sweet simple little pound cake that I'm loving right now. Pound cake is the ultimate cake for breakfast choice, and this is no different!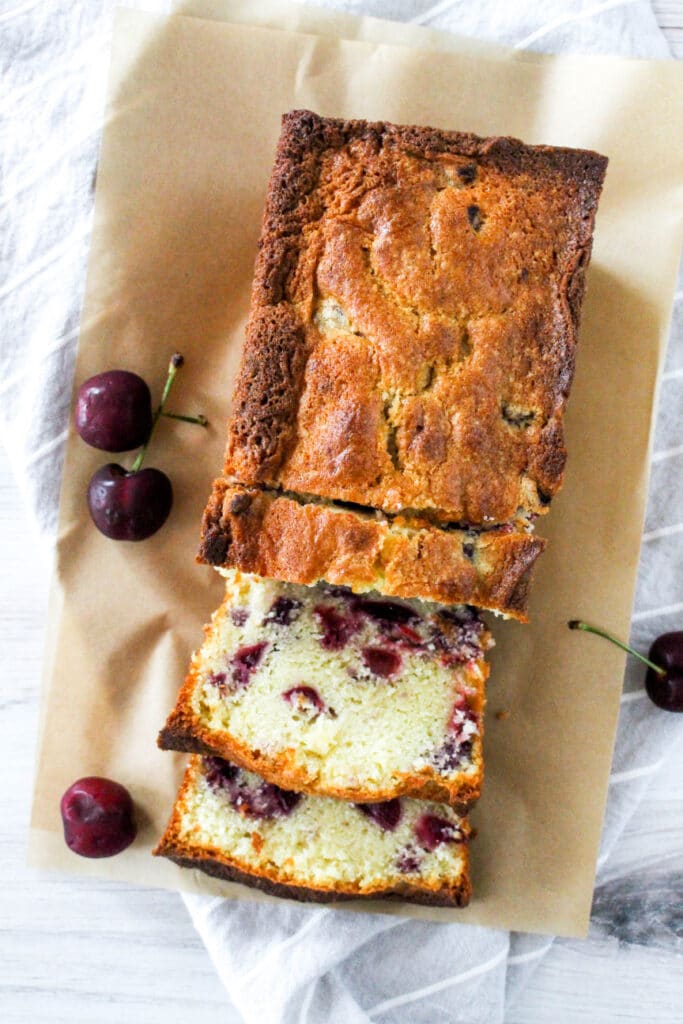 I find that the process of pitting fresh cherries puts me in a kind of zen mood, so I really love recipes that use fresh ones. This cake is studded with chopped cherries and lemon zest, and it's a taste of summer in a super easy recipe! Let's get to it!
How to Make Cherry Pound Cake
I like to start by pitting a bunch of cherries- if you're buying a big bag, you can pit them all in one sitting, and then they're ready to snack on or bake with whenever you want. In this case, we're chopping them up into smallish pieces that will run throughout the cake.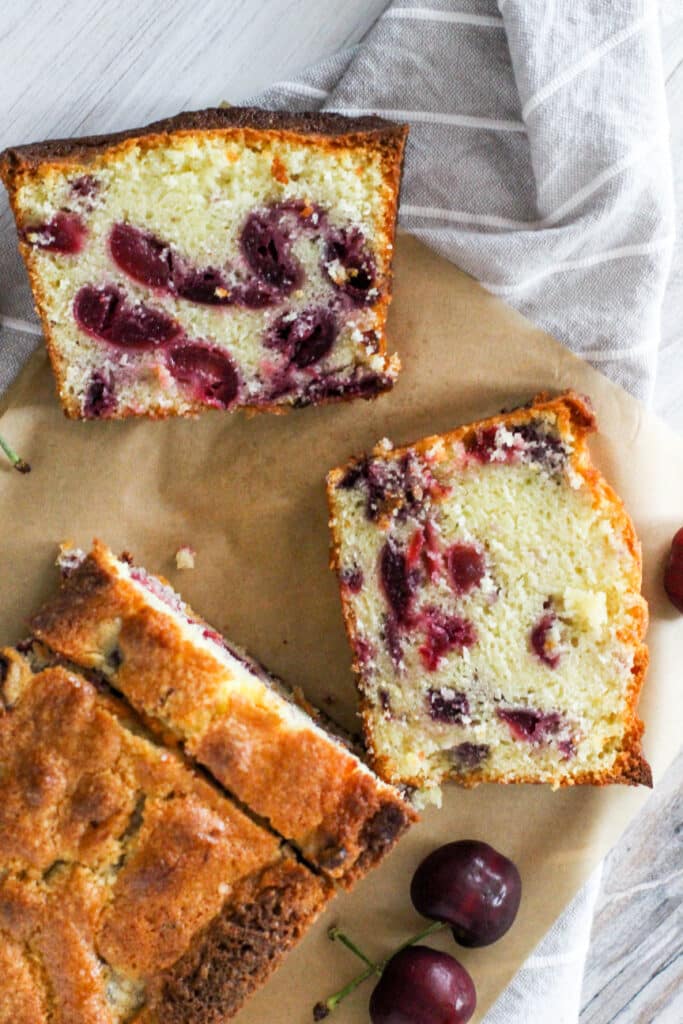 The cake comes together super easily- it's just a traditional mixing method that we're going to give a few extra moments of mixing too at the end. Be sure to reserve some of your flour mixture to toss the cherries in as well before folding them into the batter. This helps ensure that they don't all sink to the bottom of the cake.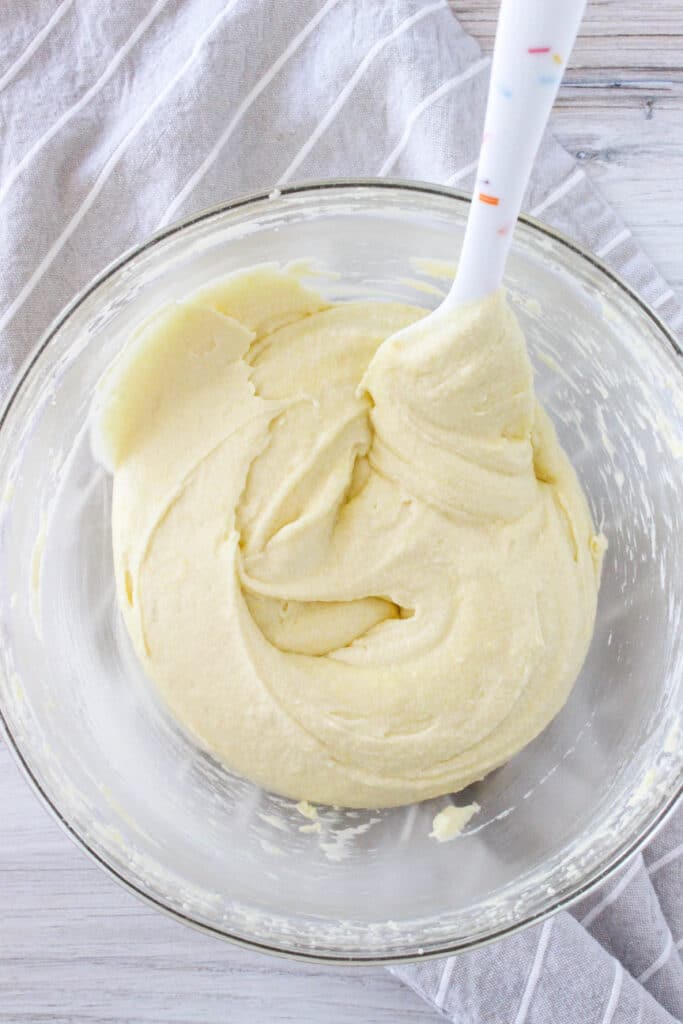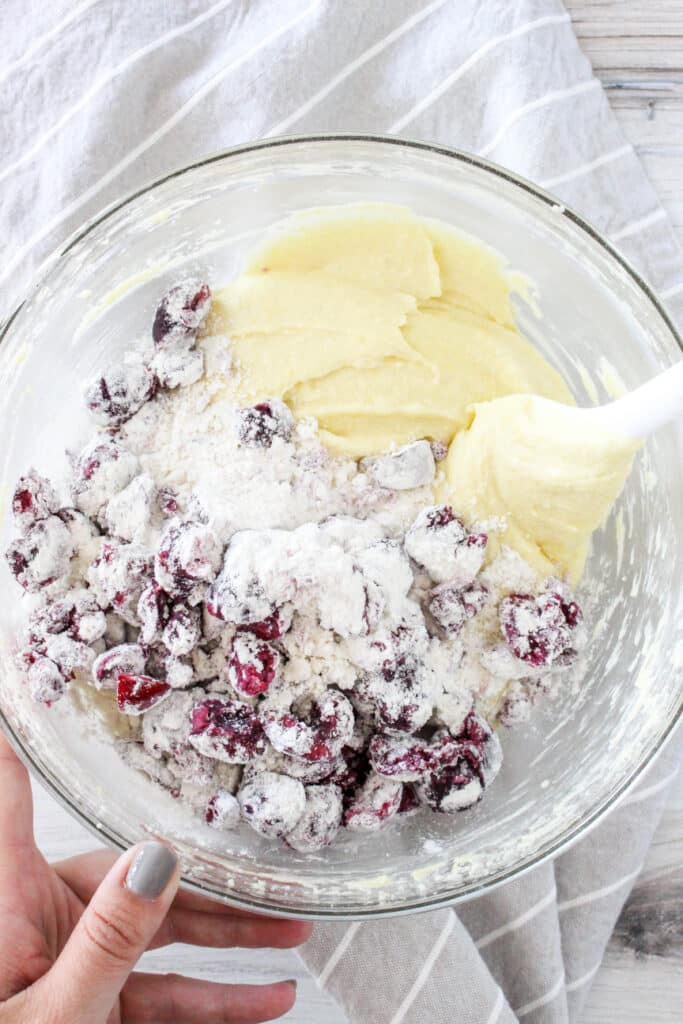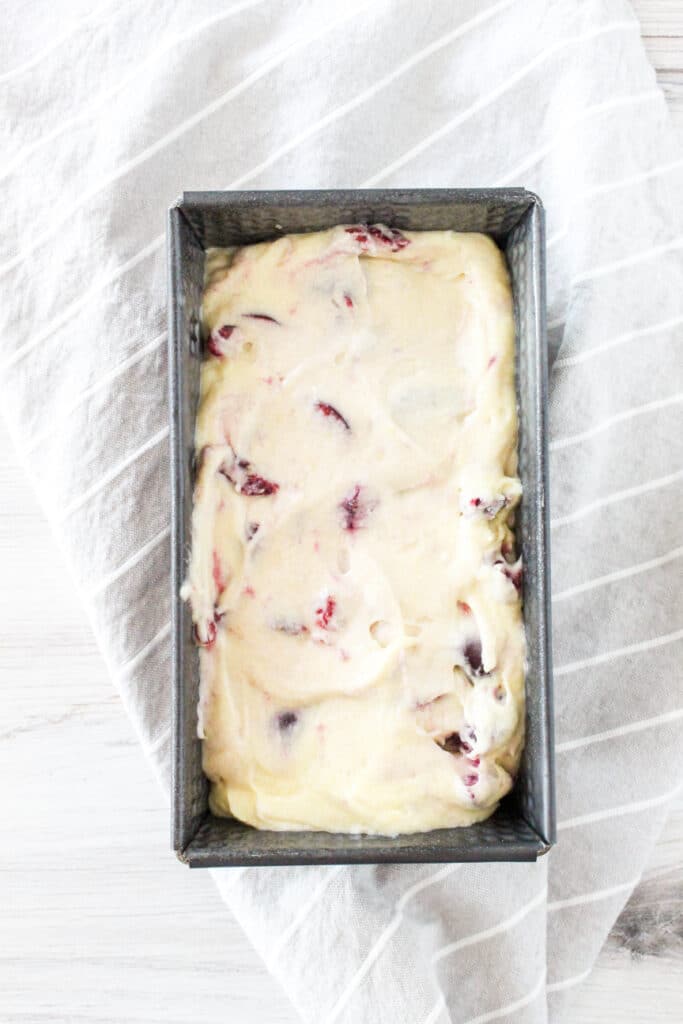 Finally we're spreading the batter into a loaf pan and throwing it into the oven. You can opt to adjust this recipe in a few ways, including the addition of sugar to the top of the cake before it bakes, which creates a sugary, crunchy, top to each slice!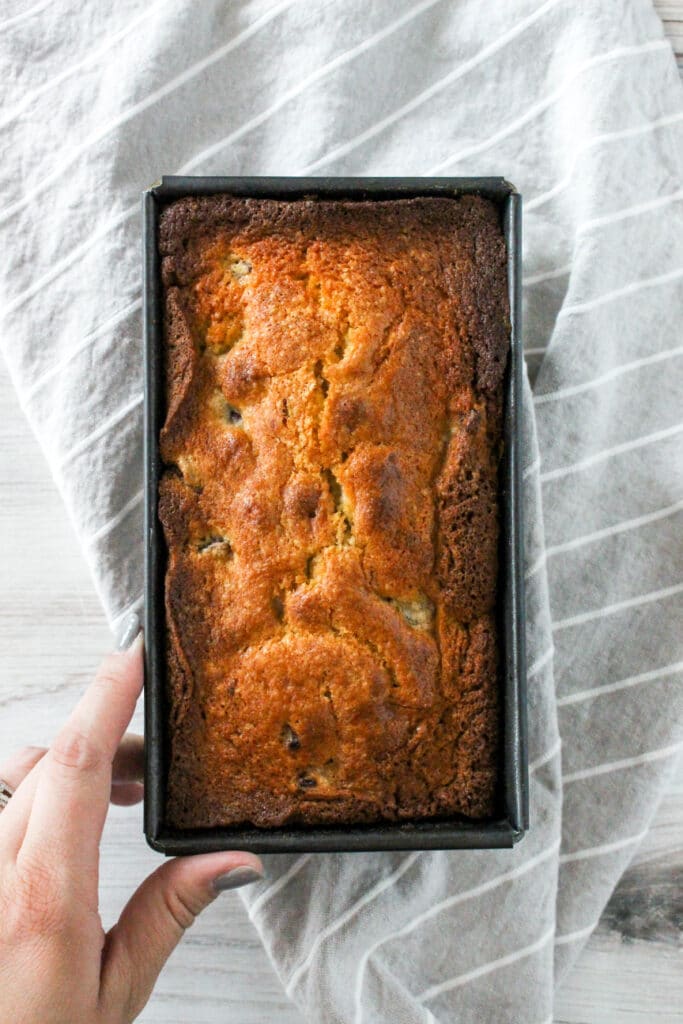 It's really that simple! There's a lot of ways you can twist this recipe to be your own though- read through my tips and tricks to find out more!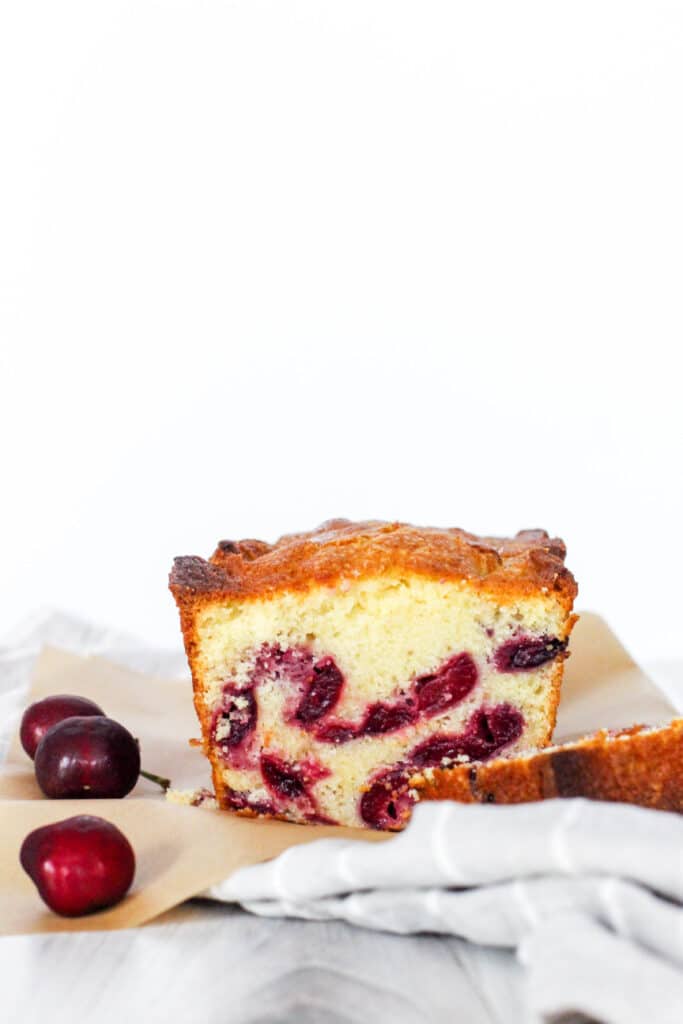 Tips & Tricks For Cherry Pound Cake
This recipe is super simple, but there's some important steps (plus some customizations) that you can read about here!
Don't forget to reserve some flour to toss the cherries into before adding them to the batter! Cherries are likely to sink to the bottom without this!
You can make it cherry-almond by omitting the lemon zest, and adding in 1-2 tsp of almond extract, depending on how much you like the flavor. Then, you can even add some slivered almonds to the top before baking!
Be sure to give it a good mix at the end before adding the cherries. The batter should be pretty silky and smooth at this point!
Optionally, add sugar to the top for a crackly, crunchy top! You can add 2 tbs. of granulated sugar, or 1 tbs. of coarse sugar before baking if desired.
Swap in other berries like blueberries or raspberries if you prefer or if cherries are not available where you are!
I am at about 5,000 ft above sea level and I find that most people who live between about 3,000-7,000 ft above sea level do not need to make any adjustments to my recipes!
Enjoy!
Cherry Pound Cake
Ingredients
1 1/3

cups

flour

1/4

cup

cornstarch

1/2

tsp.

baking powder

1/2

tsp.

salt

8

tbs.

softened butter

1

cup

sugar

1

tbs

lemon zest

2

eggs

1/3

cup

whole milk

2

cups

pitted fresh cherries
Instructions
Preheat the oven to 350 degrees, and grease a 9 inch loaf pan. In a medium bowl, whisk together the flour, cornstarch, baking powder, and salt. Set aside.

In a large bowl, beat together the butter, sugar, and lemon zest until fluffy. Add in the eggs and milk, and stir until combined. Slowly add in the flour mixture until combined, reserving about 2 tbs. of the flour mixture.

Roughly chop your pitted cherries into smaller chunks, and then toss the cherries with the reserved flour mixture until they are well coated. Gently fold the cherries into the batter until just distributed throughout- don't over mix at this stage! Pour the batter into your prepared loaf pan, and bake for 50-55 minutes, or until a cake tester comes out clean. Cool completely in the pan before removing to slice and serve. Enjoy!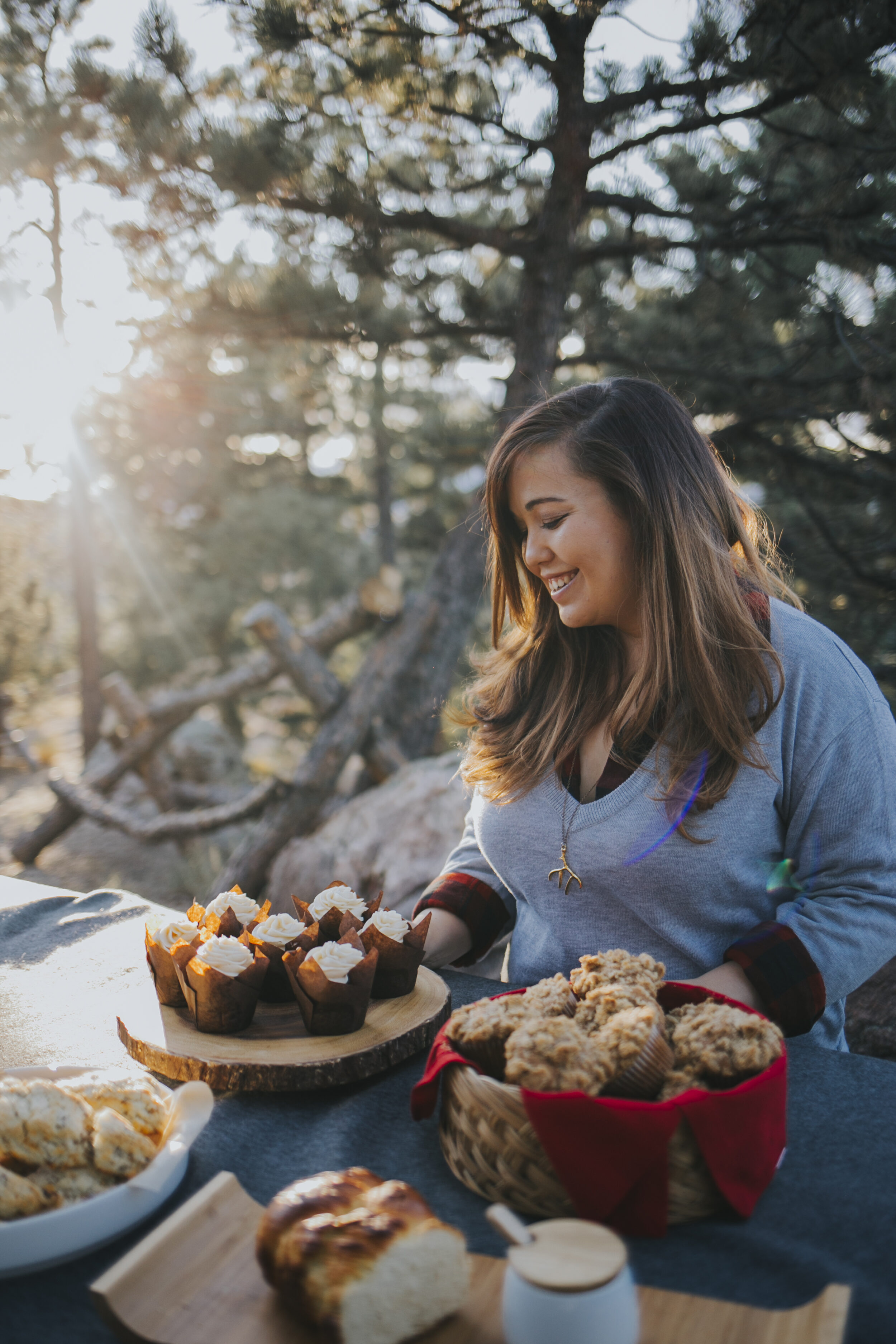 Hello and welcome! My name is Nicole, and Dough-eyed is a food blog for people who want to bake for their family and friends in high-altitude areas. Think of me as a friendly voice there with you in the kitchen, here to give you confidence when you're baking, and to help you with the struggles of baking at high-altitude. Come back every week for new recipes, tips, and advice on high-altitude baking!