I know there's a lot of thoughts about cobblers, crisps, buckles, and all the other baked fruit desserts along that line. Today I'm making a super simple Peach Cobbler, and it's got a classic sweet biscuit topping that I think anyone would love!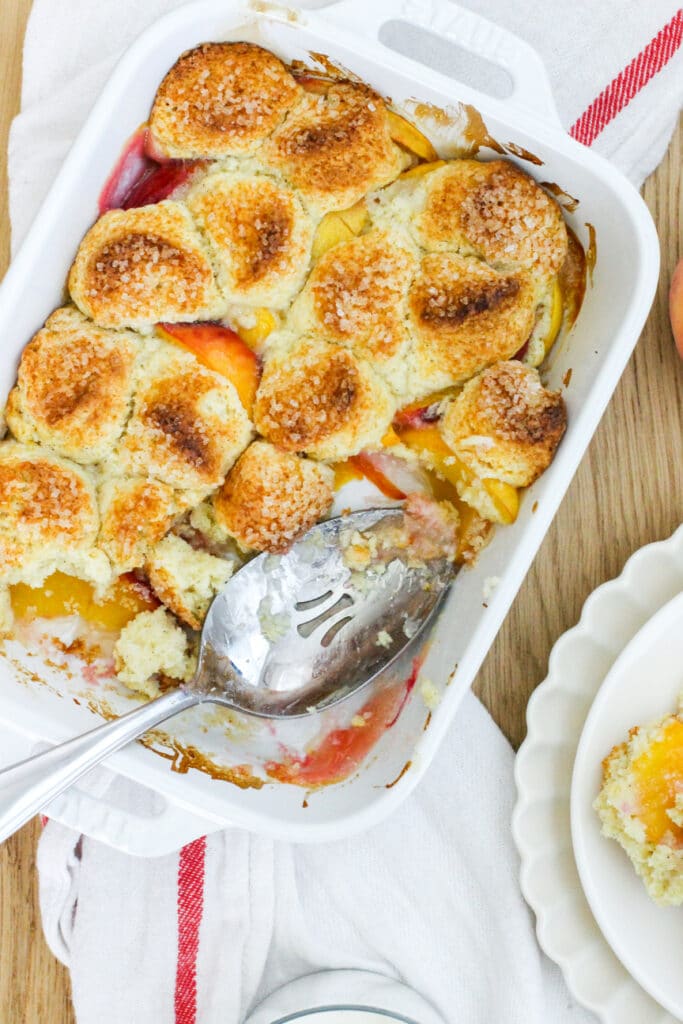 This is a small batch recipe, but it can easily be doubled or tripled to make cobbler for a crowd. It's very quick and easy- let's get to it!
How to Make Small-Batch Peach Cobbler
We're going to start off by making the biscuit topping. This is a pretty classic biscuit dough, but it has a little more sugar than you typically see in a savory biscuit, plus the addition of vanilla extract or paste. You start by cutting in the butter to your dry ingredients, and then stirring in some heavy cream and vanilla.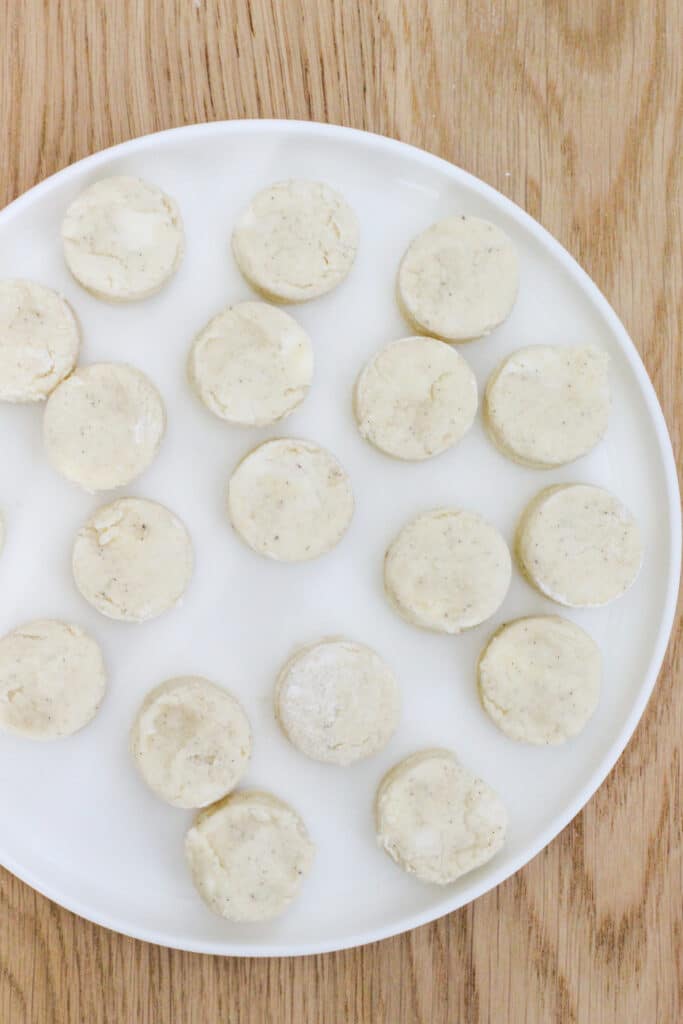 You'll end up with a shaggy dough that you can gently knead together before cutting and layering it to get those flakey layers, and then cutting into small round biscuits to top your cobbler with. Pop them in the freezer while you work on the filling.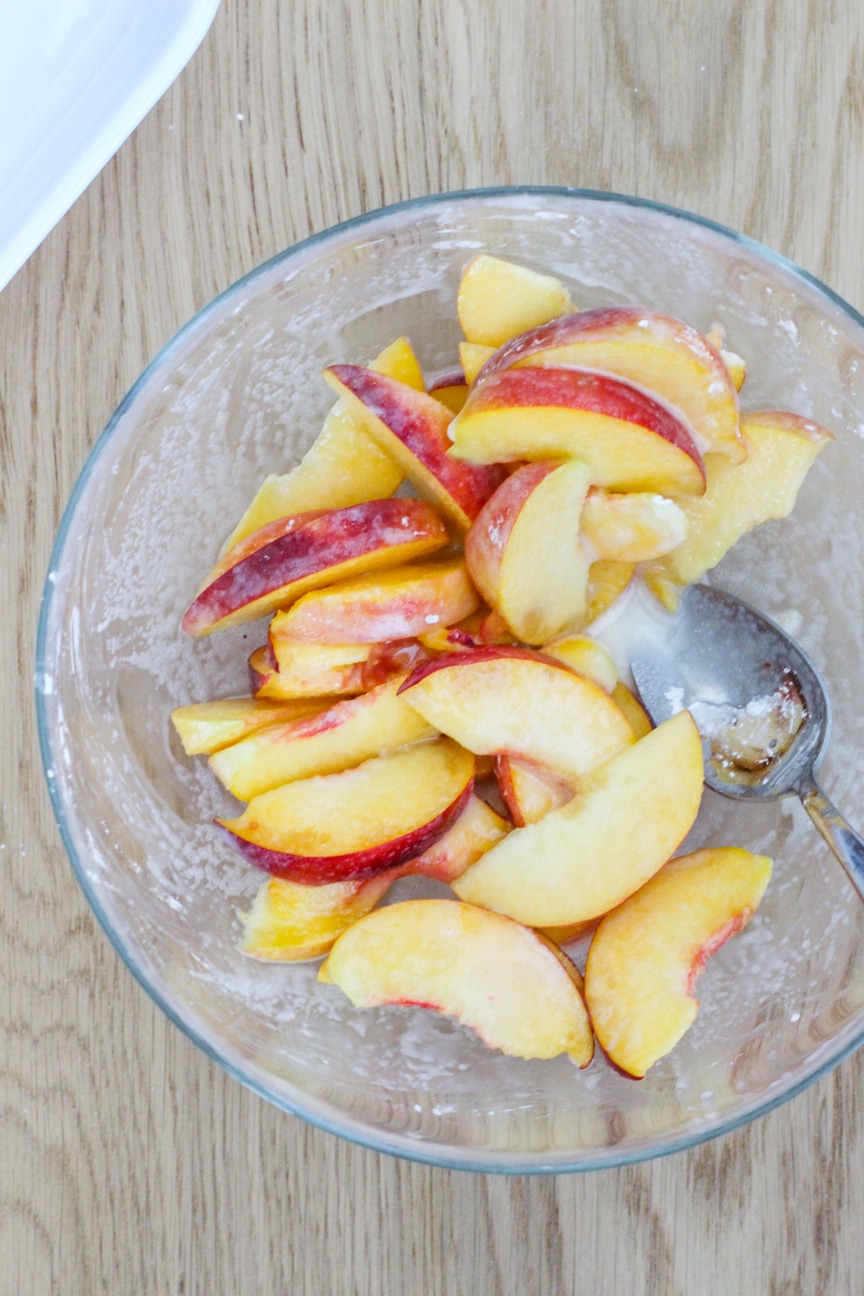 The filling is super simple- we're just looking at some sliced pitted peaches, sugar, cornstarch, lemon juice, and a touch of salt. Stir it together and pour into a shallow, small baking dish. Optionally, you can also bake this in a couple of ramekins for single servings.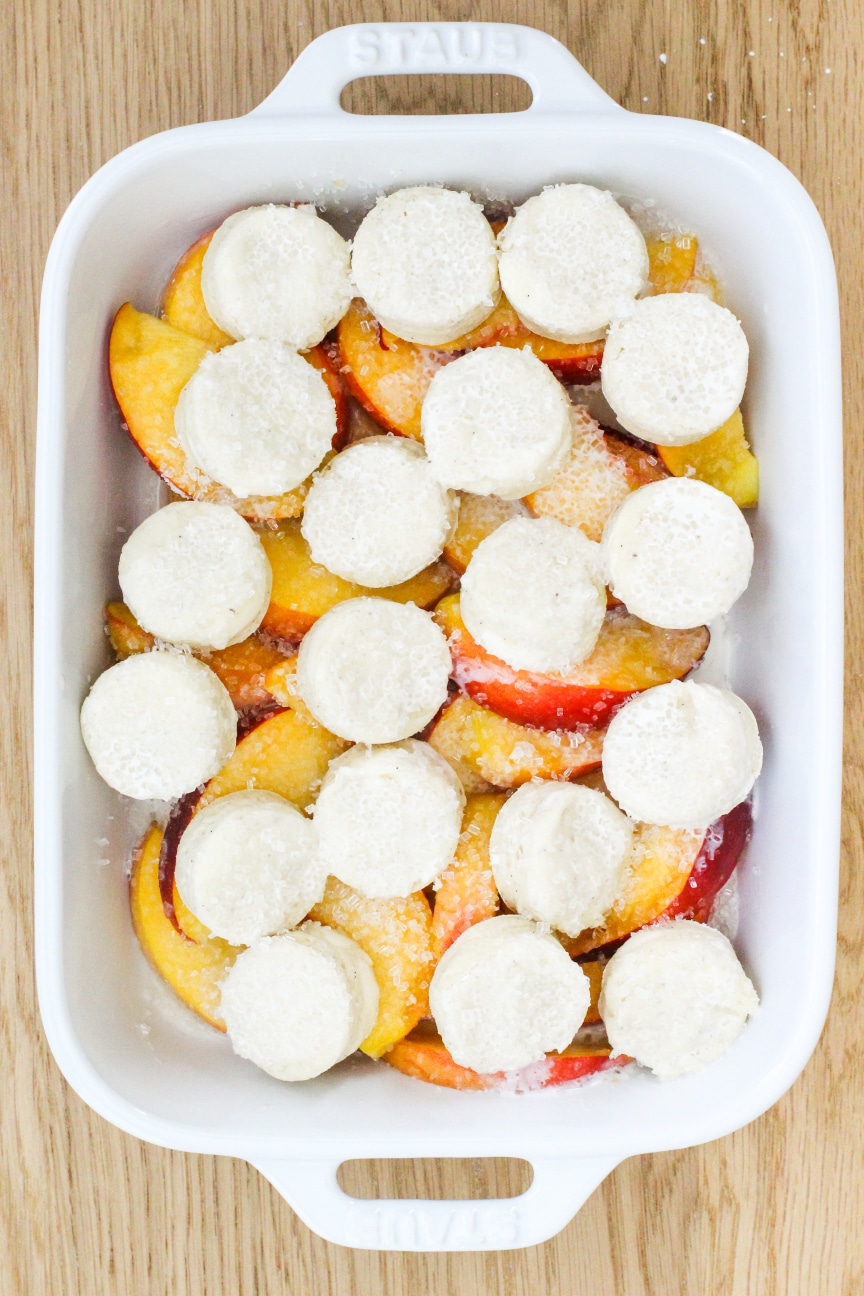 Top with your frozen biscuit rounds, and brush the tops with a little more cream. I like to top them with a generous sprinkle of coarse sugar before popping it into the oven.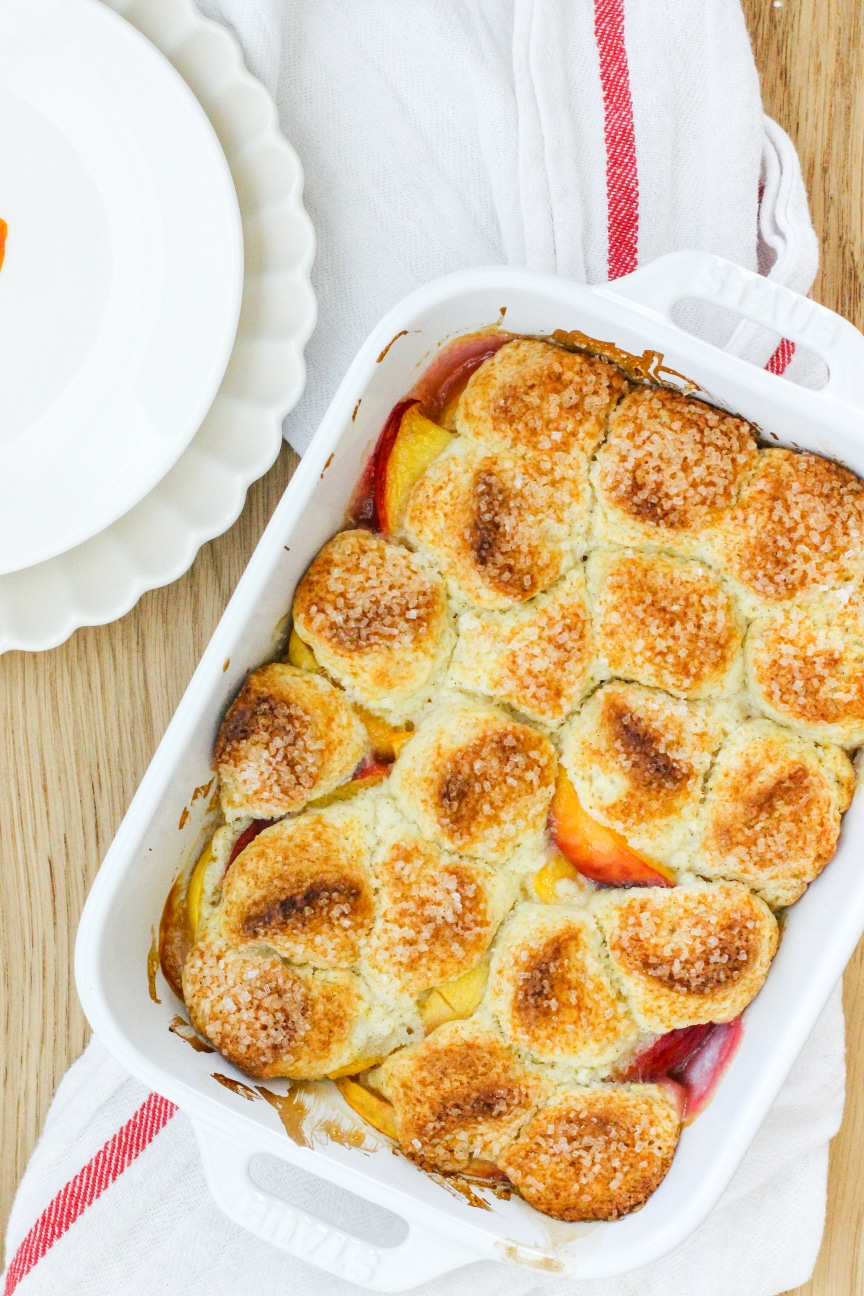 Your cobbler should be golden brown all over, and the fruit should be gently bubbling. I like to serve it warm with some soft whipped cream or some vanilla ice cream.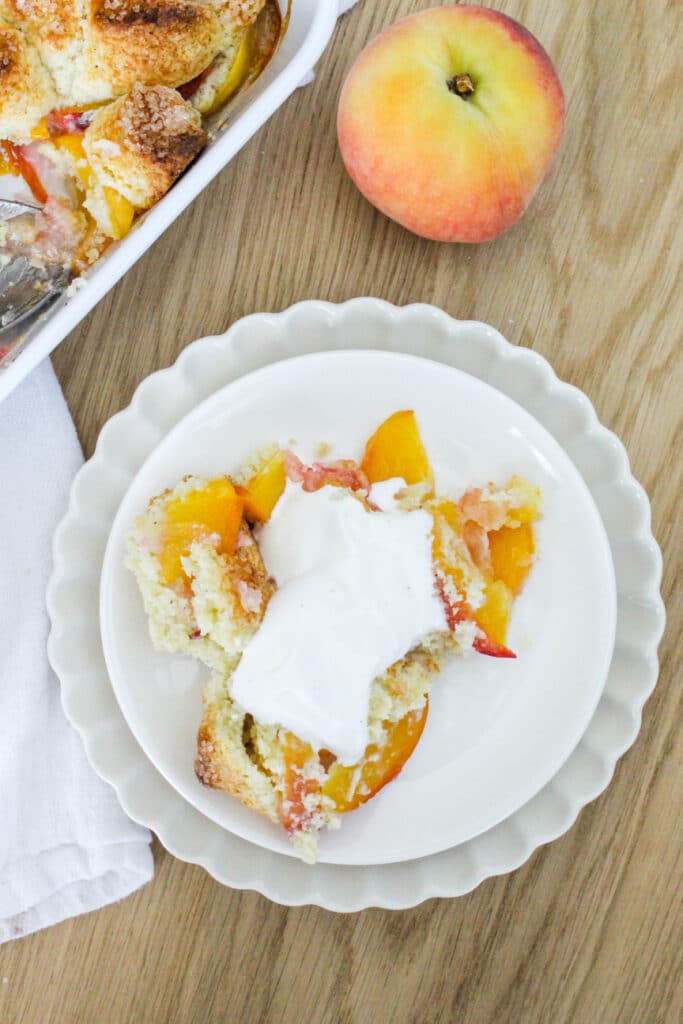 Seriously, I don't even normally like peaches, but this is insanely good. Hope you guys love it!
Tips & Tricks for Small Batch Peach Cobbler
Here are my tips and tricks for a great peach cobbler every time!
Do I have to freeze the biscuit dough before baking? You don't have to, but it helps if the dough is very cold before going into the oven. This keeps the biscuit topping flakey and tender.
What kind of peaches should I use? Use any peaches you like or any that are in season near you. I'm using a yellow variety here, but white peaches or even nectarines would work as well.
Can I make this in a larger batch? Yes, you can absolutely double or even triple this recipe to fill a larger baking dish. You may need to bake it a bit longer, but just go until the top is a deep golden brown all over!
What baking dishes can I bake this in? You can use a small ceramic dish like me (it holds only about 2-3 cups), or you can use 2-3 ramekins placed on a sheet pan. A loaf pan would work as well here, but you may not end up with quite as much browning.
I'm at about 5,000 ft. above sea level and I find that most people who live between about 3,000-7,000 ft. above sea level do not need to make any adjustments to my recipes.
Enjoy!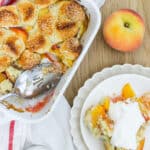 Small Batch Peach Cobbler
Servings
3
generous servings
Ingredients
For the biscuit topping:
1

cups

all purpose flour

1 1/2

tbs.

baking powder

2

tbs.

sugar

1/4

tsp.

salt

1/4

cup

very cold butter

1/2

cup

heavy cream

1

tsp

vanilla

3

tbs.

melted butter

3

tbs.

coarse sugar
For the peach filling:
2

large peaches

pitted and sliced

2

tbs.

sugar

1 1/2

tbs.

cornstarch

1-2

tbs.

lemon juice
Instructions
For the biscuits:
In a large bowl, stir together the flour, baking powder, sugar, and salt. Cut the cold butter into small cubes, and cut into the flour mixture using a pastry cutter or your hands until the mixture resembles very coarse crumbs.

Slowly work in the heavy cream and vanilla until a shaggy dough forms. Turn onto a floured surface. You'll need to knead the dough a little to form a roll-able dough. Working quickly, pat the dough into a disk about 1/2 inch thick. Cut into 4 sections, and stack each section on top of each other.

Roll this into a large rectangle, about 1/4-1/2 inch thick. Using a small round or square cutter, cut out as many small circles of dough as you can.

Move the cut biscuits onto a plate, and place in the freezer while you make the filling.
For the filling:
Preheat the oven to 400 degrees. In a small bowl, stir together all the ingredients for the filling until no dry spots of cornstarch remain.

Pour the filling into a small shallow baking/casserole dish. I'm using a dish that holds only about 2 cups. You can use 2-3 ramekins, or even a loaf pan here if you don't have anything similar to what I'm using.

Place the chilled biscuits over the top of the filling, as close together as you can- some overlap is okay- covering all of the filling in the pan. Brush the tops of the biscuits with the melted butter generously, and top generously with the coarse sugar.

Place your baking dish on top of a sheet pan to catch any juice that spills over. Bake for 20-22 minutes, or until the biscuits are deeply golden brown, and the juices of the fruit are bubbling and hot. Cool slightly, and serve warm with vanilla ice cream or whipped cream! It's a MOOD.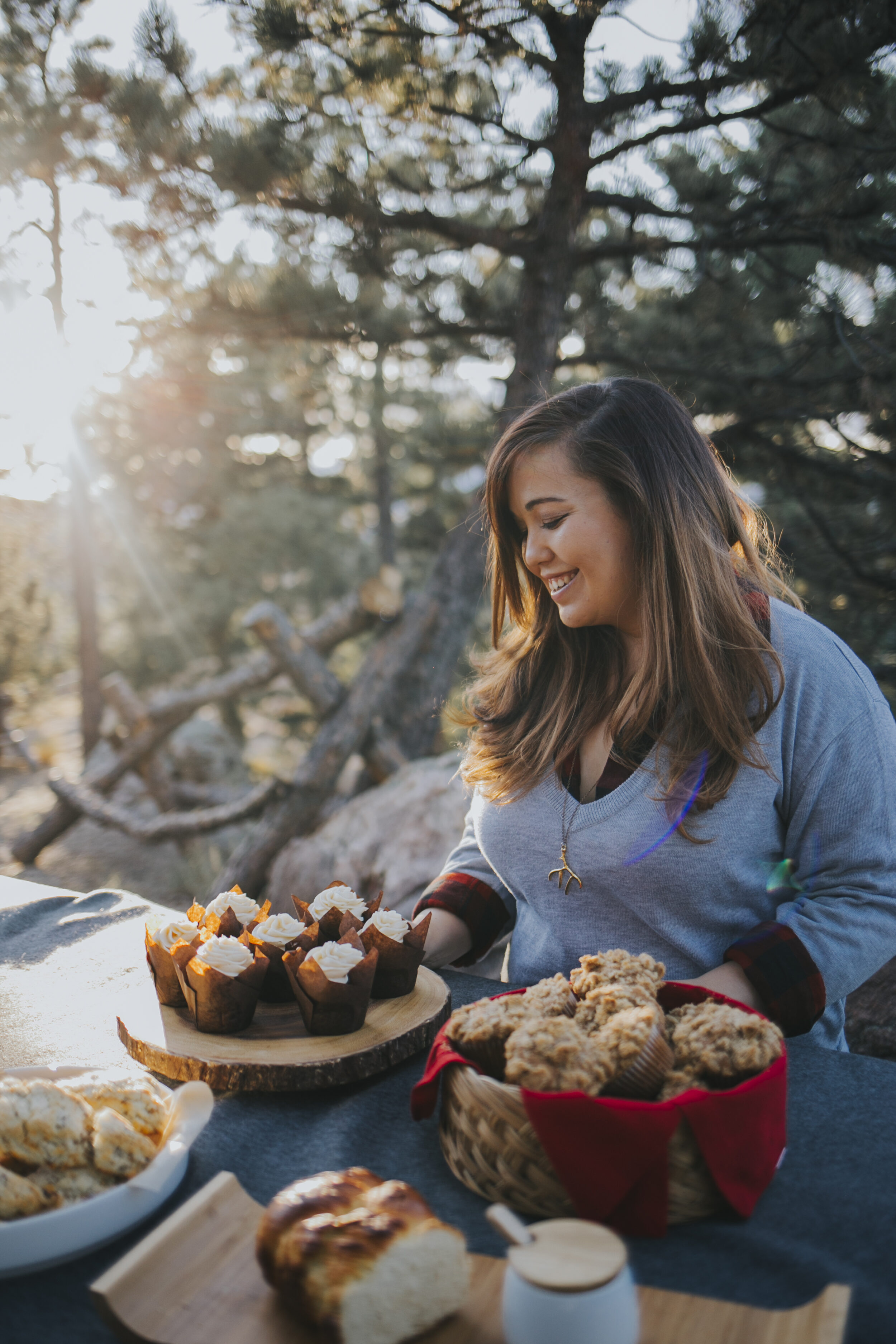 Hello and welcome! My name is Nicole, and Dough-eyed is a food blog for people who want to bake for their family and friends in high-altitude areas. Think of me as a friendly voice there with you in the kitchen, here to give you confidence when you're baking, and to help you with the struggles of baking at high-altitude. Come back every week for new recipes, tips, and advice on high-altitude baking!