I've got one last late summer recipe before we dive head first into fall baking- this is a Blueberry Cornmeal Cake and it's wildly easy to pull together and super satisfying.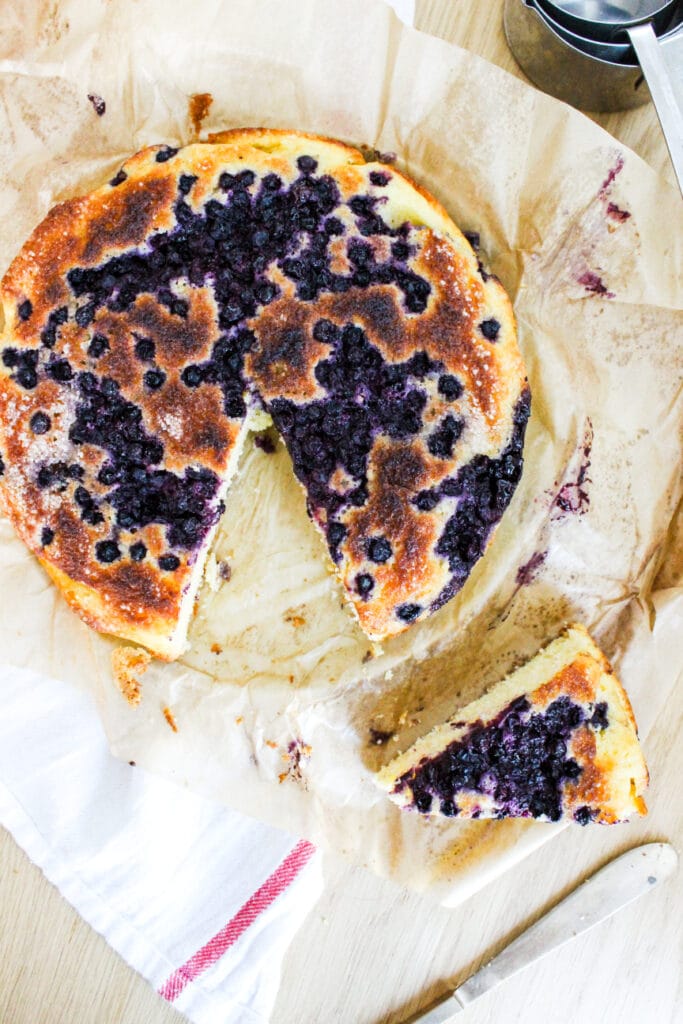 This is a cake that can easily stand alone, but it's also kind of wonderful topped with whipped cream or vanilla ice cream. I love it because it's a single layer cake with pops of fruit throughout, and it doesn't require you to keep your oven on for too long when we're all in those last 90-degree days.
How to Make Blueberry Cornmeal Cake
This cake comes together with a bit of an odd method, but just trust me here- it works. Put all of your cake batter ingredients into the bowl at once (everything except the blueberries and coarse sugar), and just beat everything together at one time.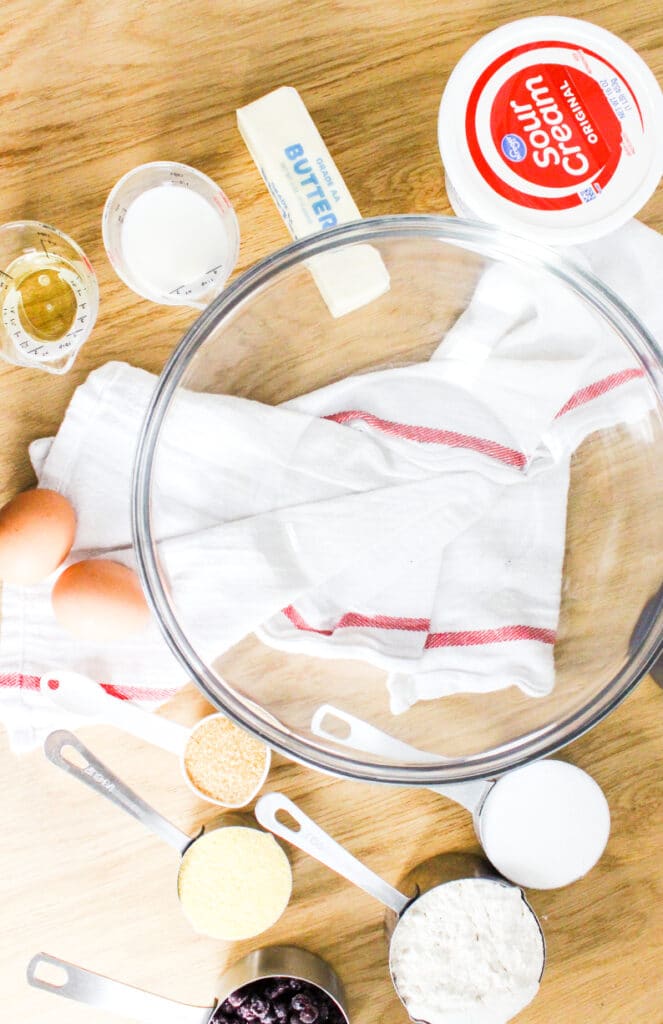 This method won't work for all cake recipes, but it works really well here and it helps prevent over-mixing the batter. You'll end up with a thick batter that should spread easily in your cake pan with the back of a spoon or an offset spatula.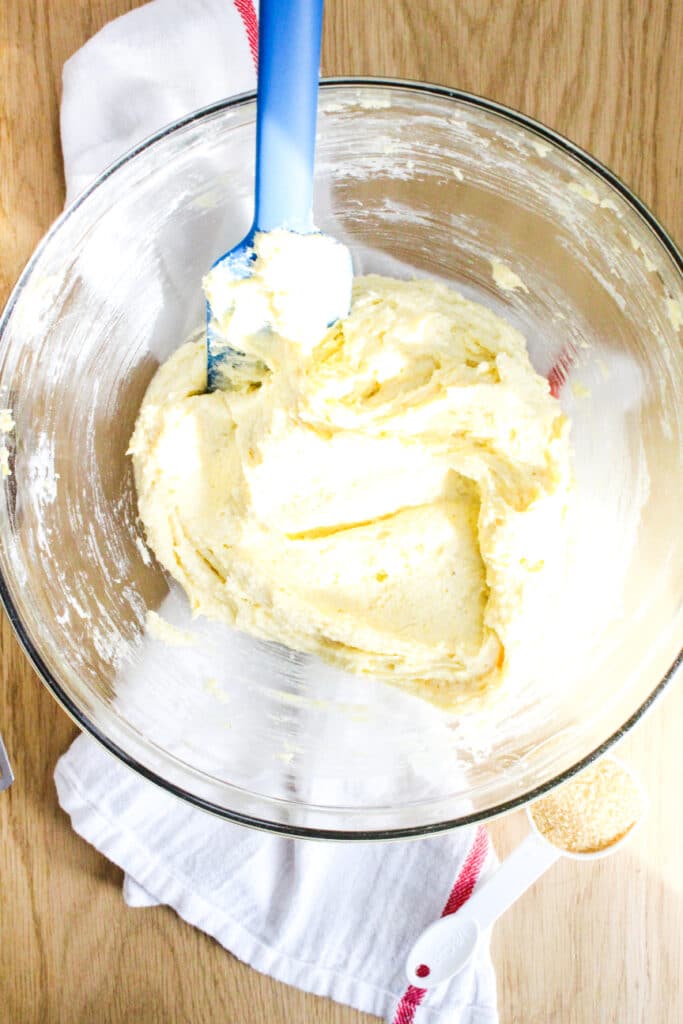 I'm using frozen blueberries here just because I usually have some lying around, but you can use fresh or frozen without any alterations to the recipe. Sprinkle the blueberries all over the top of the cake evenly- they will cover most of the cake- and then top that with a generous amount of coarse sugar. I used about two tablespoons, but measure the coarse sugar with your heart guys.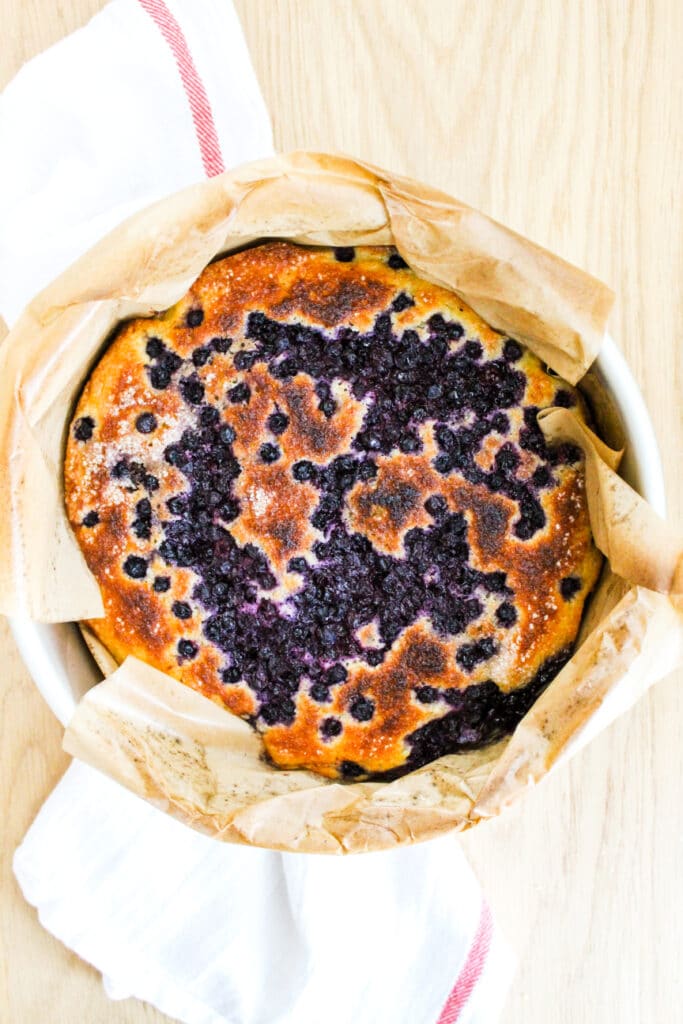 Off to the oven until everything has a golden brown hue all over, and a cake tester comes out with just a few crumbs clinging to it. Cool this cake completely in the pan and serve it as is, or if you're feeling fancy add a little whipped cream or vanilla ice cream. It's the perfect little summer cake!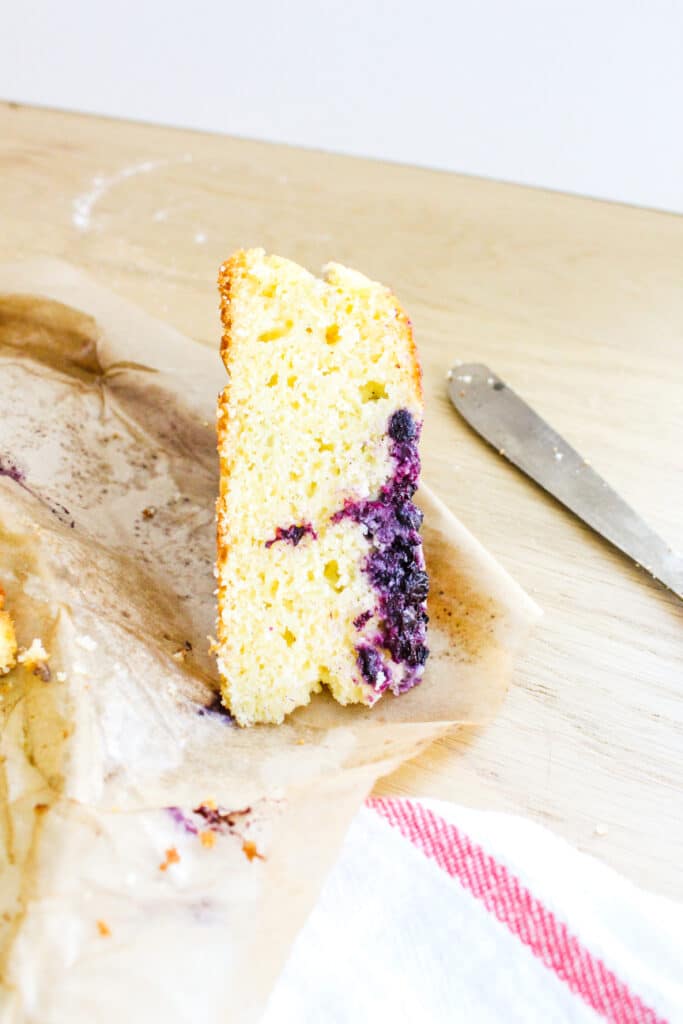 Hope you guys enjoy this one- it's too easy to skip.
Tips & Tricks for the best Blueberry Cornmeal Cake
Here are all my best tips and tricks to make this cake fantastic every dang time!
Mix all the cake ingredients together at once. I know this is a weird mixing method for cake, but it works here and it's so easy!
Don't over-beat the cake batter. Part of the reason we're mixing everything together at once is to avoid over-mixing the batter. Just mix until things are combined through!
Can I use fresh blueberries? Yes- this recipe works with fresh or frozen berries without any adjustments.
Can I use any berries? You can use any small berries here. I wouldn't use strawberries because they have a lot of water that will release as they bake, but raspberries or blackberries would work perfectly here!
Do I need to use the coarse sugar on top? I wouldn't skip this step- it adds some extra sweetness to an otherwise not very sweet cake, and it gives it a crisp texture on top. Optionally, you can sprinkle granulated sugar if you don't have coarse sugar.
How do I know when the cake is finished baking? Your cake should be lightly golden brown on top, and a toothpick inserted into the center should come out with just a few crumbs clinging to it.
I'm at about 5,000 ft. above sea level and I find that most people who live between about 3,000-7,000 ft above sea level do not need to make any adjustments to my recipes.
Enjoy!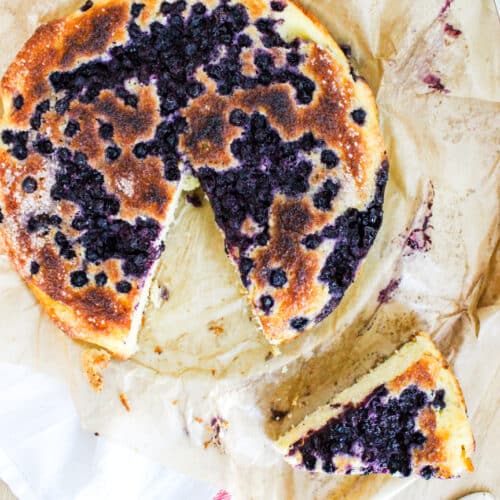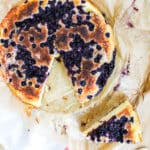 Blueberry Cornmeal Cake
Ingredients
1/2

cup

softened butter

2

tbs

vegetable oil

1/2

cup

sugar

1

tsp

vanilla extract

2

eggs

1/4

c

sour cream

3

tbs

milk

1

cup

flour

1/2

tsp

salt

1

tsp

baking powder

1/3

cup

cornmeal

3/4

cup

fresh or frozen blueberries

2

tbs

coarse sugar
Instructions
Preheat your oven to 375 degrees. Spray an 8 inch round cake pan with cooking spray, and press some parchment paper into it, forming it to the inside of the pan- it doesn't have to be perfect, little paper ridges will make the cake wavy and cute on the outside.

In a large bowl, add in all the ingredients for the cake batter- the softened butter, vegetable oil, sugar, vanilla extract, eggs, sour cream, milk, flour, salt, baking powder, and cornmeal. This is a bit of an odd method, but bear with me- just beat everything together until it's well combined and a thick batter forms.

Pour the batter into your prepared cake pan and spread it evenly. Evenly sprinkle the blueberries all over the top of the cake- it should cover most of the top of the cake. Generously sprinkle the coarse sugar over the top evenly. Bake the cake for 28-30 minutes, or until the cake looks lightly golden brown on top, and a cake tester comes out with just a few crumbs clinging to it. Let the cake cool completely in the pan, and use the parchment paper to remove the cake. Slice and serve!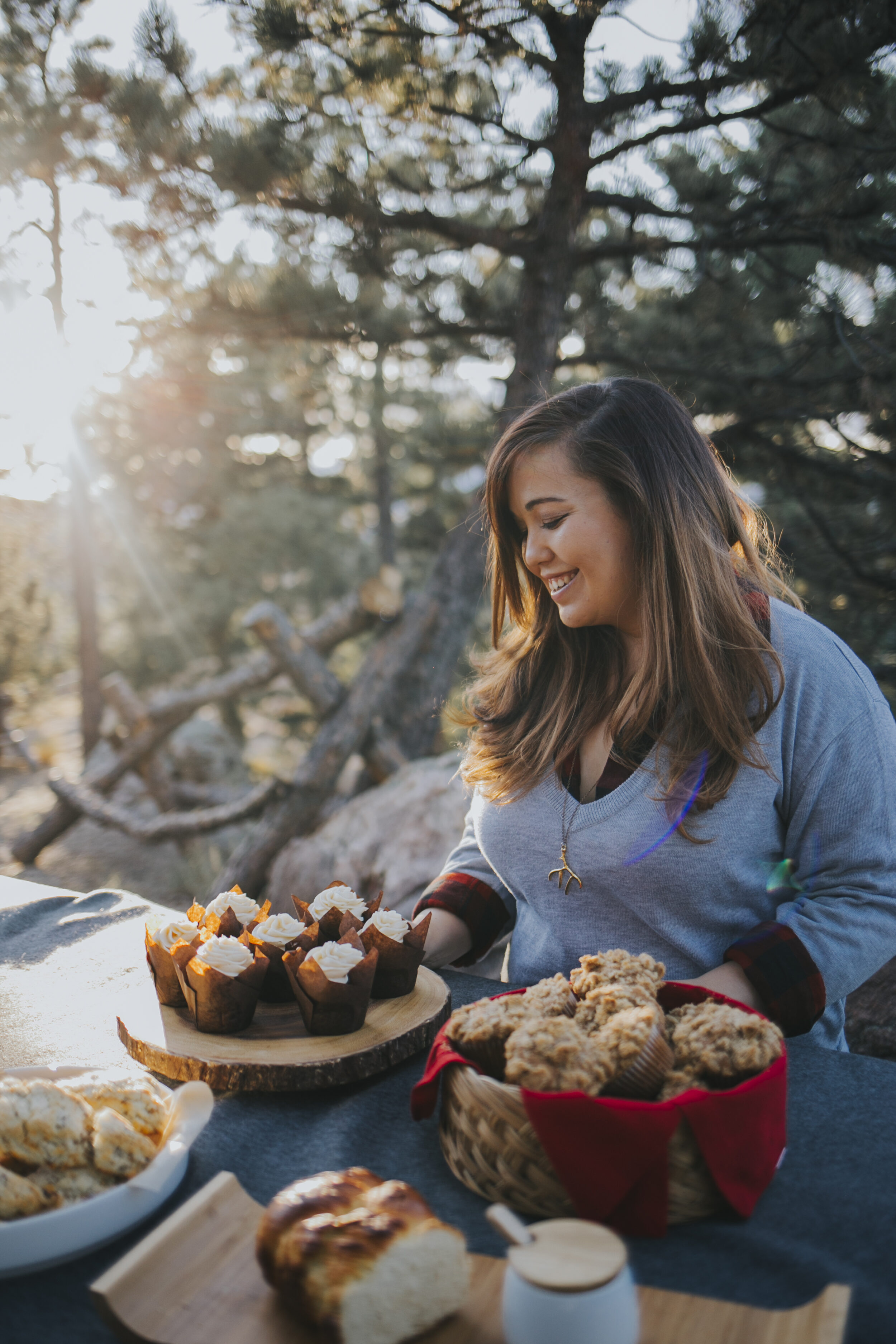 Hello and welcome! My name is Nicole, and Dough-eyed is a food blog for people who want to bake for their family and friends in high-altitude areas. Think of me as a friendly voice there with you in the kitchen, here to give you confidence when you're baking, and to help you with the struggles of baking at high-altitude. Come back every week for new recipes, tips, and advice on high-altitude baking!