Good morning guys! We're back today with another small batch recipe, and I'm obsessed with this one. If you're a coffee person, this one is for you.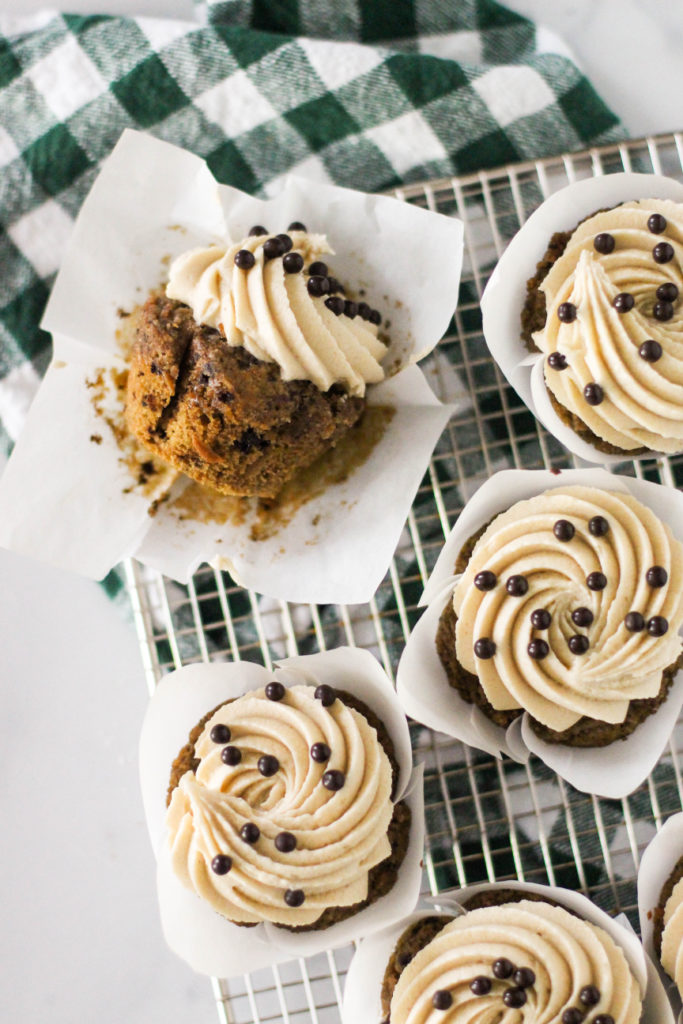 This recipe makes six coffee cupcakes, topped with a crunchy crumb topping and a fluffy coffee frosting. We're using a few different forms of coffee in this recipe, and it creates a really yummy, not too bitter coffee flavored cake. Let's get to it!
How to Make Coffee Crunch Cupcakes
You can make these cupcakes completely by hand, and it's super simple. We're using instant coffee granules here instead of instant espresso powder or normal coffee granules. It's kind of an odd ingredient, but it makes for a light coffee flavor without much bitterness.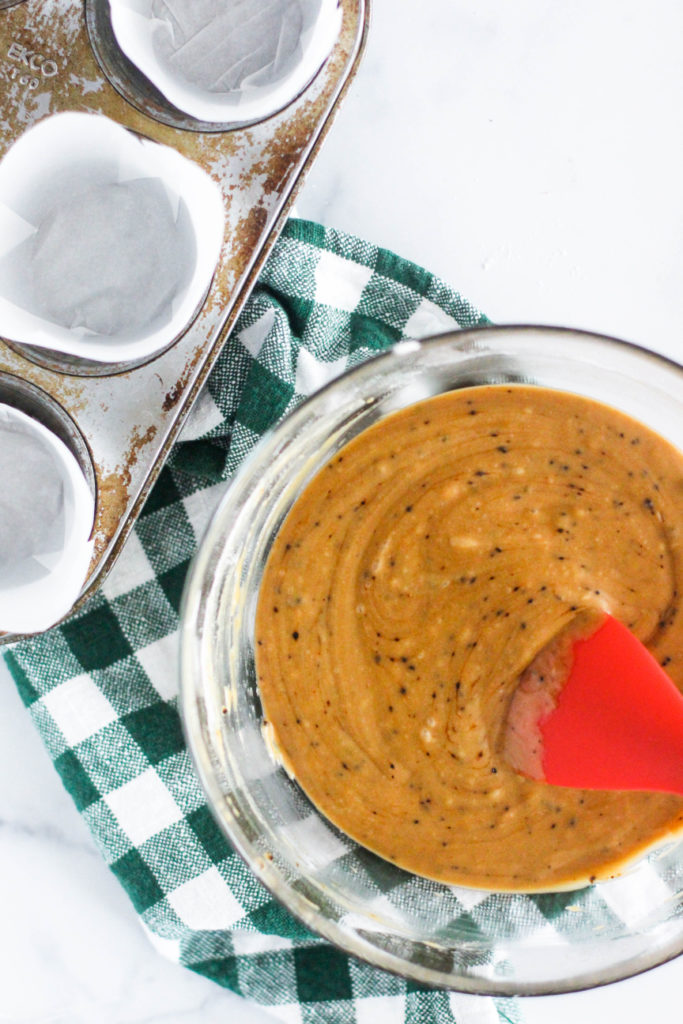 Start by whisking up the melted butter, oil, and sugar until combined, and then stirring in the egg. Then, we're starting to add in the dry ingredients and wet ingredients in alternating additions, starting and ending with the dry ingredients. Your batter should look something like this- the more it sits, the more the coffee granules will dissolve, but it's totally fine to have flecks running throughout.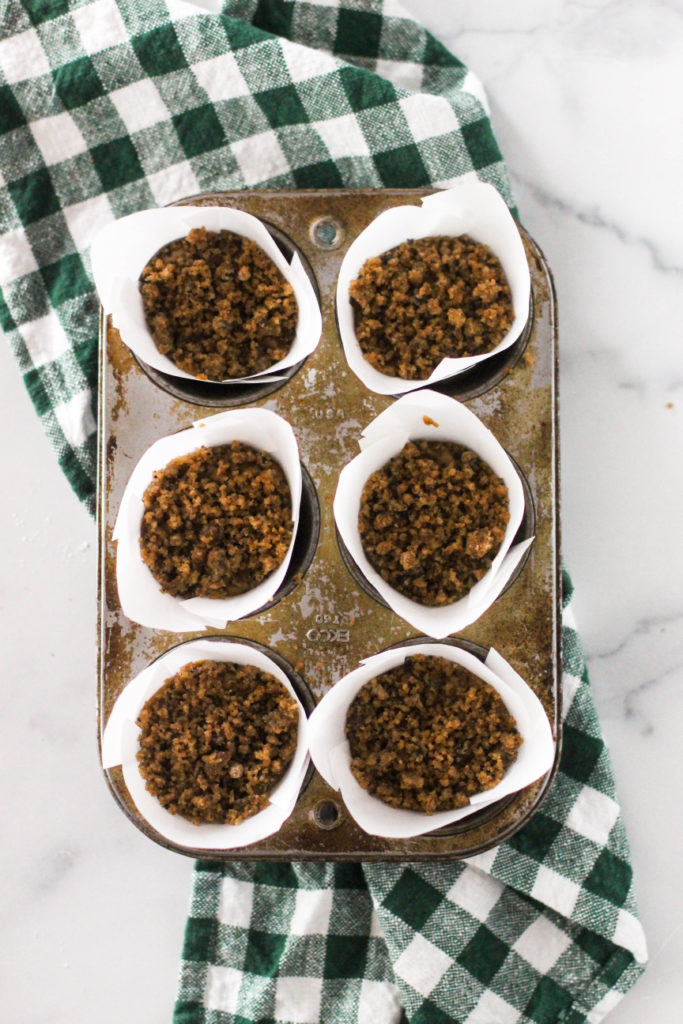 The crumb is super simple, and you just want to stir all the ingredients together with a fork until you've got a crumbly mixture to sprinkle over the tops of each cupcake before baking.
Finally, top the cupcakes with a fluffy buttercream, flavored with coffee and instant espresso powder (optionally), and any sprinkles you prefer!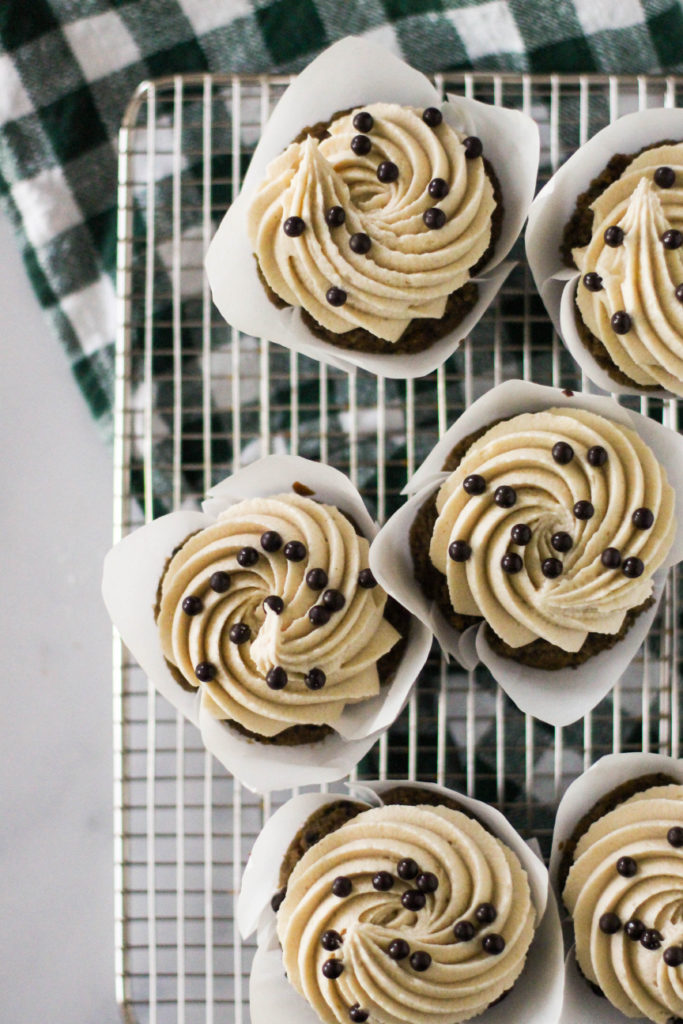 Tips & Tricks for Small-Batch Coffee Cupcakes
I love recipes that can be mixed entirely by hand, and this is one of them! I've still got a few tips and tricks to help you along the way.
Use instant coffee granules and not instant espresso or regular coffee. These big, oddly light granules have the perfect flavor for baking. They should be easy to find in most grocery stores!
As always, don't over-mix your batter. You want to just mix until things come together at every stage of this cake batter. Over-mixing can cause your cake to become too heavy, and sink while baking.
Room temp ingredients for the frosting are super important here! I find that American style buttercreams can break fairly easily, so be sure that your ingredients are at room temp.
Beat your frosting for longer than you think to help make it fluffy! Unlike the cake, you can't really over beat your buttercream, so go for a good 5-10 minutes while you mix here. And if it breaks, gives it another few minutes of mixing!
I'm at about 5,000 ft above sea level and I find that people who live between about 3,000 and 7,000 feet above sea level do not need to make any adjustments to my recipes!
You can easily double this recipe to make 12 cupcakes instead of just the 6!
Hope you guys enjoy this one!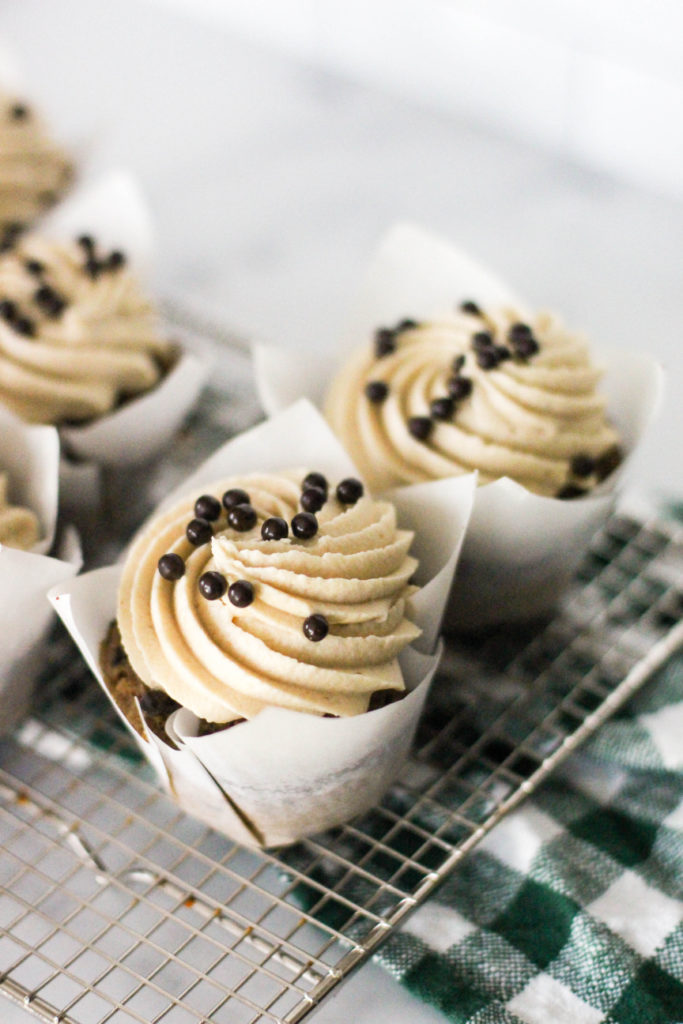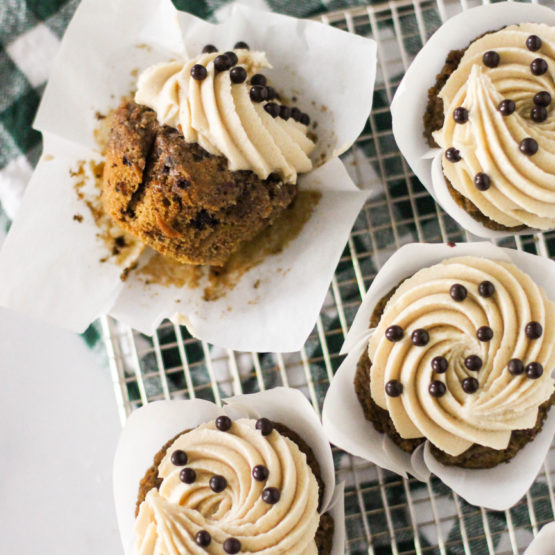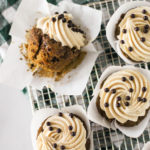 Small-Batch Coffee Crunch Cupcakes
Ingredients
For the cupcakes:
6

tbs.

sugar

2

tbs.

melted butter

2

tbs.

canola oil

1

egg

1

cup

flour

1

tbs.

instant coffee granules

1/2

tsp.

salt

1/4

tsp.

baking powder

1/8

tsp.

baking soda

1/4

cup

whole milk

1/4

cup

strong brewed coffee

cooled
For the topping:
1

tbs

oil

1/4

cup

flour

3

tbs

brown sugar

1/8

tsp.

salt

1/2

tsp.

instant coffee
For the frosting:
1/2

cup

softened butter

2

tbs.

sour cream

2 1/2

cups

powdered sugar

1/2

tsp.

vanilla extract

1/4

tsp.

instant espresso

(optional)

1/8

tsp.

salt

2

tbs.

strong brewed coffee
Instructions
For the cupcakes:
Preheat your oven to 350 degrees and line a cupcake pan with 6 paper liners.

In a large bowl, whisk together the sugar, melted butter, and oil until combined. Whisk in the egg until just combined. In a small bowl, whisk together the flour, coffee granules, salt, baking powder, and baking soda. In another small bowl, stir together the milk and coffee. Add about 1/3 of the flour mixture into the sugar mixture and whisk until just combined. Then add about half of the milk mixture and whisk until just combined. Repeat until you've added all of the flour and milk to the large bowl. The mixture will look a bit streaky from the coffee granules, but that's ok!

Divide the batter evenly into your prepared 6 cupcake cups. They should be fairly full, and you should use all of the batter here.
For the topping:
In a small bowl, stir together the oil, flour, brown sugar, salt, and instant coffee granules using a fork until combined. The mixture should form small crumbs. Sprinkle the crumb topping on top of each cupcake and spread evenly. Bake the cupcakes for 15-18 minutes, or until a cake tester comes out clean. Cool completely before frosting!
For the frosting:
In a large bowl, beat together the butter and sour cream until light and fluffy. Slowly add in the powdered sugar and beat for several minutes. The mixture should be very thick. Beat in the vanilla extract, instant espresso powder if you're using it, and salt. Then, slowly add in about 1 tsp at a time of the coffee, beating well between each addition, until the frosting has reached a fluffy, soft, pipe-able texture. You can't really over-beat the frosting, and it gets fluffier as you go! Frost cupcakes as desired, and enjoy!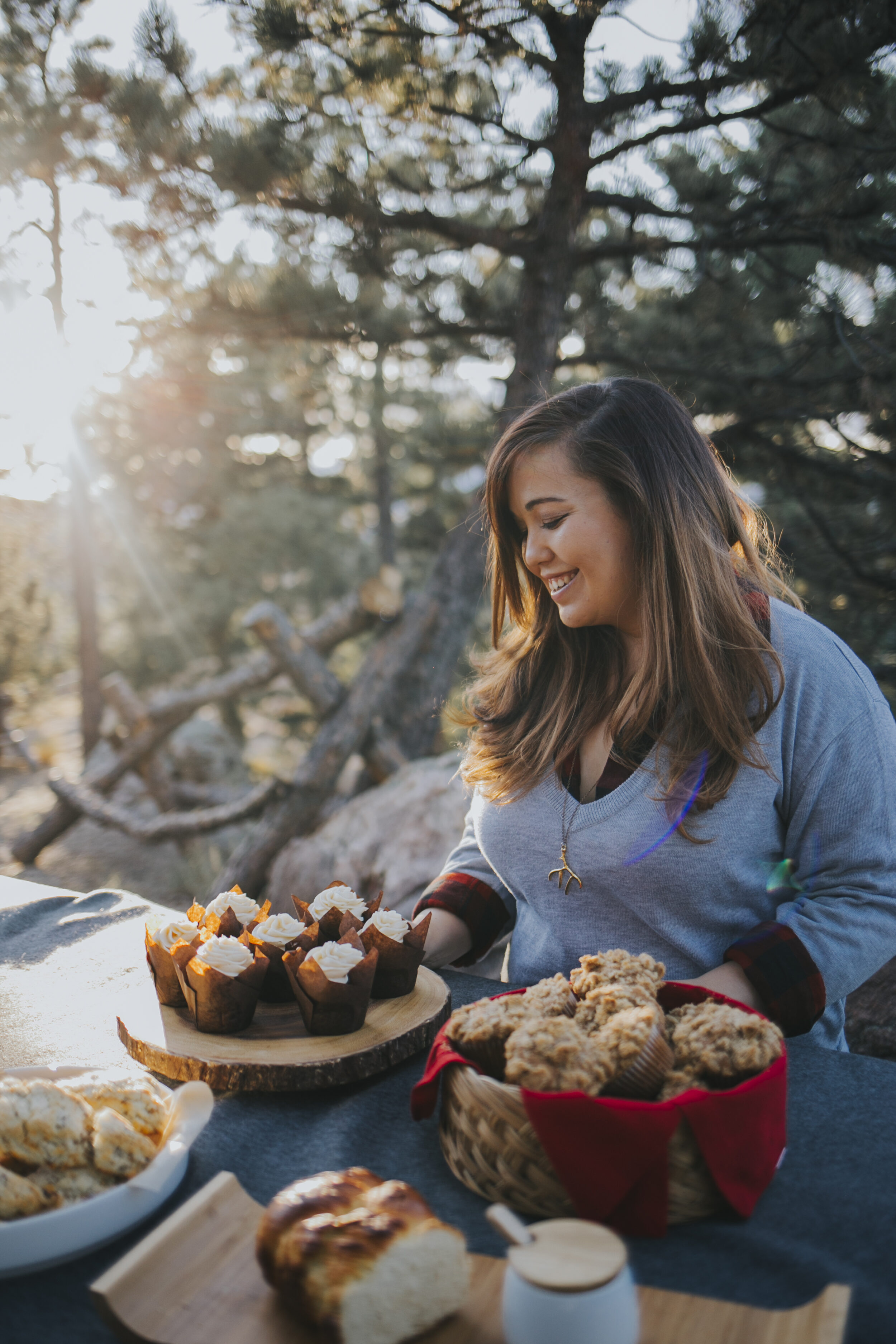 Hello and welcome! My name is Nicole, and Dough-eyed is a food blog for people who want to bake for their family and friends in high-altitude areas. Think of me as a friendly voice there with you in the kitchen, here to give you confidence when you're baking, and to help you with the struggles of baking at high-altitude. Come back every week for new recipes, tips, and advice on high-altitude baking!