Hey guys! Today I'm sharing a recipe for an easy, if a little messy to put together, Apple Babka! We're using apple butter as the filling to make it super simple to pull together, plus a soft and fluffy dough as the base.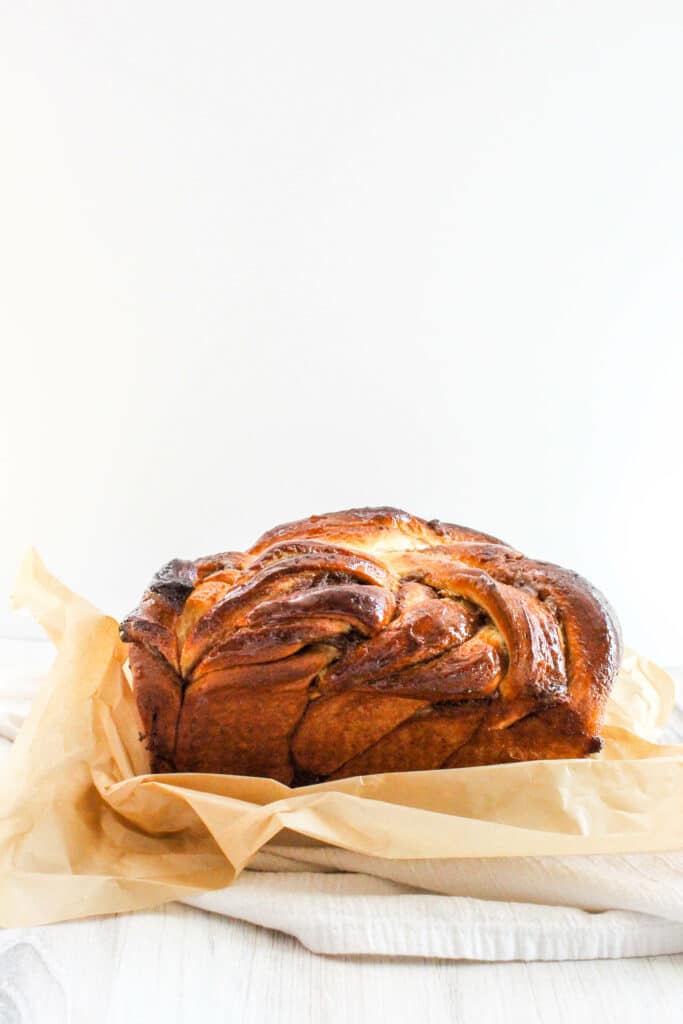 If you've never had a babka before, today's the day you guys. It's like a loaf of soft bread with something sweet twisted all throughout. Chocolate and cinnamon babka loaves are always a fav, but I really love this apple butter version for the fall. Let's get to it!
How to Make An Apple Babka
We're starting with the dough first. This is an enriched dough, and we're using all the things to make it extra yummy. It's got milk, vanilla extract, eggs, and butter all worked right into the dough, which results in a really beautiful texture once everything is baked up!
You want to make sure to give this dough a very good knead- I like to use a stand mixer for this part if you have it, and let it knead together for a good 10-15 minutes until the dough is really elastic. The dough should still be pretty soft, and may stick to the bottom of the bowl just slightly when it's right. Here is what it should look like right after you finish kneading it together: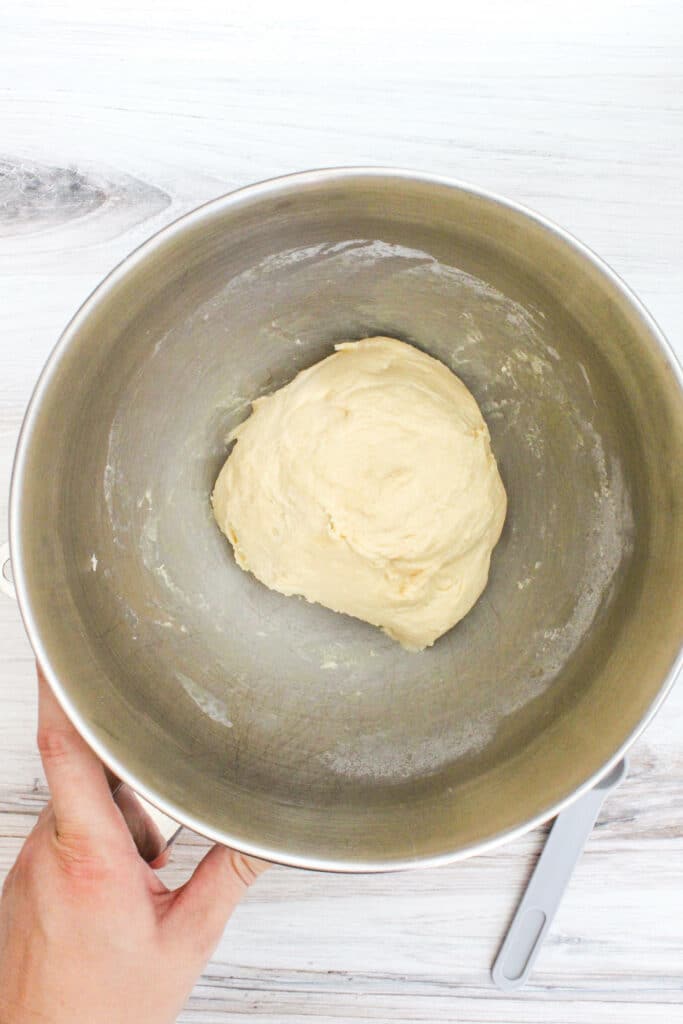 And here is what it should look like after the first rise: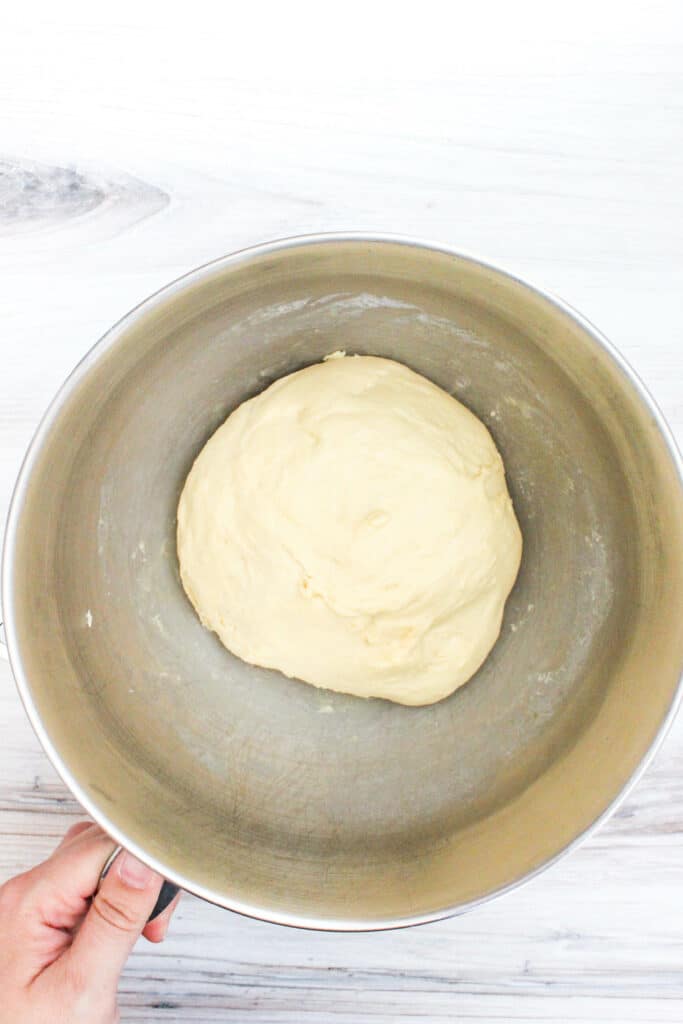 Remember to not let the dough over-proof. We're baking at high-altitude, so it can rise pretty quickly. I usually find that it only takes about 30 minutes to reach this stage.
Then we're rolling it out into a large rectangle, and spreading the filling all over the top. Roll the whole thing up into a log, just like you would with cinnamon rolls. Then slice the log in half length-wise, and twist both halves together. You should end up with a long, twisted up log that has open seams showing the filling running throughout. Fold it in half, and place it into your prepared pan.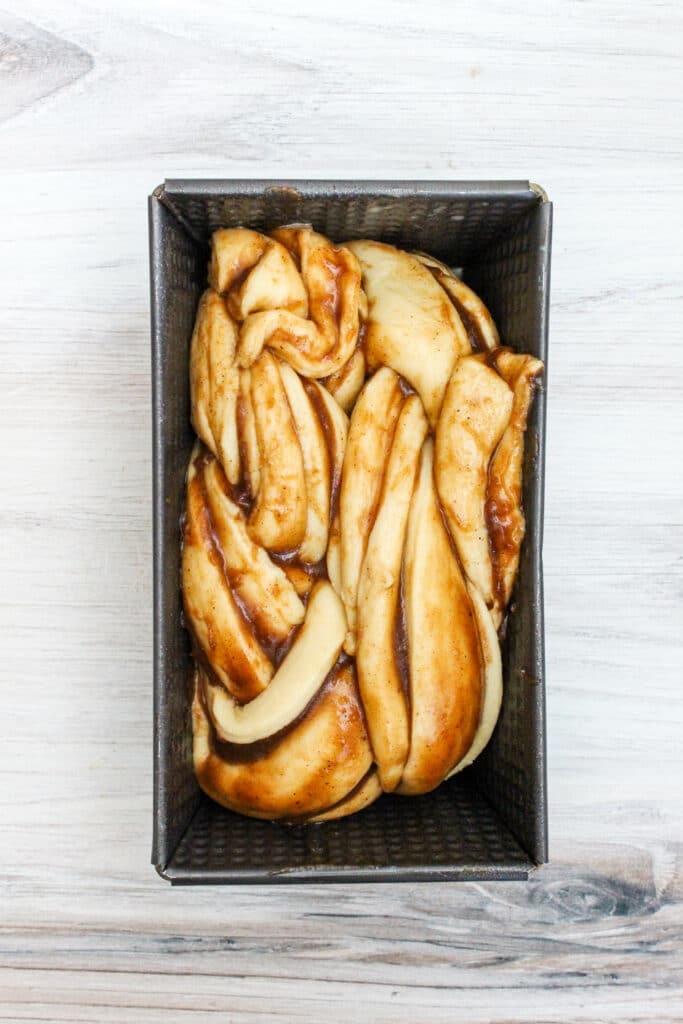 Since we're using apple butter, the twisting and folding process can be a bit messy, but don't worry! You just want to get all that apple butter twisted in throughout the dough, it doesn't have to look perfect at all.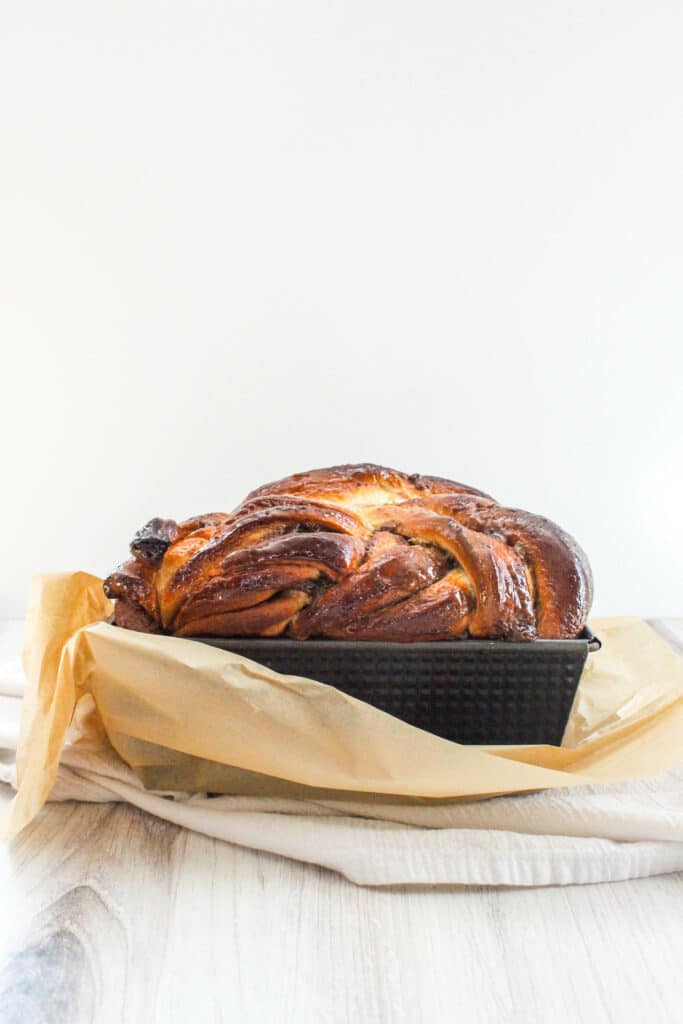 Once it's fully baked, you can brush the top with your vanilla simple syrup straight out of the oven. This creates a glossy, sweet top that I love with this bread.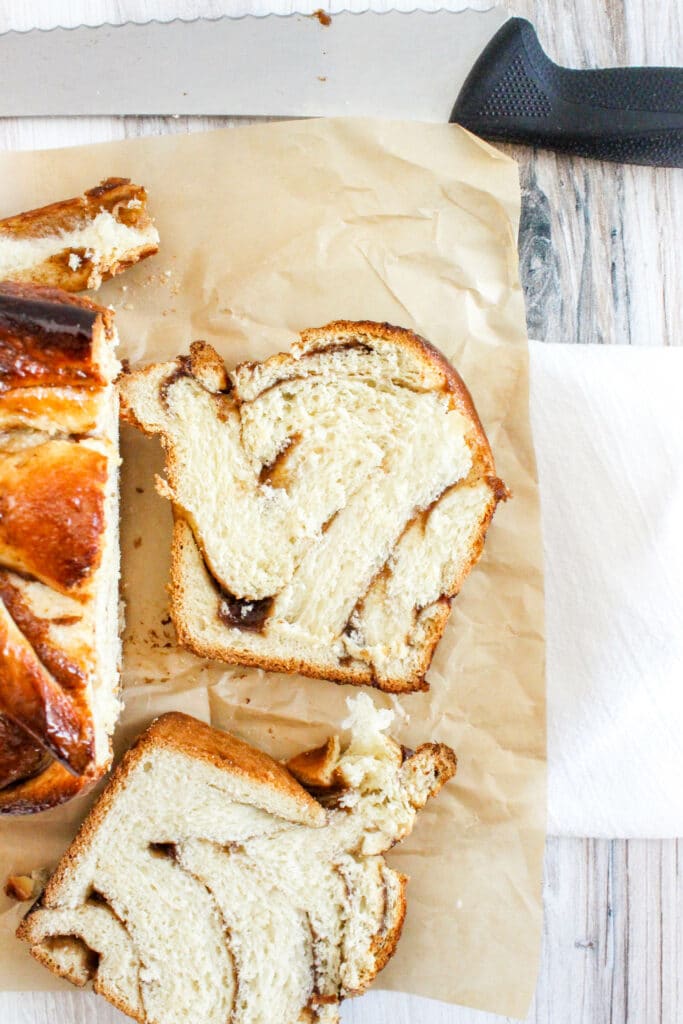 And that's it! Slice it up and enjoy it warm from the oven, or toasted with butter for the perfect little fall treat. Hope you guys enjoy this one!
Tips & Tricks for Apple Babka
Babka making can be a little tough with the whole twisting and folding process, but I've got lots of tips and tricks to help you along the way!
How long should I knead the dough? The dough should be kneaded for a fairly long time- about 10-15 minutes in a stand mixer, and up to 20 minutes by hand. You want the dough to be smooth and elastic. You should be able to stretch a piece between your fingers easily.
How do I know when my dough has risen enough? You want your dough to be just under doubled in size, which shouldn't take long at high-altitude. I suggest taking a picture of it with your phone at the beginning of the rise for reference!
Can I use store-bought apple butter? Yes, and I recommend it! It's a great fall condiment, and there's no need to go to the trouble of making your own for this recipe.
Do I have to use the sugar syrup on top? No, you can skip it, but your dough won't be as shiny or glossy. The sugar syrup takes this babka over the edge, and I definitely think it's worth it!
My apple butter filling is spilling out as I twist the dough. This is totally normal. You just want to work fairly quickly, keeping as much of the filling inside as possible. It's a bit messy, but that's ok!
I don't have an instant read thermometer, how do I know when it's ready? It should be a deep golden brown on top, and when the loaf is tipped out of the pan, it should release easily. If you tap on the bottom of the loaf, it should sound hollow.
I'm at about 5,000 ft. above sea level, and I find that most people who live between about 3,000-7,000 ft. above sea level do not need to make any adjustments to my recipes.
Enjoy!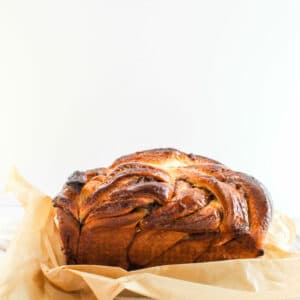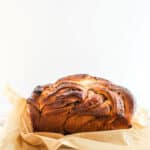 Apple Babka Recipe
Ingredients
For the dough:
3/4

cup

whole milk

1/4

cup

sugar

1

tsp.

vanilla extract

2 1/4

tsp.

active dry yeast

2

eggs

6

tbs

very soft butter

3- 3 1/2

cups

flour

1/2

tsp

salt
For the filling:
1/2

cup

brown sugar

1

tbs.

cinnamon

1/8

tsp

salt

1

cup

apple butter
For the syrup:
1/4

cup

water

1/3

cup

sugar

1/8

tsp

salt

1/2

tsp

vanilla extract
Instructions
For the dough:
Heat your whole milk in the microwave until it reaches 115 degrees. Stir in the sugar, vanilla extract, and the yeast. Let the mixture sit and bloom for 5-10 minutes, or until it's bubbly and frothy. In a large bowl, or the bowl of a stand mixer, stir together the eggs and soft butter- it will be a bit lumpy, but that's ok!  Add the yeast mixture into the egg mixture, and stir to combine. Add in 3 cups of flour and the salt, and knead together until a dough forms, using the dough hook on a stand mixer. If the dough is super sticky and wet still, add a few more tablespoons of flour until it's pulling away from the sides of the bowl. It should be very soft still, but won't stick to your fingers. Knead the dough for 5-8 minutes, or until it's very elastic and smooth. Place the dough back in your bowl and cover. Let the dough rise until it's almost doubled in size, which takes about 30-45 minutes for me.
For the filling:
In a small bowl, stir together the brown sugar, cinnamon, salt, and apple butter until combined. Grease an 8-inch loaf pan and set aside.

Once your dough has risen, roll it out on a lightly floured surface into a large rectangle that is about 1/4 inch thick. Spread your filling evenly all over the dough, all the way to the edges. Roll the dough up tightly into a log from the long sides. Using a very sharp knife, slice the log in half length-wise. Then, with the cut sides up, twist the dough around itself. Fold the whole twisted log in half, and place it into your prepared loaf pan. This process can be a little messy since the apple butter is a very soft filling, but don't worry! It doesn't have to be perfect.

Cover it in plastic and let the dough rest for about 20 minutes while you preheat your oven to 375 degrees. Remove the plastic wrap and bake the babka for 40-45 minutes. An instant-read thermometer should show in the inside of the babka at about 175 degrees once it's done.
For the syrup:
In a small sauce pot, stir together the water, sugar, and salt, and bring the mixture to a boil over medium heat. Remove from the heat, and cool for 10 minutes. Stir in the vanilla extract. When your babka comes out of the oven, immediately brush the top generously with your syrup mixture. Cool the babka completely in the pan, and then turn it out to slice and serve!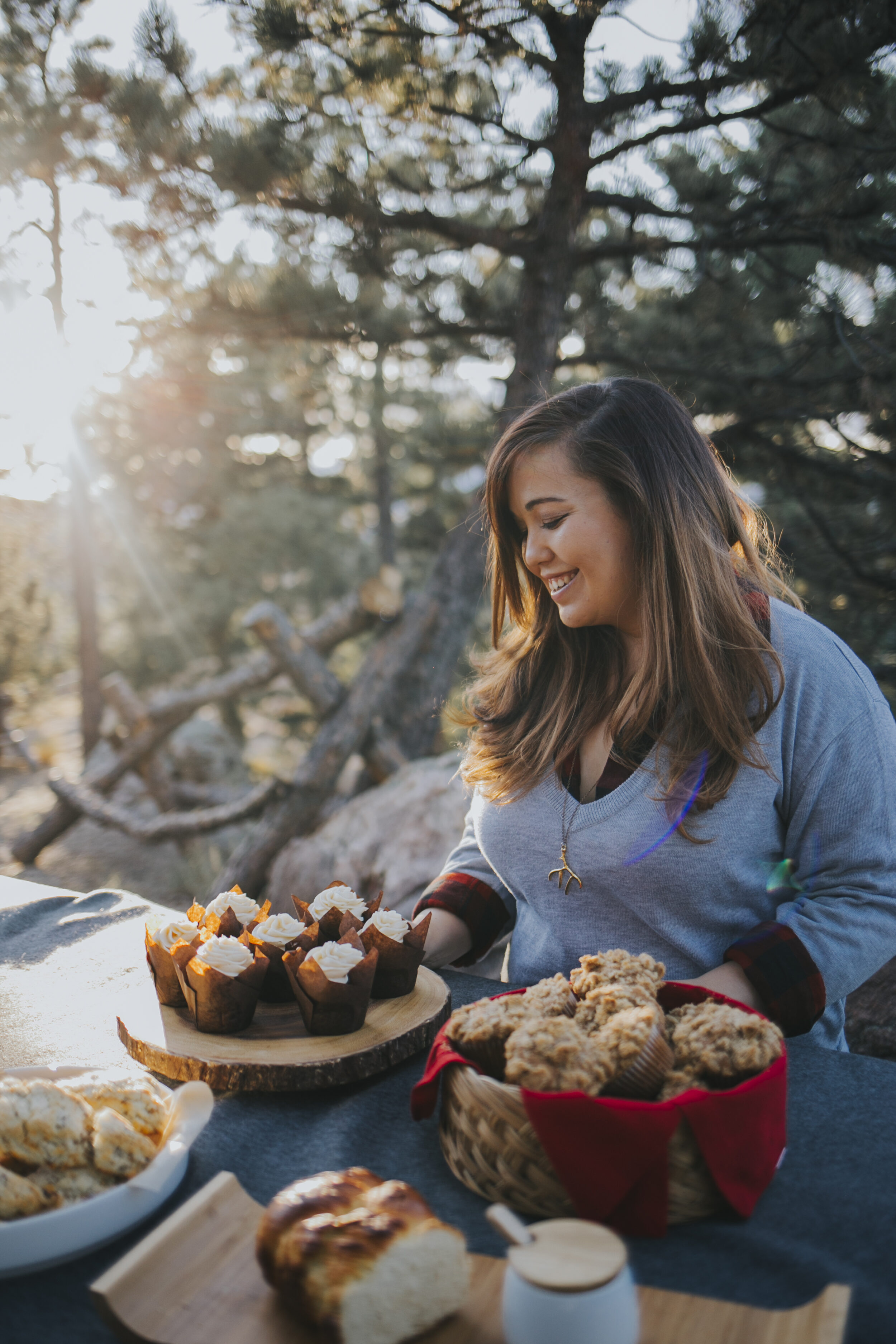 Hello and welcome! My name is Nicole, and Dough-eyed is a food blog for people who want to bake for their family and friends in high-altitude areas. Think of me as a friendly voice there with you in the kitchen, here to give you confidence when you're baking, and to help you with the struggles of baking at high-altitude. Come back every week for new recipes, tips, and advice on high-altitude baking!