Hey guys! I've got another super easy fall bake for you this weekend- Apple Crumb Cake! Think coffee cake, but with a layer of apples stirred into apple butter right underneath the crumb topping- it's so good!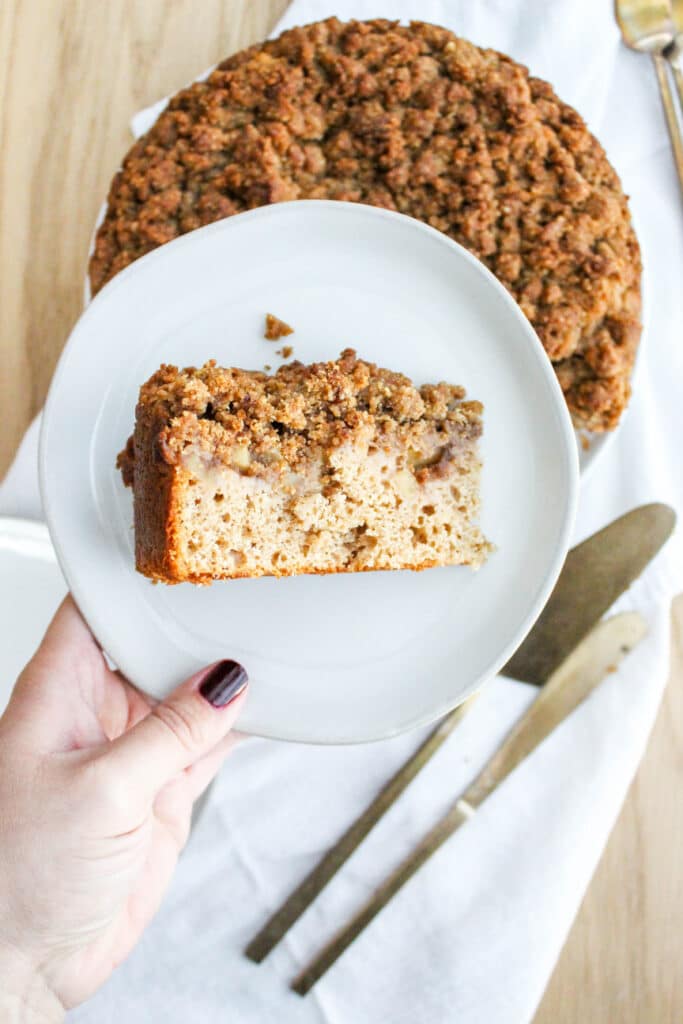 This cake comes together quickly, and it's the perfect morning coffee treat. The apples keep the cake moist, and there's warm spices running through every part of this cake. Let's get to it!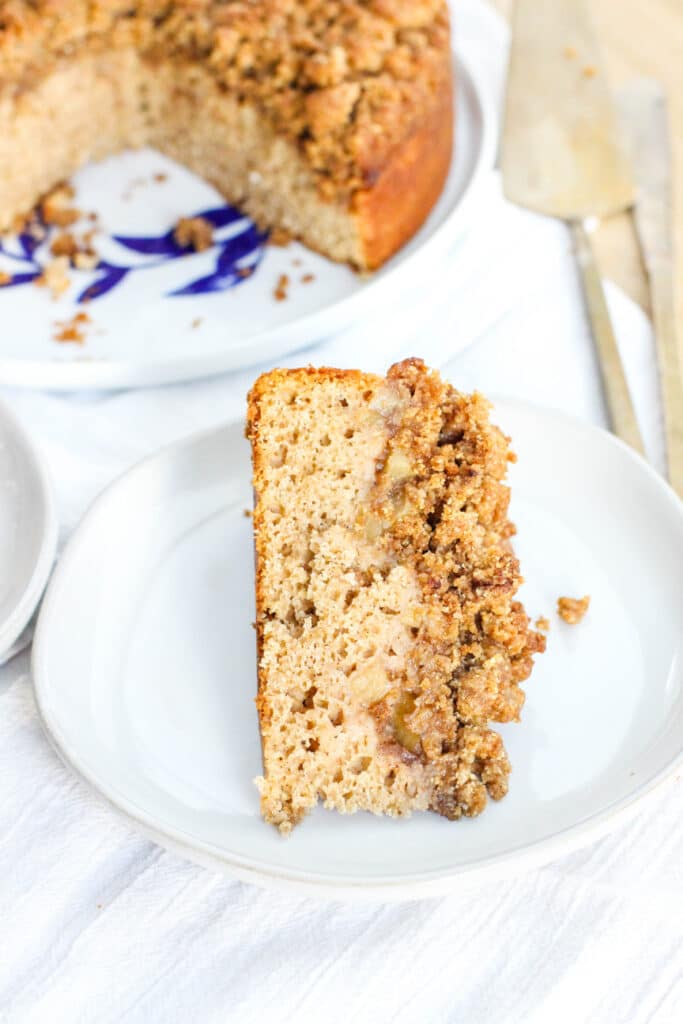 How to Make Apple Crumb Cake
We're starting with the cake batter- this is a super simple cake base but we're using some almond flour for a little more texture and flavor. I'm using cinnamon, ginger, and cloves in this cake, but you can use any warm spices that you like here. This is what the batter should look like:
Once your cake batter is in the pan, you can spread in your apple mixture. I'm just using some store-bought apple butter and a fiji apple here- use whatever you have! Just keep the apples pretty small here- you want them to cook through while baking.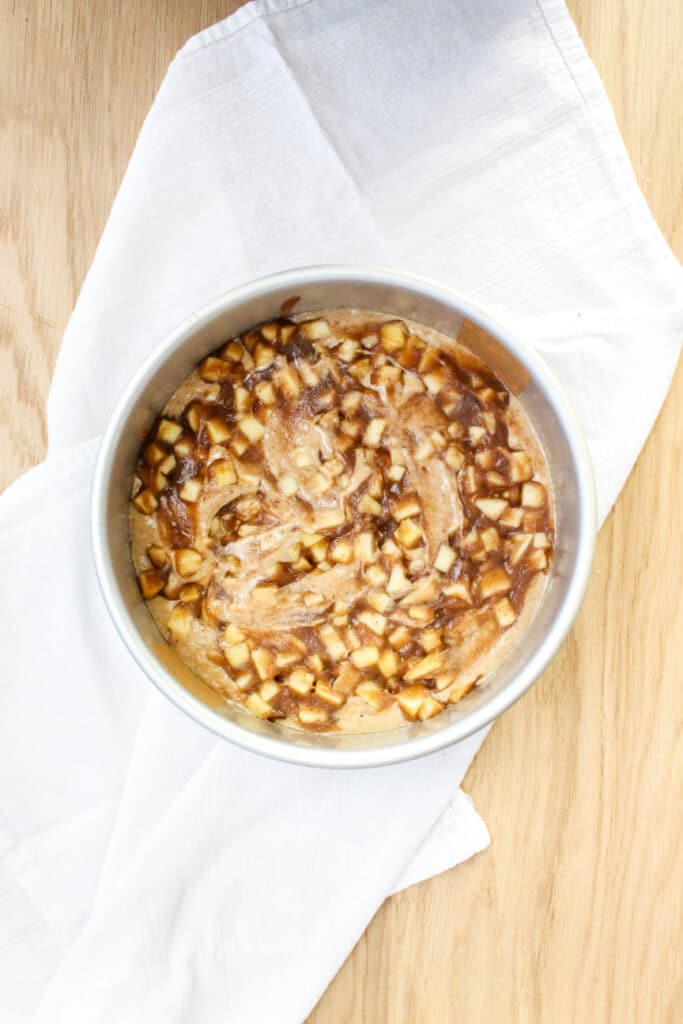 Finally, we're topping the whole thing with a lot of crumb topping! It might look like too much crumb topping, but go ahead and use it all, trust me!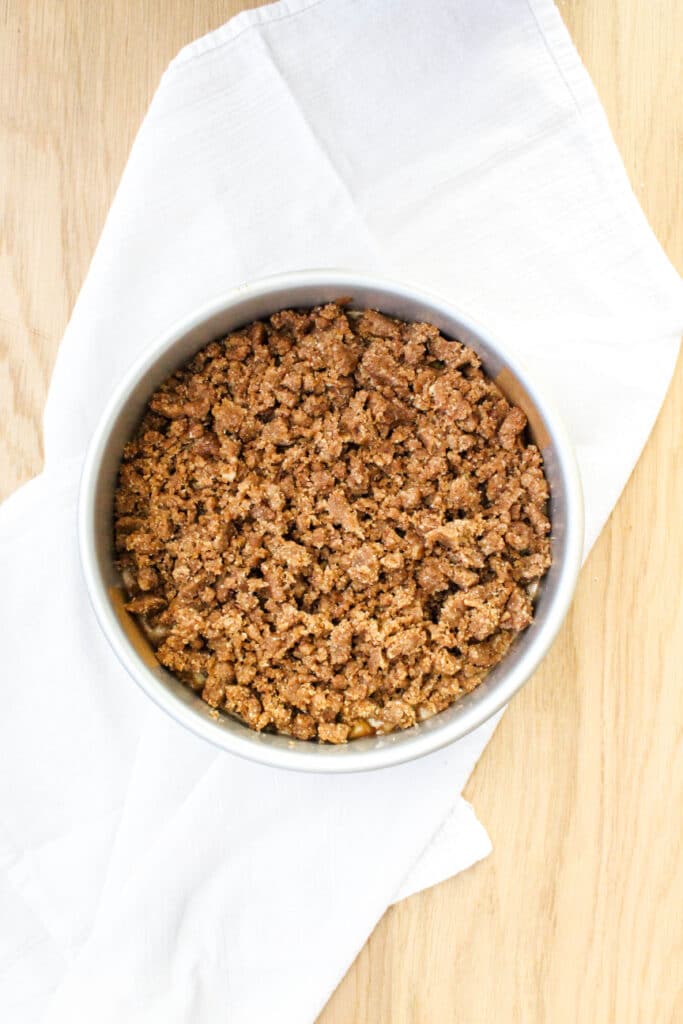 Then it's off to the oven to bake this baby up! You'll be left with a pretty little spicy, apple-y cake that's perfect for the whole weekend and really any time! This is a breakfast cake if I've ever seen one.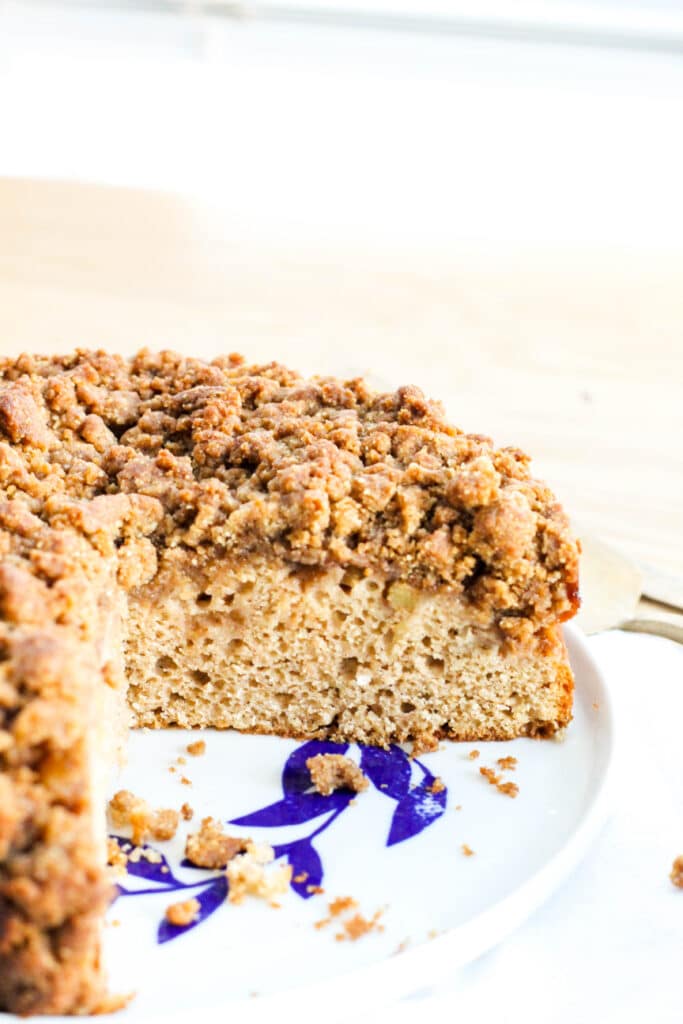 Tips & Tricks for Apple Crumb Cake
Here are my tips and tricks to make sure you get the best apple crumb cake!
Can I skip the almond flour? Yes, if you prefer, you can swap in all purpose flour for the almond flour with no adjustment to the measurement.
Do I need to make my own apple butter? No- I'm using a store-bought apple butter here and you can use one as well! Or by all means, if you have some homemade- go for it.
What if my crumb is too wet? Don't worry- just add in a little more flour, a tablespoon at a time until you've got a soft but crumbly mixture.
What if my crumb is too dry? This time you can add a touch more oil until it comes together into a mixture that holds into crumbs when pinched together.
How do I know when my apple crumb cake is done? You can use a cake tester, and you should have just a couple bits of the apple mixture sticking to it when you poke the tester into the center of the cake. The top should be a deep golden brown, and the cake should not jiggle.
I'm at about 5,000 ft above sea level, and I find that most people who live between about 3,000 and 7,000 ft. above sea level do not need to make any adjustments to my recipes.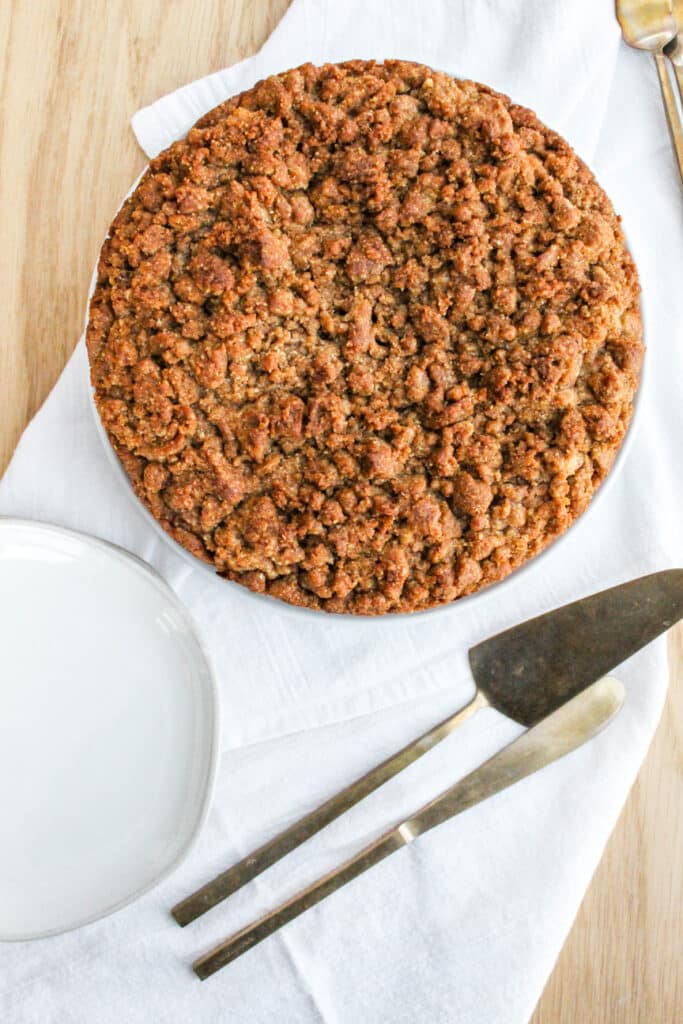 Hope you guys love this one!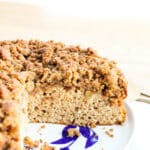 Apple Crumb Cake
Ingredients
For the cake:
1 1/2

cups

flour

1/4

cup

almond flour

1/2

cup

sugar

1 1/2

tsp.

cinnamon

1

tsp

baking powder

1

tsp.

ginger

1/2

tsp

salt

1/4

tsp.

cloves

1

egg

2/3

cup

buttermilk

2

tbs

oil

2

tsp

vanilla extract
For the filling:
1/3

cup

apple butter

1

large apple

peeled and cut into small chunks
For the crumb:
3/4

cups

flour

1/2

cup

almond flour

1/2

cup

brown sugar

1/4

cup

melted butter

2

tbs

oil

1

tsp.

vanilla extract

1

tsp.

cinnamon

1

tsp.

ginger

1/4

tsp.

cloves

1/8

tsp.

Salt
Instructions
Preheat your oven to 350 degrees, and generously grease an 8-inch square or round cake pan. Optionally, line the cake pan with parchment paper that has over-hanging strips to help with removing the cake from the pan. In a large bowl, stir together the flour, almond flour, sugar, cinnamon, baking powder, ginger, cloves, and salt. In a medium bowl, stir together the egg, buttermilk, oil, and almond extract. Pour the wet ingredients into the dry, and stir together with a spatula until well combined. Pour the cake batter into your prepared cake pan and spread evenly. Then spread your filling mixture on top of the batter- it's ok if it swirls together a little.

For the crumb topping: In a medium bowl, stir together the flour, almond flour, brown sugar, melted butter, oil, and almond extract with a fork until large crumbs form. Sprinkle the crumbs evenly all over the top of the cake, using all of the crumb mixture. Bake the cake for 38-40 minutes, or until a cake tester comes out fairly clean, with just some apple mixture sticking to it. Cool completely in the pan before slicing and serving.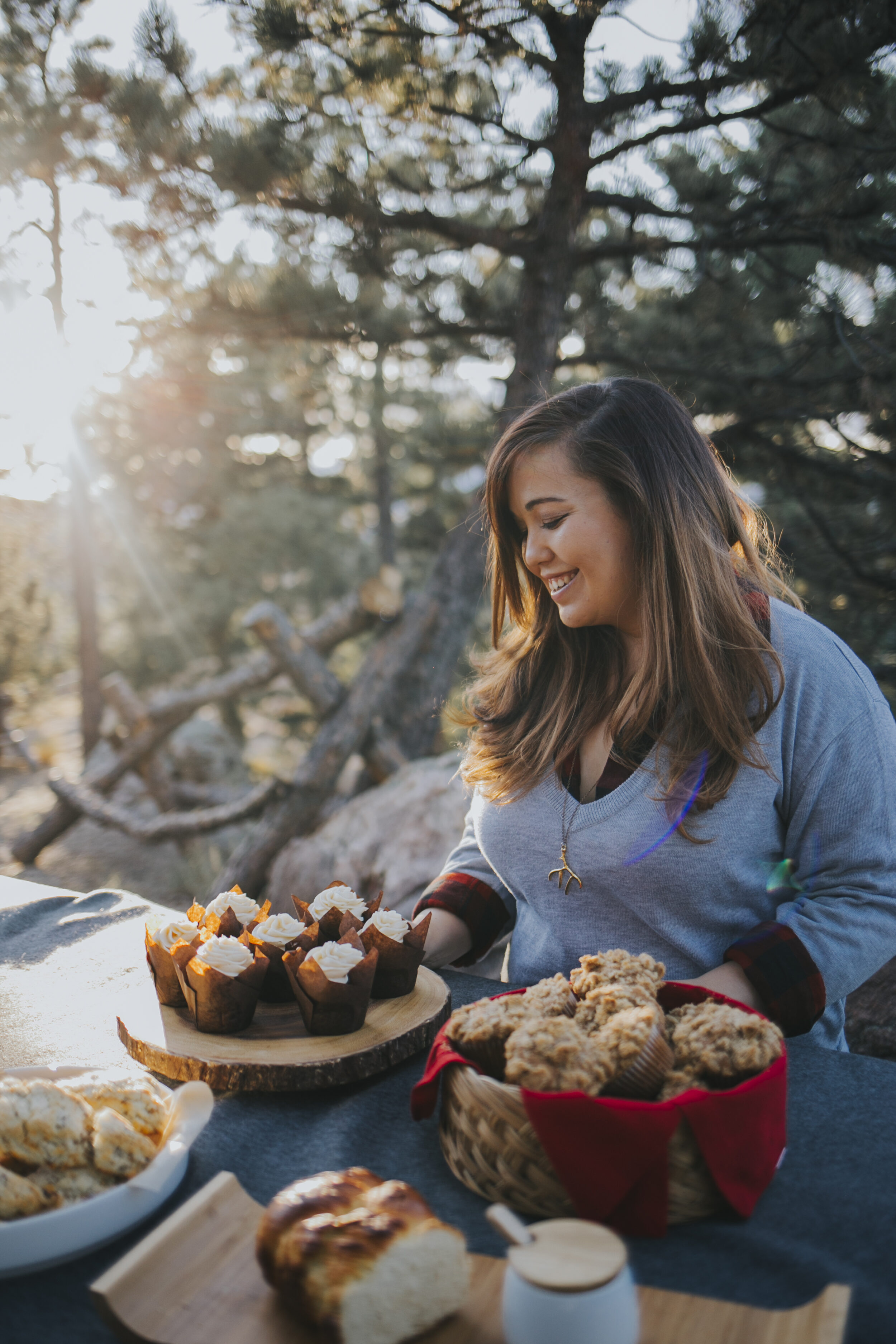 Hello and welcome! My name is Nicole, and Dough-eyed is a food blog for people who want to bake for their family and friends in high-altitude areas. Think of me as a friendly voice there with you in the kitchen, here to give you confidence when you're baking, and to help you with the struggles of baking at high-altitude. Come back every week for new recipes, tips, and advice on high-altitude baking!