Vanilla Latte Cake
I've been working on cake decorating lately… a lot. In fact, I've been making 1-2 huge, multi-layer cakes like every single weekend. Anyone want some cake?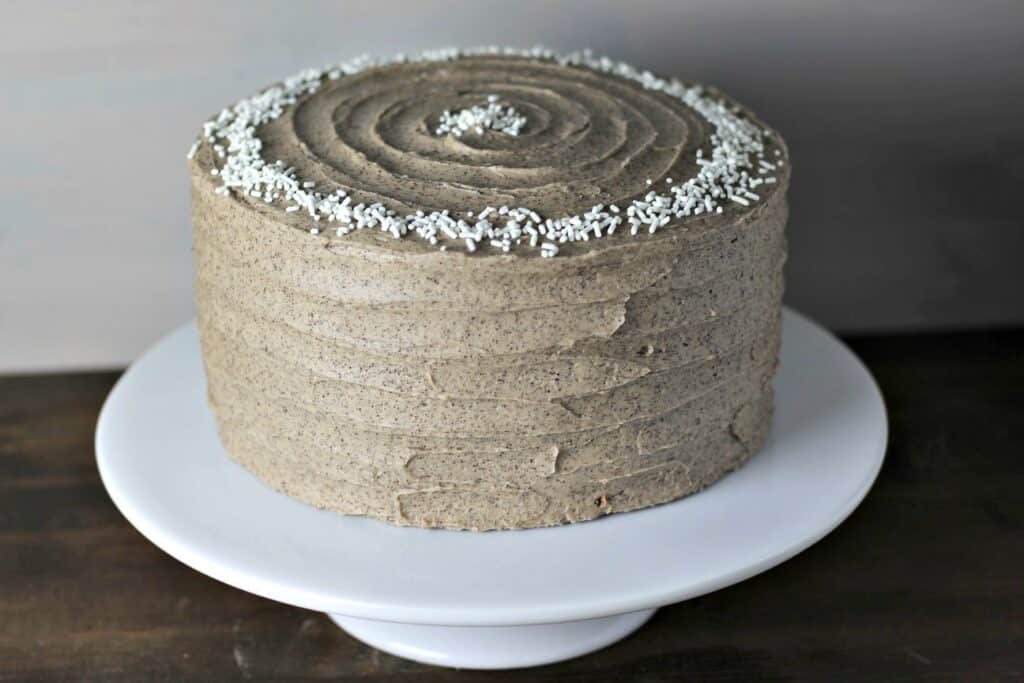 Basically, I'm not great at cake decorating. I can hold my own with cupcakes, but full cakes are a whole new beast for me. So, I'm working with simple techniques while I get better at leveling and building the cakes, and there's definitely been some improvement!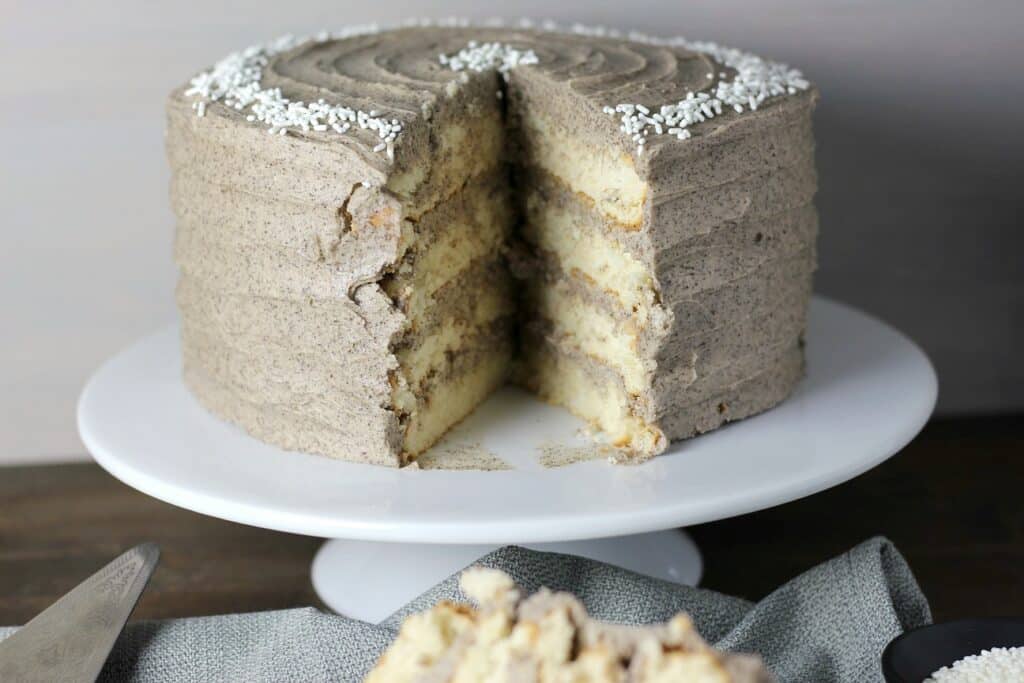 This is one of my best so far- looks wise and taste wise. We've got a super fluffy vanilla bean cake with a light coffee buttercream. Mocha cake is a super delicious variation of this as well, if you want to go with chocolate cake, or chocolate buttercream with the addition of coffee. I prefer vanilla though, which is where I went today.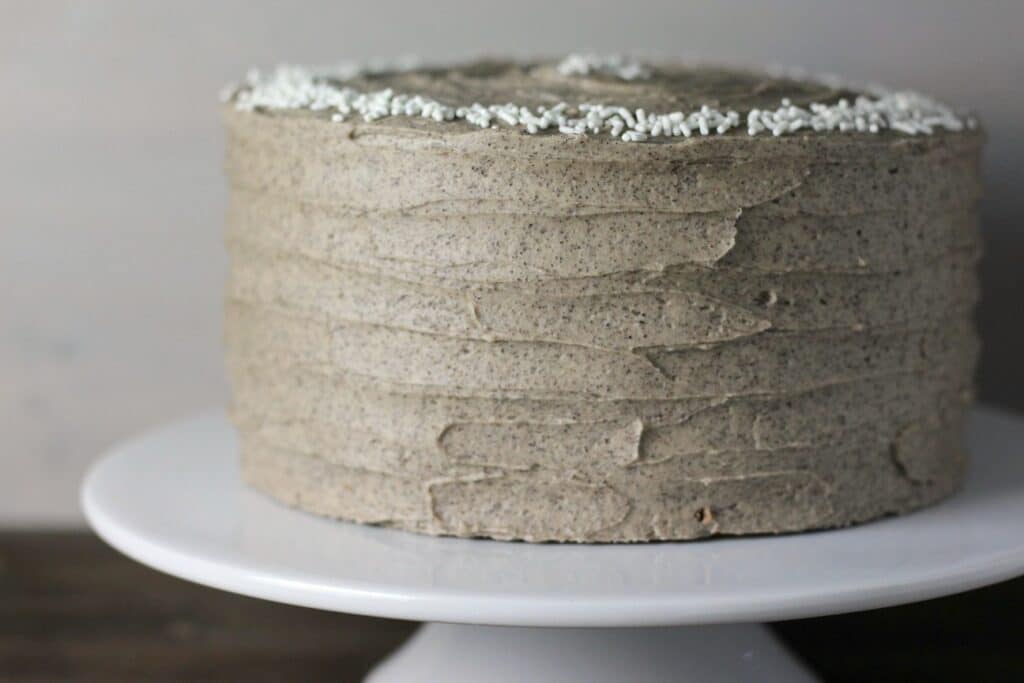 To decorate, I just used a small off-set spatula and dragged it around the frosted cake in rows. It's probably the second-easiest method I've tried so far, with just a rough frost as number one.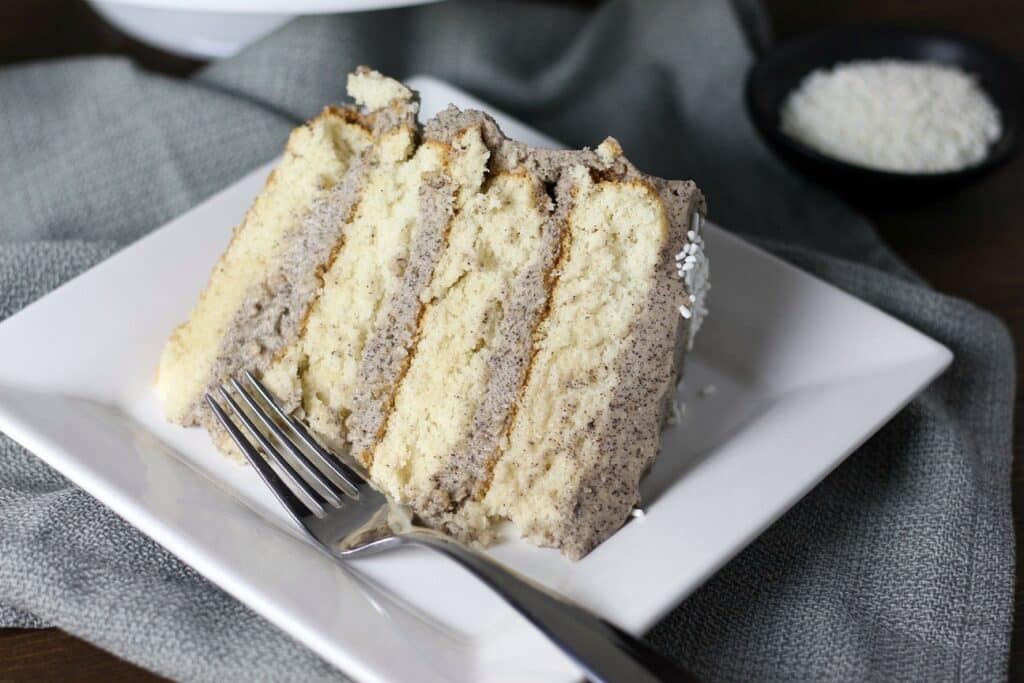 Honestly, even if this doesn't turn out super pretty for you (I have made so many ugly cakes in the last few months, seriously it's a skill in it's own way) it still tastes amazing!
On another note, if you already have the ability to decorate really pretty looking cakes, I totally envy you.
Enjoy!
Ingredients
For the cake:
4 1/2 cups cake flour, sifted
2 1/2 tsp. baking powder
2 tsp salt
2/3 cup vegetable oil
1 cup milk
1 cup water
2 tsp vanilla extract
2 tsp. vanilla bean paste (optional)
1 cup egg whites (about 8 eggs)
1/2 tsp. cream of tartar
2 cups sugar
For the coffee buttercream:
6 sticks room temp butter
6 cups powdered sugar
1/3 cup instant espresso powder
1 tsp. vanilla
1/3 cup heavy cream
Instructions
For the cake:
Preheat the oven to 375 degrees, and grease and flour 4 8inch round cake pans (or you can bake in batches like I did and prepare 2 pans at a time).
In a large bowl, sift together the cake flour, baking powder, and salt. Add in the vegetable oil, milk, water, and vanilla, and beat with a stand mixer or hand mixer for 2 minutes.
In a separate bowl, whip the egg whites and cream of tartar until stiff peeks form.
Slowly add the sugar into the egg whites and beat until they are stiff and silky.
Then, gentle fold the egg whites into the flour mixture until fully combined
Pour the batter into your greased cake pans. Bake at 375 degrees for 25-27 minutes, or until a cake tester comes out clean.
Cool completely before building and frosting your cake!
For the frosting:
In a large bowl, beat together the butter and sugar until smooth. Add in the espresso powder and vanilla.
Then, beat in the heavy cream until the frosting becomes fluffy.
Frost your cake!
https://www.dougheyed.com/vanilla-latte-cake/
Comments