Cornmeal Cake with Caramel Whipped Cream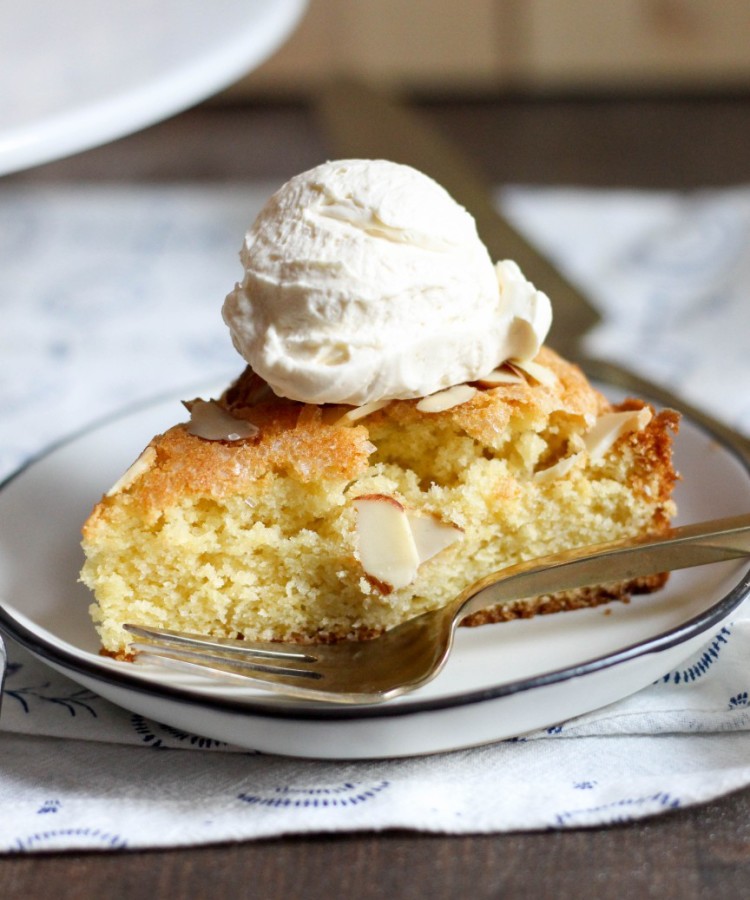 Hi guys!!
Have you ever had a super cake-like cornbread? Like just soft and lots of honey and a very cake texture to it? When we lived in Boston, there was a little restaurant that delivered, and we didn't even love most of their food, but the cornbread you guys. I miss it on a regular basis, it was so dang good.
I've tried many times to replicate this dreamy cornbread, and I haven't quite gotten there yet, but I will. If it takes my whole life you guys, I'm gonna get that dang recipe down.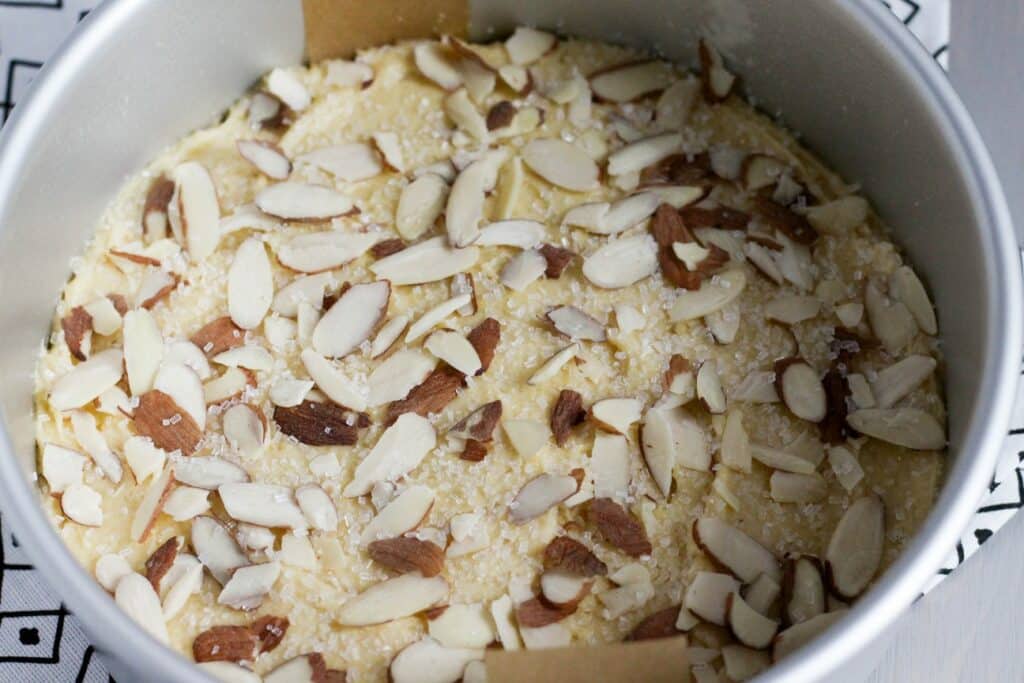 Well anyways, thinking of that cornbread made me think about making a simple cornmeal cake that was very dessert like. And here we are.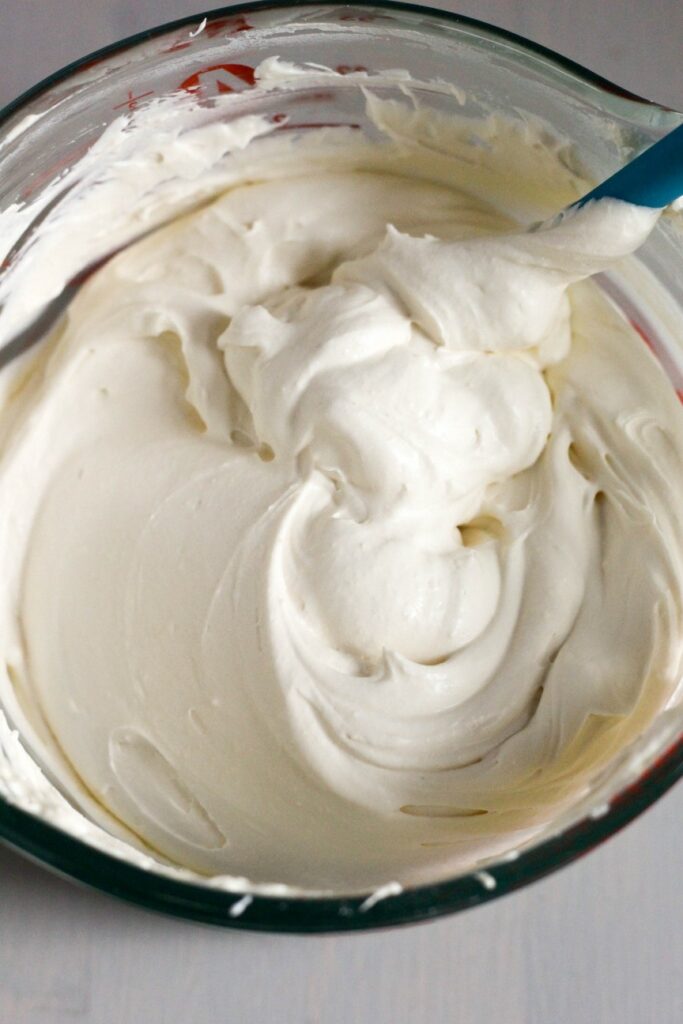 I took my basic vanilla butter cake recipe and tweaked it a bit to make something really special here. We've added honey to the mix, cornmeal of course, and sliced almonds and coarse sugar to the top to really create something that stands alone.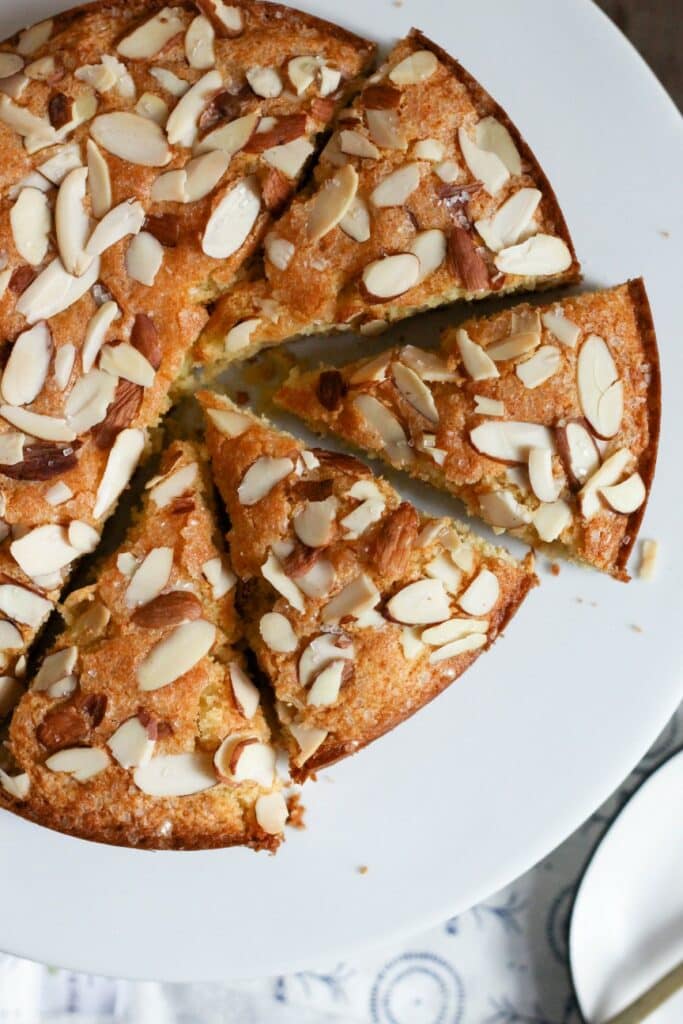 But actually, in my case, I didn't let it stand alone haha. I think the addition of the caramel whipped cream is simple, not too sweet, but it plays really well with all the flavors of this cake. What I was hoping for was a simple dessert, easy to throw together, light, and still satisfying. I think we got it this time guys.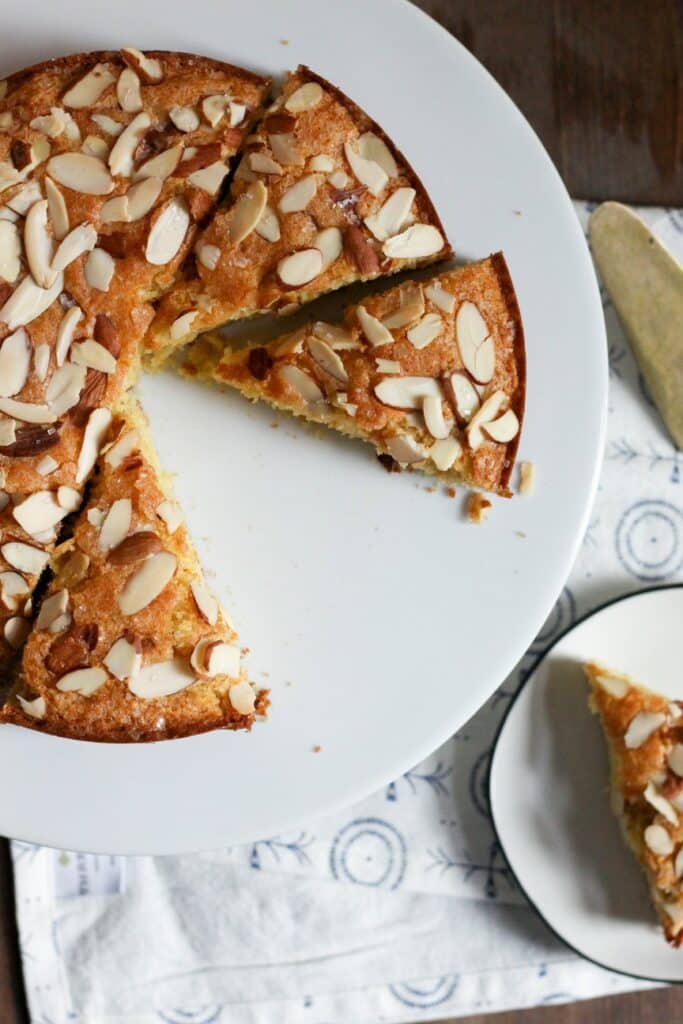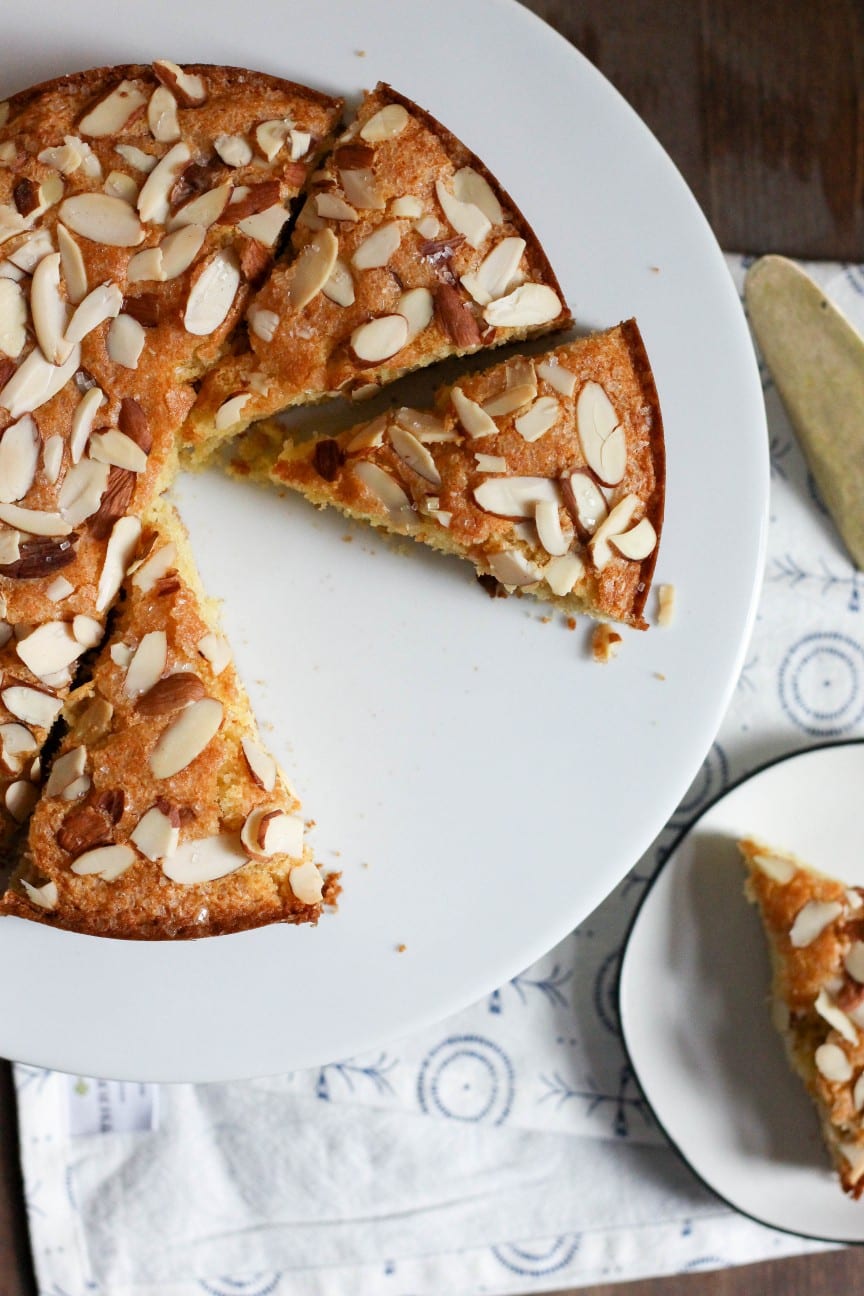 For some reason lately I'm really interested in simple cakes. I started an entire Pinterest board dedicated to the idea actually. I think there's just something about being able to whip up a dessert that you love in just a few dishes, and a few minutes really. One baking pan, just throw some cream or powdered sugar on top, and you've got something pretty and delicious in a hurry.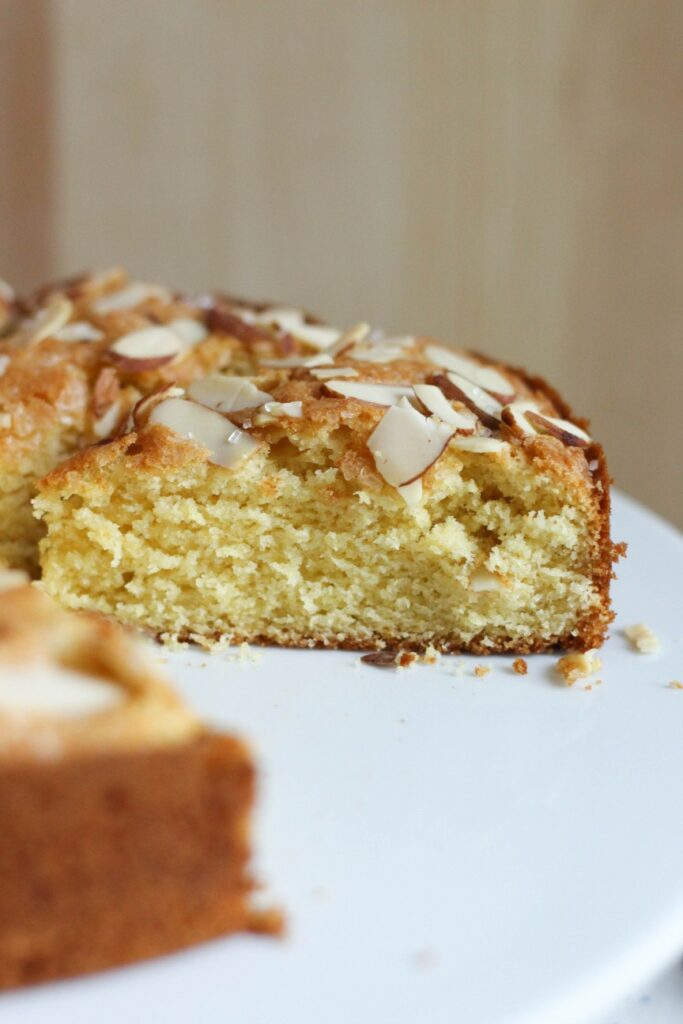 So anyways, I'd consider this a simple cake for sure. It's just one layer, nothing fancy needed. I hope you guys enjoy this one!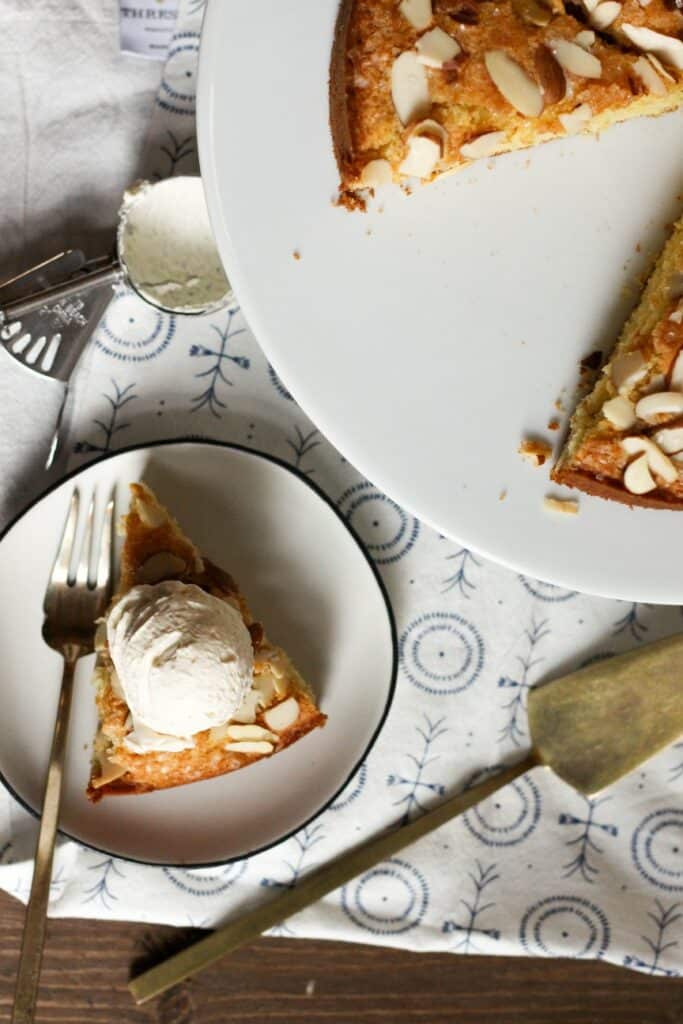 Cornmeal Cake with Caramel Whipped Cream
Ingredients
For the cake:
1/2

cup

softened butter

1/2

cup

sugar

1

tsp.

vanilla extract

1

cup

flour, heaping

1/2

tsp.

salt

1 1/2

tsp.

baking powder

1/4

cup

yellow cornmeal

2

tbs.

milk

1/4

cup

sliced almonds

2

tbs.

coarse sugar
For the cream:
1

cup

heavy cream

1

tbs.

instant vanilla pudding mix

1/3

cup

caramel sauce
Instructions
For the cake:
Preheat your oven to 350 degrees, and grease and flour an 8 inch round cake pan.

In a large bowl, beat together the butter and sugar until fluffy. Beat in the eggs, vanilla extract, and honey.

Add in the flour, salt, baking powder, and cornmeal. Beat together until it starts to come together- the mixture will be very thick. Beat in the milk, and mix until completely combined.

Spread the batter evenly in your prepared cake pan. Evenly sprinkle the sliced almonds and coarse sugar over the top. Bake for 25-30 minutes, or until golden, and a cake tester comes out clean. Cool completely before serving.
For the cream:
Beat the heavy cream until soft peaks form. Add in the vanilla pudding mix and the caramel sauce, and beat together until stiff peaks form. Serve large helpings on top of each slice of cake!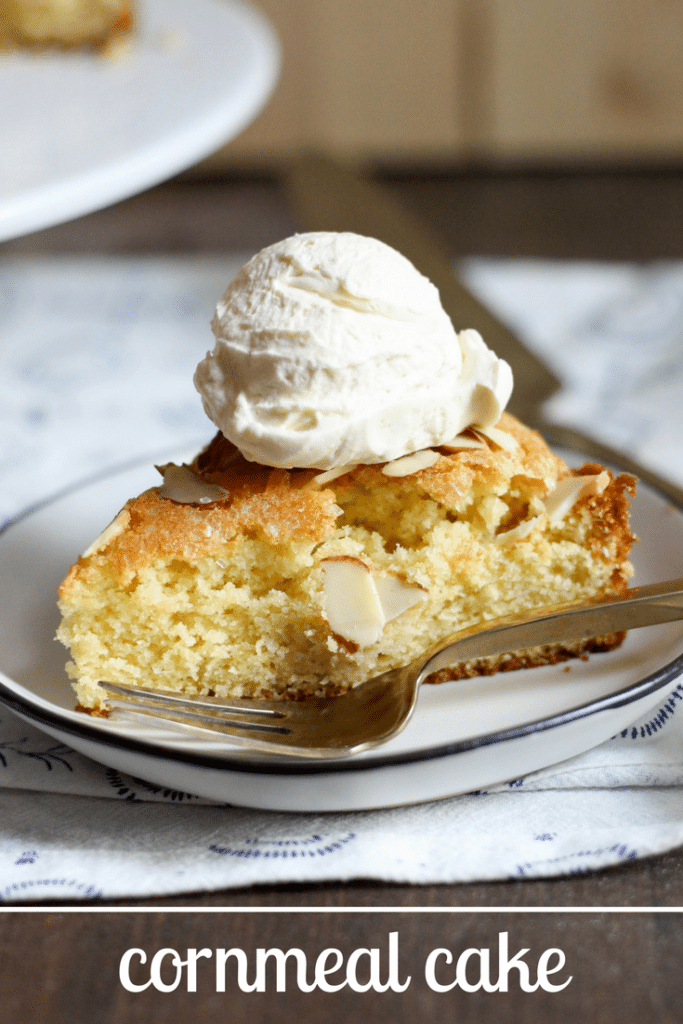 Comments