Sprinkle Slice and Bake Shortbread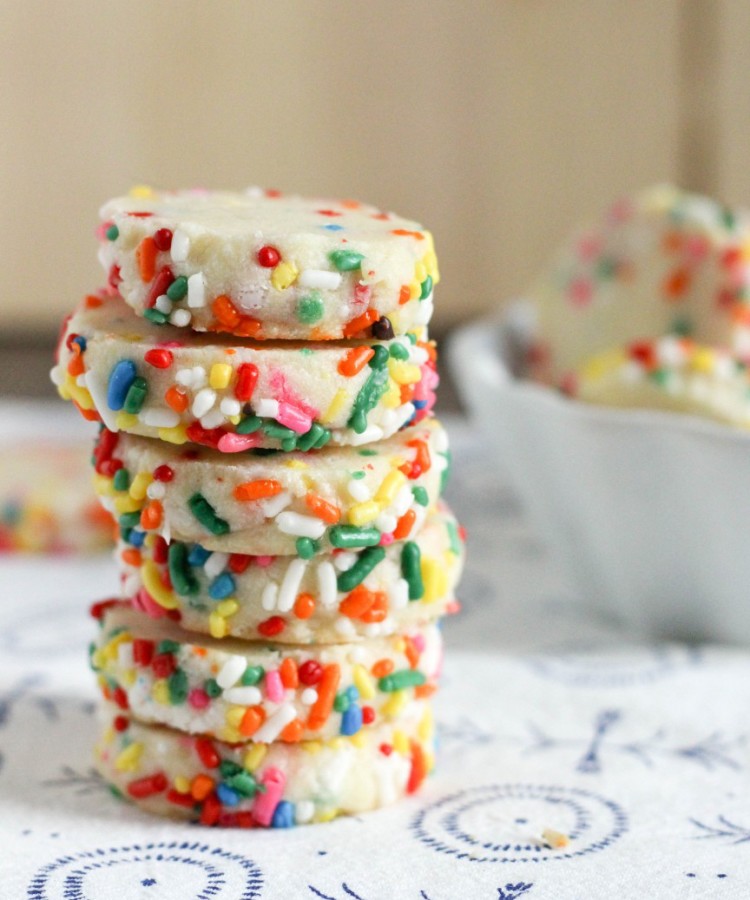 Happy Sunday everyone! I hope yours is filled with baking and an already-clean house and absolutely no chores whatsoever. That is not what mine looks like, but man, we are gettin close to this baby comin' around you guys.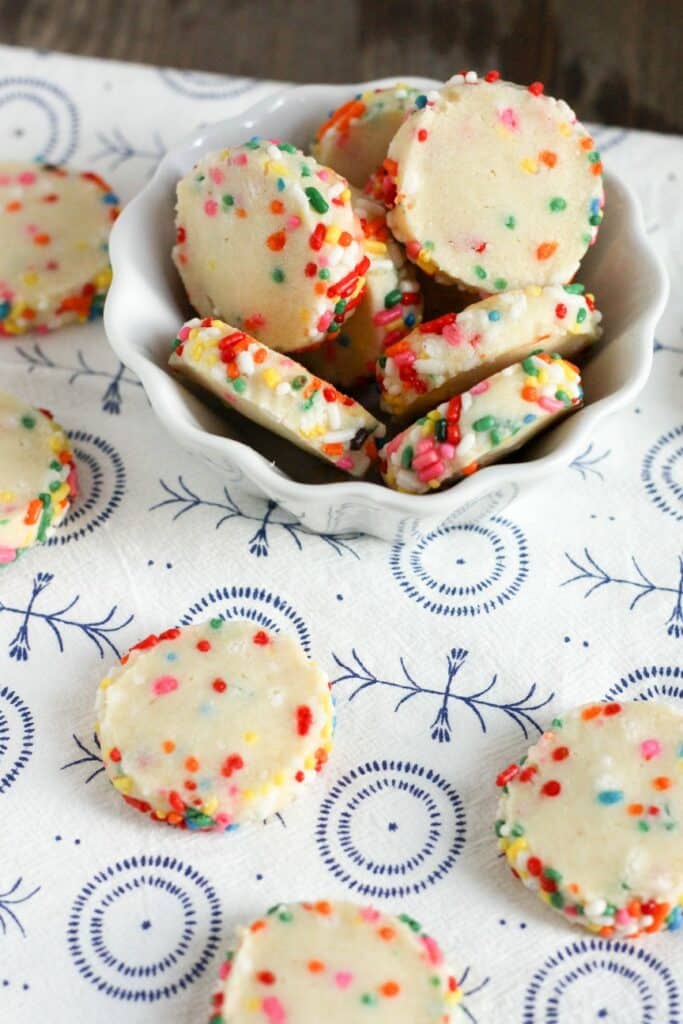 Today I'm sharing one of those recipes that just brings a smile to your face. And I mean, what recipe filled and covered in sprinkles isn't like that? I have no idea.
Here's what I love about shortbread cookies; they hold their shape, they don't have any eggs so you can munch away on that cookie dough to your hearts content, and they are SUPER easy to make. There's only 7 ingredients in the whole recipe you guys, and while you DO have to chill them for a bit, the rest requires minimal effort.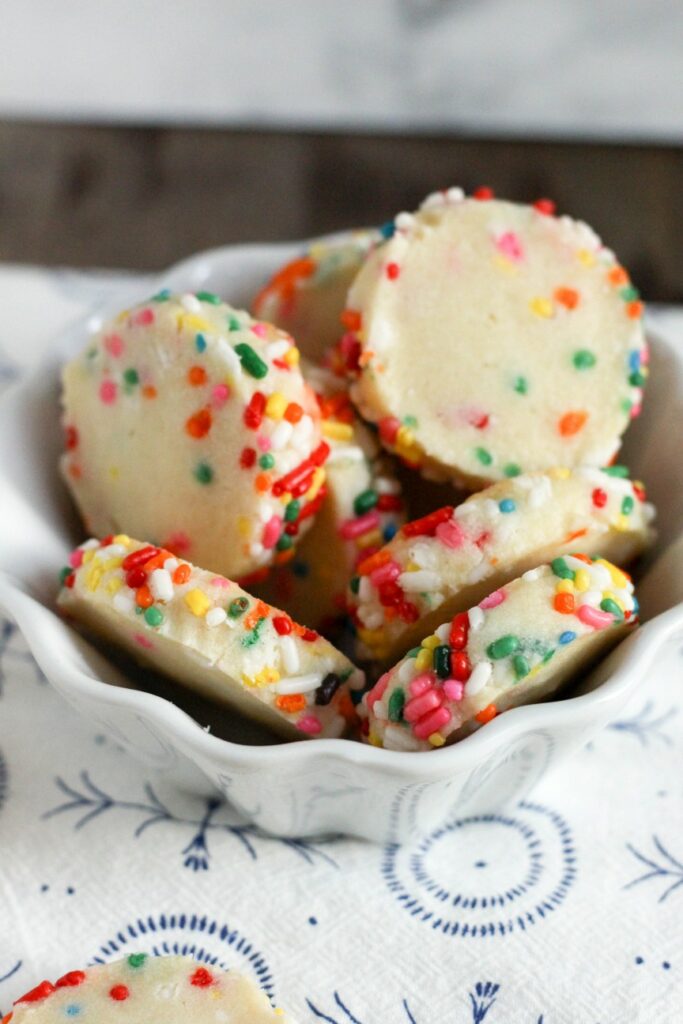 We're starting by beating up softened butter and powdered sugar until smooth, and then adding in vanilla and almond extracts for that flaaaavor. Beat in the flour, salt, and sprinkles, and you've got yourself a happy little bowl of cookie dough.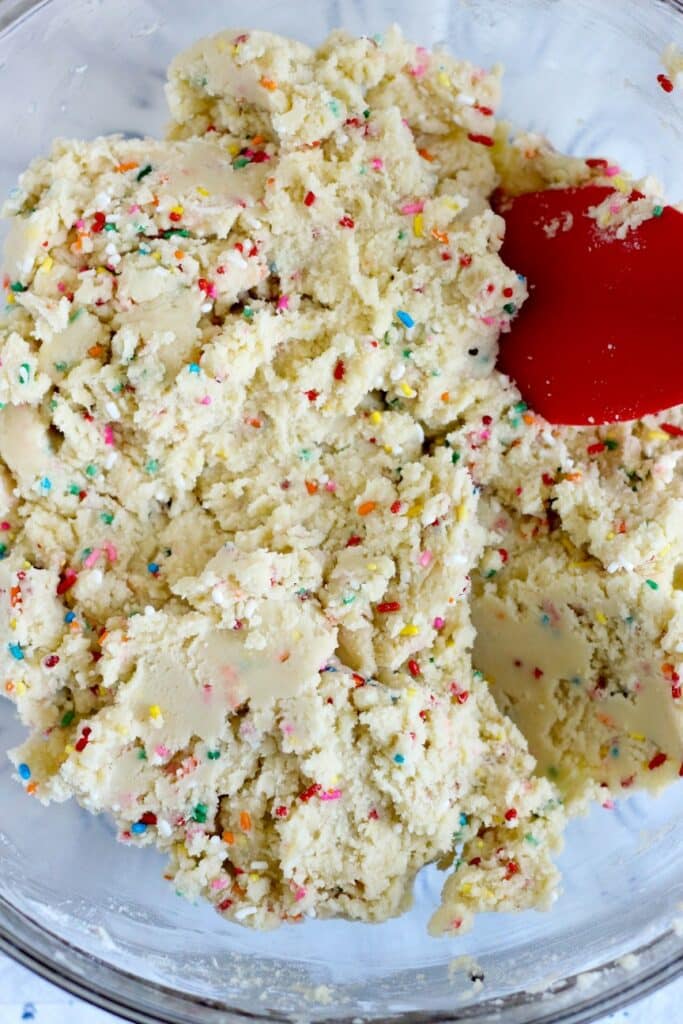 Next, divide your dough into four even-ish sections, and roll each into a log that's about 1 1/2-2 inches thick. Have some sprinkles poured into a baking sheet on hand, and roll the whole dang log in it. It'll look something like this: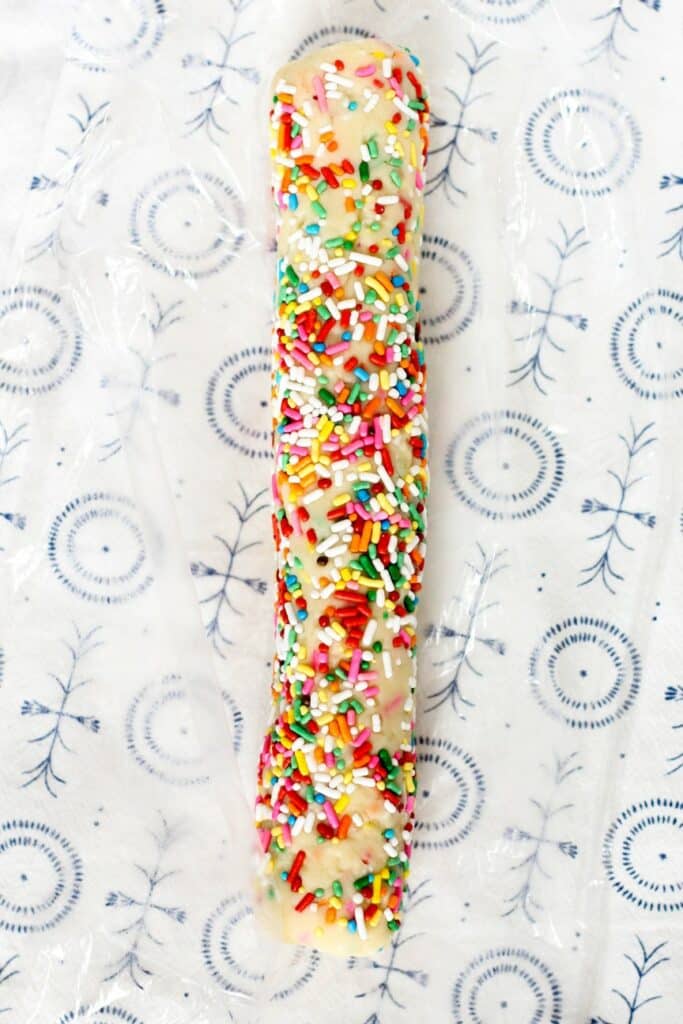 Then comes the hard part- you have to wrap each log in plastic, and chill them for about an hour. I know it's hard to wait guys, I get it, and I apologize. but it's worth it, I promise.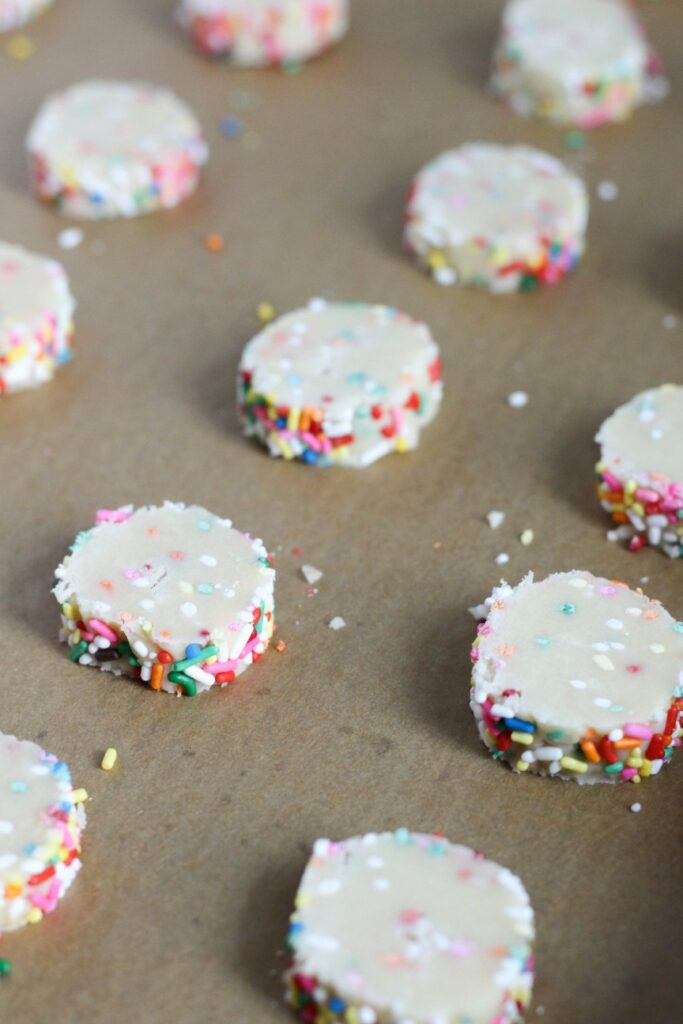 Plus, when the wait is over, you just have to slice up the logs and place each little disc onto a lined baking sheet. Bake 'em up, try not to eat them all, fail, and eat them all.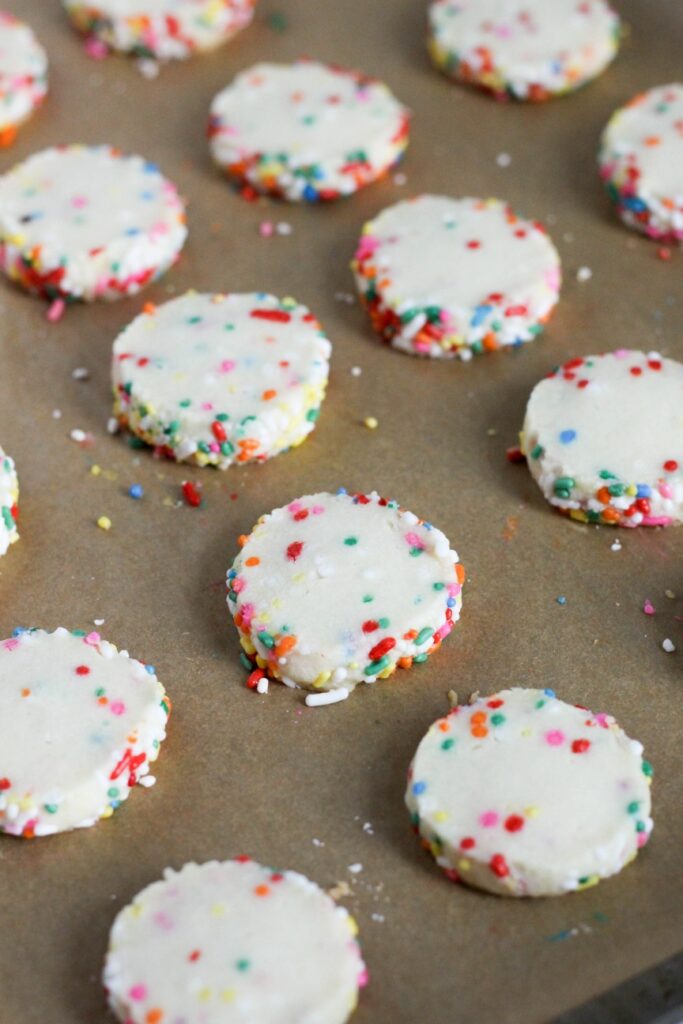 P.S. If you've got someone who needs a little cheering up, this is where it starts you guys. Cookies. Sprinkle cookies that taste like cake and go down easy. It's the real road to recovery. Enjoy!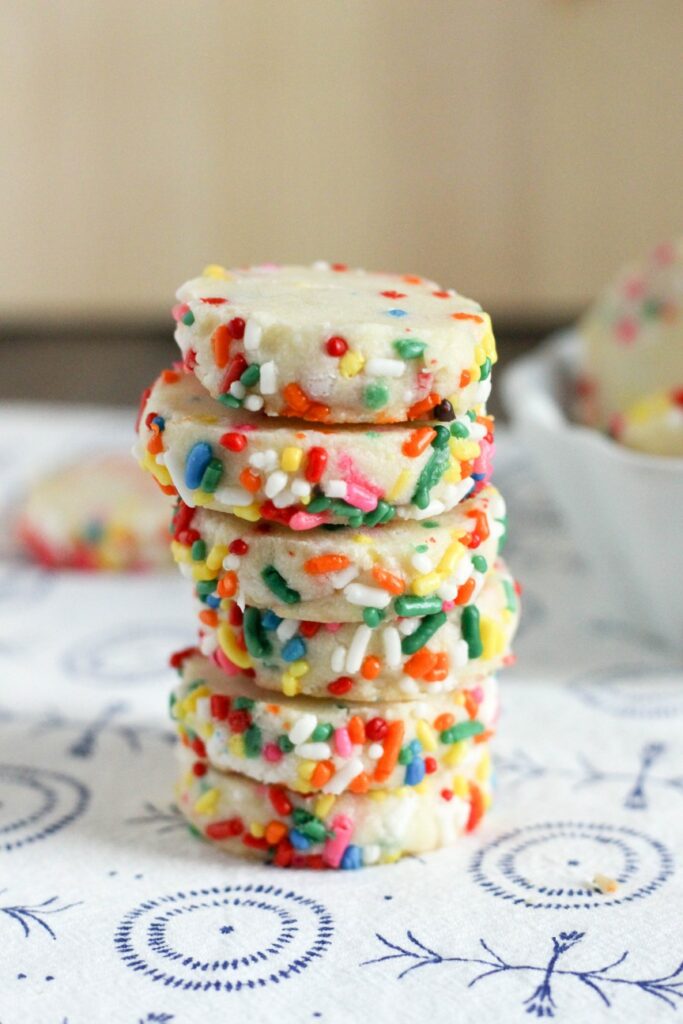 Sprinkle Slice and Bake Shortbread
Ingredients
1 1/2

cups

softened butter

1

cup

powdered sugar

1

tsp.

vanilla extract

1

tsp.

almond extract

3 1/4

cups

flour

1/2

tsp.

salt

2/3

cup

sprinkles, for dough

1/2

cup

sprinkles, for rolling
Instructions
In a large bowl, beat together the butter and powdered sugar until smooth. Add in the vanilla and almond extract, flour, and salt, and beat together until a dough forms. Fold in the 2/3 cup sprinkles.

Pour your remaining sprinkles onto a clean baking sheet. Set aside.

Divide your dough into 4 even-ish sections, and roll each section into a log, about 1 1/2 inches in diameter. This does not have to be perfect.

Roll each log into your remaining sprinkles on the baking sheet, pressing the sprinkles into the dough. Then, wrap each log tightly in plastic wrap, and chill for 45 minutes to 1 hour.

Preheat your oven to 325 degrees, and line two baking sheets with parchment paper.

Slice each log into cookies about 1/2 inch thick. Work through one log at a time, keeping the others chilled while you work, and place the cookies onto your baking sheet. They will not spread while baking, so they can be pretty close together.

Bake for 10-12 minutes, or until the edges have just barely started to become golden brown. Cool completely, and enjoy!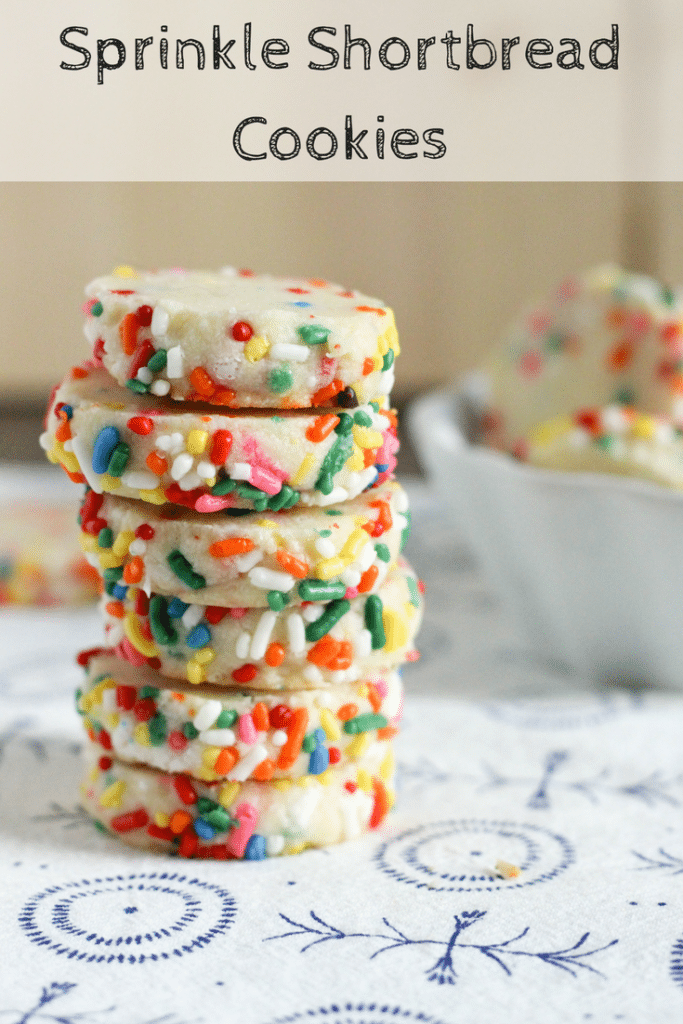 Comments